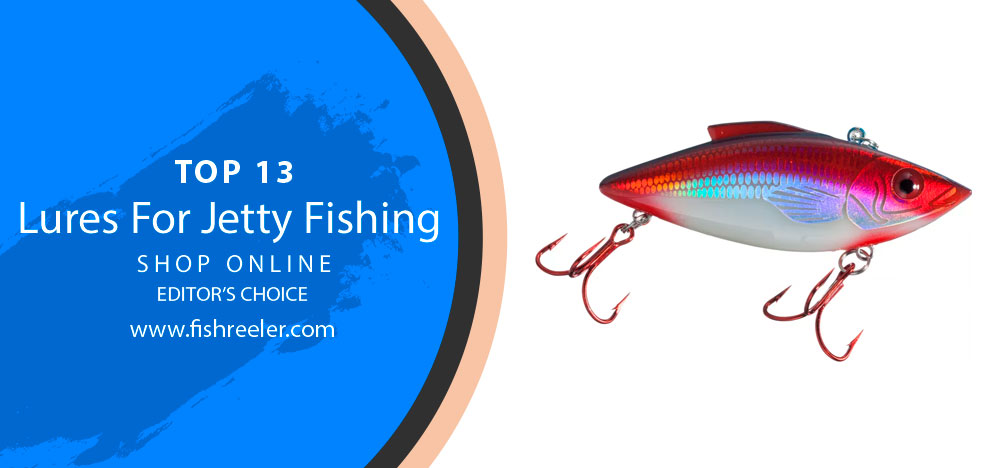 Unlocking the Power of Lures: The Secret Weapon in Jetty Fishing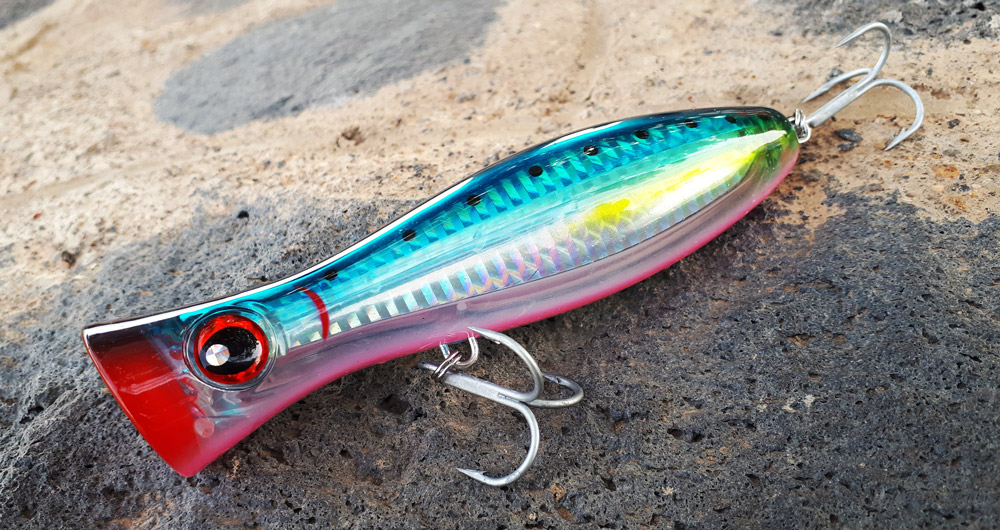 Dawn is breaking 🌅, a gentle mist rises from the surface of the sea🌊, and as the soft light of a new day paints the sky in hues of orange and pink, there's no place you'd rather be than perched on a jetty, fishing rod🎣 in hand. Welcome to the captivating world of jetty fishing, a pastime steeped in tradition, patience⏳, and an intimate understanding of nature's ebbs and flows🍃.
Diving In: The Exciting World of Jetty Fishing
Just like the chess player♟️ strategizing over their next move, a successful jetty fisherman🎣 is one who not only understands their environment🏞️, but also the intricate game that lies beneath the water's surface🌊. And in this game, the choice of lure can be the difference between a triumphant catch🏆 and a long day spent staring into the depths with little to show for it😔.
The Lure of the Sea: How the Right Bait Can Make All the Difference
🎣Selecting the right lure for jetty fishing isn't just about throwing a hook in the water and hoping for the best; it's about studying the conditions, knowing the habits of your target species🐟, and using a lure that mirrors their preferred prey. From the unsuspecting baitfish🐠 swimming in the shallows to the curious crustacean🦀 skirting the rocky bottom, the lures we use are imitations of life beneath the waves🌊, designed to fool even the canniest fish into biting.
In the intricate dance of predator and prey, the right lure can tip the scales in your favor. So, whether you're a seasoned angler🎣 or a beginner casting your line for the first time, understanding the power and potential of lures in jetty fishing is an essential part of your journey towards a successful catch🏆.
In this article, we'll delve deeper into the art and science🔬 of choosing the perfect lure for your next jetty fishing adventure, equipping you with the knowledge you need to make informed decisions and elevate your angling skills. So, get your tackle box ready – let's dive in🏊‍♂️.
Understanding Jetty Fishing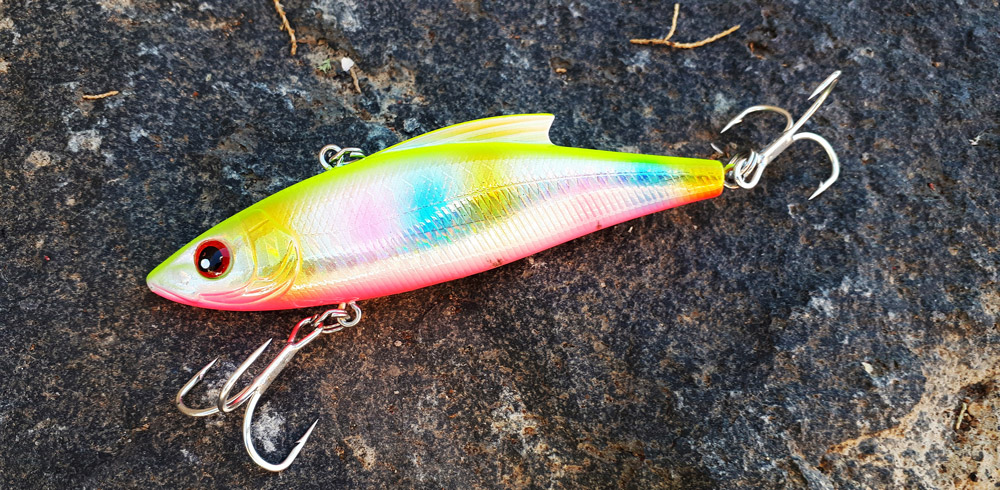 Jetty fishing, an age-old tradition, has roots that stretch deep into the annals of our fishing heritage. Jetties, typically man-made structures extending into bodies of water, have long provided excellent platforms from which anglers can cast their lines. Essentially, jetty fishing is the practice of fishing from these structures, reaching areas of the water that may otherwise be inaccessible from the shoreline.
Exploring the History: Jetty Fishing Through the Ages
In the world of angling, few locations draw enthusiasts quite like jetties. But why is jetty fishing so appealing? The answer lies in the unique confluence of conditions and the diversity of aquatic life jetties attract. A jetty serves as an interface between deep and shallow waters, where various species of fish convene to feed, breed, and seek shelter. Here, you could be battling a feisty striped bass one moment and reeling in a plump flounder the next. With the right knowledge, patience, and of course, the perfect lure, jetty fishing can yield an impressive and varied haul.
The Appeal of the Jetty: Why Anglers Love this Unique Fishing Spot
The types of fish🐟 you catch at a jetty often depend on your geographical location🌍, the time of year📅, and local marine ecology🌊🐠. Common catches might include red drum, black drum, striped bass, flounder, mackerel, snook, and many other species attracted to the diverse habitats around jetties🏞️.
Yet, it's not just the rich variety of species🐡🦈🐠 that make jetties a popular spot for fishing🎣. The environmental factors found in these locations create the perfect stage for an exciting fishing experience. Tidal movements🌊, for example, play a pivotal role in jetty fishing. They stir up food sources🍤, creating a veritable buffet for our finned friends and presenting a golden opportunity🥇 for anglers. The changing tides can impact the presence and behaviors of different fish species, making it a crucial factor in deciding when to fish and which lure to use.
Nature's Bounty: The Environmental Factors That Shape Jetty Fishing
In addition, the underwater structures around a jetty—like the rocky bottom, seaweed, and underwater debris—provide an attractive habitat for aquatic life. These structures often shelter baitfish and crustaceans, in turn, luring in larger predatory species and offering a promising prospect for a rewarding catch.
The intriguing mix of deep and shallow waters, strong tidal influences, and diverse bottom structures makes each jetty a unique ecosystem teeming with life and opportunity. This complexity may require an angler to adopt different strategies, choose suitable lures, and sometimes even adjust techniques on the fly. But for those who can master the dance, the rewards are bountiful.
🎦Video YouTube: Using this for Bait! Jetty Fishing
Fishing off the Jetty: Essential Lures for Every Angler's Kit Review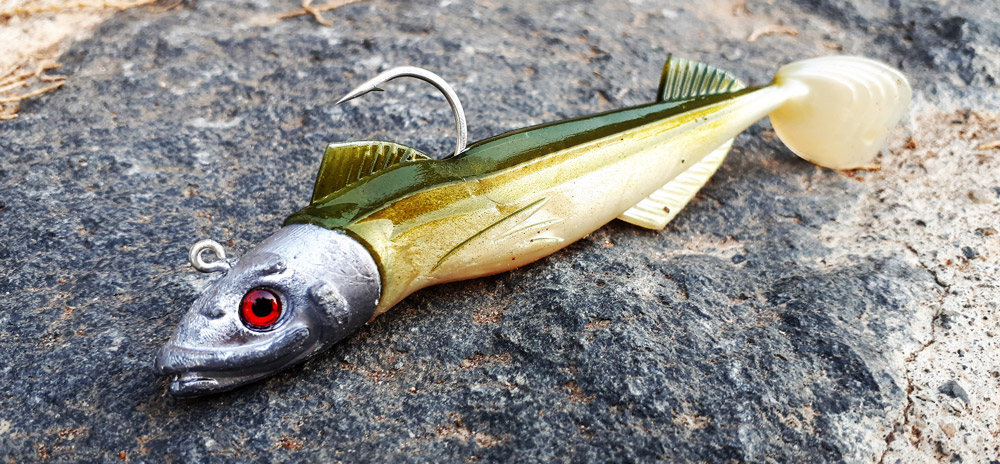 Have you ever gone fishing🎣 at a jetty? If not, you're missing out on one of the most fun and challenging types of fishing there is. Jetties provide great fishing for all sorts of fish🐠🐟, and if you're looking to catch some powerful species like redfish or cobia, then these tips📝 will help get you started.
We've compiled a list📜 of the best lures for jetty fishing, so read on👀 to find out what to use when casting your line into the surf🌊. In this blog post📱💻, we will recommend some of the top-rated lures for catching fish from jetties. Whether you're a beginner👶 or an experienced fisherman🧓, these lures will help you land your next big catch🏆!
1# Andrus Bucktail Jetty Caster Jig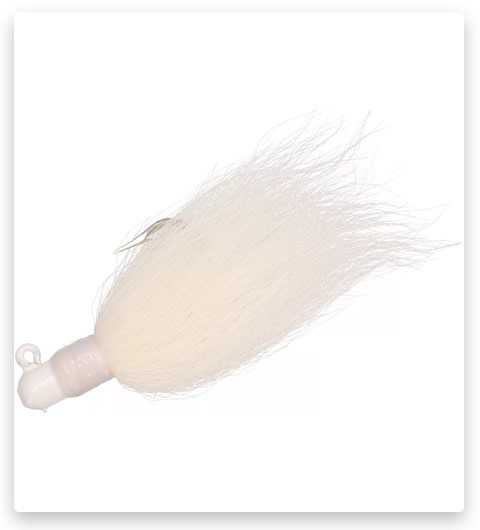 The Andrus Bucktail Jetty Caster Jig is perfect for larger fish. It has a durable, hidden Mustad hook and rounded head for added buoyancy and action. Plus, the bright colouring will help to attract attention to your bait.
2# Rapala Original Floating Minnow F05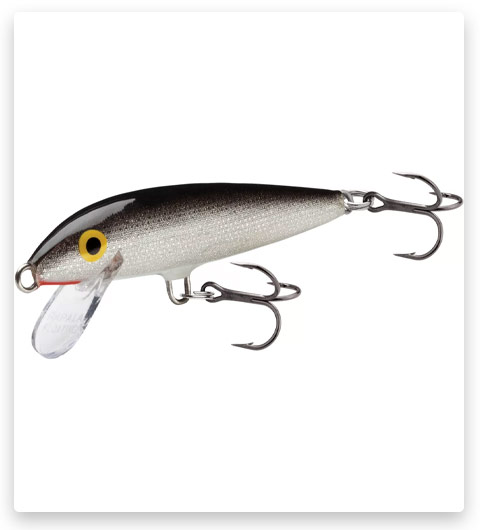 The Rapala Original Floating Minnow is the perfect lure for anglers who want to fish in all kinds of ways. This versatile lure can be twitched on the surface, retrieved as a shallow runner, weighted with a split-shot for medium-depth swimming, or bottom walked off a sinker rig. No matter how you fish it, the wounded minnow action is sure to attract game fish. The Original Floating Minnow is available in a range of sizes, with 4-3/8″ and larger sizes featuring 3 hooks.
3# Strike King Red Eyed Shad Crankbait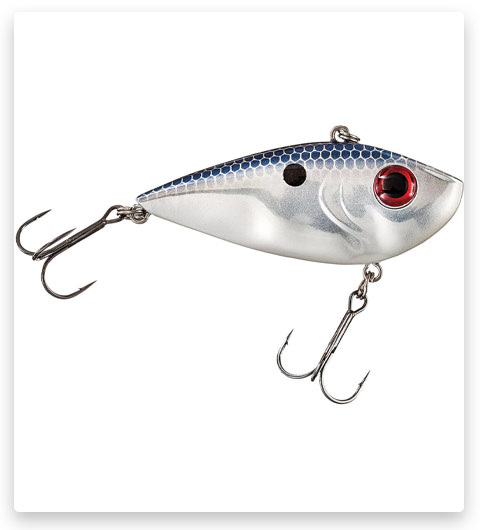 Strike King's Red Eyed Shad Crankbait is one of their most popular lures for a reason – it catches fish like crazy! This bait has incredible action and a unique shad-style body that bass can't resist. It comes in pre-selected paint schemes with 3D eyes and is rigged with premium VMC Vanadium Cone Cut hooks.
4# Berkley Flicker Shad Crankbait FFSH4M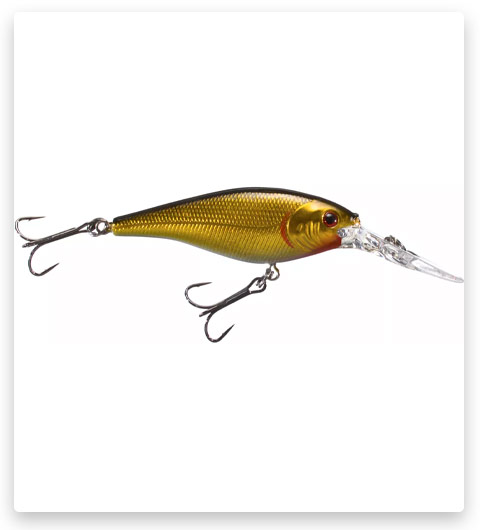 The Berkley Flicker Shad Crankbait is the perfect bait to use when targeting walleye. It features quality wide-gap trebles to prevent fish from coming loose on the way in, and it's available in a wide range of colours that are sure to attract fish. The Bass Pro and Cabela's exclusive colours are also great for attracting bass.
5# Rapala X-Rap Lures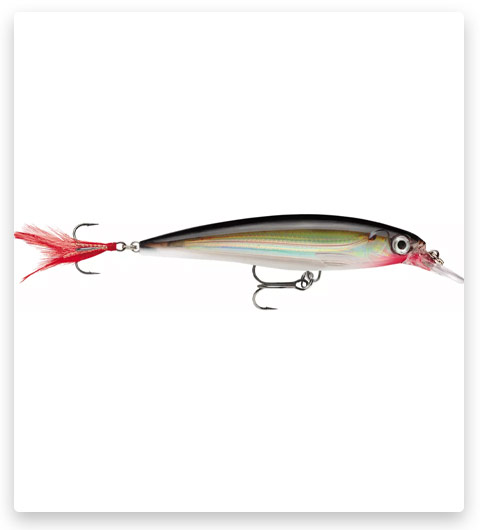 The Rapala X-Rap is designed to provide hard-cutting, aggressive action. It suspends on pause and features a textured translucent body with an internal holographic foil strip and a flash foil teaser tail that creates an amazing flash. Fitted with super-sharp VMC black nickel hooks, this lure is perfect for serious anglers.
6# Rapala Floating Jointed Minnow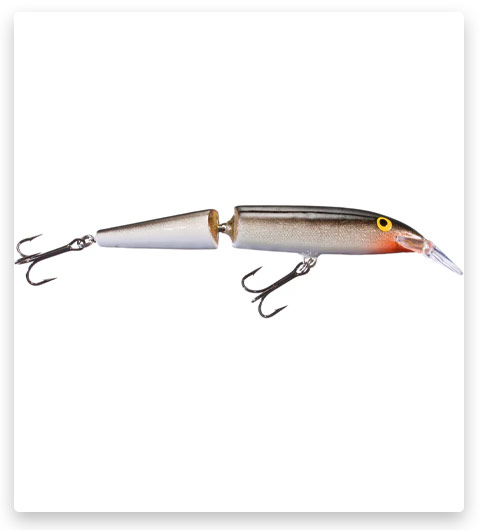 The Rapala Jointed Minnow is a premium balsa wood fishing lure that features an articulated broken back design for an attention-getting, baitfish-in-distress action. It also has stealthy VMC Black Nickel hooks to help you land your catch.
7# Rapala CountDown Minnow Lure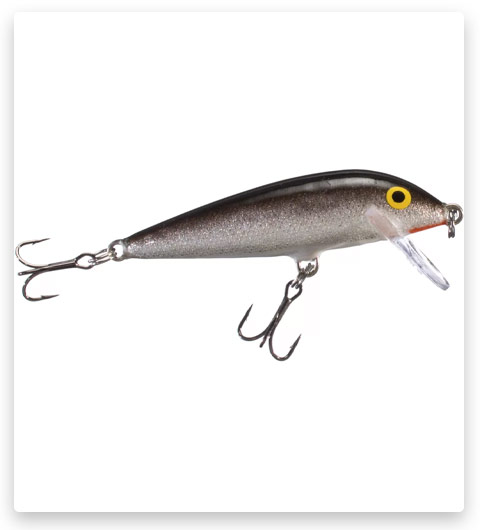 The Rapala CountDown Minnow is a properly weighted bait that sinking action, allowing you to put it right in the feeding zone of suspended fish. It is also effective for bass, walleye, and large trout when trolled or cast in the usual manner. The 1″ model comes with one hook, while all other sizes have 2 hooks.
8# Heddon Torpedo Hard Floating Baits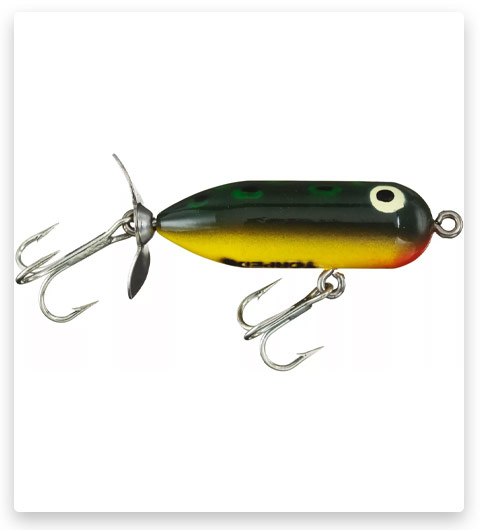 The Heddon Torpedo is a topwater lure that creates a tremendous splashing disturbance, making it perfect for targeting schooling fish feeding on or near the surface. This versatile bait can be fished fast or slow, with a steady or sporadic retrieve, making it an excellent choice for anglers of all skill levels. So if you're looking for an easy-to-use lure that's sure to produce results, the Heddon Torpedo is the perfect choice!
9# Bill Lewis Original Rat-L-Trap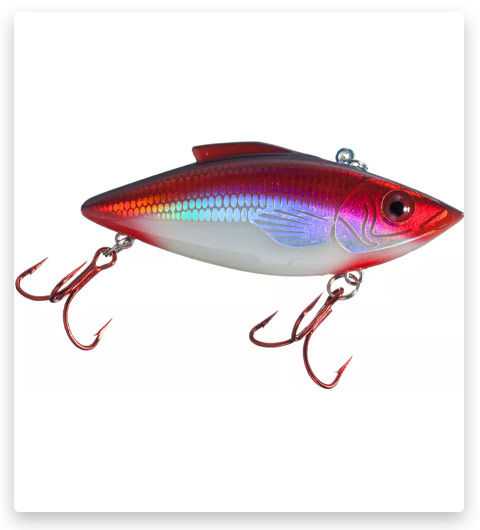 The Rat-L-Trap is one of the most popular lures on the market for a reason – it flat-out catches fish. With its flashing, shimmering shad-like profile and super-tight wiggle, this lure is irresistible to bass, trout, and other game fish. It's also calibrated to emit Liv-N-Sound, so you can be sure that fish will hear it coming from a mile away. And thanks to its tough Durashell finish, the Rat-L-Trap can stand up to even the harshest conditions.
10# Bandit 100 Series Crankbait Lures
Looking for a lure that will help you snag a tournament win? Look no further than the Bandit 100 Series Crankbait. These lures run true right out of the box, so you can focus on fishing, not fidgeting. The extra-wide wobble and loud rattle are sure to attract attention, and the 100 Series Crankbait is great for crappies and neutral bass. With quality construction and attention-grabbing features, the Bandit 100 Series Crankbait is a must-have in your tackle box.
11# Rapala Skitter Pop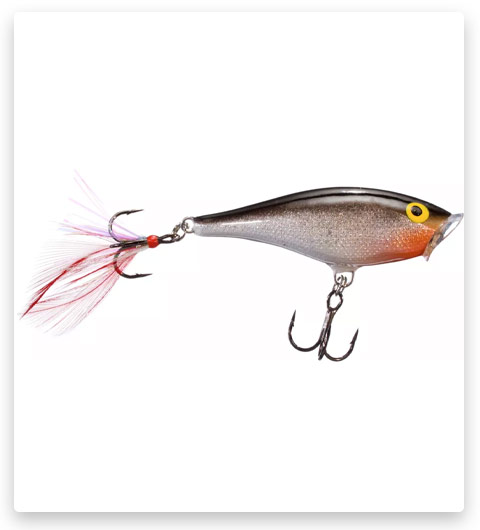 The Rapala Skitter Pop is the perfect topwater bait for anglers of all skill levels. The unique cupped plastic lip creates an unbeatable spitting action that is sure to attract fish from near and far. Whether you walk the dog or twitch it, the Skitter Pop is designed to produce big results. Don't miss your chance to get your hands on this must-have bait – order today!
12# Arbogast Hula Popper Lures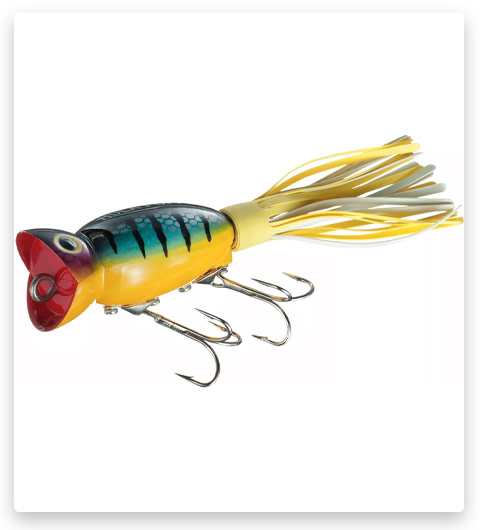 The Arbogast® Hula Popper is one of the most productive big bass baits of all time. Its concave mouth creates loud popping sounds and a bubble trail, while the hula skirt offers a seductive bit of fish-attracting flash. Can be plunked, popped, twitched, or jerked, and the slower you fish the Hula Popper, the more fish it pulls from cover to the surface.
13# Rapala Husky Jerk Minnow Lures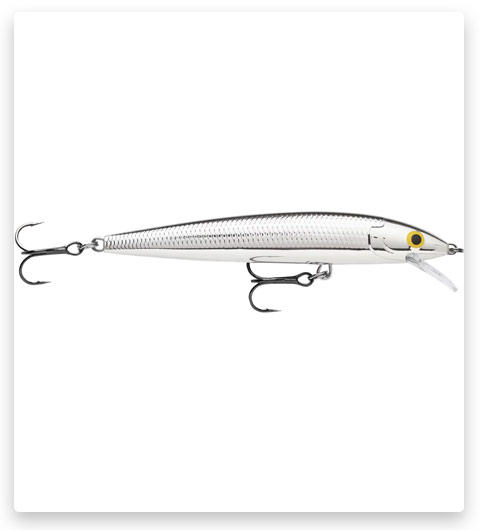 The Rapala Husky Jerk Minnow is the perfect choice for anglers looking for a versatile, perfectly balanced lure. Whether casting or trolling, this minnow will run true at any speed, making it a great choice for a variety of fishing conditions. The loud rattles emitted from the rattle chamber are designed to attract fish from long distances, while the horizontal suspending action is sure to trigger a strike when fish are close by. This lure is also fitted with premium VMC black nickel hooks for added durability and strength. Choose from a variety of "Glass" colors, each with a transparent body and holographic spine for added flash.
Bait Basics: A Look at the Different Types of Lures and Their Uses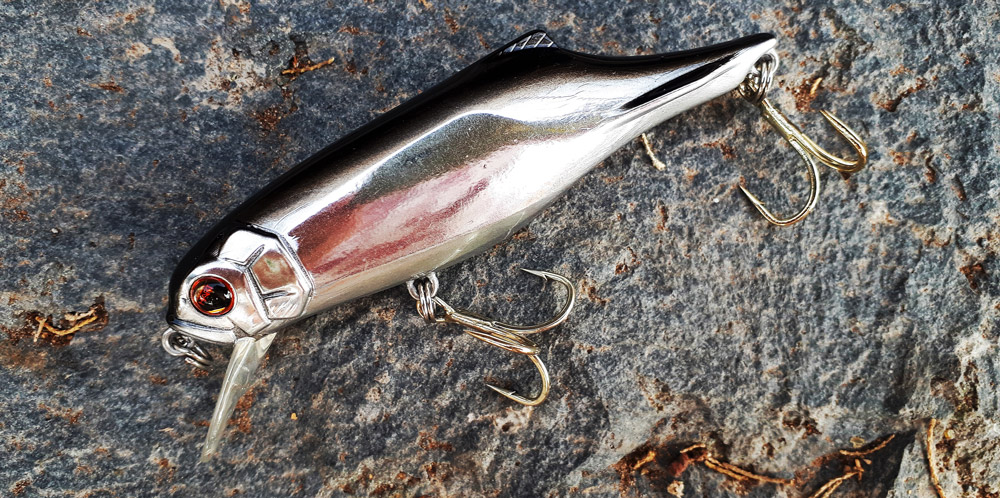 The allure of fishing lures is as captivating as it is pragmatic. These ingenious contrivances are not just about tempting fish with a tantalizing treat, but they're also about imitating the movement, vibration, color, and sometimes even the sound of a fish's natural prey. Effective lures trick the fish into believing that they have found a tasty morsel, triggering their predatory instincts and encouraging a bite.
When it comes to lures, one size doesn't fit all. A plethora of varieties is available, each designed to target specific species, mimic different prey, or work best under certain conditions. Understanding these types and their unique attributes is crucial for selecting the ideal lure for your jetty fishing adventure.
Plugs: These are hard-bodied lures designed to imitate fish. They are generally crafted from plastic or wood and come in a myriad of sizes and colors. Some plugs float on the water's surface, others dive when retrieved, and some even vibrate or rattle to mimic distressed fish. Depending on their design, plugs can mimic various types of baitfish, making them versatile lures in your fishing arsenal.
Jigs: Known for their versatility, jigs are weighted lures that can be adapted to almost any fishing scenario. Their lead heads and hook bodies are typically adorned with a soft plastic or animal-derived dressing. By manipulating the rod tip, anglers can make the jig dance or flutter in the water, tempting fish into a strike. Jigs are particularly effective in jetty fishing as they can reach deeper water and withstand stronger currents.
Soft Plastics: Soft plastic lures are flexible and come in various shapes, including worms, shrimp, and other invertebrates, even baitfish. Their realistic texture and often lifelike designs make them excellent at imitating a wide range of prey species, and their malleability results in a natural movement in the water.
Live Bait Imitations: Sometimes, nothing beats the real thing. Live bait imitations strive to mimic the look and behavior of live bait, such as worms, minnows, or crustaceans. These lures can be particularly effective when you know what the local fish are feeding on.
🔶Each type of lure requires different techniques to maximize its effectiveness, and each has its unique place in the world of jetty fishing. The secret lies in understanding when and how to use each one, a skill that can transform a hopeful angler into a successful one.
Choosing Your Weapon: Key Considerations in Lure Selection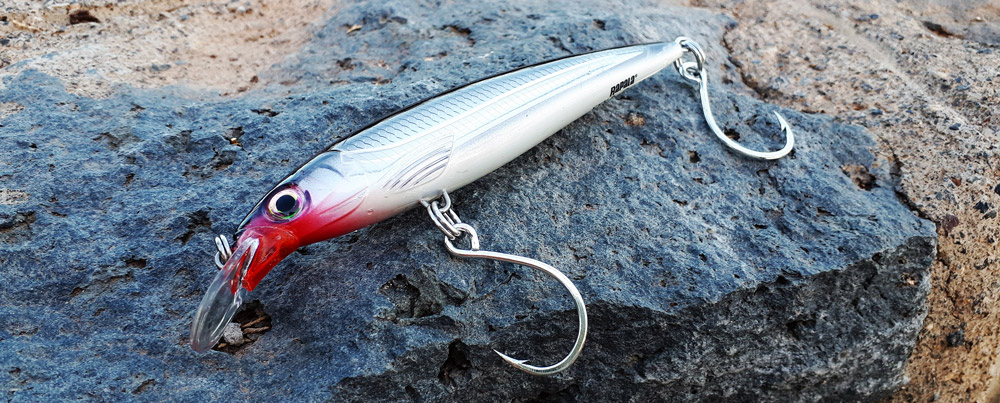 The task of selecting the right lure for jetty fishing is akin to a carefully curated art form. It requires a fusion of knowledge, experience, and an in-depth understanding of several key factors.
The first consideration is your target species. Each fish species has specific preferences in terms of food and hunting behavior. By understanding the diet and feeding habits of your target species, you can select a lure that closely mimics their preferred prey. For instance, if your target species is known for feeding on small baitfish, a plug that resembles that particular fish may be a good choice.
Water conditions play a critical role in your lure selection process. The clarity and color of the water, as well as its temperature, can influence which lure you should use. In clear water, for example, lures that closely mimic natural prey in color and size are often more successful. In contrast, murky or dark water may require lures with vibrant colors or those that create vibrations to attract fish.
The time of day and season can also greatly influence your choice of lure. Some fish feed more aggressively at dawn or dusk, while others may be more active during the bright light of midday. Additionally, the time of year affects which species are present and active around the jetties. For instance, in cooler months, a slow-moving lure might be more effective as fish tend to be less active. Conversely, in warmer months, faster, more aggressive lures could yield better results as fish metabolism and activity levels increase.
Understanding fish behavior is another pivotal aspect of lure selection. Different species react differently to various lures, and these reactions can also change based on factors like spawning cycles, feeding times, and territorial behaviors. For example, a predatory fish protecting its spawning grounds might attack a lure not out of hunger, but aggression. Knowledge of these behaviors and how they shift can help you choose the right lure for the right situation.
🔶In essence, the art of choosing the perfect lure for jetty fishing goes beyond a simple 'one size fits all' approach. It's about observing, learning, and adapting to the subtle nuances of the aquatic world. And the reward? The thrill of a bite, the fight on the line, and the satisfaction of a successful catch.
Best in Show: Top-Rated Lures for Jetty Fishing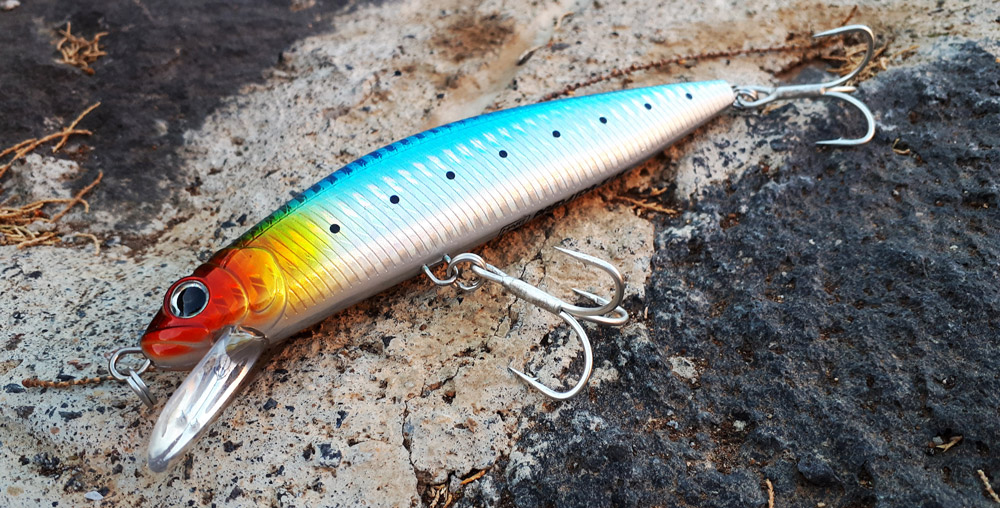 Every angler has their favorite lures, the tried-and-true selections that have proven their worth time and again. But when it comes to jetty fishing, there are a few standouts that tend to yield consistent results. Let's delve into some of the top picks and explore why they've earned their spot in many an angler's tackle box:
Bucktail Jigs: These classic lures are incredibly versatile and have proven effective for a wide variety of species. A bucktail jig can mimic a variety of prey, from small baitfish to crustaceans, depending on its size and how it's worked through the water. I once heard a tale of a seasoned angler who, during an early morning tide, landed a record-breaking striped bass off a jetty using a white bucktail jig. He attributed his success to the lure's subtle, fluttering action, and the way he worked it slowly to mimic a disoriented baitfish. The key with bucktail jigs is to experiment with different retrieval speeds and actions; sometimes a steady retrieve works best, while other times a twitching or bouncing action can entice a strike.
Shrimp Imitations: Shrimp are a common food source for many fish species that frequent jetties. Lures that mimic these crustaceans, particularly soft plastic shrimp imitations, are highly effective in enticing bites. An angler I know swears by shrimp imitations when targeting species like redfish, flounder, and snook around jetties. A top tip for using these lures is to work them slowly along the bottom, pausing occasionally, to mimic a shrimp's natural movement.
Paddle Tail Soft Plastics: These lures come in a range of sizes and colors and are excellent at mimicking baitfish. The paddle-shaped tail creates a lifelike swimming action in the water, attracting predators. An old fishing buddy of mine caught his personal best speckled trout on a paddle tail soft plastic off a jetty in the Gulf Coast. The lure, with its vibrant color and seductive wiggle, was simply irresistible to the hungry trout. The trick with these lures is to match the size and color of the local baitfish as closely as possible, and to vary your retrieve until you find what works best that day.
Topwater Plugs: These lures are especially effective during low-light conditions when predatory fish are feeding close to the surface. The disturbance they create on the water's surface can trigger aggressive strikes from below. I recall a story of an angler who was casting a topwater plug at a jetty at dawn, imitating a wounded baitfish. A massive splash ensued, and after a thrilling fight, he landed a trophy-sized striped bass. The key to using topwater plugs effectively is to mimic a distressed fish – try a 'walk the dog' retrieve, and don't forget to pause occasionally to pique a predator's interest.
🔶These lures have earned their reputation in the jetty fishing community through countless successful catches. However, remember that fishing is as much about instinct and adaptation as it is about following advice. Don't be afraid to try new lures, techniques, or approaches, because you never know when you might stumble upon the next big secret in jetty fishing.
Safety First: Precautions for Jetty Fishing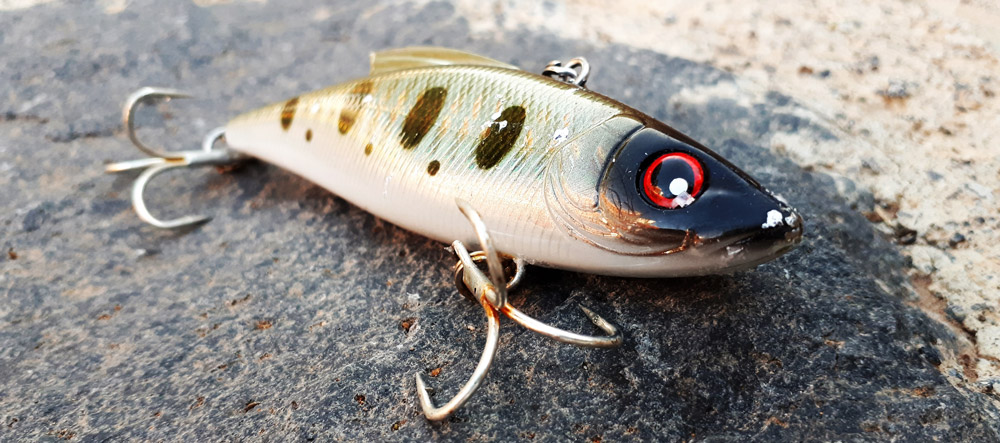 Safety first. Jetties, while excellent fishing spots, can also present unique hazards. They can become slippery from wave splash or algae, and anglers can easily lose their footing. Always wear appropriate footwear with a good grip and take care when moving around. Furthermore, be mindful of changing tides and weather conditions. Rapidly rising tides or sudden storms can quickly turn a fun fishing trip into a dangerous situation. Lastly, always let someone know where you're going and when you expect to return, and consider fishing with a buddy whenever possible.
Respect for nature is a hallmark of responsible angling. This begins with understanding and complying with local fishing regulations. These regulations help ensure fish populations remain healthy and sustainable. They can dictate everything from the size and number of fish you're allowed to keep, to the specific types of gear and bait you can use.
In addition, consider embracing the practice of catch and release, especially for non-target species or particularly large, mature fish. These big individuals are often crucial for breeding and can contribute greatly to the health of fish populations. When practicing catch and release, handle fish as little as possible and return them to the water quickly to increase their chances of survival.
Also, keep in mind that jetties often serve as habitats for various species. Avoid disrupting these areas and ensure that you don't leave behind any litter or fishing line that could harm wildlife.
🔶Fishing is a privilege, a chance to engage with nature in a unique and personal way. By keeping safety and conservation in mind, we can ensure that our beloved sport remains enjoyable and sustainable for generations to come.
FAQ: Mastering the Art of Lure Selection for Jetty Fishing
Conclusion: Transform Your Jetty Fishing Experience
In the vast arena of fishing, jetty fishing stands out as a thrilling and accessible sport that offers something for everyone. This journey we've taken together into the world of jetty fishing lures reveals a few key themes.
First, understanding the environment in which you're fishing, including knowing your target species and the specific conditions at the jetty, is crucial.
Secondly, selecting the right lure, whether it's a versatile bucktail jig, a realistic shrimp imitation, a lively paddle tail soft plastic, or an attention-grabbing topwater plug, can be the game-changer in your angling success.
And thirdly, it's essential to prioritize safety and sustainability, respecting both the natural habitats and the thrilling species that make our fishing adventures possible.
🔶It's my hope that you'll take these insights and not only store them in your angler's toolbox but also put them into practice on your next jetty fishing expedition. The world of fishing lures is as broad and diverse as the fish we seek to catch, and there's always something new to learn, a different strategy to try, or a fresh approach to consider. Don't be afraid to experiment with different lures and techniques, and above all, enjoy the process. After all, the thrill of fishing comes not just from the catch, but from the dance between the angler, the fish, and the vast, mysterious water that connects us all.
Join the Conversation: Share Your Jetty Fishing Adventures
Now that you're armed with fresh insights and knowledge, it's your turn to share. I invite you to join the conversation in the comments section below. Have you used any of these lures with success? Do you have a unique lure or technique that works wonders when fishing from jetties? Or maybe you have questions about the strategies discussed here? All contributions to the discussion are valued, and together, we can grow as a community of anglers.
If you found this article helpful and want to dive deeper into the world of fishing, consider subscribing to our newsletter or following us on our social media platforms. We frequently publish in-depth articles that explore a variety of fishing techniques, strategies, and tips. Whether you're a novice angler looking to get started or an experienced fisherman seeking to refine your craft, we're here to support your journey. By staying connected, you'll have the latest fishing insights delivered straight to your inbox or feed.
🔶Thank you for your time, and remember: every day is a good day when you're fishing. Here's to tight lines and the catch of a lifetime!
Further Reading: Delve Deeper into the Science and Art of Fishing
If you're interested in exploring the subject further, some general sources you might consider include:
Local Fishing Reports: Many fishing communities publish regular reports on what's biting and what they're using to catch them.
Fishing Books and Magazines: These can offer a wealth of information on different fishing techniques and lures. Some examples include "The Complete Guide to Saltwater Fishing" by Al Ristori or magazines like "Salt Water Sportsman."
Online Forums: Websites such as World Sea Fishing Forums or PierandSurf.com have specific sections for jetty fishing.
Local Bait and Tackle Shops: Often, these shops are staffed by seasoned anglers who can provide advice and recommendations.
Official DNR or Wildlife Department Websites: For information on local fishing regulations and conservation efforts.
🔶Remember, one of the best ways to learn about fishing is by talking to other anglers and learning from their experiences. Don't be afraid to ask questions and seek out knowledge.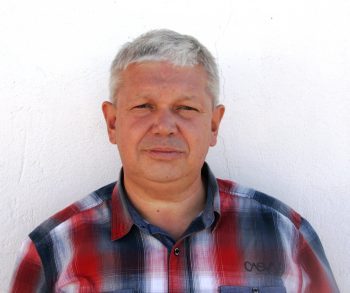 Sergio Smirnoff
Professional fisherman with 40+ years of experience.
Fishing and the ocean is a passion of my life. I am passionate about all kinds of sea fishing: fishing from the shore (spinning, float, baitcasting), from a boat, and spearfishing day and night.
I live in Tenerife (Canary Islands) for the last 10+ years and share my daily fishing experiences on my website. Many years of personal experience as a fisherman and the vast experience of my friends allow me to write professionally on any fishing topics (from choosing a flashlight and equipment to deep-sea fishing).
All of my advice is based on practical real-world experience and will be useful to both novice anglers and professionals.
Read more
about the author.
Affiliate Disclosure: FishReeler.com sometimes gets paid for listings, through sponsors or affiliate programs like Amazon, Ebay, Cabelas, Bass Pro Shop, Shimano, Daiwa, Rapala, Renn, Okuma, KastKing, etс. Clicking a link helps keep FishReeler.com free, at no extra cost to you!
About the author: Each article is verified by the fishing expert Sergio Smirnoff. The articles are written by professional and amateur fishermen with 20+ years of fishing experience.
Note: The views and opinions expressed in this article are those of the authors and do not necessarily reflect the official policy or position of any agency. The articles are for informational purposes only, share your opinions in the comments and join the fishing discussions, let's share our fishing experiences together!