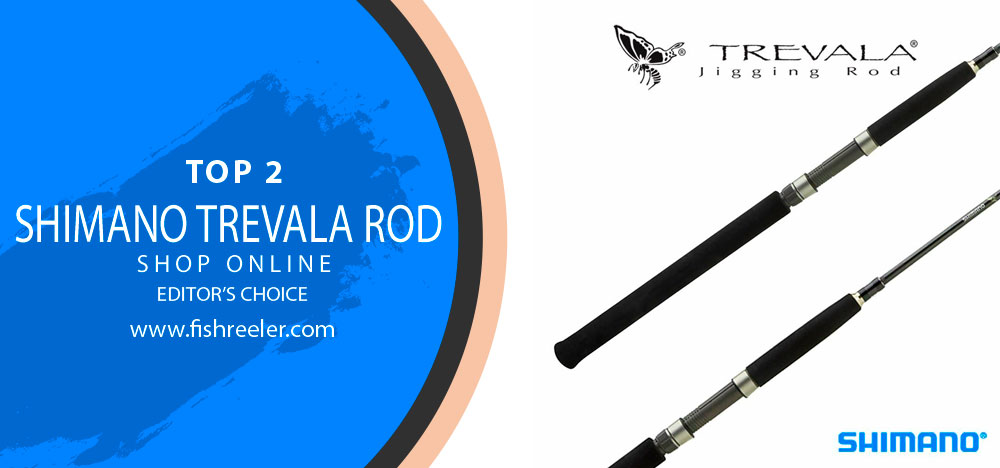 Any fisherman knows how important it is in his arsenal to have good spinning rods and baits to return with a rich catch. Shimano rods have attracted the attention of fans of the sport for many years now, and the Japanese company has produced high-quality products with enviable performance that have proven themselves to be successful tools in a variety of fishing conditions. They can be safely advised to all beginners, advanced fishing enthusiasts, and professionals. Today we will talk about Shimano Trevala jigging rods. These rods have excellent features that provide an excellent fishing experience.
Shimano rods are at the forefront of all rod manufacturers. Shimano produces fishing rods designed by professionals. All fashion trends for fishing rods are taken into account. Shimano specialists work with sports anglers and general fishing enthusiasts to know exactly what they want. And if there are shortcomings or inconveniences, then immediately eliminate them. In tandem, they create the best in their characteristics new Shimano rods. Shimano rods differ in their action. Each model of fishing rods is fully tested so that no defects appear on sale. The manufacturer guarantees a long service life.
Shimano Trevala Jigging Rods
In this review, I will tell you about both the Shimano Trevala spinning rod and the casting model of this rod. These rods have been specially designed for those anglers who prefer a butterfly or vertical jigging. These rods are distinguished by their small diameter due to the patented C4S design which offers many advantages. Firstly, this design reduces the overall weight of the rod, and secondly, it provides a high-strength hoop. In addition, the rod has excellent sensitivity. This suggests that you will feel every bite of a predator.
The Shimano Trevala jigging rod also has Fuji Alconite rings. They provide excellent performance and reduce line drag. The model is equipped with a high-quality reel keeper that holds your reel in the place where it is most convenient for you. Enjoy fishing with a customized EVA split-grip handle. As already mentioned, Shimano Trevala can be either a spinning rod or a casting rod. Your choice will depend on your preference. Spinning rods in this series are available in sizes from 6'3 to 6'6″. Casting rods available in 6'3" size.
Advantages
The advantages include high strength. This is influenced by the reinforced plug connection. It also has:
No backlash
Wear-resistant joint assembly
Durable
Quality material
Innovative technologies
Resistant to different stages of fishing
Short back handle
Fuji guides
Fuji reel seat
Disadvantages
Disadvantages include pricing. Despite the fact that it justifies itself, many fishermen don't appreciate their high price range.
Shimano Trevala Specifications:
C4S Blank Construction
Fuji Alconite Guides
Fuji Reel Seat
Custom Shaped Handles with Split Grip
EVA handles for comfort
Features
C4S Blank Construction. This design is designed to reduce overall weight. This way you can focus on fighting the fish instead of thinking about your tackle. In addition, the design provides a small diameter for increased sensitivity without loss of quality.
Fuji Alconite Guides. Alconite is a material that, when inserted into the guides, will reduce the drag of the fishing line. It also adds smoothness to performance.
Fuji Reel Seat. This reel seat is loved by all anglers. It is able to keep your reel in place under all conditions of use.
Custom Shaped Handles with Split Grip. This ensures maximum comfort thanks to the non-standard shape. This is a very comfortable grip during long jigging.
EVA handles. The handles are designed to prevent hand fatigue during long fishing trips. The EVA material allows you to grip securely even in rain or wet hands.
Our Selection 2 Best Shimano Trevala Spinning Rods– Editor's Choice
1# SHIMANO Trevala Casting Rod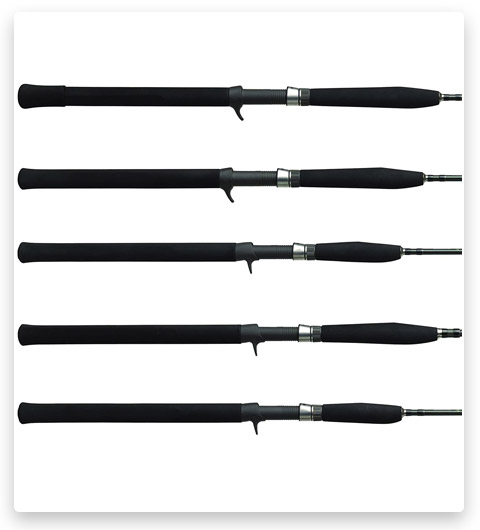 View on Amazon View on BassPro
The Shimano brand has created an excellent TC4 design. A high carbon steel butt joint connects to the TC4 tip section. It provides high sensitivity, but the overall weight of the rod is reduced.  In tandem with baitcasting reels, the Shimano Trevala jigging rod will be the perfect option for both jig fishing and fishing with heavy wobblers and jerk baits. And, of course, when fishing from a boat, the compactness and short length of the rod is an indisputable advantage. Distinctive properties of the series are modern design, high sensitivity, endurance, and power, which are achieved primarily due to the latest technology. The blank is equipped with light guide rings, the supports of which are shaped to prevent overlaps. A comfortable and ergonomic handle with EVA coating allows you to fish out trophy specimens with maximum comfort.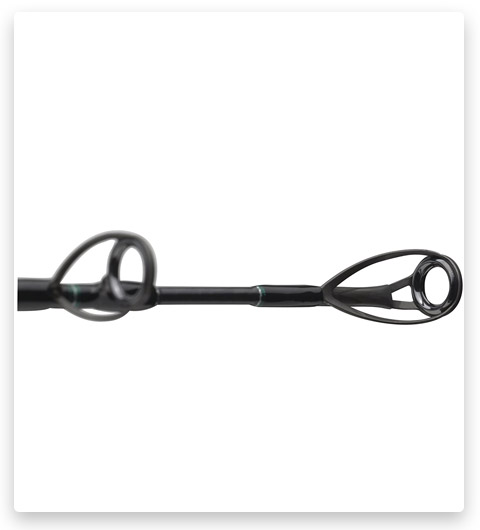 2# Shimano Trevala PX Spinning Saltwater Jigging Pop Fishing Rods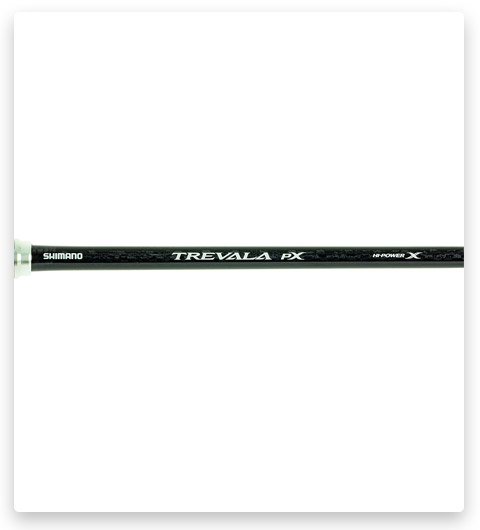 View on Amazon View on BassPro
The Shimano Trevala Spinning Jig Rod has been designed with the best Japanese jigging concepts. A very powerful and lightweight rod designed for high-speed jigging with a high gear ratio reel. An entry-level rod with excellent value for money. A modern, lightweight, and elegant spinning rod with a fast action for fishing with jig lures. The highly modular durable graphite and the glued-in one-piece tip perfectly respond to the most careful bites, which are perfectly transferred to the "hand" and are visually clearly visible. Excellent combination of price and quality. Blank has Hi-Power X reinforcing technology. This prevents twists when fighting a large predator. In addition, the blank has a crisp sharper that is designed for jig maneuvers. You will be able to use the braided line thanks to the SeaGuide zirconia guides. Comfortable fishing thanks to the EVA handle grip.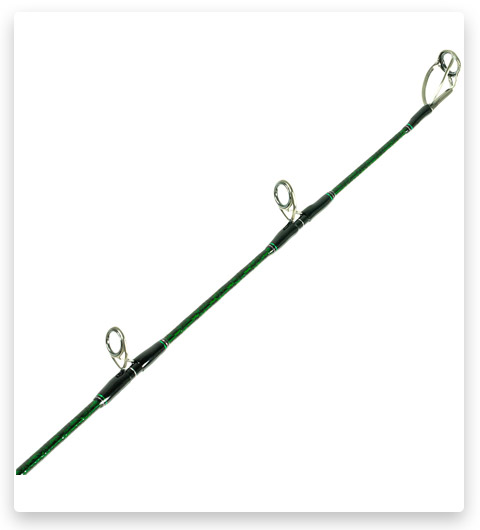 Shimano Brand Information
Shimano is a well-known and megapopular brand in the global fishing market. It is recognized by all professional and advanced fishing enthusiasts. Its products are renowned for their reliability, durability, thoughtful performance, and balance. To achieve high-quality fishing rods, the company makes every effort. Each technological process is thought out to the smallest detail, there is continuous control over compliance with all requirements. After manufacturing, the rods are tested, and only after positive results they get to the fishing market.
Established in 1921, the bicycle equipment workshop did not immediately master the production of the legendary spinning reels and carbon rods. The idea to develop a new market segment for itself came to the heir to the Shimano empire, Shozo Shimano. Legend has it that he was motivated to do this by concern for the health of the company's employees, who spent little time in the fresh air. True or fiction, it is not known for certain.
But it is absolutely certain that in 1971 the company, using its rich experience in the production of gears and bearings for bicycles, began to produce reels for fishing. A little later, a wider range of products for fishing was mastered: rods, clothing, equipment, lures. To date, Shimano has offices and production facilities on all continents in more than 40 countries. Fishing equipment accounts for 20% of the total volume of products manufactured by the concern.
The company has a flexible policy, being sensitive to trends in the design of equipment for recreational and sport fishing. The time-tested and recognized models are regularly improved and updated. Unsuccessful samples are immediately removed from production. The company is actively associated with other manufacturers of fishing equipment. The most productive was cooperation with another recognized leader in the production of fishing goods such as Rapala.
Design and Specifications of Shimano Rods
Shimano is constantly developing and improving its rods. The updated material of the form is able to maximize its capabilities. Namely, have a strong sensitivity. The specific gravity of the blank has become even less, but the strength has only increased. This was achieved by reducing the weight of the resin components of the carbon composition. The percentage of resin in the blank is minimized. It was Shimano who managed to solve the problem of high weight. Hi-Power X technology is also used. Complex work with a complex technical process. Here, the blank is wrapped with cross-linked carbon web tapes. This makes the rods more responsive, the weight is lighter and the structure is stronger.
Externally, Shimano rods feature superior design with premium fittings. Fuji guides with silicon carbide inserts from SiC Ring. They are solid rings, but lightweight. Do not overheat when rubbed during use. Ring frames (support) are made of titanium. The material has high strength and low weight. The reel seat is designed for baitcasting reels. The reel seat is made of high modulus carbon fibre from our own brand. It has an ergonomic shape, provides control over the wiring. The spaced handle is comfortable to hold in the hand. If it involves long fences, then it is better to use it with two hands. Material is EVA from high-quality cork.
Conclusion
The manufacturer Shimano has been producing fishing tackle for half a century, and during this time it has managed to earn the trust and recognition of its consumers. The products of the Japanese brand have gained immense popularity all over the world, its logo is recognizable everywhere. Thanks to high-quality spinning, everyone has a chance to fish out a large tuna or a predatory fish that they have been hunting for a long time. As the owner of this brand of tackle, I can say that they never fail, and I return home with a whole bucket of catch, and this is the most important thing. Shimano Trevala Jigging Rods are the best thing that can happen to you. I hope you are convinced of this after reading my review!
Tags: #shimano trevala / #best shimano trevala rod / #shimano trevala spinning rod / #shimano trevala jigging rod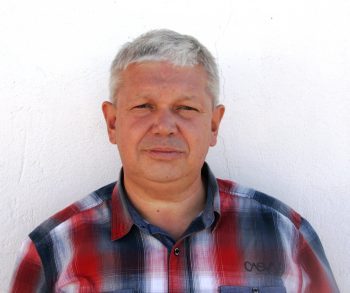 Sergio Smirnoff
Professional fisherman with 40+ years of experience.
Fishing and the ocean is a passion of my life. I am passionate about all kinds of sea fishing: fishing from the shore (spinning, float, baitcasting), from a boat, and spearfishing day and night.
I live in Tenerife (Canary Islands) for the last 10+ years and share my daily fishing experiences on my website. Many years of personal experience as a fisherman and the vast experience of my friends allow me to write professionally on any fishing topics (from choosing a flashlight and equipment to deep-sea fishing).
All of my advice is based on practical real-world experience and will be useful to both novice anglers and professionals.
Read more
about the author.
Affiliate Disclosure: FishReeler.com sometimes gets paid for listings, through sponsors or affiliate programs like Amazon, Ebay, Cabelas, Bass Pro Shop, Shimano, Daiwa, Rapala, Renn, Okuma, KastKing, etс. Clicking a link helps keep FishReeler.com free, at no extra cost to you!
About the author: Each article is verified by the fishing expert Sergio Smirnoff. The articles are written by professional and amateur fishermen with 20+ years of fishing experience.
Note: The views and opinions expressed in this article are those of the authors and do not necessarily reflect the official policy or position of any agency. The articles are for informational purposes only, share your opinions in the comments and join the fishing discussions, let's share our fishing experiences together!