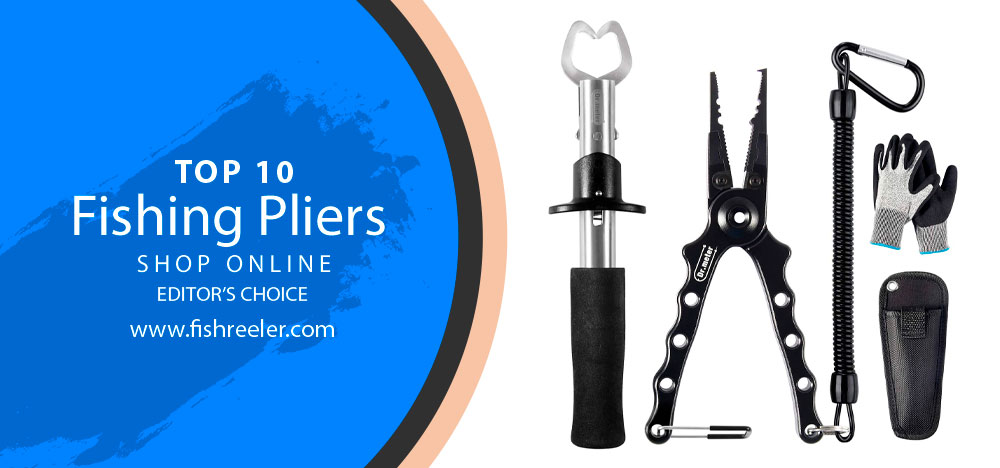 🎣 Dive into the World of Fishing Pliers🪚
Quick Summary
Fishing pliers are not just another item in your tackle box. They are the multi-tool every angler should be equipped with. The difference between a good fishing trip and a great one often boils down to the tools you have on hand. So why are fishing pliers so indispensable? 🤔
🔹 Efficiency: The right pair of fishing pliers can simplify tasks that were once cumbersome, enabling you to focus more on the thrill of the catch 🐟
🔹 Versatility: From cutting lines to removing hooks and everything in between, fishing pliers are the Swiss Army knife of angling tools 🗡️
🔹 Durability: High-quality fishing pliers are designed to withstand harsh conditions, providing you with a reliable tool for years to come 🌊
🔹 Safety: Fishing pliers allow for safer handling of hooks and sharp objects, keeping you secure on your angling adventures ⚠️
🔹 Ease of use: With a design focused on ergonomics, fishing pliers ensure that even the trickiest tasks are manageable with less effort 🙌
By investing in a pair of top-notch fishing pliers, you're not just adding a tool to your kit – you're unlocking a new level of angling prowess. Join us as we delve deeper into the world of fishing pliers, exploring their importance, variations, and how to select the perfect pair for your needs. Your ultimate fishing adventure awaits! 🚀
The Angler's Secret Weapon: Unleashing the Power of Fishing Pliers 🎣

Every fisherman knows that the thrill of the catch comes with a set of challenges. But what if I told you there's a tool that can turn these challenges into a breeze? Welcome to the world of fishing pliers – an unsung hero that deserves a permanent spot in every angler's kit. 🧰
Fishing pliers may not be the first tool you think of, but once you've used them, you'll wonder how you ever fished without them. Versatile, durable, and highly efficient, these tools are to an angler what a good knife is to a chef – indispensable!
As a seasoned angler with years spent fishing in diverse waters, I can tell you that my fishing pliers have been an extension of my own hand. 🤚 They've removed stubborn hooks, cut through the toughest braided line, crimped weights, and even helped me handle fish safely. Every outing becomes a testament to their practicality.
But this isn't just about my love for these trusty tools. It's about letting you in on a secret that can transform your fishing game. 🚀🔝
Unlocking the Secrets of Fishing Pliers: What They Are and Why They Matter 🗝️🎣

Let's break it down. What exactly are fishing pliers? In the simplest terms, they are compact, handheld tools designed specifically for fishing-related tasks. But there's a lot more to them than meets the eye. 👀
🔎Dissecting the Tool: The Anatomy of Fishing Pliers
To truly appreciate the versatility of fishing pliers, it's crucial to understand their different components and the roles they play.
Jaws: The jaws are used to grip, twist, or hold objects. In fishing, they're most often used to remove hooks from the fish's mouth. Some fishing pliers have serrated jaws for a better grip. 🐟
Cutters: These are used to cut fishing line or wire. Many high-quality fishing pliers have two types of cutters: a side cutter for heavy-duty cutting and a line cutter for more delicate tasks. ✂️
Split Ring Tip: This feature allows you to open split rings easily, which is particularly useful when you're changing hooks on a lure. 🔄
Crimpers: If you're using crimped connections, these will help. Crimpers are often built into the jaws of the pliers. 👌
The Many Faces of Fishing Pliers: Material, Design, and Function 🎭
Not all fishing pliers are created equal, and the best one for you largely depends on your specific needs and fishing style. There are several types, each with their unique characteristics:
Material: The most common materials used in fishing pliers are stainless steel and aluminum. Stainless steel is typically more affordable but less resistant to corrosion than aluminum. High-end pliers may use a combination of materials, like an aluminum body with stainless steel jaws, for optimal performance. 🏭
Design: Plier designs vary based on the type of grip, length, and shape of the jaws, and type of cutters. Some are even designed to float if dropped in the water. The design you choose will depend on your comfort and the specific tasks you expect to use the pliers for. 👨‍🎨
Function: While most fishing pliers are multi-functional, some are designed with specific functions in mind. For example, you might find pliers with extended jaws for deep hook removal or with specially hardened cutters for heavy mono or wire leaders. 🔧
Understanding these variations can help you make an informed decision when it comes to choosing your ideal fishing pliers. But the journey doesn't end here – up next, we'll explore how these tools play a role in various fishing scenarios and how to choose the best ones for your angling adventures. 📻
Reeling in the Best: Our Top Picks for Fishing Pliers
The fisherman needs not only a fishing rod, fishing line, and bait but also other tools for good and high-quality fishing. One of these things is pliers. They will help to cut the fishing line, replace the hooks on the wobblers, remove the hooks from save the fish and not only. My article will help you choose durable pliers! Keep reading!
| Image | Product | Brand | Link |
| --- | --- | --- | --- |
| | Piscifun Fishing Pliers, Saltwater Fishing Pliers with Split Ring, Fish Hook Remover, Corrosion Resistance Fly Fishing Pliers with Braid Cutters, Sheath and Lanyard, Fishing Gear Gifts for Men, Black | Piscifun | |
| | KastKing Cutthroat 7 inch Fishing Pliers, 420 Stainless Steel Fishing Tools, Saltwater Resistant Fishing Gear, Tungsten Carbide Cutters, 7'' Split Ring Nose, Orange | KastKing | |
| | Booms Fishing X1 Fishing Pliers Aluminum, Surf Fishing Saltwater, with Coiled Lanyard and Sheath, Black | Booms Fishing | |
| | wolfyok Aluminum Fishing Pliers, Stainless Steel Hook Removers Pliers, Rustproof Saltwater Split Ring Tool & Braid Line Cutters with Sheath and Lanyard (Black) | wolfyok | |
| | Dr.meter Aluminum Fishing Pliers, Saltwater Resistant Fishing Gear, Tungsten Carbide Cutters Split Ring Pliers Hook Remover Fish Holder with Fishing Gripper and Fishing Gloves, Fishing Gifts for Men | Dr.meter | |
| | Booms Fishing H1027 Fishing Pliers Fish Gripper Combo, Multifunctional Fishing Scissors Hook Remover Split Ring, Fishing Tools Set | Booms Fishing | |
| | KastKing Speed Demon Pro Fishing Pliers, Split Ring Nose, 7.5 inch | KastKing | |
| | SAMSFX Aluminum Fishing Pliers Hook Remover Braid Line Cutter with Coiled Lanyard, Fly Fishing Knot Tying Tool & Retractors (Gray & Green Handle, Split Ring Nose) | SAMSFX | |
| | Fishing Pliers, Saltwater Resistant Fishing Gear, Dr.meter Aluminum Fishing Equipment, Tungsten Carbide Cutters Split Ring Pliers Hook Remover Fishing Tools with 3pcs of Lanyard-Fishing Gifts for Men | Dr.meter | |
| | Aluminum Fishing Pliers Saltwater, Fish Gripper, Lip Grip, Fish Hook Remover, Hanging Digital Fish Scale, Fly Fishing Tools Set, Split Ring Pliers Fish Holder, Ice Fish Gear,[5 pcs] + Waterproof Box | SP | |
1# Piscifun Aluminum Fishing Pliers Braid Cutters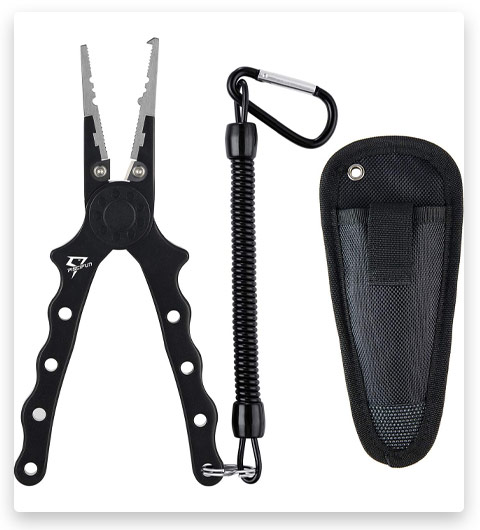 All that you wanted to find in pliers, you will find in these! They are light and almost not felt in the hand. They are convenient to use and simple. You can quickly remove the hook or cut the fishing line. It is worth paying attention to the material.
They are made of aluminum and stainless steel. These are two high-quality materials that resist corrosion and rust. The handle doesn't slip in the hand and is comfortable for people with average hand size. You will appreciate the cutter. It is sharp and does well with any type of fishing line. When fishing in a boat or in harsh conditions, simply hang the pliers with a strap. So you will not worry about where your tool is and look for it for a long time. This is one of the best products. It works great and so I can advise you!
2# KastKing Cutthroat Fishing Pliers Saltwater Resistant Fishing Gear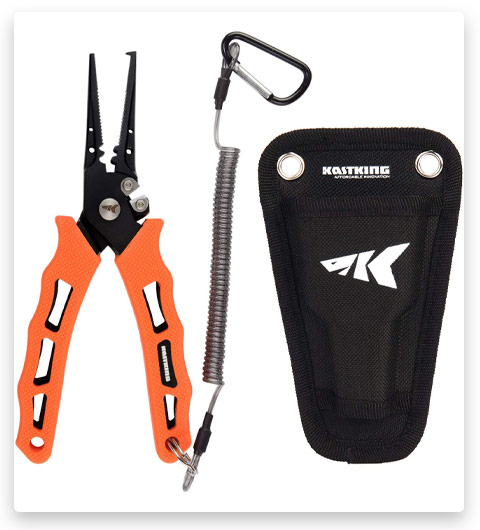 Durability is one of the most important characteristics of pliers. This item depends on the materials of which the tool is made. This model is made of stainless steel which resists rust and corrosion. Therefore, a thing will serve you for many years. And most importantly, they can be used not only in freshwater but also in saltwater. Cutters easily cope with any fishing line. You can remove any hook quickly and without wasting a lot of time. These are spring pliers that are very easy to use. Special nylon sheath designed for carrying.
3# Booms Fishing X1 Aluminum Fishing Pliers Hook Remover Braid Line Cutting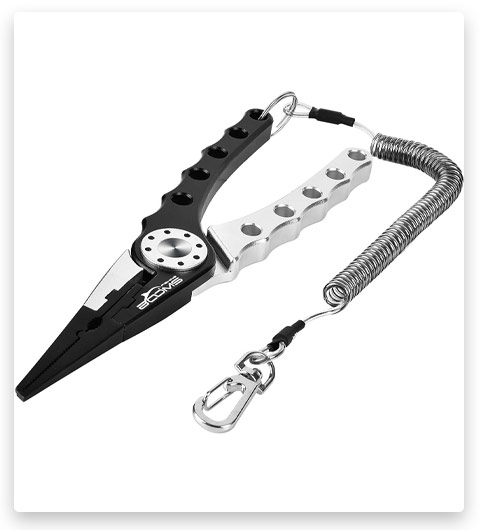 Add this model to your tools! The pliers are lightweight and portable. They can be carried in a special case, as well as use the strap while fishing. They can cut even braided fishing line! They come with a spring that allows you to work comfortably with one hand. Aluminum and stainless steel allow the tool to be used without consequences in both freshwater and seawater. No rust and corrosion. Only durability and reliability!
4# Wolfyok Aluminum Fishing Pliers Stainless Steel Hook Removers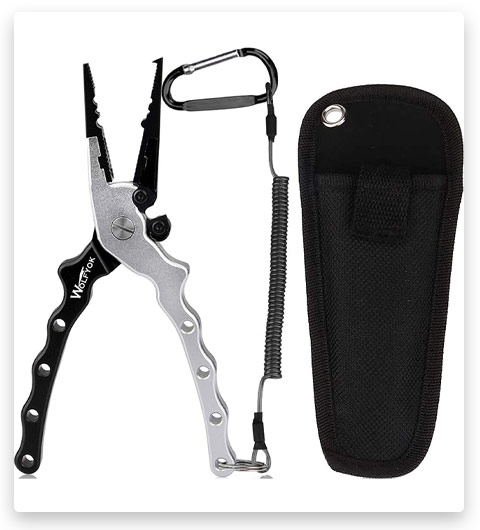 This tool has gathered all the advantages. When you take it in your hand, your first thoughts will be that it is very light. Its handle is specially designed to hold with wet hands. It doesn't slip and the spring facilitates work. The jaws come with cut rings and are sharp enough to handle any fishing line. You don't have to search for your instrument for a long time thanks to the strap, but you can store it in a case.
5# Dr.Meter Aluminum Fishing Pliers Saltwater Resistant Fishing Gear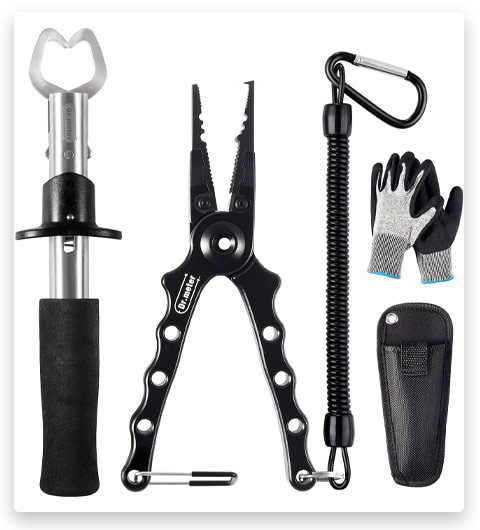 This manufacturer offers you not only to purchase pliers but also other fishing accessories. This set also includes a grip for fish and gloves. These are all the tools that allow you to safely pull the hook out of the jaws of the fish. Thanks to the grip, you don't have to touch the fish, and the pliers make it easy to reach the hook. The nose is long enough for any fish. Gloves prevent your hands from getting dirty and also protect your hands from any scratches.
6# Booms Fishing H1027 Pliers Gripper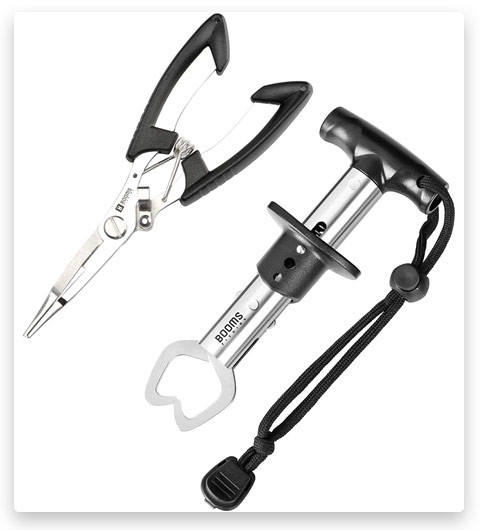 Here you will get not only fishing pliers but also gripping devices for fish. It makes hooking easier. These tools are easy and safe to use. The pliers are made of stainless steel. This is one of the most durable materials. The handle is rubber and therefore your hand doesn't slip.
7# KastKing Speed Demon Pro Fishing Pliers Fishing Tools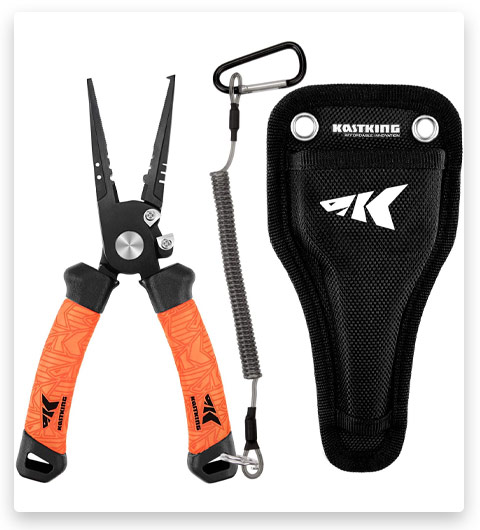 Nothing is impossible for these pliers! They can quickly cut fishing lines from any material, as well as quickly get a hook from the mouth of the fish. Your hand will feel comfortable holding on to a soft handle. There is also a spring-loaded jaw. This is for one-handed operation. The strap frees your hands while fishing!
8# SAMSFX Locking Aluminum Fishing Pliers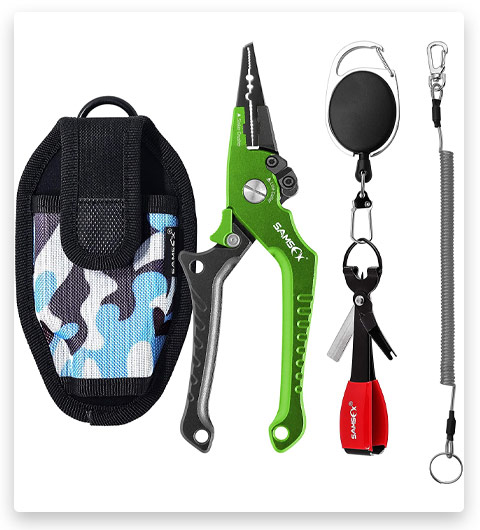 Safe pliers for your comfortable fishing! There are opening and locking functions. The spring allows you to do all this with one hand. The material doesn't allow the appearance of rust and corrosion. The tool is made of aluminum. For quick access, the pliers have a strap. And the sheath allows you to conveniently store a thing.
9# Dr.Meter Aluminum Hook Remover Fishing Pliers Tungsten Carbide Cutters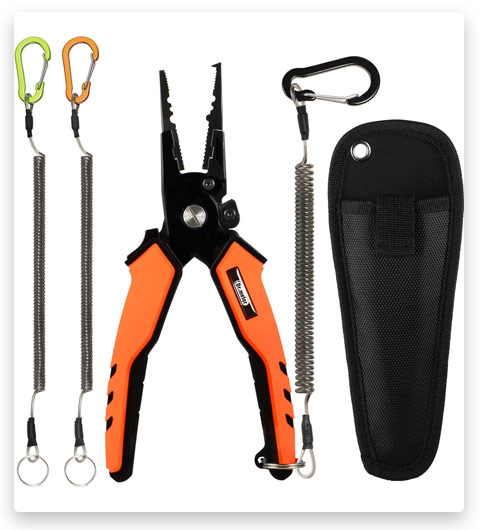 It is a multifunctional fishing tool. It can cope with all your tasks. To avoid losing the tool or not looking for it for a long time, use the strap. It, like the pliers themselves, is made of stainless steel, which prevents rust from appearing. For safety, close the jaws when not in use. For the tool to serve for a long time also use a special cover.
10# SP Aluminum Fishing Pliers Fishing Tools Set Fish Gripper Lip Grip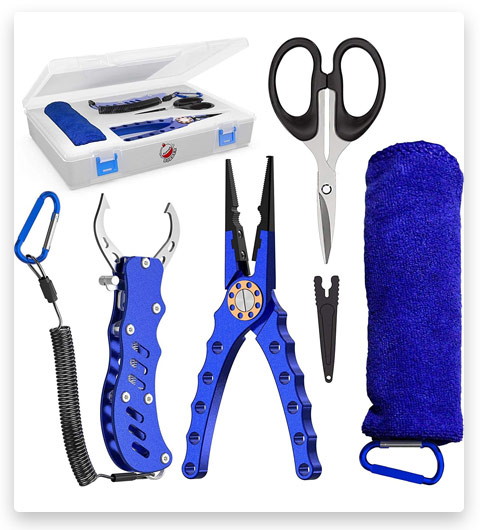 This set is a good addition to your tackle box. It is light enough to take with you and doesn't take up much space. In it, you will find high-quality pliers. Their material allows you to use the thing in freshwater and seawater. You can get a hook and cut off any type of fishing line as the cutters are strong and sharp. You will also receive a fish grab that will help you better deal with the hook that has been pulled out. It allows you not to touch the fish during the process. And also you will find scissors and a rag.
Why Fishing Pliers Matter: A Professional's Take 💡

It's time to dive deeper into the world of fishing pliers. As we've seen, these tools are versatile and come in many shapes and forms, but what exactly makes them so essential? Let's explore how fishing pliers prove their worth in various fishing scenarios, and I'll share a few of my own experiences to illustrate their value. 🚀
Reel Stories: Personal Experiences with Fishing Pliers 📚
Let me take you back to one of my memorable angling experiences, where my fishing pliers truly saved the day. I was out on a freshwater fishing trip, and I had caught a good-sized pike. The hook was lodged deeply, and removing it with my hands was out of the question. That's when my fishing pliers proved to be invaluable. With their long-nose design, I was able to safely remove the hook, ensuring the pike could be released unharmed.
On another occasion, while saltwater fishing, my line got entangled in some underwater debris. I needed to cut the line quickly, and scissors were nowhere in sight. But my trusty fishing pliers, with their sharp cutters, allowed me to swiftly cut the line, preventing potential damage to my rod. It was a stark reminder of how essential fishing pliers are, regardless of where you're fishing. 🌊🎣
Time and again, fishing pliers have proven their worth. And while choosing the right pair might seem daunting, it needn't be. Up next, we'll guide you through the process of selecting the best fishing pliers for your needs. 😉
Hooked on the Right Tool: Why Fishing Pliers Are a Must-Have for Anglers

When it comes to fishing, every tool counts, but one stands out as a true game-changer: fishing pliers. If you've ever found yourself struggling with a hook, wishing for a more efficient way to cut your line or needing to crimp a split shot, then you're in the right place! 📍
Fishing is a sport loved by many for its thrilling adventure and the anticipation of catching a big one. However, it's not just about the fishing rod and bait. Any experienced angler will tell you that having the right tools is crucial to the success of your fishing trip.
One of the most important tools is a good pair of fishing pliers. These pliers are not only useful for removing hooks from fish, but they can also help with rigging, cutting lines, and even opening split rings.
Choosing the right fishing pliers can make a huge difference in your fishing experience. With so many options available in the market, it can be overwhelming to decide which one to go for.
In this blog post, we will explore the importance of fishing pliers and what to consider when choosing the right pair for your needs. We will also review some of the best fishing pliers available in the market and provide helpful tips on how to maintain and use them effectively. Whether you're a seasoned angler or just starting, this post will help you make an informed decision when it comes to selecting your fishing pliers.
More Than Just Hooks: The Versatility of Fishing Pliers in Your Tackle Box
Have you ever found yourself struggling to remove a hook from a fish with a pair of inadequate pliers? Or maybe you've experienced the frustration of not being able to cut fishing lines cleanly and precisely. As an avid angler, I understand the importance of having the right tools for the job, and when it comes to fishing, a good pair of pliers can make all the difference.
In this full guide, we will explore the world of fishing pliers and provide you with all the information you need to make an informed decision when selecting the right pair for your needs.
From understanding the different types of pliers available to learn how to maintain and use them effectively, we've got you covered. We will also review some of the best fishing pliers on the market and provide helpful tips to ensure that you get the most out of your investment. So, whether you're a beginner or an experienced angler, get ready to up your fishing game with our comprehensive guide to fishing pliers.
🎦Video YouTube: Best Fishing Pliers Under $50 – Pros & Cons
A Must-Have Tool for Every Angler: What Are Fishing Pliers?
Fishing pliers are specialized tools designed for use in fishing. They are used to perform a variety of tasks, such as cutting fishing lines, crimping leaders, and removing hooks from fish. Fishing pliers are often made of high-quality materials, such as stainless steel or aluminum, to withstand the harsh conditions of fishing environments.
They usually feature a spring-loaded design and ergonomic handles for ease of use and comfort. Additionally, some fishing pliers may include additional features such as split ring openers or line cutters. Fishing pliers are an essential tool for any angler and can make fishing trips more successful and enjoyable.
Unlocking the Secrets of Fishing Pliers: Everything You Need to Know
Fishing pliers are versatile tools designed to perform a variety of functions while fishing. Here is a complete guide on how fishing pliers work:
Cutting Line: One of the primary uses of fishing pliers is to cut fishing lines. To use the pliers for this purpose, simply place the line in the cutting blades and squeeze the handles together.
Removing Hooks: Fishing pliers are also useful for removing hooks from fish. To use the pliers for this purpose, grip the hook with the pliers and twist gently while pulling the hook out.
Crimping Leaders: Fishing pliers can also be used to crimp leaders or sleeves onto fishing lines. To do this, place the leader or sleeve in the pliers' crimping jaws and squeeze the handles together firmly.
Opening Split Rings: Some fishing pliers come with a split ring opener, which allows you to open split rings for adding or removing fishing lures or hooks. To use this feature, place the split ring in the pliers' split ring opener and twist gently to open the ring.
Gripping and Holding: Fishing pliers can also be used to grip and hold various items, such as hooks, lures, or fish. The jaws of the pliers are designed to provide a secure grip on these items.
Pliers are essential tools for anglers, and understanding how they work can help you make the most of them on your fishing trips. With their many features and functions, fishing pliers can help you catch more fish and make your fishing experience more enjoyable.
Certainly! A table about different types of fishing pliers:
| Type of Fishing Pliers | Features | Best for |
| --- | --- | --- |
| Needle-Nose Pliers | Long, slender jaws for accessing tight spaces | Removing hooks from deep in the fish's mouth |
| Split Ring Pliers | Flat, tapered jaws with a small notch for opening split rings | Adding or removing hooks or lures from split rings |
| Line Cutters | Cutting blades or serrated edges for cleanly cutting fishing line | Cutting monofilament, fluorocarbon, or braided fishing line |
| Crimping Pliers | Rounded jaws with a crimping notch for securing sleeves or leaders | Creating strong connections between lines and leaders |
| Multi-Tool Pliers | Combination of various features such as cutters, crimpers, and split ring openers | Versatile tool for a variety of fishing needs |
In the table, each row represents a different type of fishing plier, with columns for their features and best uses.
The first row describes needle-nose pliers, which have long, slender jaws for accessing tight spaces and are best for removing hooks from deep in a fish's mouth.
The second row describes split ring pliers, which have flat, tapered jaws with a small notch for opening split rings and are best for adding or removing hooks or lures from split rings.
The third row describes line cutters, which have cutting blades or serrated edges for cleanly cutting fishing lines and are best for cutting monofilament, fluorocarbon, or braided fishing lines.
The fourth row describes crimping pliers, which have rounded jaws with a crimping notch for securing sleeves or leaders and are best for creating strong connections between lines and leaders.
The final row describes multi-tool pliers, which are a combination of various features such as cutters, crimpers, and split ring openers and are versatile tools for a variety of fishing needs.
Cutting-Edge Choices: A Guide to Choosing the Best Fishing Pliers

How to choose and what to consider:
Material
This is one of the most significant points. Your instrument will often come in contact with freshwater and saltwater. If you select pliers from poor material, there is a high probability that they will quickly become rusted or corrosion will appear. To avoid these troubles, choose a tool made of stainless steel, aluminum, or titanium. These are some of the most durable and high-quality materials. But here, too, you need to be careful.
If you have chosen aluminum, then it must be of high quality. Low-quality aluminum doesn't withstand high pressure and bends because of this. How does stainless steel work? It is covered with a special coating that resists corrosion and rust. But if the coating is poor, then it quickly erases and the pliers begin to rust. If you choose titanium, then there should be no error. But you must understand that this is a quite expensive material. But also don't forget to look after your tool no matter what material you choose. After use in water, be sure to wash the pliers underwater.
Handle
If you miss this moment, then you will greatly regret it. The handle should be comfortable. Fishing takes place on the water, which means that your hands are always wet or slippery. And the grip must meet these requirements. Your hands should hold the instrument well and not slip. Therefore, the handle should be made of molded or rubberized material. The size should be comfortable for you. The ideal solution is a medium-sized grip.
Nose Length
You need to know where and what kind of fish you will catch. Then you can choose the correct length. The long version is suitable for catching large fish such as perch. Also, if you fish in saltwater, then choose pliers with a long needle. So you can get much deeper into the mouth of the fish and remove the hook. If you prefer to fish in rivers and lakes, that is, in freshwater, then you can choose models with a shorter needle.
Ergonomics
For good fishing, you need light fishing pliers. They will not be heavy for your hand and you will be comfortable holding them and working with them. You will appreciate the tools with spring-loaded handles. You don't have to get used to them. But don't choose cheap options. You just will get tormented with them and regret your choice.
Cutting
You can choose the side or line pliers. Line cutters are used for cutting fishing lines. But if you are using the braided version, then your pliers should be very sharp. Side models are designed for cutting hooks. It is also advisable to choose pliers where there is a function for changing knives. Since knives deteriorate over time, they need to be replaced.
Split Ring Tool
This function is needed to set the split rings. This is especially necessary if you are fishing in seawater. You will have the opportunity to quickly and easily replace the hook.
Crimper
This function allows you to connect and crimp the wires and the sleeve. Choose a tool with this feature if you need one.
Strip
The strap is a perfect addition to quality pliers. You will need this feature if you are fishing from a boat or you like deep fishing. Your tool will be firmly held and you can use them when it is convenient for you.
Handle with Care: Tips for Maintaining and Using Your Fishing Pliers

Proper care and use of fishing pliers can ensure their longevity and effectiveness on your fishing trips. Here are some tips to keep your pliers in top condition:
Rinse with fresh water after use: Saltwater can be corrosive to the metal in your pliers, so be sure to rinse them with fresh water after each use to remove any salt and sand buildup.
Dry thoroughly: After rinsing, dry your pliers completely to prevent rust and other forms of corrosion.
Lubricate the hinge: Apply a small amount of lubricant to the hinge of your pliers to ensure smooth operation.
Store in a dry place: Store your pliers in a dry and safe place to prevent damage and protect them from the elements.
Use for their intended purpose: While fishing pliers can be versatile tools, they are designed for specific tasks. Use them for their intended purpose to prevent damage or breakage.
Use caution: Be careful when using your pliers, especially when removing hooks or cutting lines. Mishandling can lead to damage or injury.
Sharpen the cutting blades: Over time, the cutting blades on your pliers may become dull. Sharpen them regularly to ensure clean and precise cuts.
By following these simple tips, you can ensure that your fishing pliers remain in excellent condition and are always ready for your next fishing trip.
❓ FAQ About This Product
And for you to have a complete picture of this fishing tool, I decided to answer the frequently asked questions.
Don't Get Caught Without Them: Understanding the Versatility of Fishing Pliers
Fishing pliers are an essential tool for anglers to have in their tackle boxes. With various types of fishing pliers available, it's essential to choose one that suits your needs. Taking proper care and maintenance of fishing pliers can extend their lifespan and ensure they function correctly.
Investing in a high-quality pair of fishing pliers can make a difference in the success of your fishing experience. So, next time you head out on the water, make sure to bring your fishing pliers along with you!
Pliers are versatile items in your tackle box. It will help save your time and nerves. In my review, I have tried to show you all its advantages. Choose one of the 10 tools and go fishing!
Tags: #best fishing pliers / #best saltwater fishing pliers / #best split ring pliers for fishing / #best fly fishing pliers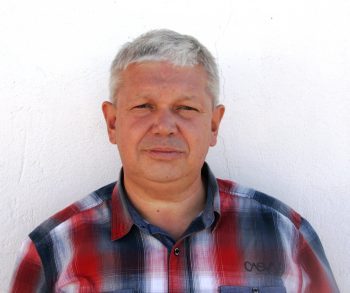 Sergio Smirnoff
Professional fisherman with 40+ years of experience.
Fishing and the ocean is a passion of my life. I am passionate about all kinds of sea fishing: fishing from the shore (spinning, float, baitcasting), from a boat, and spearfishing day and night.
I live in Tenerife (Canary Islands) for the last 10+ years and share my daily fishing experiences on my website. Many years of personal experience as a fisherman and the vast experience of my friends allow me to write professionally on any fishing topics (from choosing a flashlight and equipment to deep-sea fishing).
All of my advice is based on practical real-world experience and will be useful to both novice anglers and professionals.
Read more
about the author.
Affiliate Disclosure: FishReeler.com sometimes gets paid for listings, through sponsors or affiliate programs like Amazon, Ebay, Cabelas, Bass Pro Shop, Shimano, Daiwa, Rapala, Renn, Okuma, KastKing, etс. Clicking a link helps keep FishReeler.com free, at no extra cost to you!
About the author: Each article is verified by the fishing expert Sergio Smirnoff. The articles are written by professional and amateur fishermen with 20+ years of fishing experience.
Note: The views and opinions expressed in this article are those of the authors and do not necessarily reflect the official policy or position of any agency. The articles are for informational purposes only, share your opinions in the comments and join the fishing discussions, let's share our fishing experiences together!