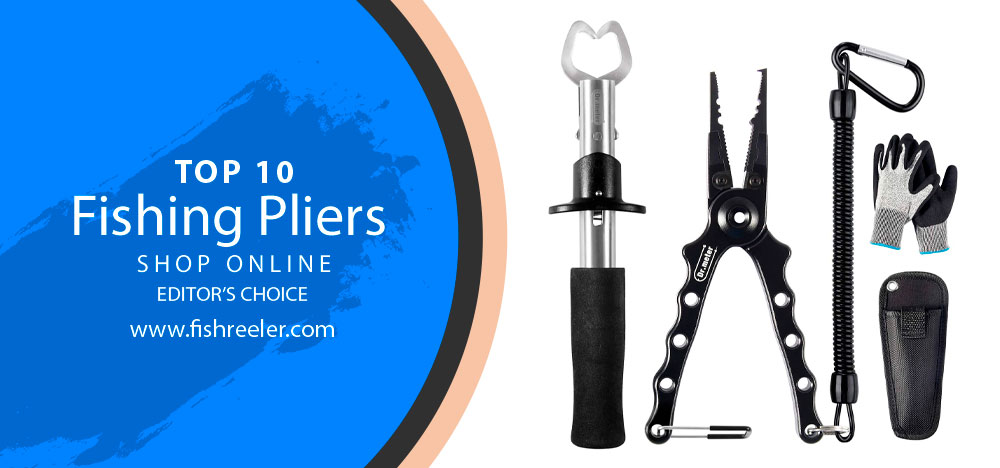 10 Best Fishing Pliers: Models Reviewed & Rated & Compared
The fisherman needs not only a fishing rod, fishing line, and bait but also other tools for good and high-quality fishing. One of these things is pliers. They will help to cut the fishing line, replace the hooks on the wobblers, remove the hooks from save the fish and not only. My article will help you choose durable pliers! Keep reading!
| Image | Product | Brand | Link |
| --- | --- | --- | --- |
| | Piscifun Fishing Pliers, Ultralight Aluminum Pliers, Corrosion Resistance Braid Cutters Split Ring Pliers, Ice Fishing Gear with Sheath and Lanyard, Fish Hook Remover Fish Gear Gifts for Men, Black | Piscifun | |
| | KastKing Cutthroat 7 inch Fishing Pliers, 420 Stainless Steel Fishing Tools, Saltwater Resistant Fishing Gear, Tungsten Carbide Cutters, Corrosion Resistant Polymer Coating, 7''Split Ring Nose, Orange | KastKing | |
| | Booms Fishing X1 Fishing Pliers Aluminum, Surf Fishing Saltwater, with Coiled Lanyard and Sheath, Black | Booms Fishing | |
| | wolfyok Aluminum Fishing Pliers, Stainless Steel Hook Removers Pliers, Rustproof Saltwater Split Ring Tool & Braid Line Cutters with Sheath and Lanyard (Black) | wolfyok | |
| | Dr.meter Aluminum Fishing Pliers, Saltwater Resistant Fishing Gear, Tungsten Carbide Cutters Split Ring Pliers Hook Remover Fish Holder with Fishing Gripper and Fishing Gloves, Fishing Gifts for Men | Dr.meter | |
| | Booms Fishing H1027 Fishing Pliers Fish Gripper Combo, Multifunctional Fishing Scissors Hook Remover Split Ring, Fishing Tools Set | Booms Fishing | |
| | KastKing Speed Demon Pro Fishing Pliers, Split Ring Nose, 7.5 inch | KastKing | |
| | SAMSFX Aluminum Fishing Pliers Hook Remover Braid Line Cutter with Coiled Lanyard Fly Fishing Knot Tying Tool & Retractors | SAMSFX | |
| | Fishing Pliers, Saltwater Resistant Fishing Gear, Dr.meter Aluminum Fishing Equipment, Tungsten Carbide Cutters Split Ring Pliers Hook Remover Fishing Tools with 3pcs of Lanyard-Fishing Gifts for Men | Dr.meter | |
| | Aluminum Fishing Pliers Saltwater, Fish Gripper, Lip Grip, Fish Hook Remover, Hanging Digital Fish Scale, Fly Fishing Tools Set, Split Ring Pliers Fish Holder, Ice Fish Gear,[5 pcs] + Waterproof Box | SP | |
TOP 10 Best Fishing Pliers – Editor's Choice: Freshwater & Saltwater

1# Piscifun Aluminum Fishing Pliers Braid Cutters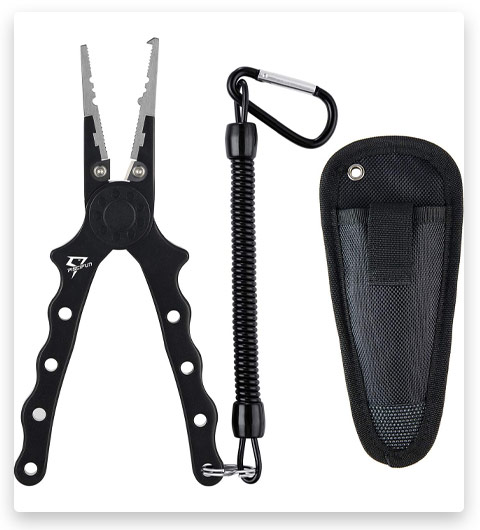 All that you wanted to find in pliers, you will find in these! They are light and almost not felt in the hand. They are convenient to use and simple. You can quickly remove the hook or cut the fishing line. It is worth paying attention to the material.
They are made of aluminum and stainless steel. These are two high-quality materials that resist corrosion and rust. The handle doesn't slip in the hand and is comfortable for people with average hand size. You will appreciate the cutter. It is sharp and does well with any type of fishing line. When fishing in a boat or in harsh conditions, simply hang the pliers with a strap. So you will not worry about where your tool is and look for it for a long time. This is one of the best products. It works great and so I can advise you!
2# KastKing Cutthroat Fishing Pliers Saltwater Resistant Fishing Gear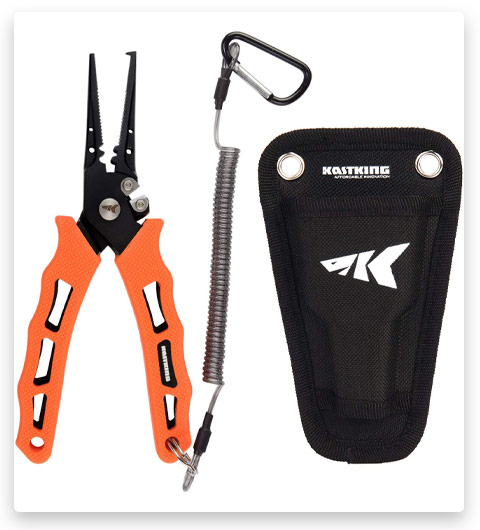 Durability is one of the most important characteristics of pliers. This item depends on the materials of which the tool is made. This model is made of stainless steel which resists rust and corrosion. Therefore, a thing will serve you for many years. And most importantly, they can be used not only in freshwater but also in saltwater. Cutters easily cope with any fishing line. You can remove any hook quickly and without wasting a lot of time. These are spring pliers that are very easy to use. Special nylon sheath designed for carrying.
3# Booms Fishing X1 Aluminum Fishing Pliers Hook Remover Braid Line Cutting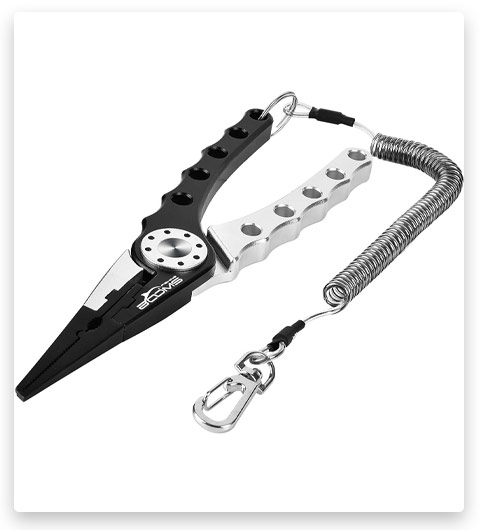 Add this model to your tools! The pliers are lightweight and portable. They can be carried in a special case, as well as use the strap while fishing. They can cut even braided fishing line! They come with a spring that allows you to work comfortably with one hand. Aluminum and stainless steel allow the tool to be used without consequences in both freshwater and seawater. No rust and corrosion. Only durability and reliability!
4# Wolfyok Aluminum Fishing Pliers Stainless Steel Hook Removers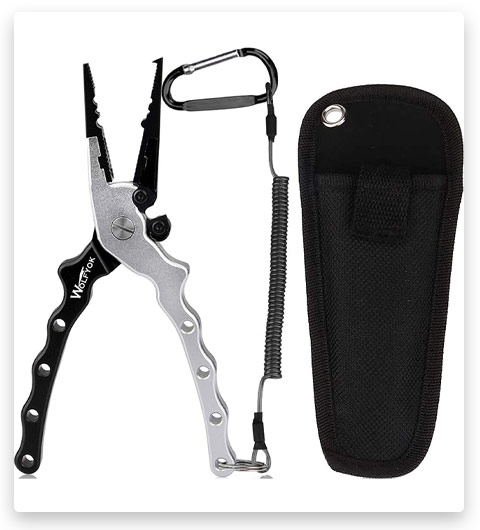 This tool has gathered all the advantages. When you take it in your hand, your first thoughts will be that it is very light. Its handle is specially designed to hold with wet hands. It doesn't slip and the spring facilitates work. The jaws come with cut rings and are sharp enough to handle any fishing line. You don't have to search for your instrument for a long time thanks to the strap, but you can store it in a case.
5# Dr.Meter Aluminum Fishing Pliers Saltwater Resistant Fishing Gear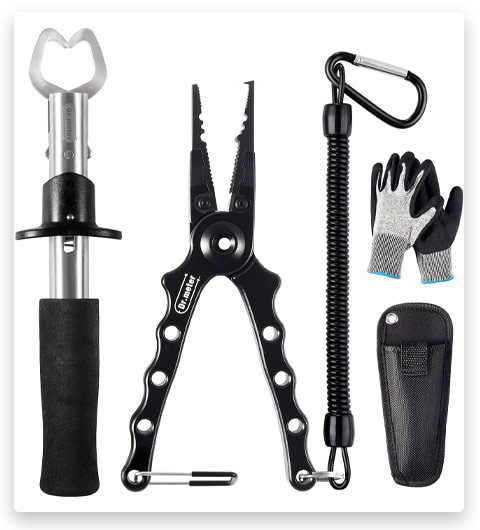 This manufacturer offers you not only to purchase pliers but also other fishing accessories. This set also includes a grip for fish and gloves. These are all the tools that allow you to safely pull the hook out of the jaws of the fish. Thanks to the grip, you don't have to touch the fish, and the pliers make it easy to reach the hook. The nose is long enough for any fish. Gloves prevent your hands from getting dirty and also protect your hands from any scratches.
6# Booms Fishing H1027 Pliers Gripper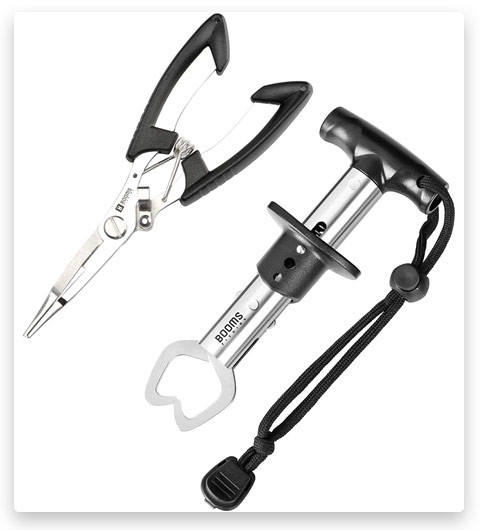 Here you will get not only fishing pliers but also gripping devices for fish. It makes hooking easier. These tools are easy and safe to use. The pliers are made of stainless steel. This is one of the most durable materials. The handle is rubber and therefore your hand doesn't slip.
7# KastKing Speed Demon Pro Fishing Pliers Fishing Tools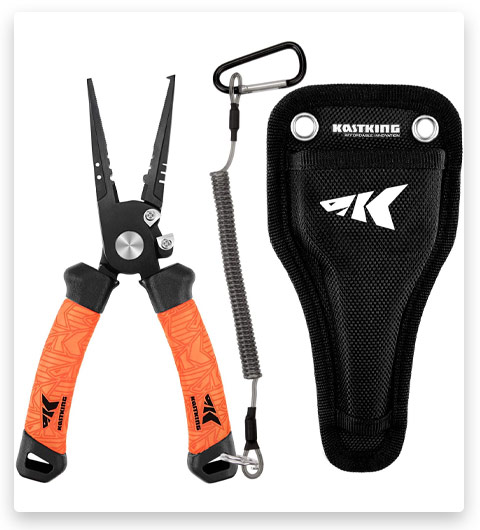 Nothing is impossible for these pliers! They can quickly cut fishing lines from any material, as well as quickly get a hook from the mouth of the fish. Your hand will feel comfortable holding on to a soft handle. There is also a spring-loaded jaw. This is for one-handed operation. The strap frees your hands while fishing!
8# SAMSFX Locking Aluminum Fishing Pliers Saltwater Braid Line Cutting Split Ring Opener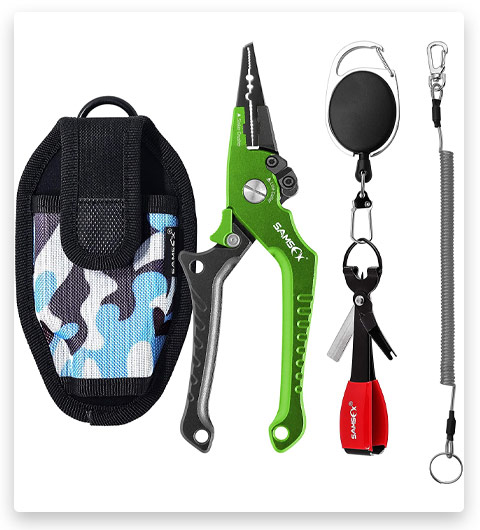 Safe pliers for your comfortable fishing! There are opening and locking functions. The spring allows you to do all this with one hand. The material doesn't allow the appearance of rust and corrosion. The tool is made of aluminum. For quick access, the pliers have a strap. And the sheath allows you to conveniently store a thing.
9# Dr.meter Aluminum Hook Remover Fishing Pliers Tungsten Carbide Cutters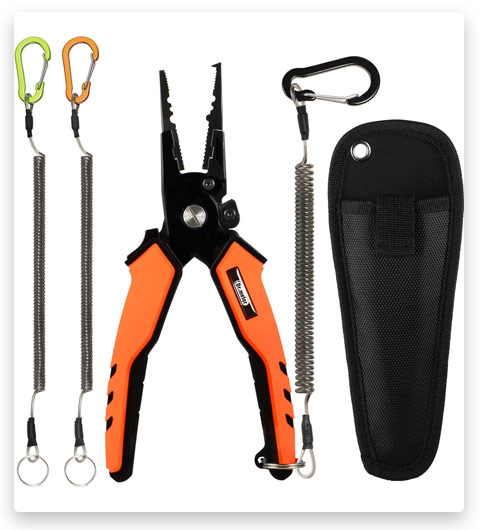 It is a multifunctional fishing tool. It can cope with all your tasks. To avoid losing the tool or not looking for it for a long time, use the strap. It, like the pliers themselves, is made of stainless steel, which prevents rust from appearing. For safety, close the jaws when not in use. For the tool to serve for a long time also use a special cover.
10# SP Aluminum Fishing Pliers Fishing Tools Set Fish Gripper Lip Grip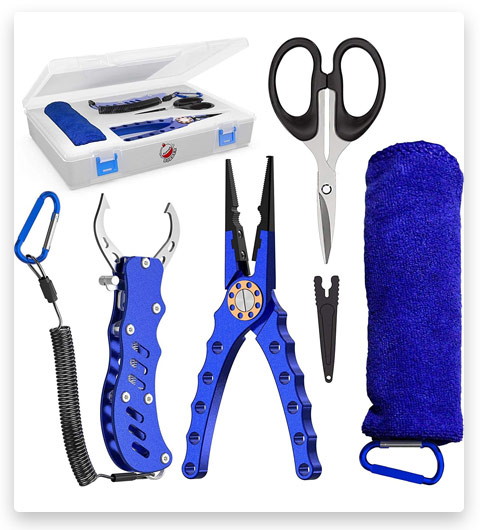 This set is a good addition to your tackle box. It is light enough to take with you and doesn't take up much space. In it, you will find high-quality pliers. Their material allows you to use the thing in freshwater and seawater. You can get a hook and cut off any type of fishing line as the cutters are strong and sharp. You will also receive a fish grab that will help you better deal with the hook that has been pulled out. It allows you not to touch the fish during the process. And also you will find scissors and a rag.
Choosing fishing pliers is no easy task today. There are a lot of them on the market and not all of them are of good quality. But you can choose those options about which I spoke above as the tool. They are all well made and have passed quality testing. And also a large percentage of positive comments on Amazon speak about this. Now I will talk about the main points that you should pay attention to.
How to Choose and What to Consider

Material
This is one of the most significant points. Your instrument will often come in contact with freshwater and saltwater. If you select pliers from poor material, there is a high probability that they will quickly become rusted or corrosion will appear. To avoid these troubles, choose a tool made of stainless steel, aluminum, or titanium. These are some of the most durable and high-quality materials. But here, too, you need to be careful.
If you have chosen aluminum, then it must be of high quality. Low-quality aluminum doesn't withstand high pressure and bends because of this. How does stainless steel work? It is covered with a special coating that resists corrosion and rust. But if the coating is poor, then it quickly erases and the pliers begin to rust. If you choose titanium, then there should be no error. But you must understand that this is a quite expensive material. But also don't forget to look after your tool no matter what material you choose. After use in water, be sure to wash the pliers underwater.
Handle
If you miss this moment, then you will greatly regret it. The handle should be comfortable. Fishing takes place on the water, which means that your hands are always wet or slippery. And the grip must meet these requirements. Your hands should hold the instrument well and not slip. Therefore, the handle should be made of molded or rubberized material. The size should be comfortable for you. The ideal solution is a medium-sized grip.
Nose Length

You need to know where and what kind of fish you will catch. Then you can choose the correct length. The long version is suitable for catching large fish such as perch. Also, if you fish in saltwater, then choose pliers with a long needle. So you can get much deeper into the mouth of the fish and remove the hook. If you prefer to fish in rivers and lakes, that is, in freshwater, then you can choose models with a shorter needle.
Ergonomics
For good fishing, you need light fishing pliers. They will not be heavy for your hand and you will be comfortable holding them and working with them. You will appreciate the tools with spring-loaded handles. You don't have to get used to them. But don't choose cheap options. You just will get tormented with them and regret your choice.

Cutting
You can choose the side or line pliers. Line cutters are used for cutting fishing lines. But if you are using the braided version, then your pliers should be very sharp. Side models are designed for cutting hooks. It is also advisable to choose pliers where there is a function for changing knives. Since knives deteriorate over time, they need to be replaced.
Split Ring Tool
This function is needed to set the split rings. This is especially necessary if you are fishing in seawater. You will have the opportunity to quickly and easily replace the hook.
Crimper
This function allows you to connect and crimp the wires and the sleeve. Choose a tool with this feature if you need one.
Strip
The strap is a perfect addition to quality pliers. You will need this feature if you are fishing from a boat or you like deep fishing. Your tool will be firmly held and you can use them when it is convenient for you.
FAQ About This Product

And for you to have a complete picture of this fishing tool, I decided to answer the frequently asked questions.
Conclusion
Pliers are a versatile item in your tackle box. It will help save your time and nerves. In my review, I have tried to show you all its advantages. Choose one of 10 tools and go fishing!

Tags: #best fishing pliers / #best saltwater fishing pliers / #best split ring pliers for fishing / #best fly fishing pliers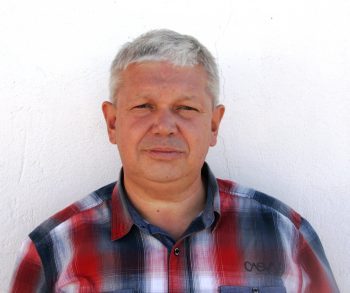 Sergio Smirnoff
Professional fisherman with 40+ years of experience.
Fishing and the ocean is a passion of my life. I am passionate about all kinds of sea fishing: fishing from the shore (spinning, float, baitcasting), from a boat, and spearfishing day and night.
I live in Tenerife (Canary Islands) for the last 10+ years and share my daily fishing experiences on my website. Many years of personal experience as a fisherman and the vast experience of my friends allow me to write professionally on any fishing topics (from choosing a flashlight and equipment to deep-sea fishing).
All of my advice is based on practical real-world experience and will be useful to both novice anglers and professionals.
Read more
about the author.
Affiliate Disclosure: FishReeler.com sometimes gets paid for listings, through sponsors or affiliate programs like Amazon, Ebay, Cabelas, Bass Pro Shop, Shimano, Daiwa, Rapala, Renn, Okuma, KastKing, etс. Clicking a link helps keep FishReeler.com free, at no extra cost to you!
About the author: Each article is verified by the fishing expert Sergio Smirnoff. The articles are written by professional and amateur fishermen with 20+ years of fishing experience.
Note: The views and opinions expressed in this article are those of the authors and do not necessarily reflect the official policy or position of any agency. The articles are for informational purposes only, share your opinions in the comments and join the fishing discussions, let's share our fishing experiences together!