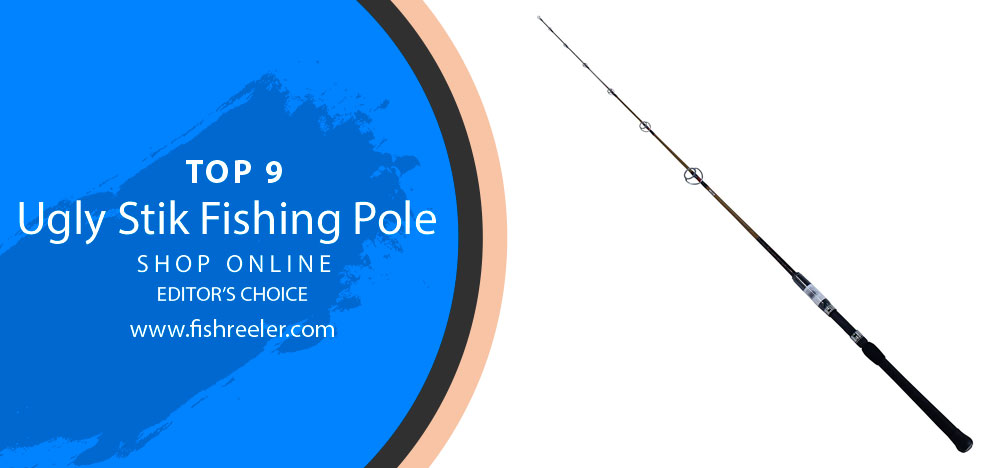 Ugly Stik Fishing Rods: Unmasking the Unseen Beauty of Angling Excellence
Quick Summary
Ugly Stik fishing rods, a product of the renowned Shakespeare fishing company, are the epitome of excellence and resilience in the world of fishing. Engineered with a unique combination of graphite and fiberglass, these rods are designed to last a lifetime. The signature Clear Tip design provides the much-needed strength for handling heavier fish, while still being sensitive enough to detect the smallest of nibbles.
What sets Ugly Stik rods apart is not just their toughness and versatility, but also the value they offer. The brand caters to all, from beginners to professional anglers, with a comprehensive range of models specifically designed to enhance every fishing experience. From the easy-to-handle GX2 to the heavyweight champion Bigwater series, there is an Ugly Stik rod tailored for every angler and every catch.
Whether you're surfcasting in the ocean, trolling in a lake, or fly-fishing in a stream, you need a rod that will not only withstand the battle with the fish but will also enhance your skills and experience. And that's precisely what you get with an Ugly Stik fishing rod.

Fishing, an activity loved by many, is as much about the thrill of the catch as it is about the gear you use. The right equipment can take your angling experience from good to unforgettable. And in the sea of fishing gear available today, one name stands out from the rest—Ugly Stik.
Brief Background of Ugly Stik Fishing Rods 🎣
Born out of a commitment to excellence, the Ugly Stik fishing rod is a product of the Shakespeare fishing company, renowned for their quality fishing gear. Launched in 1976, Ugly Stik fishing rods quickly took the angling world by storm, establishing a reputation for strength, durability, and affordability. Their iconic Clear Tip design and innovative construction materials set them apart from other fishing rods, giving them an edge in both saltwater and freshwater fishing.
Importance of Quality Fishing Equipment 🎯
While fishing is an enjoyable pastime for many, the choice of equipment can make a significant difference to your overall experience. A quality fishing rod is not just about durability and strength; it's also about sensitivity and balance. A superior fishing rod, like Ugly Stik, can enhance your ability to detect bites, improve your casting distance, and offer the durability to withstand tough battles, ensuring a more successful and enjoyable fishing trip.
Overview of Article Content 📝
In this comprehensive guide, we will delve into the world of Ugly Stik fishing rods. We will trace the evolution of the Ugly Stik brand, explore the unique features of their fishing rods, and break down their extensive product line. We'll also share firsthand reviews, offer tips and tricks to optimize your Ugly Stik experience, and discuss the brand's influence in the professional angling community. By the end of this article, you will understand why Ugly Stik rods have become an indispensable part of every angler's gear collection. So, let's dive right in!
The Ugly Stik Brand: Not Just Another Rod

Dive with us into the rich story of Ugly Stik, and discover the brand that's reshaping the world of angling, one fishing rod at a time.
History and Evolution of Ugly Stik 🕰️
Ugly Stik was born out of a revolutionary idea back in 1976. The parent company, Shakespeare, was already a leader in the fishing equipment industry, known for its commitment to innovation and quality. Ugly Stik, as a brand, was designed to carry forward this legacy, but with a twist. The aim was to create a fishing rod that offered superior strength and sensitivity, but without the premium price tag.
The first Ugly Stik rods were a hit, thanks to their unique combination of graphite and fiberglass, and the brand's patented Clear Tip design. Over the years, Ugly Stik has continually improved upon their original design, offering a wider range of models for different fishing styles and conditions. Today, with more than four decades of experience and countless success stories, Ugly Stik is more than just a brand; it's a symbol of quality and reliability in the world of angling.
Brand Philosophy and Dedication to Quality 🎗️
At its core, Ugly Stik is a brand that believes in accessibility and durability. They strive to deliver top-quality fishing rods that are affordable and long-lasting. This philosophy is evident in their manufacturing process, which ensures that each Ugly Stik rod, regardless of its model, is made with the highest quality materials and attention to detail.
But Ugly Stik's dedication goes beyond just manufacturing quality rods. They are also committed to sustainability and responsible fishing practices. As a brand, they are continuously working to reduce their environmental impact and promote a culture of respect and care for our water bodies.
Ugly Stik's philosophy extends to customer service as well. Their responsive customer support, extensive warranty policies, and commitment to stand behind their products, ensure that every angler can buy and use Ugly Stik rods with confidence.
🔶With Ugly Stik, it's not just about fishing; it's about enjoying the best of what angling has to offer with a reliable, high-quality, and affordable rod in your hand.🎣🌊
🎦Video YouTube: Ugly Stik GX2 Full Review: Is This Still a Good Rod?
Ugly Stick Fishing Pole – Best Fishing Rods by Shakespeare
In this article, we'll talk about a fairly confident and serious brand that has been on the fishing market for over 100 years and has been producing fishing equipment – Ugly Stick. In particular, we'll analyze the 10 best fishing rods that are very popular with anglers this year, compare their characteristics, and make a detailed review of each model.
Well, we have sorted out the main aspects of the brand, now let's go through the 9 best rods from Ugly Stick. In making this list, we tried to include models with good performance, but in a different price range, so that you can find the rod for you regardless of your budget.
| Image | Product | Brand | Link |
| --- | --- | --- | --- |
| | Ugly Stik 6'6" GX2 Spinning Rod, Three Piece Spinning Rod, 8-20lb Line Rating, Medium Heavy Rod Power, Moderate Fast Action, 1/4-3/4 oz. Lure Rating, Black | Ugly Stik | |
| | Ugly Stik 6'6" Elite Casting Rod, One Piece Casting Rod, 8-17lb Line Rating, Medium Rod Power, Extra Fast Action, 1/4-5/8 oz. Lure Rating | Ugly Stik | |
| | Ugly Stik 6'6" Elite Spinning Rod, Two Piece Spinning Rod, 2-6lb Line Rating, Ultra Light Rod Power, Medium Fast Action, 1/32-1/8 oz. Lure Rating | Ugly Stik | |
| | Shakespeare Ugly Stik 6'3" Tiger Elite Jig Casting Rod, One Piece Nearshore/Offshore Rod, 50-100lb Line Rating, Heavy Rod Power, 4-7 oz. Lure Rating, Versatile and Dependable | Ugly Stik | |
| | Shakespeare Ugly Stik 7' Striper Casting Rod, One Piece Striper Rod, 12-25lb Line Rating, Medium Heavy Rod Power, Moderate Fast Action, 3/8-1 oz. Lure Rating | Shakespeare | |
| | Ugly Stik 8'6" Elite Salmon/Steelhead Spinning Rod, Two Piece Salmon/Steelhead Rod, 10-20lb Line Rating, Medium Heavy Rod Power, Medium Fast Action, 1/2-1 1/2 oz. Lure Rating | Shakespeare | |
| | Shakespeare 1423367 Ugly Stik Bigwater Casting Rod, 7' Length, 1pc Rod, 12-25 Line Rate, 1/2-3 oz Lure Rate, Medium/Light Power | Ugly Stik | |
| | Shakespeare Ugly Stik 7' Catfish Spinning Rod, Two Piece Catfish Rod, 15-30lb Line Rating, Medium Heavy Rod Power, Moderate Fast Action, 1/2-3 oz. Lure Rating | Shakespeare | |
| | Ugly Stik 7' Tiger Elite Spinning Rod, One Piece Nearshore/Offshore Rod, 14-40lb Line Rating, Heavy Rod Power, 1-5 oz. Lure Rating, Versatile and Dependable,Black | Ugly Stik | |
1# Ugly Stick GX-2 Spinning Rod – Best Pick Overall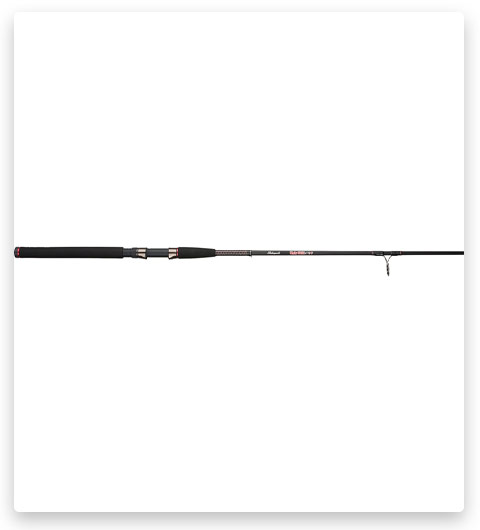 View on BassProShop View on Amazon
The clear winner is the Ugly Stick GX2. This is a fishing rod that has been holding the top positions in all the tops for several years; every third angler uses it in competitions. Why is the rod so good? First, with its material. The structure isn't made of pure graphite or fiberglass, but a composite material. This gives great durability, strength, flexibility, and lightness.
The handle is made of EVA material. Non-slip, soft, large, and tight. The best material a rod can have, after that – cork. I can hold this rod for 2-3 hours and my hands won't get tired, although the rod has an impressive length of 6'6″. The rod has a one-piece construction, so it may not be as comfortable to carry. Apart from the inconvenience of carrying, this rod has no drawbacks. By the way, the seller additionally gives a 7-year warranty for this product.
I used this rod with my Penn Battle II. Pulled out a 38lb cobia without trouble.
2# Ugly Stick Elite Casting Fishing Rod – Runner-Up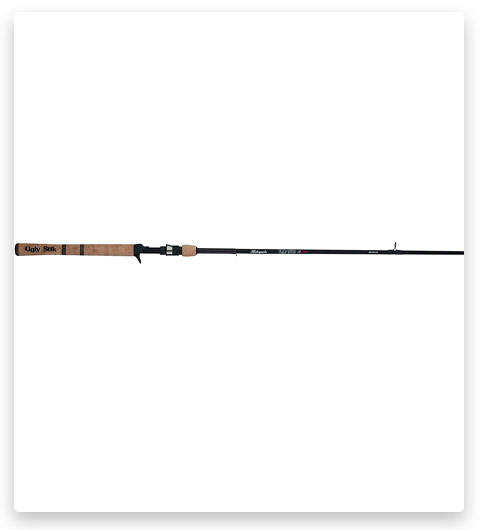 I put this model in second place only because it has cork handles and is made entirely of graphite. Otherwise, this rod is in no way inferior to the Ugly Stick GX-2. Cork and graphite lovers – this is definitely your choice. Of course, cork as a handle material is a great option. It doesn't slip with wet hands, or even if they are covered in mucus from fish. Still, EVA feels a little more pleasant tactilely. But since pure graphite is used here, and not a composite material, this reel loses a little in strength, flexibility, and lightness to the previous model.
There are two options available: 6'6″ and 7′, but in both versions, the rod is 1 piece, you won't be able to fold it in half and throw it in the back seat of the car, so it takes up a lot of space. The rod guides are very high-quality. As in the previous model, it generally doesn't abrade the line, quite nimble and smooth. Also, unlike the previous one, this model is cheaper.
Overall a great choice for your money. I use this rod mainly on open water with the Abu Garcia baitcasting reel.
3# Ugly Stick Elite Spinning Fishing Rod – Best Budget Pick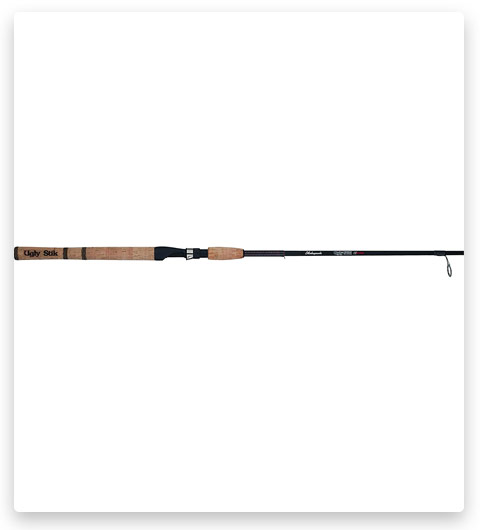 View on BassProShop View on Amazon
A very sensitive rod that captures the slightest vibrations of the line. Therefore, if you're an experienced fisherman and you need to cast as accurately as possible, this is your choice. The guides are made of stainless steel, so I often take this rod to the sea as it doesn't rust when water hits it. And in general, it does well with marine fish. The construction is predominantly made of fiberglass with graphite inserts. So you get lightweight, indestructible, and great balance because of this.
I really like how the reel seat is made here. Thanks to the soft stainless steel caps, the reel always fits very tightly and has no backlash. The handles here are made of cork. Shakespeare is very fond of this material in their rods. On the one hand, the material isn't very soft, but on the other, because of this, the cost is lower and the hands never slip.
In short, a great rod with great performance for a great price.
4# Ugly Stick Tiger Elite Casting Fishing Rod – Best Sensitive Pick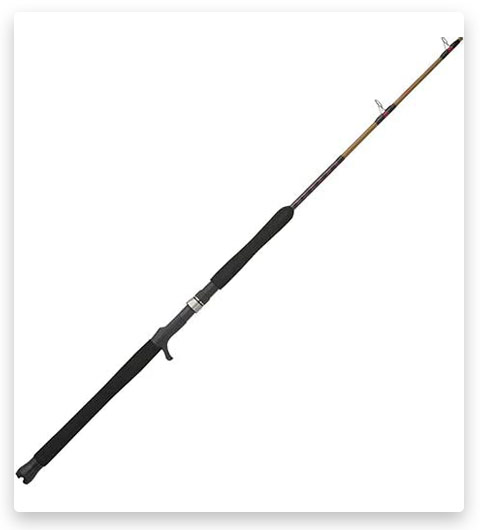 Are you a bottom fishing lover and always looking to increase your arsenal of fishing rods? Tiger Elite fishing rod will be an excellent addition. This Ugly Stick is designed for trolling, jigging, and drifting. This is great because you can use many numbers of techniques. It's light enough to hold even for a kid. Because of added graphite, the rod is sensitive and fast for passionate fishermen. Without any issues, you can catch such species as big sturgeons and the rod wouldn't break. Flexible and sensitive rod, which is easy to master and use. But the tip of the Tiger Elite sometimes can't handle big presses, tips of more expensive models are more durable.
5# Ugly Stick Striper Casting Rod – Best Strong Pick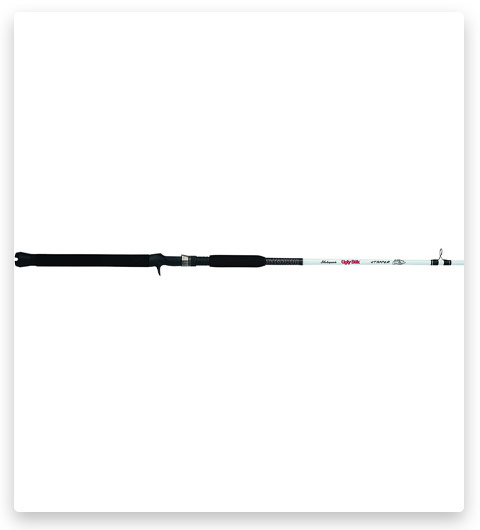 This Ugly Stick is perfect for ocean and sea fishing and was created for the striper fish. Great rod for catching ocean fluke and black sea bass. Designed to make your fishing pleasant and joyful. The rod material is a combo of graphite and fiberglass, which is durable and long-lasting. Besides, this rod is inexpensive and allows to fish without spending hilarious money to experience a high-quality striper rod. It's perfect for fishermen who are looking for a durable pole without breaking after a few months of usage. Of the minuses, I note the following: the old version of the Striper rods had a better taper. Also, the bulbous butts on the new models make it harder to fit a reel on the rod.
6# Ugly Stick Elite Salmon Steelhead Spinning Fishing Rod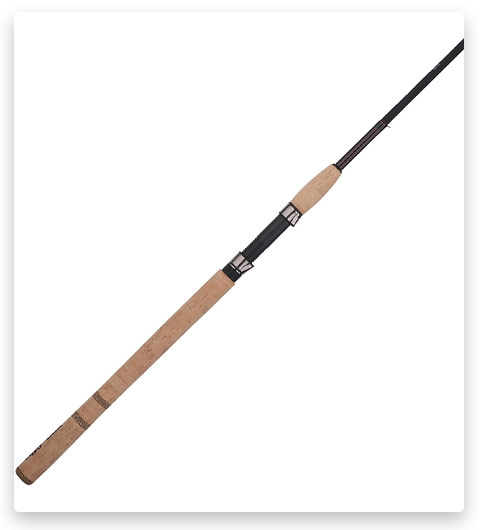 This rod can be used extensively without any complaints. Strong enough for bass and sensitive enough for perch. Anglers with different levels of skills and ages can use it from trolling to casting. Great rod, super flexible, and durable. The design of the rod looks great. Such a versatile elite spinning rod will be a great present for a friend who loves fishing outing, as well as for a person, who never tried to catch a fish.
7# Ugly Stick Bigwater Casting Rod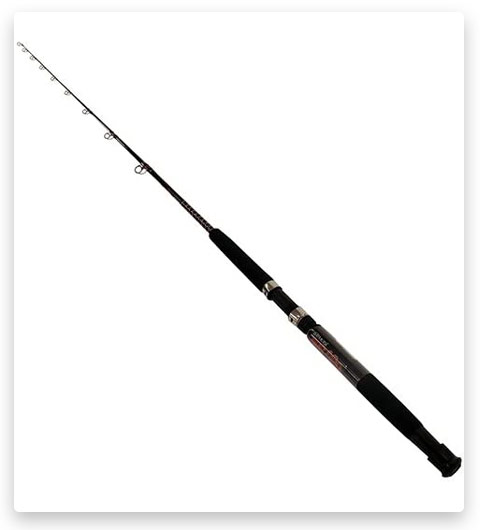 View on BassProShop View on Amazon
This model is great for targeting steelhead and large fish. The appearance or rod is quite unusual: has a transparent tip made of fiberglass and graphite blank. That's why this rod is sturdy, tough, but flexible and sensitive. The rod is lightweight but powerful enough to catch a trophy-fighting fish. Also, Ugly Stick Bigwater is equipped with an advanced design using materials that preventing corrosion. Beautiful and glossy rod.
8# Ugly Stick Catfish Spinning Rod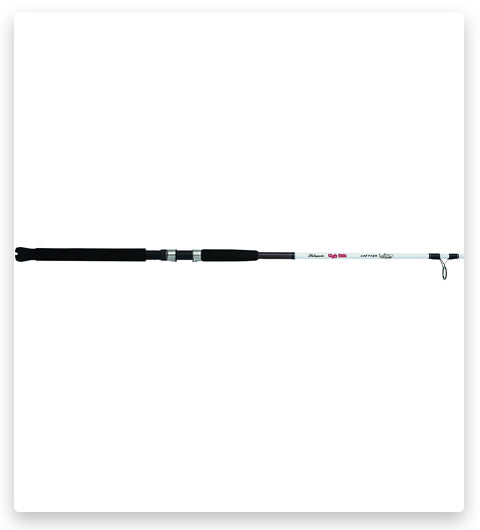 Especially for those who love catfish fishing, there's an Ugly Stick catfish rod. The catfish has strong resistance, with a weight of an average 5kg it can easily break the rod and tear the line. That's why it's so important to have a strong and durable rod of high quality, like a Shakespeare spinning rod. But the rod isn't made of composite material. This sometimes confuses some people who are buying online. Despite this, the rod has excellent strength and flexibility. And the EVA grips let you fish for hours on end and notice the slightest line wobble.
9# Ugly Stick Tiger Elite Spinning Fishing Rod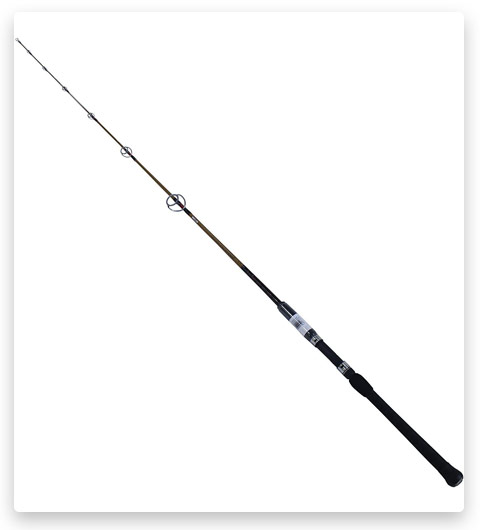 An amazing fishing tool that has the backbone to fight larger fish, but lightweight and very sensitive to action. The fishing rod, made of stainless steel, looks thin, but powerful, even for catching alligator gar of 50-70 inches. With this rod, you can try various fishing techniques. The best for casting, for jigging, might be a bit slow, as it's a medium action. For a high level of convenience, the reel seat has cushioned hoods, made of stainless steel. You can take this rod everywhere, in case you go fishing to a new reservoir it will assist you well, doesn't matter you going for catching medium or large fish. It's very multitasking.
Breakdown of the Ugly Stik Rod's Unique Features
There's more to Ugly Stik than meets the eye. Let's unveil the exceptional features that make these rods stand out in the sea of fishing gear.
Materials and Manufacturing Process 🔧
An Ugly Stik fishing rod is more than just a piece of equipment; it's a masterful blend of materials and design that caters to the diverse needs of anglers worldwide.
Clear Tip Design 🔍 The Clear Tip design is a standout feature of every Ugly Stik rod. This patented innovation involves extending the fiberglass core to the rod tip, ensuring that it is strong enough to withstand the toughest of battles, while being sensitive enough to detect even the lightest nibble. This perfect balance of strength and sensitivity is what makes Ugly Stik a popular choice among anglers.
Graphite and Fiberglass Construction 🏗️ The strength of Ugly Stik rods can be attributed to their unique construction. By combining graphite and fiberglass, Ugly Stik rods offer a robust yet flexible fishing solution. The graphite provides the rod with a lightweight feel and increased sensitivity, while the fiberglass ensures durability and resistance to wear and tear. This dual-material construction results in a rod that's tough, sensitive, and designed to last.
Versatility Across Different Fishing Conditions 🌦️
Ugly Stik rods are designed with versatility in mind. Their strength and sensitivity make them suitable for various fishing styles, be it casting, spinning, or trolling. Whether you're surfcasting for bass in the ocean, jigging for walleye in a lake, or fly fishing in a stream, Ugly Stik has a rod tailored to suit your needs. Their rods are also adaptable to different types of fish, from small freshwater species to large saltwater game fish.
Balance and Sensitivity 🎯
The balance and sensitivity of Ugly Stik rods are key to their popularity. The balance ensures that the rod feels comfortable in your hands, reducing fatigue during long fishing sessions. Meanwhile, the sensitivity allows you to detect even the smallest bites, increasing your chances of a successful catch. Ugly Stik achieves this perfect balance and sensitivity through its unique construction and design, providing you with a seamless and rewarding fishing experience.
Product Line: The Different Models of Ugly Stik Rods
Discover the diverse range of Ugly Stik rods, each tailored to meet specific angling needs. Unveil the potential of GX2, Elite, and Bigwater, and find your perfect fishing partner.
Description of Various Models and their Specific Uses 📚
GX2 🎣 The Ugly Stik GX2 is the embodiment of Ugly Stik's philosophy of creating robust, sensitive, and affordable fishing rods. This versatile rod is designed for almost all fishing conditions and species. The GX2 maintains the classic Ugly Stik strength and durability while offering improved balance and a modern look. It features a unique combination of graphite and fiberglass, resulting in a lightweight yet sturdy rod that offers heightened sensitivity for detecting bites.
Elite 🏆 The Ugly Stik Elite series takes the best features of the GX2 and refines them further. Offering a higher graphite content, the Elite series is lighter and more sensitive while retaining the legendary toughness of Ugly Stik rods. These rods are equipped with premium cork handles for a comfortable grip and stainless steel guides for smooth casting and reeling. Elite series rods are perfect for anglers looking for a high-performance rod at a moderate price.
Bigwater 🌊 The Bigwater series from Ugly Stik is designed for those who dare to tackle big game fish in saltwater conditions. These rods are built extra tough, using a unique blend of graphite and fiberglass, to handle the heaviest of loads and the harshest of battles. Featuring Ugly Tuff guides and the signature Clear Tip design, the Bigwater series is the ideal choice for anglers ready to face the challenging conditions of offshore, surf, and pier fishing.
Tailoring Your Rod to Your Fishing Style and Target Species 🐟
Choosing the right rod can make all the difference to your fishing adventure. Ugly Stik offers a diverse range of rods, ensuring there's one for every fishing style and target species. The GX2 series, with its all-round capabilities, is ideal for beginners and those who love to switch between different fishing styles. The Elite series, known for its heightened sensitivity, is perfect for anglers who value precision and performance. Meanwhile, the Bigwater series is built to withstand the tough conditions of saltwater fishing, making it a great choice for big game anglers. With Ugly Stik, you can always find a rod that perfectly complements your angling style and enhances your fishing experience.
Hands-on Review: Experiencing Ugly Stik First-Hand
Step into the shoes of an angler and get an authentic glimpse of what it's like to wield an Ugly Stik rod. Discover the magic that sets Ugly Stik apart from the crowd.
Personal Usage Experience 🎣
From the moment you grasp the handle of an Ugly Stik rod, you're in for a unique experience. Whether it's the versatile GX2, the performance-focused Elite, or the robust Bigwater, the comfort and balance of these rods are instantly noticeable. Their lightweight design, combined with durable construction, ensures a fatigue-free fishing session, even with extended use.
During my time on the water, the Ugly Stik rod has proven itself to be a reliable companion. The Clear Tip design has made it easy to detect even the most subtle nibbles, turning potential misses into memorable catches. And when it came to the fight, the rod's strength and durability were on full display, effortlessly handling the pull and jerk of even the toughest fish.
Performance Evaluation 📊
When it comes to performance, Ugly Stik rods are top-notch. They offer a fine balance of strength and sensitivity, which is hard to come by in the fishing world. The casting distance is impressive, and the rods handle well under various conditions, from calm lakes to turbulent ocean waves.
In terms of durability, Ugly Stik rods are built to last. Despite numerous fishing trips and a few unfortunate drops, the rods showed minimal signs of wear and tear. The combination of graphite and fiberglass has proven to be resistant to damage, and the stainless steel guides are as smooth as they were on day one.
Comparison to Other Brands 🔄
I've fished with numerous rods over the years, but the experience with Ugly Stik stands out. While there are other good rods out there, few offer the same combination of durability, sensitivity, and affordability that Ugly Stik does.
🔶Other brands may offer highly specialized rods, often with a hefty price tag, but Ugly Stik excels in offering versatile, high-quality rods that don't break the bank. The commitment to quality and customer satisfaction shines through in every Ugly Stik rod, making it a top choice for both novice and experienced anglers.
Tips and Tricks for Getting the Most Out of Your Ugly Stik Rod
Once you've found your perfect Ugly Stik companion, it's essential to know how to make the most of it. From maintenance tips to casting techniques, discover how to enhance your Ugly Stik experience.
Maintenance and Care 🧹
Even the toughest of fishing rods need some TLC. Here's how you can keep your Ugly Stik rod in top condition:
Clean after every use: Rinse your rod with fresh water after each fishing trip, especially if you've been fishing in saltwater. This helps remove any dirt or salt that could corrode your rod over time.
Dry thoroughly: Make sure your rod is completely dry before storing it. This prevents moisture from causing mildew or rust.
Store correctly: Store your rod in a dry, cool place. Keep it off the ground to avoid any accidental damage.
Optimizing Casting and Retrieval Techniques 🏹
Improve your angling skills with these Ugly Stik-friendly techniques:
Master the overhead cast: For Ugly Stik rods, the overhead cast works exceptionally well. The rod's flexibility and balance make it easy to achieve a fluid motion and good casting distance.
Practice your retrieval: The sensitivity of Ugly Stik rods is a significant asset. Use it to your advantage by practicing gentle retrieval techniques, which can increase your chances of feeling a bite.
Pairing with Suitable Reels and Line Types 🔄
Pairing your Ugly Stik rod with the right reel and line type can significantly enhance your fishing experience:
Choosing the right reel: Ugly Stik rods are compatible with a wide variety of reels. For a balanced setup, pair the GX2 or Elite rods with a medium-sized spinning reel. If you're using the Bigwater rod, opt for a robust and durable spinning or conventional reel.
Selecting the best line type: Ugly Stik rods work well with all line types. For general use, a monofilament line provides good versatility. If you're after larger fish or fishing in dense cover, consider using a braided line for its higher strength and durability.
🔶With these tips at your disposal, you're now ready to optimize your Ugly Stik fishing experience. So gear up, get out there, and make some unforgettable fishing memories! 🎣
Ugly Stik Rods in the Professional Angling Community
Dive into the world of professional angling and discover how Ugly Stik has made waves in the industry. From angler testimonials to tournament triumphs, get the inside scoop on Ugly Stik's professional reputation.
Testimonials from Other Professional Anglers 🎣
Ugly Stik rods have long been favorites among professional anglers worldwide. Renowned for their durability, sensitivity, and affordability, they have earned stellar reviews and endorsements.
Famous pro angler, Tom Redington, once said, "In a tough sport like fishing where conditions are unpredictable, having a reliable rod like Ugly Stik gives me an extra level of confidence. Its strength and sensitivity are unmatched, and I never go on a fishing trip without one."
Tournament Successes with Ugly Stik Rods 🏆
Over the years, Ugly Stik rods have helped many professional anglers secure significant victories in major tournaments. Their strength, versatility, and sensitivity have proved advantageous in various fishing conditions, from the calm waters of freshwater lakes to the turbulent waves of offshore sites.
At the Bassmaster Classic, one of the most prestigious bass fishing tournaments, several participants have credited their success to the dependable performance of Ugly Stik rods.
Ugly Stik's Influence on the Evolution of Fishing Rod Design 🔄
Since its inception, Ugly Stik has been a game-changer in the fishing gear industry. Their innovative Clear Tip design and the unique combination of graphite and fiberglass have revolutionized fishing rod construction, setting new standards for durability and sensitivity.
Many fishing gear manufacturers have since incorporated similar design philosophies, underscoring Ugly Stik's profound impact on the industry. Despite these new entries, Ugly Stik continues to stand out due to its commitment to quality and affordability.
🔶The Ugly Stik brand has not only left a remarkable footprint in the professional angling community but also continues to shape the future of fishing rod design. Their passion for creating reliable, high-quality fishing rods is evident, making Ugly Stik a beloved brand among professionals and amateurs alike. 🙌
❓ FAQ: Ugly Stik Fishing Rods
After reading about the stellar qualities of Ugly Stik fishing rods, you might have some questions in mind. Let's dive into the most commonly asked queries about these superior fishing companions.
🔶Remember, these answers serve as a general guide. Always consider your personal fishing needs and preferences when choosing and caring for your fishing gear. Happy fishing! 🎣💪
Summing Up: Because the Best Battles Aren't Always Pretty
Now, after reading this article, we can confidently say that you are completely familiar with Ugly Stick rods. We figured out all the aspects of the manufacturer and looked in detail at 10 of the best rods currently available on the market. We hope this review was helpful to you and you have chosen the rod that you like. If our guide helped you, then share it on social networks and tell your friends.
As we reel in our deep dive into the Ugly Stik world, it's time to take stock and reflect on the insights we've gathered.
Recap of Ugly Stik's Strengths 💪
From its humble beginnings to its present-day fame, Ugly Stik has proven to be a brand that doesn't compromise on quality, durability, or affordability. The unique Clear Tip design and the innovative blend of graphite and fiberglass demonstrate Ugly Stik's commitment to creating top-tier fishing rods that cater to the needs of both novice and professional anglers.
Their product line, including the versatile GX2, the performance-oriented Elite, and the robust Bigwater, showcases Ugly Stik's understanding of diverse fishing requirements. These rods have not only garnered appreciation from professional anglers but have also led to numerous tournament victories, underlining the brand's value in the world of fishing.
Personal Endorsement and Final Thoughts 💭
As an avid angler myself, I can confidently endorse Ugly Stik rods. Their unparalleled balance of sensitivity, strength, and versatility has made each fishing trip a memorable experience. The brand's dedication to creating durable and affordable rods aligns with my belief that quality fishing equipment should be accessible to all.
Whether you're just dipping your toes into the world of fishing or are a seasoned professional, I believe an Ugly Stik rod could be your trusty partner in your angling adventures. It offers not just a fishing rod, but a reliable companion that can weather any fishing challenge with you.
🔶In the world of fishing rods, Ugly Stik has demonstrated that beauty lies not in appearance, but in performance. As we've discovered, there's nothing 'ugly' about an Ugly Stik rod; instead, it's a shining beacon of angling excellence. 🎣🏆
Ugly Stik: Rugged, Reliable, and Ready for Your Next Fishing Trip
After this extensive exploration of Ugly Stik's world, are you ready to embark on your own fishing adventure with an Ugly Stik rod as your trusted partner? Here's how you can do it!
Encouraging Readers to Experience Ugly Stik 🎣
As we've discovered, Ugly Stik rods offer a unique blend of strength, sensitivity, and versatility, making them excellent companions for any fishing journey. But don't just take my word for it! Experience the Ugly Stik difference yourself. Feel the satisfying tug of a strong fish on the line and the thrill of reeling in your prize catch with an Ugly Stik rod in your hands.
Providing Purchase Links and Suggestions for First-Time Buyers 🛍️
Ready to make your purchase? Here are some suggestions for first-time Ugly Stik buyers:
For beginners: The Ugly Stik GX2 offers an excellent blend of durability and sensitivity, making it an ideal choice for those new to the sport.
For seasoned anglers: The Ugly Stik Elite offers improved sensitivity and strength, perfect for the experienced angler looking to step up their game.
For big game enthusiasts: The Ugly Stik Bigwater is built to handle the challenges of big water fishing with ease.
🔶So, are you ready to cast your first line with Ugly Stik? 🎣💪
Tags: #ugly stik fishing pole / #ugly stik fishing rods / #shakespeare ugly stik fishing rod / #ugly stik gx2 spinning fishing reel and rod combo / #ugly stik ice fishing rod / #ugly stik junior fishing pole kit / #shakespeare ugly stik fishing pole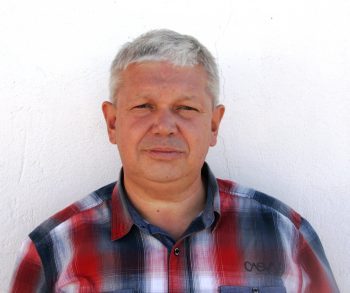 Sergio Smirnoff
Professional fisherman with 40+ years of experience.
Fishing and the ocean is a passion of my life. I am passionate about all kinds of sea fishing: fishing from the shore (spinning, float, baitcasting), from a boat, and spearfishing day and night.
I live in Tenerife (Canary Islands) for the last 10+ years and share my daily fishing experiences on my website. Many years of personal experience as a fisherman and the vast experience of my friends allow me to write professionally on any fishing topics (from choosing a flashlight and equipment to deep-sea fishing).
All of my advice is based on practical real-world experience and will be useful to both novice anglers and professionals.
Read more
about the author.
Affiliate Disclosure: FishReeler.com sometimes gets paid for listings, through sponsors or affiliate programs like Amazon, Ebay, Cabelas, Bass Pro Shop, Shimano, Daiwa, Rapala, Renn, Okuma, KastKing, etс. Clicking a link helps keep FishReeler.com free, at no extra cost to you!
About the author: Each article is verified by the fishing expert Sergio Smirnoff. The articles are written by professional and amateur fishermen with 20+ years of fishing experience.
Note: The views and opinions expressed in this article are those of the authors and do not necessarily reflect the official policy or position of any agency. The articles are for informational purposes only, share your opinions in the comments and join the fishing discussions, let's share our fishing experiences together!