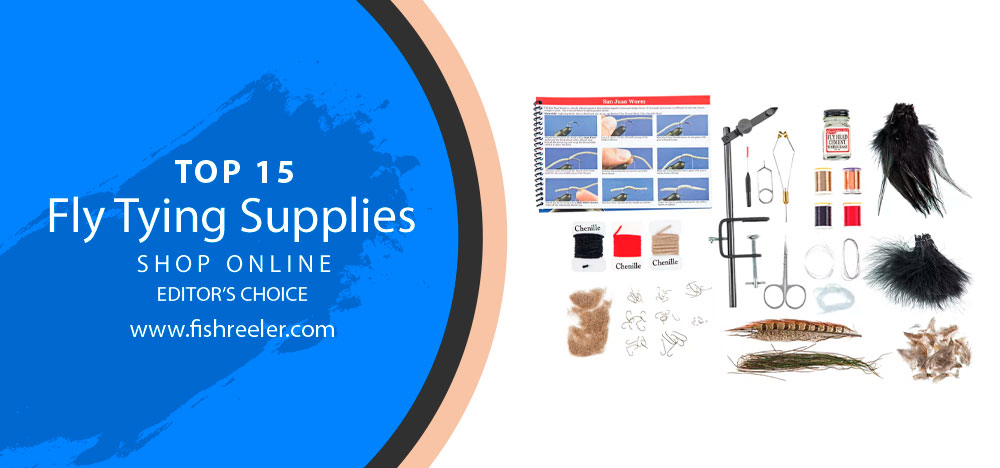 The Art and Craft of Fly-Tying: Essential Supplies Every Angler Needs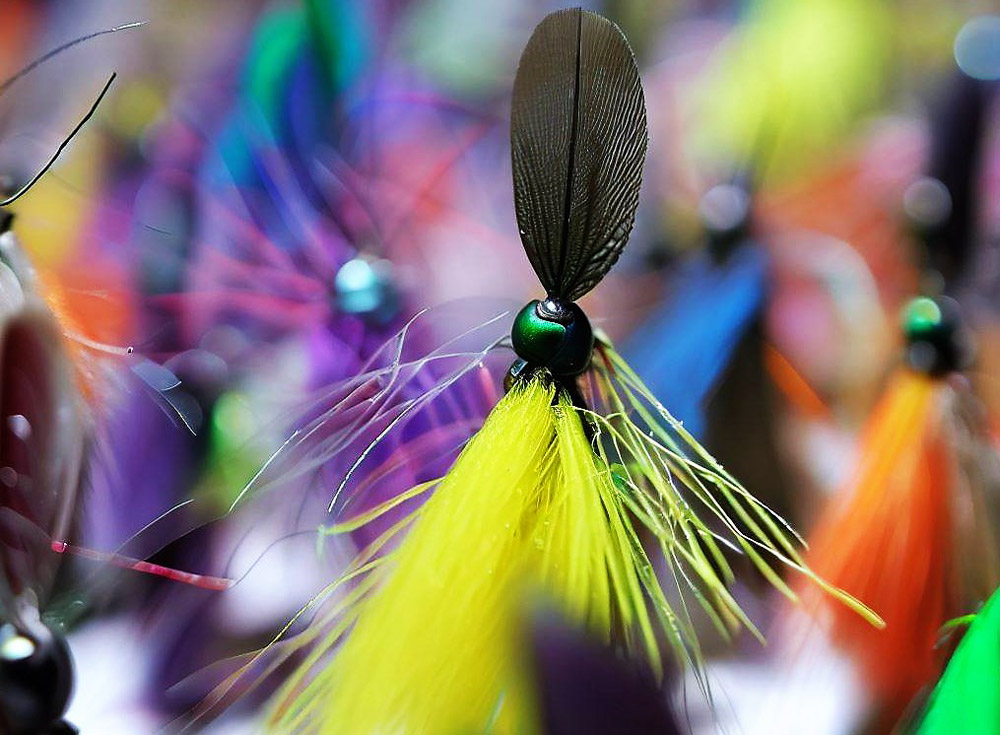 Casting into the World of Fly Tying
Fly-tying is an integral part of the rich tapestry that is fly fishing. It's not just a skill but an art, steeped in history and brimming with creativity. The essence of fly-tying lies in crafting an imitation insect (the 'fly') that a fish would naturally eat. These handmade flies are designed to float or sink, and to move in specific ways that mimic the insect's behavior in its natural habitat. For an angler, mastering the art of fly-tying is more than a useful skill—it's a passport to a deeper understanding and connection with the rivers, lakes, and the very fish they seek to catch.
Rigging the Line: The Importance of Selecting the Right Supplies
The craft of fly tying, as with any art, depends significantly on the tools and materials used. From the vise that holds the hook securely, to the quality of the thread, feathers, and hairs used to create the fly, each component plays a vital role in determining the end product. Quality supplies make the tying process smoother and the finished fly more effective. Consequently, the choice of supplies can make the difference between a fly that fish ignore and one that they can't resist.
Navigating Through This Article: What Lies Ahead
In this article, we will journey together through the fascinating world of fly-tying supplies. We'll delve into the history of this craft and see how supplies have evolved over the years. We'll provide a comprehensive guide to essential tools and materials, and offer insights on how to choose the best supplies that fit your needs. We'll also discuss common mistakes to avoid, share expert tips, and explore the pros and cons of fly-tying kits versus individual supplies. Finally, we'll guide you on how to care for and maintain your fly-tying supplies, ensuring they last as long as possible. So, whether you're a seasoned angler or a novice just starting out, this article aims to enhance your fly-tying journey.
Historical Overview of Fly-Tying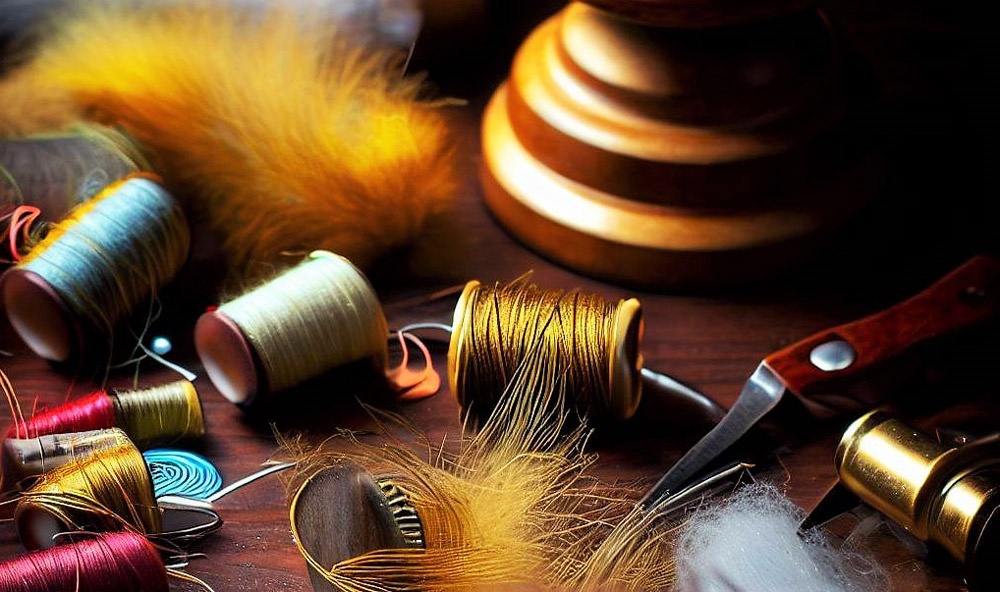 Unreeling the Past: A Brief History of Fly Tying
Fly-tying, the art of crafting artificial flies for fly fishing, traces its roots back hundreds of years. Early references date back to the Roman times, with Claudius Aelianus mentioning the practice in his work "On the Nature of Animals" around 200 AD. But it was in the Middle Ages that fly-tying truly began to take shape, primarily in England and Scotland.
Anglers in the past relied heavily on the local environment for their fly-tying materials. Feathers from local birds, fur from animals, and even horsehair for the line were all expertly employed. Over the centuries, these traditional methods became a refined art. Patterns emerged, replicated, and passed down through generations, each designed to mimic specific insects and lure specific fish.
As the sport of fly fishing spread across the world, so did the art of fly-tying. Each new location brought unique conditions, and with them, the evolution of distinct regional flies.
From Feather to Synthetic: The Evolution of Fly-Tying Supplies
The history of fly-tying supplies is a testament to human ingenuity. Early fly tiers had to make do with what they found in their surroundings. Local bird feathers, animal fur, and horsehair were the mainstay. Hooks were made from bone or wood before the advent of metalworking. With the industrial revolution and advancements in global trade, the materials used in fly-tying expanded greatly.
Today, while many traditional materials are still in use, the fly-tying industry has also embraced modern synthetic materials. Threads are stronger and come in a rainbow of colors. Hooks are lighter, sharper, and more durable than ever before. Synthetic materials such as foam, tinsel, and rubber have introduced a new dimension to the art, providing the ability to craft flies with properties that natural materials alone could not achieve.
Despite these advancements, the essence of fly-tying remains unchanged. The goal is still to mimic the movement and appearance of prey to entice a strike from a fish. It's this harmonious blend of tradition and innovation that keeps the art of fly-tying as vibrant and captivating as ever.
Master the Craft: Your Ultimate Guide to Top 15 Fly-Tying Supplies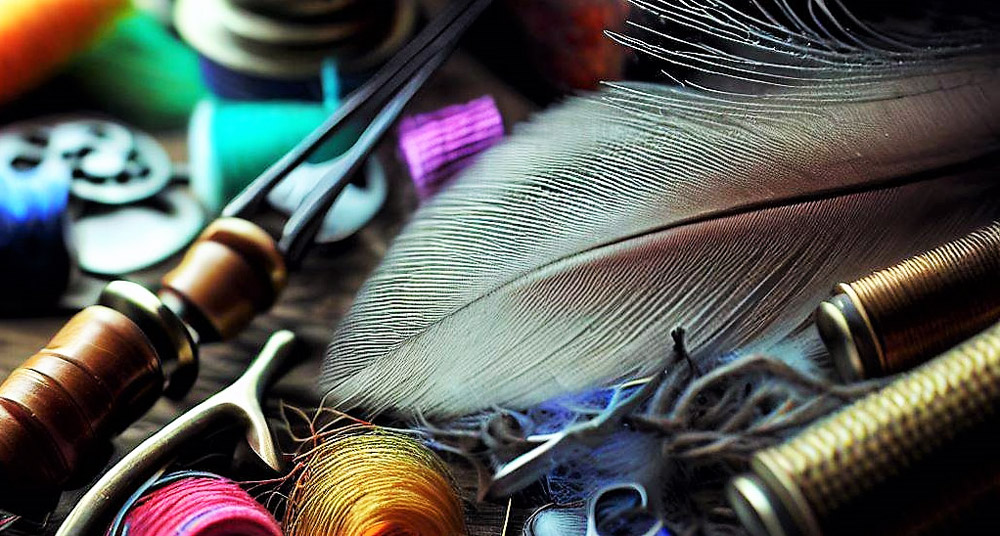 If you are a fisherman, you know the importance of having good fly tying supplies. Not only do they make your job easier, but they also help to ensure that you have the best chance possible of catching fish. With so many different fly tying supplies on the market, it can be difficult to know which ones are the best.
In this blog post, we will recommend some of the top-rated fly tying supplies on the market. We'll also provide tips on how to choose the right supplies for your needs. So read on for information that will help you take your fishing game to a whole new level!
1# Colorado Anglers Supply Gunnison River Fly-Tying Kit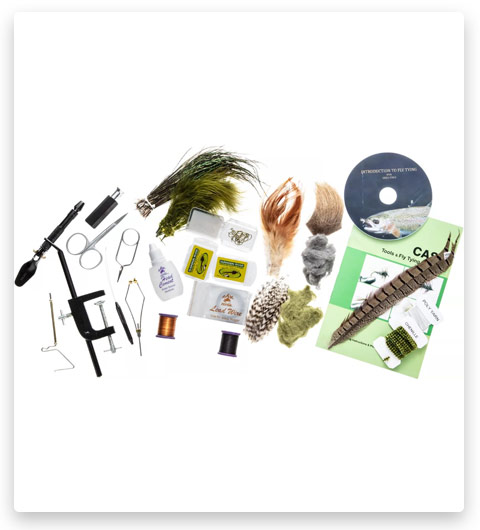 Looking to get into fly-tying? The Colorado Anglers Supply Gunnison River Fly-Tying Kit has everything you need to get started, including an instructional CD and book by Greg Vinci. This comprehensive kit will teach you how to tie the most popular patterns and comes with a vice, hackler pliers, scissors, bobbin, and more. Plus, it includes hooks and ample fly-tying material so you can start practising right away. Get the Gunnison River Fly-Tying Kit today and start tying your own flies like a pro!
2# Colorado Angler Supply Dubbing Twister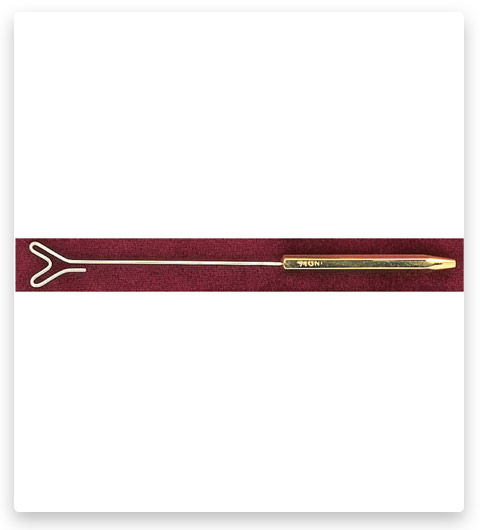 3# Cabela's Deluxe Fly Tying Kit with Case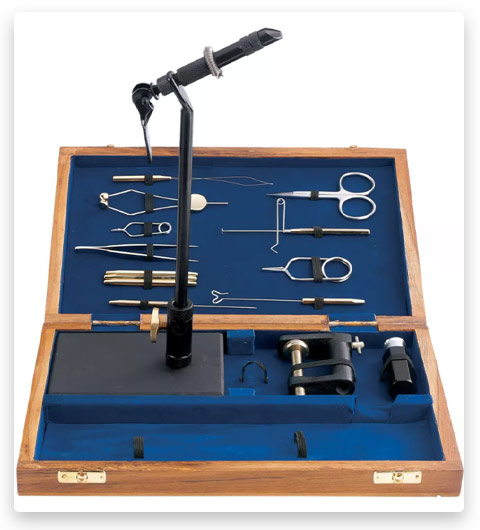 The Cabela's® Deluxe Fly Tying Kit with Case is the perfect way to tie flies or make repairs while out on the water. The beautiful case holds all of the necessary tools neatly in place, including a pedestal base and C-clamp, hair stacker, large and small hackle pliers, scissors, whip finisher, bobbin, bobbin threader, bodkin, half-hitch tools, tweezers, and dubbing twister. This fly tying kit is great for fishing trips or storing your fishing gear.
4# Cabela's Premium Fly-Tying Material Kit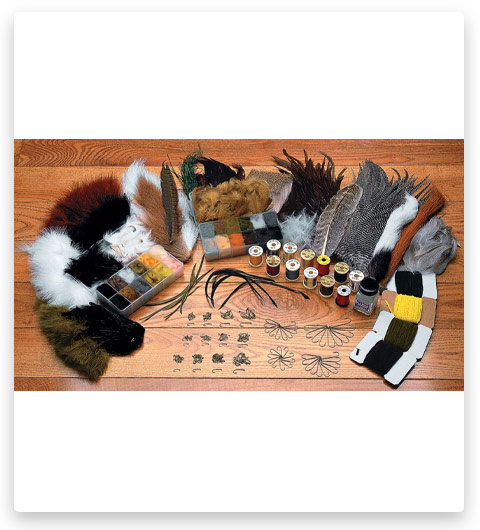 The Cabela's Premium Fly-Tying Material Kit is the perfect way to get started in fly tying. This kit comes with a large supply of the most commonly used materials, including three spools of UTC 70 thread, one spool of UTC 280 thread, two spools of floss, two spools of lead wire, four cards of Ultra chenille, two packages of Zonker strips, squirrel tail, rabbit fur dubbing dispenser, super-fine dry-fly dubbing dispenser, four spools of wire and tinsel, deer hair patch, kip tail, four bucktail pieces (black, yellow chartreuse natural), peacock herl pheasant tail feathers turkey tail feathers.
5# White River Fly Shop Deluxe Fly Tying Kit – Bass Tying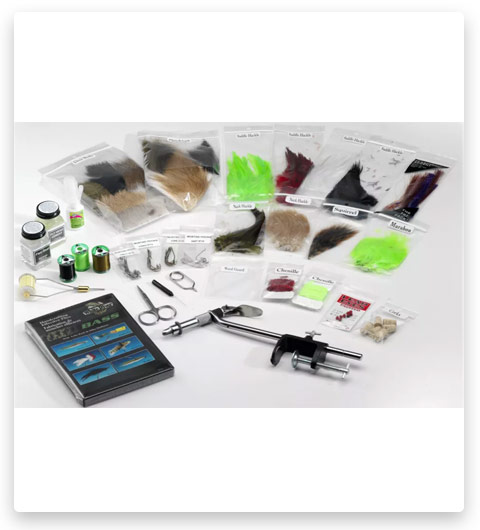 The White River Fly Shop Deluxe Fly Tying Kit is the perfect way to learn how to tie your own flies for fishing. This comprehensive kit includes everything you need to get started, from high-quality tools and vice to hooks and materials. Plus, it comes with a FREE instructional DVD featuring world-renowned fly fishing expert Lefty Kreh. With this kit, you'll be able to tie the following bass fly patterns: Beekeepers Friend, Black Ant, Blue-Winged Olive, Clouser Minnow, Crazy Charlie, and Parachute Adams. The White River Fly Shop Deluxe Fly Tying Kit is essential for any serious fly fisherman – so get tying today!
6# Cabela's Gunnison Basic Tool Kit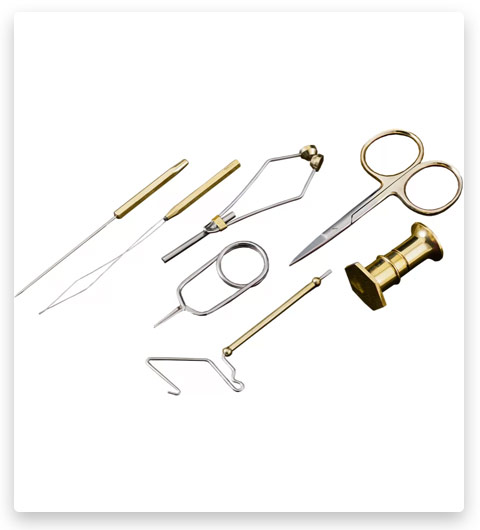 The Gunnison Basic Tool Kit is the perfect starter kit for anyone interested in fly tying. This affordable and convenient kit comes with all of the basic tools you need to get started. With one each of scissors, whip finisher, hackle pliers, hair stacker, bobbin, bobbin threader, and bodkin, this kit has everything you need to tie your own flies.
7# Wapsi Book/Material Kit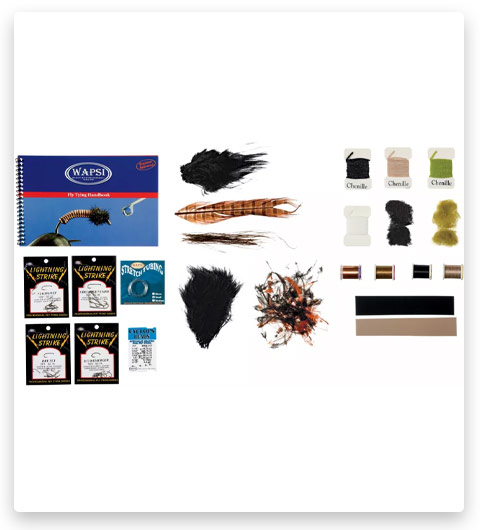 The Wapsi Book/Material Kit offers step-by-step instructions and materials to tie proven fish takers. The included fly tying book is full of helpful tips, while the assortment of tying materials will get you started right away.
8# Cabela's Super AA Vise with Tool Kit
This Cabela's Super AA Vise is a top-quality, general-purpose vice that is perfect for a wide variety of tying applications. The adjustable stainless steel jaws provide a custom fit for any size hook, and the head rotates 360°, allowing you to work from any angle. The heavy-duty clamp secures the vice to your work table, and it also includes a bobbin threader, hackle pliers, bodkin, and scissors – everything you need to get started tying flies.
9# Zephyr Fly-Tying Kit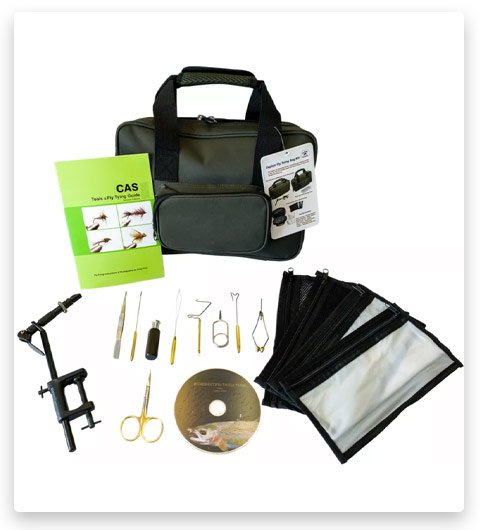 The Zephyr Fly-Tying Kit is the perfect way to get into fly-tying. It includes everything you need to get started, from a Super AA vice to scissors, bobbins, hackle pliers, and more. Plus, it comes in a handy carrying case so you can take it with you wherever you go. With pockets and removable packs for organization, it's easy to keep everything together and in one place. And the included DVD and booklet are great for refining your skills. Get the Zephyr Fly-Tying Kit today and start tying like a pro!
10# Cabela's Trout Fly-Tying Kit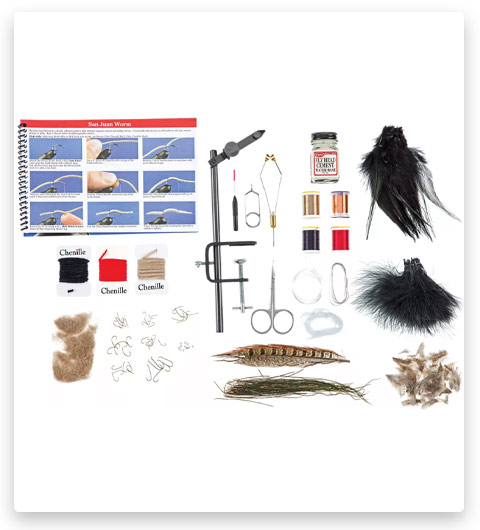 Cabela's Trout Fly-Tying Kit is the perfect way to get started in fly tying. It includes everything you need to get started, including high-quality tools, a vice, hooks, and materials. The included instruction booklet will teach you how to tie 6 different patterns, including the San Juan Worm, Stretch Tubing Scud, Poly Caddis, Brassie, and Woolly Bugger. With this kit, you'll be able to create your own flies and have the satisfaction of catching fish with them. Order your Cabela's Trout Fly-Tying Kit today!
11# Orvis Fly-tying Kit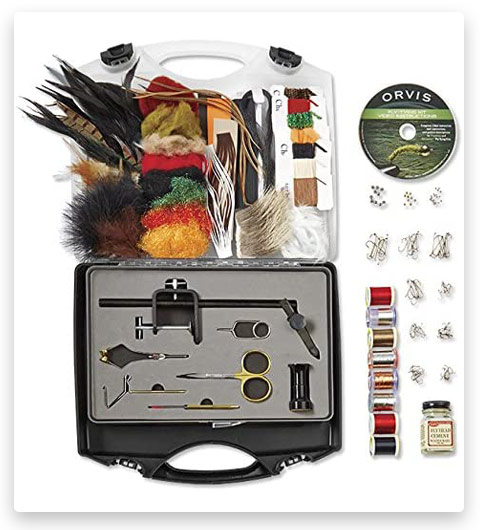 Looking to get into fly tying? This Orvis Premium Fly-Tying Kit is the perfect place to start. It comes with all the materials you need to tie 16 classic patterns, plus an instructional DVD that will walk you through every step of the process. The kit was put together by Tim Flagler of Tightline Productions—considered by many to be the best fly-tying videographer around—so you can be sure you're learning from the best. Plus, it comes with a high-quality vice and toolset, so you'll be ready to tackle any project once you've mastered the basics.
12# Phecda Sport Fly Tying Materials Starter Kits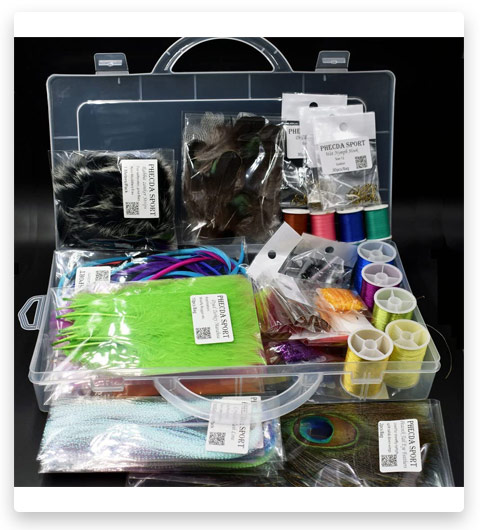 If you're looking for a top-quality starter kit for fly fishing, look no further than the Phecda Sport Starter Kits. This Assortment Includes Fly Tying Feathers Fur Hooks Thread Crystal Flash Line etc. can be used to make dry flies or wet flies – perfect for beginners. Plus, it's 10~20 work days on the road. So what are you waiting for? Get your Phecda Sport Starter Kits today!
13# Colorado Angler Supply Wooden Fly Tying Kit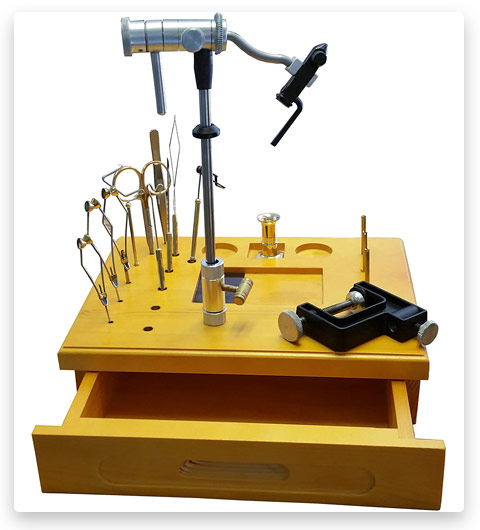 This wooden fly tying station is perfect for the professional angler. It comes with drawers for all of your tools, and an EZ rotary vice with a clamp and built-in base.
14# Colorado Angler Supply KB Tool Kit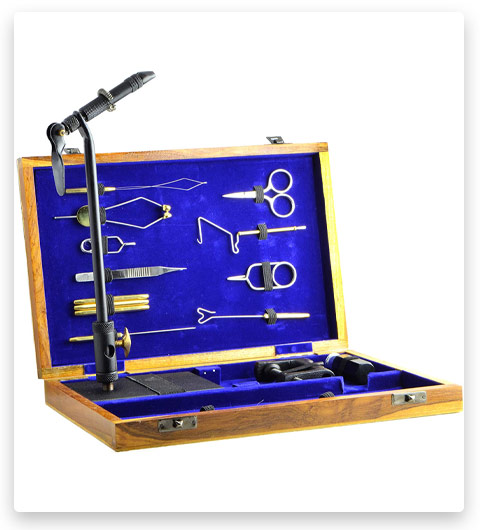 The Colorado Angler Supply KB Tool Kit is a complete fly tying tool kit that comes in a nice handcrafted wooden toolbox. This toolkit includes everything you need to get started in fly tying, including a vice, pedestal base, and C-clamp, large and small hackle pliers, scissors, whip finisher, bobbin, bobbin threader, bodkin, half-hitch tools, and hair stacker. With this comprehensive toolkit at your disposal, you'll be able to start tying flies like a pro!
15# Anglerhaus Fly Tying Tool Kit with Pouch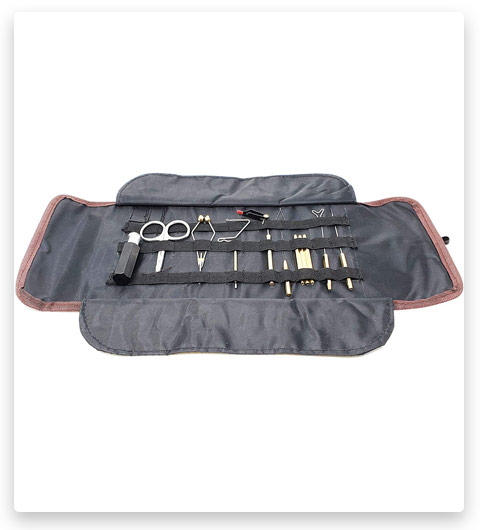 The Anglerhaus Fly Tying Tool Kit is perfect for tying flies. It comes with 9 high-quality tools, including a pouch to keep them organized and safe. The kit is easy to pack with you, so you can take it wherever you go.
Essential Fly-Tying Supplies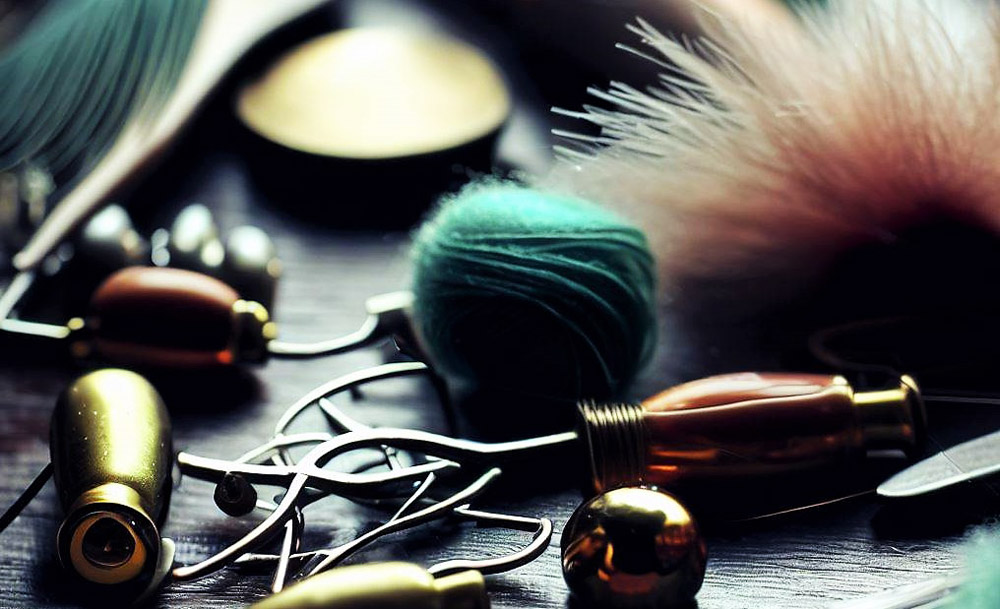 The Fly Tying Toolbox: Essential Tools You'll Need
Much like an artist's palette or a craftsman's workshop, a fly tier's toolbox is filled with tools of the trade. A vise is arguably the most important, as it holds the hook firmly, allowing you to work on the fly without any movement. Vises come in various designs, from simple clamp models to high-end rotary versions that allow the hook to spin 360 degrees.
Scissors are another crucial tool, used to trim excess material and craft precise cuts. Fly tiers often keep multiple pairs with different blade lengths and sharpness for different tasks. Bobbin holders are used to hold and control the thread during the tying process, ensuring even tension and easy manipulation.
Whip finishers, bodkins (needle-like tools for applying glue or separating fibers), hackle pliers, hair stackers, and more complete the list of necessary fly-tying tools. Each of these tools plays a significant role in the fly-tying process, and having the right tools can make your work much more enjoyable and efficient.
Feathers, Fur, and More: Choosing the Right Materials
The materials used in fly-tying are as diverse as the insects they're meant to mimic. They can range from traditional natural materials like feathers, fur, and wool to synthetic materials like foam, tinsel, and plastic.
Hooks are the foundation upon which flies are built and come in a wide array of sizes and shapes, each designed for a specific type of fly. Threads are used to secure the materials to the hook and come in different colors and thicknesses. Feathers are used for wings, tails, and bodies, while fur, hairs, and synthetic materials add bulk and texture. Beads, wires, and eyes can also be added to create weight or enhance the appearance of the fly.
Quality Matters: The Impact on Your Final Fly
Quality is a critical factor when it comes to fly-tying supplies. High-quality tools will last longer, perform better, and make the tying process more enjoyable. A well-crafted vise will hold the hook securely without wobbling, sharp scissors will ensure clean cuts and a good bobbin holder will let the thread flow smoothly.
As for materials, the quality directly impacts the appearance and performance of the finished fly. Top-grade feathers and fur will offer better color, texture, and movement in the water. Quality synthetic materials will resist wear and tear, and high-quality hooks will stay sharp and strong. While you can tie a fly with low-quality materials, a fly tied with high-quality materials will not only look more appealing but also endure the rigors of casting and catching fish much better.
Choosing the Right Supplies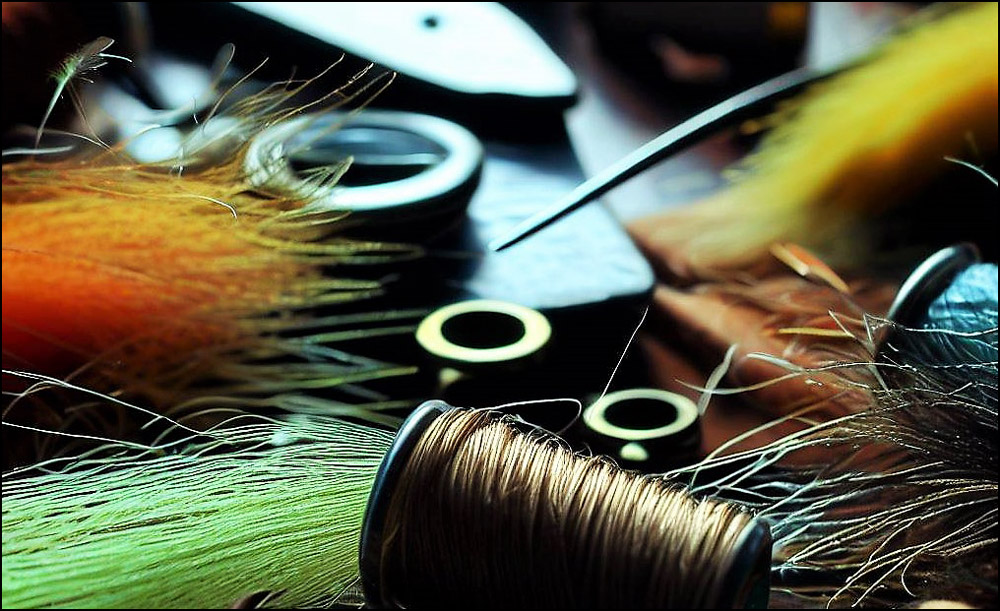 Catching the Right Supplies: Factors to Consider
Choosing the right supplies for fly tying is a process that combines personal preference with objective factors. The first consideration is the type of fish you are targeting. Different fish species have different dietary habits, which is reflected in the type of flies they are attracted to. For example, if you're targeting trout, you'll need materials for crafting nymphs, dry flies, and streamers that resemble the insects, crustaceans, and small fish in their diet.
The environment also plays a significant role in choosing supplies. The local climate, water conditions, and insect life will influence the types of flies you need to tie, and hence the materials required. A saltwater fly fisher will need different materials from a freshwater angler, for instance.
Lastly, your personal tying style and experience level also matter. Beginners might prefer easy-to-handle materials and basic tools, while experienced tiers might prefer more advanced tools and exotic materials. It's important to select supplies that you feel comfortable with and enjoy using.
Deciphering Fly-Tying Brands: Who Stands Out and Why
The market is flooded with brands offering a plethora of fly-tying supplies, making it a daunting task to choose the best ones. However, certain brands stand out due to their commitment to quality, innovation, and customer satisfaction.
For tools, brands like Griffin, Renzetti, and Dr. Slick are renowned for their high-quality vises, scissors, and other tools. When it comes to threads, Uni-Thread and UTC are popular choices for their range of colors and strengths. In the hook department, Mustad, Tiemco, and Daiichi are recognized for their sharp, durable hooks in various sizes and styles. Companies like Hareline and Wapsi excel in providing a wide range of tying materials, both natural and synthetic.
Each brand has its strengths, and the choice often comes down to personal preference and specific requirements. It's advisable to research and try out different brands to find out which ones suit you the best.
Balancing Act: Weighing the Cost Against Quality
Choosing between cost and quality is a classic dilemma in many aspects of life, and fly tying is no exception. As a general rule, investing in high-quality tools and materials is recommended, as they perform better and last longer, providing better value over the long run.
However, it's also important to strike a balance. As a beginner, you might not need the most expensive vise or the rarest feathers. Start with reasonably priced, good-quality basics, and then upgrade or expand your supplies as you gain experience and refine your needs.
Similarly, while some materials, like certain exotic feathers, can be costly, they might be necessary to tie certain types of flies. On the other hand, many effective flies can be tied with inexpensive, readily available materials. It's all about understanding your needs and making informed choices. Remember, the most expensive supplies won't automatically make you a better tier, but choosing the right supplies for your needs and skills will.
The Art of Tying Flies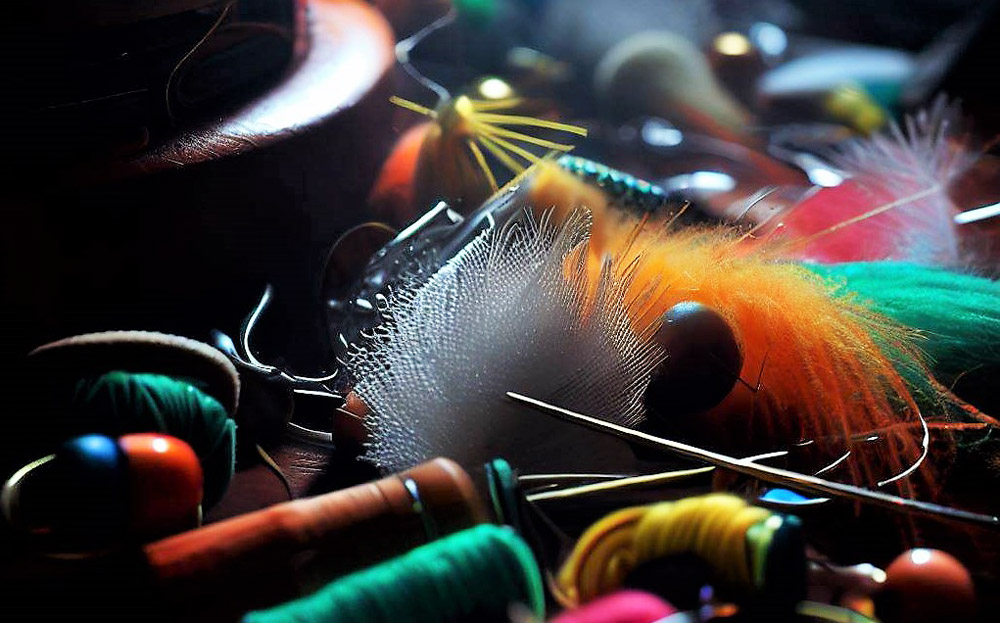 Mastering the Craft: Basic Techniques in Fly Tying
Fly-tying is an art form that employs a series of techniques to transform simple materials into realistic imitations of aquatic life. Here are some fundamental techniques:
| Basic Fly-Tying Techniques | Explanation |
| --- | --- |
| Attaching the Thread | This is the first step in fly-tying where the thread is secured to the hook shank. It forms the foundation of your fly and learning to start the thread correctly is crucial. |
| Wrapping and Securing Materials | This technique involves wrapping materials like feathers, fur, or tinsel around the hook. The key is to maintain even tension to secure the materials without damaging them. |
| Creating the Head | The 'head' of the fly is usually made from the tying thread itself. It's wrapped neatly at the 'eye' of the hook, and then secured with a 'whip finish,' a specific knot that prevents unraveling. |
| Dubbing | Dubbing involves twisting a small amount of fur or synthetic material onto the thread to create a textured body for the fly. This technique adds realism to your creation. |
| Note | These techniques are basic yet fundamental to the art of fly-tying, each playing a critical role in the creation of the final fly. |
Avoiding the Tangle: Common Mistakes and How to Dodge Them
Like any craft, beginners in fly-tying often stumble upon a few common hurdles. Here are some of them, along with tips to overcome:
| Common Mistakes in Fly-Tying | Explanation |
| --- | --- |
| Using Too Much Material | Less is more in fly-tying. Overusing material can result in bulky, unrealistic flies. It's best to start with a small amount; you can always add more if necessary. |
| Poor Thread Control | Thread control is critical for properly securing materials to the hook. By practicing to maintain even tension on the thread, you can significantly improve the quality of your flies. |
| Ignoring Proportions | Proportions are essential in crafting realistic and balanced flies. Always consider the size and shape of the natural insect you're aiming to imitate. |
| Rushing the Process | Patience is key in fly-tying. It's crucial not to rush but take your time to understand and correctly execute each step. |
Reeling in Expert Advice: Tips from Professional Fly Tiers
Experienced fly-tiers have spent countless hours honing their skills and developing useful tips and tricks. Here are a few:
| Fly-Tying Tips | Explanation |
| --- | --- |
| Practice Makes Perfect | Regular practice is key in fly-tying. The more you tie, the better you become. |
| Stay Organized | Keeping your fly-tying space clean and organized is crucial. Having a system where everything has its place can save time and make the tying process more enjoyable. |
| Experiment | Don't hesitate to experiment with different materials and techniques. Some of the most effective and unique fly patterns have resulted from creative experimentation. |
| Learn From Others | Learning from others is invaluable, whether it's through books, online videos, or local fly-tying clubs. This approach can significantly improve your skills and broaden your fly-tying knowledge. |
Remember, every professional was once a beginner. Keep trying, learning, and most importantly, enjoy the process!
Fly-Tying Kits versus Individual Supplies
Fly-Tying Kits Vs Individual Supplies: The Pros and Cons
Fly-tying kits can be a great starting point, especially for beginners. They come with a selection of essential tools and materials needed to start tying right away. This can remove the initial guesswork of picking out individual supplies. Kits often come with instructions and patterns, which can be a valuable learning resource. Plus, buying a kit can be more economical than purchasing everything separately.
However, kits also have their downsides. The quality of tools and materials in kits can vary, with some kits offering lower-quality supplies. Also, the assortment of materials in a kit might not suit your specific needs, especially as you become more experienced and start tying a wider variety of flies.
On the other hand, buying individual supplies gives you the freedom to choose exactly what you need and want. You can handpick supplies based on your target fish species, local conditions, and personal preferences. This can result in higher quality flies that more closely match your requirements. The downside, however, is that this option can be more expensive and time-consuming, especially for those new to the craft.
Making the Right Catch: Deciding Between Kits and Individual Supplies
The decision between a kit or individual supplies largely depends on your experience level and needs. If you're a beginner just starting to explore the art of fly-tying, a kit can be a good choice. It provides a simple and economical way to dive into the craft and learn the basics.
As you gain experience, you'll likely develop preferences for certain tools and materials. You'll start to understand your needs better and might find that the materials in the kits no longer satisfy those needs. That's when buying individual supplies becomes more appealing. You can choose specific items that match your skill level and the types of flies you wish to tie.
Remember, there's no 'right' or 'wrong' choice here. It's about what serves your needs and goals the best. Whether you choose a kit or individual supplies, the most important thing is to enjoy the creative process of fly-tying and the fantastic fishing experiences that your handmade flies will bring.
How to Care for Your Fly-Tying Supplies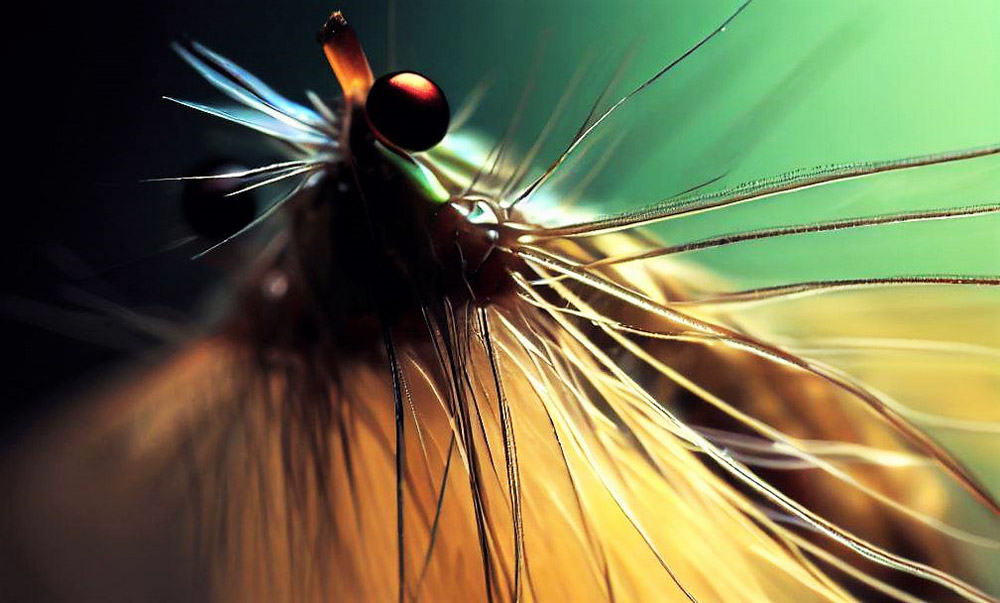 Keep It Reel: The Right Way to Store Your Fly-Tying Supplies
Proper storage of your fly-tying supplies not only helps in keeping your tying space organized but also significantly prolongs the life of the materials and tools.
Materials like feathers, fur, and thread should be stored in a cool, dry place away from direct sunlight, as heat and moisture can degrade them. It's also a good idea to keep them in sealable bags or containers to protect them from insects or dust.
Your hooks should be stored separately in a box with compartments, allowing you to categorize them based on size and type. Make sure to keep them dry to prevent rusting.
As for tools, they should be kept clean and dry when not in use. A dedicated tool caddy can be handy to keep your tools organized and within easy reach.
Maintaining the Edge: Ensuring Your Tools Last Longer
Good maintenance of your tools is essential to keep them performing at their best. Here are some tips:
| Fly-Tying Tool | Maintenance Tips |
| --- | --- |
| Scissors | Keep them sharp and clean. Wipe the blades after each use to remove any adhesive residue. Regularly oil the pivot point for smooth operation. |
| Bobbin Holder | Ensure the thread spool moves smoothly by occasionally cleaning the bobbin spindle. A small drop of oil can help keep the movement smooth. |
| Vise | Keep the jaws clean and free of glue or varnish. Occasionally oil the moving parts to ensure they operate smoothly. Make sure the clamp or pedestal base is secure when in use. |
| Whip Finisher, Bodkin, and other tools | Keep them clean and dry. For tools with a sharp point, consider using a protective cap to prevent accidents and maintain sharpness. |
| Hooks | Always keep them dry to prevent rust. If rust starts forming, it's best to discard the hook as its strength may have been compromised. |
Taking good care of your supplies not only increases their lifespan but also makes your tying experience more enjoyable and efficient. Remember, quality supplies are an investment; taking good care of them will pay off in the long run.
FAQ: Must-Have Supplies for Fly-Tying Enthusiasts
Conclusion: An Insider's Guide to Essential Supplies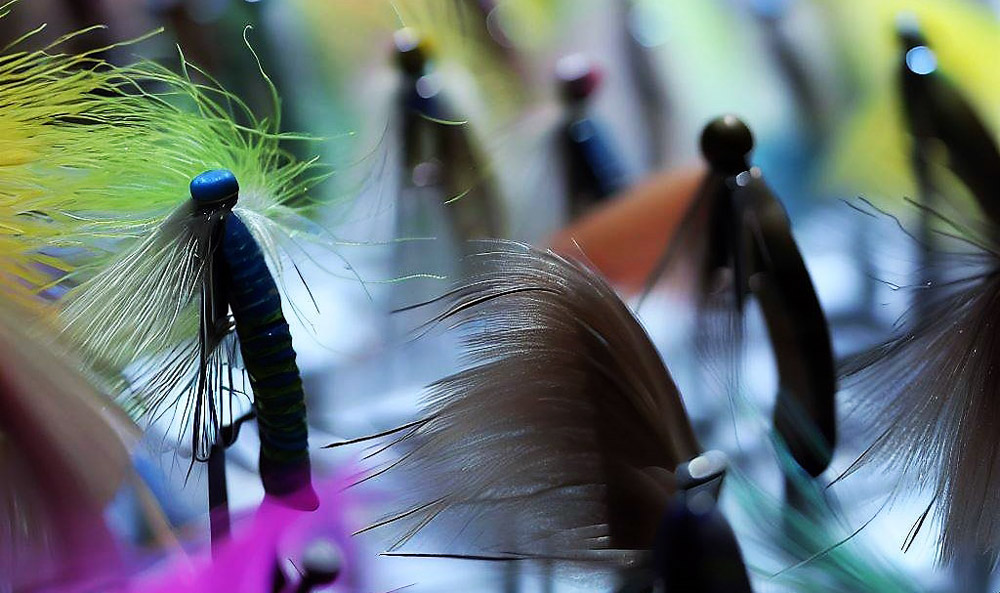 Now that you know about the best fly tying supplies, it's time to get started on your next fishing trip! We hope you found this article helpful and informative. Be sure to check out our other articles for more tips and advice on all things fishing.
A Look Back: Recap of Our Fly-Tying Journey
Throughout this article, we've delved into the captivating world of fly-tying. We started with the basics of what fly-tying is and its historic roots, emphasizing its importance in fly fishing. We've explored the essential supplies needed for fly-tying, from vital tools like vises, scissors, and bobbin holders to varied materials like hooks, threads, feathers, and hairs. We discussed the significance of quality in these supplies and how they impact the final result – the fly itself.
The discussion progressed to choosing the right supplies based on factors like the type of fish, the environment, and your personal style. We decoded popular brands and examined the balance between cost and quality. We then took a dive into the art of tying flies, discussing fundamental techniques, common beginner mistakes, and professional tips.
We weighed the pros and cons of fly-tying kits versus individual supplies, providing advice on the best option depending on your experience and needs. And lastly, we shared tips on how to care for and store your fly-tying supplies to extend their longevity.
The Last Cast: Parting Thoughts on Fly-Tying Supplies
In conclusion, the art of fly-tying is not just about creating a fishing tool; it's about the joy of crafting, the thrill of experimenting, and the satisfaction of catching fish with a fly that you've tied yourself. The choice and quality of your supplies play a pivotal role in this experience. Good fly-tying supplies enable you to tie more effectively and creatively, ultimately leading to a better fishing experience.
Casting Off: Your Fly-Tying Adventure Awaits
Now that you've got a grasp of the fundamental aspects of fly-tying supplies, it's time for action. Take the time to explore the array of tools and materials available, research what works best for your specific needs, and invest in quality supplies that will support your fly-tying journey. Remember, the art of fly-tying is a continuous learning process filled with trials, errors, and successes. So, take your time, enjoy the process, and most importantly, have fun with it. Your fly-tying adventure awaits!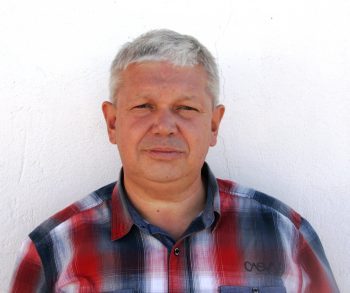 Sergio Smirnoff
Professional fisherman with 40+ years of experience.
Fishing and the ocean is a passion of my life. I am passionate about all kinds of sea fishing: fishing from the shore (spinning, float, baitcasting), from a boat, and spearfishing day and night.
I live in Tenerife (Canary Islands) for the last 10+ years and share my daily fishing experiences on my website. Many years of personal experience as a fisherman and the vast experience of my friends allow me to write professionally on any fishing topics (from choosing a flashlight and equipment to deep-sea fishing).
All of my advice is based on practical real-world experience and will be useful to both novice anglers and professionals.
Read more
about the author.
Affiliate Disclosure: FishReeler.com sometimes gets paid for listings, through sponsors or affiliate programs like Amazon, Ebay, Cabelas, Bass Pro Shop, Shimano, Daiwa, Rapala, Renn, Okuma, KastKing, etс. Clicking a link helps keep FishReeler.com free, at no extra cost to you!
About the author: Each article is verified by the fishing expert Sergio Smirnoff. The articles are written by professional and amateur fishermen with 20+ years of fishing experience.
Note: The views and opinions expressed in this article are those of the authors and do not necessarily reflect the official policy or position of any agency. The articles are for informational purposes only, share your opinions in the comments and join the fishing discussions, let's share our fishing experiences together!