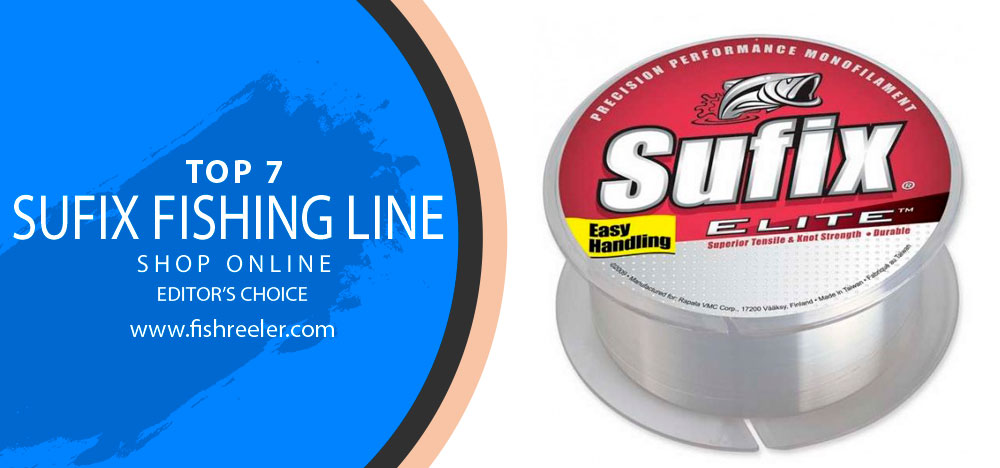 Fishing is very popular. Every type of fish, every body of water, and every fishing method have different requirements for a fishing line. To the layman, the lines look very similar and differ in no more than color. However, professional and advanced anglers know that different types of fishing and fish will require different types of lines. Depending on whether you want to fish for pike, carp, trout, perch, or zander, the line should differ in diameter and material. Is it spinning, bottom fishing, or float fishing? Today we will focus on Sufix fishing lines. I will tell you about the Sufix braid fishing lines, as well as show you the best models of the Sufix monofilament fishing lines.
The 7 Best Sufix Braided Fishing Line Reviews
A list of the advantages and disadvantages of the two most common types of line monofilament and braided should make it easier for you to choose. In my line test, I tested different types of Sufix lines and I can confidently say that this product deserves your attention.
| Image | Product | Brand | Link |
| --- | --- | --- | --- |
| | Suffix 832 Braid 20 lb Low-Vis Green 150 yards | Sufix | |
| | Sufix 832 Ice Braid 10 lb Ghost | Sufix | |
| | Sufix NanoBraid 150 yd Line, Aqua Camo, 8 lb (690-008AC) | Sufix | |
| | Sufix Tritanium Plus 1-Pound Spool Size Fishing Line (Chartreuse, 17-Pound) | Sufix | |
| | Sufix, Advance Monofilament Line, 6 lbs Tested, 010" Diameter, 330 Yards, Low Vis Green | Sufix | |
| | Sufix Siege 330-Yards Spool Size Fishing Line (Camo, 8-Pound) | Sufix | |
| | Sufix, Advance Monofilament Line, 4 lbs Tested.008 Diameter, 330 Yards, Clear | Sufix | |
Braid Fishing Line
The braided line has minimal stretch and usually has a higher load capacity. Braided lines have the main advantage over monofilament lines in that they have a higher load-bearing capacity and minimal stretch. As a result, the fish hook penetrates very quickly and deeply into the fish's mouth, making it easier to detect bites. Another advantage of the braided line is its higher UV resistance. This way you can be sure that your line will last a long time, even in sunny weather. More information can be read in our review – Best Braided Fishing Line For Saltwater & Bass Fishing.
1# Sufix 832 Braid Low-Vis Green Fishing line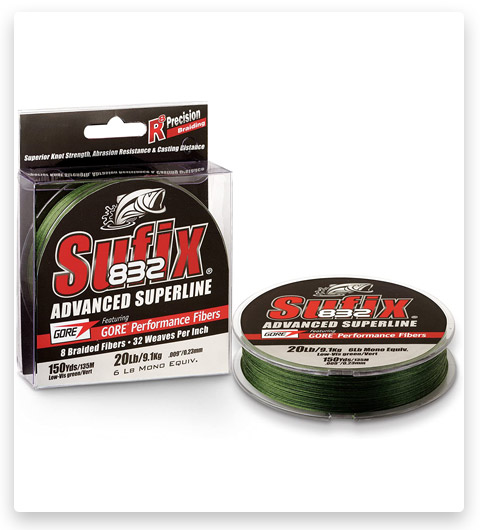 Sufix 832 is the most advanced line on the market. State-of-the-art fiber weave technology – the R8 Precision delivers superior strength, full line roundness. The structure consists of 8 fibers. 7 Dyneema and 1 Gore-Tex, 32 weaves per inch. Gore-Tex Performance fiber gives the line resistance to abrasion, uniform diameter throughout the length, and reduced vibration during casting. Dyneema fibers provide high strength and sensitivity to Sufix 832 Braid Lo Vis Green, water repellency, and small diameter. The use of these technologies made it possible to increase the casting distance by 10%, several times increased the wear resistance to abrasion and deformation (loss of profile roundness), and increased the tensile strength by 20% and the knot strength by 30%.
2# Sufix 832 Ice Braid Fishing Lure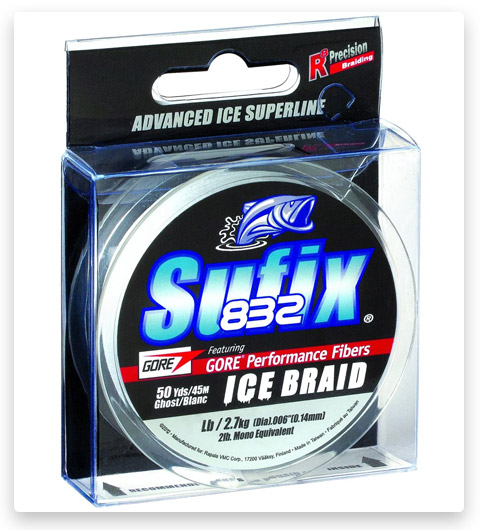 Sufix 832 Ice is a premium quality Dyneema winter ice fishing line with virtually no stretch and a smooth surface with excellent responsiveness at low temperatures. Moreover, it is soft, lightweight, durable even in small diameters, and, most importantly, does not freeze in ice water. The line transmits the bite instantly and increases the speed and effectiveness of the hook.
3# Sufix NanoBraid 150 yd Line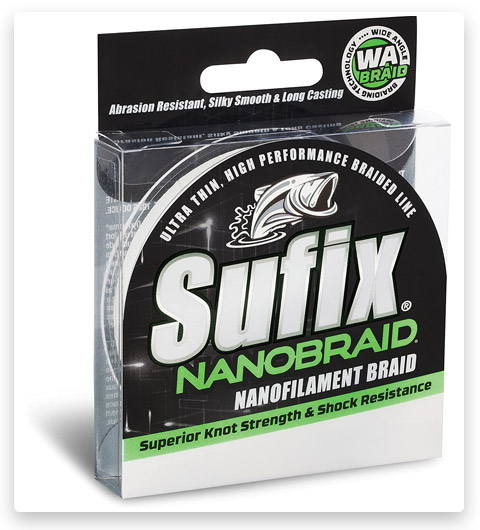 Nano Braid, from the American manufacturer Sufix, loved by fishermen, will be a wonderful purchase for both spinning fishing enthusiasts and other types of fish hunting. Distinguished by excellent quality, as well as quite democratic prices, such a fishing line, due to its wear resistance, strength will be able to cope with the strongest prey, and the absence of excessive stretching allows you to make long and sure casts. The use of modern high-tech fibers made it possible to make the Sufix Nano Braid as round as possible along its entire length, smooth, sensitive to the bite of fish, and resistant to jerking. A wide range of fishing lines of different thicknesses will allow the fisherman to choose the best option suitable for all conditions and types of fishing.
4# Sufix Tritanium Plus 1-Pound Spool Size Fishing Line – Amazon's Choice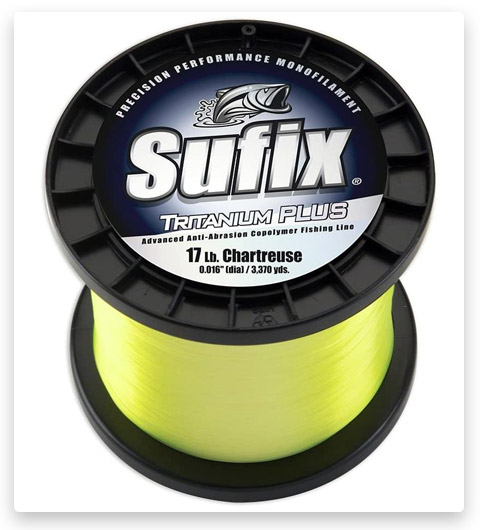 This premium braided line from Sufix offers outstanding performance. The fast-sinking braid is made according to modern fiber weaving technology, due to which a circular cross-section and a precisely calibrated diameter are achieved along the entire length of the thread. The line is resistant to ultraviolet radiation, has increased resistance to abrasion and deformation, due to which the braid has excellent strength characteristics, is tear-resistant, and perfectly holds the knot. The braid is water-repellent, which allows it not to absorb moisture and improves its anti-abrasive properties.
Monofilament Fishing Line
Monofilament lines are made of only nylon strands so they are not braided. One of the hallmarks of a monofilament line is its high elongation. The downside is that it is more difficult to tell if a fish has bitten your rod. However, a great advantage is the very high abrasion resistance. The monofilament line is more abrasion resistant and therefore generally more durable. Experts recommend these lines, especially for bottom fishing. They tend to be more versatile, forgiving, and tend to be relatively cheap, so monofilament lines are probably best for beginners. They are often transparent and therefore more difficult to see underwater. More information can be found in our review – Best Mono Fishing Line.
5# Sufix Advance Lo-Vis Green Monofilament Line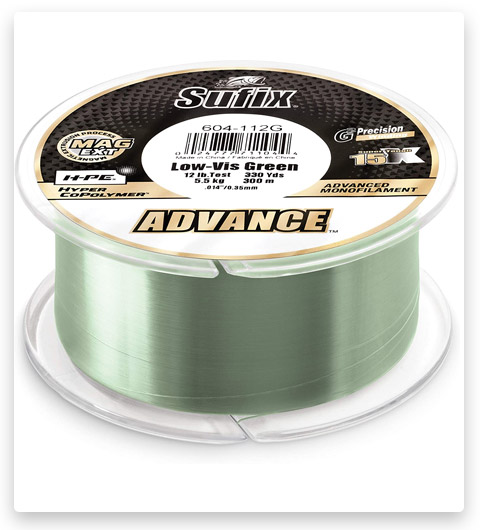 Advance is the advanced Sufix monofilament line. It is produced using a unique technology in which high molecular weight HMPE polyethylene is woven with nylon. This improves the abrasion resistance of the line. The monofil is almost non-stretchable, which means it provides a good connection with the bait. The line has a smooth surface for long, precise casts. The high strength of the thread will help to cope with extreme loads when playing a large trophy. Sufix Advance is a line suitable for all types of fishing.
6# Sufix Siege Fishing Line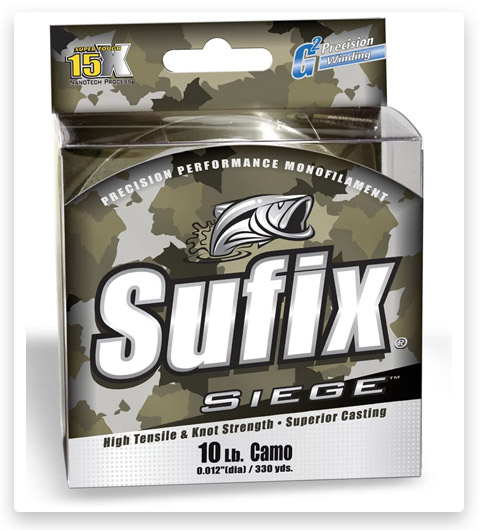 The latest technology gives line unsurpassed strength and smoothness. This allows for more accurate long-distance casting of the lure. Unique treatment increases line durability by 15 times. Now you can not be afraid to hit it in the water for any obstacle or make wiring in rocky places and even on a shell rock. The Advanced G Precision Winding system virtually eliminates memory and the elastic line will fit better on your spool.
7# Sufix Advance Clear Monofilament Line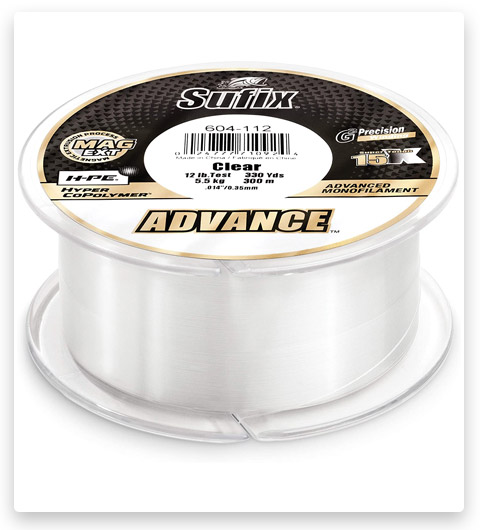 This is a premium monofilament line specially designed for situations where stringent demands are placed on the line. The model provides the perfect combination of high strength and durability with unrivaled handling and ease of casting. HMPE woven with nylon gives excellent abrasion resistance, good sensitivity, low elongation. The line with high strength and smooth surface is suitable for a variety of fishing options.
Sufix Brand Info
Sufix is a global manufacturer with a huge range of quality and affordable braided and monofilament lines. The birthplace of the brand is the USA, today the brand is part of the world-famous Rapala concern. Sufix in the professional environment is known primarily for high-quality fishing lines. This is one of the main activities of the company. One of the greatest strengths of Sufix is the durability that no other brand can match. Among the advantages of the brand, it is worth noting a wide range.
Sufix is one of the world's leading manufacturers of braided, monofilament, and fluorocarbon lines. Their widest range includes high-tech products for all kinds of fishing conditions with all types of lures. The brand was founded in 1936 in the USA. All products of the company, regardless of their purpose, are made from high-quality Japanese raw materials and undergo a multi-stage quality control system, which guarantees its reliability and eliminates defective batches on the shelves.
Sufix monolines have been a huge success not only among ordinary anglers. They are often used in world-class sporting events and the teams that prefer them almost always win prizes. The brand's fluorocarbon lines are completely invisible in the water, so they are suitable for fishing even the most cautious fish. We should also mention the Invisiline model, which is excellent leader material.
Sufix braided lines are the pride of the company. If they are not a quality standard, then they are very close to this status. Of particular note is the Sufix 832 cord, created with the assistance of Gore. It is woven with a special R8 technology with 32 turns per inch, which ensures its constant diameter, incredible strength, a high degree of resistance to mechanical damage, and a complete lack of elongation.
Frequently Asked Questions
Conclusion
Line selection is fundamental to the success of any fishing. After all, it is this component that is present in the equipment of every fishing device, regardless of the principle of its operation. The fishing line is the link through which a huge load is transmitted during jerks, as well as throws of a struggling, stubborn fish. A moment like this is especially exciting when fishermen manage to hook, in fact, trophy fish specimens. The choice of the line should be taken seriously. I advise you to purchase the 1# Sufix 832 Braid Low-Vis Green Fishing Line, and if you are interested in mono yarn the 5# Sufix Advance Lo-Vis Green Monofilament Line is your best bet.
Tags: #sufix fishing line / #sufix fishing line reviews / #sufix braid fishing line / #sufix braided fishing line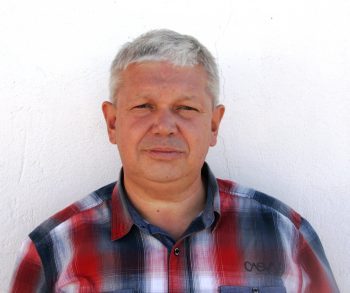 Sergio Smirnoff
Professional fisherman with 40+ years of experience.
Fishing and the ocean is a passion of my life. I am passionate about all kinds of sea fishing: fishing from the shore (spinning, float, baitcasting), from a boat, and spearfishing day and night.
I live in Tenerife (Canary Islands) for the last 10+ years and share my daily fishing experiences on my website. Many years of personal experience as a fisherman and the vast experience of my friends allow me to write professionally on any fishing topics (from choosing a flashlight and equipment to deep-sea fishing).
All of my advice is based on practical real-world experience and will be useful to both novice anglers and professionals.
Read more
about the author.
Affiliate Disclosure: FishReeler.com sometimes gets paid for listings, through sponsors or affiliate programs like Amazon, Ebay, Cabelas, Bass Pro Shop, Shimano, Daiwa, Rapala, Renn, Okuma, KastKing, etс. Clicking a link helps keep FishReeler.com free, at no extra cost to you!
About the author: Each article is verified by the fishing expert Sergio Smirnoff. The articles are written by professional and amateur fishermen with 20+ years of fishing experience.
Note: The views and opinions expressed in this article are those of the authors and do not necessarily reflect the official policy or position of any agency. The articles are for informational purposes only, share your opinions in the comments and join the fishing discussions, let's share our fishing experiences together!