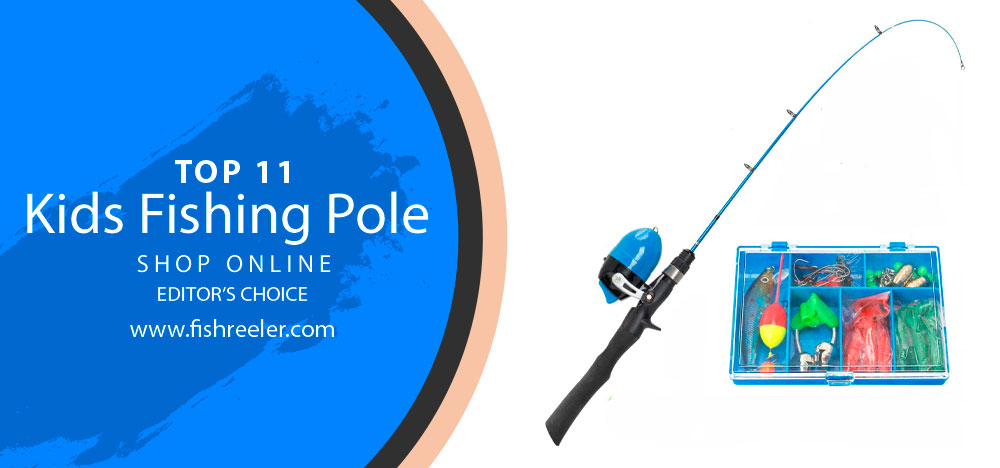 Reeling in the Fun: A Fishing Pro's Guide to the Best Kids Fishing Rods
Quick Summary
Imagine the thrill your child will experience as they feel that first tug on their line. Fishing is a timeless activity that fosters patience, deepens connections with nature, and creates lasting memories. But for a child, the key to unlocking this joy lies in having the right tool: a kids fishing rod.
A children's fishing rod is specifically designed to accommodate their smaller size, lighter strength, and beginner's skill level. This ensures that their first fishing adventure isn't marred by unwieldy equipment too cumbersome for their young hands. Instead, they'll have a tool that's built to fit them, making their experience more engaging, exciting, and rewarding.
A well-chosen kids fishing rod reduces the complexity of fishing, allowing your child to focus on the joy of the catch rather than struggling with an adult-sized rod. It's lightweight yet durable, easy to handle, and often sports fun designs that will make your young angler excited to head outdoors.
With a kids fishing rod, you're not just buying a piece of equipment; you're investing in a future love for the great outdoors, the thrill of the catch, and precious memories that both you and your child will cherish for years to come.
Baiting the Perfect Gear: Features of an Ideal Kids Fishing Rod 🎣

When it comes to choosing a fishing rod for your young angler, several factors come into play. Let's dive into the three critical attributes that can make a rod an absolute catch for kids.
1️⃣ Strength, Durability, and Flexibility 🏋️
The rod's strength and durability are crucial considerations. Kids, by nature, can be a little rough on their gear. A well-constructed rod can withstand the inevitable drops, knocks, and adventurous handling that comes with the territory of fishing with children. Opt for rods made with sturdy materials such as fiberglass or composite materials for a great mix of durability and flexibility.
Flexibility is another key aspect. A more flexible rod is often more forgiving when your child is learning to cast, reducing the chances of line tangling or snapping.
2️⃣ Weight and Ease of Use 🧒
It's all about balance! A rod that's too heavy can tire out little arms quickly, leading to a less enjoyable fishing experience. On the other hand, a rod that's too light may not cast as well or withstand a bigger catch. Seek out a rod with a weight appropriate for your child's size and strength.
Ease of use is equally important. Look for rods with simple, user-friendly mechanisms. Spincast reels, for example, are often a great starting point for beginners due to their push-button operation.
3️⃣ The Lure of Design and Aesthetics 🌈
Last but not least, remember that for kids, appearance can be everything! A rod with their favorite color or character can turn fishing from a chore into an adventure. From rods decked out with superheroes to those glowing in neon colors, there's something to entice every little angler out there.
🔶In essence, the best kids' fishing rod marries functionality with fun. It's strong, lightweight, user-friendly, and appeals to their sense of style. Finding the perfect rod can reel in countless hours of joy for your child and make fishing an unforgettable family experience! 🎣🏞️👪
Catching the Joy: The Irrespective Allure of Fishing for Kids 🎣

For me, it all started when I was seven, armed with nothing but a makeshift rod and a heart full of excitement. My very first catch – a tiny, iridescent fish – had me hooked for life! 🐟
For children, these experiences are even more profound, shaping their attitudes towards the outdoors, wildlife, and even life skills like patience and perseverance. The key to these priceless experiences lies in one simple tool – the fishing rod. 🎣
Choosing the right fishing rod for kids isn't just about picking the one with the most appealing color or design; it plays a pivotal role in shaping their fishing experience. A rod that's too heavy or complicated can lead to frustration, while one that's too simple might not offer enough challenge or functionality as they grow and their skills develop.
🔶The right fishing rod can transform a child's fishing adventure, turning potential frustration into a joyous exploration of nature. That's why we've put together this comprehensive guide, giving you the ins and outs of what to look for in a kids' fishing rod. So, tighten your life vests and ready your tackle box as we dive into the world of kids' fishing rods. 🚣‍♂️🦈
Top 11 Best Beginning Fishing Poles & Rods for Kids

Parents often take their children with them for fishing. And it is right. From an early age, you need to instill a love for such a thing. Fishing isn't an easy task to learn. Special fishing rods were created for the children. Let's figure out what they are for. My article will also help you choose a fishing rod for your child.
Fishing is more than a hobby; it's a ticket to a world of adventure, patience, and bonding with nature. For children, embarking on this journey can shape their perspective, cultivate patience, and build enduring memories. A crucial part of this experience is the fishing rod. The right kids fishing rod, tailored to their size, strength, and skill level, can be the difference between frustration and joy.
This article dives into the world of kids' fishing rods, providing professional insight into selecting the ideal rod for your young angler. Whether it's for a weekend outing or a summer vacation, the right fishing rod will turn your child's fishing expedition into a story they'll love to tell. Let's cast the line and explore together.
1# Leo Light Weight Kids Fishing Pole Telescopic Fishing Rod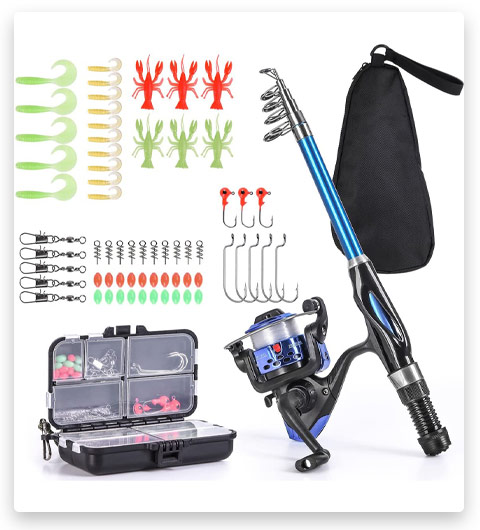 This is the perfect starter kit for your child. There is not only a fishing rod but also other fishing equipment. You will find a telescopic fishing rod, spinning rod, fishing line and bait. The telescopic fishing rod is great for children. It is lightweight and comfortable. It doesn't require a long assembly. It is also portable and can be folded and stored in a convenient place when not in use. Your child will love fishing and will enjoy this process!
2# Kids Fishing Pole Light & Portable Telescopic Fishing Rod & Reel Combos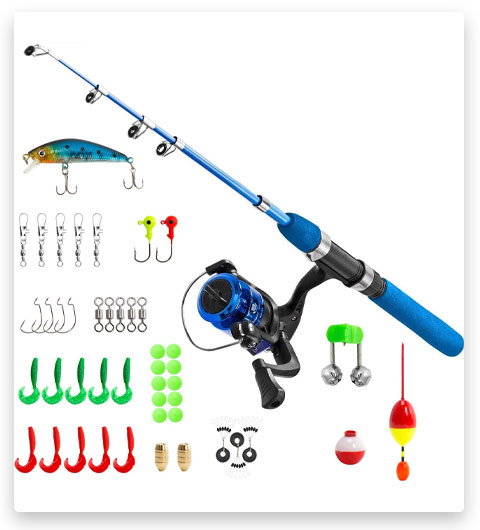 The telescopic fishing rod is what you need for a child. It is light, the child will be able to control it. It is easy to take with you. Parents don't spend a lot of time assembling it. It is easy to maintain. Also in the kit, you will find a suitable bait so that the child can cope with them. As well as spinning and fishing line. Handle designed for children's hands.
3# Shakespeare UGLYDR36PDQ Ugly Stik Dock Runner Spinning Comb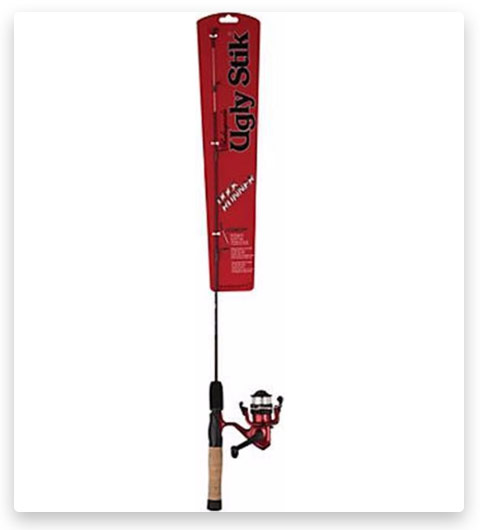 With such a fishing rod, your child can come with prey after the first use. The fishing rod has good sensitivity. Your child will perfectly feel the fish that will hit the bait. This will allow him to better understand the process and how to proceed. It is pre-wound with a 6-inch line. The material is graphite and fiberglass. It is light enough and comfortable to hold
4#  Lanaak Pink Fishing Pole and Tackle Box – Telescoping Rod with Spinning Reel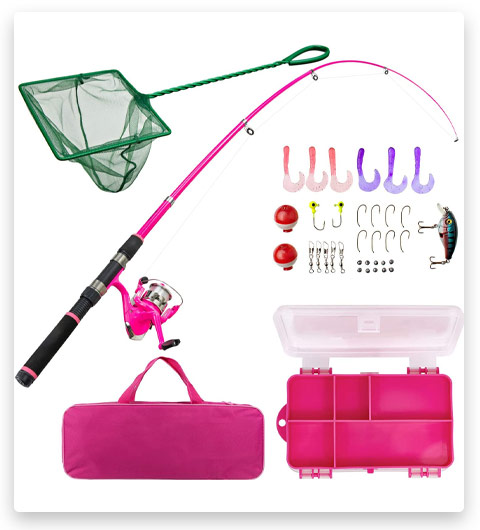 Fishing set for a girl. Everything is done in pink. A telescopic fishing rod with a spinning reel will allow your child to master fishing skills and get his first trophy. If your child is left-handed, then she will also be able to use this device. You will also find a box with gear. You don't need to think about bait, you will have them right away.
5#  Kid Casters – Fishing Pole and Spincast Reel Combo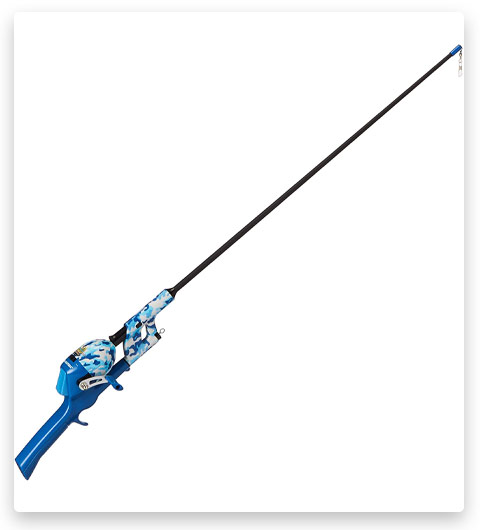 A simple fishing rod mechanism allows any child to quickly understand how it works. Design is more suitable for boys. There is a swivel mechanism that helps prevent tangling of the line. The hook is made of plastic and is safe for your child. Fishing rod size 34 inches
6# Kids Fishing Pole Telescopic with Spincast Fishing Reel and String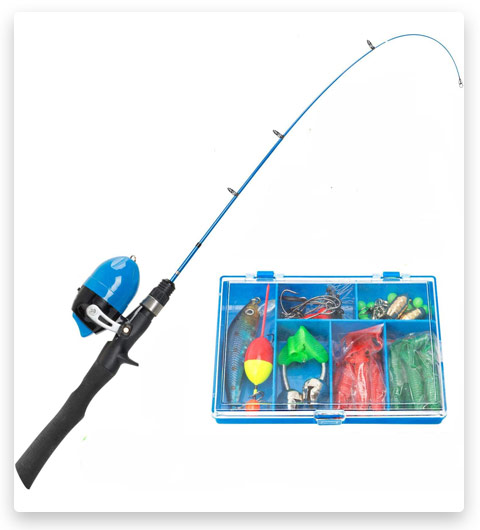 Introduce your child to fishing with this set. It consists of a telescopic fishing rod, fishing line, reel for spinning, as well as other fishing tackle. A telescopic fishing rod is ideal for children. It is lightweight and compact. You can choose a fishing rod weighing 3.9 or 4.9 pounds. If your child is too small, then choose a model easier. The fishing reel is intended for use by children and is safe for them.
7# Zebco Dock Demon Spinning Reel and Fishing Rod Combo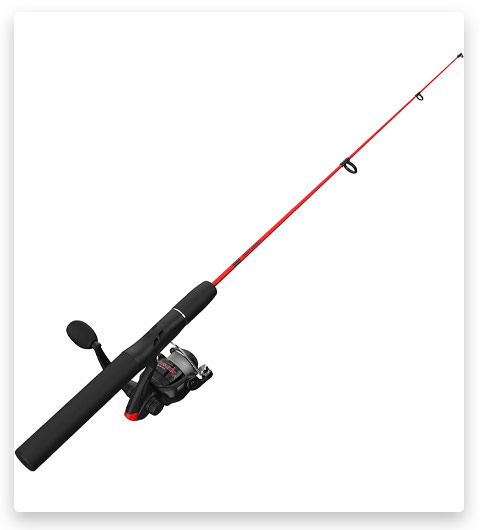 The fishing rod is suitable for children from 3 years. At this age, the child will already be able to understand the mechanism of work. It will take him no more than an hour to learn how to cast. This fishing rod option is suitable for both righties and lefties. You will find a 6-pound line on the reel. The reel can be separated from the fishing rod. Your child will be able to catch from the shore already on the first fishing trip!
8# PLUSINNO Kids Fishing Pole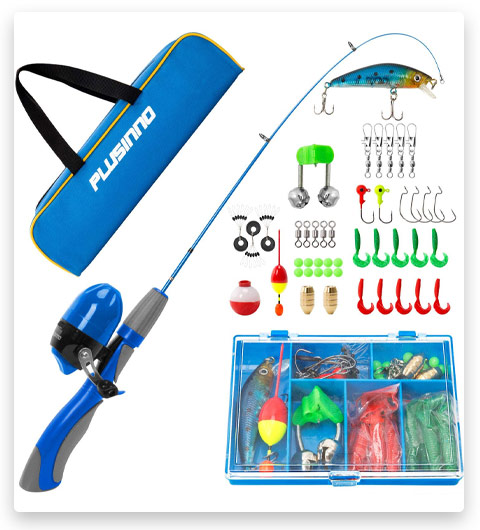 Don't even try to teach your child with an adult fishing rod. This will not lead to anything good. The best option is to buy a special kids fishing rod, or better, a first starter kit such as this one. It includes a telescopic fishing rod, which is almost not felt in the hands and flexible. You will also find the fishing line, reel. And you can put all this equipment into a blue travel bag that comes with the kit. So you can easily go fishing and you will not forget anything!
9# Lanaak Kids Fishing Pole and Tackle Box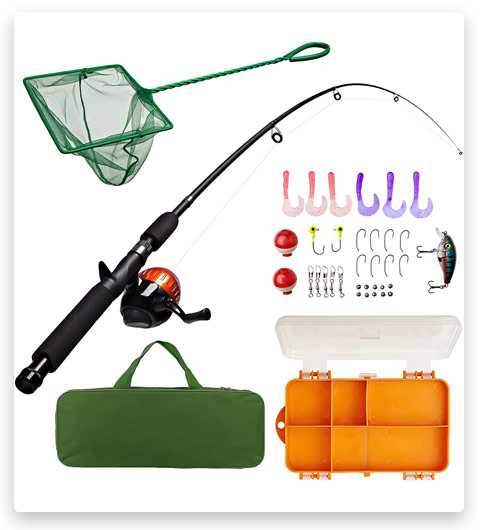 After meeting this fishing rod, your child will want to fish every weekend! Present him with a whole set of fishing equipment. As in previous products, this set has a telescopic fishing rod, and you will also receive a whole box with gear, a reel, as well as a cover for comfortable carrying.
10# Sougayilang Mini Spinning Fishing Rod and Reel Combos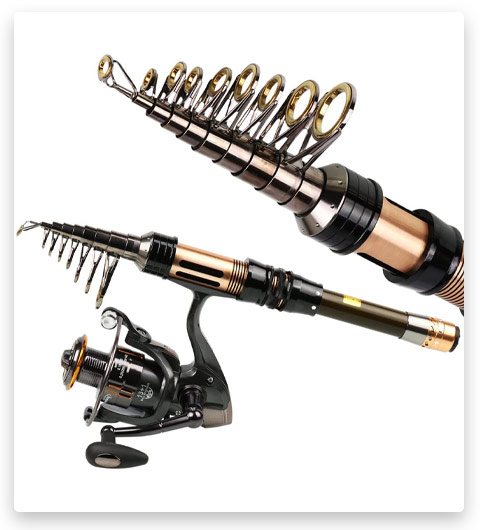 Why should you choose this telescopic fishing rod for your child? It folds up, doesn't burden the hand. And it is elastic and has a high density. This fishing rod is made of fiberglass and carbon fiber. Such material is durable and the likelihood that your child will break the fishing rod is minimal. It is easy to take with you. Also, along with the fishing pole, you get a spinning reel. It works smoothly and powerfully. The line is well wound and not tangled. This may be the first fishing rod for your children!
11# YONGZHI Kids Fishing Pole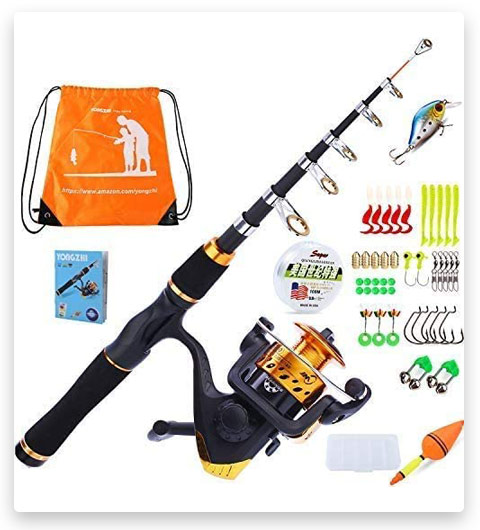 Fish along the shore with your child using the YONGZHI telescopic fishing rod. It is easy to use and doesn't require much effort from the child. You can put it in a special travel bag and take it with you. You will also find a spinning reel and a box with gear and a fishing line.
Distinctive Features Of Fishing Rods For Children

Such fishing rods are suitable for both boys and girls. Children of both sexes love this activity equally. When choosing a fishing rod, you should pay attention to such characteristics as weight, length, ease of use, on the fishing rod handle.
Weight
The rod should be light enough, it will be difficult for the child to cope with the heavy. If your child already knows what fishing is and has used the rod many times, then for him you can choose a more difficult model. But if you are just going to teach your child how to fish, then choose the option easier. The child should be able to raise the fishing rod, cast it, and at the same time not fall and be able to control it. If the fishing rod is too heavy, then the child simply will not be able to handle it and will lose interest in this activity.
Length
The rod should be long enough because children catch from the shore, from which the fish is kept at 2-3 meters and further. For the safety of your children, the factors of weight and length of fishing rods are taken into account in children's models.
Ease Of Use
Everything should be as simple as possible especially for those who are just starting. The more experienced your child becomes, the more complex a fishing rod he can be given. Children don't think about how this thing works and how to carefully handle it. To prevent the child from quitting this activity, the fishing rod should have a simple system. Look for fishing rods in which there is a line that will not get confused.
The drum should begin its work with the press of a button. The device should be simple and reliable, easy to assemble, and disassemble. The tip of the rod shouldn't be too thin so that it can't be broken accidentally. If there is a reel on it, there should be good rings and a reliable reel seat. Nothing should peel off, or hang loose. Everything must be neat. This article presents fishing rods for different levels. Therefore, everyone will find something for their child.
Handle
The handle should be so thick that it can be wrapped around with a child's hand. It should be made so that the child's hand feels comfortable, doesn't slip, and holds confidently. It should be done safely and not hurt your hands. Excellent options are rubber, foam handle made of EVA.
Five Star Tackle: The Top Kids Fishing Rods that Make Waves 🎣🌊

Choosing the perfect fishing rod for your child can feel like navigating through rough waters. Don't worry, we've cast our nets wide and reeled in the top five kids fishing rods, just for you.
1️⃣ Tiny Tots Fisher Pro 🐠
Ideal for the smallest anglers, this lightweight rod measures 3ft in length and weighs just 5.6oz. Crafted from durable fiberglass, it features a colorful under-the-sea design that young children will love.
Pros: Easy to handle, durable, attractive design
Cons: Not suitable for larger catches
Age Range: Ideal for ages 3-6
Remember little Timmy, who was struggling with his dad's heavy rod? With Tiny Tots Fisher Pro, he was reeling in his first catch within an hour!
2️⃣ Junior Angler Classic 🎣
Offering a good balance of strength and flexibility, this 4ft casting rod weighs 8oz and sports a cool, metallic-blue finish.
Pros: Balanced weight, strong yet flexible
Cons: The design may not appeal to younger kids
Age Range: Suitable for ages 7-10
Case in point: Ella, aged 9, quickly mastered her casts and even landed a sizable bass on her first outing with the Junior Angler Classic.
3️⃣ KiddieCast Adventure Series 🏞️
This series offers a range of themed rods, including Space Explorer, Dino Hunter, and Mermaid Adventures. Each rod measures 5ft and weighs 12oz, designed for spinning reel fishing.
Pros: Fun designs, good length, easy-to-use reel
Cons: Slightly heavier for younger kids
Age Range: Perfect for ages 8-12
Remember Noah, the dinosaur fanatic? The Dino Hunter rod had him roaring with excitement and persisting until he landed his first catch!
4️⃣ Teen Trailblazer Fishing Combo 🏄‍♂️
At 5.5ft and 15oz, this rod and reel combo is ideal for teens. It features a durable composite construction and an adjustable drag spinning reel.
Pros: Durable, great for a variety of fish sizes, adjustable reel
Cons: May be complex for beginners
Age Range: Best for ages 13-16
Sarah, a keen 14-year-old angler, found the Teen Trailblazer perfect for her weekend fishing trips. Her biggest catch yet? A 10-pound catfish!
5️⃣ Young Pro Fisher's Fly Rod 🦅
For the more experienced young anglers, this 6ft fly fishing rod is the real deal. It's lightweight (9oz) yet strong and comes with a manual on basic fly fishing techniques.
Pros: Excellent for learning fly fishing, lightweight, informative manual
Cons: Requires a certain skill level
Age Range: Ideal for ages 14 and up
Take Charlie, for instance. At 15, he had mastered spin fishing and was ready for a new challenge. The Young Pro Fisher's Fly Rod was his perfect match.
🔶Remember, the best fishing rod for your child will depend on their age, strength, and experience level. The goal is to find one that makes fishing fun, easy, and exciting for them. 🎣🌞👪
Safe Casts and Catches: Ensuring your Little Angler's Safety 🎣⚠️
Fishing with kids is a fun, educational, and bonding experience. But as with any outdoor activity, safety is paramount. Here are some critical safety tips to keep in mind for your child's next fishing expedition.
1️⃣ Proper Handling of Fishing Rods 🎣
Teach your kids the right way to hold and use their fishing rods. This includes showing them how to cast without accidentally hooking people or objects and how to safely reel in their catch.
2️⃣ Be Aware of the Surroundings 👀
Instill in your child the importance of being aware of their surroundings. Ensure they know to look out for other anglers, wildlife, and changing weather conditions. Teaching them to respect the environment is also a great lesson in environmental stewardship.
3️⃣ Use Personal Flotation Devices Near Water 🏊‍♂️
When fishing near deep or fast-moving water, it's crucial that your child wears a personal flotation device or life jacket. Remember, it's not just about being able to swim; unexpected situations can occur, and it's better to be safe.
4️⃣ Safe Handling of Hooks and Baits 🪝
Hooks can be sharp, and baits can be slippery. Teach your children safe handling techniques, like holding the hook by its bend and keeping fingers away from the sharp point. Also, make sure they know how to safely add bait to the hook.
5️⃣ Constant Supervision is Key 👀
Fishing is an activity that requires patience and focus. But when kids are involved, supervision is crucial. Never leave children unattended near water or with fishing gear.
🔶While these tips can go a long way in ensuring safety, the most crucial aspect is open communication. Talk about potential hazards, what to do in emergencies, and ensure they feel comfortable asking questions. Here's to safe and happy fishing experiences! 🎣👪🌞
Fishing 101: Guiding Your Young Angler's First Cast 🎣👶

Teaching a child to fish is a beautiful opportunity to build memories and imbibe lifelong skills. Here's a step-by-step guide to teaching your budding angler the ropes of fishing.
1️⃣ Preparing the Gear ⚙️
Start with an overview of the fishing gear. Show them their rod, reel, line, hook, and bait, explaining the function of each piece. They'll feel more connected to the process and better equipped to handle the gear safely.
2️⃣ Mastering the Cast 🏹
Begin by demonstrating the basic overhand cast:
Stand with feet shoulder-width apart, holding the rod at about waist height.
Swing the rod back over the shoulder, then swiftly forward.
As the rod reaches its peak, release the line.
Let your child practice this motion without a hook first, to get the hang of it.
3️⃣ The Art of the Reel 🔄
Teaching your child to reel in smoothly is key to maintaining tension on the line and securing their catch. Explain to them to keep the rod tip up and reel in slowly, avoiding jerky motions.
4️⃣ Practice Catch and Release 🐟
Educate them on the importance of conservation through the practice of catch and release. Show them how to carefully remove the hook and release the fish back into the water, minimizing harm to the creature.
Patience and Positivity: The Angler's Mantra 🙏
Fishing, especially for beginners, requires patience. The waiting game can be challenging for children. Encourage them to enjoy the experience as a nature retreat – observing their surroundings, spotting wildlife, or even telling stories.
Celebrate their successes, no matter how small, and offer constructive advice during challenging moments. Remember, it's about enjoying the process, not just the catch.
🔶With time, patience, and practice, your young one will be well on their way to becoming an adept and responsible angler. 🎣🌞
❓ FAQs: Navigating the World of Kids Fishing Rods 🎣👧👦
🔶Remember, the best fishing rod for your child is one they feel comfortable with and enjoy using. This will ensure they have a positive fishing experience that fuels their passion for this lifelong hobby. 🎣🌞
Casting Off: The Finishing Lines 🎣🌅
Fishing is one of the favorite hobbies of children. But it's difficult for young people to master this skill with fishing rods that are designed for adults. So that the interest of children only flared up, fishing rods adapted for children were invented. These are typically telescopic fishing rods that are lightweight and foldable. In my article, you can choose not only fishing rods but also whole starter kits for fishing.
Fishing, as we've explored, is more than just a leisurely pastime. It's a window into nature, a lesson in patience, and a hands-on classroom for various skills. When shared with kids, it blossoms into a priceless opportunity for bonding and creating lifelong memories.
Children's fishing rods are the key instruments in this endeavor. They transform your child's fishing adventure from a mere observer's role to a dynamic, exciting, and gratifying participation. A good quality rod, designed with a child's comfort and needs in mind, can turn a potentially frustrating experience into a joyous journey of discovery and achievement.
When you invest in a children's fishing rod, you're not just purchasing a piece of equipment. You're investing in your child's growth, the strengthening of your relationship, and the creation of shared joyous memories. You're fostering a love for the outdoors and respect for nature, virtues that will serve them well in their life.
🔶So, gear up, take your pick from the array of kids' fishing rods we've explored, and head out for a day by the water. Witness the joy that unfurls with every cast, every wait, and every catch. Remember, every fishing trip is a story waiting to unfold – a story of patience, excitement, triumph, and love. Here's to many such beautiful stories! 🎣💖🌅
Let's Reel in the Conversation 🗨️🎣📸
We hope you've found this guide insightful and that it will aid you in your journey of creating delightful fishing memories with your children. Now, we'd love to hear from you!
Fishing stories are like fish themselves – no two are the same! So why not share your unique tale? 📖 Whether it's about your child's first catch, a humorous fishing mishap, or a cherished memory created by the water, we're all ears. Drop your stories in the comments below! 👇
Perhaps you have a photo of your little one beaming with their prized catch or wielding their fishing rod like a young angling pro? We would love to see those proud moments! 📸🐟
And if you found this guide helpful, why not share it with other parents in your circle? Let's extend this wave of joy and learning, helping more kids discover the fun of fishing. Click on the share button and spread the love.
🔶Remember, every child's fishing journey begins with that first cast. Here's to many successful casts and plentiful catches. Let's continue to grow this wonderful community of little anglers and their biggest fans – you, the parents. 🎣💖🌞
Tags: #best kids fishing poles / #best first fishing pole for kids / #best line for kids fishing pole / #best fishing rods for kids / #best affordable kids fishing rods / #best kids saltwater fishing rods / #best fishing rods for little kids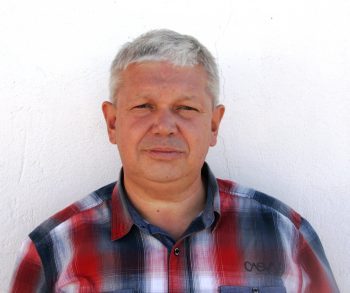 Sergio Smirnoff
Professional fisherman with 40+ years of experience.
Fishing and the ocean is a passion of my life. I am passionate about all kinds of sea fishing: fishing from the shore (spinning, float, baitcasting), from a boat, and spearfishing day and night.
I live in Tenerife (Canary Islands) for the last 10+ years and share my daily fishing experiences on my website. Many years of personal experience as a fisherman and the vast experience of my friends allow me to write professionally on any fishing topics (from choosing a flashlight and equipment to deep-sea fishing).
All of my advice is based on practical real-world experience and will be useful to both novice anglers and professionals.
Read more
about the author.
Affiliate Disclosure: FishReeler.com sometimes gets paid for listings, through sponsors or affiliate programs like Amazon, Ebay, Cabelas, Bass Pro Shop, Shimano, Daiwa, Rapala, Renn, Okuma, KastKing, etс. Clicking a link helps keep FishReeler.com free, at no extra cost to you!
About the author: Each article is verified by the fishing expert Sergio Smirnoff. The articles are written by professional and amateur fishermen with 20+ years of fishing experience.
Note: The views and opinions expressed in this article are those of the authors and do not necessarily reflect the official policy or position of any agency. The articles are for informational purposes only, share your opinions in the comments and join the fishing discussions, let's share our fishing experiences together!