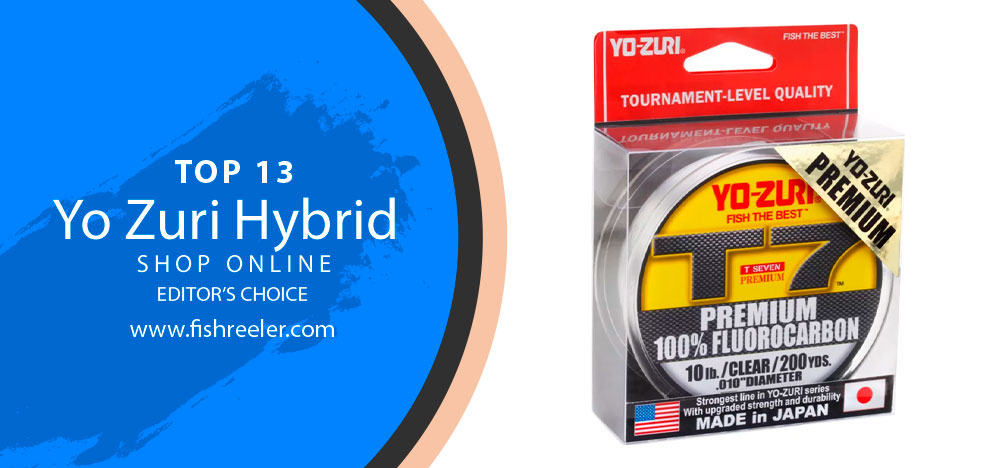 Unleash the Power of the Ultimate Line: Yo-Zuri Hybrid! 🎣
Ever wondered why some anglers consistently land the big ones, while others just watch in envy? The secret might be simpler than you think: the fishing line. Introducing the Yo-Zuri Hybrid Fishing Line – the edge you've been missing in your angling game.
Quick Summary
🔥 Why Yo-Zuri Hybrid is a Must-Have:
✅

Strength Meets Sensitivity: Unlike ordinary lines, Yo-Zuri combines the best of both monofilament and fluorocarbon lines. This means it's as strong as steel, yet provides that delicate touch when you need it most.

✅

Anti-Twist Technology: Say goodbye to annoying tangles and hours wasted untwisting lines. 🚫

✅

Crystal Clear & Low Visibility: The line virtually disappears underwater, ensuring your catch focuses only on your bait – not the line. 🌊

✅

Exceptional Durability: Worried about wear and tear? Yo-Zuri's got you covered. It's built to withstand the toughest fishing conditions.
🔶 Don't just take our word for it; experience the transformation yourself. Because when it comes to fishing, you deserve nothing but the best. So why wait? Upgrade to Yo-Zuri Hybrid Line and let the results speak for themselves! 🚀
A Deep Dive into the Yo-Zuri Hybrid Line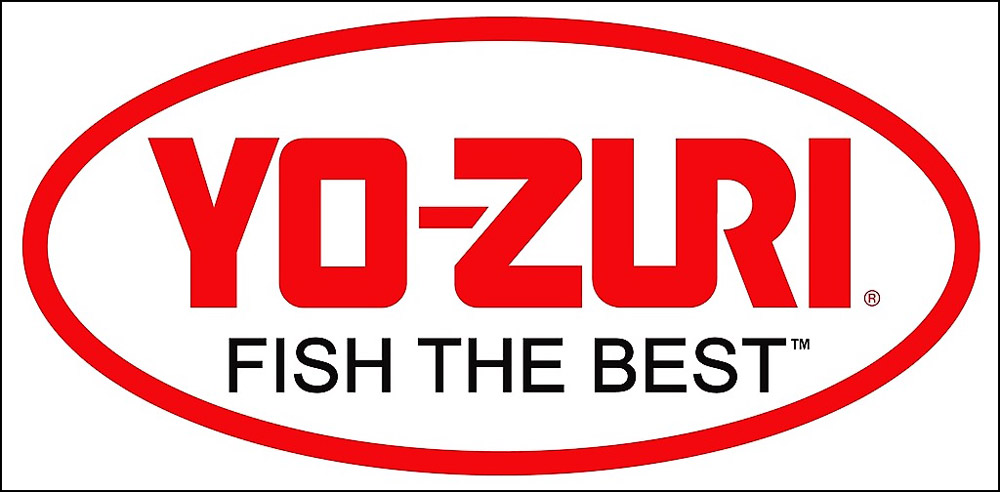 The Line That Defines Your Catch 🎣
Every angler, novice or pro, knows the pulse-quickening thrill of feeling a fish bite. But not every catch is a success story. More often than not, the difference between a triumphant haul and a disheartening miss hinges on a seemingly minor choice: the fishing line. Selecting the right line isn't just about avoiding snaps or breaks; it's about precision, stealth, and tactility. The line you choose can either be your most potent asset or your weakest link.
Yo-Zuri Hybrid: The Vanguard of Angling Innovation 🌊
In the spectrum of fishing lines, the Yo-Zuri Hybrid Line emerges as a beacon of modern angling brilliance. This isn't just another product in the market; it represents a paradigm shift. Marrying the robustness of monofilament with the discretion of fluorocarbon, Yo-Zuri Hybrid encapsulates the best of both worlds. It's tailored for the discerning angler who understands the nuances of the craft and demands nothing short of excellence. In a sea of choices, the Yo-Zuri Hybrid Line sails ahead, setting new benchmarks and redefining what we expect from our fishing gear.
Historical Context: The Evolution of Fishing Lines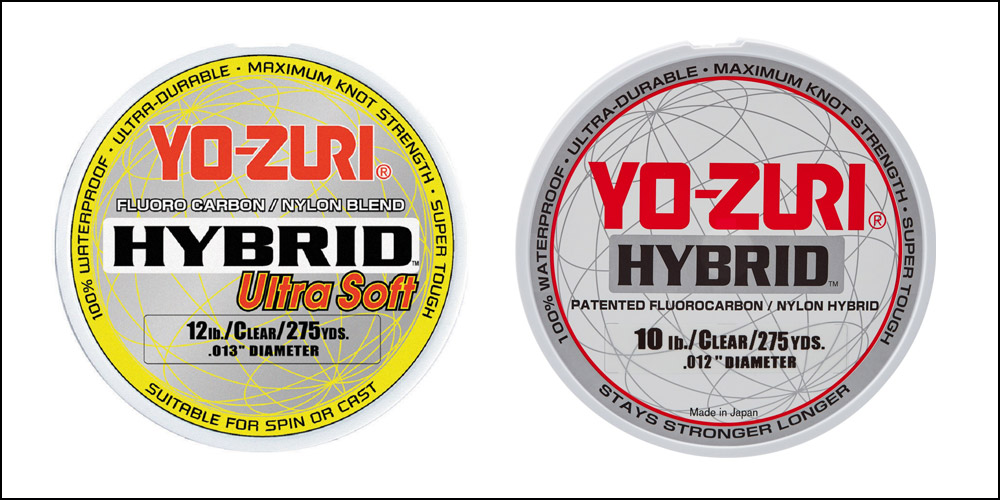 From Twisted Fibers to Technical Triumphs: The Lineage of Lines 🕰
The art of fishing is as old as civilization itself. And like all ancient crafts, it has evolved, adapted, and transformed over the millennia. In the dawn of angling, fishermen used lines made of natural materials – plant fibers, animal sinew, or even human hair. These rudimentary lines, though rich in heritage, had their limitations in strength, durability, and versatility.
As humanity progressed, so did the tools of the trade. The introduction of silk lines, followed by linen, marked significant upgrades. But the real revolution began with the development of synthetic materials in the 20th century. Nylon monofilaments stormed the scene in the 1930s, offering anglers unprecedented strength and flexibility. As the years rolled on, innovations like braided lines and fluorocarbon brought new dimensions of sensitivity, stealth, and resilience.
Tracing Yo-Zuri's Footprints in Fishing History 🌐
Amidst this backdrop of continual progress, Yo-Zuri carved its niche. Arriving on the scene when both monofilament and fluorocarbon had established their merits, Yo-Zuri recognized a unique opportunity. Instead of choosing one over the other, they imagined a fusion – a line that could harness the robust power of monofilament and the invisible elegance of fluorocarbon. Thus, the Hybrid Line was born.
🔶 Yo-Zuri's Hybrid isn't just a product; it's a testament to the brand's visionary approach. By integrating two dominant materials, they crafted a line that epitomizes the modern angler's aspirations: strength without compromising sensitivity, durability paired with discretion. In the grand timeline of fishing lines, Yo-Zuri's Hybrid represents not just a point, but a pivotal moment of synthesis and synergy.
Fishing Lines Redefined: Introducing Yo-Zuri Hybrid Line!
With a myriad of choices promising the perfect catch, it's easy to get lost in the sea of options. But every once in a while, a product surfaces that truly stands out, making seasoned anglers and beginners alike sit up and take notice. Enter the Yo-Zuri Hybrid Fishing Line. This isn't just another line on the shelf; it's a culmination of innovation, performance, and sheer fishing prowess.
This review dives deep into the Yo-Zuri Hybrid, dissecting its features, benefits, and the real-world impact it brings to the table. Whether you're chasing the thrill of landing a trophy fish or seeking reliable consistency on your weekend outings, understanding what this line offers could be the game-changer you've been angling for. So, let's reel it in and see what makes the Yo-Zuri Hybrid Fishing Line a true contender in today's competitive fishing landscape.
1# Yo-Zuri Hybrid Line 600 Yard Spool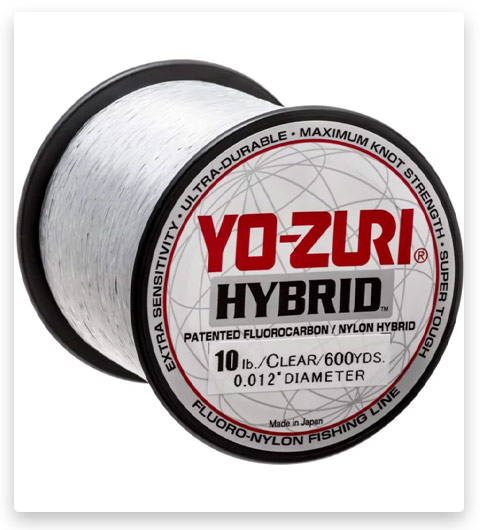 Looking for a mainline that offers the stealth and smooth handling of fluorocarbon, with the flexibility and low memory of nylon? Look no further than Yo-Zuri's Hybrid Line! This unique blend is 100% waterproof and UV-resistant, making it perfect for any condition. Abrasion-resistant and sensitive, this line gives you the performance you need to land those big fish. Don't miss out – order your Hybrid Line today!
2# Yo-Zuri Hybrid Line 275 Yards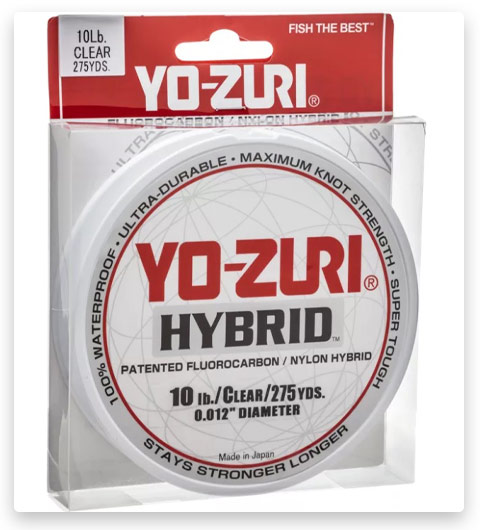 With a unique blend of fluorocarbon and nylon, Yo-Zuri's Hybrid Line offers the best of both worlds. It's abrasion-resistant and sensitive, flexible yet low memory, and 100% waterproof and UV-resistant. Whether you're chasing big games or targeting hard-to-catch fish, this line delivers the performance you need to get the job done.
3# Yo-Zuri Hybrid Line 1-lb. Spool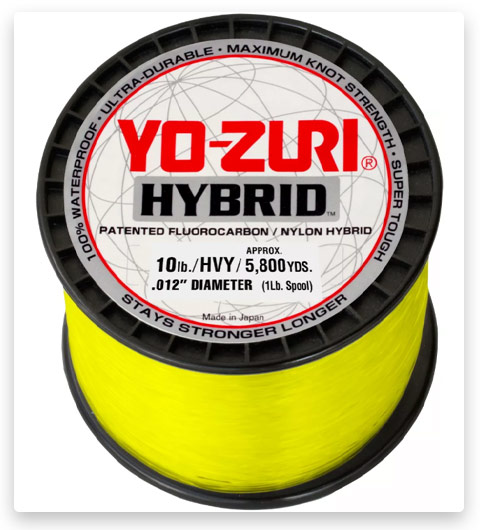 The Yo-Zuri Hybrid Line is the perfect choice for both experienced anglers and those just starting out. This line is stealthy and low-visibility in water, making it a great choice for all species of fish. It's also easy to manage on the reel, with low memory that ensures smooth, flexible performance. Plus, it's completely waterproof and UV-resistant, so you can count on it to deliver results no matter what conditions you're fishing in.
Yo Zuri Braided Fishing Line
4# Yo-Zuri SuperBraid 8 Braided Line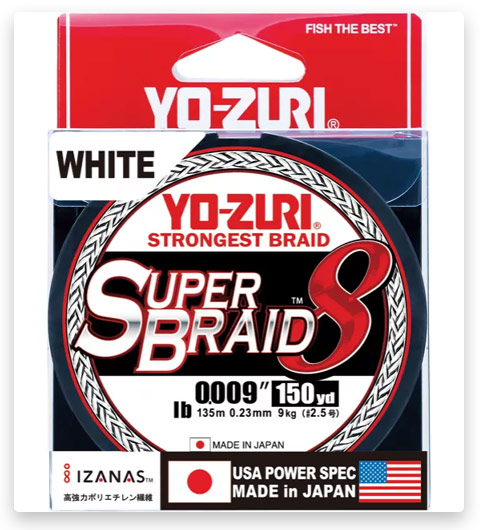 Looking for an unbeatable braid? Look no further than Yo-Zuri's SuperBraid 8. This line is made of eight compact strands, giving it incredible strength and durability. It's also coated in 100% polyethene, making it ultra-smooth and round. Plus, it has a near-zero stretch, meaning you can trust it to stay tight when battling the biggest fish.
5# Yo-Zuri SuperBraid Line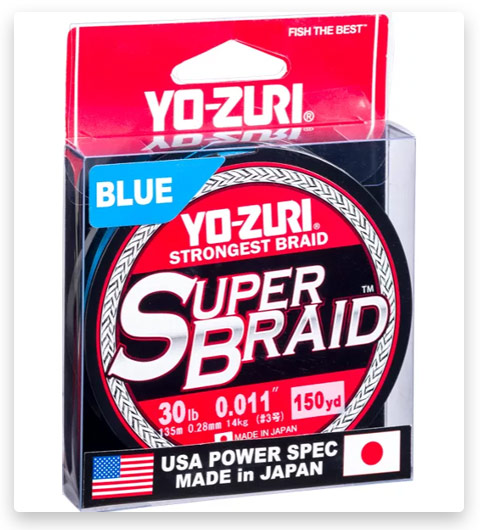 SuperBraid fishing line is extremely strong and durable, with little to no stretch and outstanding abrasion resistance. It handles smoothly regardless of the conditions, making it ideal for clear lakes and saltwater.
Yo Zuri Fluorocarbon
6# Yo-Zuri T7 Premium Fluorocarbon Fishing Line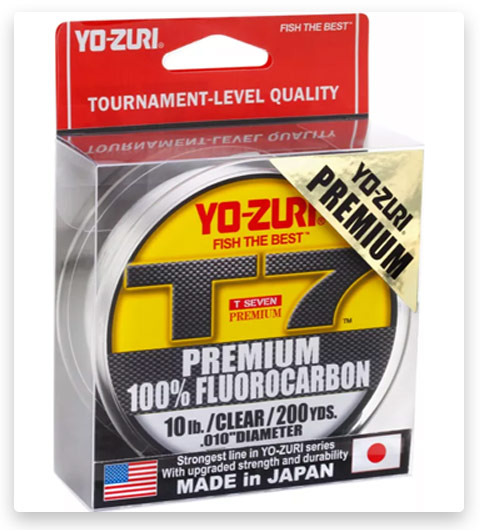 The Yo-Zuri T7 Premium Fluorocarbon Fishing Line is the strongest bass-fishing line available from Yo-Zuri. It features superior strength, abrasion resistance and ease of use, making it the perfect choice for anglers who demand the best. The T7 also has excellent fatigue resistance to endure repetitive casting, and its shock strength and abrasion resistance make it ideal for fishing around structures. The natural translucency of the T7 ensures better invisibility, while its ideal suppleness makes it perfect for spinning and baitcasting reels. If you're looking for the best of the best in fluorocarbon fishing lines, look no further than the Yo-Zuri T7 Premium Fluorocarbon Fishing Line!
7# Yo-Zuri H.D. Carbon Fluorocarbon Leader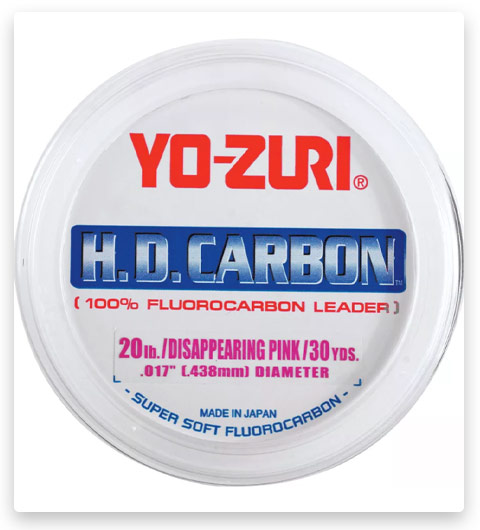 Maximize your chances of landing that big one with Yo-Zuri HD Carbon Fluorocarbon Leader. This line is abrasion-resistant, sensitive, and knot-strong for the most challenging fishing conditions. It's also nearly invisible underwater, so you can stay hidden from your prey. For the serious fisherman, this line is a must-have.
8# Yo-Zuri TopKnot Fluorocarbon Line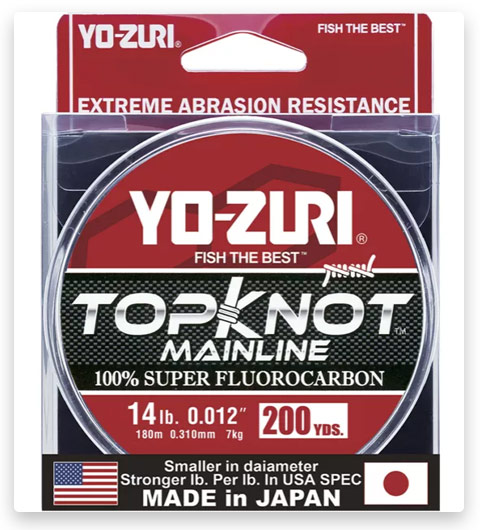 Check out Yo-Zuri TopKnot Fluorocarbon Line. With an outstanding strength-to-diameter ratio, this line provides superior knot strength and high break strength, making it perfect for fishing in tougher conditions. The fluorocarbon construction is also abrasion-resistant, so you can be sure it will stand up to the elements. Plus, the durable clarity of the fluorocarbon ensures that your line will remain invisible underwater, even after extended use. And with low memory, you'll enjoy smooth handling with every cast.
Yo Zuri Lures
Fishing, as any angler would profess, is as much an art as it is a science. At the heart of this delicate balance lies the lure – that pivotal piece of equipment that bridges the gap between man and fish. Enter the world of Yo-Zuri Lures: a name that has resonated in the fishing community for consistently pushing the boundaries of design, technology, and functionality.
These lures are not just tools; they are the result of meticulous craftsmanship blended with deep insights into aquatic behavior. Whether you're a weekend hobbyist or a seasoned pro, understanding and harnessing the power of Yo-Zuri Lures can redefine your fishing adventures.
9# Yo-Zuri Bonita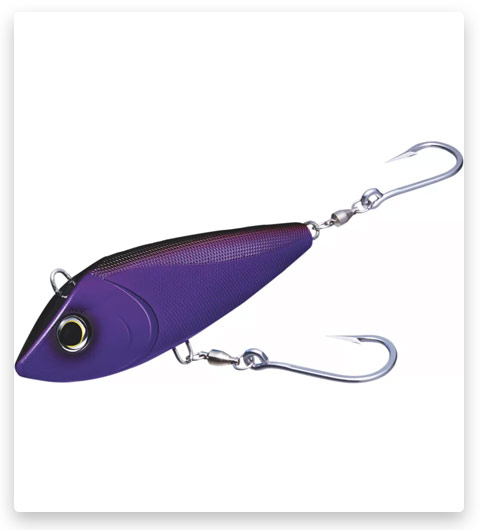 The Yo-Zuri Bonita is a great lure for wahoo and tuna. It features colour-change technology plus a smooth scale finish. The extra-large eyes and extra-tight swimming action make it irresistible to fish. It can be trolled at 6-15 knots and has a patented power body. The stainless steel through-wire construction and flat forged stainless steel hooks make it durable and reliable. The stainless steel ball-bearing swivels add even more strength and durability.
10# Yo-Zuri Hydro Squirt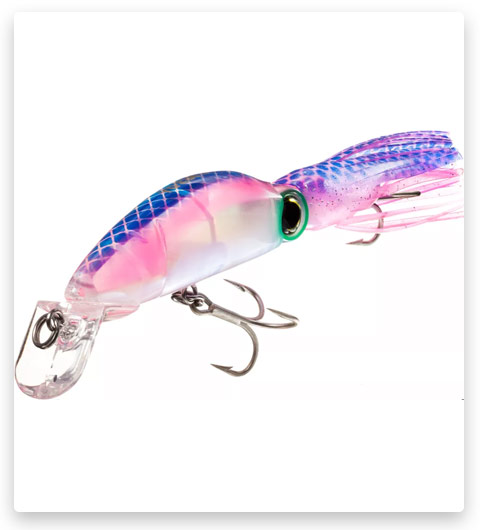 Yo-Zuri Hydro Squirt lures are the most realistic squid imitation hard baits on the market. These lures are built to handle large gamefish and feature extra strong split rings, 3x-strength treble hooks, and extra-large eyes. The Hydro Squirts create an irresistible wide swimming action when cast or slow trolled, making them ideal for targeting Dorado, Tuna, Cobia, Striped Bass, and other squid-eating fish.
11# Yo-Zuri Surface Cruiser Fishing Lure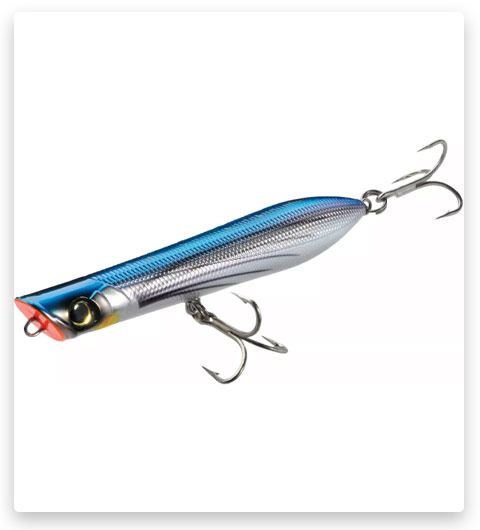 Introducing the Yo-Zuri Surface Cruiser, a premium topwater fishing lure that has been redesigned for even better performance. The Power body and through-wire construction make this lure perfect for catching big fish, while the patented colour change and oversized eyes will draw them in like never before. The lure is perfectly weighted and balanced for long, precise casts, making it ideal for targeting Striped Bass, Bluefish, Jack Crevalle and Roosterfish. But that's not all – the Cruiser is also perfectly suited for inshore and offshore fishing of Tuna and Dorado, drawing explosive strikes from these powerful predators. Get ready to experience the power of the Yo-Zuri Surface Cruiser!
12# Yo-Zuri Hydro Pencil Fishing Lure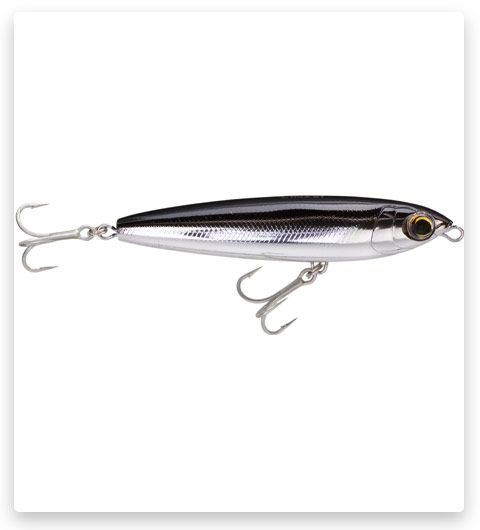 The Yo-Zuri Hydro Pencil Fishing Lure is the perfect choice for anglers looking for durable, high-performance bait. Featuring a proprietary polycarbonate body and through-wire construction, this lure can handle even the most strenuous casting and fishing conditions. The extra strength treble hooks and split rings make sure your catch stays on the line, while the extra-large eyes and cadence rattle add to the irresistible swimming action. Whether you're targeting Striped Bass, Bull Redfish, Trophy Snook, or Tarpon, this stunning painted finish lure will bring them in fighting!
13# Yo-Zuri Pin's Minnow Sinking Hard Bait
The Yo-Zuri Pin's Minnow Sinking Hard Bait is a top-quality piece of gear that will help you land more fish. Its controlled sink allows for easy casting and trolling, while its tight wiggle appeals to all game fish. Plus, the Yo-Zuri Weight Transfer System ensures great castability, and the durable polycarbonate lip can take a beating. The state-of-the-art holographic finish is sure to attract fish from far away, and the strong split rings and super-tin hooks will make sure they stay on your line.
Craftsmanship Unveiled: The DNA of Yo-Zuri's Hybrid 🧪
The brilliance of the Yo-Zuri Hybrid Line lies not just in its performance, but also in the intricate science and thoughtful engineering that birthed it. At its core, this line brings together the robustness of monofilament and the subtlety of fluorocarbon.
Monofilament and Fluorocarbon Fusion: Bridging Two Worlds
Monofilament: Known for its flexibility and stretch, monofilament has been the go-to for anglers for decades. It's easy to handle, making it ideal for a variety of fishing techniques.
Fluorocarbon: Its chief claim to fame is its invisibility underwater. Fluorocarbon refracts light almost identically to water, rendering it virtually unseen by fish. Plus, it's denser, which aids in quicker sink rates and improved depth control.
Merging these two distinct materials, Yo-Zuri's Hybrid Line offers a tantalizing proposition: Imagine the easy handling and stretch of monofilament combined with the stealth and depth control of fluorocarbon. The result? An unparalleled angling experience.
Gains of the Blend:
Strength: Superior tensile strength, reducing the chances of breakage.
Stealth: Minimized visibility, increasing the odds of a successful catch.
Flexibility: Enhanced handling for diverse fishing methods.
Beyond the Ordinary: Yo-Zuri's Game-Changing Features 🎯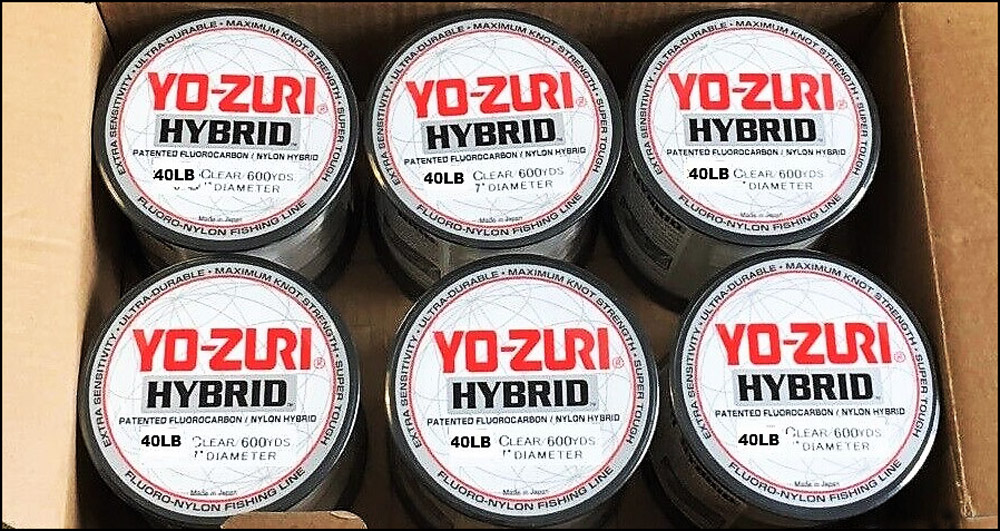 The Twist in the Tale: Anti-Twist Technology Explained
One of the perennial challenges for anglers is the line twist, which can hamper casting efficiency and lead to unwanted tangles. Yo-Zuri's Hybrid Line boasts of an innovative anti-twist technology. By optimizing the line's core structure and employing a specialized coiling technique during manufacturing, line twist is significantly mitigated. This means smoother casts, fewer tangles, and a more enjoyable fishing experience.
Master of Disguise: The Science of Stealth
But the Hybrid Line's prowess doesn't end with its anti-twist features. Another gem in its crown is the art of low visibility. Building on the inherent transparency of fluorocarbon, Yo-Zuri has further refined the line's surface properties, ensuring that it melds seamlessly with its aquatic surroundings. The science is simple: by closely matching the refractive index of water, the line reduces light scattering, making it nearly invisible to fish. It's not just a line; it's camouflage perfected.
Fishing Territories: Yo-Zuri's Domains of Dominance 🌍
When it comes to the vast world of fishing, not all lines are suited for every scenario. However, Yo-Zuri's Hybrid Line shines in its adaptability, designed for a myriad of fishing environments and conditions.
Freshwater vs. Saltwater: A Line for All Waters
Freshwater Feats: Yo-Zuri's Hybrid Line is ideal for lakes, rivers, and streams. Its subtle invisibility makes it perfect for clear waters where fish are especially wary.
Saltwater Success: Its robust construction ensures that the line resists saltwater degradation. Whether you're surf fishing, trolling, or deep-sea angling, Yo-Zuri holds its own against the mighty ocean's challenges.
Targeting Triumphs: Species Spotlight
With its unique combination of strength and stealth, the Hybrid Line proves versatile in targeting a range of species:
Bass: Given its low visibility, it's an ace for luring this cautious predator.
Trout: Its flexibility ensures you feel even the most subtle of trout nibbles.
Snapper & Grouper: In saltwater scenarios, the line's strength and depth control make it apt for these robust fighters.
Tales from the Tides: Angler Chronicles with Yo-Zuri 🎣
Every fishing story is a testament to the gear's efficacy, and Yo-Zuri has been part of countless angling anecdotes. Here are a few highlights:
Mike Thompson: A seasoned angler from Florida shares, "I was skeptical about hybrid lines until I tried Yo-Zuri. The difference was night and day. Clear waters, tough fights – it delivered on all fronts!"
Rachel Kim: An avid freshwater fisher from Michigan notes, "With Yo-Zuri, I feel more connected to the fish. Those subtle tugs, the fight – it's all more vivid. And the low visibility? It's like I've unlocked hard mode for the fish!"
Pro Hacks: Amplifying Your Angling with Yo-Zuri 🔧
Harnessing the full potential of Yo-Zuri's Hybrid Line means understanding some nuances. Here are expert tips to elevate your fishing game:
Knot Technique: Given its unique material blend, consider using a Palomar or Improved Clinch knot for optimal strength.
Reel Match: Pair it with a medium-sized spinning reel for balanced performance.
Regular Checks: While Yo-Zuri is robust, always check for abrasions or nicks, especially after a heavy catch, to ensure consistent performance.
Comparing Yo-Zuri: Facing the Fishing Line Frontiers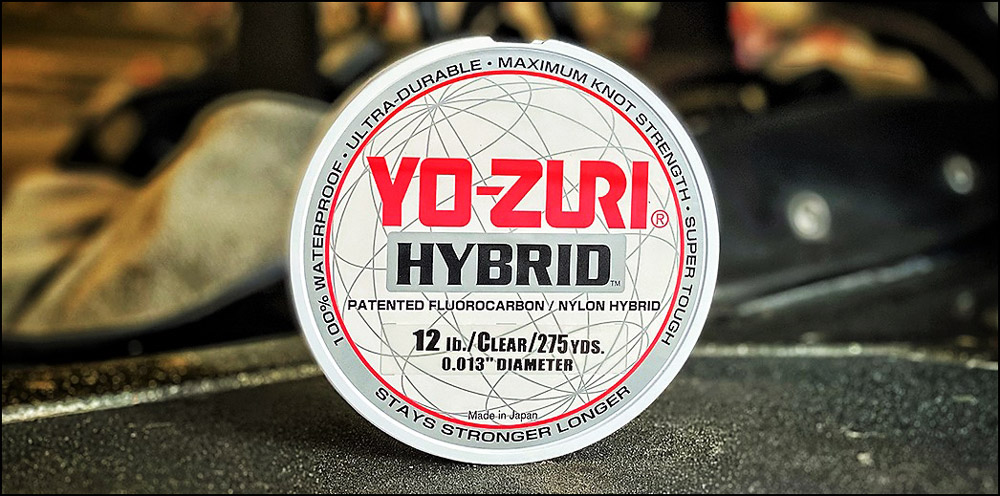 Reeling in the Criteria: How to Assess a Fishing Line 📊
When setting out to determine the prowess of a fishing line, there are critical parameters every angler should consider. Here's a snapshot:
Tensile Strength: Can it withstand those intense fights without snapping?
Flexibility: How well does it adapt to various fishing techniques?
Visibility: Is it discreet enough to outsmart those cunning fish?
Durability: Can it endure the diverse challenges of both freshwater and saltwater environments?
Sensitivity: Does it transmit those subtle bites effectively?
The Yo-Zuri Dynamic: Staking Its Claim in the Competitive Landscape 🥊
While there are numerous contenders in the fishing line arena, how does Yo-Zuri's Hybrid Line truly fare?
Strengths: Where Yo-Zuri Triumphs:
Synergistic Fusion: By blending monofilament's elasticity with fluorocarbon's low visibility, Yo-Zuri creates a line that provides the best of both worlds.
Anti-Twist Feature: This innovation sets Yo-Zuri apart, reducing the angler's time dealing with tangles and maximizing time spent actually fishing.
Versatility: Its aptness for both freshwater and saltwater scenarios makes it a go-to for anglers of all stripes.
High Sensitivity: The line does a commendable job transmitting even the slightest nibbles, ensuring anglers don't miss a potential catch.
Areas of Refinement: Every Champion's Continuous Quest 🧐
While Yo-Zuri stands tall in many aspects, it's essential to acknowledge areas where there's potential for enhancement:
Memory Retention: Some anglers have noted that the line can occasionally retain memory, especially after being spooled for extended periods. Ensuring it's stored appropriately and often respooled can mitigate this.
Price Point: Being a premium product, Yo-Zuri's Hybrid Line might be a tad pricier than basic monofilaments. However, its unique features and benefits can justify the investment for many.
Maintenance and Care: Upholding the Yo-Zuri Legacy
Storing Smartly: Prolonging Your Line's Lifespan 📦
The longevity of any fishing line, including the revered Yo-Zuri Hybrid Line, heavily depends on how it's stored. Here's how you can keep your line in tip-top shape:
Cool & Dry: Heat and moisture can degrade the line's structure. Always store in a cool, dry place, away from direct sunlight.
Original Packaging: Retain the spool in its original packaging when not in use. This helps to reduce exposure to environmental factors.
Avoid Kinks: Ensure the line is wound tightly and evenly on your reel to prevent kinks or deep-set coils. A spooling station or a line winder can be a worthwhile investment.
Clean and Clear: Ensuring a Ready-to-Go Line Every Time 🚿
Just as we maintain our fishing rods and reels, our lines require some tender love and care too. A clean line not only performs better but also lasts longer.
Routine Line Inspection: Before and after each fishing trip, run your fingers along the line to feel for any nicks, frays, or weak spots. These could be potential breakage points during your next big catch!
Cleaning Process:
Fresh Water Rinse: After every fishing session, especially in saltwater, spool off some of the line and rinse it with fresh water. This simple step can significantly reduce salt and dirt buildup.
Mild Soap Solution: Every once in a while, immerse the line in a solution of mild soap and lukewarm water. Swirl it around gently and then rinse thoroughly with clean water.
Air Dry: After cleaning, allow the line to air dry. Avoid direct sunlight during this process.
Re-Spooling: If you've been using the same line for an extended period, consider re-spooling your reel with a fresh length from the spool. This ensures the part of the line experiencing the most wear is replaced.
Sustainability: Yo-Zuri's Commitment to Mother Nature 🌿
From Raw Materials to Finished Product: An Eco-Conscious Journey 🌏
In the age of environmental awakening, it's not just about catching fish; it's also about caring for the waters they call home. Yo-Zuri, as a brand, is acutely aware of this responsibility.
Materials Matter: Yo-Zuri's Hybrid Line, while designed for maximum performance, is also conceptualized with environmental concerns in mind. The selection of raw materials seeks a balance between angling excellence and eco-friendliness.
Responsible Manufacturing: The process of crafting each spool of Yo-Zuri involves not only technological prowess but also sustainable practices. Water and energy consumption, waste reduction, and the use of non-toxic elements are all optimized to reduce the environmental footprint.
Reeling in Responsibility: Disposal and Recycling 🔄
Fishing lines, if disposed of carelessly, can pose threats to marine life and their habitats. So, what should one do with a used Yo-Zuri line?
Recycling Stations: Some local fishing stores or community centers have dedicated recycling stations for fishing lines. These are a great way to ensure your used line gets a new lease on life.
DIY Repurposing: Old fishing lines can be creatively used for DIY crafts, securing plants, or even in household repairs.
Mindful Disposal: If recycling isn't an option, ensure you cut the line into small pieces before disposing of it, reducing the risk of it entangling wildlife. Always use trash bins and never discard directly into water bodies.
Reeling it All In: Yo-Zuri's Unwavering Promise to Anglers 🎣
In the vast ocean of fishing lines, Yo-Zuri's Hybrid Line shines as a beacon of innovation and excellence. It's not just another line; it's a testament to Yo-Zuri's commitment to enhancing the angling experience while keeping a watchful eye on the environment.
Recapping the Hybrid Highlights 🌟:
The Perfect Blend: The Hybrid Line brings together the elasticity of monofilament and the discreetness of fluorocarbon, crafting a line that promises both durability and invisibility.
Tech-Infused Triumphs: From its anti-twist prowess to its impeccable low-visibility craftsmanship, this line champions technological advancements in the angling world.
Eco-Efforts: Beyond its performance, Yo-Zuri stands out for its conscious effort to tread lightly on our planet, from sustainable manufacturing to promoting responsible disposal practices.
🔶 To the seasoned angler and the budding enthusiast alike: The real essence of any fishing line reveals itself when it's cast into the waters. It's one thing to read about the marvels of the Yo-Zuri Hybrid Line, but experiencing it first-hand? That's where the true magic lies. 🌊✨
❓ FAQ: Yo-Zuri Hybrid Line 🎣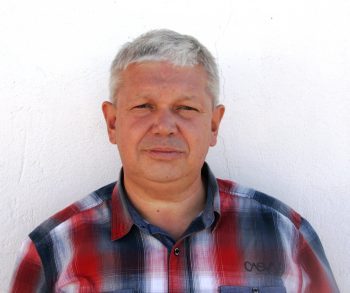 Sergio Smirnoff
Professional fisherman with 40+ years of experience.
Fishing and the ocean is a passion of my life. I am passionate about all kinds of sea fishing: fishing from the shore (spinning, float, baitcasting), from a boat, and spearfishing day and night.
I live in Tenerife (Canary Islands) for the last 10+ years and share my daily fishing experiences on my website. Many years of personal experience as a fisherman and the vast experience of my friends allow me to write professionally on any fishing topics (from choosing a flashlight and equipment to deep-sea fishing).
All of my advice is based on practical real-world experience and will be useful to both novice anglers and professionals.
Read more
about the author.
Affiliate Disclosure: FishReeler.com sometimes gets paid for listings, through sponsors or affiliate programs like Amazon, Ebay, Cabelas, Bass Pro Shop, Shimano, Daiwa, Rapala, Renn, Okuma, KastKing, etс. Clicking a link helps keep FishReeler.com free, at no extra cost to you!
About the author: Each article is verified by the fishing expert Sergio Smirnoff. The articles are written by professional and amateur fishermen with 20+ years of fishing experience.
Note: The views and opinions expressed in this article are those of the authors and do not necessarily reflect the official policy or position of any agency. The articles are for informational purposes only, share your opinions in the comments and join the fishing discussions, let's share our fishing experiences together!