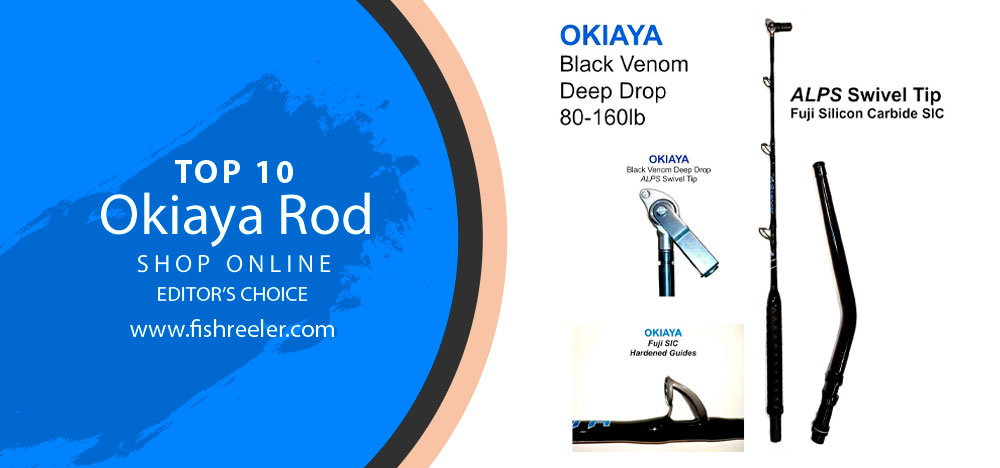 Every fisherman is almost constantly in search of a new quality tackle. Today I want to tell you about the Okiaya brand. This is a relatively young brand that has already won recognition from fishermen from all over the world. Especially the products of this brand will be of interest to fishermen who are fond of fishing from a boat. Continue reading the Okiaya rods and reels review.
About Brand Okiaya
The Okiaya brand has appeared on the fishing market relatively recently but has already loudly announced its serious intentions. This brand was founded in 2010 by Christopher Christian. The main specialization of the company is offshore fishing tackles. The first step of the company was the release of the 30-80lb pole now know as the "Mack Daddy". The next stage was the release of other fishing rods, reels, and lures. In addition, the Okiaya brand produces various fishing accessories. Whatever tackle the angler is fishing with, he will inevitably need various small accessories, the Okiaya company is constantly expanding its range of these important "little things".
Okiaya is renowned all over the world for its highest quality lures. the Okiaya Saltwater Trolling Fishing Lure 9 ″ Wahoo Tuna Marlin Dolphin King Rigged blue has a well-deserved reputation not only among amateurs but also among professional athletes. Fishing company Okiaya develops all of its lures using the latest technical developments, which are mostly considered exclusive. Okiaya professional craftsmen constantly conduct scientific research to introduce the most advanced technologies in the manufacture of baits.
With the help of Okiaya lures, athletes have won first place in various fishing competitions many times. Amateur anglers also appreciated the quality and catching power of the lures, because their quality is at such a height that it does not require special skill and any intricate postings. Even just picking up this bait, you will understand that such a bait is obliged to catch. But fishermen really appreciate it after the first fishing trip. This is real quality and catchy.
Okiaya Rod Reviews
For successful fishing, you need to get a reliable and high-quality fishing rod. The rod must be suitable for the type of fishing and lure you choose. In addition to correctly determining the right type of fishing rod, you need to correctly determine the budget and choose the rod that would most suit the angler for the price. Many fishing enthusiasts are trying to buy inexpensive rods because they consider the upcoming costs for lures and equipment too high. However, a reasonable balance must be struck between economy and rod price, as cheap fishing rods have a shorter lifespan. Manufacturer Okiaya specializes in the production of offshore fishing rods. The brand has a wide range of fishing rods at various price levels. From inexpensive fishing rods to professional fishing rod lines suitable for experienced hobbyists and sportsmen. Quality and reliability are inherent in all Okiaya fishing rods. A wide range of fishing rods allows you to save time and gives you the opportunity to choose.
Our Selection 4 Okiaya Bent Butt Fishing Rod Reviews
The Okiaya rods are powerful offshore boat fishing rods designed for the Big Game series of reels. They feature a flexible tip and powerful butt, ideal for steep fishing with jigs and soft lures. Blanks perfectly work for catching cod, pollock, and halibut. The blank's reinforced winding makes the rods extremely durable and provides the reliability you need in tough saltwater fishing conditions.
Top 4 Best Okiaya Rods
1# OKIAYA 5'6ft COMPOSIT Mack Daddy 30-80LB Saltwater Big Game Roller Rod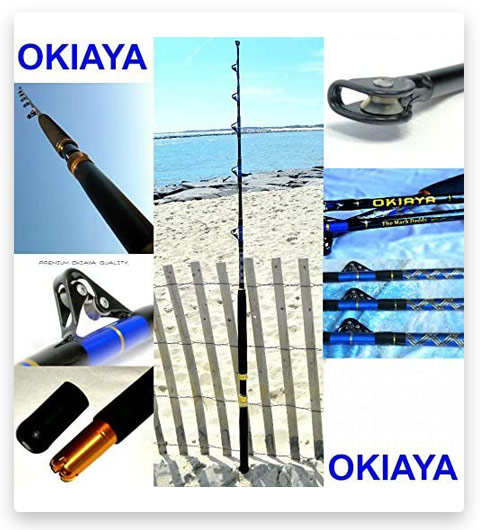 High-quality rods for offshore fishing, trolling, surfing and power fishing for large fish, also used with great success in carp and catfish fishing. Medium-heavy action will allow you to make effective hooks, and work with large wobblers and other lures, and the design using CNC alloys gives the rod lightness and strength. High-quality fittings, a large number of quality rings on reinforced stainless steel legs, reliable and powerful screw aluminum reel seat.
2# OKIAYA PACBAY BENT BUTT 50-80lb "VENOM PRO" TOURNEMENT ROD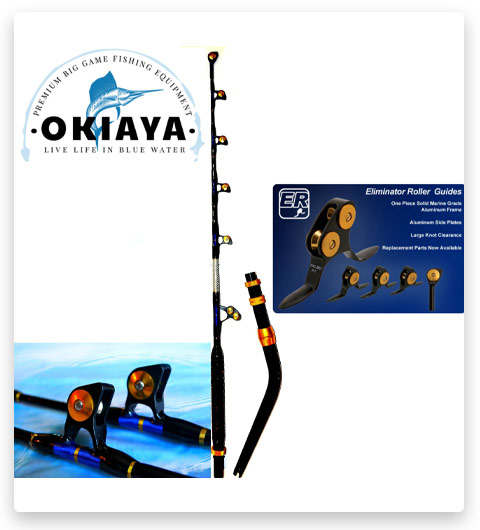 The universal spinning of Okiaya can be used for various types of fishing, both for sea fishing and ordinary fishing on rivers and lakes. Very light by weight one-piece Okiaya Alfinum long bent butt will be the best helper when catching a larger fish, such as crucian. These Okiaya fishing rods have 5 Pacific Bay black and gold eliminator wind on roller guides. The material and the design of the spinning give advantages in the force of coming both at sea and in fresh reservoirs.
3# OKIAYA CARBON "SISTANA JIGGING SERIES" 15-30LB TOURNAMENT RODS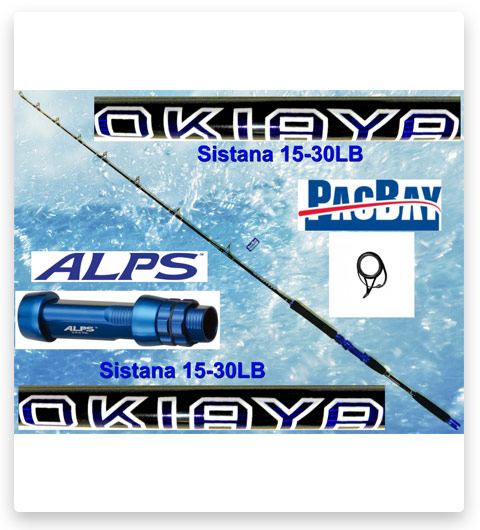 This is the perfect rod for marine fishing. If you want to catch marlin or tuna, then this rod is what you need! Quality materials allowed minimal weight, high power and flexibility. Pac Bay Rod Tip reacts perfectly when fishing from a boat on the bottom tackle of cunning and cautious roach. The design and arrangement of the rings on the rod allow you to use any type of reels and fishing rods. A convenient APLS blue alloy reel seat and a decided tight EVA coated handle create additional comforts for fishermen.
4# OKIAYA "Black Venom" Deep Drop Bent Butt ALPS RX SWIVEL TIP FUJI SIC GUIDES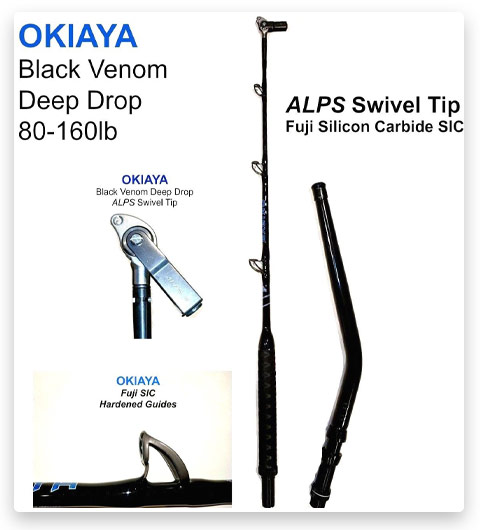 This is an excellent rod with a removable aluminum bent butt. If you are looking for a rod that is suitable for underwater fishing with your electric coil, then this is what you need! This rod is also great for catching large fish. This model is equipped with Fuji silicone carbide Sic guides and has stainless steel bearings that provide smooth operation.
Okiaya Offshore Fishing Reels
Sea fishing reels differ from other reels in large size. All Okiaya marine reels have anti-corrosion design details since seawater is considered an aggressive environment that can spoil the tackle not only externally, but also clog the internal mechanism with salts, therefore, sea fishing reels are very tight. Okiaya offshore reels are endowed with a powerful mechanism, as fishing is often carried out in extreme weather conditions, with high waves and strong winds. Since marine life is often heavy, the power and thrust of the offshore reel justify their characteristics, because large predators are often encountered that exceed the recommended weight mark.
Okiaya reels have a sturdy and impact-resistant sealed body since most casts are performed not only for long but also for power. The mechanism of the offshore reel is as powerful as possible and has a high power pull since when catching large trophies during high waves or storms up to 4 points, the reel must cope. The spool of the offshore reel accommodates enough line, at least three hundred meters or more. Since fishing in seawater often takes place from a boat or yacht, the principle of fishing line footage is very important, because fishing mainly takes place at a depth of more than 100 meters.
Also, the internal mechanism of the offshore reel is equipped with special layers of impregnation between the parts, which protect them from the ingress of salts and premature breakdown of the mechanism. Since you catch large trophies with offshore reels, their mechanism is equipped with bearings and gear wheels. These reels are also used in bottom fishing, in hunting for catfish, carp, and silver carp, in freshwaters, they are very convenient for playing fish out of hard-to-reach places and using them in extreme weather conditions, performing precise ultra-long casts.
Types and Specifications of Offshore Fishing Reels
There are three types of offshore fishing reels, each of which is designed for specific fishing conditions. Types of offshore reels:
Spinning Offshore Reels. The reels are suitable for shoreline and surf fishing. The reels have match spools in their design. Front friction brake on offshore reels. Spinning reels are inferior in power to multipliers, but have excellent characteristics for long-distance casts across the surf. Since the offshore spinning reel has a low profile and wider diameter, it is much easier to run off the line during casting.
Baitcasting Offshore Reels. They are used during catching in the sea on boats or yachts. Since the baitcasting reels are designed for catching large trophies, their mechanism has high power characteristics, and the larger the reel in size, the larger the fish it will take out of the sea. Also, these reels are equipped with a line release meter, which is very convenient at great depths.
Electric Offshore Reels. Electric reels are great for catching the most trophy fish at the deepest depths. Electric reels have a special display that reflects the depth of the reservoir. In terms of power characteristics, these are very powerful reels, they have the highest power indicators. Electric Offshore Reels are equipped with an ultra-sensitive bite signal, which is transmitted to remote control or telephone, even if the angler is in another part of the boat. Fishing with an electric reel does not take much time and effort, it easily pulls fish out of the reservoir and makes hooking in a timely manner.
Top 2 Best Okiaya Reels
5# OKIAYA PRO-NATIONAL 80W-II 2 Speeds Big Game Reel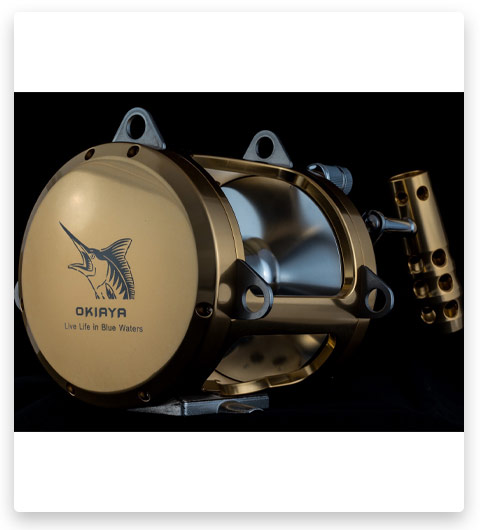 Reliable universal reel, intended for long and trouble-free operation with excellent price/performance ratio. The well-known design principle is based on a high-strength, solid aluminium case for maximum deformation protection. This model has 4 ABEC stainless steel ball bearings that are necessary for smooth operation.
6# OKIAYA AXIS-L30 2 Speed Dual Drag Big Game Reel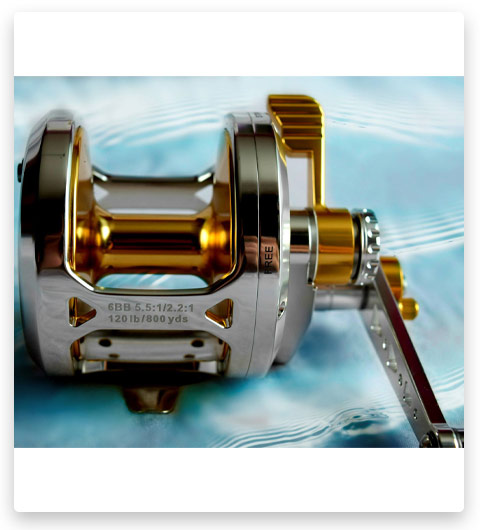 The Okiaya Axis-L30 reel is invented as universal and multifunctional. The model is made of heavy-duty carbon. The spool is made from aviation aluminum. This model has full protection from saltwater.
FAQ
Conclusion
The Okiaya brand is a great one that specializes in the production of powerful fishing rods, reels, and various accessories for boat fishing. The best rod in my opinion is the 1# OKIAYA 5'6ft COMPOSIT Mack Daddy 30-80LB Saltwater Big Game Roller Rod. If you are looking for a powerful reel the 5# OKIAYA PRO-NATIONAL 80W-II 2 Speeds Big Game Reel is definitely worth the pick.
Tags: #okiaya rod reviews / #okiaya trolling rod review / #okiaya bent butt fishing rod reviews / #okiaya fishing rods / #okiaya rods and reels review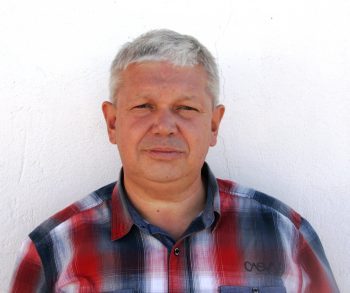 Sergio Smirnoff
Professional fisherman with 40+ years of experience.
Fishing and the ocean is a passion of my life. I am passionate about all kinds of sea fishing: fishing from the shore (spinning, float, baitcasting), from a boat, and spearfishing day and night.
I live in Tenerife (Canary Islands) for the last 10+ years and share my daily fishing experiences on my website. Many years of personal experience as a fisherman and the vast experience of my friends allow me to write professionally on any fishing topics (from choosing a flashlight and equipment to deep-sea fishing).
All of my advice is based on practical real-world experience and will be useful to both novice anglers and professionals.
Read more
about the author.
Affiliate Disclosure: FishReeler.com sometimes gets paid for listings, through sponsors or affiliate programs like Amazon, Ebay, Cabelas, Bass Pro Shop, Shimano, Daiwa, Rapala, Renn, Okuma, KastKing, etс. Clicking a link helps keep FishReeler.com free, at no extra cost to you!
About the author: Each article is verified by the fishing expert Sergio Smirnoff. The articles are written by professional and amateur fishermen with 20+ years of fishing experience.
Note: The views and opinions expressed in this article are those of the authors and do not necessarily reflect the official policy or position of any agency. The articles are for informational purposes only, share your opinions in the comments and join the fishing discussions, let's share our fishing experiences together!