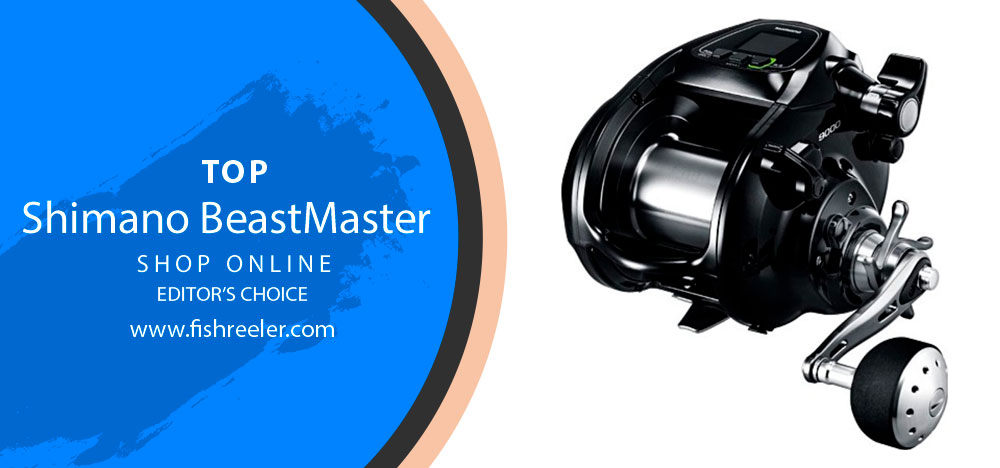 Top-Models Shimano Beast Master 9000 Electric Reels
I've been fishing for years. I love this business and if I had my way I would only do it. If you are a fishing enthusiast like me, then you know what I'm talking about. For me, it was always a problem to find a good electric reel. I used both expensive and cheap ones from different companies.
All of them had their disadvantages outweighed their advantages. But that was until I found out about the Shimano brand. Reels from this company turned my world around and made my fishing even more successful. And I can't help but share with you two great electric reels from this company. If you are looking for a high-quality and durable spool, then it makes sense for you to read my article to the end.

About Shimano
Shimano is a Japanese company, is the world's largest manufacturer of products for fishing. This brand also produces equipment for snowboards and equipment for bicycles. The company confidently occupies a leading position in the production of spinning rods and reels. Shimano Adachi Co., which was established in 1971, produces fishing equipment.
Experience in the development of high-tech devices for bicycles has helped Shimano take a leading position in the production of fishing reels, which are rightfully one of the best in the world. According to the engineers themselves, it is easier to produce and design fishing reels than rods and accessories, since all the technological features of the reels are obvious and measurable: quality, smoothness, the softness of the course, and the speed of winding the line. Other characteristics are checked and evaluated on laboratory stands.
With Shimano rods, everything is not so simple. Despite the highest quality of the materials used, the use of advanced technologies, a person should feel the form with their own hands, only then will the rod deserve the attention of anglers.
Therefore, Shimano has an army of fishing consultants all over the world who test new products. Shimano's technological innovations have made it possible to achieve a perfect balance of quality and price, literally making them the "#1 Choice" among fishing enthusiasts from all over the world. The products are aimed at a wide range of anglers-both professionals and Amateurs.

Shimano Products
Shimano produces products in separate catalogs for the Japanese, American, European and Australian markets.
Shimano's main products in the fishing industry market are:
Rods: spinning rods, match rods, carp rods, feeder rods, telescopic rods;
Inertia-free reels;
Multiplier reels;
Fishing line, braided cords;
Lures, wobblers;
Clothes;
Polarizing glasses;
Boxes, boxes, bags, cases.

Seria Shimano BeastMaster
Shimano reels are considered one of the best in the world. The only real competition for quality and innovation is Daiwa coils. But Shimano has also achieved impressive success in producing reels designed specifically for those anglers who understand what it means to enjoy fishing. By the way, fishing reels are much easier to design and produce from a technical point of view than fishing rods and accessories. At the same time, the quality of the finished product is easy to assess on the stands in a laboratory or factory. The softness and smoothness of the course, advanced technological innovations, speed and quality of the line winding are measurable and obvious. Tests confirm that Shimano reels have excellent characteristics.
1# Shimano BM9000 Beast Master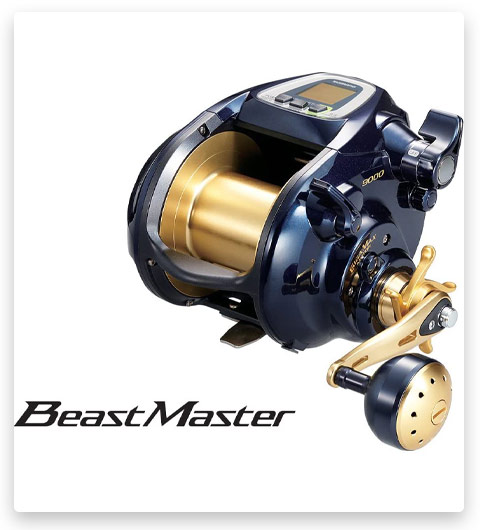 I use this electric reel when I go deep-sea fishing. You never know what you're going to pull out of the deep. And this process is not always easy. It takes a lot of effort to extract. Personally, I had it before. But after I started using this electric spool, this problem disappeared. Thanks to the engine and the hard-line, I can focus on my fishing.
When the bait is on the hook, the engine automatically turns on and pulls your catch to the surface. This happens at a speed of 88 cm of fishing line per revolution. Even if the fish is very heavy, this electric reel copes perfectly thanks to the resistance power of 25 kg. I have never had any problems with this. Also, the fishing line is very hard. It is braided and therefore great for large prey.
GigaMax Electric Motor. Thanks to it, the line is restored smoothly. Plus, this is achieved thanks to 5 bearings. The electric reel has two roller bearings and 3 SA-RB. In fact, I like to go deep-sea fishing for a couple of days. And the electric reel is able to work all this time. I really appreciate that. There is also a memory chip that saves my depth settings. And they are easy to install.
The LCD display is very convenient, everything is clearly visible on it and it is easy to set the necessary parameters. You can switch to manual control. The Shimano Beast Master 9000 electric reel comes with a power system. I sometimes activate it during fish extraction.
I'm right-handed so for me there are no cons at all for this electric fishing reel. But if you are left-handed, you may have a problem during manual extraction. Since it is located on the right, it will be difficult for you to manage it.
A gear ratio of 3.1:1. Weight 1455 grams. In my experience, this is not a lot and not a little. Lifting speed 165 m / min. I recommend this electric reel to all my fishing friends. And those who listened to me haven't regretted their choice yet!
2# Shimano 2015 Force Master 9000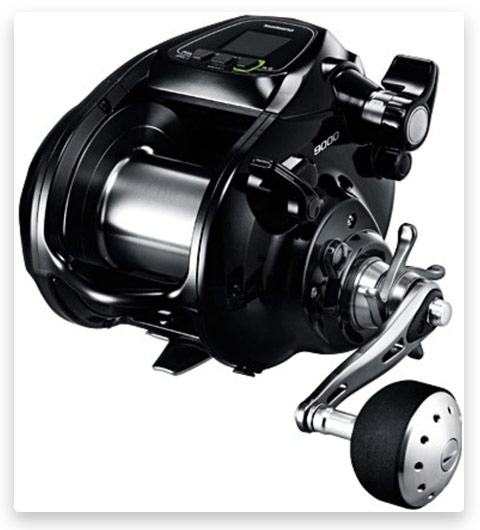 This is another electric reel from the Shimano brand. I was able to test this device for a few days, so I decided to tell you more about this reel. In my opinion, this reel is perfect for those who have only recently started fishing and for those who want to catch huge fish during deep-sea fishing. You can catch fish up to 40 kg!
When I was fishing, I was hooked on a fish weighing about 30 kg! This electric spool fought it to the last and eventually won. It is very powerful with high torque. It is very powerful with high torque. The reel has a solid body with full protection from saltwater ingress.
Powerful 26 kg clutch, which is adjusted easily and accurately. There is a power-adjustable speed of winding the cord, a jigging function, the ability to feed the sea bait to a specified depth with an accuracy of up to a centimeter. Amazing spool capacity, accommodating 750M of VARIVAS cord with a diameter of 0.41 mm, maximum draw force of 69kg, lifting speed of 135m /min.
It is possible to work both in manual and electronic mode. I tried working both manually and electronically. They both work perfectly. I was satisfied. I got great pleasure while fishing. The number of its bearings is 5 x S A-RB. Gear ratio: 3.1:1. The weight of 1500 is almost the same as that of the previous model.
The handle is located on the right, so if you are left-handed you may not be comfortable.  Lifting speed: 140m/min. If I didn't have a Shimano Beast Master 9000, I would have bought this model for myself.

FAQ
Have a question about this product? Questions & Answers about Electric Fishing Reels.
What should pay attention to when choosing an electric coil?
When choosing a reel for a spinning rod, a novice angler should pay attention to the following points:
The most important parameter of any reel is considered smooth running. This indicator is primarily determined by the sensitivity of the whole equipment. The smoothness often depends on the uniformity of the line winding. This property determines the range of casting the bait.
The size of the spool is most often indicated on its side surface according to the Shimano standard. The number 1000 indicates the small parameters of the model. It also means that 100 m of monofilament with a diameter of 0.1 mm is required to fill the spool. This spool is suitable for fans of ultralight. For jig fishing on a deep river, it is better to use the 3000 models.
The operability of the timber stacker bracket is checked by opening and closing it. In the open position, the shackle shouldn't spontaneously close. Special attention is paid to the easy rotation of the winding roller.
The presence of a friction brake in the spinning reel is a prerequisite. A properly configured clutch allows you to play off the line with the sharp jerks of the predator. The brake tension control can be installed in the front or rear. From personal experience, I had to make sure that the clutch is useful. Without checking the brake setting before fishing, I hooked a large pike. The presence of a strong braid and a metal leash played a cruel joke on me. The toothy predator obediently walked to the shore, making short pushes. When I began to look for the best place to approach the water, the pike turned and abruptly rushed to the middle of the lake. After the descent, I found a fully straightened hook on the spinner.
The weight of the reel is best selected directly on the rod. After installing it on the spinning rod mount, you must take the fishing rod in the area of the handle transition to the form. If the horizontal position of the tackle is maintained, the reel and rod fit together.
For an angler, it is important to choose a model with a comfortable handle. Here, each angler has their own preferences. The main criterion will be a smooth rotation of both the entire handle and the small handle on it.

What types of reels are there?
Currently, there are three distinct groups of reels on the device for equipping a spinning reel. Each of them can become an indispensable part of certain fishing conditions:
The old and already almost completely rejected by fishermen's inertial reel is now experiencing a second youth. The main drawback of these models was the inconvenience that occurs during casting the bait. If the reel spun easily, you had to hold it with your finger. Otherwise, the speed of rotation was ahead of the reeling of the fishing line, which is why it turned out to be entangled. The novice angler was more engaged in unwinding the "beard" than in catching a predator. When the drum was artificially slowed down, the light bait couldn't be cast far from the shore. Currently, there are reels that are devoid of such disadvantages. In this regard, fishermen are gradually looking at them again.
The most popular spinning reel for catching fish in freshwater areas is a non-inertial one. Many people liked "meat grinders" because of their ease of handling and high reliability. In these models, the line is wound on the spool perpendicular to the line of the rod. This helps to distribute any of the threads at the spool. When the scaffold bracket opens, the line comes off the spool at the slightest pull. The only drawback is the formation of waves on some types of threads. But for any spinning, it will not be difficult to find the smallest or largest reel.
The most powerful reels for spinning are multipliers. They have proven themselves well when casting heavy baits, as well as during trolling fishing. Some walleye hunters also prefer multiplier models at night. They allow you to control the bite of a predator with your fingers, between which the fishing line passes. That's why I use them myself and told you in my article.
Conclusion
For me, Shimano is the best manufacturer of fishing equipment. As I said earlier, I used different equipment, but only Shimano surprised me. If you are looking for an electric reel, I advise you to look at this brand. Shimano Beast Master 9000 is the spool that I have been using for many years and that I don't want to change for many years to come. Not only me but also my friends use this electro reel. That's why I recommend it to you. Make the right choice! Good fishing!
Tags: #shimano beastmaster / #shimano beastmaster 9000 / #shimano beastmaster 9000 review / #shimano beastmaster reel / #shimano beastmaster rod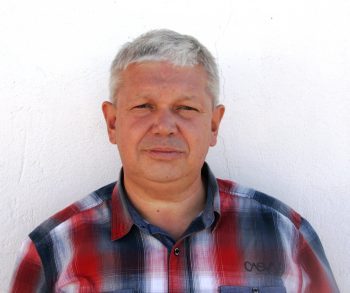 Sergio Smirnoff
Professional fisherman with 40+ years of experience.
Fishing and the ocean is a passion of my life. I am passionate about all kinds of sea fishing: fishing from the shore (spinning, float, baitcasting), from a boat, and spearfishing day and night.
I live in Tenerife (Canary Islands) for the last 10+ years and share my daily fishing experiences on my website. Many years of personal experience as a fisherman and the vast experience of my friends allow me to write professionally on any fishing topics (from choosing a flashlight and equipment to deep-sea fishing).
All of my advice is based on practical real-world experience and will be useful to both novice anglers and professionals.
Read more
about the author.
Affiliate Disclosure: FishReeler.com sometimes gets paid for listings, through sponsors or affiliate programs like Amazon, Ebay, Cabelas, Bass Pro Shop, Shimano, Daiwa, Rapala, Renn, Okuma, KastKing, etс. Clicking a link helps keep FishReeler.com free, at no extra cost to you!
About the author: Each article is verified by the fishing expert Sergio Smirnoff. The articles are written by professional and amateur fishermen with 20+ years of fishing experience.
Note: The views and opinions expressed in this article are those of the authors and do not necessarily reflect the official policy or position of any agency. The articles are for informational purposes only, share your opinions in the comments and join the fishing discussions, let's share our fishing experiences together!