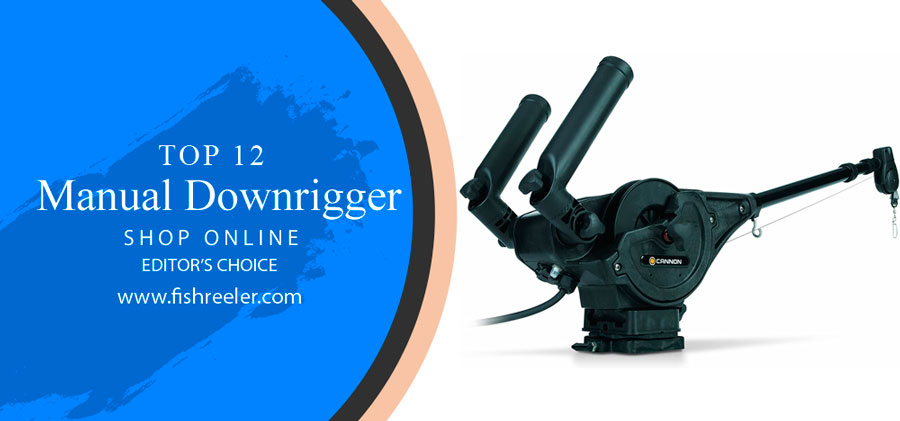 Harnessing the Depths: A Deep Dive into Manual Downriggers for Fishing

Plumbing the Depths: The Critical Role of Downriggers in Fishing
Whether you're a seasoned angler or a novice just dipping your line into the fishing world, you'll likely agree that the thrill of the catch is a major draw. Fishing equipment plays a significant role in helping you land that catch, and among them, downriggers stand out as particularly important. But why is that?
Downriggers essentially serve as a depth control mechanism, aiding in the precise placement of lures or baits at the desired depth, often deeper than would be possible with traditional fishing gear. By using a downrigger, anglers can target fish species that prefer cooler, deeper waters, thereby greatly expanding their fishing opportunities. Additionally, the downrigger allows the lure to troll at a desired depth without additional weight on the fishing line, which can lead to the more natural movement and thus more successful catches.
A Closer Look: Unveiling the Manual Downrigger
Within the downrigger family, there are two main types: electric and manual. Our focus for this article is the manual downrigger, an essential piece of equipment that has stood the test of time and remains popular among many fishing enthusiasts. Despite the advent of technologically advanced electric downriggers, the manual downrigger maintains its allure due to its reliability, ease of use, and certain advantages that it offers over its electric counterpart.
Setting the Course: Charting the Journey Ahead
In this article, we will delve deeper into the world of manual downriggers. We will start by understanding the nuances of downriggers and how they function, followed by an exploration of the differences between manual and electric models. We will then study the anatomy of a manual downrigger, identifying and explaining each component and its role.
Next, we will delve into the distinct advantages of manual downriggers, followed by a comprehensive, step-by-step guide on how to use one. We'll also discuss common challenges faced by anglers and provide practical troubleshooting tips. To wrap things up, we will offer guidance on choosing the right manual downrigger based on your specific needs.
So whether you're looking to learn more about manual downriggers, planning to buy one, or seeking tips to enhance your fishing experience, this article has got you covered!
Top 12 Best Manual Downrigger – Editor'S Choice
| Image | Product | Brand | Link |
| --- | --- | --- | --- |
| | Scotty #1073DP Laketroller Manual Downrigger, Post Mount, Display Packed BLACK, Small | Scotty | |
| | Cannon Uni-Troll Manual Downrigger, 10 STX | Cannon | |
| | Scotty #1060 Depthking Manual Downrigger, Display Packed w/ Rod Holder, BLACK, Medium | Scotty | |
| | Walker Downriggers USA-Made Mini Laker Manual Downrigger, Silver | Walker Downriggers | |
| | Scotty #1050 Depthmaster Manual Downrigger, Display Packed w/ Rod Holder, BLACK, 23" | Scotty | |
| | Seahorse Manual Downrigger with Gimbal Mount by Troll-Master | Seahorse | |
| | Cannon 1901200 Mini-Troll Manual Downrigger | Cannon | |
| | | | |
| | Brocraft Minin Manual Downrigger/Small Boat Easy Catch Lake-Troll Manual Downrigger/Kayak Downrigger | Brocraft | |
| | Scotty #1091 Longarm Manual Downrigger w/ 60-Inch Telescopic Boom Combo Pack | Scotty | |
| | 1 - Cannon Uni-Troll 10 STX Tournament Series Manual Downrigger | Cannon | |
| | Cannon 1901250 Lake Troll Manual Downrigger Black | Cannon | |
1# Scotty #1073DP Laketroller Manual Downrigger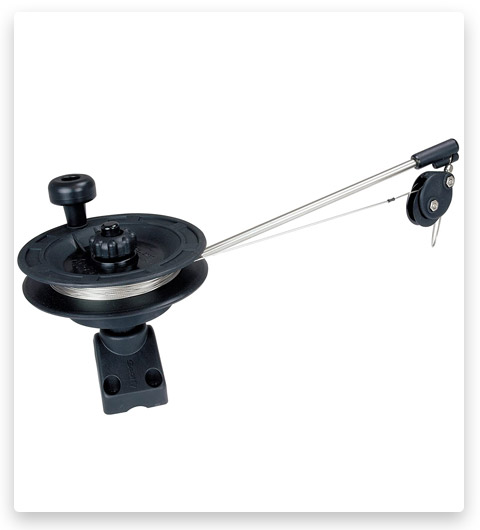 This is one of Scotty's finest manual downriggers. It can be installed on a boat or the side of the canon. The trolling device can be used at depths of up to 30 meters with a load of up to 2 kg. Do it with the mounting brackets. It is made of high-quality materials, so it is durable and reliable.
The device allows you to go down to the necessary depth and helps to catch hard-to-reach fish such as salmon. Downrigger has a rather long boom. It is equipped with a small diameter coil without a counter. It has a small size of the extension boom because in a small boat the fisherman will have to work with the device from a sitting position. So he will be able to freely reach its top and cope with all the actions associated with installing the cargo and placing clips with baits for trolling. You don't need to spend a lot of money. This device works as it should at an affordable price.
2# Cannon Uni-Troll Manual Downriggers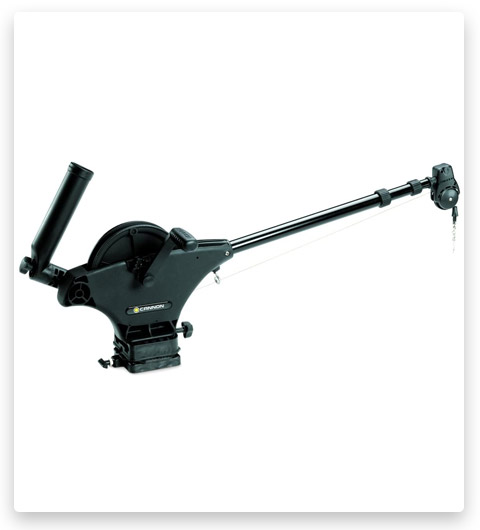 This manual downrigger is well made and durable enough to be used for trolling fishing. You can adjust the fishing rod holder from side to side, as well as front and rear. The boom is made of stainless steel and has a length of up to 53 inches. Stainless steel is a good and durable material for fishing equipment. The device will last for many years as the material prevents the appearance of corrosion and rust. This manual device doesn't require a source of power. This makes it easy to use. You can find out the depth on the display. It's comfortable. This downrigger has an extraction speed of 2: 1. The end of the boom is closed. This prevents the line from jumping.
3# Scotty #1060 Depthking Manual Downrigger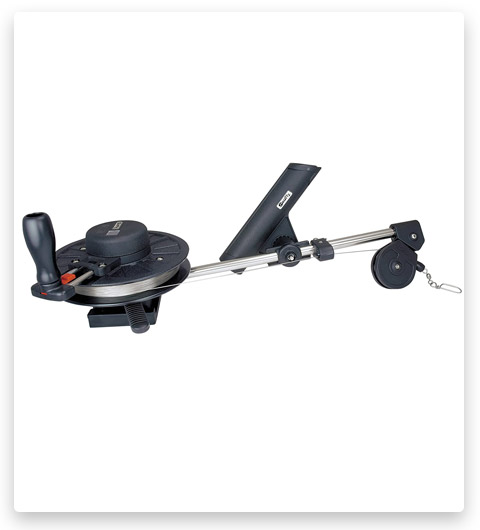 You will get a larger diameter coil equipped with a retractable handle to facilitate lifting. Suitable for medium-sized boats when trolling at great depths, when rapid lifting and lowering of cargo is required. The basic equipment of the device includes a coil braking system equipped with a counter for releasing a cable with a load, a cargo clip, a platform for installing a downrigger on a flat surface for quick dismantling, and one trolling rod holder located on the boom. The Scotty 1060 boom can be lifted vertically, which greatly facilitates the handling of loads, clips, and lures and provides a reach for the hand.
4# Walker Downriggers Mini Laker Manual Downrigger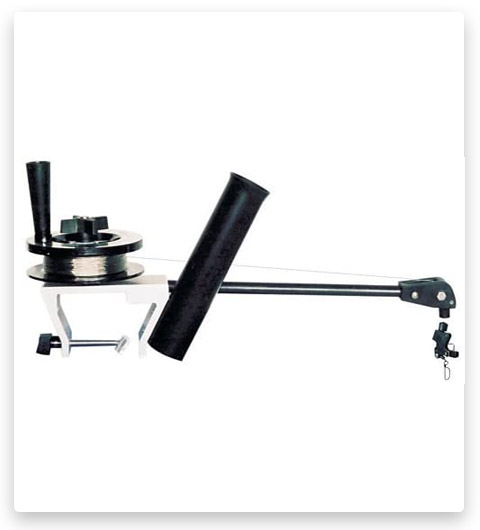 This is a compact device that is suitable for installation on a boat. Moreover, the installation doesn't take you much time and effort. Due to its size, the downrigger can be installed even on a too-small boat. Use it both in freshwater and in saltwater. This will not affect its durability. The device has 1 foot per extraction stroke with a load capacity of 6 pounds.
5# Scotty #1050 Depthmaster Manual Downrigger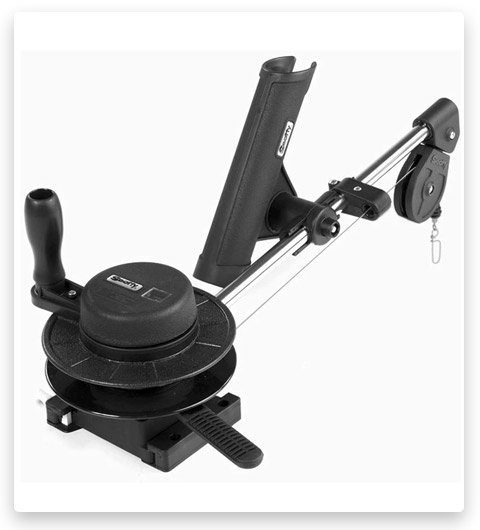 This is a compact trolling device for small and medium boats at depths of up to 50 meters. This downrigger is already equipped as standard with a flat surface mount system and a spinning holder. The device has a stainless steel boom. The material indicates the durability of the product. Scotty 1050 is equipped with a counter showing the depth at which the downrigger load is located. It also gives you the opportunity to find out the location of the bait.
6# Seahorse Manual Downrigger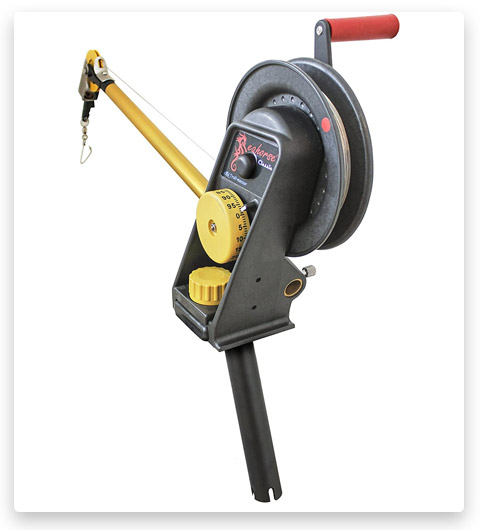 Downrigger that allows you to accurately measure depth thanks to a quality depth gauge. Therefore, you can lower the bait to the desired depth and maintain it throughout the process. The device works equally well in salt and freshwater thanks to quality materials. It is easy to use. Thanks to the drag and drop system, you can lower and stop the load with one hand. Together with the device, you will also receive a gimbal mount. This is a reliable downrigger for trolling!
7# Cannon Mini-Troll Manual Downrigger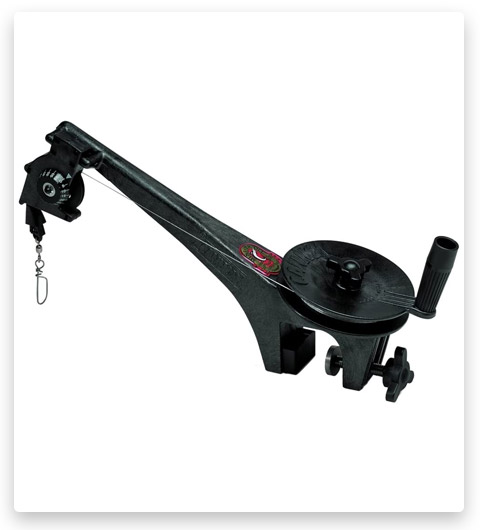 This model is equipped with a horizontal coil and a steel cable. Designed for loads up to 1.8 kg and can be used in saltwater. The device is rated at 4 lbs. This is a simple device that you can use both on boats and on kayaks or canoes. It has a fairly compact size and depth counter. This is a good device for a great price for trolling fishing!
8# Boating Accessories New Lake Troll Cannon 1901250 Manual Downrigger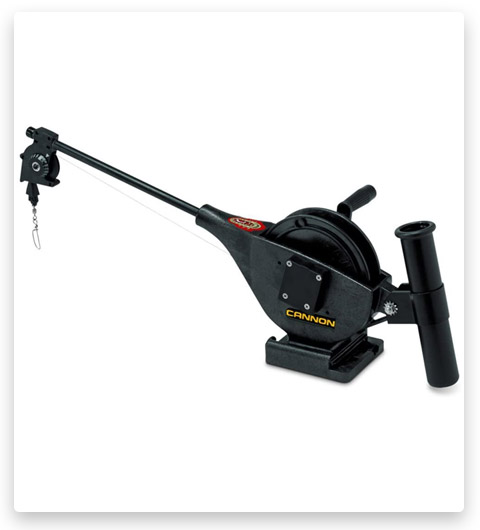 Allow yourself to enjoy even more trolling fishing with this downrigger. Its carrying capacity is 8 pounds and it has a composite spool. If you have a small boat, then this device will fit perfectly into it. A downrigger is equipped with a brake system and a clutch. You can control weight loss with even one hand!
9# Brocraft Minin Manual Downrigger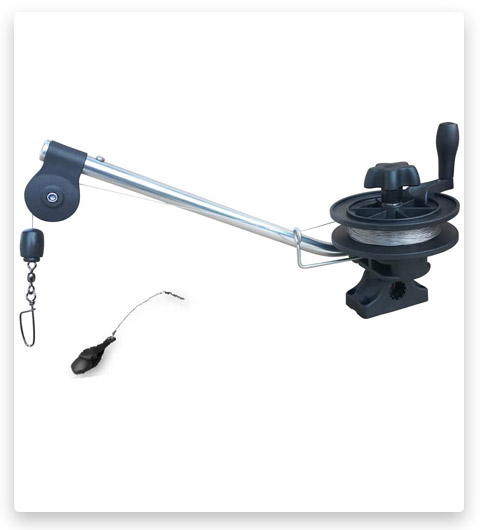 Reliable design that allows you to improve your fishing! This device will help you catch deeper than usual. The boom is made of aluminum, which resists corrosion. Its length is 16. The device comes with a release line. Downrigger comes with an already wound 100-pound braided wire. It is made of stainless steel. However, it is recommended to use it with a weight of not more than 5 pounds. Remember that the device doesn't have a counter.
10# Scotty #1091 Longarm Manual Downrigger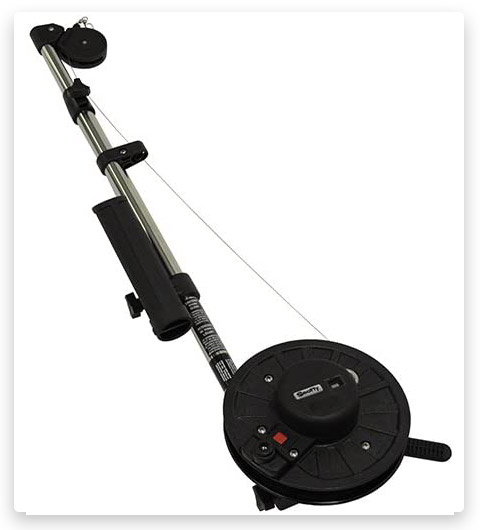 Universal downrigger Scotty 1091 is equipped with a larger diameter cable reel with a retractable handle, as well as an arrow, adjustable to 152 cm in length. This model is designed for trolling fishing on boats of medium and large sizes at depths of up to 50 m. Like many other Scotty models, the downrigger is equipped with a brake, the control lever of which is located next to the reel.
Using such a friction brake, it is possible to smoothly control the speed of lowering the load, which minimizes the likelihood of entanglement of gear in most cases when trolling uses a number of lures placed with clips on the cable. The counter of the length of the cable is located on the reel( in a conspicuous place). There is a button to reset the readings. A free rod holder is mounted on its remote boom. It reduces the trolling player the need to install extra holders on the boat.
11# Cannon Uni-Troll 10 STX Tournament Series Manual Downrigger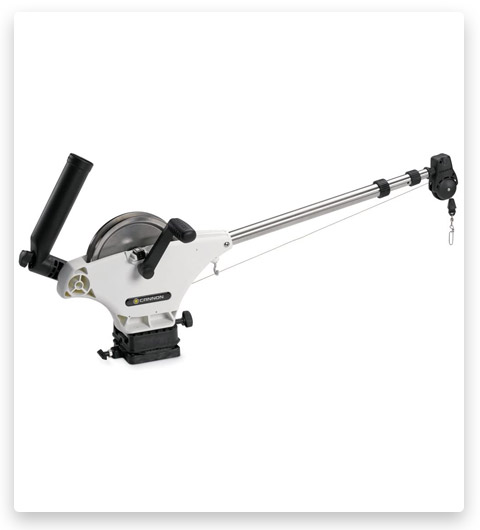 Manual downrigger in white from the famous Cannon brand. The fishing rod holder is adjustable in different directions. The device has a spool, which is made of stainless steel. You can control weight loss with one hand. A quality product according to many avid fishermen!
12# Cannon Lake Troll Manual Downrigger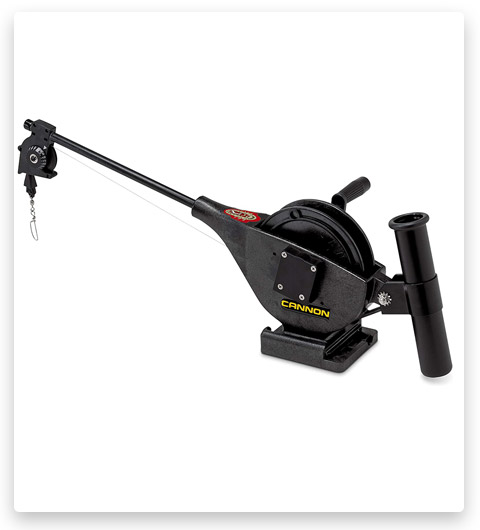 This Cannon Lake-Troll manual downrigger is equipped with a vertical reel and a safety latch in the reel handle, which allows you to raise and lower loads with one hand. Quick-detachable mount, swivel depth counter, 46 cm long boom, rod holder. It allows you to adjust the angle of the rod without much effort.
Understanding Downriggers

Downrigger 101: Demystifying the Fishing Game-Changer
➰Downrigger Defined: What Exactly Is It?
A downrigger, in simplest terms, is a device used in trolling to keep your fishing lure or bait at a specific depth, which can be adjusted as needed. It consists of a three to six-foot arm, mounted to your boat, with a spool of wire attached to a heavy weight (usually ranging from 4 to 15 pounds). A clip, known as the line release, is then attached to this wire, and it's this clip that holds your fishing line.
➰The Downrigger's Role: The Key to Deep Water Fishing
The purpose and function of a downrigger in fishing are quite straightforward yet crucial. When you want to fish at a depth where the fish are hanging out, you attach your fishing line to the downrigger, and the weight on the downrigger is lowered to the desired depth. This allows you to get your bait or lure to deeper waters than you could reach with a traditional fishing setup. Once a fish bites, it pulls the line out of the clip, leaving you to reel in the fish without any extra weight attached to the line, ensuring a more enjoyable and less tiring fishing experience.
Manual vs Electric: The Great Downrigger Debate
💍Unraveling the Differences: Manual and Electric Downriggers
When it comes to downriggers, there are two main types: manual and electric. As the names suggest, manual downriggers require physical effort to crank the weight up and down, while electric downriggers use a motor to perform this task.
Manual downriggers are typically simpler in design, with fewer moving parts, which can make them more reliable and easier to maintain. They are also generally less expensive than electric models.
Electric downriggers, on the other hand, offer convenience and efficiency, especially when dealing with heavy weights or deep waters. They often come with additional features like digital depth readouts, auto-stop functions, and the ability to program specific trolling patterns.
💍Situational Superiority: When to Use Manual and Electric Downriggers
The choice between a manual and an electric downrigger largely depends on your specific needs and fishing conditions.
Manual downriggers are often a great choice for smaller boats or for casual anglers who don't need to frequently adjust their weights or fish in exceptionally deep waters. They are also beneficial for those on a budget or who prefer a more "hands-on" fishing experience.
Conversely, electric downriggers are more suitable for larger boats, serious sports fishermen, or those who often fish in deep waters. They are particularly useful when fishing for species that reside at significant depths, or when the frequency of adjusting depth is high, as the electric motor does the hard work of retrieving the weight.
In essence, both types of downriggers have their place. It's all about picking the right tool for the job based on your unique fishing style and needs.
The Anatomy of a Manual Downrigger

Deconstructing the Manual Downrigger: A Breakdown of Components
🩺Downrigger Rod Holder
The downrigger rod holder is an integral part of the downrigger setup. It's where your fishing rod rests during trolling. It's typically adjustable, allowing you to set the angle of your rod to best suit the fishing conditions and your preference.
🩺Downrigger Ball
Also known as the downrigger weight or cannonball, the downrigger ball is attached to the end of the downrigger cable. Its purpose is to sink deep into the water, pulling your fishing line to the desired depth. The weight of the ball varies depending on the depth you want to achieve and the trolling speed, with heavier weights used for deeper depths and higher speeds.
🩺Downrigger Cable
The downrigger cable, typically made of stainless steel, connects the downrigger ball to the downrigger itself. This cable is wound around a spool and can be unwound or wound up using the hand crank. The length of the cable you release determines the depth at which your bait or lure will be presented.
🩺Downrigger Release
The downrigger release, often a clip or a tension-controlled mechanism, is where you attach your fishing line. When a fish bites, the line is released from this clip, allowing you to fight the fish directly, without the weight of the downrigger ball impacting the battle.
🩺Hand Crank
The hand crank is an essential part of a manual downrigger. By turning the crank, you can lower or raise the downrigger ball, thereby controlling the depth of your bait or lure. The hand crank allows manual control, giving you a hands-on fishing experience.
Component Roles: The Symphony of a Downrigger's Functioning
The downrigger, while simple in concept, is a carefully orchestrated system. Each component plays a critical role in its functioning. The rod holder securely holds your fishing rod, allowing it to stay steady while trolling. The downrigger ball, attached to the downrigger cable, sinks your fishing line to the desired depth. The downrigger release holds your line in place until a fish strikes, then releases it so you can reel in your catch without extra weight. Lastly, the hand crank provides the manual power to lower or raise the downrigger ball and attached cable, ensuring the bait is at the correct depth. Together, these components create a powerful tool for deep-water trolling.
The Advantages of Manual Downriggers

Frugality and Functionality: The Cost-Effectiveness of Manual Downriggers
One of the key advantages of manual downriggers over electric ones is their cost-effectiveness. Manual downriggers are generally less expensive than their electric counterparts. This lower upfront cost makes them an attractive option for those new to downrigger fishing, those on a budget, or occasional anglers who can't justify the higher cost of an electric downrigger. Despite their lower price point, manual downriggers deliver excellent functionality and can significantly improve your fishing game.
Built to Last: Dependability and Durability of Manual Downriggers
Another advantage of manual downriggers is their dependability and durability. They have fewer moving parts and lack the complex electronic components found in electric downriggers. This simplicity of design results in fewer points of potential failure, leading to a more reliable and longer-lasting piece of equipment. Given their robust construction, manual downriggers can stand up to harsh marine environments, providing dependable service for many fishing seasons.
Dialing It In: Greater Control and Precision in Depth Adjustment
Manual downriggers also offer greater control and precision in in-depth adjustment. With a manual downrigger, the angler directly controls the descent and ascent of the downrigger weight using the hand crank, allowing for precise adjustments to the fishing depth. This can be particularly beneficial when targeting specific species of fish known to inhabit certain depths or when adjusting to changes in the underwater terrain.
Ease of Upkeep: Lower Maintenance Needs of Manual Downriggers
Finally, manual downriggers tend to require less maintenance than electric downriggers. With no motor to service or electrical components to worry about, the main upkeep usually involves checking the cable for wear and ensuring the crank and spool are well-lubricated. This lower maintenance requirement not only saves time and effort but also helps keep long-term ownership costs down.
In summary, while electric downriggers have their place, manual downriggers offer a range of benefits that make them a compelling choice for many anglers. From cost-effectiveness to dependability, precision control, and easy upkeep, these advantages make manual downriggers an excellent tool for enhancing your fishing adventures.
Using a Manual Downrigger: A Step-by-Step Guide
Setting the Stage: Setup and Mounting of the Manual Downrigger on the Boat
The first step to using a manual downrigger involves setting it up correctly on your boat. First, ensure you have a solid, stable place to mount the downrigger. This could be on the gunwale or transom, depending on your boat's design. The mounting location should provide easy access for operation and should not interfere with other fishing activities on the boat. Once you have identified the right spot, secure the downrigger base using the appropriate hardware, ensuring it's tightly fastened and stable.
Linking Lines: Attaching the Fishing Line to the Downrigger
After setting up the downrigger, it's time to attach your fishing line. First, set your lure at a distance behind the boat according to the species you're targeting and the fishing conditions. Once your lure is in place, attach the fishing line to the downrigger release clip. Make sure the line is secure in the clip, but not so tight that a fish can't pull it free.
Into the Deep: Lowering the Downrigger Weight
With your line attached to the downrigger release, it's time to lower the downrigger weight. Turn the hand crank on the downrigger to lower the weight into the water. As you do this, the downrigger release (holding your fishing line) will descend with the weight, taking your lure down to the desired depth.
Precision Placement: Adjusting the Depth and Trolling Speed
Adjusting the depth is straightforward with a manual downrigger. Simply crank the handle to let out more cable for deeper depths, or reel in the cable to bring your lure closer to the surface. Remember to adjust your trolling speed as well, as different species of fish are attracted to different speeds. Moreover, the speed can affect the angle of the downrigger cable and thus the actual depth of your lure.
The Moment of Truth: Releasing the Fishing Line and Reeling in a Catch
Once a fish strikes, it will pull the fishing line from the downrigger release. You'll know this has happened when you see your fishing rod tip jerk or bounce. At this point, you should reel in your line to ensure the fish is securely hooked before beginning the fight. It's important to remember that with the line released from the downrigger, you're now reeling in the fish directly, without the downrigger weight. This allows for a more natural fight and a more rewarding fishing experience.
In essence, using a manual downrigger involves a series of straightforward steps. With a bit of practice, these steps become second nature, allowing you to focus more on the joy of fishing and less on the mechanics of the equipment.
Best Rated Manual Downriggers for Trolling & Kayaks & Small Boats
A downrigger is for fishermen to set any bait to the desired depth. Such a device is used for trolling fishing. This makes it possible for a fisherman to present an artificial or natural bait to a fish at a depth adjusted to a centimeter from a boat.
And this depth doesn't depend on the size, weight, and shape of the bait chosen by the fisherman. The device provides excellent maneuverability. And, therefore, the ability to fish in hidden areas for you. The review is specially written so that you find out more about this device and can choose it for yourself. Here I will look at manual downriggers. Let's get started!
There are two famous brands that manufacture downriggers. Let's find out more about each of them so that you can then navigate and make the right choice. But each brand creates high-quality products that you can trust. They have been in high demand for many years.
Scotty Manual Downrigger
The Canadian company Scotty was founded in 1952 by Blayney Scott, who was the first to start producing artificial baits for trolling. Currently, downrigger Scotty is a world-famous element of trolling equipment, and the company itself is a world brand that produces a wide range of convenient and reliable fishing equipment. It is very important that without exception Scotty downriggers are simple to operate, they are very easy to control. This requires a minimum of action, and manipulation with it is completely safe.
Cannon Manual Downrigger
Cannon is a brand that has been producing excellent downriggers according to many anglers since 1979. Their company is located in Wisconsin. Their devices are popular with anglers who fish in the great lakes, as well as the east coast of the United States. These devices will help you get more fish out of the water. This brand has a unique development of downriggers combined with Humminbird sounders. Such a system allows you to bend around the bottom irregularities during trolling.
Choosing the Right Manual Downrigger
The Right Fit: Factors to Consider When Buying a Manual Downrigger
🔆Heavy Duty: Considering Weight Capacity
When selecting a manual downrigger, one of the first things to consider is its weight capacity. This refers to the maximum weight the downrigger can effectively handle. Your choice should be based on the size and type of fish you're targeting, as well as the depths you plan on fishing at. Larger, heavier weights are typically required for deep-water fishing or for targeting larger species.
🔆Long Lines: Evaluating Cable Length
The length of the downrigger cable is another crucial factor. A longer cable allows you to reach greater depths, making it ideal for deep-sea fishing. However, if you're a freshwater angler or typically fish in shallower waters, a shorter cable may suffice.
🔆Quality Counts: Checking Material Durability
The quality and durability of the materials used in the downrigger's construction are also important. Look for downriggers made from corrosion-resistant materials like stainless steel or high-strength composites, which can withstand harsh marine conditions.
🔆Smooth Sailing: Assessing Ease of Use
Finally, consider the downrigger's ease of use. A good manual downrigger should have a smooth, easy-to-operate crank, a reliable depth counter, and an easily accessible release clip. You may also want to consider additional features such as a swivel base or adjustable rod holder for added convenience.
Top Picks: Recommended Brands and Models for Different Fishing Needs
When it comes to manual downriggers, there are several reputable brands to consider.
🌟Scotty Downriggers: Known for their quality and durability, Scotty offers a variety of manual downriggers suitable for both freshwater and saltwater fishing. The Scotty Depthmaster is a popular model with a compact design, making it perfect for smaller boats.
🌟Cannon Downriggers: Cannon is another trusted name in the fishing industry. Their Uni-Troll series of manual downriggers offers smooth operation and precise depth control, making them a favorite among many anglers.
🌟Big Jon Sports: For those seeking heavy-duty options, Big Jon Sports offers manual downriggers designed for larger boats and deep-sea fishing. Their Captain's Pak Manual Siderigger is highly respected for its robust construction and high weight capacity.
Ultimately, the right manual downrigger for you depends on your specific fishing needs and preferences. By considering factors such as weight capacity, cable length, material quality, and ease of use, and by choosing a reputable brand, you can find a downrigger that enhances your fishing experience.
Common Challenges and Troubleshooting
Tackling Troubles: Common Problems with Manual Downriggers
💢Depth Dilemmas: Solving Adjustment Issues
One common challenge faced by anglers using manual downriggers is adjusting the depth. This can occur due to a variety of reasons such as poor visibility, incorrect readings, or difficulty in handling the hand crank.
💢Untangling the Mess: Dealing with Cable Issues
Another issue that can occur with manual downriggers is cable tangling. This happens when the downrigger cable becomes twisted or wrapped around itself or other objects, which can hinder the smooth operation of the downrigger.
💢Wear and Tear: Maintaining Your Manual Downrigger
Like any piece of equipment, manual downriggers are not immune to wear and tear. Regular exposure to water, especially saltwater, can lead to corrosion over time. Similarly, the downrigger cable can fray or weaken with repeated use.
Finding Solutions: Practical Solutions and Troubleshooting Tips
✨Difficulty in Adjusting the Depth
To tackle the issue of depth adjustment, ensure that your downrigger is equipped with a quality depth counter. Regularly calibrate the counter and cross-verify with your fish finder or depth sounder for accuracy. If the hand crank is hard to turn, check for any blockages and ensure it is well-lubricated.
✨Cable Tangling
To prevent cable tangling, always make sure the downrigger cable is wound evenly on the spool. Avoid jerky movements while lowering or raising the downrigger weight, as this can cause the cable to loop or twist. If your cable gets tangled, patiently untwist and untangle the cable, taking care not to kink or damage it.
✨Wear and Tear
To mitigate wear and tear, regular maintenance is essential. Rinse the downrigger with fresh water after each use, especially if you are fishing in saltwater, to prevent corrosion. Regularly inspect the cable for signs of wear or damage, replacing it as necessary. Lubricate moving parts periodically to ensure smooth operation.
In conclusion, while these challenges may seem daunting, they can be easily managed with a little knowledge and routine care. By understanding these common issues and how to troubleshoot them, you can extend the lifespan of your manual downrigger and ensure it performs optimally each time you hit the water.
FAQ: Maximize Your Catch with Manual Downriggers
Conclusion: Unveiling the Power of Manual Downriggers
Reeling It In: Recap of the Deep Dive into Manual Downriggers
Throughout this article, we dove deep into the world of manual downriggers. We started by understanding what downriggers are and their role in fishing, with a focus on the key differences between manual and electric versions.
We then explored the components of a manual downrigger, highlighting the importance of each part. We examined the advantages of manual downriggers, such as their cost-effectiveness, dependability, precision in-depth control, and lower maintenance requirements.
Next, we outlined a step-by-step guide on how to use a manual downrigger, from setting it up on your boat, attaching the fishing line, and adjusting depth and speed, to reeling in a catch. We also discussed common challenges faced by anglers using manual downriggers and provided practical solutions and troubleshooting tips.
Lastly, we guided you through choosing the right manual downrigger, considering factors like weight capacity, cable length, material quality, and ease of use. We also recommended some reputable brands and models suitable for different fishing needs.
Dare to Go Deep: Exploring the Benefits of Manual Downriggers
Now that you're equipped with a wealth of knowledge about manual downriggers, we encourage you to put this information into action. Whether you're an experienced angler looking to delve into deeper waters or a novice seeking to enhance your fishing experience, a manual downrigger can prove to be a game-changer.
Remember, the key to a successful fishing expedition often lies beneath the surface. With a manual downrigger, you can precisely control your lure's depth, targeting fish where they're most likely to be. So, venture out, dive deep, and may your next fishing trip be filled with great catches!
References and Additional Resources
Beyond the Surface: Further Reading for the Curious Angler
To further your understanding of manual downriggers and enhance your fishing experience, you may find the following sources helpful:
Knowledge is Power: Recommended Books, Articles, and Forums for Downrigger Enthusiasts
For more in-depth information, consider the following resources:
"Precision Trolling: The Troller's Bible" by Steven Holt and Mark Romanack – This book provides a comprehensive guide to downrigger fishing, with a focus on achieving precise control over your lure depth.
The Hull Truth – Boating and Fishing Forum – A very active online forum where you can connect with other anglers, ask questions, and share experiences about using manual downriggers.
Sport Fishing Magazine's website – Offers a plethora of articles, tips, and tricks about all things fishing, including the use of downriggers.
FishUSA Forums – Another online community where you can gain insights from fellow anglers on everything from choosing the right downrigger to troubleshooting common issues.
Remember, knowledge is the key to a successful fishing expedition. The more you learn about manual downriggers, the better you'll become at using them to their full potential.
Tags: #best manual downrigger / #best manual downrigger for small boat / #best price on a uni-troll manual downrigger / #cannon downriggers / #what is the best manual downrigger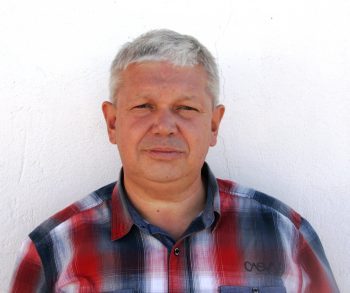 Sergio Smirnoff
Professional fisherman with 40+ years of experience.
Fishing and the ocean is a passion of my life. I am passionate about all kinds of sea fishing: fishing from the shore (spinning, float, baitcasting), from a boat, and spearfishing day and night.
I live in Tenerife (Canary Islands) for the last 10+ years and share my daily fishing experiences on my website. Many years of personal experience as a fisherman and the vast experience of my friends allow me to write professionally on any fishing topics (from choosing a flashlight and equipment to deep-sea fishing).
All of my advice is based on practical real-world experience and will be useful to both novice anglers and professionals.
Read more
about the author.
Affiliate Disclosure: FishReeler.com sometimes gets paid for listings, through sponsors or affiliate programs like Amazon, Ebay, Cabelas, Bass Pro Shop, Shimano, Daiwa, Rapala, Renn, Okuma, KastKing, etс. Clicking a link helps keep FishReeler.com free, at no extra cost to you!
About the author: Each article is verified by the fishing expert Sergio Smirnoff. The articles are written by professional and amateur fishermen with 20+ years of fishing experience.
Note: The views and opinions expressed in this article are those of the authors and do not necessarily reflect the official policy or position of any agency. The articles are for informational purposes only, share your opinions in the comments and join the fishing discussions, let's share our fishing experiences together!