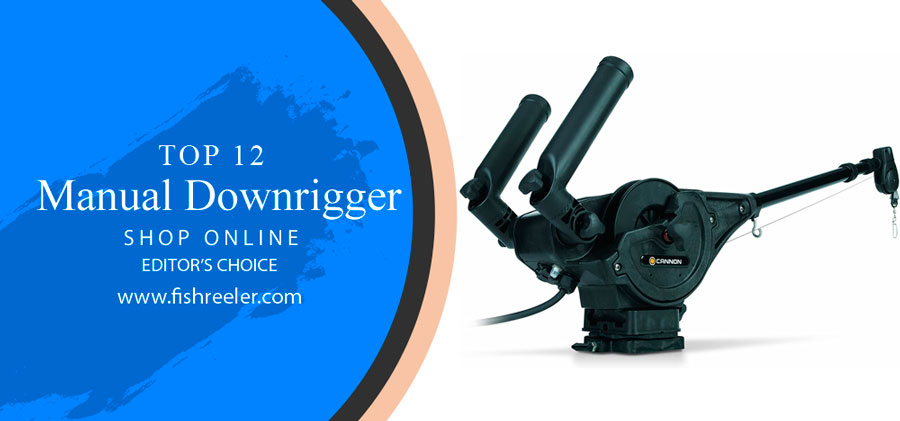 Best Rated Manual Downriggers for Trolling & Kayaks & Small Boats

A downrigger is for fishermen to set any bait to the desired depth. Such a device is used for trolling fishing. This makes it possible for a fisherman to present an artificial or natural bait to a fish at a depth adjusted to a centimeter from a boat.
And this depth doesn't depend on the size, weight, and shape of the bait chosen by the fisherman. The device provides excellent maneuverability. And, therefore, the ability to fish in hidden areas for you. The review is specially written so that you find out more about this device and can choose it for yourself. Here I will look at manual downriggers. Let's get started!
There are two famous brands that manufacture downriggers. Let's find out more about each of them so that you can then navigate and make the right choice. But each brand creates high-quality products that you can trust. They have been in high demand for many years.
Scotty Manual Downrigger
The Canadian company Scotty was founded in 1952 by Blayney Scott, who was the first to start producing artificial baits for trolling. Currently, downrigger Scotty is a world-famous element of trolling equipment, and the company itself is a world brand that produces a wide range of convenient and reliable fishing equipment. It is very important that without exception Scotty downriggers are simple to operate, they are very easy to control. This requires a minimum of action, and manipulation with it is completely safe.
Cannon Manual Downrigger
Cannon is a brand that has been producing excellent downriggers according to many anglers since 1979. Their company is located in Wisconsin. Their devices are popular with anglers who fish in the great lakes, as well as the east coast of the United States. These devices will help you get more fish out of the water. This brand has a unique development of downriggers combined with Humminbird sounders. Such a system allows you to bend around the bottom irregularities during trolling.
How to Use a Downrigger

It's important to approach the installation of the downrigger responsibly. An inconvenient and improperly installed device in a turbulent sea will turn into a useless thing. The first thing is to set a convenient height for working with the device. You shouldn't bend too low when handling loads. Convenient working height is at the level of the belt.
The second is to make a free space of at least 0.5 m to the left and right of the center of the downrigger. It will be necessary to control the downrigger mainly on the left side. The third condition is the reliability of the mount. Weak points should be avoided during installation and in no case should the downrigger be mounted on loosely fixed rails without additional supports and reinforcements.
The scheme of using downrigger for trolling:
Connect the fishing line to the downrigger cable with a clip.
Lower the downrigger load to the selected depth.
After biting, the fishing line is released from the clip and signals that it is necessary to drag the fish.
When the fish attacks the bait, it yanks behind the line, which is released from the clip mounted on the cable of the downrigger. The load on the link decreases sharply, and the rod, trying to straighten, cuts the fish. Now the fisherman can only take the spinning in his hands and begin to hunt the captured trophy.
Manual or Electric Downriggers
Both devices have a place to be. The selection depends on your goals and at what depth you will fish. If you fish up to 75 feet deep then a manual downrigger is a great option for you. You will save money and get a great result. Such devices are easy to use, but they will take you more time and effort to use than electricity.
But electric downriggers allow you to troll at great depths and at the same time it works quickly. And you don't need to make a lot of effort. The only thing you need for this is the power source for the device. And of course, such downriggers are much more expensive than manual ones. Also, their service isn't cheap.

What Type of Fish Are Caught with Downriggers?
As a rule, the most popular types of fish are zander, salmon, mackerel, sea bass, halibut. Although halibut and sea bass are less common than others. I  managed to catch with this device fish such as striped perch and brown trout. The most popular manual downriggers. These are the models that work great and have excellent reviews from fishermen on Amazon.
Top 12 Best Manual Downrigger – Editor'S Choice
| Image | Product | Brand | Link |
| --- | --- | --- | --- |
| | Scotty #1073DP Laketroller Manual Downrigger, Post Mount, Display Packed BLACK, Small | Scotty | |
| | Cannon Uni-Troll Manual Downrigger, 10 STX | Cannon | |
| | Scotty #1060 Depthking Manual Downrigger, Display Packed w/ Rod Holder | Scotty | |
| | Walker Downriggers USA-Made Mini Laker Manual Downrigger, Silver | Walker Downriggers | |
| | Scotty #1050 Depthmaster Manual Downrigger, Display Packed w/ Rod Holder, BLACK, 23" | Scotty | |
| | Seahorse Manual Downrigger with Gimbal Mount by Troll-Master | Seahorse | |
| | Cannon 1901200 Mini-Troll Manual Downrigger | Cannon | |
| | Boating Accessories New Lake Troll Manual Downrigger Cannon Downriggers 1901250 Lake Troll Downrigger | Canon | |
| | Brocraft Minin Manual Downrigger/Small Boat Easy Catch Lake-Troll Manual Downrigger/Kayak Downrigger | Brocraft | |
| | Scotty #1091 Longarm Manual Downrigger w/ 60-Inch Telescopic Boom Combo Pack | Scotty | |
| | 1 - Cannon Uni-Troll 10 STX Tournament Series Manual Downrigger | Cannon | |
| | Cannon 1901250 Lake Troll Manual Downrigger Black | Cannon | |
1# Scotty #1073DP Laketroller Manual Downrigger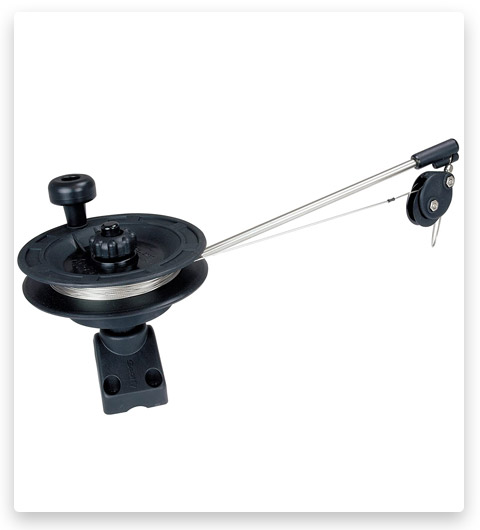 This is one of Scotty's finest manual downriggers. It can be installed on a boat or the side of the canon. The trolling device can be used at depths of up to 30 meters with a load of up to 2 kg. Do it with the mounting brackets. It is made of high-quality materials, so it is durable and reliable.
The device allows you to go down to the necessary depth and helps to catch hard-to-reach fish such as salmon. Downrigger has a rather long boom. It is equipped with a small diameter coil without a counter. It has a small size of the extension boom because in a small boat the fisherman will have to work with the device from a sitting position. So he will be able to freely reach its top and cope with all the actions associated with installing the cargo and placing clips with baits for trolling. You don't need to spend a lot of money. This device works as it should at an affordable price.
2# Cannon Uni-Troll Manual Downriggers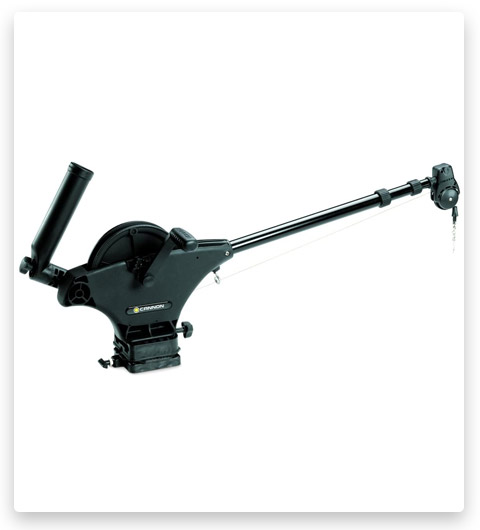 This manual downrigger is well made and durable enough to be used for trolling fishing. You can adjust the fishing rod holder from side to side, as well as front and rear. The boom is made of stainless steel and has a length of up to 53 inches. Stainless steel is a good and durable material for fishing equipment. The device will last for many years as the material prevents the appearance of corrosion and rust. This manual device doesn't require a source of power. This makes it easy to use. You can find out the depth on the display. It's comfortable. This downrigger has an extraction speed of 2: 1. The end of the boom is closed. This prevents the line from jumping.
3# Scotty #1060 Depthking Manual Downrigger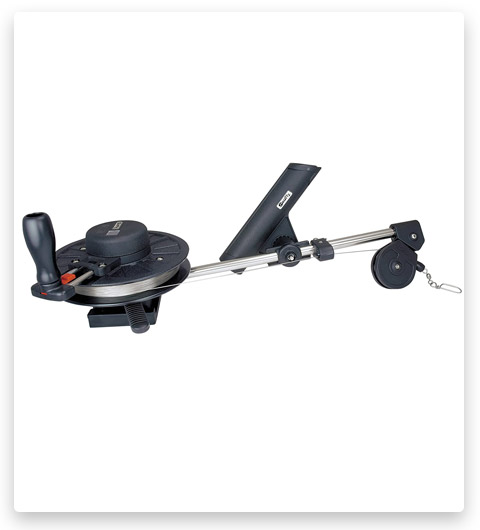 You will get a larger diameter coil equipped with a retractable handle to facilitate lifting. Suitable for medium-sized boats when trolling at great depths, when rapid lifting and lowering of cargo is required. The basic equipment of the device includes a coil braking system equipped with a counter for releasing a cable with a load, a cargo clip, a platform for installing a downrigger on a flat surface for quick dismantling, and one trolling rod holder located on the boom. The Scotty 1060 boom can be lifted vertically, which greatly facilitates the handling of loads, clips, and lures and provides a reach for the hand.
4# Walker Downriggers Mini Laker Manual Downrigger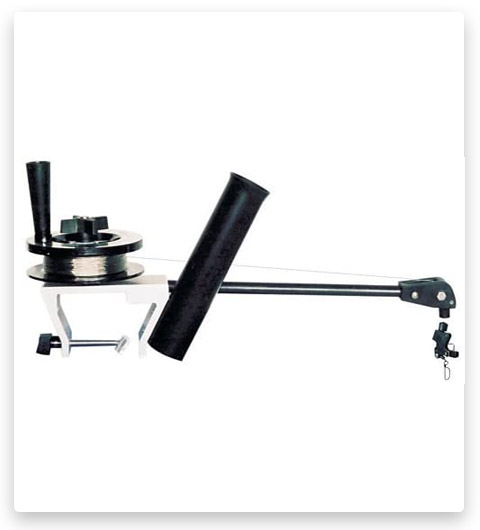 This is a compact device that is suitable for installation on a boat. Moreover, the installation doesn't take you much time and effort. Due to its size, the downrigger can be installed even on a too-small boat. Use it both in freshwater and in saltwater. This will not affect its durability. The device has 1 foot per extraction stroke with a load capacity of 6 pounds.
5# Scotty #1050 Depthmaster Manual Downrigger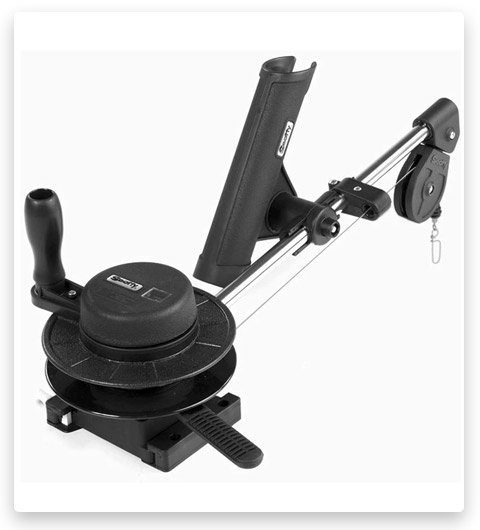 This is a compact trolling device for small and medium boats at depths of up to 50 meters. This downrigger is already equipped as standard with a flat surface mount system and a spinning holder. The device has a stainless steel boom. The material indicates the durability of the product. Scotty 1050 is equipped with a counter showing the depth at which the downrigger load is located. It also gives you the opportunity to find out the location of the bait.
6# Seahorse Manual Downrigger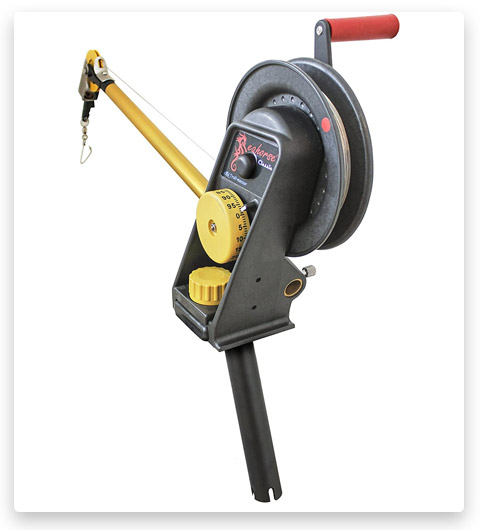 Downrigger that allows you to accurately measure depth thanks to a quality depth gauge. Therefore, you can lower the bait to the desired depth and maintain it throughout the process. The device works equally well in salt and freshwater thanks to quality materials. It is easy to use. Thanks to the drag and drop system, you can lower and stop the load with one hand. Together with the device, you will also receive a gimbal mount. This is a reliable downrigger for trolling!
7# Cannon Mini-Troll Manual Downrigger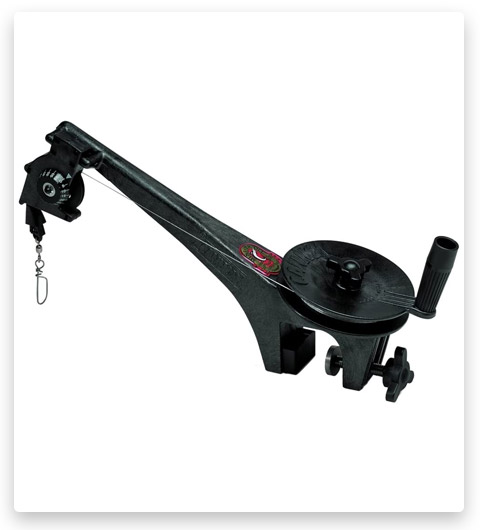 This model is equipped with a horizontal coil and a steel cable. Designed for loads up to 1.8 kg and can be used in saltwater. The device is rated at 4 lbs. This is a simple device that you can use both on boats and on kayaks or canoes. It has a fairly compact size and depth counter. This is a good device for a great price for trolling fishing!
8# Boating Accessories New Lake Troll Cannon 1901250 Manual Downrigger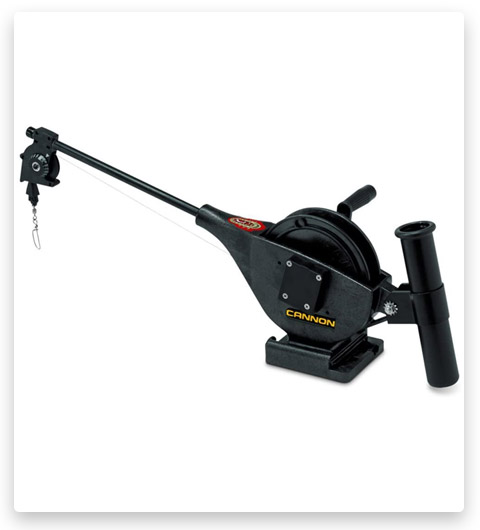 Allow yourself to enjoy even more trolling fishing with this downrigger. Its carrying capacity is 8 pounds and it has a composite spool. If you have a small boat, then this device will fit perfectly into it. A downrigger is equipped with a brake system and a clutch. You can control weight loss with even one hand!
9# Brocraft Minin Manual Downrigger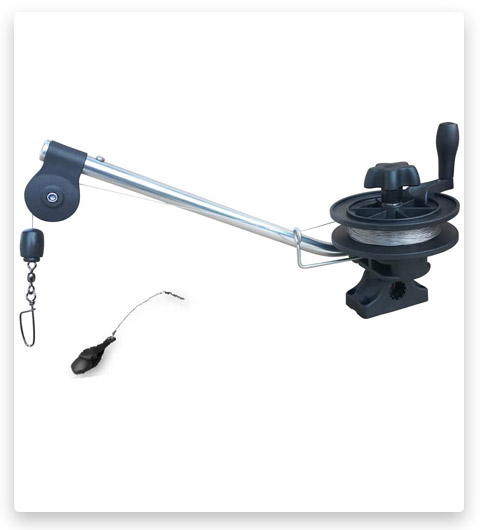 Reliable design that allows you to improve your fishing! This device will help you catch deeper than usual. The boom is made of aluminum, which resists corrosion. Its length is 16. The device comes with a release line. Downrigger comes with an already wound 100-pound braided wire. It is made of stainless steel. However, it is recommended to use it with a weight of not more than 5 pounds. Remember that the device doesn't have a counter.
10# Scotty #1091 Longarm Manual Downrigger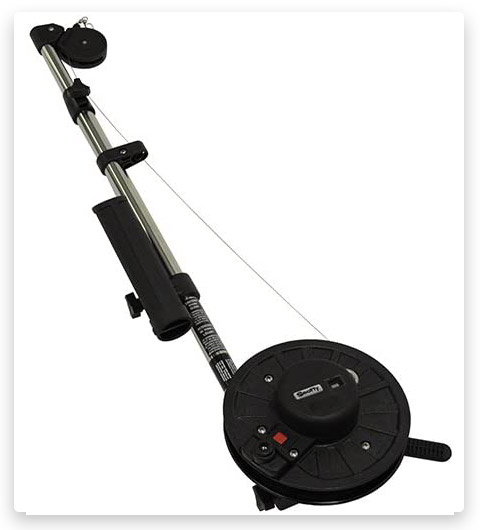 Universal downrigger Scotty 1091 is equipped with a larger diameter cable reel with a retractable handle, as well as an arrow, adjustable to 152 cm in length. This model is designed for trolling fishing on boats of medium and large sizes at depths of up to 50 m. Like many other Scotty models, the downrigger is equipped with a brake, the control lever of which is located next to the reel.
Using such a friction brake, it is possible to smoothly control the speed of lowering the load, which minimizes the likelihood of entanglement of gear in most cases when trolling uses a number of lures placed with clips on the cable. The counter of the length of the cable is located on the reel( in a conspicuous place). There is a button to reset the readings. A free rod holder is mounted on its remote boom. It reduces the trolling player the need to install extra holders on the boat.
11# Cannon Uni-Troll 10 STX Tournament Series Manual Downrigger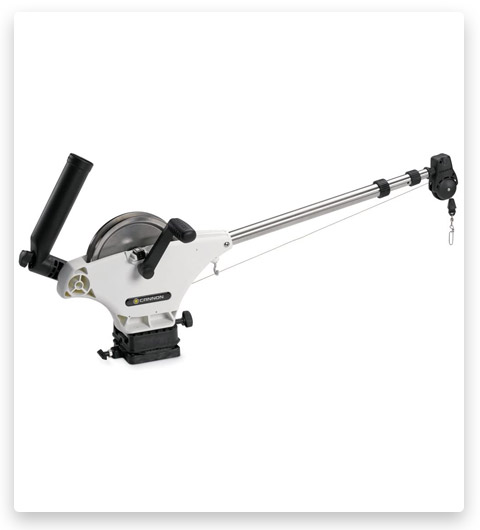 Manual downrigger in white from the famous Cannon brand. The fishing rod holder is adjustable in different directions. The device has a spool, which is made of stainless steel. You can control weight loss with one hand. A quality product according to many avid fishermen!
12# Cannon Lake Troll Manual Downrigger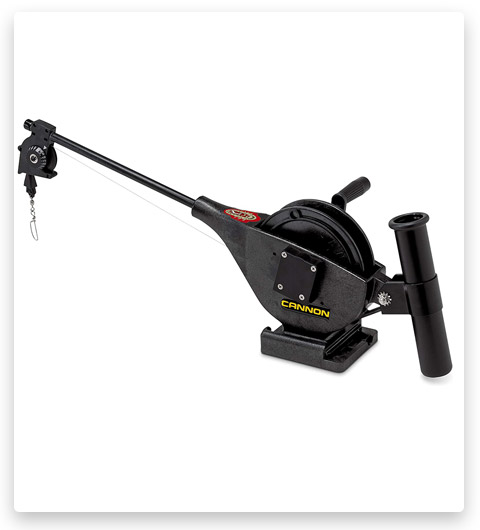 This Cannon Lake-Troll manual downrigger is equipped with a vertical reel and a safety latch in the reel handle, which allows you to raise and lower loads with one hand. Quick-detachable mount, swivel depth counter, 46 cm long boom, rod holder. It allows you to adjust the angle of the rod without much effort.
Conclusion
A downrigger is a modern device that helps the fisherman measure the exact depth during trolling! Finally, you can catch the long-awaited trophy! In this article, I have shown you the best manual models on the market! With their help, trolling fishing will become much more efficient and comfortable.
Tags: #best manual downrigger / #best manual downrigger for small boat / #best price on a uni-troll manual downrigger / #cannon downriggers / #what is the best manual downrigger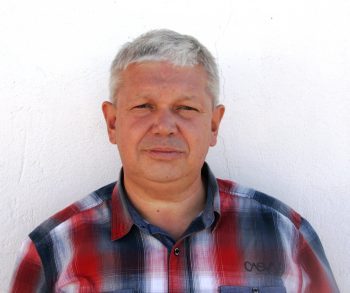 Sergio Smirnoff
Professional fisherman with 40+ years of experience.
Fishing and the ocean is a passion of my life. I am passionate about all kinds of sea fishing: fishing from the shore (spinning, float, baitcasting), from a boat, and spearfishing day and night.
I live in Tenerife (Canary Islands) for the last 10+ years and share my daily fishing experiences on my website. Many years of personal experience as a fisherman and the vast experience of my friends allow me to write professionally on any fishing topics (from choosing a flashlight and equipment to deep-sea fishing).
All of my advice is based on practical real-world experience and will be useful to both novice anglers and professionals.
Read more
about the author.
Affiliate Disclosure: FishReeler.com sometimes gets paid for listings, through sponsors or affiliate programs like Amazon, Ebay, Cabelas, Bass Pro Shop, Shimano, Daiwa, Rapala, Renn, Okuma, KastKing, etс. Clicking a link helps keep FishReeler.com free, at no extra cost to you!
About the author: Each article is verified by the fishing expert Sergio Smirnoff. The articles are written by professional and amateur fishermen with 20+ years of fishing experience.
Note: The views and opinions expressed in this article are those of the authors and do not necessarily reflect the official policy or position of any agency. The articles are for informational purposes only, share your opinions in the comments and join the fishing discussions, let's share our fishing experiences together!