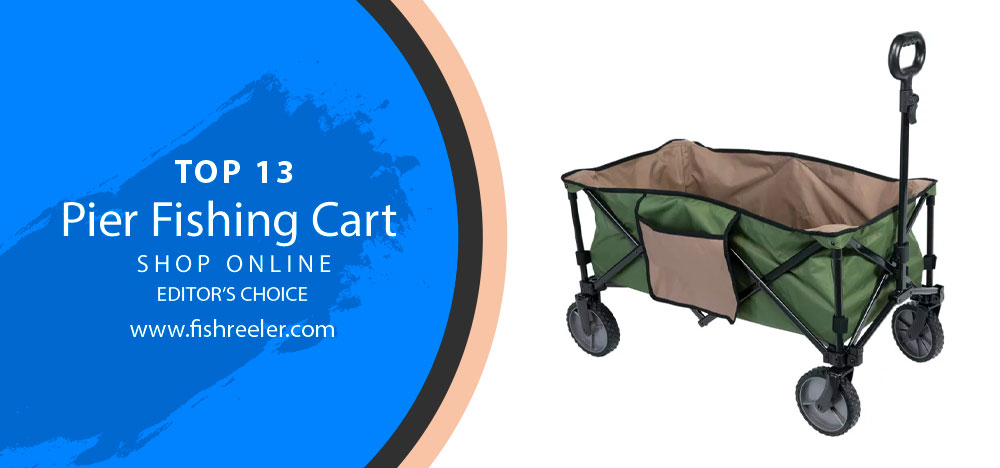 Maximizing Your Pier Fishing Experience: The Ultimate Guide to Fishing Carts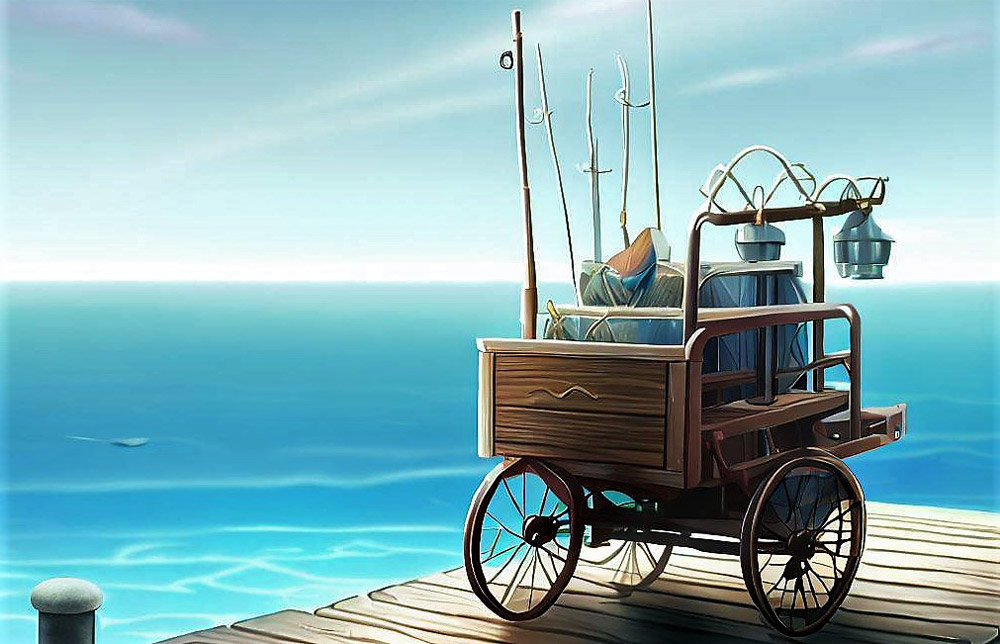 Pier fishing carts have become an essential piece of equipment for avid anglers, offering a level of convenience and efficiency that is unmatched. These carts are specifically designed to assist in carrying and organizing fishing gear while fishing from a pier, making it easier to focus on the task at hand: catching fish. With a pier fishing cart, anglers can enjoy a stress-free and productive day by the water, without having to worry about juggling multiple bags or struggling with heavy equipment.
Unlock the Full Potential of Pier Fishing: Discover the Power of Fishing Carts!
Some of the main benefits of using a pier fishing cart include increased convenience, better organization, and ultimately, enhanced productivity. By consolidating all of your gear into one easy-to-transport unit, you'll save time and energy that can be better spent enjoying your favorite pastime. In addition, a well-organized fishing cart allows you to quickly access the items you need, so you can spend more time fishing and less time searching for that elusive piece of tackle.
In this article, we will dive into the world of pier fishing carts, exploring their essential features, comparing the top models on the market, and offering expert tips on maximizing your cart's utility. We will also discuss must-have accessories to boost your cart's convenience and functionality, ensuring you have the best possible experience on your next pier fishing adventure.
Top 13 Pier Fishing Carts for Every Angler: Transform Your Fishing Experience Now!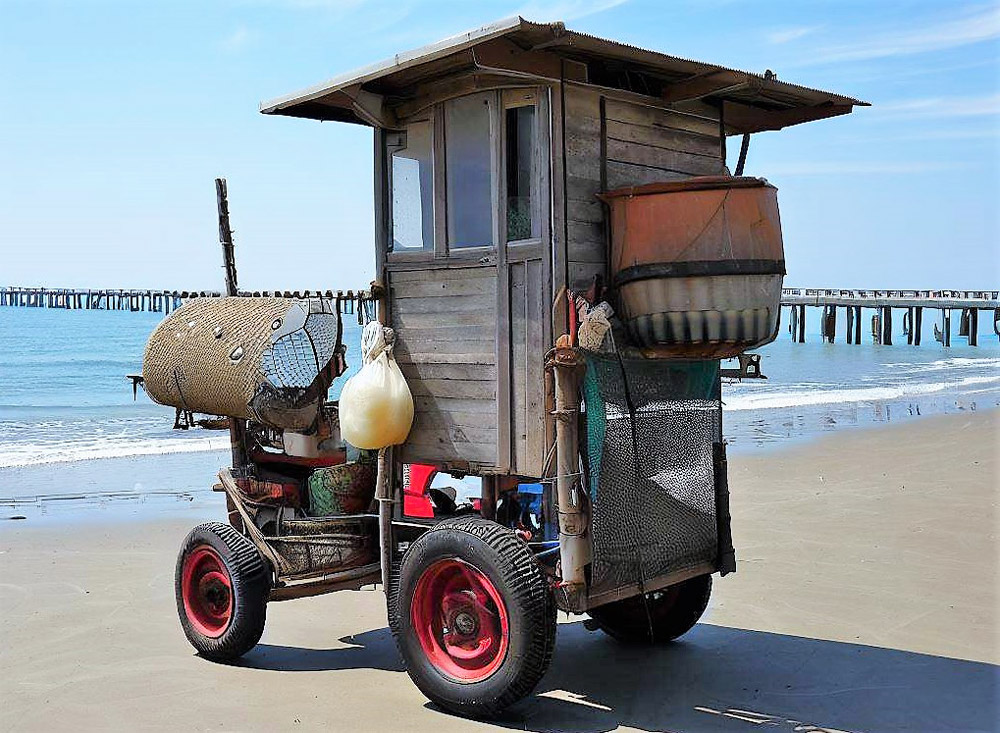 Pier fishing is an enjoyable and relaxing pastime for many anglers, but transporting all the necessary gear can be cumbersome. A pier fishing cart is a perfect solution for this problem, as it helps you easily carry your fishing equipment to and from your favorite spot.
In this review, we will discuss the essential features of a pier fishing cart, including durability and materials, wheel design and maneuverability, weight capacity and storage options, rod holders and accessory attachments, and ease of assembly and disassembly.
1# Angler's Fish-N-Mate Standard Cart with Poly Wheels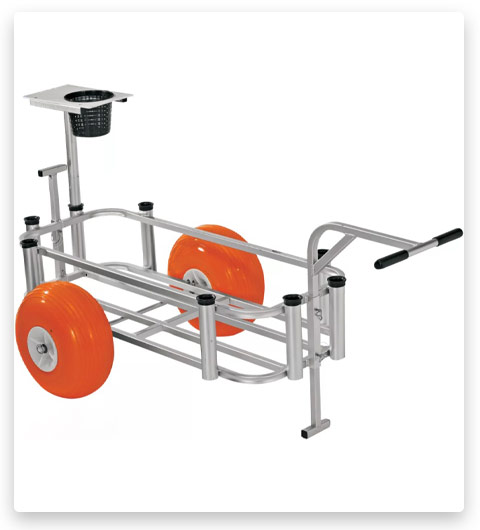 Looking for the perfect way to transport all your fishing gear to and from the water? Look no further than the Angler's Fish-N-Mate Standard Cart with Poly Wheels! This cart is designed to hold everything you need for a successful day of fishing, including up to eight rods and reels, a 48-72 quart cooler, a small bait cooler, a medium tackle box, lawn chairs, and an umbrella. The marine-grade anodised aluminium tubing and stainless steel hardware are built to resist corrosion, ensuring years of dependable performance. Plus, the large 15″ dia. x 7″W poly wheels make it easy to navigate through soft sand.
2# Great Day Hitch-N-Go Cart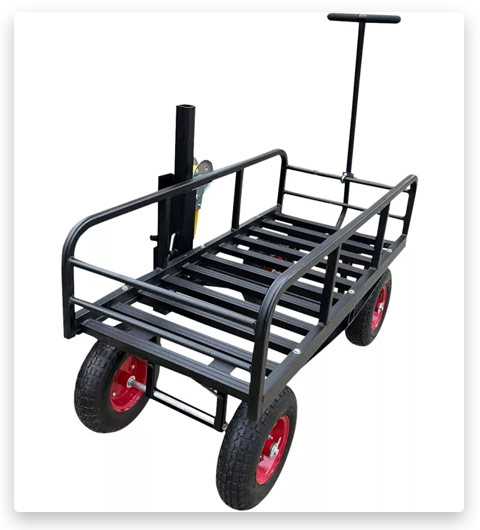 The Great Day Hitch-N-Go Cart is a must-have for anyone who needs an extra hand getting things done. With its welded-aluminium construction and powder-coat finish, this cart is built to last. It easily fits through most doorways and has a tight turning radius, making it perfect for manoeuvring in small spaces. Plus, you can still access the tailgate or lift-gate on your vehicle with no problem. The Hitch-N-Go Cart is perfect for vacations, moving items around your yard, picking up items at your favourite store, or anytime you need an extra hand.
3# Offshore Angler Deluxe Beach Cart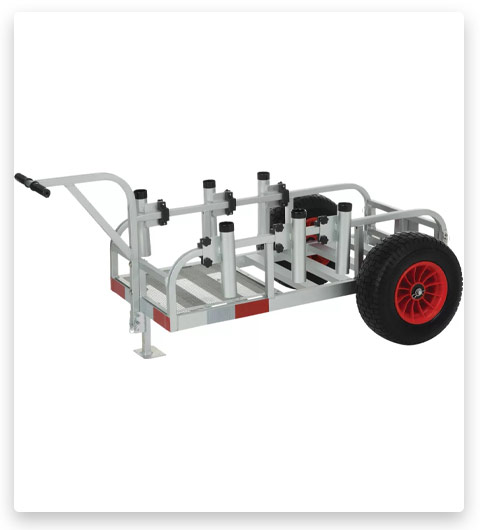 The perfect transport system for all your fishing gear! This lightweight, sturdy cart easily navigate sand and other tricky terrains. There's plenty of room for a 48-qt. cooler, 5-gal. bucket, and tackle bag, plus six adjustable anodized aluminium rod holders. The easy-gripping handle and large foam-filled tires make it a breeze to manoeuvre, even when loaded down with heavy gear.
4# Rio Brands Wonder Wheeler Wide Gear Cart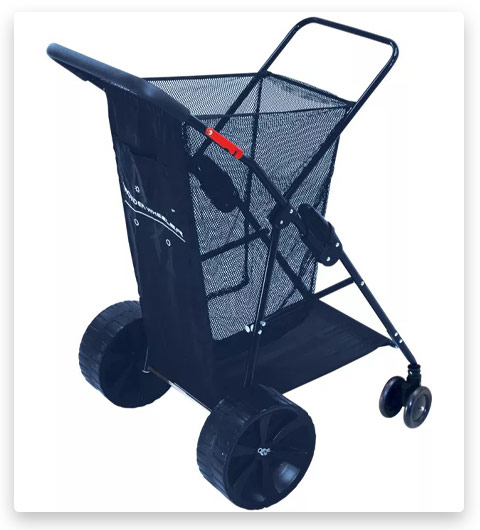 The Rio Brands Wonder Wheeler Wide Gear Cart is good for transporting your camping, fishing, or sporting gear. With its durable steel frame and wide rear wheels, it can easily roll over multiple surfaces. The fast-drying open-mesh storage compartment is perfect for storing wet towels or clothes, while the front bar can be used to stack beach chairs. With a capacity of up to a 48-qt. cooler, this cart has enough space to haul all of your gear.
5# Bass Pro Shops Eclipse Multi-Function Cart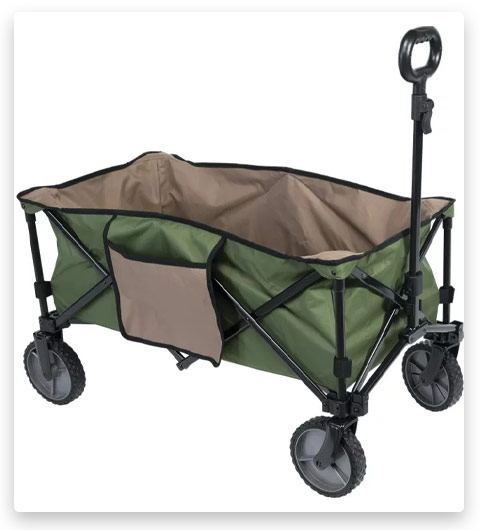 Looking for a versatile and durable yard cart? Check out the Bass Pro Shops Eclipse Multi-Function Cart! This rugged cart is built to last, with a strong steel frame and powder-coated finish that can handle up to 180 lbs. Plus, the unique quad-fold design makes set-up and take-down a breeze. The 100% polyester fabric is water-resistant, making it ideal for hauling wet gear or gardening supplies. And the ergonomic rubber-moulded handle ensures smooth and easy rolling. Whether you're headed to the beach or just working in the yard, the Bass Pro Shops Eclipse Multi-Function Cart is a great choice.
6# Angler's Fish-N-Mate Cart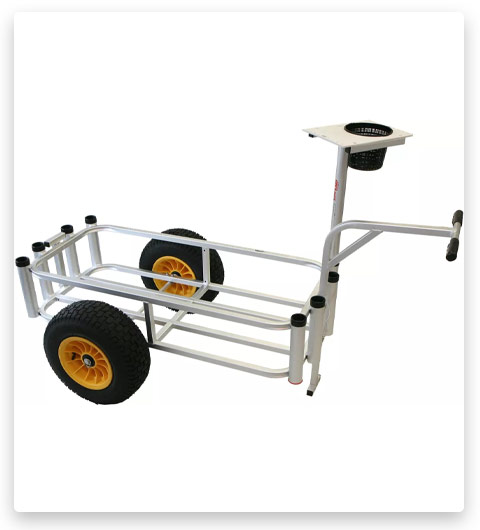 The Angler's Fish-N-Mate Cart is perfect for the beach, pier, or home use. This cart easily transports 8 rods and reels, a 48–72-qt. cooler, 1 smaller cooler, 1 tackle box, lawn chairs, and an umbrella. The detachable handle, 16″ tires, stabilizer legs, and vinyl rod tube covers make transport smoother than you ever thought possible. Plus, the included food-grade cutting board with a removable bucket makes prepping your catch a breeze. So don't go fishing without the Angler's Fish-N-Mate Cart.
7# Sea Striker BRSC Beach Runner Fishing and Beach Cart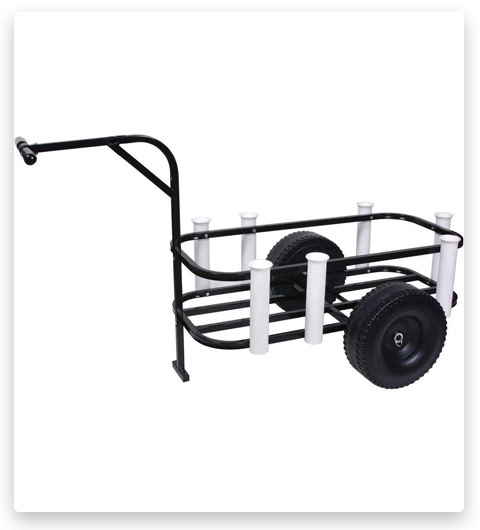 Looking for a versatile piece of equipment that can help you transport all your beach gear? Look no further than the Sea Striker BRSC Beach Runner Fishing and Beach Cart. This cart is made with heavy-duty construction and comes equipped with seven durable PVC rod holders, making it the perfect choice for fishing enthusiasts. It also features wide surface plastic wheels that make it easy to transport your gear from the car to the beach. So don't go another day struggling to carry everything you need – get the Sea Striker BRSC Beach Runner Fishing and Beach Cart today!
8# Drifter Marine Pier Cart Combo with Cutting Board System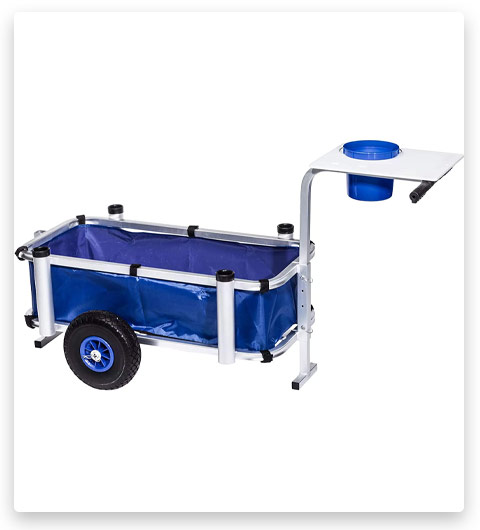 The Drifter Marine Pier Cart Combo with Cutting Board System is a great value for anyone who loves spending time on the water. The Combo includes the light, strong, and spacious Drifter Marine Pier Cart that can hold 125 lbs. of cargo and resists corrosion; a custom Cart Liner with a mesh bottom that keeps small items safely contained while allowing sand to escape; and the snap-on, handle-mount Drifter Marine Cutting Board with a dual-bucket design that eliminates the mess of cutting bait while keeping it fresh. This is ideal for saltwater environments!
9# Anglers Fish-N-Mate 310 Lg Cart with Poly Wheels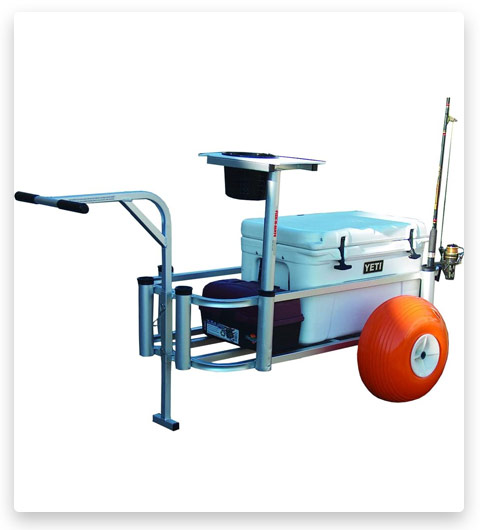 The Fish-N-Mate 310 cart with poly wheels is perfect for beach, pier and home fishing. This heavy-duty cart easily transports all your gear from the truck to your fishing spot or changes locations while keeping everything you need close at hand. The detachable handle, 15-inch tires and stabilizer legs make it easy to use and transport.
10# Generic Fishing Beach or General Usage cart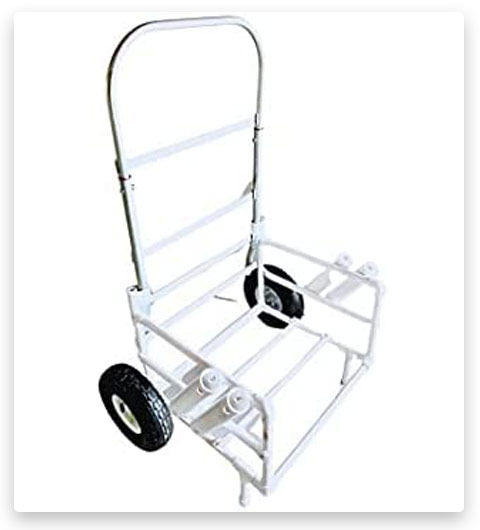 This General Usage Fishing Cart is perfect for hauling your fishing gear, beach supplies, or whatever else you need to transport! It's made of durable PVC and galvanized steel, has 4 PVC rod holders and folds down for easy transport and storage. It also has 10″ pneumatic tires for easy mobility.
11# Seina Manual 150 Pound Steel Frame Folding Garden Cart Beach Wagon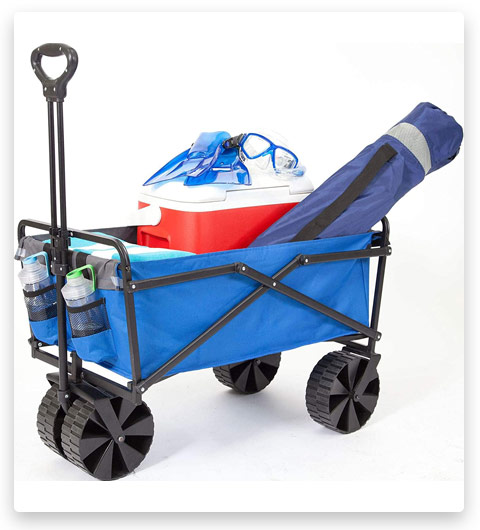 Looking for a beach or garden cart that can handle your heaviest items? The Seina Manual 150 Pound Steel Frame Folding Garden Cart Beach Wagon is perfect for you! With a whopping 150 pounds of weight capacity, this cart can easily transport your valuables. It features a durable steel frame and plastic wheels, making it a breeze to push over uneven ground or sand. Plus, the collapsible design makes storage a breeze. So don't wait any longer, get your hands on the Seina Manual 150 Pound Steel Frame Folding Garden Cart Beach Wagon today!
12# Elkton Outdoors Rolling Fishing Tackle Box Waterproof Storage Bag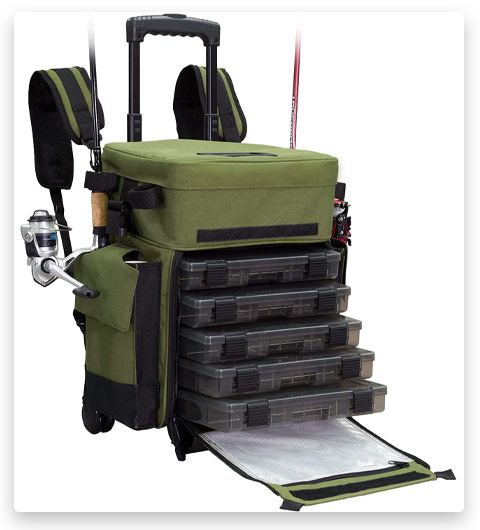 Elkton Outdoors Rolling Tackle Box with Wheels is a durable, waterproof, light, compact, and convenient option for transporting your fishing gear. The box features a padded and adjustable top storage compartment and five 3600 size, 18 compartment tackle trays to store all of your gear. The tough fabric and durable zippers make this roller box able to hold up to 26.5 pounds. The handle can be extended to use as a rolling tackle box or retracted for easy transport in a vehicle.
13# Harbor Mate Fishing and Beach Cart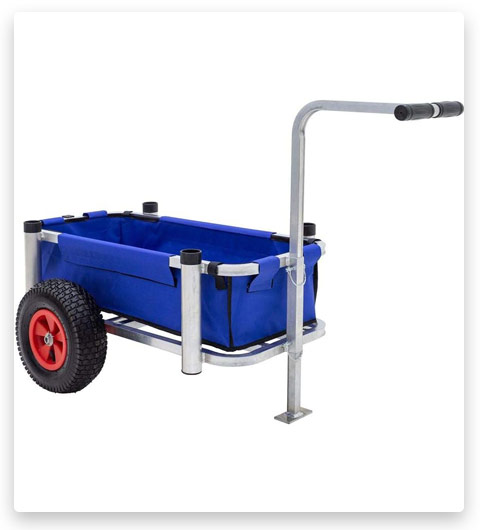 The Harbor Mate Fishing and Beach Cart is the perfect solution for anyone who loves to fish or spend time at the beach. The detachable fabric liner protects your gear from the elements, while the aluminium frame ensures durability and stability. The 13″ balloon wheels make it easy to manoeuvre over sand and other terrain, and the four fishing rod holders provide plenty of space for your tackle. The front foot can be adjusted to provide stabilization at your destination, and the rubber-coated handles provide a comfortable grip and easy steering.
Essential Features of a Pier Fishing Cart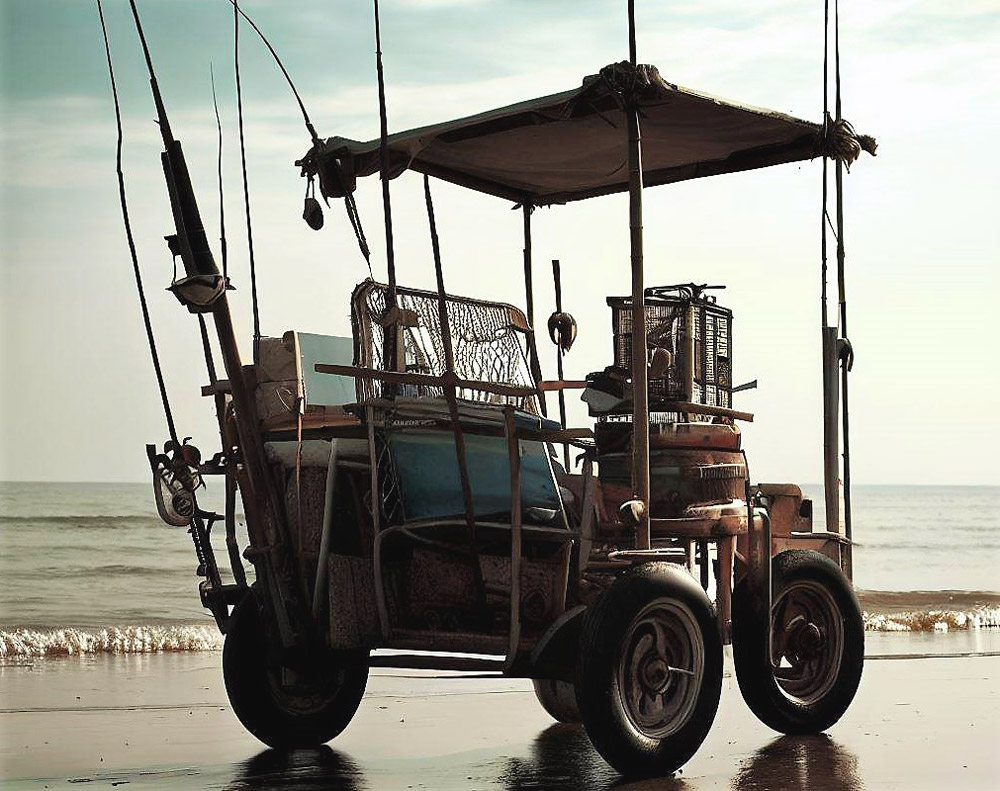 The Perfect Fishing Cart Checklist: Top Features Every Angler Needs to Consider!
| Feature | Explanation |
| --- | --- |
| Durability and Materials | When selecting a pier fishing cart, the first thing to consider is its durability. Look for carts made from high-quality materials such as aluminum, stainless steel, or heavy-duty plastic, which can withstand harsh weather conditions, saltwater exposure, and heavy loads. These materials not only provide long-lasting performance but also help prevent rust and corrosion. |
| Wheel Design and Maneuverability | A well-designed wheel system is crucial for smooth transportation across various terrains. Opt for carts with wide, pneumatic wheels that can easily handle sand, gravel, and uneven surfaces without getting stuck or bogged down. Additionally, a cart with swiveling front wheels can provide better maneuverability, making it easier to navigate tight spaces and sharp turns. |
| Weight Capacity and Storage | Consider the amount of gear you typically bring on your fishing trips, and choose a cart with a weight capacity and storage space that can accommodate your needs. Some carts offer multiple shelves or compartments to help organize your tackle, bait, and other equipment, while others provide a large, open space for bulkier items. Ensure the cart has sturdy and adjustable straps to secure your gear during transport. |
| Rod Holders and Accessory Attachments | A good pier fishing cart should have built-in rod holders to keep your fishing rods secure and easily accessible. Look for carts with multiple rod holders to accommodate your collection, as well as attachment points for other accessories like umbrellas, bait trays, and cup holders. This will allow you to customize your cart to suit your specific needs and preferences. |
| Ease of Assembly and Disassembly | A good pier fishing cart should be easy to assemble and disassemble, allowing for quick and efficient setup and breakdown. Look for a cart with a straightforward assembly process, requiring minimal tools and time. Some carts even feature tool-less assembly, making the process even more accessible. The cart should also disassemble easily, allowing for compact storage and transport when not in use. |
Best Pier Fishing Carts in the Market: A Comprehensive Comparison and Guide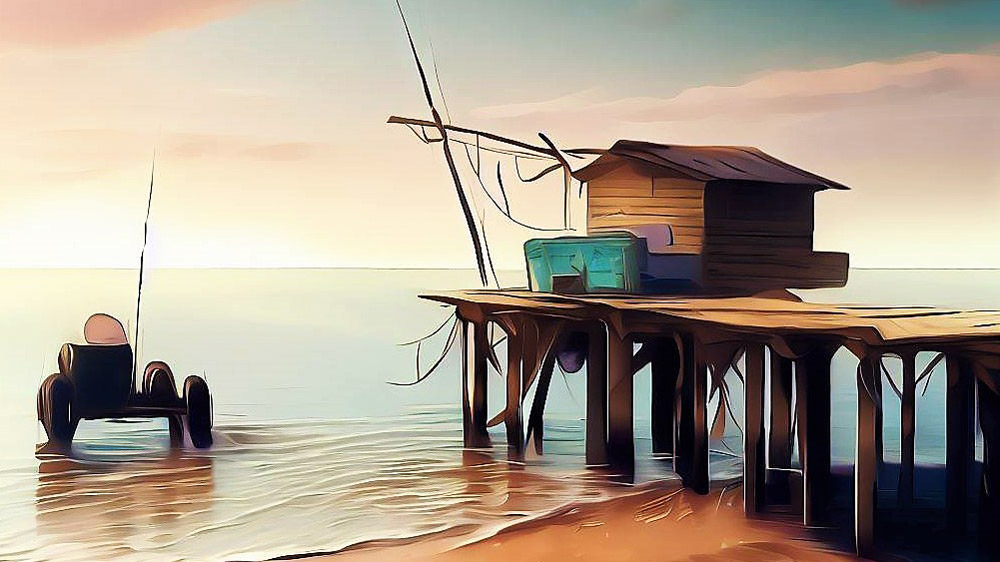 In our previous section, we discussed the essential features of a pier fishing cart. Now, we will present a curated list of top pier fishing carts available in the market, comparing their features, benefits, and price points. We will also offer recommendations for different types of anglers, including beginners, experienced anglers, and budget-conscious buyers.
Top Pier Fishing Carts in the Market
💥Fish-N-Mate Senior Fishing Cart
Features and Benefits:
Made from lightweight, corrosion-resistant aluminum
Large, wide pneumatic tires for easy maneuverability on sand
200 lb weight capacity
8-rod holders and multiple attachment points for accessories
Collapsible design for easy storage and transport
Price: $$$
User Reviews: Highly rated for durability, ease of use, and ample storage capacity.
Recommended for: Experienced anglers looking for a high-quality cart with all the essential features.
💢Sea Striker Deluxe Pier Fishing Cart
Features and Benefits:
Powder-coated steel frame for added durability and corrosion resistance
Solid wheels suitable for various terrains
150 lb weight capacity
7-rod holders and additional attachment points for accessories
Removable bait cutting board and storage compartments
Price: $$
User Reviews: Praised for its sturdy construction, easy assembly, and practical design.
Recommended for: Budget-conscious anglers who want a reliable cart with essential features at an affordable price.
🎆Berkley Fishing Cart
Features and Benefits:
Lightweight, corrosion-resistant aluminum frame
Large, durable fabric storage area
200 lb weight capacity
6 removable rod holders
Collapsible design for compact storage and transport
Price: $
User Reviews: Users appreciate the cart's lightweight design, affordability, and storage capacity but note that it may struggle on soft sand due to its wheel design.
Recommended for: Beginners or occasional anglers looking for a simple, affordable, and functional cart.
✨Wheeleez Beach Cart
Features and Benefits:
Strong, corrosion-resistant aluminum frame
Large, balloon-style wheels designed for easy rolling on the sand
220 lb weight capacity
4 rod holders and attachment points for accessories
Detachable wheels and collapsible design for compact storage and transport
Price: $$$$
User Reviews: Highly praised for its excellent performance on sandy terrain and ease of use.
Recommended for: Anglers who frequently fish on sandy beaches and require a cart specifically designed to handle such conditions.
Tips for Maximizing Your Pier Fishing Cart's Utility
Owning a pier fishing cart greatly enhances your fishing experience by making it more convenient and enjoyable. However, to get the most out of your fishing cart, it's essential to know how to use and maintain it properly. In this section, we will provide practical tips and advice on how to maximize your pier fishing cart's utility, including efficiently organizing and packing your gear, proper maintenance and cleaning, safety tips for loading and unloading, and customizing the cart to suit your specific needs.
Master Your Fishing Cart: Expert Tips for Organizing, Maintaining, and Customizing!
Efficiently Organizing and Packing Your Gear
To make the most of your fishing cart's storage capacity, it's crucial to pack your gear efficiently. Use the cart's built-in compartments, shelves, and attachment points to keep your items organized and secure. Store heavy items, such as coolers and tackle boxes, at the bottom of the cart to lower its center of gravity and improve stability. Make use of cargo nets or bungee cords to secure loose items, preventing them from falling off the cart while in motion.
Proper Maintenance and Cleaning of the Cart
Regular maintenance and cleaning of your fishing cart will prolong its life and ensure optimal performance. After each fishing trip, rinse the cart with fresh water to remove salt, sand, and debris, paying particular attention to the wheels and moving parts. Periodically check the cart for signs of wear, corrosion, or damage, and address any issues promptly. Lubricate the cart's wheel axles and other moving parts with a corrosion-resistant lubricant to ensure smooth operation.
Safety Tips for Loading and Unloading the Cart
When loading and unloading your fishing cart, always prioritize safety. Distribute the weight evenly across the cart to maintain stability and prevent tipping. Do not exceed the cart's weight capacity, as this may result in damage or injury. When lifting heavy items, use proper lifting techniques to protect your back and avoid strain or injury. Be cautious when navigating uneven terrain or steep inclines, and always secure your cart when parked to prevent it from rolling away.
Customizing the Cart to Suit Your Specific Needs
Every angler has different preferences and requirements, so customizing your pier fishing cart can help you get the most out of it. Consider adding aftermarket accessories, such as additional rod holders, bait buckets, cutting boards, or cup holders, to enhance your fishing experience. You can also modify the cart's wheel design to better suit the specific terrain you frequently encounter. If you require more storage space, consider adding cargo nets or additional compartments to keep your gear organized and secure.
Must-Have Accessories for Your Pier Fishing Cart
A well-equipped pier fishing cart can significantly improve your fishing experience by providing convenience and organization. In this section, we will introduce a list of recommended accessories that can enhance your fishing cart's functionality and convenience, including bait trays and cutting boards, drink holders, tackle storage solutions, additional rod holders, and cart covers.
Accessorize for Success: Top Add-Ons to Boost Your Fishing Cart's Convenience and Functionality!
Bait Trays and Cutting Boards
A bait tray or cutting board is a useful accessory for your pier fishing cart, providing a clean and stable surface for preparing bait and cutting fish. Look for a cutting board with a non-slip surface and a groove around the edge to prevent liquids from spilling onto your cart. Some cutting boards even come with built-in knife holders or slots for other tools, adding convenience and organization to your cart.
Drink Holders
Having a drink holder attached to your pier fishing cart can keep your beverages secure and easily accessible, making your fishing experience more enjoyable. Choose a drink holder with adjustable clamps or mounting brackets that can be easily attached to the cart's frame. Some drink holders even have insulation to keep your beverages cold on hot days.
Tackle Storage Solutions
Proper tackle storage is essential for keeping your gear organized and easily accessible. Consider adding tackle boxes, storage trays, or pouches to your fishing cart to store your lures, hooks, and other small items. Look for storage solutions with adjustable compartments or removable dividers, allowing you to customize the layout to fit your specific needs.
Additional Rod Holders
If your pier fishing cart does not have enough built-in rod holders or you require more, consider adding aftermarket rod holders to accommodate all your fishing rods. Choose rod holders with adjustable clamps or mounting brackets that can be easily attached to the cart's frame. Some rod holders even feature locking mechanisms to keep your rods secure while in transit.
Cart Covers
A cart cover can protect your fishing gear from the elements and keep it clean and dry while on the pier. Look for a cart cover made from durable, water-resistant material, such as heavy-duty polyester or vinyl. Ensure the cover has a secure fit, with adjustable straps or drawstrings to keep it in place during windy conditions.
FAQ: Master Pier Fishing with the Ultimate Cart
Conclusion: Revolutionize Your Pier Fishing Experience with the Perfect Cart
Throughout this comprehensive guide, we have discussed the essential features of a pier fishing cart, explored top models available in the market, shared tips for maximizing your cart's utility, and suggested must-have accessories to enhance your cart's functionality and convenience. Investing in a pier fishing cart offers numerous benefits, including improved organization, easy transportation of gear, and a more enjoyable and efficient fishing experience.
Find the Ideal Cart and Unleash Your Angling Skills!
When selecting the perfect pier fishing cart for your fishing adventures, carefully consider your needs, preferences, and the specific conditions you frequently encounter. Keep in mind factors such as durability, wheel design, weight capacity, storage options, and ease of assembly, as well as the potential for customization with accessories. By making an informed choice, you can ensure that your fishing cart will serve you well for many fishing trips to come.
Transform Your Pier Fishing Experience
We've highlighted some of our top-rated pier fishing carts and provided an overview of what you can expect from each one. Hopefully, this buyer's guide has helped you narrow down your search and find the perfect pier fishing cart for your needs!
We invite our readers to share their experiences, tips, and favorite fishing cart models in the comment section below. Your insights and recommendations can help fellow anglers make the best choice for their needs and enjoy a more convenient and enjoyable pier fishing experience.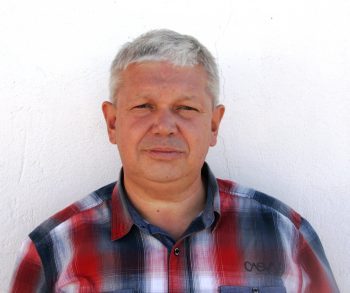 Sergio Smirnoff
Professional fisherman with 40+ years of experience.
Fishing and the ocean is a passion of my life. I am passionate about all kinds of sea fishing: fishing from the shore (spinning, float, baitcasting), from a boat, and spearfishing day and night.
I live in Tenerife (Canary Islands) for the last 10+ years and share my daily fishing experiences on my website. Many years of personal experience as a fisherman and the vast experience of my friends allow me to write professionally on any fishing topics (from choosing a flashlight and equipment to deep-sea fishing).
All of my advice is based on practical real-world experience and will be useful to both novice anglers and professionals.
Read more
about the author.
Affiliate Disclosure: FishReeler.com sometimes gets paid for listings, through sponsors or affiliate programs like Amazon, Ebay, Cabelas, Bass Pro Shop, Shimano, Daiwa, Rapala, Renn, Okuma, KastKing, etс. Clicking a link helps keep FishReeler.com free, at no extra cost to you!
About the author: Each article is verified by the fishing expert Sergio Smirnoff. The articles are written by professional and amateur fishermen with 20+ years of fishing experience.
Note: The views and opinions expressed in this article are those of the authors and do not necessarily reflect the official policy or position of any agency. The articles are for informational purposes only, share your opinions in the comments and join the fishing discussions, let's share our fishing experiences together!