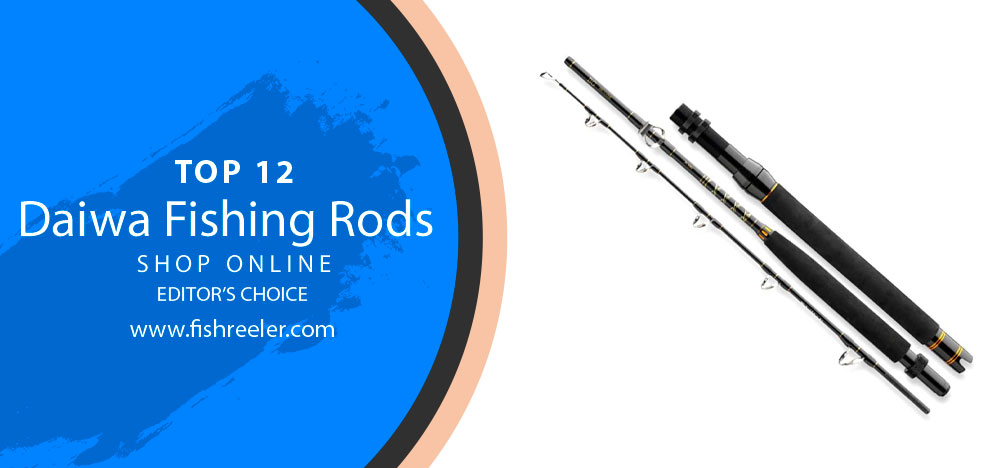 🎣 Why Daiwa is a Game-Changer in the World of Fishing 🎣
Have you ever wondered what sets apart a good fishing rod from an exceptional one? It's not just about the catch, but the journey from cast to reel. 🌊 Enter, Daiwa fishing rods.
Quick Summary
Top Reasons to Opt for Daiwa:
✅ Precision Engineered: Every Daiwa rod is crafted with unparalleled precision, ensuring you make every cast count.
✅ For Everyone: Whether you're a novice angler or a seasoned pro, Daiwa has the perfect rod tailored to your needs.
✅ Innovative Technology: Daiwa continuously redefines the boundaries with advanced fishing tech, guaranteeing smoother, longer casts.
✅ Legendary Durability: These rods aren't just built to perform, they're built to last. Say goodbye to wear and tear worries.
🔶 In a vast sea of fishing gear options, 🌟 Daiwa shines as the beacon of quality, innovation, and performance 🌟. So, if you're looking to elevate your fishing experience, there's no looking beyond Daiwa. Dive in and feel the difference! 🚀
Daiwa Fishing Rods: A Professional's Deep Dive into Excellence

The Daiwa Legacy: Tracing the Brand's Footprints
Established in 1958, Daiwa began its journey in a world where angling was more than just a hobby—it was a way of life. Over the decades, this Japan-born brand has steadily cemented its reputation, not just in its homeland but globally. Daiwa's commitment to quality, innovation, and user-centric design has been at the core of its success, making it a household name among fishing enthusiasts.
From Bamboo to Carbon: Charting Fishing Rod Evolution and Daiwa's Pioneer Role
The fishing rod, as a tool, has undergone a fascinating metamorphosis. From the rudimentary bamboo poles used centuries ago, we now have highly sophisticated, technologically advanced rods tailored for specific catches and environments.
Daiwa, in its quest for excellence, has been instrumental in driving this evolution. In the 1980s, when the industry was just beginning to understand the potential of carbon fiber, Daiwa was already pioneering its use, creating rods that were lighter, stronger, and more responsive.
But it's not just about materials. The shift from simple angling tools to specialized rods has been marked by advancements in design ergonomics, balance, and action. And in each of these areas, Daiwa has consistently raised the bar. Their meticulous approach to research and development, coupled with feedback from professional anglers, has positioned them at the forefront of fishing rod technology. 🌊🐟
The Daiwa Difference: What Sets Them Apart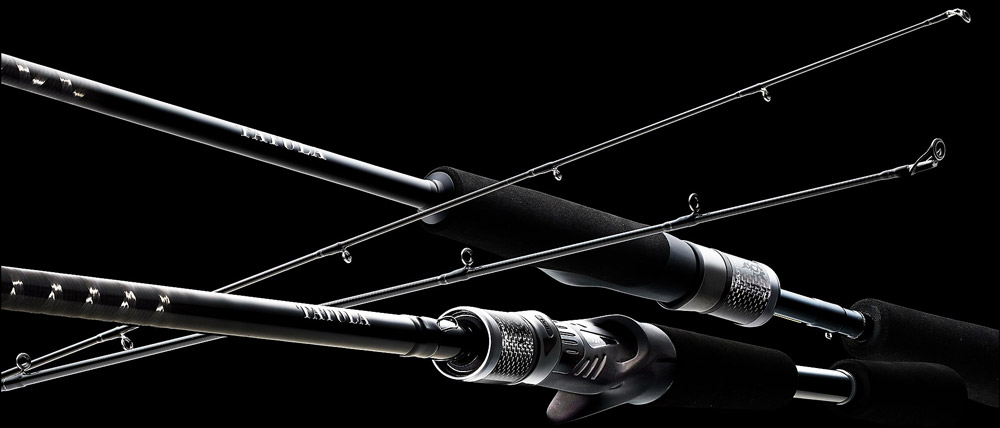 ✨ The Fabric of Success: Why Daiwa's Materials Reign Supreme
At the heart of every Daiwa fishing rod lies a commitment to superior materials. It's not just about strength but also about responsiveness and durability. Daiwa's infusion of carbon fiber technology has revolutionized the industry. Why does this matter?
🥇

Weight

: Carbon fiber offers an incredible strength-to-weight ratio, allowing for lighter rods without compromising on strength.
🥈

Sensitivity

: A crucial aspect for anglers; carbon fiber rods transmit even the slightest nibble, enhancing the angler's reaction time.
🥉

Durability

: Resistant to corrosion, wear, and tear, ensuring that your Daiwa rod remains your fishing companion for years to come.
By marrying science with angling needs, Daiwa has crafted materials that redefine the fishing experience.
🔍 Crafting Elegance: The Method Behind Daiwa's Renowned Rod Design
Design is more than just aesthetics. Especially in the world of fishing, where every curve, length, and grip matters. Daiwa's approach to design centers on two core principles:
Ergonomics: Every Daiwa rod is crafted to be an extension of the angler's arm. The grip, balance, and weight distribution are tailored to ensure fatigue-free hours of fishing.
Performance-Driven: Be it casting distance, accuracy, or responsiveness, Daiwa designs with a singular goal – optimizing the angler's performance.
This design philosophy ensures that when you hold a Daiwa, you're not just holding a rod, you're holding a carefully crafted piece of art optimized for angling success.
🎨 A Rod for Every Occasion: Unpacking Daiwa's Extensive Range
One size doesn't fit all, especially in the diverse world of fishing. Recognizing this, Daiwa boasts a spectrum of rods tailored to distinct needs:
Freshwater Series: Crafted specifically for lakes, rivers, and streams, these rods cater to the unique challenges and species found in freshwater environments.
Saltwater Series: Built to withstand the corrosive nature of the sea and designed for the bigger, more aggressive marine catches.
Technique-Specific Rods: From fly fishing to trolling, from surfcasting to deep-sea angling, Daiwa has specialized rods optimized for every technique.
This extensive range ensures that no matter where you fish or how you fish, there's a Daiwa tailored for you.
Through a blend of superior materials, innovative design, and a vast range of options, Daiwa not only offers fishing rods but provides experiences. Each element meticulously thought out, ensuring that every angler, irrespective of their skill level or preference, finds their perfect match in Daiwa. 🌐🎣
TOP List 12 Best Daiwa Fishing Rods
| Image | Product | Brand | Link |
| --- | --- | --- | --- |
| | Daiwa Fishing Rod Beefstick Surf Rod Sections= 2 Line Wt = 17-40 | Daiwa | |
| | Daiwa Ardito-Travel Rods black, 7'6" | Daiwa | |
| | Daiwa Presso UL Spinning Rod | Daiwa | |
| | Daiwa Maddragon MD2314 12' Carp Rod Black | Daiwa | |
| | Daiwa LAG701MHFS Laguna Spin Rod, 7-Feet, 1 Piece, Fast, Medium Heavy, 1/4-3/4 -Ounce, Black | Daiwa | |
| | Daiwa Tatula Elite Signature Series Bass Rod | Daiwa | |
| | Daiwa Ardito 11' Medium Power, Fast Action Travel Surf Rod - ARDT1105MFS-TR | Daiwa | |
| | Daiwa BG Big Game Travel , 1.68 Meters, 5.51ft, 20-30lbs, 3 Parts, Trolling Travel Fishing Rod, 11907-160 | Daiwa | |
| | Daiwa TANACOM DENDOH Style RODS, Sections= 2, Line Wt.= 40-100 | Daiwa | |
| | Daiwa Legalis Tele 1206M, 11.81 Feet, 0.35-1.76 Ounce, 6 Parts, Telescopic Allround Fishing Rod | Daiwa | |
| | Daiwa BG Offshore Travel Pilk 804H 4S, 2.4 Meters, 7.87ft, 40-125 Grams, 4 Parts, Travel Pilk Fishing Rod, 11908-240 | Daiwa | |
| | Rebellion Rod - 2 PC Travel | Daiwa Rebellion Casting Rod REBELLION722MHFB 7 ft 2 in 2 pc | |
Daiwa fishing tackle is always reliable, quality, innovative design, the latest materials, modern trends in the fishing world, which guarantee the pleasure of fishing!
1# Daiwa Beefstick Surf Rod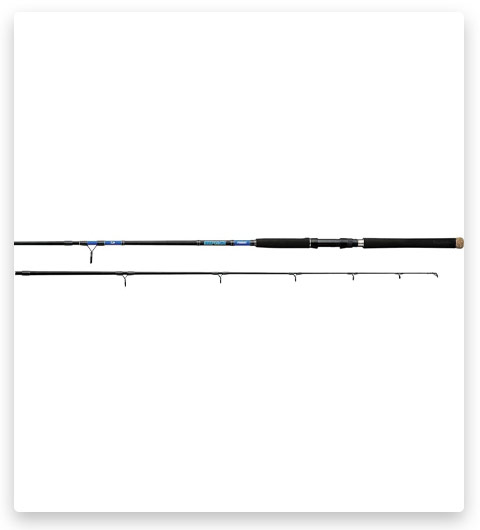 The Beefstick Surf Rod is the perfect model for saltwater anglers. The surf rod is powerful. Used for power casting over long distances from the shore. Withstands heavyweight baits. The rod material is durable carbon fiberglass. After casting, the rig is smoothly immersed in the water. The guides have a large capacity, are adapted to seawater, and are made of stainless steel. Using a fishing rod allows you to see the direction of casting in different weather and daily conditions, and to cast heavy bait over long distances.
2# Daiwa Spinning Rod Ardito-TR Multipiece Travel – Amazon's Choice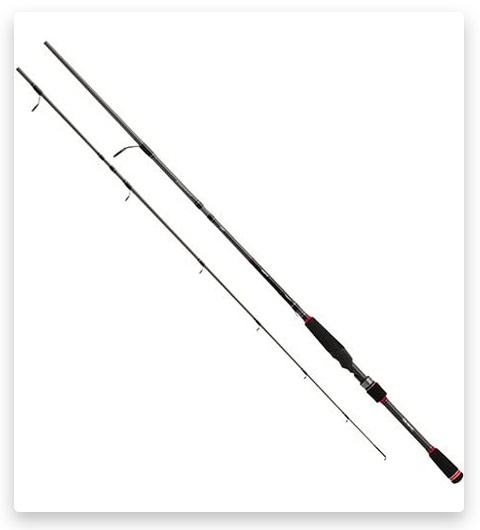 The Daiwa Ardito spinning rod, made in Japan, will be an excellent assistant for anglers who prefer jig spinning. The necessary rigidity, good power reserve, and a short handle allow any manipulation of this bass rod. The highly modular Carbon HVF, which serves as the base of the blank, gives the Daiwa Ardito spinning not only strength and sensitivity but also low weight. This rod does not load your wrist. This rod quality allows you to enjoy fishing all day long without feeling tired. The X45 Bias Graphite fibers in the rod add extra flexibility to the construction for a solid rod feel. The Daiwa Ardito spinning rod is one of the fast action rods, which distinguishes it among others with high accuracy when casting over short distances and excellent sensitivity.
3# Daiwa Spinning Rod Presso Ultralight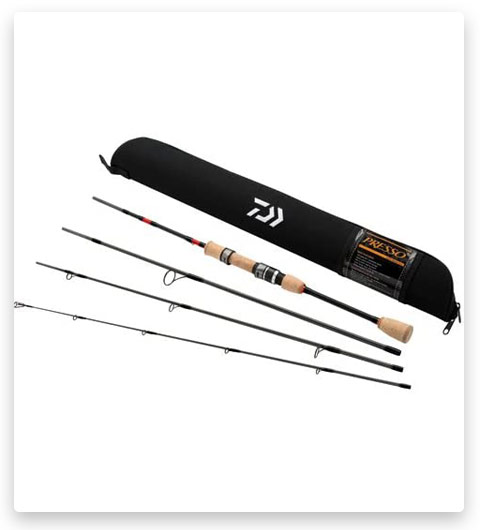 Daiwa Presso Ultralight is a series of travel ultralight spinning rods on four-section blanks made of high modulus fast action graphite. Equipped with quality lightweight guides. The handle with a convenient screw-type reel seat is split into two parts. Supplied complete with a semi-rigid transport tube.
4# Daiwa Maddragon Carp Rod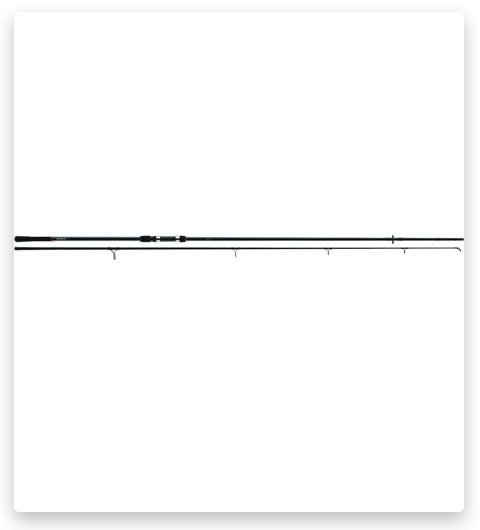 This is an incredibly powerful and highly responsive rod for your fishing success. This carp fishing rod is made of carbon fiber and fiberglass with aluminum oxide rails. It also has a high-quality reel seat. Pros choose Daiwa Maddragon Carp Rod.
5# Daiwa Laguna Spinning Rod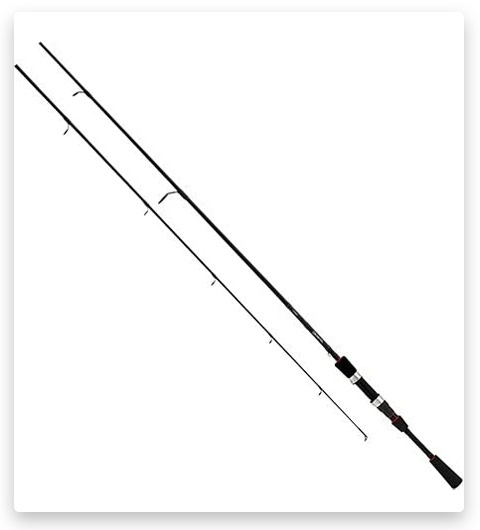 Daiwa Laguna is 100% worth the price! A stylish and high-quality rod will make a spectacular combination with your reel. Ideal for those looking for a budget yet reasonable fishing rod This has quality balanced carbon fiber blanks as well as a hooded reel seat. It is equipped with a cork rear handle, and an EVA front handle. The rod has a lightweight frame that allows you to make various maneuvers.
6# Daiwa Tatula Elite Signature Series Bass Rod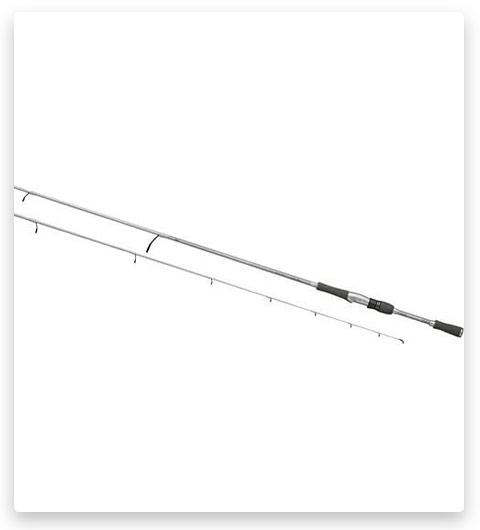 Spinning rods of this series is your chance to join Japanese quality at a very reasonable price. Daiwa went to meet the spinning enthusiasts and created a rod version that meets all the basic requirements in modern spinning fishing. This rod has a reserve of power and proper sensitivity because bass fishing places high demands on the rod. This rod can easily handle not only perches but also large zander. Durability is ensured by the fact that the blank is made of high-quality SVF graphite. The Daiwa spinning rod is really very light and durable, which allows it to be used successfully as in jig fishing.
7# Daiwa Ardito fishing rod Medium Power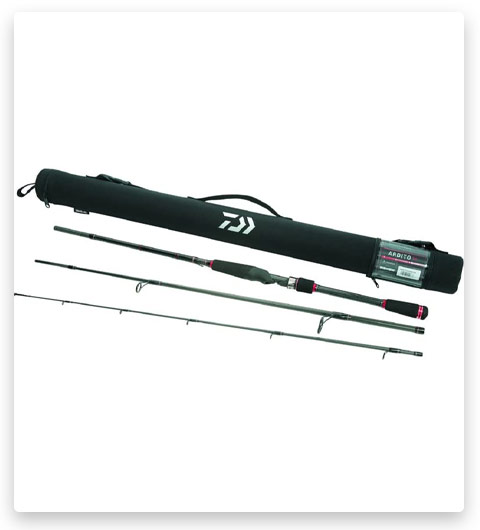 The presented spinning rod model is sold in a convenient, compact tube. This accessory perfectly protects the spinning rod during transportation, especially at the airport, and it is also convenient to travel with it in a foreign country, throwing the harness over your shoulder. The spaced handle is made of durable EVA material. This not only copes well with thermoregulation but also does not require special knowledge from the angler in terms of cleaning. Daiwa has made a combination reel seat. It has become lighter, stronger, more beautiful, and holds the reel no less effectively.
8# Daiwa BG Big Game Trolling Travel Fishing Rod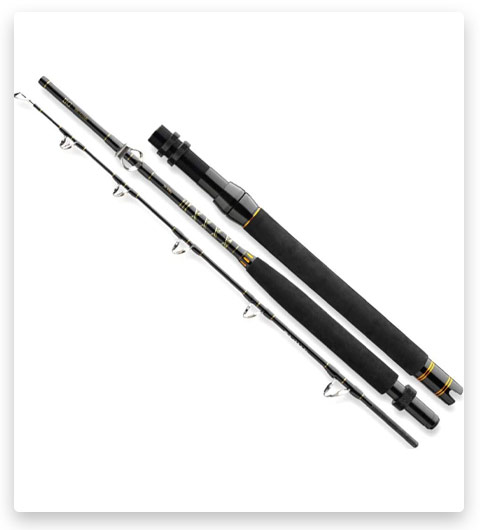 The Daiwa Trolling Rod is equipped with quality components and powerful blanks. The rods are perfect for trolling both at sea and in inland waters. Stylish black letterheads stand out from their white counterparts. It has a quality reel seat and guides, indicator tip.
9# Daiwa Casting Rod Tancom Dendoh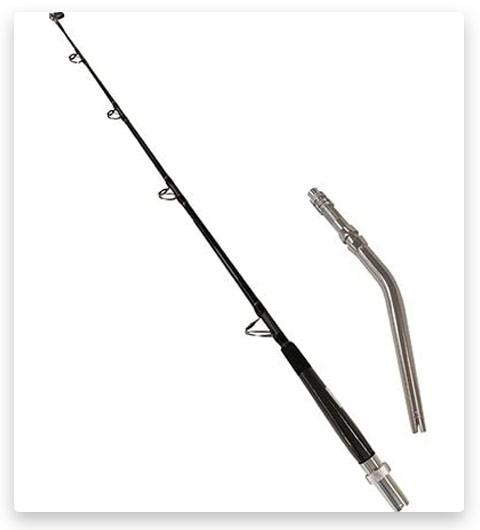 This is a reliable rod for successful fishing. This rod is designed in the Dendoh style and is ideal for saltwater fishing. It is fitted with the Alps swivel tip top guides and has a Seaside ring guide.
10# Daiwa Fishing Rod Legalis Tele Telescopic Allround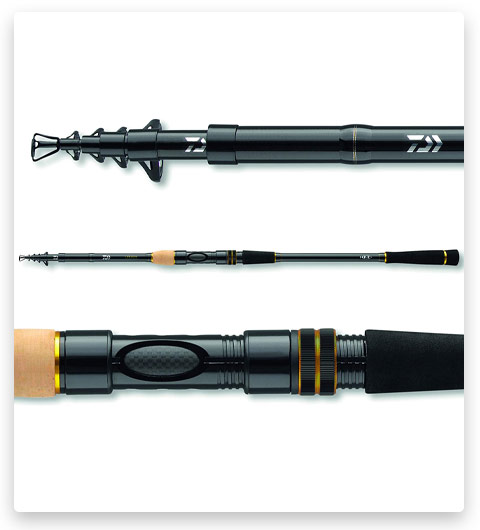 Daiwa Legalis spinning rods are characterized by an unusual design and excellent value for money. The thin and well-balanced HVF carbon fiber blank has a pleasant finish, allowing you to throw for a long time without fatigue and ensure that even a gentle bite will not be missed. When playing, the fast blank provides enough power to safely handle the fight even with large fish. The V-Joint provides a uniform bending curve and added stability when deforming. The spinning rod is equipped with titanium oxide rings and a high-quality Japanese style EVA handle!
11# Daiwa Fishing Rod BG Offshore Travel Pilk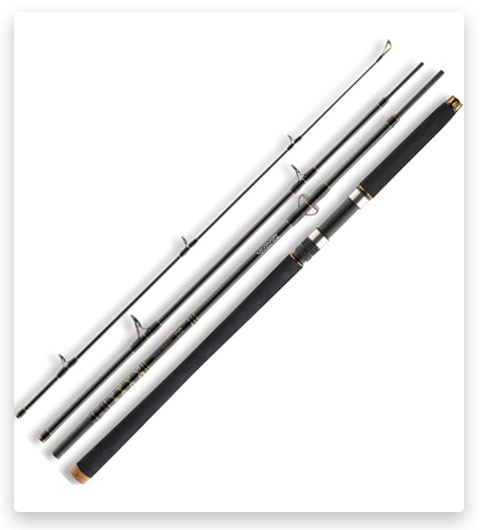 This rod is made of high modulus carbon fiber. The reel seat is equipped with two nuts, which allows you to securely fix the reel. The blank's reinforced winding makes the rods extremely durable and provides the reliability you need in tough sea fishing. The rods are equipped with double-footed titanium oxide guides, EVA grip, and high-grade braiding.
12# Daiwa Rebellion Casting Rods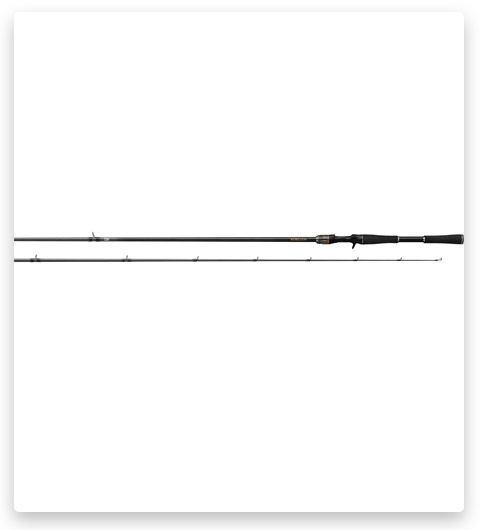 The Daiwa Rebellion spinning rod is an unusually sensitive option with a phenomenal power reserve and inexhaustible potential for casting distance. The Daiwa Rebellion rod is excellent for light jigging, and thanks to its powerful butt zone and the ability to cast long distances, you can successfully fish on vast reservoirs, large rivers. This rod features a reinforced BRAIDING-X design. The cross arrangement of carbon fibers significantly increases the power potential of this unit. X45 technology prevents the blank from curling and allows you to significantly increase in terms of sensitivity and strength.
Key Features that Professionals Adore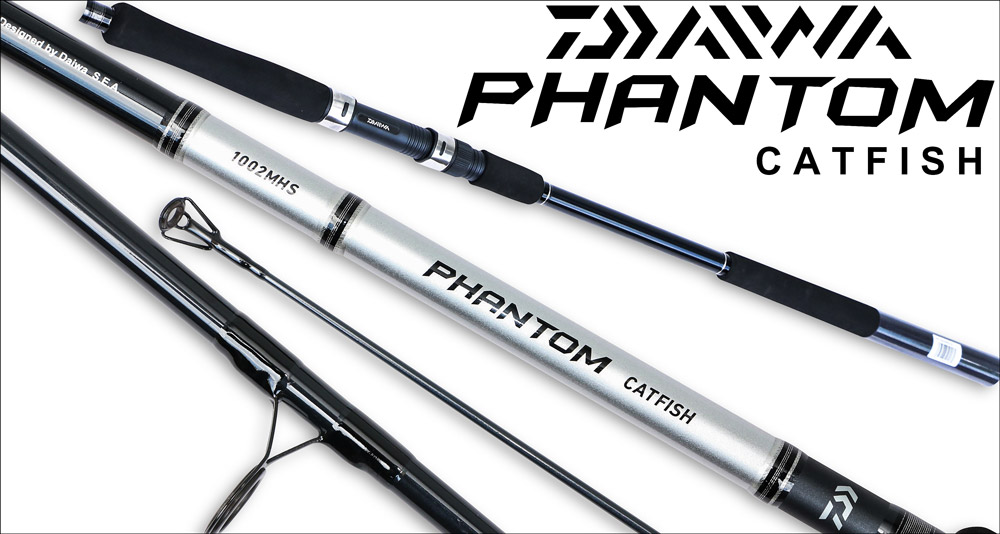 🔧 Tech Meets Tradition: Daiwa's Revolutionary Features
In an age where technology seeps into every facet of our lives, Daiwa is no exception in harnessing its power to refine the angling experience. Here's a look into the tech marvels Daiwa integrates into their rods:
Digital Rod Sensors: Offering real-time feedback on rod tension, aiding anglers in adjusting their technique instantaneously.
High-Density Carbon Weave: Enhances sensitivity while keeping the rod weight minimal. This means detecting even the slightest movement underwater becomes second nature.
Anti-Tangle Guides: A feature that seamlessly directs the line, minimizing tangles, and maximizing cast efficiency.
These aren't just tech add-ons but innovations aimed at refining and redefining the art of angling.
🎯 Perfect Harmony: The Science of Daiwa Rod Balance and Flexibility
Balance in fishing rods can be likened to the balance in life – vital yet often underestimated. Daiwa's approach to achieving perfect rod balance revolves around:
Weight Distribution: Ensuring the rod's weight is evenly distributed from tip to handle, which allows for more accurate casts and reduces angler fatigue.
Tailored Action: Daiwa rods come in varied actions – from fast to medium to slow. Each tailored to different fishing styles, ensuring optimal performance.
Flex Points: Strategically placed along the rod, these points ensure that the rod flexes naturally, responding swiftly to both the angler's movements and the fish's actions.
Daiwa's commitment to balance and flexibility ensures a harmonious dance between the angler and the aquatic world.
⏳ Tested by Time and Tide: Tales of Daiwa Rods' Relentless Durability
Every seasoned angler has a story of that one trusty rod, which has seen countless sunrises, battled numerous storms, and netted countless catches. Here are a few tales where Daiwa rods emerged as unsung heroes:
Sarah's Surfcasting Saga: Facing the aggressive Atlantic waves in New Jersey, her Daiwa rod not only withstood the saltwater onslaught for over a decade but also helped her land a record-breaking striped bass.
Liam's Mountain Adventure: Fishing in the Rockies, where the terrain is as challenging as the fish, Liam's Daiwa rod endured both swift currents and accidental drops, never failing him.
These aren't mere stories but testaments to Daiwa's unwavering commitment to crafting rods that stand the test of time and elements.
From integrating cutting-edge technology to meticulously crafting each rod for balance and resilience, Daiwa consistently meets the high standards set by professionals. It's not just about catching fish; it's about ensuring every moment between the cast and the catch is exceptional. 🌅🎣
Specialization: Daiwa's Tailored Approach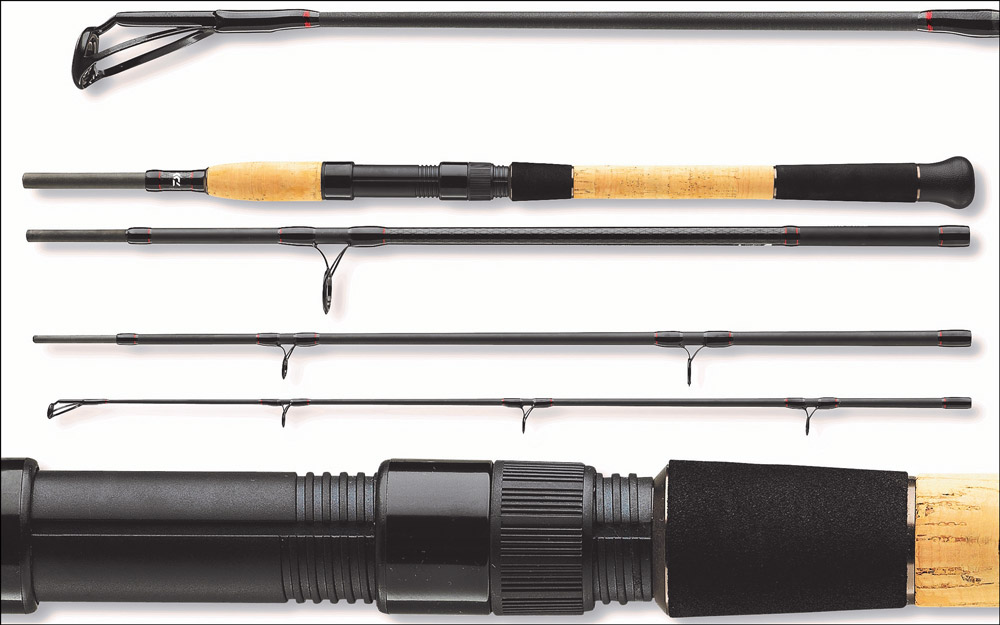 🌊 Saltwater vs. Freshwater Rods: The Duel of Elements
The vast world of angling is divided by a fine line – the type of water you fish in. Let's dive deep into the distinctions between Daiwa's saltwater and freshwater rods:
Corrosion Resistance: Saltwater rods are warriors, designed to battle the corrosive nature of the ocean. Daiwa achieves this with specialized coatings and stainless-steel guides, ensuring longevity amidst salt and surf.
Power & Length: Saltwater fishes are generally larger and more robust. To combat these aquatic behemoths, saltwater rods are typically longer and packed with more power. Freshwater rods, on the other hand, are designed for precision and subtlety, perfect for the calm lakes and trickling streams.
Sensitivity: Freshwater rods by Daiwa are crafted for heightened sensitivity, allowing anglers to detect the lightest nibbles from species like trout or bass.
This delineation ensures that whether you're battling a fierce marlin off the coast or luring a serene bass in a lake, there's a Daiwa rod specialized for the challenge.
🎣 Target Acquired: Daiwa's Rods Tailored for Specific Fish
The thrill of angling often boils down to the chase, the strategy, and understanding your target. Recognizing this, Daiwa has intricately designed rods optimized for particular species:
Bass Pursuit: With fast action and heightened sensitivity, these rods detect the bass's subtle bites, enhancing the angler's strike chances.
Catfish Conquerors: These rods are robust, crafted to handle the heavy pull of a catfish. With a strong backbone, they're perfect for the tug-of-war with this freshwater giant.
Trout Treasures: Designed for finesse, these rods are lightweight, ensuring you can feel the trout's every movement, making your catch more precise.
Saltwater Giants: Be it the ferocious barracuda or the elusive marlin, Daiwa has specialized rods crafted to handle the raw power of these marine titans.
With Daiwa, it's not about casting a wide net; it's about precision, understanding the prey, and having the perfect tool tailored for the hunt.
Daiwa's dedication to specialization ensures that anglers are never at a disadvantage. By understanding the environments and species intricacies, Daiwa provides anglers with a tailored weapon in their arsenal, ensuring every fishing expedition is a potential success story. 🐠🎯
Professional Tips for Maximizing a Daiwa Rod's Performance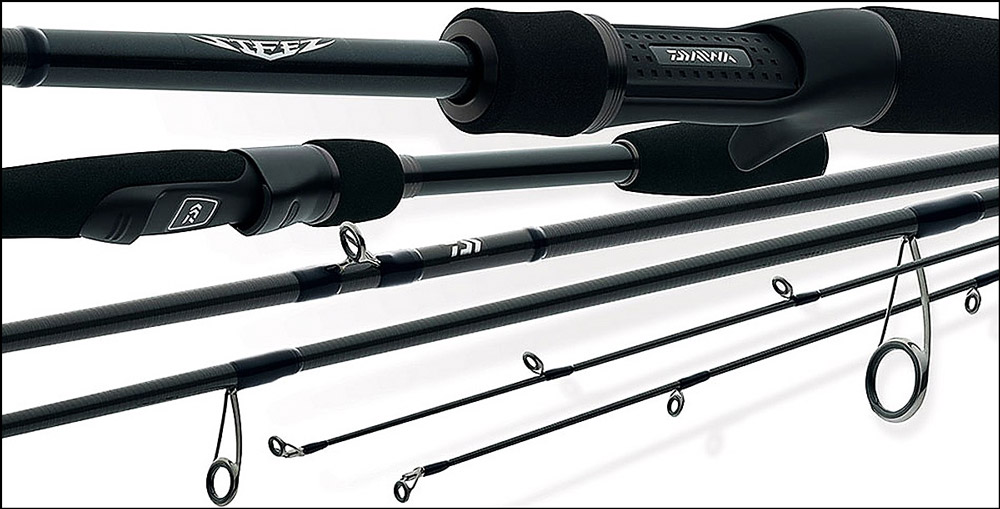 🔧 Maintenance and Care: Your Daiwa Rod's Best Friend
To keep your Daiwa rod performing at its peak, it's crucial to treat it with care and respect. Here's a guide to ensuring your rod remains in top-notch condition:
Clean Regularly: After every fishing trip, especially in saltwater, rinse your rod with fresh water. This prevents the build-up of salt and grime.
Inspect for Damage: Check for any visible cracks or nicks, especially around the rod's guides and joints. Early detection can prevent bigger issues down the road.
Store Properly: Always store your rod vertically in a cool, dry place. Using a rod rack or holder can help maintain its shape and integrity.
Handle with Care: When assembling and disassembling, avoid snapping pieces together or forcing connections. Gentle, steady pressure ensures longevity.
🌀 Optimal Reel Pairing: A Match Made in Fishing Heaven
While a Daiwa rod is an engineering marvel, pairing it with the perfect reel elevates the experience:
For Bass Hunters: A fast-action Daiwa rod pairs wonderfully with a baitcasting reel, giving precision in casting and control during retrieval.
Fly Fishing Enthusiasts: Match your lightweight Daiwa fly rod with a smooth drag fly reel. This combo ensures swift casting and controlled line management.
Deep-sea Challengers: When tackling saltwater giants, combine a heavy-duty Daiwa rod with a sturdy spinning reel to withstand the marine battles.
Remember, a harmonious rod-reel pairing is the backbone of a successful fishing venture.
🎣 Mastering the Cast: Leveraging Daiwa's Unique Design
Daiwa's rods, with their specialized design, require certain techniques to maximize their potential:
Grip: Ensure you have a comfortable and firm grip. Holding too tightly can reduce casting distance.
Body Alignment: Stand with feet shoulder-width apart, directing your body towards your target, ensuring better accuracy.
Casting Motion: For Daiwa rods with fast action, a swift and short casting motion works best. For medium or slow action, a more extended, fluid motion is optimal.
Practice: Spend time understanding your rod's flex points and action. The more you practice, the more you'll tune into the rod's rhythm.
Armed with these professional insights, you can unleash the full potential of your Daiwa rod. From maintaining its pristine condition to optimizing its performance on the water, every detail counts in the pursuit of angling excellence. 🌊🎣
The Daiwa Community: More than Just Rods

🌐 Diving into the Daiwa Ecosystem: Workshops, Events, and Beyond
Daiwa's commitment extends beyond creating top-tier fishing equipment. They're deeply rooted in nurturing a community that thrives on learning and sharing:
Skill-Enhancing Workshops: Daiwa frequently hosts workshops where novices and veterans alike can refine their angling skills. From mastering different casting techniques to understanding water bodies, these workshops are treasure troves of knowledge.
Events and Tournaments: Be it the annual Daiwa Fishing Challenge or local community fishing days, Daiwa events are occasions of camaraderie, competition, and celebration of the sport.
Community Outreach: Recognizing the need for conservation, Daiwa is actively involved in programs that aim at preserving aquatic habitats. Their initiatives, like 'Fish for the Future', engage the community in sustainable fishing practices.
🗣️ Voices from the Waters: Testimonials from Pro Anglers
When professionals vouch for a product, you know it's the real deal. Here's what some top anglers have to say about their trusty Daiwa rods:
Liam Fisher, Bass Pro Champion: "Every time I hold my Daiwa rod, it feels like an extension of myself. The precision, the balance – it's unparalleled. It's my trusted companion in every tournament."
Aria Moon, Renowned Fly Fisherwoman: "With Daiwa, it's not just about the catch; it's about the experience. The rod's sensitivity and action have transformed my fly fishing adventures."
Carlos Mendoza, Saltwater Angling Expert: "When you're out in the deep blue, facing unpredictable giants, you need reliability. And that's what my Daiwa rod offers – strength and reliability in every cast."
Daiwa isn't just a brand; it's a movement. A movement that fosters learning, encourages sustainable fishing, and cherishes the joy of angling. Whether you're wielding a Daiwa rod or attending a Daiwa workshop, you're part of a community that celebrates every ripple and wave in the vast world of fishing. 🐟🌊
🎣 Conclusion Daiwa: Redefining Fishing Excellence
The journey through Daiwa's universe showcases a legacy that goes beyond just crafting rods. It's a legacy built on precision, innovation, and an unwavering commitment to the angling community. With every cast using a Daiwa rod, one experiences:
Superior Material Quality: Ensuring longevity and performance even in the most challenging environments.
Cutting-Edge Technology: Incorporating the latest advancements, bringing modern innovations to age-old traditions.
Tailored Designs: Providing a range of rods to suit every fishing environment and technique, from tranquil freshwater lakes to the roaring ocean waves.
Community Engagement: Empowering anglers through workshops, events, and sustainable fishing practices, making fishing more than just a hobby—it's a way of life.
🌊 Dive into the Daiwa Experience
But words can only convey so much. The real magic lies in feeling the tug on a Daiwa rod, in sensing its balance and in cherishing those moments when a catch is made. So, why just read about it?
Take the leap and immerse yourself in the Daiwa difference. Whether you're a novice seeking to start your fishing journey or a seasoned pro aiming to elevate your game, Daiwa promises a transformative angling experience. Join the Daiwa community and let the waters tell you tales you've never heard before.
Additional Resources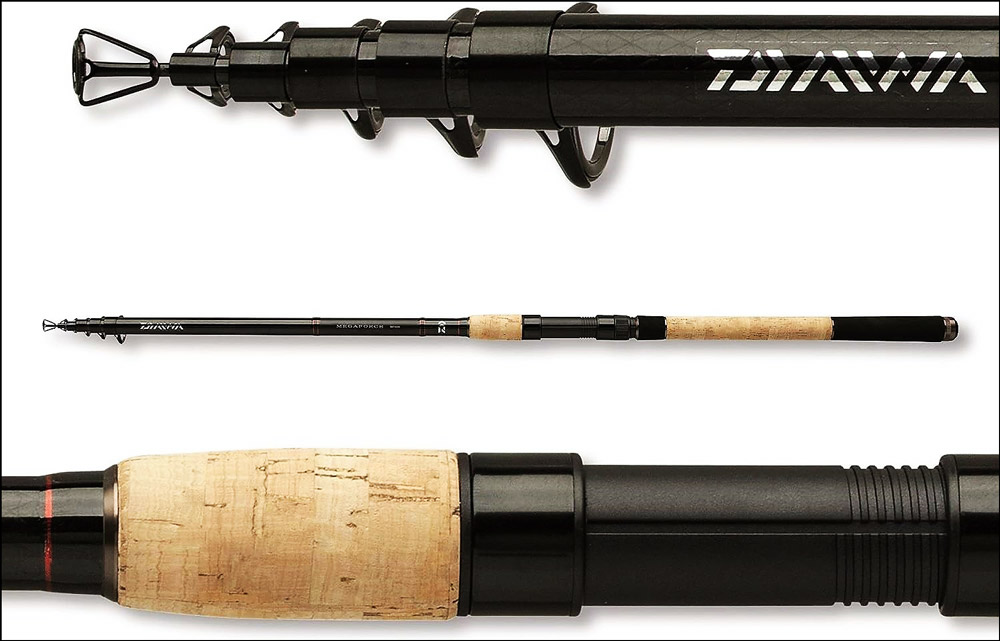 📺 Video Reviews & Tutorials
Daiwa Rod Reviews: Check out in-depth reviews by expert anglers and see Daiwa rods in action! From unboxings to performance tests, these videos are a treasure trove.
Tutorials & Tips: New to Daiwa or looking to hone your skills? These tutorials cover everything from basic setup to advanced techniques with your Daiwa rod. Dive in.
📚 Daiwa's Official Product Catalogues
For the detail-oriented angler, Daiwa's official catalogues offer comprehensive insights:
Daiwa Rod Collection: Explore the latest and greatest from Daiwa, complete with specifications, features, and user recommendations. Browse the catalogue.
Specialty Rods by Daiwa: From saltwater giants to freshwater delicacies, Daiwa's specialty catalogues cater to every angler's unique needs. Discover more.
🔗 Further Reading & Insights
The Science Behind Daiwa Technology: Understand the tech nuances that make Daiwa stand out.
Daiwa's Journey: From Then to Now: A deep dive into the evolution and milestones of the brand.
❓ FAQ: Daiwa Fishing Rods
This FAQ aims to address some of the most common queries about Daiwa fishing rods. If you have more detailed or specific questions, reaching out to Daiwa's official customer service or visiting an authorized dealer can provide more tailored guidance. 🎣🌊
Tags: #daiwa fishing rods / #daiwa telescopic fishing rods / #daiwa surf fishing rods / #daiwa shock fishing rods / #where are daiwa morethan fishing rods made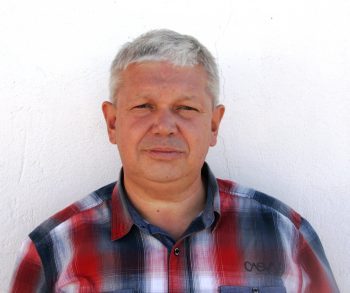 Sergio Smirnoff
Professional fisherman with 40+ years of experience.
Fishing and the ocean is a passion of my life. I am passionate about all kinds of sea fishing: fishing from the shore (spinning, float, baitcasting), from a boat, and spearfishing day and night.
I live in Tenerife (Canary Islands) for the last 10+ years and share my daily fishing experiences on my website. Many years of personal experience as a fisherman and the vast experience of my friends allow me to write professionally on any fishing topics (from choosing a flashlight and equipment to deep-sea fishing).
All of my advice is based on practical real-world experience and will be useful to both novice anglers and professionals.
Read more
about the author.
Affiliate Disclosure: FishReeler.com sometimes gets paid for listings, through sponsors or affiliate programs like Amazon, Ebay, Cabelas, Bass Pro Shop, Shimano, Daiwa, Rapala, Renn, Okuma, KastKing, etс. Clicking a link helps keep FishReeler.com free, at no extra cost to you!
About the author: Each article is verified by the fishing expert Sergio Smirnoff. The articles are written by professional and amateur fishermen with 20+ years of fishing experience.
Note: The views and opinions expressed in this article are those of the authors and do not necessarily reflect the official policy or position of any agency. The articles are for informational purposes only, share your opinions in the comments and join the fishing discussions, let's share our fishing experiences together!