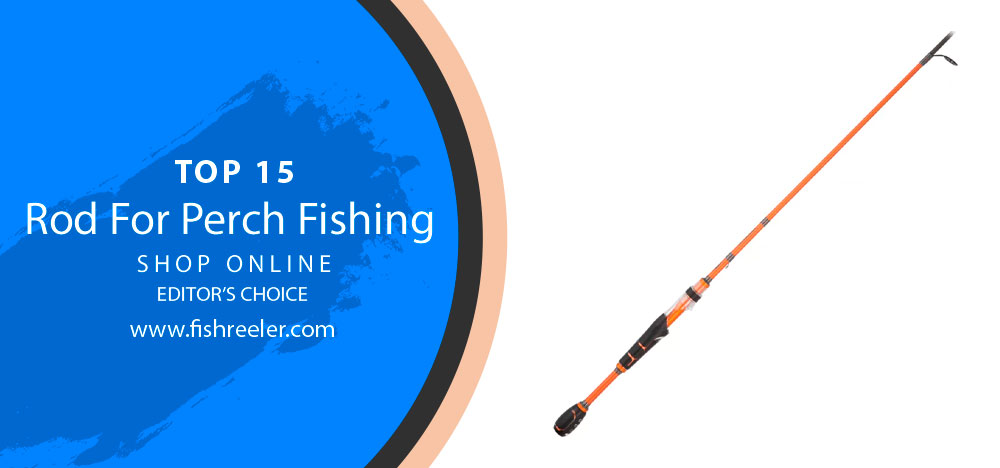 Mastering Perch Fishing: Your Ultimate Guide to the Best Rods
Perch fishing holds a special place in the hearts of many anglers. From seasoned veterans to budding beginners, the thrill of casting a line and reeling in a lively perch is a universal joy in the fishing community. Prized for their spirited fight and excellent taste, perch draw enthusiasts to bodies of water around the globe. It's not just about the catch, however. The challenge, the serenity, and the communion with nature all contribute to perch fishing's enduring popularity.
Choosing the right equipment is a vital aspect of any successful fishing expedition, and perch fishing is no exception. Of all the gear in an angler's arsenal, the fishing rod holds the utmost importance. It is not merely a tool but an extension of the angler's intent and skill. A carefully chosen rod can be the deciding factor between a satisfying day of plentiful catches and a frustrating session of missed opportunities.
Video YouTube: Fishing Gear for PERCH (Rod + Reel + Line)
This article aims to guide both newbies and seasoned anglers alike on the journey to finding the perfect perch fishing rod. We'll dive deep into perch behavior to understand why certain rod characteristics are more suited to this species. We'll demystify the jargon and explain the differences between rod lengths, power, action, and materials. The focus will be on how these factors influence your fishing experience and, ultimately, your success in landing perch.
Not only will we cover the theoretical aspects, but we'll also provide a list of our top recommended rods for perch fishing. These recommendations are based on rigorous testing, expert input, and consumer reviews. Each rod will be reviewed in detail, highlighting its strengths and potential shortcomings. In addition, we'll offer some tips to help you use your chosen rod more effectively and advise you on maintenance best practices to ensure your rod lasts as long as possible.
🔶Whether you're looking to buy your first perch fishing rod or seeking to upgrade your existing gear, this comprehensive guide aims to provide you with all the knowledge and insights you need. So, get ready to cast a line into the world of perch fishing and reel in some wisdom! Let's embark on this angling adventure together.
Diving Deep: An Insight into Perch Behavior
Perch are a fascinating species of fish that offer an exciting challenge for any angler. Understanding their behavior and habitats is an essential step towards effectively targeting them, and ultimately, selecting the right rod for the job.
Perch are freshwater fish found in lakes, rivers, and ponds around the world. They're most commonly located in North America and Europe. Perch prefer cool, clear water and tend to stay close to structures like submerged trees, weed beds, or rock formations, where they can hide from predators and ambush their prey.
Perch are schooling fish, which means they tend to congregate in large groups. The size of the school often depends on the size of the perch. Smaller, younger perch often form larger schools, while the older, larger ones typically travel in smaller groups.
As for feeding, perch are primarily daytime feeders, with peak activity at dawn and dusk. They are carnivorous, with a diet primarily consisting of small fish, insects, and crustaceans. This predatory nature makes them a prime target for anglers using a variety of bait types.
The Why Behind the Rod: How Perch Behavior Influences Your Fishing Gear
So, how does this information help us choose the right fishing rod? Understanding perch behavior is vital for successful fishing. For instance, knowing that perch prefer structures can influence your rod choice. You may opt for a rod with greater sensitivity to detect the light bites that perch are known for, especially when they're hiding in structures.
The schooling behavior of perch implies that once you locate a school, you're likely to catch more than one. In this case, a rod that can withstand repeated casts and potentially rapid catches would be advantageous.
🔶Finally, the feeding habits of perch suggest the need for a versatile rod that can accommodate different types of baits and lures. Understanding these behaviors will greatly aid in your pursuit of perch and ensure that you choose a rod designed to meet these specific challenges. In the next section, we'll delve into the basics of fishing rods and how their characteristics align with the requirements for successful perch fishing.
Get Hooked on Perch Fishing: Top 15 Rod Selections for the Modern Angler
When it comes to perch fishing, having the right rod is essential. There are a lot of rods on the market for perch fishing. So, which one is best for you? Are you looking for the best rod for perch fishing? If so, you're in luck! In this blog post, we will share with you some of the top-rated rods for perch fishing. We'll also provide a few tips on how to choose the right rod for your needs. So, without further ado, let's get started!
1# Bass Pro Shops Johnny Morris CarbonLite 2.0 Spinning Rod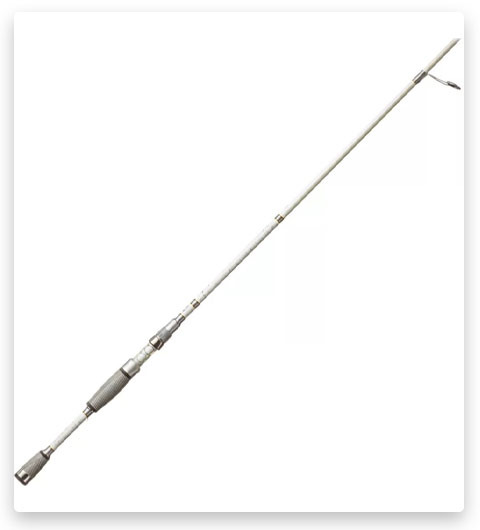 Looking for a top-quality spinning rod that won't let you down? Look no further than the Bass Pro Shops Johnny Morris CarbonLite 2.0 Spinning Rod. This amazing rod is made with carbon coil technology and an RT4 graphite blank, meaning it's built to last. Plus, it features a line ID system built into the rod butt, so you can always keep track of your line. Additionally, the durable Fuji FaZlite guides and comfortable, non-slip Winn grips make this rod a joy to use. And if that wasn't enough, it also comes with an extraordinary 10-year warranty. So why wait? Get your hands on the Bass Pro Shops Johnny Morris CarbonLite 2.0 Spinning Rod!
2# Bass Pro Shops Pro Qualifier 2 Spinning Rod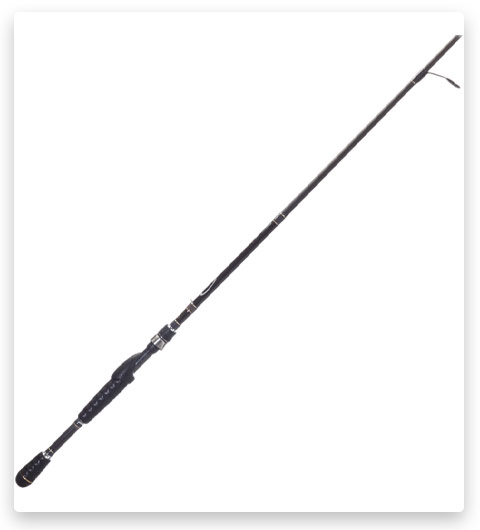 Check out the Bass Pro Shops Johnny Morris CarbonLite 2.0 Spinning Rod. This rod is made with EVA grips and X-wrap for enhanced comfort and performance. The Fuji guides with aluminium oxide inserts allow for smooth line flow, while the split grip handle design reduces weight and provides greater control when casting. The 3-piece rod comes with a nylon rod sock and embroidered rod tube—a $19.99 value.
3# St. Croix Mojo Salt Spinning Rods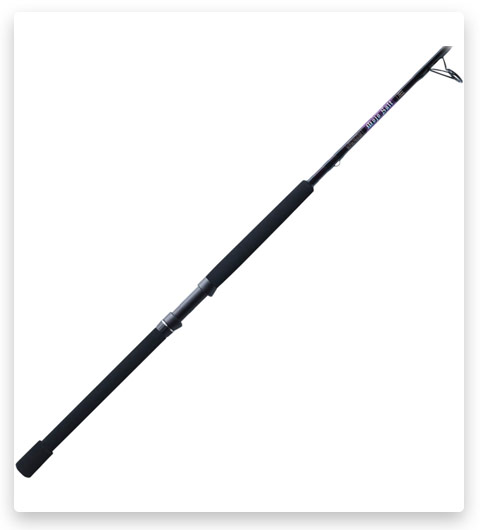 The lure of the salt and all the possibilities swimming in its depths – that's what St. Croix had in mind with the Mojo Salt Spinning Rods. Advanced technologies used in the components and construction help you land fish, not just hook up with them. Integrated Poly Curve® tooling technology eliminates all transitional points in the rod blank ensuring smoother actions, increased strength and greater sensitivity. Advanced Reinforcing Technologyä adds ten times the strength of an average rod with virtually no increase in blank diameter or weight. ART significantly improves the hoop strength of the entire blank for increased lifting power. The result is amazing strength, sensitivity and hook-setting power.
4# Berkley Lightning Rod Shock Spinning Rod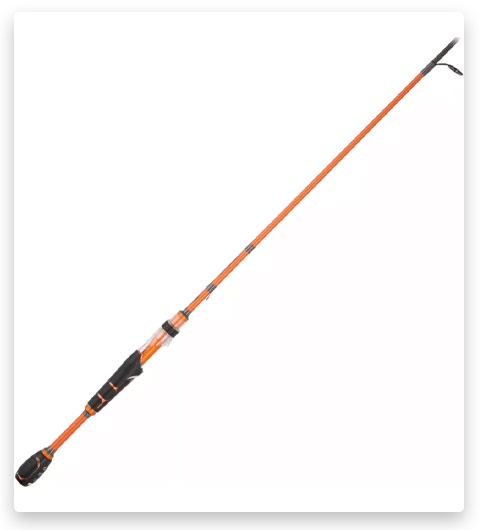 Looking for a spinning rod that can handle the shock of superfine? Look no further than the Berkley Lightning Rod Shock Spinning Rod. This rod is designed to absorb the shock of superfine while still providing optimal handling and exceptional feel. The small-diameter blank is made from 1K Power Helix carbon fibre material for superior strength and lightweight sensitivity. The Strike Amplifying Tip picks up every nudge, while the Suspending Reel Seat ensures maximum energy transmission. Plus, this rod is perfect for both fresh- and saltwater fishing.
5# Fenwick HMX Spinning Rod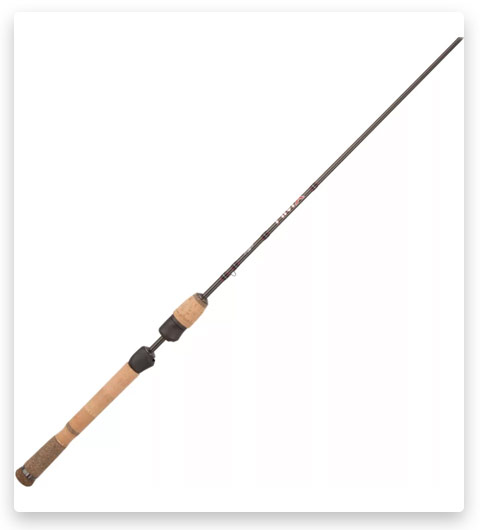 The Fenwick HMX Spinning Rod is perfect for anglers who demand the very best in terms of responsiveness and sensitivity. The blank is constructed from high-quality modulus carbon fibre, which provides an exceptional action while retaining strength and sensitivity. The Sea Guide stainless steel guide frames with Zirconium inserts minimize weight and reduce line friction, making for a smoother and more efficient experience out on the water. The handle is designed for maximum comfort and control, with strategically placed TAC materials that provide a firm grip in all weather conditions. Whether you're an experienced angler or just starting out, the Fenwick HMX Spinning Rod is a great choice for anyone who wants the very best in terms of performance and quality.
6# Favorite Sick Stick Spinning Rod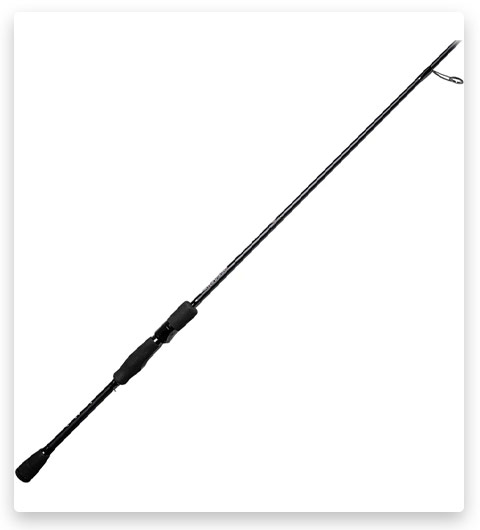 Have a look at the Favorite Sick Stick. This premium quality rod is designed for extremely fast action and features super sensitivity for an unbeatable fishing experience. The IM24 ton carbon blank with solid tip is extremely durable, while the MultiLayer Structure technology increases durability and lowers the overall weight of the rod. With layers of different modulus carbon and varied fibre directions, this rod is also incredibly strong and resistant to torsional load. Plus, the durable SiC guides ensure smooth casting and provide added protection against wear and tear. The Favorite Sick Stick also comes with a protective rod sock for easy transport and is backed by a manufacturer's one-year limited warranty. Get ready to up your fishing game!
7# Falcon BuCoo SR Spinning Rod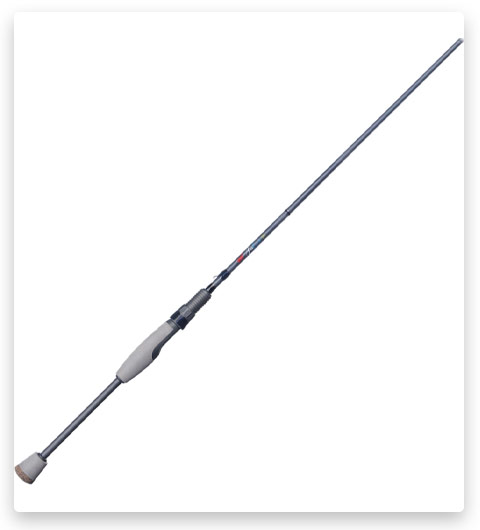 The Falcon BuCoo SR Spinning Rod is the perfect choice for anglers who demand quality and value. These rods are built with premium FXB graphite blanks that are reinforced with cross-directional carbon fibre for strength and durability. The Fuji guides are spaced perfectly along the length of the rod for optimum casting performance, while the exposed blank reel seat puts your hand in direct contact with the blank for enhanced sensitivity. EVA split grip handles reduce weight while providing a comfortable and secure grip. With all of these high-end features, the Falcon BuCoo SR Spinning Rod is an unbeatable value.
8# Star Rods Stellar Lite Split Grip Spinning Rod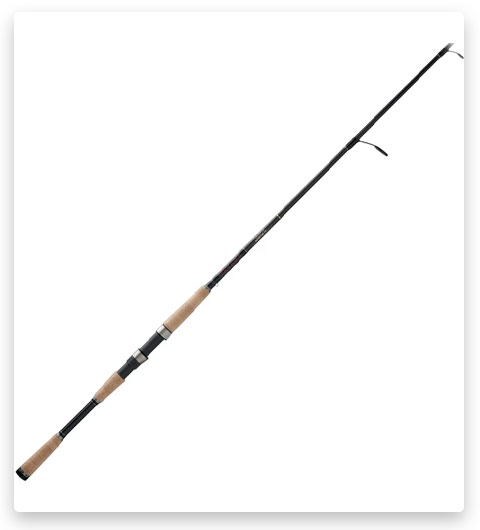 Looking for a quality spinning rod that won't break the bank? Check out the Star Rods Stellar Lite Split Grip Spinning Rod. Built on a precision high-modulus IM6 graphite blank, this rod is designed for power, responsiveness, and durability. It's perfect for fishing for tarpon, trout, bull reds, bones, stripers, and more. The high-grade cork handle provides ultimate lightweight comfort, while the Fuji Concept guides make for easy handling. If you're kayak fishing, this is an ideal choice thanks to its precise weight distribution. Get your Star Rods Stellar Lite Split Grip Spinning Rod today and enjoy hours of fun on the water!
9# Abu Garcia Vendetta Spinning Rod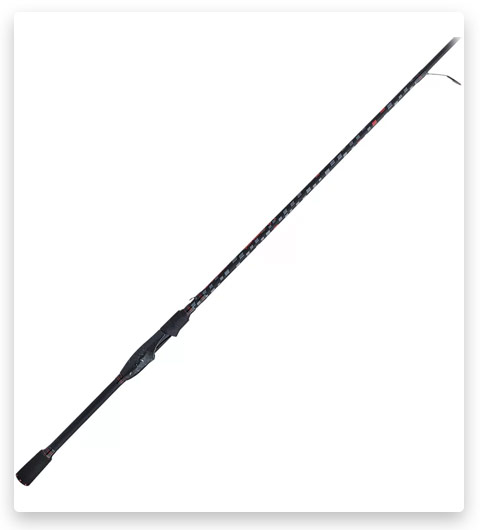 The Abu Garcia Vendetta Spinning Rod is built tough to handle any load, while still providing the sensitivity and feel that anglers need to be at their best. Featuring a 30-ton graphite blank and Intracarbon multidirectional carbon fibres, this rod is designed for strength and durability. Stainless steel guides with Zirconium inserts provide smooth casting and help protect against line wear, while the sleek, ergonomic Carbon Constructed Reel Seat ensures comfort during long days on the water.
10# Shimano Teramar Southeast Spinning Rod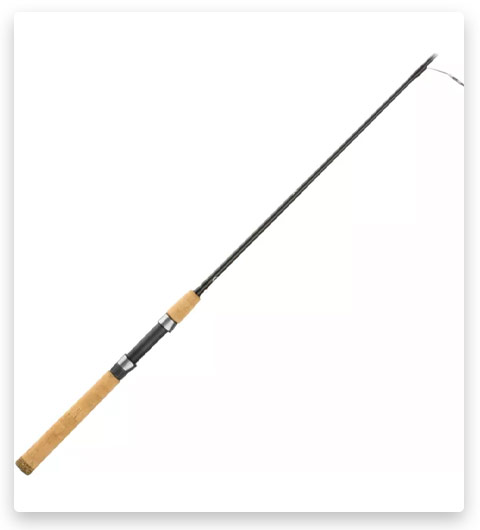 Introducing you the Shimano Teramar Southeast Spinning Rod. Featuring Shimano Top Shelf componentry, this highly responsive rod is perfect for anglers of all levels. The TC4 blank combines a double layer of T Glass with inner and outer spirals of high modulus graphite, resulting in a crisp and dynamic action that is sure to enhance your fishing experience. Additionally, the Fuji New Concept Hardloy guides and Fuji reel seat provide superior strength and durability, while the Grade A cork handles with hook keeper offer a comfortable and convenient grip.
11# Crowder Rods E-Namic Spinning Rod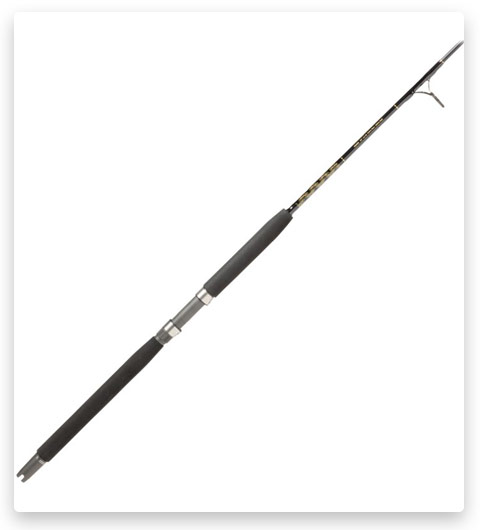 The Crowder Rods E-Namic Spinning Rod is the perfect choice for anglers who demand a versatile and hard-hitting rod. Its custom-designed blanks provide an excellent strength-to-weight ratio, while expert rod-building techniques and quality components offer outstanding performance. The E-Namic Spinning Rod has the power to handle a wide variety of fish species, making it a must-have for any serious angler.
12# Quantum Bill Dance Special-Edition Spinning Rod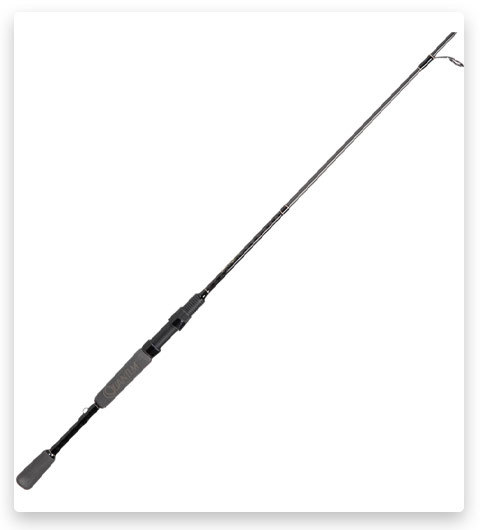 No matter what type of fish you're targeting, the Quantum Bill Dance Special Edition Spinning Rod has a model that's just right for the job! These rods are built on strong, lightweight IM8 graphite blanks and fitted with premium components, so you know they'll perform well. The Bass and Bass Finesse models feature sensitive HSX50 graphite blanks, while the Crappie Rod is crafted on a durable IM6 blank. No matter which model you choose, you're sure to be impressed with the quality and performance of this Quantum rod!
13# Ugly Stik Tiger Elite Spinning Rod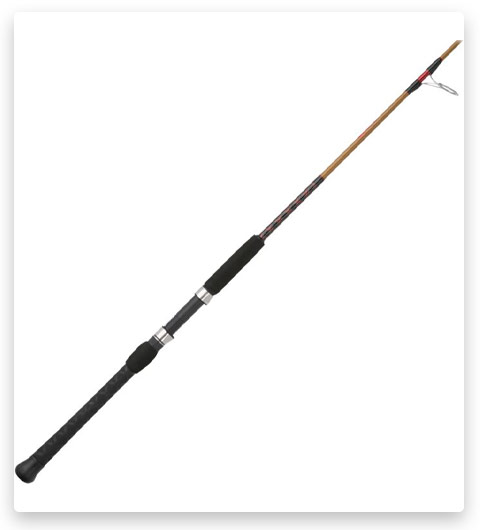 The Ugly Stik Tiger Elite Spinning Rod is perfect for anglers who want a versatile and dependable rod that can handle big fish. With Ugly Tech construction, this rod is both strong and sensitive, while higher graphite content increases sensitivity without sacrificing strength. The action of the rod is designed for jetty and plug fishing, making it a great choice for live bait fishing. The Ugly Tuff 1-piece stainless steel guides are double footed and corrosion-resistant, while the conventional reel seats with stainless steel cushioned hoods provide a comfortable and secure grip. The EVA handles with diamond shrink tape add an extra touch of comfort and style, while the rubber butt cap provides protection from bumps and knocks.
14# Lew's KVD Spinning Rods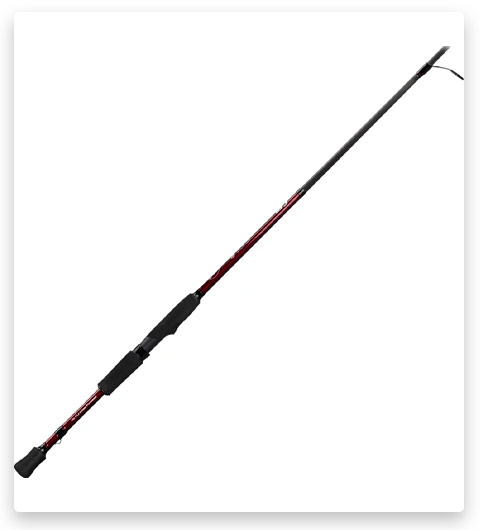 Are you looking for an exciting and challenging way to fish? If so, then you need to check out the Shimano Trevala Butterfly Jigging Spinning Rod! This great rod gives you the opportunity to do battle with some real bruisers, using gear that is lighter, more manageable, more sensitive, and fun than what you're used to. The TC4 Construction high modulus graphite/glass blank is designed for power and sensitivity, while the fast-action tip is perfect for those quick strikes. The Fuji New Concept Alconite guides are lightweight and durable, and the Gudebrod thread wraps add an extra touch of style.
15# Shimano Trevala Butterfly Jigging Spinning Rod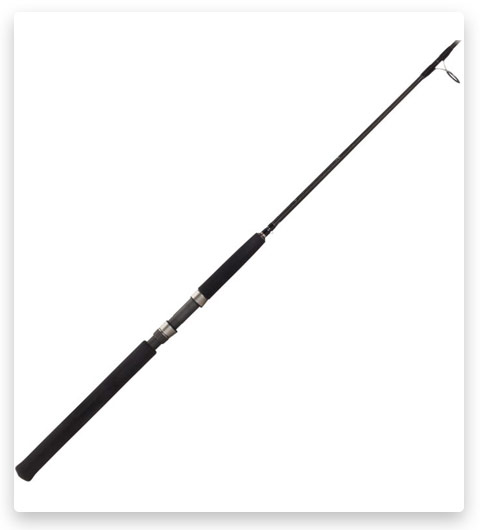 The Lew's KVD Spinning Rod is perfect for anglers who demand the very best. This premium quality rod is inspired by tournament superstar Kevin VanDam and features a IM8 graphite blank for incredible sensitivity and strength. The stainless steel guides with aluminum oxide inserts and Zirconia insert tip tops are designed for maximum durability, while the Full Contact reel seats maximize blank contact for increased sensitivity. The Lightweight EVA split-grip handles deliver sure-handed contact and control, and the patented "No Foul" hook keeper allows for quick-casting readiness. Get the edge on your competition with the Lew's KVD Spinning Rod!
The Anatomy of a Fishing Rod: A Crash Course
The world of fishing rods is vast and diverse, with different types of rods suited for varying fishing scenarios. From spin casting rods, and baitcasting rods, to spinning rods, and fly fishing rods, each rod type is designed with a specific fishing style or species in mind.
Types of Fishing Rods
Spin Casting Rods: These rods are great for beginners. They have a small, straight handle and a reel that sits on top of the rod, enclosed in a case.
Baitcasting Rods: They are similar to spin casting rods but are used for more accurate casting. The reel sits on top of the rod but is not enclosed.
Spinning Rods: A popular choice for many anglers due to their versatility. The reel hangs beneath the rod, which allows for more fluid casting.
Fly Fishing Rods: These rods are designed for fly fishing, a unique style that involves casting a lightweight fly.
🔶In terms of perch fishing, spinning rods are often favored due to their versatility and ease of use. They are suitable for casting various types of baits and lures that perch love.
Speaking the Language of Anglers: A Glossary of Rod Terms
Rod Length: This is the measurement from the rod butt to the rod tip. Short rods (6 feet or less) are great for short casts and fighting fish, while long rods (7 feet or more) are ideal for long casts and deep-water fishing. For perch fishing, medium-length rods are often ideal.
Rod Power: This refers to the rod's resistance to bending or its "backbone". Rod power ranges from ultra-light to heavy. Perch fishing generally requires light to medium power rods due to the size of the fish.
Rod Action: Action describes where and how much a rod will bend when pressure is applied. Fast action rods bend mostly near the tip, medium action rods bend in the top half, and slow action rods bend throughout the entire length. Fast to medium action is often favored for perch due to their sensitivity to bites.
Rod Material: The most common materials are graphite, fiberglass, or a composite of both. Graphite is more sensitive and lighter but also more brittle, while fiberglass is tougher but heavier. Composite rods aim to balance the best characteristics of both.
Tailoring Your Tackle: The Impact of Rod Characteristics on Fishing
Each of these rod characteristics plays a significant role in your fishing experience. The right rod length can improve your casting accuracy and distance, while the appropriate rod power and action can increase your hook-up rate and enhance your ability to fight and land fish. The rod material can impact the rod's durability, weight, and sensitivity. Therefore, understanding these aspects is crucial in choosing a rod that matches your fishing style, target species, and conditions.
Armed with a better understanding of fishing rods, we can now dive into the specifics of choosing a rod for perch fishing. We will consider how each of these elements – rod length, power, action, and material – aligns with the requirements for successful perch fishing.
Navigating Your Options: What to Consider for a Perch Fishing Rod
When it comes to perch fishing, it's important to remember that not all fishing rods are created equal. Selecting the right rod can greatly enhance your fishing experience and increase your success rate. Here are the critical aspects to consider:
The Long and Short of It: Understanding Rod Length
The optimal rod length for perch fishing generally falls in the medium range, between 6 and 7 feet. This length offers a good balance of casting distance and control. It allows you to cast out far enough to reach a school of perch while maintaining the precision needed to target areas near structures where perch often hide. Additionally, this length is comfortable for extended periods of fishing, reducing fatigue.
Power Play: Why Rod Power Matters in Perch Fishing
The ideal rod power for perch fishing is light to medium. Perch are not typically large fish – with many ranging from half a pound to a couple of pounds – so a heavy power rod would be overkill and might even decrease your sensitivity to bites. A light to medium power rod will have enough backbone to handle a perch's fight, yet it's sensitive enough to detect even the subtlest nibbles.
In the Action: Deciphering Rod Action for Perch Fishing
A fast to medium action rod is generally the best choice for perch fishing. The action of a rod impacts its sensitivity and the speed at which it returns to its neutral position after a cast. Fast action rods bend mostly at the tip and are highly sensitive, which is useful for detecting the light bites perch are known for. Medium action rods, which bend in the top half, provide a good balance of casting power and sensitivity.
Material Matters: The Best Rod Materials for Perch Fishing
When it comes to rod material for perch fishing, graphite or a graphite-composite mix is often preferred. Graphite rods are lightweight and highly sensitive, making them ideal for detecting perch bites. A composite mix, combining graphite and fiberglass, adds a degree of toughness and durability without sacrificing too much sensitivity.
By considering these factors – rod length, power, action, and material – you can select a fishing rod tailored to the unique requirements of perch fishing. Having the right rod not only increases your chances of success but also enhances your enjoyment of the fishing experience.
🔶In the following section, we'll be exploring our top picks for perch fishing rods, carefully chosen based on these factors and extensive field testing.
Perfecting Your Perch Pursuit: Top Rod Recommendations
Through careful research and consultation with experienced anglers, we've curated a list of top fishing rods that excel in perch fishing. Here are our top picks:
St. Croix Premier Spinning Rod
💠Review: St. Croix is a well-respected name in the fishing industry, and the Premier Spinning Rod lives up to the brand's reputation. This rod, made from premium SCII graphite, offers excellent sensitivity and durability. With fast action and light to medium power, it's ideal for detecting perch bites and can handle their fight well.
💠Pros: High sensitivity, durability, versatile, and come in various lengths.
💠Cons: Pricier than some other options, might be too responsive for absolute beginners.
Ugly Stik GX2 Spinning Rod
💠Review: The Ugly Stik GX2 offers excellent value for its price. It features a graphite and fiberglass composite construction, providing a good balance of sensitivity and toughness. With a medium action and a range of power options, it's a versatile rod suitable for a variety of fishing conditions.
💠Pros: Affordable, durable, versatile, good sensitivity.
💠Cons: Not as sensitive as a full graphite rod, heavier than other options.
Shimano Stimula Spinning Rod
💠Review: The Shimano Stimula Spinning Rod is another great option for perch fishing. This rod features a graphite composite construction and comes in a variety of lengths and power ratings, offering something for every perch angler. Its fast action is excellent for detecting light bites.
💠Pros: Good sensitivity, a wide range of options, durable.
💠Cons: Not as durable as other options, sensitivity may decrease with length.
Daiwa Presso Ultralight Pack Spinning Rod
💠Review: If you're into travel or hiking to your fishing spots, the Daiwa Presso Ultralight Pack Spinning Rod is a great option. Despite being an ultralight and compact rod, it does not compromise performance. The rod is made from high-quality graphite, offering excellent sensitivity.
💠Pros: Portable, high sensitivity, great for travel.
💠Cons: Less durable, less comfortable for long sessions.
🔶Choosing the right rod from this list depends on your personal preferences, fishing style, and budget. However, rest assured that each of these rods has proven to be highly effective in the hands of perch anglers. In the next section, we'll provide some tips to help you use your chosen rod more effectively for perch fishing.
Unlocking Success: Top Tips to Utilize Your Rod
Now that you've chosen a high-quality perch fishing rod, it's time to learn how to use it effectively. Here are some key tips and techniques to help you get the most out of your rod and increase your chances of landing a perch:
Master Casting and Retrieval: Practice your casting and retrieval techniques to ensure you can accurately place your bait or lure where the perch are. Remember, perch often hide near structures, so you need to be able to cast near these without getting snagged. Try different retrieval speeds and patterns to mimic the natural movement of the prey that perch feeds on.
Use the Right Bait or Lure: Your choice of bait or lure can make a significant difference in perch fishing. Live bait such as minnows, worms, or insects can be very effective. For lures, small spinners, jigs, or soft plastic baits are often good choices. Remember to match the size of your bait or lure to the size of the perch you're targeting.
Stay Alert: Perch bites can be subtle, so you need to stay alert and responsive. Keep a firm grip on your rod and pay attention to any slight movement or change in line tension. The high sensitivity of your perch fishing rod will help you detect these bites.
Use the Right Line: The line you use should be compatible with your rod's power rating and the size of the perch you're targeting. For most perch fishing scenarios, a 4-8 lb test line should be sufficient.
Practice Proper Hook-Setting: Once you detect a bite, you need to set the hook effectively to secure the fish. A firm, quick upward jerk of the rod should do the trick. Remember, timing is critical here. Too soon, and you may pull the bait out of the fish's mouth; too late, and the fish may spit out the hook.
Keep Your Rod in Good Condition: Maintain your rod by cleaning it after every use, checking for any damage regularly, and storing it properly. This will ensure your rod continues to perform optimally and lasts for a long time.
🔶Remember, while these tips and techniques can significantly enhance your perch fishing experience, nothing beats time on the water. Practice is crucial, so get out there and enjoy the process of learning and improving your skills. In the next section, we'll discuss how to maintain your perch fishing rod to ensure it stays in top condition.
Investing in Longevity: Essential Tips for Rod Maintenance
Investing in a quality perch fishing rod is just the first step. Ensuring its longevity and optimal performance requires regular maintenance and care. Here are some practical tips for rod maintenance:
| Maintenance Tips | Explanation |
| --- | --- |
| Clean Regularly | After each fishing trip, clean your rod to remove dirt, salt, and grime. Rinse it with fresh water and dry it thoroughly before storage. Use a mild detergent and a soft cloth for a more thorough clean occasionally, especially after fishing in saltwater. |
| Inspect for Damage | Regularly check your rod for any signs of damage. Look for cracks or nicks in the rod blank and inspect the rod guides as a damaged guide can fray your line and reduce your casting distance and accuracy. |
| Handle with Care | Always be gentle with your rod. Store it in a rod rack or similar when not in use to avoid accidental damage. Use a rod tube or case for added protection during transportation. |
| Avoid Extreme Temperatures | Protect your rod from extreme heat or cold, which can damage it, especially if it's made of graphite. Store it in a cool, dry place out of direct sunlight. Avoid leaving it in a hot car or trunk for extended periods. |
| Lubricate Reel Seat | If your rod has a reel seat, apply a bit of reel oil or silicone lubricant occasionally. This keeps the reel seat turning smoothly and prevents it from seizing up. |
| Regularly Change Your Line | An old, worn-out line can put unnecessary strain on your rod and reduce your casting performance. Change your line regularly to keep your rod performing at its best. |
Proper care and maintenance of your perch fishing rod not only prolongs its lifespan but also enhances your fishing experience. A well-maintained rod performs better, is more reliable, and can ultimately lead to more successful fishing trips.
🔶In the next and final section, we will wrap up the discussion and inspire you to put this newfound knowledge to practice in your next perch fishing adventure.
FAQ: Master the Art of Perch Fishing
The Last Cast: Summing Up Your Perch Fishing Guide
In this comprehensive guide, we've traversed the essentials of perch fishing, dissected the critical features of fishing rods, and distilled our top recommendations for the best rods suited for perch fishing. We've highlighted the significance of understanding perch behavior and how that influences rod selection. Rod length, power, action, and material emerged as crucial aspects to consider when choosing your perch rod.
Specifically, rods around 6-7 feet in length, with light to medium power and fast to medium action, were found to be the most effective for perch fishing. The sensitivity and durability offered by graphite and graphite-composite rods made them ideal choices. Our top recommendations, including rods from well-known brands such as St. Croix, Ugly Stik, Shimano, and Daiwa, reflect these criteria.
Furthermore, we've discussed essential tips and techniques for effectively using your perch fishing rod. Mastering casting and retrieval, selecting the right bait or lure, staying alert to subtle bites, using the right line, and practicing proper hook-setting are all part of the equation that can lead to a successful perch fishing experience. And of course, taking good care of your fishing rod is equally crucial to ensure its longevity and optimal performance.
As we wrap up this guide, our final and perhaps most important advice is to embrace the joy of the process. As you put these recommendations into practice, remember that fishing is as much about enjoying nature and the thrill of the catch as it is about technical proficiency. With every cast you make, you're not just fishing for perch; you're also creating memories and honing skills that will last a lifetime.
So, grab your rod, hit the waters, and let the world of perch fishing unfold in all its splendor.
Behind the Scenes: Credible Sources for Your Trusted Guide
The knowledge used in writing this article comes from a wide range of publicly available information, including reputable fishing websites, angling blogs, and fishing guidebooks. For further detailed insights, you may refer to the following resources:
"The Complete Guide to Perch Fishing" – John Bailey (Book)
"Understanding Fishing Rod Characteristics" – Bass Pro Shops – https://1source.basspro.com/news-tips/bass/5335/best-bass-fishing-rod-buying-guide-which-one-right-you
"Choosing the Right Rod & Reel Combo" – FishUSA – https://www.fishusa.com/Fishing/Rod-Reel-Combos/
"Fishing Rod Care Tips" – Tackle Warehouse
"Expert Techniques for Successful Perch Fishing" – Angling Times
Manufacturer websites (St. Croix, Ugly Stik, Shimano, Daiwa) for product specifications and details
🔶Remember, this list is illustrative and not exhaustive. There are many more resources available online and in print to further your knowledge about perch fishing and fishing gear.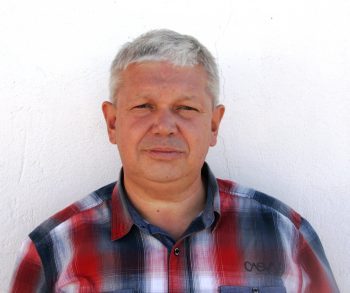 Sergio Smirnoff
Professional fisherman with 40+ years of experience.
Fishing and the ocean is a passion of my life. I am passionate about all kinds of sea fishing: fishing from the shore (spinning, float, baitcasting), from a boat, and spearfishing day and night.
I live in Tenerife (Canary Islands) for the last 10+ years and share my daily fishing experiences on my website. Many years of personal experience as a fisherman and the vast experience of my friends allow me to write professionally on any fishing topics (from choosing a flashlight and equipment to deep-sea fishing).
All of my advice is based on practical real-world experience and will be useful to both novice anglers and professionals.
Read more
about the author.
Affiliate Disclosure: FishReeler.com sometimes gets paid for listings, through sponsors or affiliate programs like Amazon, Ebay, Cabelas, Bass Pro Shop, Shimano, Daiwa, Rapala, Renn, Okuma, KastKing, etс. Clicking a link helps keep FishReeler.com free, at no extra cost to you!
About the author: Each article is verified by the fishing expert Sergio Smirnoff. The articles are written by professional and amateur fishermen with 20+ years of fishing experience.
Note: The views and opinions expressed in this article are those of the authors and do not necessarily reflect the official policy or position of any agency. The articles are for informational purposes only, share your opinions in the comments and join the fishing discussions, let's share our fishing experiences together!