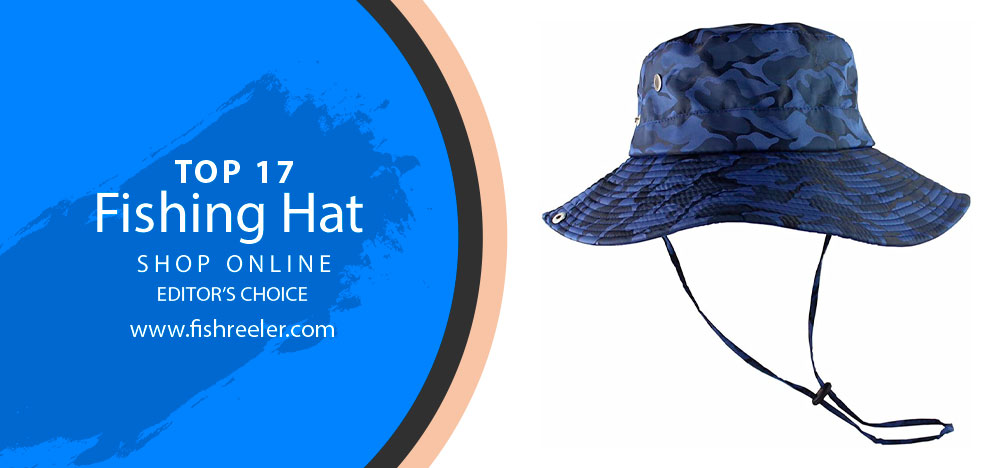 Find out which fishing hats best protect your head, face, and neck while fishing. There is no better time for fishing than when the sun is shining and nature comes alive. Unfortunately, this means you have to be in bright sunlight. Even when the sun is not shining, there are other hostile elements such as moisture, rain, wind, and cold.
Our Selection 17 Best Fishing Hats: Wide Brim, Net Hats, Bucket, Boonie
| Image | Product | Brand | Link |
| --- | --- | --- | --- |
| | KastKing UPF 50 Boonie Hat Fishing Hat with Removable Neck Flap Sun Hats,Gray | KastKing | |
| | EONPOW Fishing Hats Windproof UPF50+ UV Protection Bucket Beach Mesh Sun Hat 56-61cm Dark Gray | EONPOW | |
| | EINSKEY Men's Waterproof Sun Hat, Outdoor Sun Protection Bucket Safari Cap For Safari Fishing Hunting Dark Gray One Size | EINSKEY | |
| | Columbia Unisex Bora Bora Booney Fishing Hat, City Grey, One Size | Columbia | |
| | Home Prefer Mens UPF 50+ Sun Protection Cap Wide Brim Fishing Hat with Neck Flap (Light Gray) | Home Prefer | |
| | Gelante 100% Cotton Packable Fishing Hunting Summer Travel Bucket Cap Hat 1900-Black-S/M | Gelante | |
| | CAMOLAND Camouflage Outdoor Fishing Boonie Hat with Wide Brim UV Protection Summer Safari Sling Bucket Cap UPF 50+ (Blue) | CAMOLAND | |
| | Seektop Wide Brim Fishing Hat for Men/Women with UPF 50+ UV Protection,Waterproof Sun Hats with Face Cover & Neck Flap for Fishing Hiking Black | Seektop | |
| | GearTOP Wide Brim Sun Hat for Men and Women - Mens Bucket Hats with UV Protection for Hiking - Beach Hats for Women UPF 50+ (Beige, 7-7 1/2) | GearTOP | |
| | Sunday Afternoons Kids & Baby Kids Play Hat, Bluebird, Small | Sunday Afternoons | |
| | Columbia Unisex PFG Mesh Snap Back Fish Flag Ball Cap, Cool Grey/White/Vivid Blue, One Size | Columbia | |
| | AKIZON Mens Hats Baseball Cap with Fish Bones - Fishing Hat for Men, Beige 7 1/4 | AKIZON | |
| | Costa Mesh Trucker Hat, Slate Blue + White | Costa Del Mar | |
| | Under Armour Men's Blitzing 3.0 Cap , Black (002)/Black , Medium/Large | Under Armour | |
| | Fish Silhouettes Trucker Hat - Adjustable Baseball Cap w/Snapback Closure | Outdoor Cap | |
| | ELLEWIN Unisex Breathable Full Mesh Baseball Cap Quick Dry Running hat Lightweight Cooling Water Sports Hat | ELLEWIN | |
| | Columbia Unisex PFG Mesh Ball Cap, Bright Aqua/White/Coll Navy/Bonefish, Large/X-Large | Columbia | |
I learned from my own experience that hats are an indispensable accessory in any weather. I especially realized how important head protection was when I had to improvise and wear a shirt as sun protection for my head. I cannot agree that a regular cap or hat is sufficient when it comes to protection from the sun, cold, moisture, and wind. You need a specially designed fishing accessory with characteristics that adapt to your environment and fishing location.
Top 10 Rated in Fishing Hats & Helpful Customer Reviews
1# KastKing Sol Armis Fishing Hat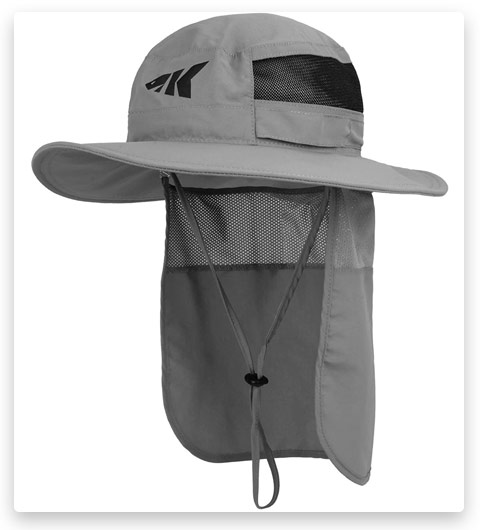 This accessory is able to protect your face and neck from the sun. It has wide margins that don't block your visibility. The hat has UPF 50 sun protection. You will find an adjustable cord that allows you to provide the optimal fit for you. It is made of breathable material and also has ventilated mesh sides to keep your head cool. Thanks to the neck shield, you can also protect your neck. This can be removed if necessary.
2# EONPOW Windproof Fishing Hats – Amazon's Choice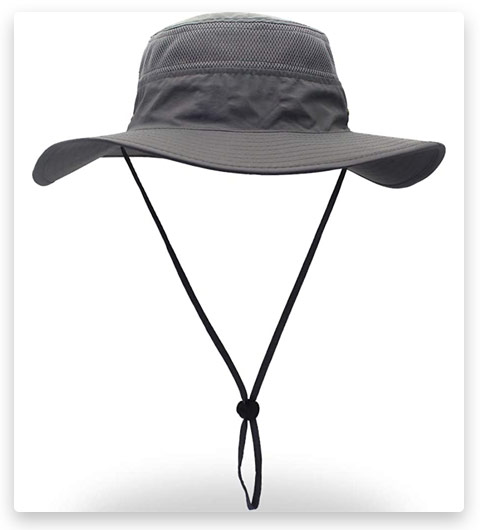 This model is made of 100% polyester, which does not lose its shape, does not wrinkle. Such material retains color, is durable, breathes well, provides pleasant tactile sensations. The abrasion resistance of polyester is very high. You will be protected from the sun as the hat has UPF 50+ protection. The model will not fly off your head even in very strong winds thanks to the adjustable drawstring. The accessory has a breathable mesh vent that will keep you cool all day long.
3# EINSKEY Sun Hat for Men/Women – #1 Best Seller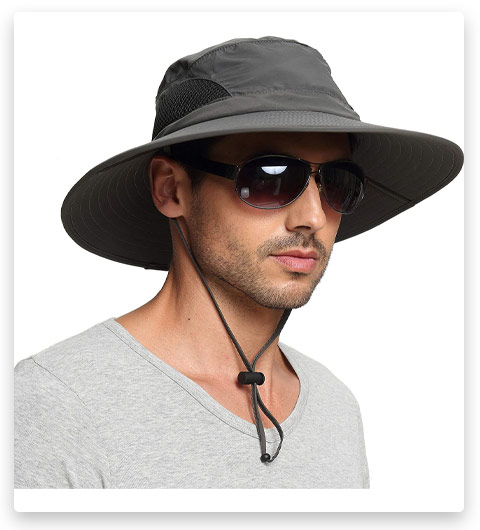 This model is suitable not only for men but also for women. The design of the hat is made in such a way that the size fits absolutely everyone. You will be able to adjust the strap so that you are comfortable. Thanks to the wide brim, your face and neck are completely protected from the sun and wind. In high winds, the hat stays in place thanks to the durable, adjustable chin strap. You won't sweat because of the two mesh panels on the sides.
4# Columbia Unisex Adult Bora Bora Booney – Amazon's Choice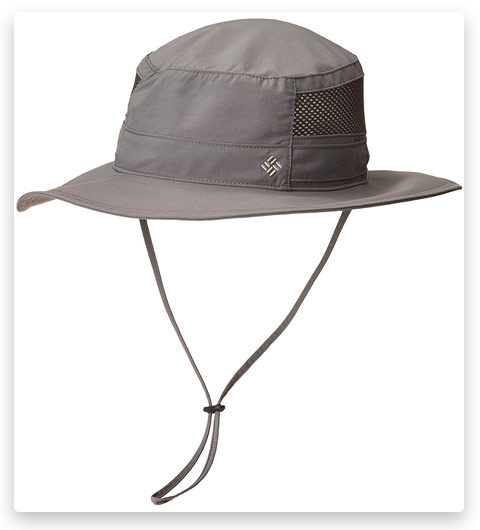 The Columbia Bora Bora ™ Booney hat is crafted from sleek textiles and detailed with mesh panels. Omni-Shade fabric blocks harmful UV rays by tightly braiding the garment using UV reflectors. Omni-Shade is approved by the Skin Cancer Foundation. Unlike today's topical sunscreens, Omni-Shade provides super-protection all day, with no need to reapply. UV protection factor 50UV. The accessory is equipped with a wide brim and has a drawstring for adjusting the volume.
5# Home Prefer Men's Wide Brim Fishing Hat – Amazon's Choice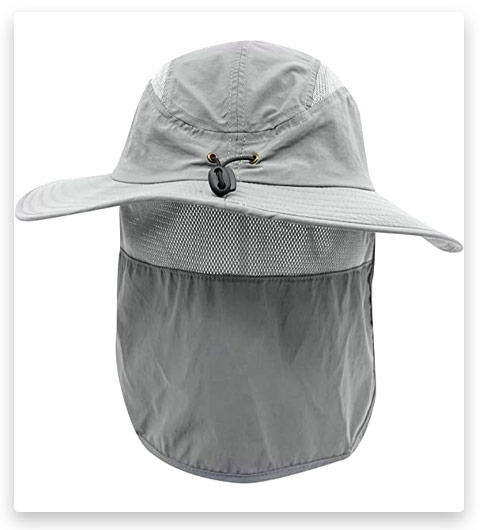 Sunstroke, or an insect bite, is a rather unpleasant thing in the process of fishing. This wide-brimmed hat does a great job. It will not only protect you from harmful sun rays but also hide you from annoying flies or mosquitoes. The hat itself is made of durable polyester. This material is highly breathable and dries quickly. Your neck and back will also be protected with the back cover.
6# Gelante Fishing Bucket Cap Hat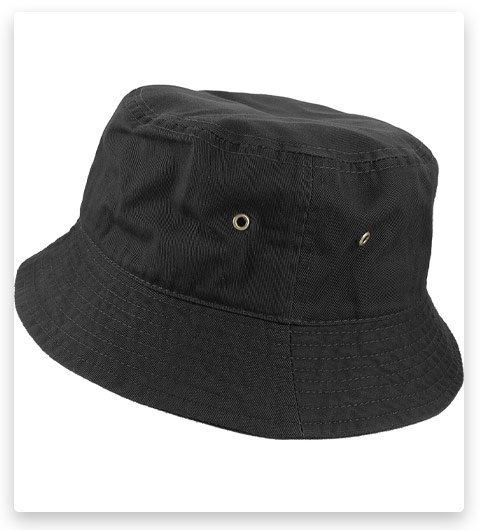 You will love this accessory because it is made from 100% cotton. This allows you to feel comfortable all day long-wearing. This material is very soft and pleasant to the scalp. Also, cotton provides high sun protection. A 2 1/2 "brim means your face is well protected. I also like this model because it is very light and hardly felt on the head.
7# CAMOLAND Breathable Wide Brim Boonie Hat – Amazon's Choice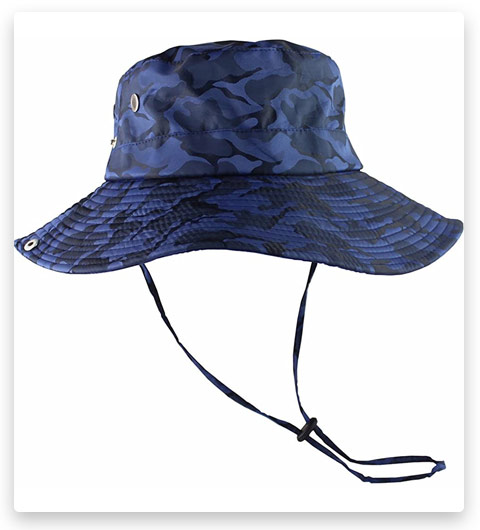 You can fish all day long without thinking about the sun's rays. This accessory provides maximum UPF 50+ sun protection. Also, the model has a field of 3.2-3.5 inches and thus the ultraviolet rays will not fall on your face, head, and neck. However, your visibility will not be obstructed. You can easily take this hat with you as it can be folded and put in your backpack. But the shape of the hat will not change. The accessory fits snugly and does not fall off thanks to the adjustable strap.
8# Seektop Fishing Hat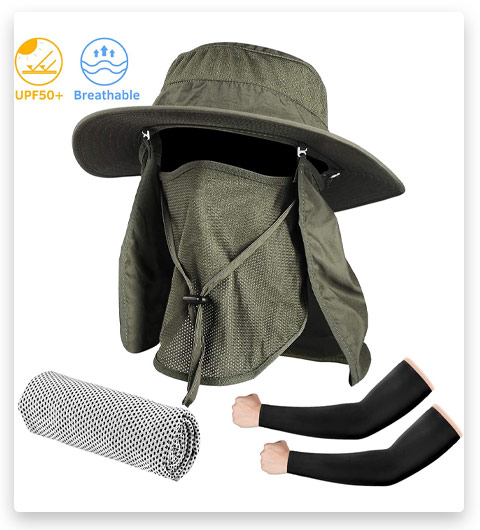 This headpiece is designed for use in hot, sultry weather, it has wide brims that cover well from the sun. Protect not only your face but also your neck from sunburn while fishing thanks to UPF 50+. It is surrounded by a large shawl that you can take off at any time. The mask protects the face from dust, and the collar additionally protects the neck and back. It is made from 100% polyester which dries quickly from rain or sweat.
9# GearTOP Fishing Hat – Amazon's Choice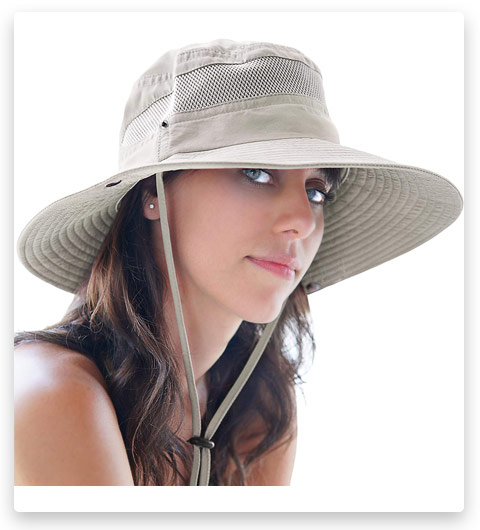 The perfect hat for the summer fishing season. Lightweight and comfortable to wear, it is made of breathable materials that do not cause skin irritation or allergic reactions. The material perfectly removes excess moisture, dries quickly, and allows air to pass through. The light muted color repels the sun's rays. Wide fields cover the face, ears, and part of the neck from the sun, but do not interfere with the view. And you can also wear glasses. There is a mesh panel on top for better air penetration.
10# Sunday Afternoons Kids' Play Hat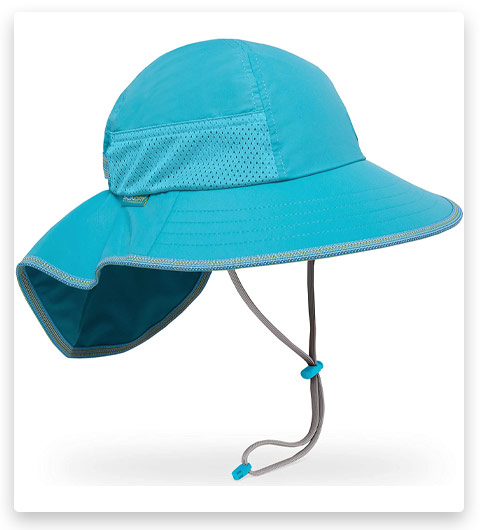 If you love to fish with your child, then you must provide him with protection from the sun. Thanks to its original cut, this model is suitable for children and has several wearing positions. Children can wear a hat with raised and lowered brims, with or without a drawstring. A dense textile cord with a plastic barrel will help to adjust the position of Panama on the head.
TOP 7 Ball Caps & Mesh Hooks Cap – Protect Yourself From Sun
11# Columbia Adult Snap Back Fish Flag Ballcap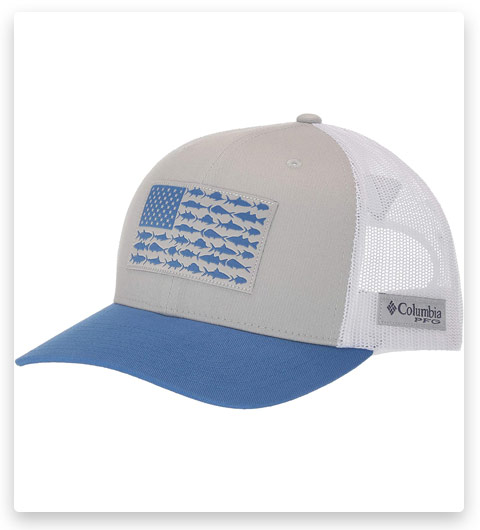 A gorgeous Columbia baseball cap that protects from direct sunlight. The presence of elastane in the product provides a good and comfortable fit. Omni-Shade technology blocks harmful solar radiation. You will be able to adjust the fit of the cap on your head. This suggests that you will feel comfortable while fishing. The model has a breathable mesh. The air circulates well and thus prevents your head from sweating.
12# AKIZON Baseball Cap with Fish Bones – Amazon's Choice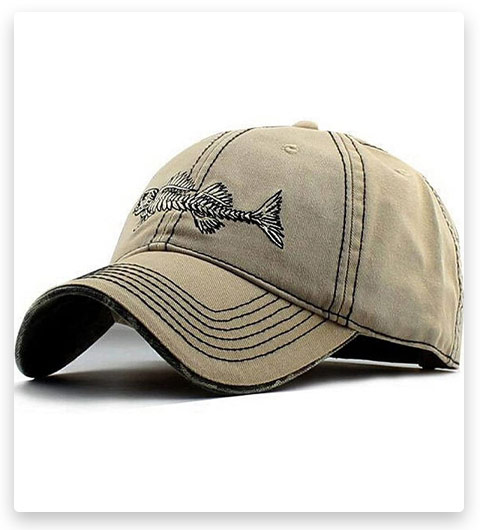 This is ideal for fishing. As a fisherman, I really like the design of the cap. It has a pattern of fish bones. It looks stylish and original. You will feel comfortable providing the fit that suits you best. This is accessible thanks to the adjustable Velcro strap on the back. The model is able to protect you not only from the sun but also from wind and dust. The cap is made of cotton fabric.
13# Costa Del Mar Mesh Hat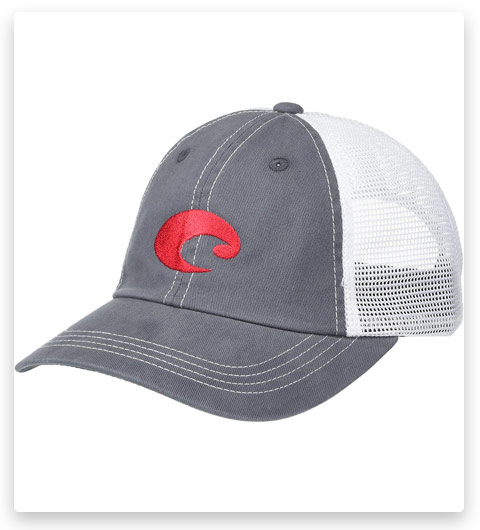 The Costa Del Mar cap is a great design and a globally recognizable logo. The front of the cap is branded and made of cotton, while the back is made of mesh for ventilation on hot days. Adjustable size with plastic closure on the back. This model has a deeper fit than the others, so it is suitable for those with large head sizes. I recommend this accessory if you want to get excellent sun protection, quality and reliability of use.
14# Under Armour Men's Blitzing Cap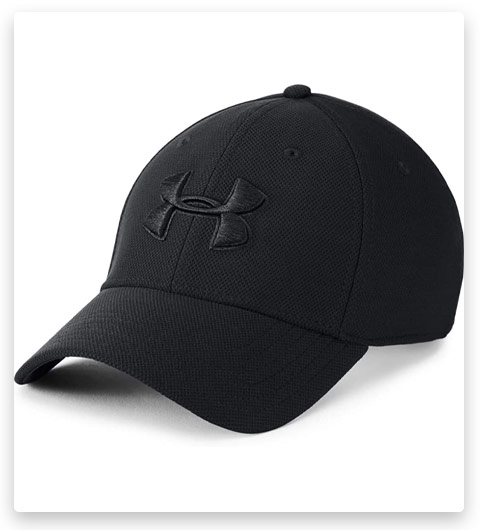 The accessory is made of durable textiles with HEATGEAR technology, which allows maximum air permeability, which allows you to evaporate moisture from the body surface quickly and efficiently. Microthread-Hybrid construction for breathability and comfort, while moisture-wicking technology keeps you warm and dry. Brand logo embroidery above the visor.
15# Outdoor Cap Fish Silhouettes Trucker Hat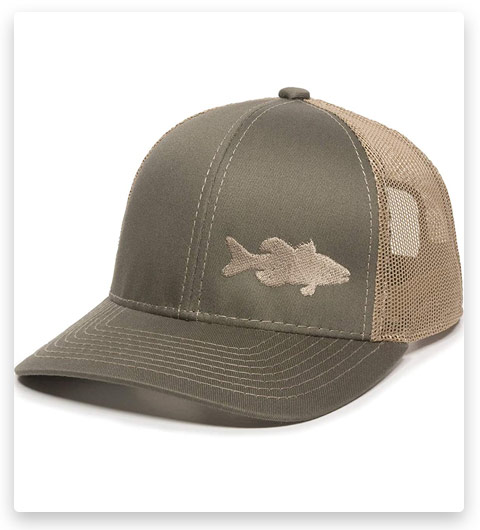 This is ideal for comfortable fishing. I love the fact that this accessory is made of cotton, which is pleasant to the skin. Such material is excellent for air permeability and thus your head will not sweat. In addition, the cap has mesh back panels. This is a lightweight cap that provides an excellent fit. I also like the design because this model is available in 5 colors and each model has a specific fish species.
16# ELLEWIN Baseball Cap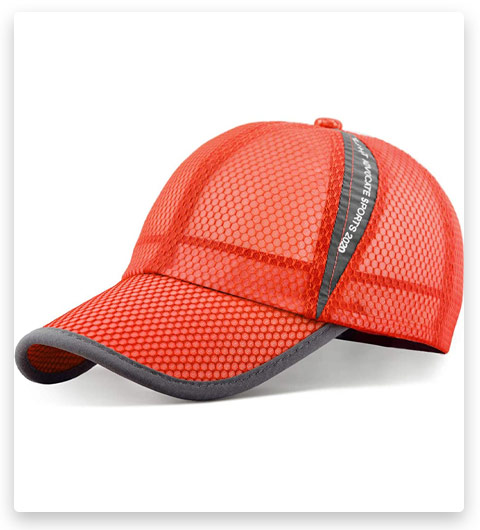 In my opinion, this is the best option for a hot summer day. It is fitted with Soft mesh panels that provide better ventilation. You will not sweat and will feel as comfortable as possible. The accessory is equipped with an elastic long strap that allows you to adjust the cap to the circumference of your head. The cap will not fit tightly, but it will not be too loose.
17# Columbia Mesh Ball Cap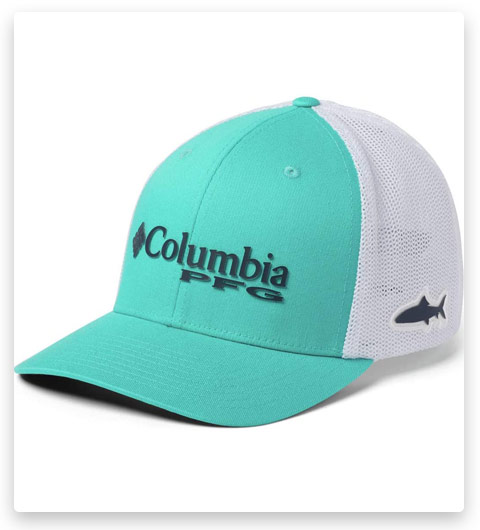 A Columbia baseball cap will come in handy on your fishing trips. The model will protect your head from sunlight and provide comfort during long walks. Omni-Wick ™ technology is a system for evacuation of the body's vapor for outdoor activities with this technology, moisture is quickly absorbed into the fabric and evaporates. Omni-Freeze Zero technology lowers the temperature of the fabric, increases the rate of evaporation of moisture, and creates a prolonged cooling effect. The fabric wicks away moisture as quickly as possible, and the Omni-Shade ™ UPF 50 technology provides reliable protection from harmful UV radiation.
How to Choose the Best Fishing Hat – Buying Guide
Buying a fishing hat is not buying a regular one. The fisherman's hat is a functional and protective accessory. Thus, you must have certain characteristics in order to make the right choice. Below you will find out what characteristics the best fishing hats have.
Types of fishing hats
They come in a variety of styles. They also vary in the degree of protection they offer anglers:
The bucket hat is the most popular type of fishing hat. It is so associated with fishing that it is also known as the fisherman's hat. They are usually made from cotton. They perfectly protect the fisherman from the sun without obstructing your view.
The wide brim is a fishing hat with a wide brim all around. This model provides better coverage for your face and neck. This makes them suitable for extended periods in the water.
Sun skirts and neck flap sun hat not only protect your face but also your neck and ears. Its edges extend from 4 to 6 inches or more.
Baseball-style fishing caps are similar to baseball caps. They are designed to protect the top of the head but are not suitable for protecting the cheek, chin, or neck.
Ventilation
You will sweat when exposed to the sun for a long time. Especially in high humidity conditions. Choosing a hat with good ventilation and cooling performance will ensure you feel comfortable and not overly sweaty. A well-ventilated hat allows cool breezes to circulate overhead and carry away heat, keeping your head cool and comfortable.
Adjustability
This is an important characteristic of such an item of clothing. You will be able to adjust the hat to your comfort. With chin straps and drawcords, you can customize the size to suit you.
Retention Methods
You will wear a hat outdoors, where sudden gusts of wind can blow at any time. Your accessory should have a way to secure it in place. A well-fitting hat provides a comfortable fit, but even that may not be enough to keep the hat on your head in the event of a storm. The hat should have adjustable chin straps. In addition, the model should be made of water-repellent materials.
The size
Fishing hats should fit perfectly. Not so tight that you have a headache, and not too loose so that you have to constantly straighten it or hold it with your hands. You can determine if a hat is right for you by measuring the circumference of your head and comparing the sizes of the hat.
Waterproof
Fishing is an outdoor activity near the water and the chances of your hat getting wet are high. It's a good idea to have a waterproof or quick-dry model. Make sure the hat is breathable and well ventilated to keep your head dry, protecting it from rain or fog, and not overheating your head.
Solar Protection
Hats are great fashion accessories, but did you know they are also recommended by skincare professionals and health professionals as effective ways to protect your head, neck, and face from harmful UV rays? The accessory must have at least UPF 50+.
Conclusion
Headwear is an important part of fishing clothing. As you already understood, a quality hat or cap has many useful functions. I advise you to purchase 2# EONPOW Windproof Fishing Hats and AKIZON Baseball Cap.
Tags: #best fishing hat / #best fly fishing hat / #world's best fishing hat / #best fishing sun hat / #best boonie hat for fishing / #who makes the best fishing hat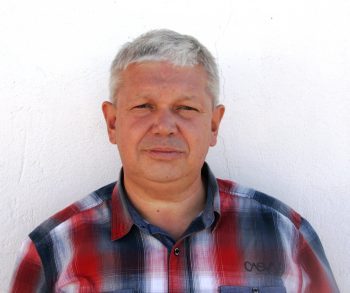 Sergio Smirnoff
Professional fisherman with 40+ years of experience.
Fishing and the ocean is a passion of my life. I am passionate about all kinds of sea fishing: fishing from the shore (spinning, float, baitcasting), from a boat, and spearfishing day and night.
I live in Tenerife (Canary Islands) for the last 10+ years and share my daily fishing experiences on my website. Many years of personal experience as a fisherman and the vast experience of my friends allow me to write professionally on any fishing topics (from choosing a flashlight and equipment to deep-sea fishing).
All of my advice is based on practical real-world experience and will be useful to both novice anglers and professionals.
Read more
about the author.
Affiliate Disclosure: FishReeler.com sometimes gets paid for listings, through sponsors or affiliate programs like Amazon, Ebay, Cabelas, Bass Pro Shop, Shimano, Daiwa, Rapala, Renn, Okuma, KastKing, etс. Clicking a link helps keep FishReeler.com free, at no extra cost to you!
About the author: Each article is verified by the fishing expert Sergio Smirnoff. The articles are written by professional and amateur fishermen with 20+ years of fishing experience.
Note: The views and opinions expressed in this article are those of the authors and do not necessarily reflect the official policy or position of any agency. The articles are for informational purposes only, share your opinions in the comments and join the fishing discussions, let's share our fishing experiences together!