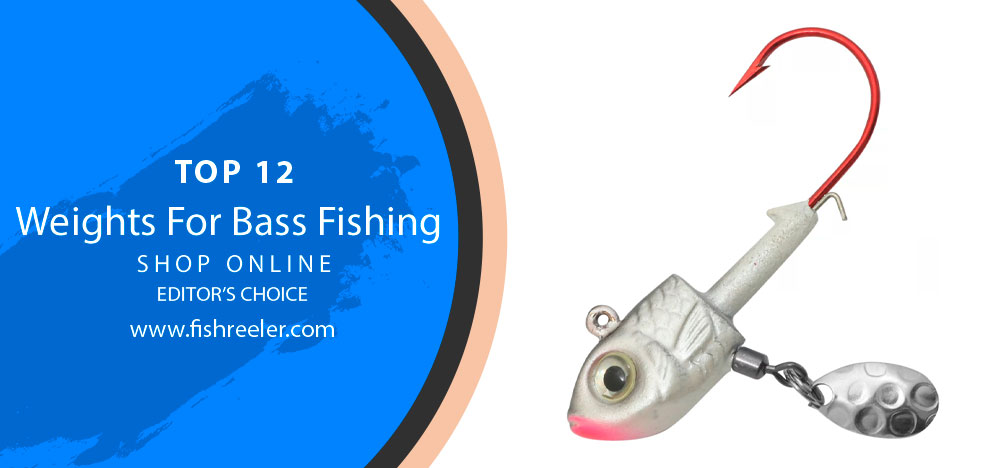 Mastering the Art of Weight Selection for Bass Fishing: A Comprehensive Guide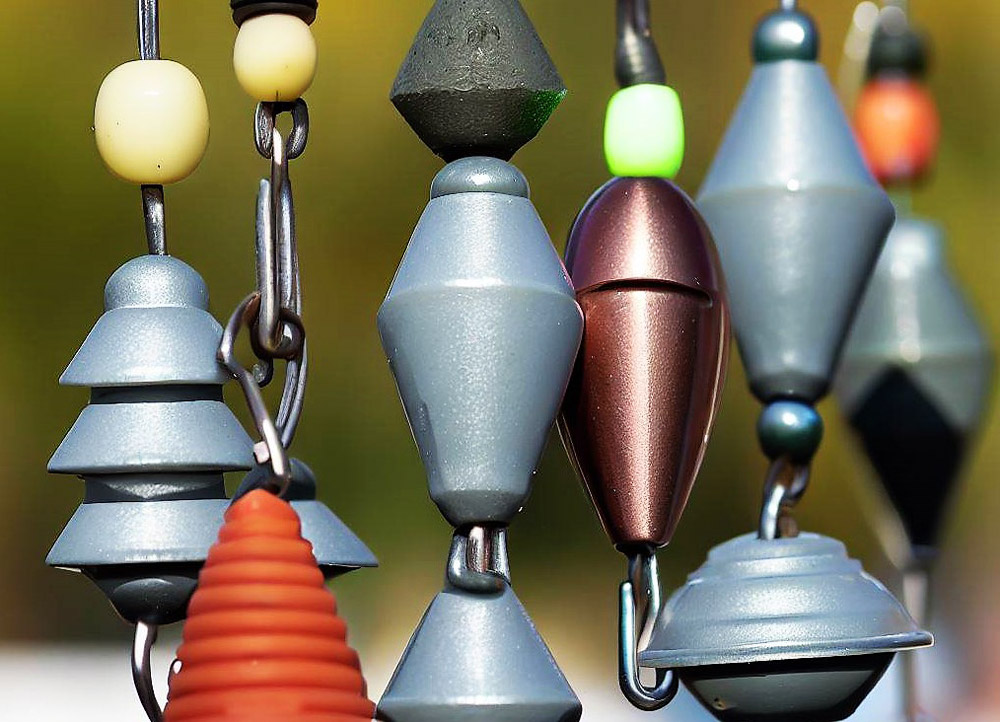 Every seasoned angler knows that the devil is in the details when it comes to successful bass fishing. Among the myriad factors that can make or break your fishing experience, the humble fishing weight holds a surprisingly significant place.
Weighing in on Bass Fishing
Fishing weights, or sinkers as they're commonly called, can easily be overlooked by beginners who may be more focused on the allure of lures or the complexity of reels. Yet, these small tools play an essential role in effective fishing, especially when it comes to the elusive, exciting world of bass fishing. The right weight can help control the depth of your lure, extend your casting distance, and enhance the presentation of your bait, making it more appealing to that trophy bass you're after.
To illustrate the importance of choosing the right weight, I'll share a personal story from my early days of bass fishing. I remember my excitement as I prepared for a fishing trip to a well-known bass hotspot. Armed with a new rod, a collection of highly recommended lures, and, frankly, a beginner's optimism, I was sure I would land a big one. However, I hadn't given much thought to my selection of weights.
I spent the day casting and reeling in, with little to show for my efforts. Meanwhile, I noticed a seasoned angler nearby who seemed to have a magic touch. His line bobbed up and down with consistent catches. Curious, I approached him, and we got talking about strategies. He pointed out the key detail I had overlooked: my weight selection. He explained how switching to a different type of weight could improve my bait presentation and control the lure's depth more effectively.
Taking his advice, I changed my weights and, as if by magic, started getting nibbles and finally caught my first bass. That day, I learned a valuable lesson about the significance of weights in bass fishing. This experience ignited my fascination with understanding the subtle art and science behind weight selection in bass fishing, a subject I am eager to share with you in this article.
As we dive deeper into this topic, remember this: bass fishing isn't just about the flashiest lure or the most expensive gear. Sometimes, it's the smallest details—like the humble fishing weight—that make the biggest difference.
The Balancing Act: Perfecting Your Cast with Bass Fishing Weights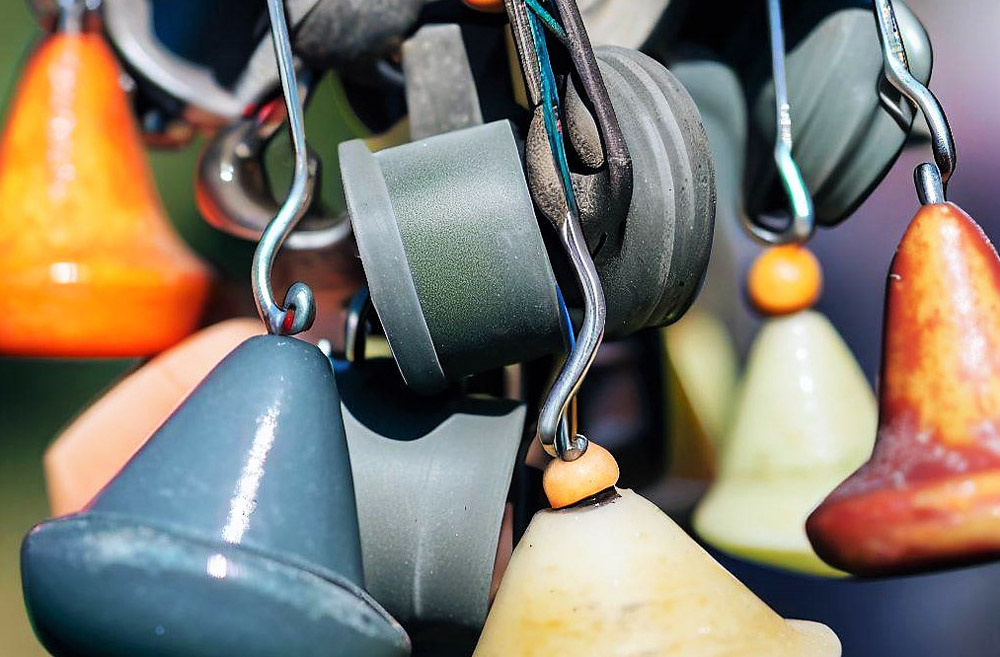 Bass fishing is a popular sport, and anglers use different techniques to catch these fish. One of the most important pieces of equipment for bass fishing is weight. Weights help you cast your line further and keep it in the water where the bass are.
In this blog post, we will discuss some of the best weights for bass fishing. We will also provide a buyer's guide to help you choose the right weight for your needs. Let's get started!
1# Bullet Weights Ultra Steel Egg Sinker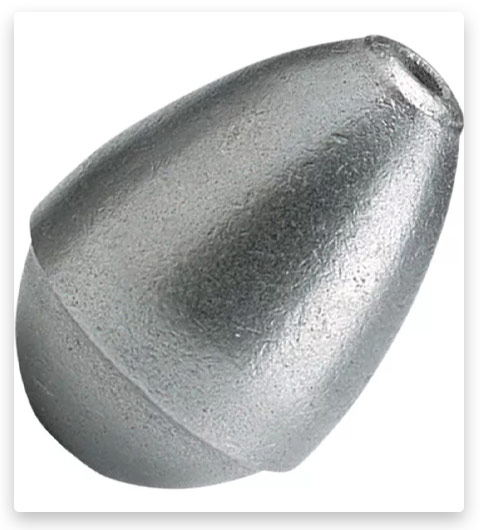 Looking for a lead-free and environmentally friendly option for your fishing sinkers? Bullet Weights Ultra Steel Egg Sinkers are a great choice! Made from tough, durable steel, these sinkers are significantly harder and smoother than lead sinkers, meaning they won't fray your line on tough bottoms. They're also more sensitive, so you'll be able to feel every bite. Give them a try on your next fishing trip!
2# VMC Switch-It Slip Sinker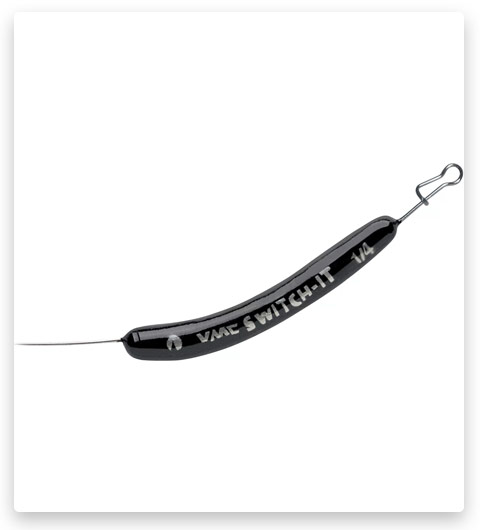 Check out the VMC Switch-It Slip Sinker. This innovative sinker features a snap-weight connector that makes it easy to open and close, so you can quickly adjust your weight without any hassle. Plus, the environmentally-friendly design is good for the planet. So whether you're trying to adjust to different Fishing conditions or simply want a more efficient way to change weights, the VMC Switch-It Slip Sinker is a great choice.
3# Northland Fishing Tackle Keel Trolling Weight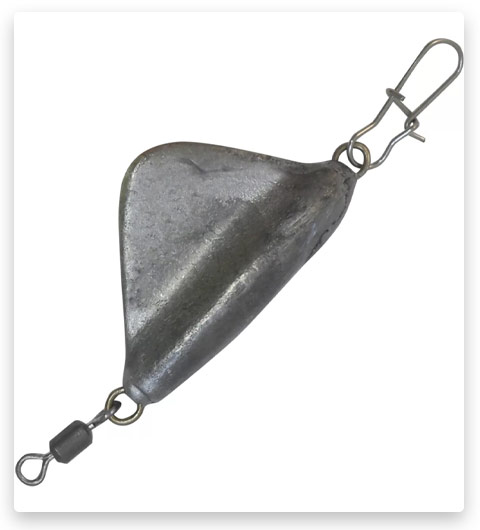 The Northland Fishing Tackle Keel Trolling Weight is the perfect way to target your favourite feeding zone while trolling. Quality components securely engage your line, while the sleek profile minimizes water drag, making it a great choice for anglers who want the best of both worlds.
4# Northland Fishing Tackle Torpedo Trolling Weight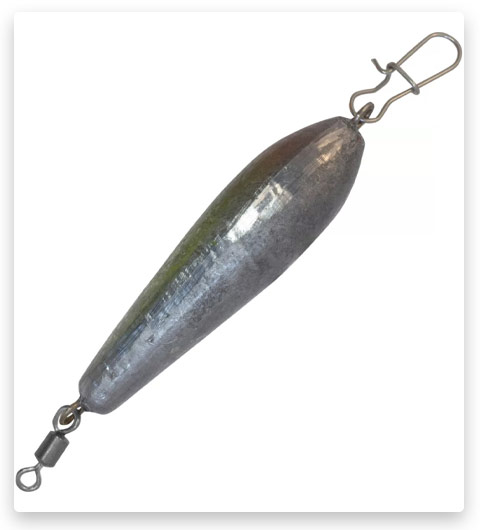 The Northland Fishing Tackle Torpedo Trolling Weight is the perfect way to target your favourite feeding zone while trolling. Quality components securely engage your line, while the sleek design minimizes water drag, making it the perfect choice for serious anglers.
5# Strike King EZ-Rig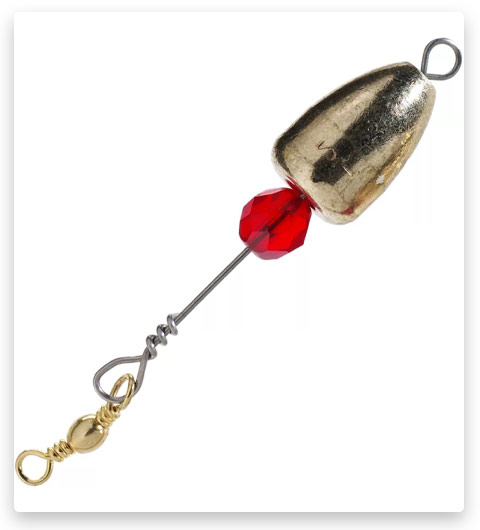 The Strike King's EZ-Rigs are just what you need! These pre-rigged Carolina rig systems will save you time and effort, so you can focus on enjoying your fishing trip. The glass beads produce a rattle and flash that is sure to attract fish, while the stainless steel wire ensures durability. Outfitted with environmentally-friendly brass weights, the EZ-Rig is a great choice for the eco-conscious angler. Give it a try on your next fishing adventure and see for yourself how easy and fun fishing with a Carolina rig can be!
6# Eagle Claw Weighted Treble Hook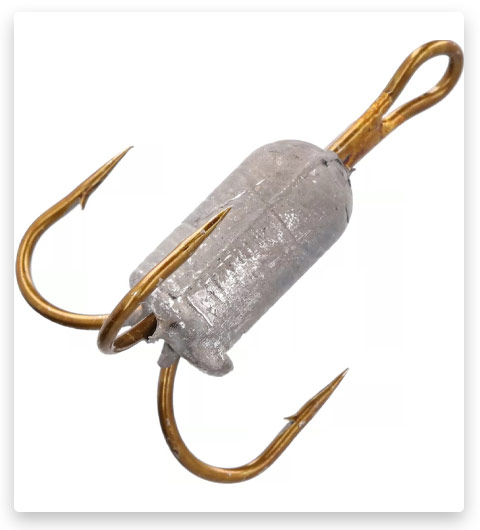 The Eagle Claw Weighted Treble Hook is a must-have for anglers who want to be prepared for anything. Featuring a 4X strong treble, this hook can easily handle the biggest fish. The lead weight ensures that the hook gets deep quickly, making it ideal for snagging or retrieving objects from the bottom. Whether you're trying to land a trophy fish or retrieve something that's fallen overboard, the Eagle Claw Weighted Treble Hook will help you get the job done.
7# Berkley Fusion19 Weighted EWG Hook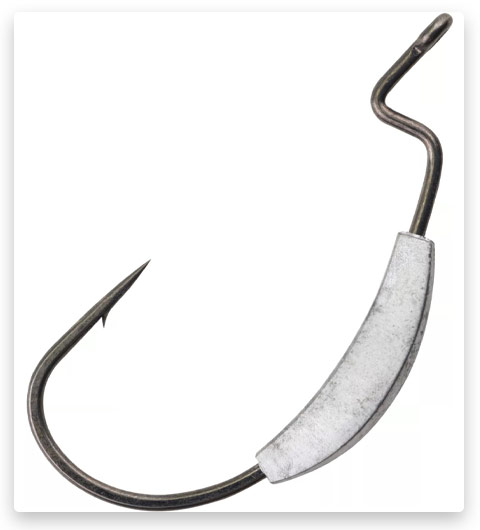 The Berkley Fusion19 Weighted EWG Hooks are a great choice for virtually any soft plastic bait application. The weighted design provides better casting control, while the needle point's Easy penetration and great holding ability allow you to hit the strike zone cast after cast. The small diameter and sleek Smoke satin finish give you faster hookups, while the stamped bend provides added strength.
8# VMC Heavy-Duty Weighted Swimbait Hook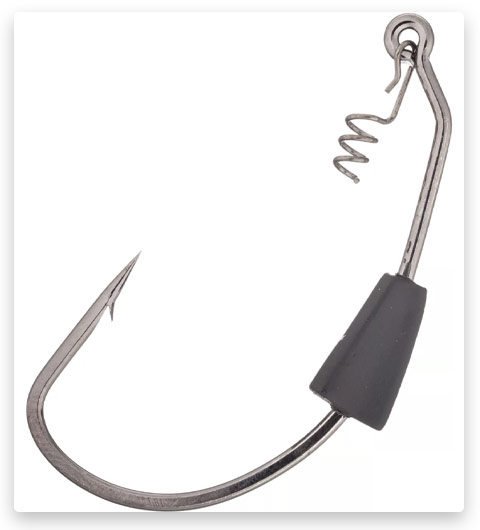 If you're looking for a versatile and easy-to-use swimbait hook, you'll love the VMC Heavy-Duty Weighted Swimbait Hooks. These hooks feature fixed weights, an extra-wide gap, and a tapered locking spring that securely holds the bait in place – making them perfect for adding or removing bait without damaging it. Plus, the sleek black nickel finish ensures long-lasting durability and maximum performance. So whether you're fishing for bass, trout, or other freshwater fish, the VMC Heavy-Duty Weighted Swimbait Hooks are up to the task.
9# Custom Jigs & Spins Demon Jig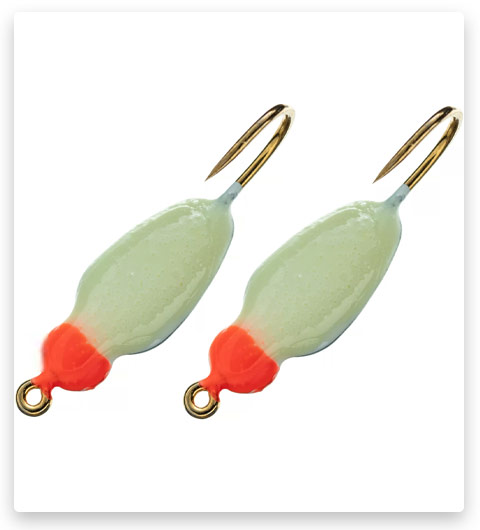 The Demon Jig from Custom Jigs & Spins is the original beetle-shaped ice jig and a proven favourite for panfish. The 2-tone high-gloss finish and gold hook stand out in the dark waters under the ice, making it easy to catch your limit.
10# Acme Tungsten Pendu Ice Jig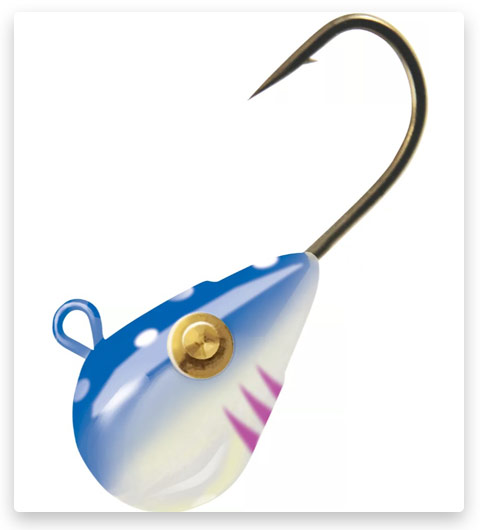 The Acme Tungsten Pendu Ice Jig is a must-have for any angler targeting panfish. The compact tungsten body and free-swinging hook combine to create incredible tail-whipping action that is sure to bring results. Whether jigging your rod tip or simply sitting still, the Pendu Ice Jig will provide an appealing presentation that is sure to attract fish. Don't miss out on this must-have lure, get your Acme Tungsten Pendu Ice Jig today!
11# Northland Fishing Tackle Thumper Jig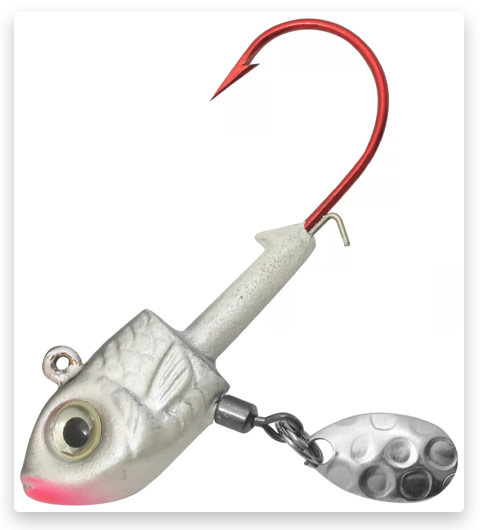 Check out the Northland Fishing Tackle Thumper Jig. This deadly lure is perfect for crappie, perch, walleye, bass, and trout. The realistically sculpted head and large eyes are sure to lure in fish, while the belly blade triggers strikes. The red lip-stick wounded bait hook makes this jig irresistible to fish. So whether you're targeting panfish, walleye, bass, or trout, the Northland Fishing Tackle Thumper Jig is a great choice.
12# Clam Swirl Drop-Kick Jig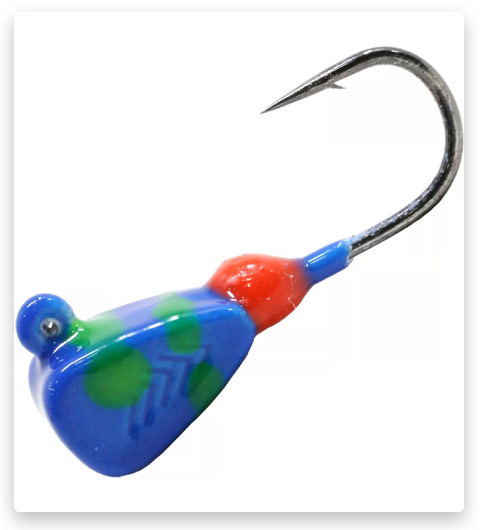 If you're looking for a top-of-the-line ice-fishing jig, look no further than the Clam Swirl Drop-Kick Jig. This jig is designed by none other than ice-fishing master, Dave Genz, so you know it's going to be good. The Clam Swirl Drop-Kick Jig is made of tungsten for a weighty feel that drops down to the bottom quickly. Plus, the flat top surface lets you view it with your sonar. It features a 90° presentation and an increased hook gap for the perfect catch every time. And panfish will be attracted to the little kick that this jig gives off.
Deep Dive into Bass Fishing: Not Just a Hobby, It's a Lifestyle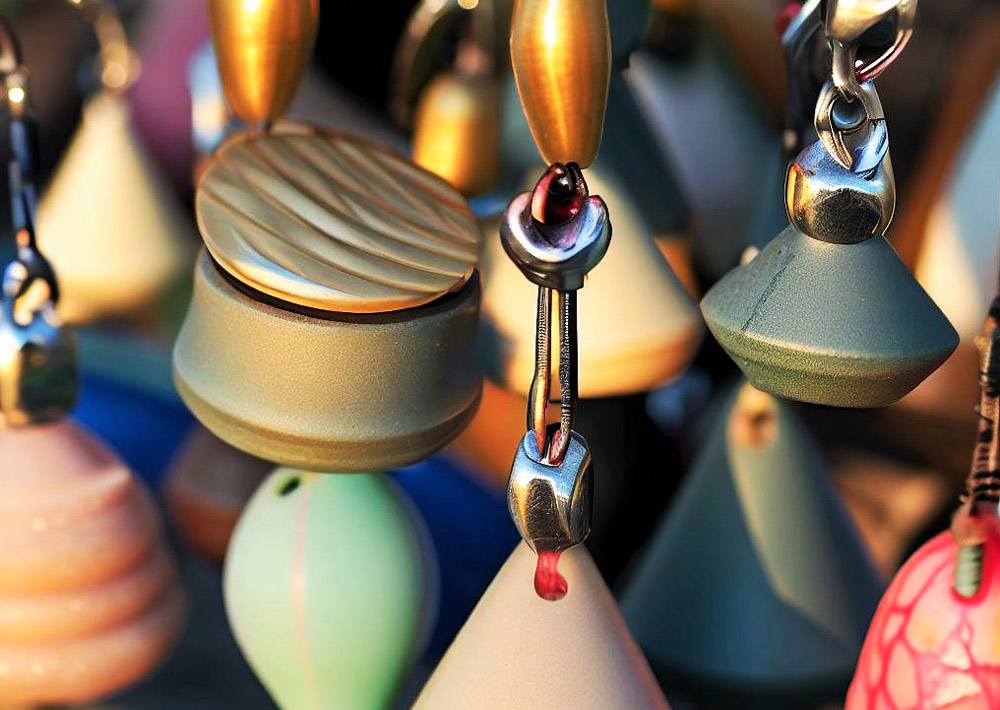 Bass fishing is a pursuit that bridges the gap between relaxation and thrill. It's an age-old sport with a rich history, a hobby for some, a profession for others, and a passion for many. It's not merely about casting a line and hoping for the best. It's a complex, skill-demanding activity that connects us with nature while pitting our wits and patience against one of the most popular game fish in the world: the bass.
Bass fishing's allure lies in its accessibility and challenge. Whether you're casting from the shore, wading in shallow waters, or out on a boat in the middle of a lake, you can engage in bass fishing. And while catching a bass can be a challenge, the thrill of the catch, the strategy involved, and the constant learning make it a captivating pastime for millions of enthusiasts worldwide.
Understanding the fish you're after is fundamental in bass fishing. Two of the most sought-after species among anglers are the largemouth bass and the smallmouth bass. Each has unique characteristics and behaviors that influence how you should approach your fishing strategy, including the selection and use of weights.
Largemouth bass are known for their aggressive behavior and their propensity to strike at a wide range of lures and baits. They typically inhabit warmer, shallower waters, often hiding among weeds, sunken structures, or other forms of cover. This preference for cover means that your choice of weight can greatly affect your ability to reach and attract these fish without getting snagged.
On the other hand, smallmouth bass, known for their fighting spirit, typically prefer cooler, deeper waters. They are often found near rocky structures or the sandy bottoms of lakes and rivers. The right weight can help present your lure at the optimal depth and position to attract these feisty fish.
Recognizing these differences and understanding the specific type of bass you're after can significantly improve your success rate. The right weight choice is an integral part of this equation, as it can help you adapt your approach to suit the specific habits and habitats of these bass species.
As we explore further into the world of weights in bass fishing, remember: understanding your target is the first step in planning a successful catch. After all, the hunt is always more successful when you know precisely what you're hunting and where to find it.
Physics Meets Fishing: The Crucial Role of Weights in Landing Bass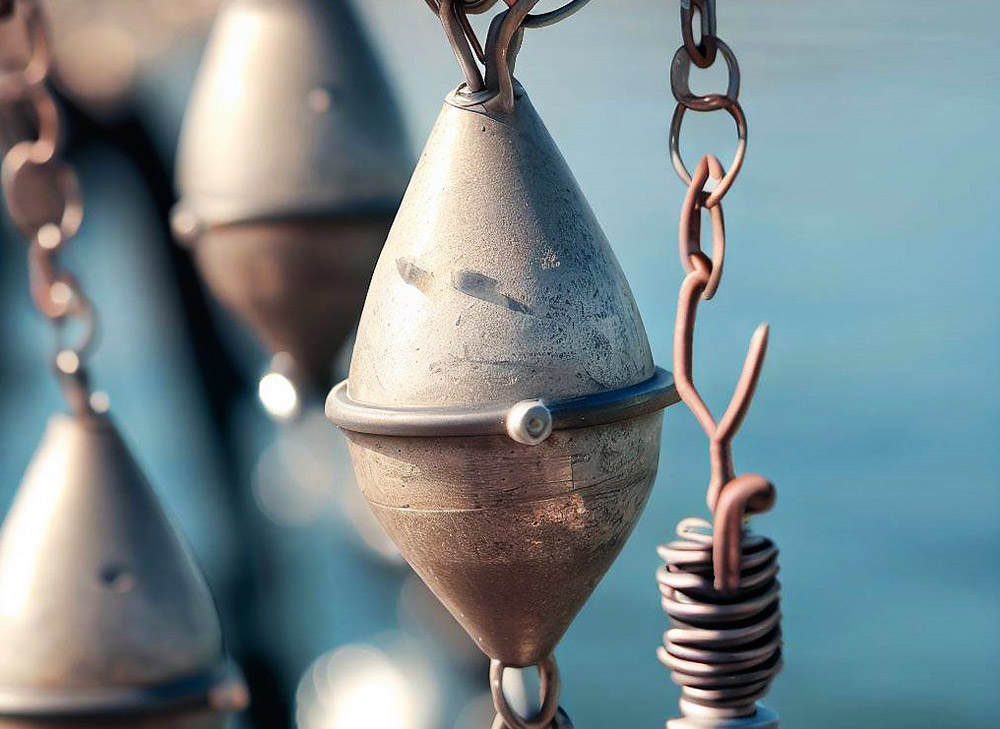 The role of weights in bass fishing is multi-faceted and remarkably crucial. They're not merely pieces of metal tied to your line; they're strategic tools that can significantly influence your bass fishing success. Specifically, weights serve three primary functions: controlling depth, extending casting distance, and improving bait presentation.
➰Firstly, controlling depth is critical in bass fishing. Bass aren't always in shallow waters; depending on the time of day, weather, and season, they might be lurking in deeper areas. Weights allow your bait or lure to sink to the appropriate depth, putting it in the strike zone of the bass. The right weight can help you reach a sweet spot that might otherwise be inaccessible.
➰Secondly, weights can significantly extend your casting distance. The added weight on the line allows for a more forceful cast, helping you cover more water and reach distant hotspots that might be teeming with bass. This advantage is particularly useful in wide bodies of water where casting distance can make a difference in your success rate.
➰Lastly, weights play a significant role in the presentation of your bait or lure. In the underwater world, the wrong movement or speed can make your bait look unnatural, scaring off wary bass. The right weight can provide stability and a more natural movement to your lure, making it more appealing to bass.
The functions of weights in fishing are largely governed by the principles of physics, particularly buoyancy and water resistance. Buoyancy, simply put, is the force that allows objects to float. Your lure or bait has natural buoyancy, and adding a weight counteracts this buoyancy to let it sink. The size and shape of the weight will determine how quickly it sinks and how it moves through the water.
Water resistance, or drag, is another factor to consider. When you cast your line, water resistance slows down your lure's descent and movement through the water. A heavier weight can overcome this resistance more effectively, allowing for a faster sinking speed and more control over the lure's movement.
It's a delicate balance to achieve: too much weight, and your bait might sink too quickly or move unnaturally; too little, and it might not reach the desired depth or distance. Understanding the science behind weights can help you make better decisions on the water and ultimately catch more bass. It's a fascinating blend of art and science, strategy and luck, patience and action – and it's part of what makes bass fishing such an endlessly engaging pursuit.
Fishing Weights Decoded: Your Guide to Bass Fishing's Essential Tool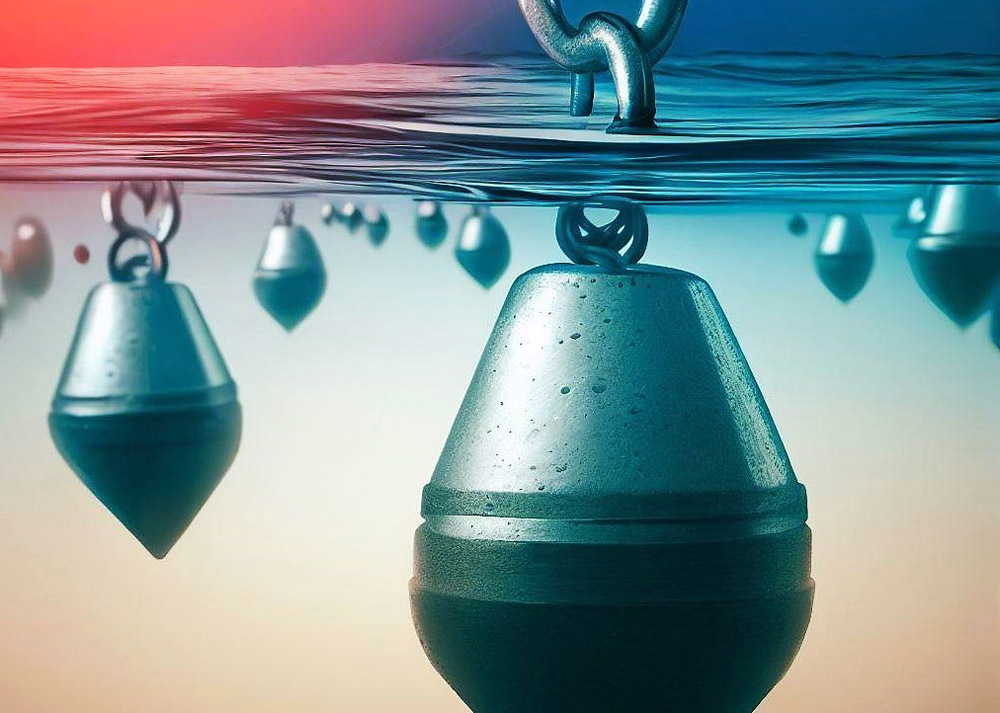 In the world of bass fishing, the importance of weights is unquestionable. From providing depth control to perfecting bait presentation, the role of these tools is paramount. Among the wide variety available, bullet weights, split-shot weights, and drop-shot weights are some of the most commonly used types. Let's delve into each one's characteristics, pros and cons, and optimal uses.
Bullet Weights
Bullet weights, as their name suggests, are shaped like a bullet, making them streamlined and ideal for piercing through dense underwater vegetation. This form factor significantly reduces the chances of snagging, making them particularly useful when you're fishing in areas teeming with underwater structures or plant life – a common habitat for largemouth bass.
Split-Shot Weights
Split-shot weights are small, round weights that can be easily attached or removed from your line. Their ease of use and adaptability make them a versatile choice for anglers needing quick adjustments to their bait's sinking rate or wanting to add a touch more distance to their cast.
Drop-Shot Weights
Drop-shot weights are designed for a specific rigging technique called drop-shotting. This involves presenting the lure above the weight, making it effective for vertical fishing in deeper waters. The technique allows for a natural and enticing bait presentation – an excellent strategy when targeting cautious smallmouth bass in deeper, clear water.
Each of these weights holds its unique value in the realm of bass fishing. The best choice for you depends on several variables, including your target bass species, the environmental conditions, and your personal fishing style. By understanding the different types of weights and their appropriate uses, you can enhance your strategic approach, giving you an edge in your bass fishing adventures.
Perfect Partners: Mastering the Art of Pairing Weights with Baits and Lures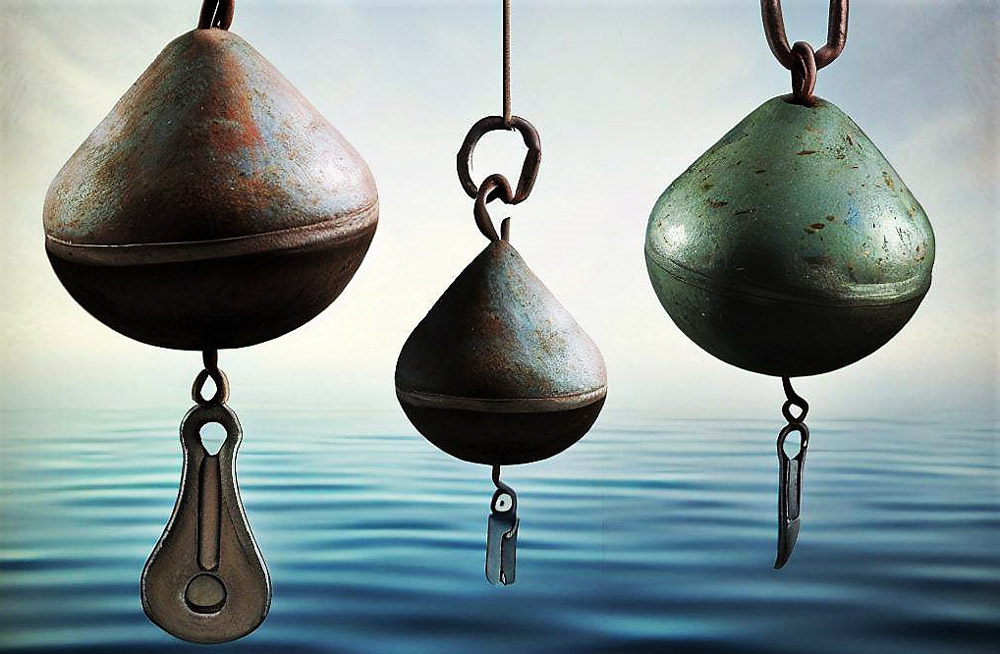 The union of the right weight with the appropriate bait or lure is a critical factor in successful bass fishing. This pairing affects not only the depth and distance of your cast but also the movement and presentation of your bait, which can significantly influence a bass's decision to strike.
Let's delve into some specific examples of how different weight and bait/lure combinations can be used in various bass fishing scenarios.
Bullet Weights with Soft Plastic Baits
A classic combination in bass fishing is a bullet weight paired with a soft plastic bait, like a plastic worm or a crawfish imitation. This setup, commonly known as a 'Texas rig,' is ideal for fishing in areas with heavy cover like weeds or submerged timber. The streamlined bullet weight helps reduce snagging, while the soft plastic bait mimics the movement of natural prey.
Split-Shot Weights with Live Baits
For those who prefer using live bait, a split-shot weight can be an excellent partner. The easily adjustable split shot can be paired with live worms, minnows, or crawfish, depending on the bass's preference in your fishing area. This setup allows for a natural presentation and movement of the bait, which can be extremely effective in clearer waters where bass can be more discerning.
Drop-Shot Weights with Finesse Worms
When targeting bass in deeper waters, a drop-shot rig is often the go-to setup. Pairing a drop-shot weight with a finesse worm can be highly effective. The weight sits at the bottom, with the worm presented above, enticingly dancing with the water's natural movement. This presentation can be particularly persuasive to smallmouth bass in clear, deep lakes or reservoirs.
Remember that these are just examples, and the best weight and bait/lure combination can vary based on numerous factors. The type of bass you're targeting, the specific conditions on the day, and even the time of year can all influence the best setup.
The key is to remain adaptable and willing to experiment. Bass fishing is a game of strategy and intuition, and finding the perfect combination of weight and bait is a crucial part of the puzzle. As you gain experience and knowledge, you'll develop a keen sense of what works best in different scenarios, enhancing your success on the water.
Adapting to the Elements: The Art of Weight Adjustment in Various Conditions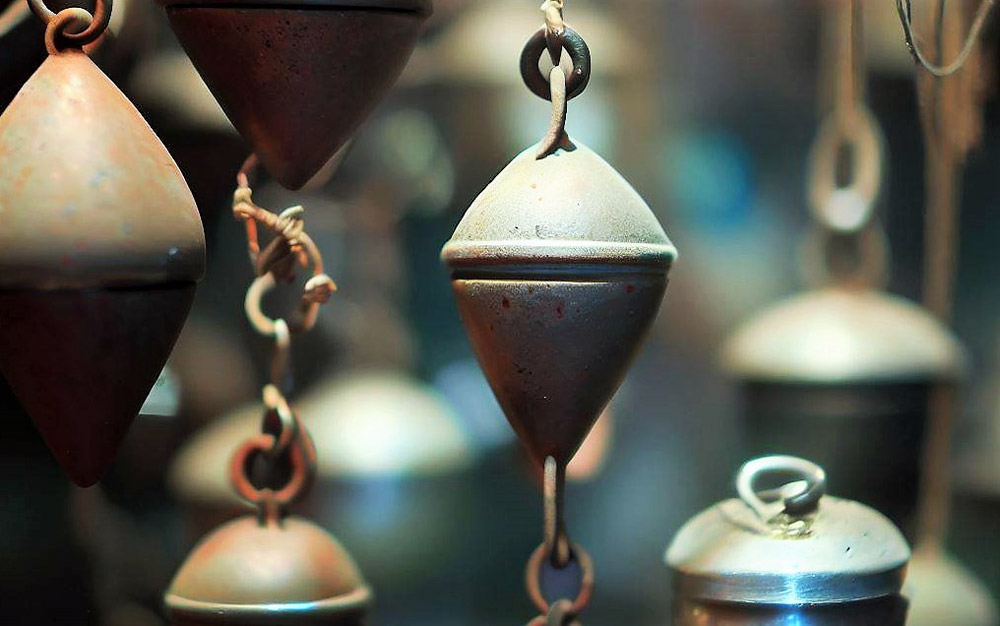 One of the most valuable skills in bass fishing is the ability to adjust your tactics based on the prevailing conditions. This adaptability includes making informed decisions about weight adjustments. Factors like water depth, current, water clarity, and bottom composition can significantly influence the effectiveness of your selected weight.
Water Depth
The depth at which bass are likely to be found can vary considerably depending on factors like time of day, weather, and season. In general, lighter weights are suitable for shallower waters, while heavier weights may be needed to reach bass in deeper zones. Regularly checking your depth finder and adjusting your weight accordingly can significantly increase your chances of success.
Current
In waters with a strong current, a heavier weight may be needed to maintain control of your bait and keep it in the strike zone. Conversely, in still or slow-moving waters, a lighter weight is often sufficient and can result in a more natural presentation of your bait.
Water Clarity
In clear waters, the bass has excellent visibility and can be more discerning about what they strike. A lighter weight can provide a more natural bait presentation in these conditions. In contrast, in murky waters, bass relies more on their lateral line to detect movement, and heavier weight can help create the vibrations that attract them to your bait.
Bottom Composition
The composition of the water body's bottom can also influence your weight choice. For example, a lighter weight that doesn't stir up the bottom too much can be beneficial in muddy or silt-laden waters, whereas a heavier weight that creates a bit of disturbance can attract bass in sandy or rocky areas.
Learning to read the water and weather conditions is an essential part of making these adjustments. Over time, as you gain experience and refine your observational skills, you'll develop an intuitive sense of what changes to make under different conditions.
Remember, bass fishing isn't a one-size-fits-all activity. It's a dynamic and ever-changing pursuit that requires a keen eye, a flexible approach, and a deep understanding of the variables at play. By learning to adjust your weights according to the prevailing conditions, you'll become a more versatile and successful angler.
Avoiding the Sink: Common Weight Selection Mistakes and How to Dodge Them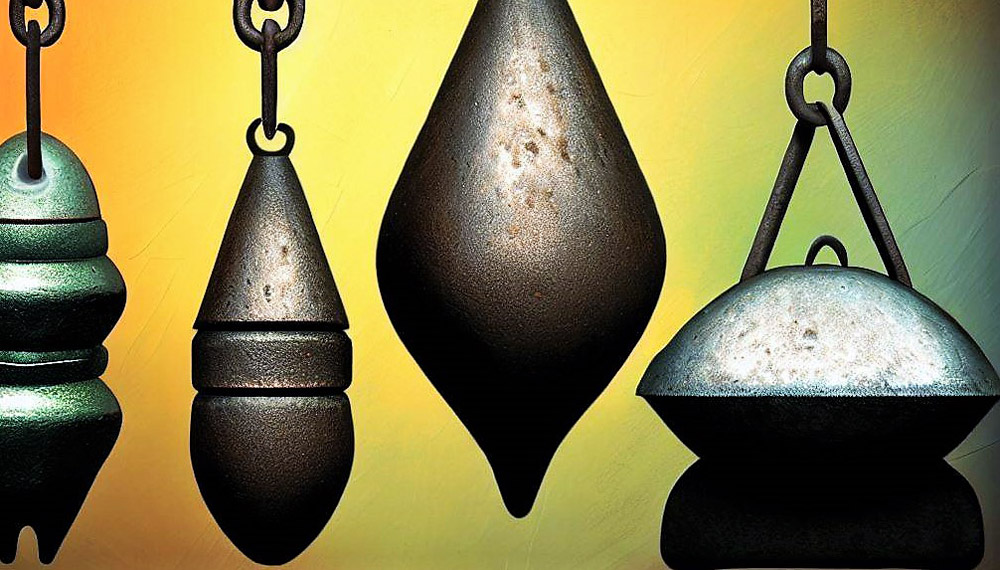 Weight selection in bass fishing might seem straightforward, but there are common pitfalls that even experienced anglers can fall into. Recognizing these mistakes and understanding how to avoid them can significantly enhance your success rate on the water.
Mistake #1: Using Too Much Weight
One of the most frequent errors is using a weight that's too heavy for the conditions. While a heavier weight can provide better control in strong currents or deep waters, it can also make your bait appear unnatural in still or shallow waters.
How to Avoid It: Always adjust your weight according to the conditions. If your bait isn't moving naturally in the water, try switching to a lighter weight.
Mistake #2: Not Adjusting Weight Based on Bait Size
Another common mistake is failing to adjust the weight based on the size of the bait. A weight that's too heavy for a small bait can hinder its movement, while a weight that's too light for a large bait might not get it to the desired depth.
How to Avoid It: Always consider the size and type of your bait when selecting your weight. The weight should complement the bait, not hinder its effectiveness.
Mistake #3: Ignoring the Bottom Composition
Ignoring the bottom composition of the water body can lead to incorrect weight choices. For instance, a weight that's too heavy can stir up a muddy bottom and potentially spook bass, while a weight that's too light might not be effective in rocky or sandy conditions.
How to Avoid It: Pay attention to the bottom composition and adjust your weight accordingly. If you're fishing in a muddy area, consider using a lighter weight; if you're in a rocky or sandy area, a heavier weight might be more effective.
Mistake #4: Not Experimenting with Different Weights
Finally, many anglers fall into the trap of sticking with one weight without experimenting with others. This lack of experimentation can limit your versatility and adaptability on the water.
How to Avoid It: Don't be afraid to experiment with different types of weights. The more you experiment, the more you'll understand how different weights can influence your bait's movement and presentation.
The key to avoiding these common mistakes is observation and adaptability. Keep an eye on the conditions, be open to adjusting your setup, and never stop learning. With these principles in mind, you'll be well on your way to making more informed decisions about weight selection in your bass fishing adventures.
Pro Tips: Weight Selection Strategies from the Masters of Bass Fishing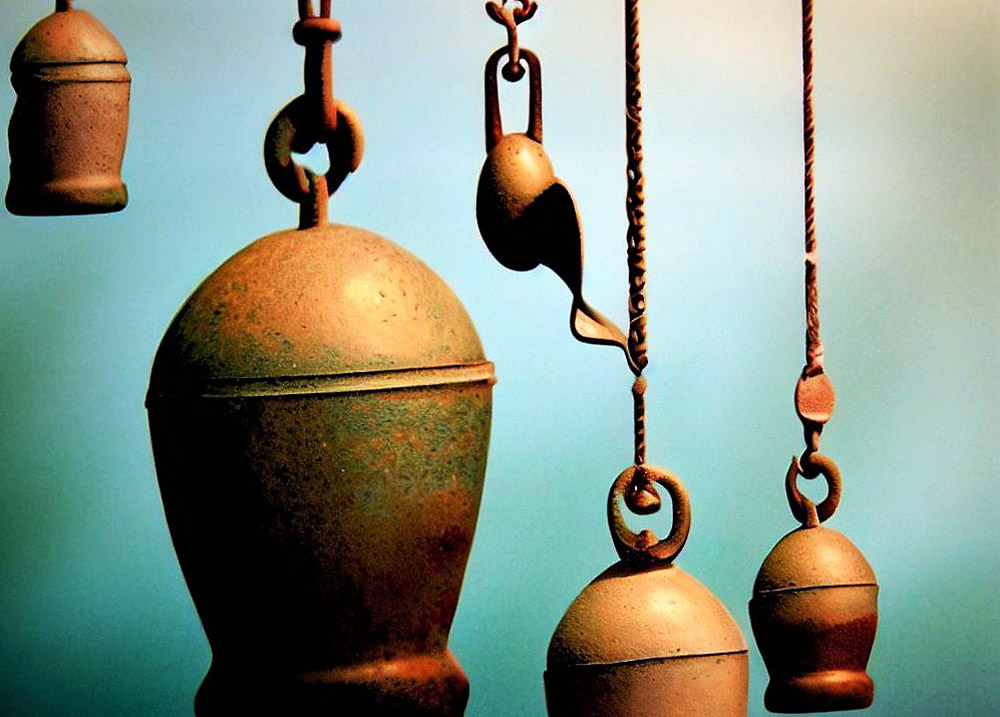 Learning from the best is always a good strategy, and bass fishing is no exception. Let's delve into some insights shared by professional bass anglers about their weight selection strategies and how these tactics have contributed to their success.
KVD – Kevin VanDam
Known as one of the greatest bass anglers of all time, Kevin VanDam's weight selection strategy revolves around adaptability. "Fishing conditions can change by the hour," VanDam notes, "and adjusting your weight according to those conditions is key. I always carry a variety of weights and am ready to switch them out as needed. This flexibility has been instrumental in many of my tournament victories."
Ish Monroe
Ish Monroe, a renowned professional bass angler, emphasizes the role of weights ineffective bait presentation. "Weight is not just about reaching the desired depth; it also influences how your bait moves and appears to the bass," Monroe explains. "For instance, in clearer waters, I often go for a lighter weight to ensure a more natural presentation. This attention to detail has helped me fool wary bass and secure some big catches."
Aaron Martens
Aaron Martens, known for his finesse fishing prowess, underscores the importance of experimenting with different weights. "Every day on the water is a learning experience," Martens shares. "I'm constantly experimenting with different weight and bait combinations to see what the bass are responding to. This willingness to experiment has been a game-changer in my career."
Gerald Swindle
Gerald Swindle, a two-time Bassmaster Angler of the Year, stresses the importance of understanding bottom composition. "The bottom composition plays a huge role in weight selection," Swindle states. "A lighter weight that doesn't stir up a muddy bottom too much can be beneficial, whereas a heavier weight that creates some disturbance can attract bass in sandy or rocky areas. Recognizing this has helped me make more informed weight choices."
These insights from professional bass anglers highlight the significance of adaptable and thoughtful weight selection in bass fishing. By applying these strategies, you can enhance your skills, increase your catch rate, and maybe even find yourself one step closer to the pros.
DIY Corner: Customize Your Weights for a Personalized Fishing Experience
Customizing or modifying your fishing weights can be an exciting way to further tailor your tackle to specific fishing conditions. It allows for fine-tuning that can give you an edge when pursuing elusive bass. However, it's also crucial to keep safety at the forefront when undertaking such tasks.
Customizing Weights to Suit Specific Needs
| Customization Techniques | Descriptions |
| --- | --- |
| Adding Texture | Bass are sensitive creatures that can be attracted by the slightest changes in their environment. By carefully scoring the surface of your weight with a file, you can add texture that creates extra vibrations in the water. These vibrations may potentially attract more bass. |
| Painting Weights | The color of your weights can impact their visibility and consequently, their effectiveness. Depending on your strategy, you may want your weights to blend in with the environment or stand out. With non-toxic paint, you can experiment with different colors and patterns to achieve the desired effect. |
| Adjusting Weight Size | Finding the perfect weight size can sometimes be challenging. If you're unable to find the right size, consider adjusting an existing one. For instance, you can carefully file down a lead weight to make it lighter. Ensure to do this over a container to catch any filings and prevent any mess. |
Safety Precautions When Customizing Weights
| Safety Measures | Descriptions |
| --- | --- |
| Protective Equipment | Always ensure you're wearing the necessary protective gear when customizing weights. This should include safety glasses to shield your eyes from potential flying debris during the customization process. Gloves are also essential to protect your hands from any sharp or rough edges on the weights. |
| Proper Ventilation | When working with lead weights, it's critical to do so in a well-ventilated area or outside. The dust and fumes that can be produced when filing or cutting lead can be hazardous if inhaled, so good ventilation is a must. Also, be sure to properly dispose of any dust or shavings to avoid contamination. |
| Clean Up | Maintaining a clean workspace is crucial for safety and efficiency. After customizing your weights, ensure that you clean up thoroughly. This involves removing any small weight fragments or other materials that could pose a hazard or clutter the workspace. A tidy workspace not only makes the process safer but also more enjoyable. |
Customizing your weights can give you a greater understanding of how different weights function under various conditions. This hands-on approach can lead to more informed decisions on the water, potentially resulting in a more successful fishing trip. However, safety should always be your top priority. By following these guidelines, you can experiment with your weights while maintaining a safe and secure working environment.
FAQ: The Importance of Correct Weights in Bass Fishing
Conclusion: Mastering the Art of Weight Selection in Bass Fishing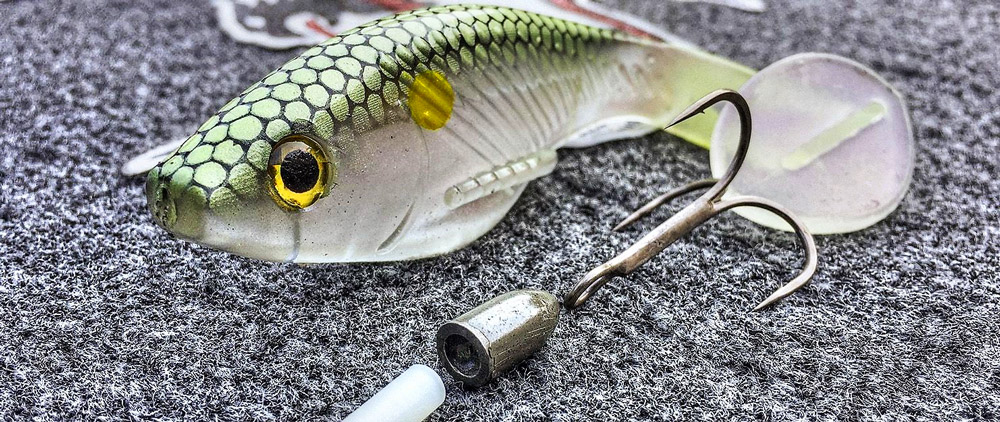 We have journeyed together through the fascinating world of weights in bass fishing. From understanding the fundamental role of weight's in-depth control, casting distance, and bait presentation to exploring the various types of weights used in bass fishing, we have unraveled the complexities of this essential fishing tool.
Wrapping Up: Your Path to Mastering Weight Selection in Bass Fishing
We delved into the art of matching weights with baits and lures, ensuring you know how to make effective pairings based on specific bass fishing scenarios. We also examined the importance of adjusting weights according to changing conditions such as water depth, current, water clarity, and bottom composition.
Common mistakes were brought to light, providing you with the knowledge needed to avoid these pitfalls. We've also tapped into the wisdom of professional bass anglers, learning invaluable strategies from those who have mastered this sport.
Finally, we explored the exciting realm of DIY weight customization, providing you with practical guidance on modifying your weights while emphasizing the importance of safety precautions.
Now, it's your turn to put these insights into practice. Bass fishing is a dynamic and ever-evolving pursuit, and the key to success is continuous learning and experimentation. So, arm yourself with a variety of weights, step out into the enchanting world of bass fishing, and see firsthand how the right weight can make all the difference.
Remember, every day on the water is an opportunity to learn something new. Embrace the challenge, experiment with different weights and techniques, and most importantly, enjoy the journey. Because bass fishing isn't just about the catch—it's about the unforgettable experiences and lessons learned along the way.
Explore More: Resources to Keep You Hooked on Bass Fishing
The world of bass fishing is vast and ever-evolving, and it's essential to stay informed and connected. Here are some additional resources for further reading and online platforms that provide more information on bass fishing and weight selection:
Books
"Knowing Bass: The Scientific Approach to Catching More Fish" by Dr. Keith A. Jones: This book offers in-depth scientific insights into bass behavior, providing valuable information that can improve your angling strategy.
"The Complete Guide to Freshwater Fishing" by The Editors of Creative Publishing: It provides comprehensive information on different aspects of freshwater fishing, including gear selection and techniques.
Websites and Online Platforms
BassResource.com: This website offers a wealth of information, including articles, videos, and forums where anglers share their experiences and knowledge.
Wired2Fish.com: It provides a mix of how-to guides, tackle reviews, and interviews with professional anglers.
Fishing Clubs and Organizations
Bass Anglers Sportsman Society (B.A.S.S.): As one of the largest fishing organizations, B.A.S.S. hosts tournaments, offers fishing tips, and fosters a community of passionate bass anglers. Contact them at www.bassmaster.com.
The North American Fishing Club (NAFC): This club provides resources for anglers of all levels, including gear reviews, tips, and community forums. Find out more at www.fishingclub.com.
Moreover, be sure to utilize visual aids to enhance your understanding. High-quality photos and diagrams can help illustrate concepts discussed in the article, while sidebars or info boxes can provide quick tips, fun facts, or brief bios of the professionals mentioned.
Remember, bass fishing is more than just a sport or hobby—it's a community. Don't hesitate to connect with other anglers, join clubs, and participate in forums. Not only will you learn more, but you'll also be contributing to a vibrant community of passionate bass fishing enthusiasts. Happy learning and tight lines!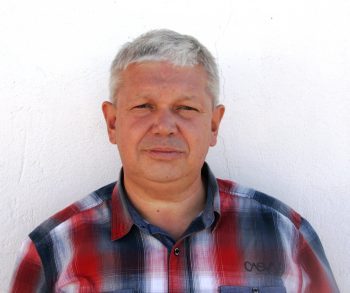 Sergio Smirnoff
Professional fisherman with 40+ years of experience.
Fishing and the ocean is a passion of my life. I am passionate about all kinds of sea fishing: fishing from the shore (spinning, float, baitcasting), from a boat, and spearfishing day and night.
I live in Tenerife (Canary Islands) for the last 10+ years and share my daily fishing experiences on my website. Many years of personal experience as a fisherman and the vast experience of my friends allow me to write professionally on any fishing topics (from choosing a flashlight and equipment to deep-sea fishing).
All of my advice is based on practical real-world experience and will be useful to both novice anglers and professionals.
Read more
about the author.
Affiliate Disclosure: FishReeler.com sometimes gets paid for listings, through sponsors or affiliate programs like Amazon, Ebay, Cabelas, Bass Pro Shop, Shimano, Daiwa, Rapala, Renn, Okuma, KastKing, etс. Clicking a link helps keep FishReeler.com free, at no extra cost to you!
About the author: Each article is verified by the fishing expert Sergio Smirnoff. The articles are written by professional and amateur fishermen with 20+ years of fishing experience.
Note: The views and opinions expressed in this article are those of the authors and do not necessarily reflect the official policy or position of any agency. The articles are for informational purposes only, share your opinions in the comments and join the fishing discussions, let's share our fishing experiences together!