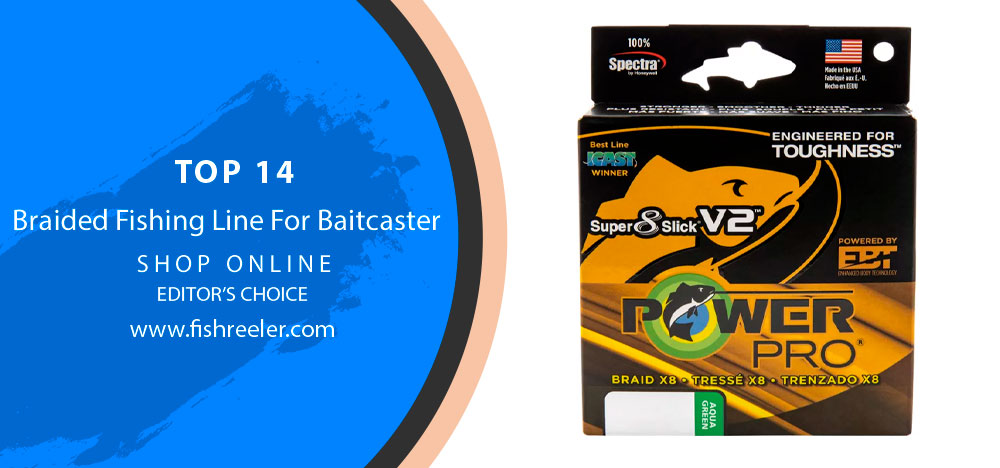 Discovering the Magic of Braided Fishing Line for Baitcasters: A Passionate Angler's Insight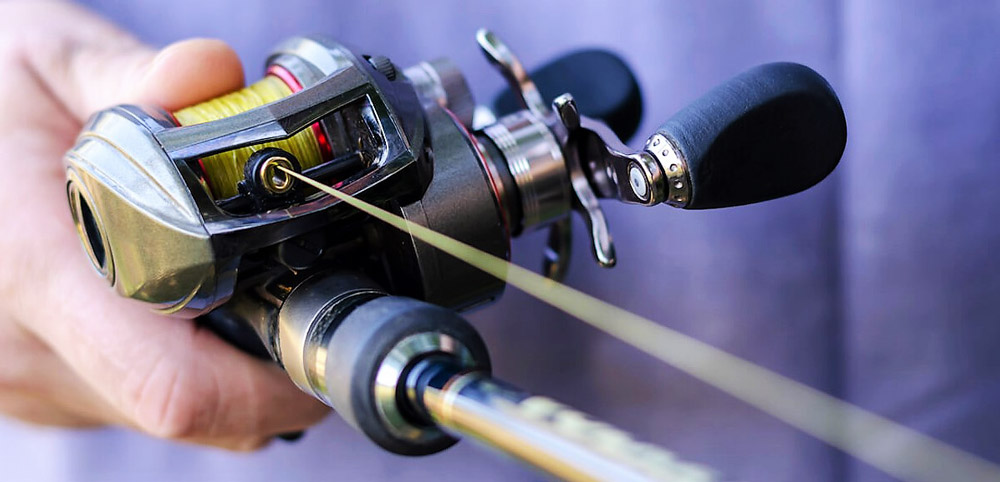 It was an ordinary sunday morning. The sky was an immaculate blue, and a cool, crisp breeze brushed across my face. There I was, standing by the riverbank with my trusty baitcaster in hand. A sense of calm washed over me as I watched the line cast far into the glittering waters. There's a certain magic about fishing that never ceases to enchant me. 🌊
Hooked on the Line: A Personal Tale of Fishing Passion 🎣
From the initial thrill of casting the line to the palpable tension as you wait for that exhilarating tug, each moment is a testament to the unique bond between angler and nature. And at the heart of it all, is the fishing line – the silent hero that bridges the gap between man and the mysterious underwater world. 🐠
Amongst various types of fishing lines I've experimented with, there's one that has proved to be a game-changer – the braided fishing line. With my years of fishing experience, I've realized the pivotal role this seemingly simple piece of gear plays in enhancing the joy of the catch. It's this passion for braided lines, and their outstanding compatibility with baitcasters, that I'd like to share with you today. 🎯
🔶So, if you're a fellow angler looking to elevate your fishing experience or a novice curious about this fascinating hobby, I invite you to join me on this journey. Let's dive deeper into the world of braided fishing lines for baitcasters and unravel the secrets to a perfect catch! 🥇
Untangling the Basics: Monofilament, Fluorocarbon, and Braided Lines 🧵
Before we delve deeper into the realm of braided fishing lines, it's essential to understand the broader landscape of fishing lines. Generally, there are three main types each angler should be familiar with – Monofilament, Fluorocarbon, and Braided. 🎣
Monofilament (Mono): These are the traditional, go-to lines for many anglers. They're easy to knot, have good knot strength and are relatively abrasion-resistant. However, they do have a bit of stretch, which could be a boon or a bane, depending on the angling situation. 🌊
Fluorocarbon (Fluoro): Often favored for their nearly invisible nature in water, these lines have low stretch and are pretty resistant to abrasion. They also have a high density, which makes them sink faster, useful when you're targeting fish in deeper zones. But, they are typically harder to knot and more expensive than mono lines. 💦
Braided Lines: Made by braiding and fusing multiple strands, these lines are incredibly strong and have a high knot strength. They also have virtually zero stretch, leading to excellent sensitivity. This allows you to feel even the slightest nibble at your bait, offering an unparalleled angling experience. 🐠
So, why the emphasis on braided lines? The answer lies in their unique set of benefits. Their high strength-to-diameter ratio means you can pack more line on your spool without sacrificing strength. Also, their exceptional sensitivity and minimal stretch make them ideal for feeling subtle bites, especially when fishing in deeper waters or at long distances.
🔶Join us as we explore these amazing features of braided lines and how they can elevate your fishing experience with baitcasters. Dive in! 🚀
Braided Lines: A Love Story Between Angler and Gear 🎣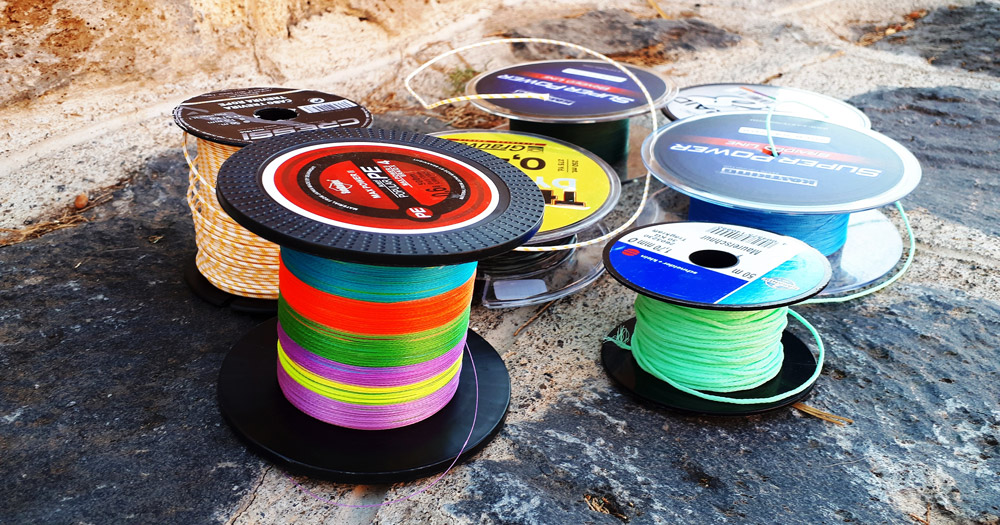 It's fascinating how something as simple as a fishing line can transform the fishing experience. This holds particularly true for braided fishing lines, which have won over many seasoned anglers like myself. But what exactly makes them so special? 🤔
Strength: Braided lines possess a superior strength-to-diameter ratio compared to their mono or fluoro counterparts. This means you can fit more line on your spool without compromising on strength – a huge bonus when targeting larger fish or fishing in heavy cover. 💪
Sensitivity: With virtually zero stretch, braided lines offer unrivaled sensitivity. You can feel every nibble, every twitch of the lure, making it easier to time your strikes perfectly and secure your catch. 👌
Durability: Due to their construction, braided lines exhibit excellent abrasion resistance. This makes them highly durable and well-suited for fishing in areas with lots of structure or cover. 🛡️
Long Casts: Thanks to their thinner diameter, braided lines allow for longer and smoother casts, especially useful when you want to cover more water or when the fish are particularly skittish. 🏹
A personal anecdote that comes to mind is when I was fishing in a heavily vegetated area. The waters were teeming with large bass, but they were hiding within thick covers of lily pads. With a mono or fluoro line, the risk of the line snapping on a solid hook-set would have been high. But with a braided line on my baitcaster, I was able to cast accurately into the cover, hook a hefty bass, and successfully reel it out without fear of breaking my line. That catch remains one of my most satisfying fishing experiences to date! 🎉
🔶In essence, the beauty of braided lines lies in their blend of strength, sensitivity, and durability, qualities that can truly elevate your angling adventures. So, let's dive deeper and discover more about using these fantastic lines with your baitcaster. Adventure awaits! 🌊
🎦Video YouTube: Why and How to Use Braid on a Baitcast Reel
Best Braided Fishing Line For Baitcaster Review
Are you on a quest for the ultimate braided fishing line for your baitcaster? You're in luck! This blog post serves as your treasure map to the finest braided fishing lines suited to baitcasting reels. Whether you're a fishing novice or a seasoned angler, there's a wealth of knowledge here just waiting to be hooked. 🌟
Picking the ideal braided fishing line is vital for maximizing the potential of your baitcasting reel. Several variables play into this choice, from the species of fish you're aiming for to the specific size of your reel. In this detailed guide, we'll navigate the ocean of top-tier braided lines available, highlighting the unique attributes that set them apart in a crowded market. 🚀
Are you seeking a robust line that can grapple with the weight of hefty catches, or perhaps a feather-light line that ensures a tireless fishing experience? Fear not, we have something for every angler here! Join us on this voyage to discover the crème de la crème of braided fishing lines for baitcaster setups and start casting your way to glory today! 🏆
1# Sufix 131 Braid Fishing Line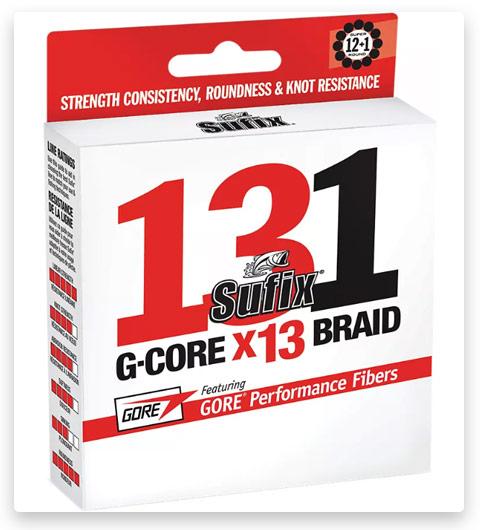 When you need a knot that will hold, reach for Sufix 131 Braid. This incredibly advanced 12-carrier braided line has unmatched knot strength and holding power. The single-strand GORE Performance Fiber core is wrapped with 12 precision-braided HMPE fibres, round, smooth, and quiet for the best possible fishing experience. Plus, the super-high abrasion resistance means this line can handle any situation you might encounter.
2# Spiderwire Stealth Braid Fishing Line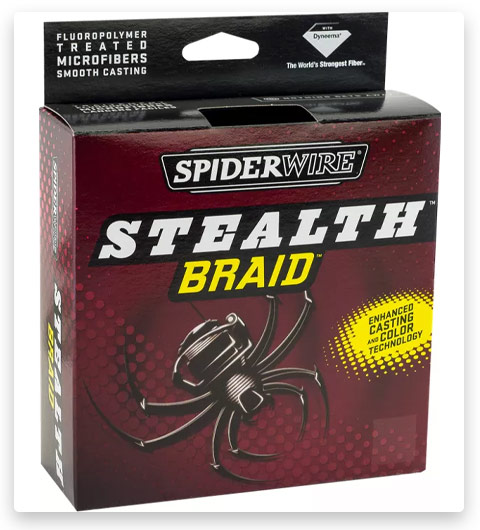 Looking for a fishing line that won't let you down? Check out Spiderwire Stealth Braid. Made of 100% Dyneema PE microfibers, it's ultra-thin and strong, with low stretch and high sensitivity. It's also fluoro coated for smooth, quiet casting. Plus, it's made in the USA. So if you're looking for a top-of-the-line fishing line, go with Spiderwire Stealth Braid.
3# Berkley x9 Braid Fishing Line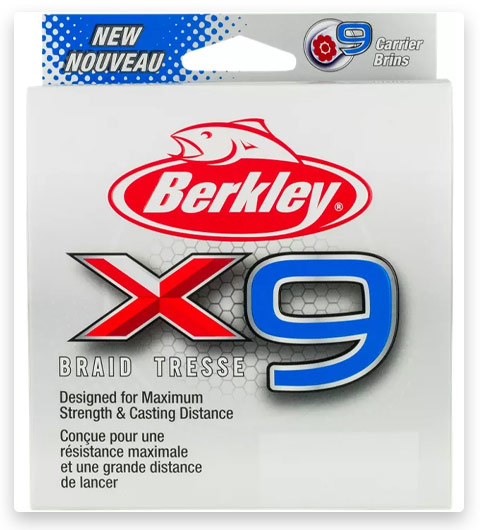 Berkley x9 Braid is a perfect choice! Made of 100% polyethene fibres, this fishing line is woven with 9 strands for greater strength and castability. It's also tougher, more compact, and smoother than 8-strand premium braids, making it an excellent choice for serious anglers. And because it has a near-zero stretch, you'll be able to feel even the smallest bites. So give Berkley x9 Braid a try on your next fishing trip – you won't be disappointed!
4# Bass Pro Shops XPS Hyper Braid 8 Fishing Line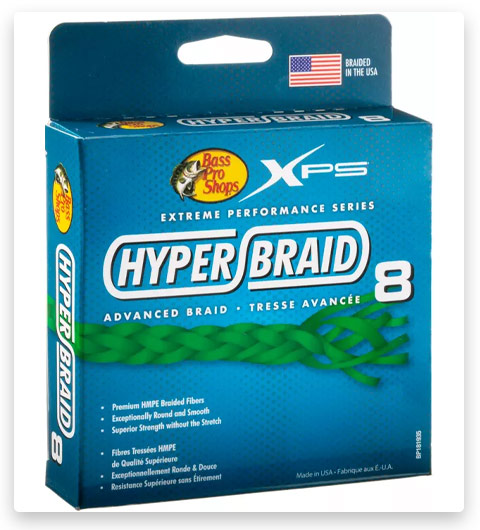 When you're looking for the best in bass fishing, always go with the Bass Pro Shops XPS Hyper Braid 8 Fishing Line. This line is woven from 8 strands to create an unparalleled level of strength and consistency. Plus, the extra-small diameter helps with finesse presentations, while enhanced colour protection ensures that your line stays hidden from fish in the long term.
5# PowerPro Super 8 Slick V2 Braided Line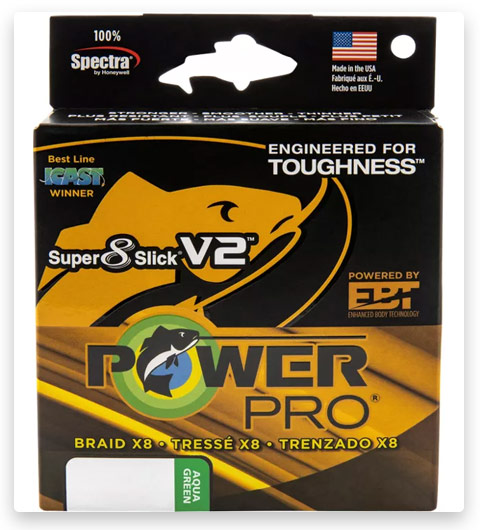 The PowerPro Super 8 Slick V2 Braided Line is perfect for anglers looking to cast farther and rip through cover with more power. Made with super-strong, abrasion-resistant 100% Spectra fibre, this line offers the sensitivity and strength needed to win the war against trophy bass and inshore gamefish.
6# HT Enterprises Polar Ice Braided Dacron Tip-Up Line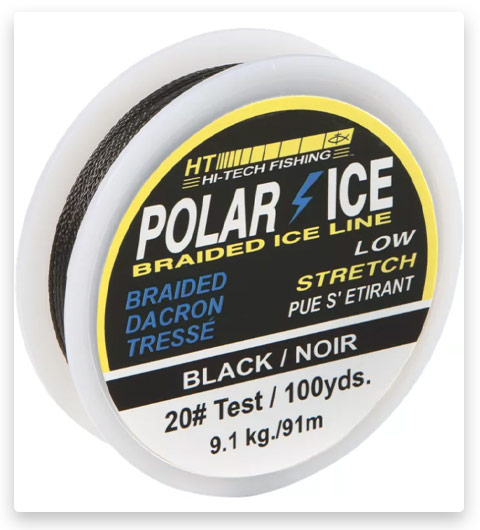 HT Enterprises Polar Ice Braided Dacron Tip-Up Line is a premium ice-fishing line that's specifically engineered for cold-weather performance. Exceptionally wear-resistant, with very low memory and stretch, it resists coiling – making it easier to use in frigid conditions.
7# Berkley FireLine Ultra 8 Braided Fishing Line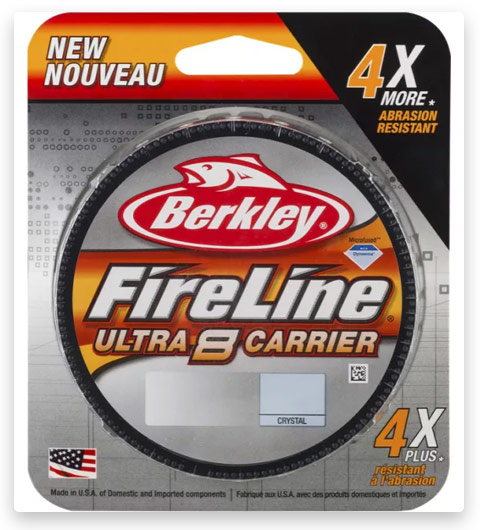 Berkley FireLine Ultra 8 Braided Fishing Line is the best FireLine ever, with 8-carrier braid construction for unprecedented strength and 4 times the abrasion resistance of the original FireLine. Made with tough Dyneema polyethene fibres, this line is round and thin for excellent line flow and casting and features Berkley's original thermal fusion process for a smooth, strong finish.
8# SpiderWire UltraCast Braid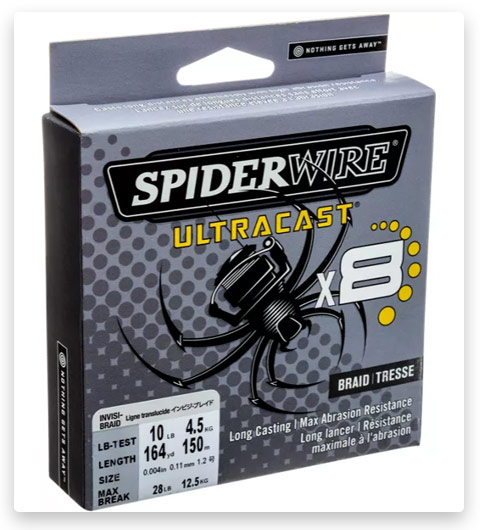 Equip yourself with the very best when you fish with SpiderWireUltraCast Braid. This 8-strand braided line is tightly constructed using a cold fusion process, resulting in a super-compact line that casts farther than ever before without sacrificing strength or abrasion resistance. Tackle the big ones with ease – UltraCast Braid has a high strength to diameter ratio and resists wear better than other lines on the market.
9# Clam Outdoors Frost Braided Line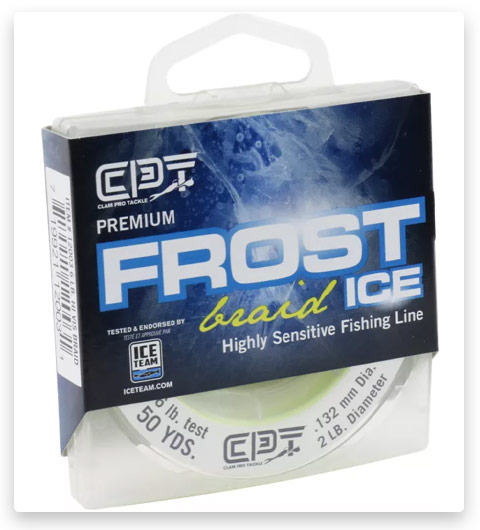 Clam Outdoors Frost Braided Line is perfect for the serious angler. It has high abrasion resistance and minimal stretch, making it sensitive to bites and ensuring good hook sets. The tightly woven, four-strand braid eliminates almost all stretch, providing you with the most accurate bite detection possible. Strict Japanese manufacturing tolerances ensure that this line is of the highest quality and will last long under harsh conditions.
10# P-Line Hydrofloat Braided Fishing Line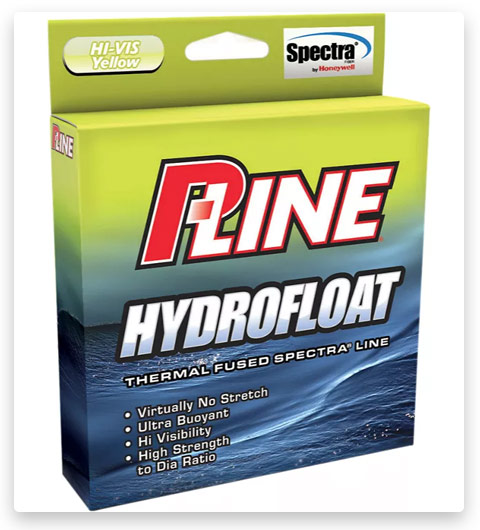 P-Line's Hydrofloat braided fishing line is the perfect choice for anglers looking to take their game to the next level. With its low stretch and high strength-to-diameter ratio, this line delivers both toughness and stealth, while its thermal-fused coating provides buoyancy for drag-free drifts. Whether you're using a spinning or baitcasting reel, the Hydrofloat line gives you the power to make longer casts and set the hook with confidence. So get out there and enjoy a more productive day on the water – with P-Line's Hydrofloat braided fishing line, anything is possible!
11# Strike King Tour Grade Braided Fishing Line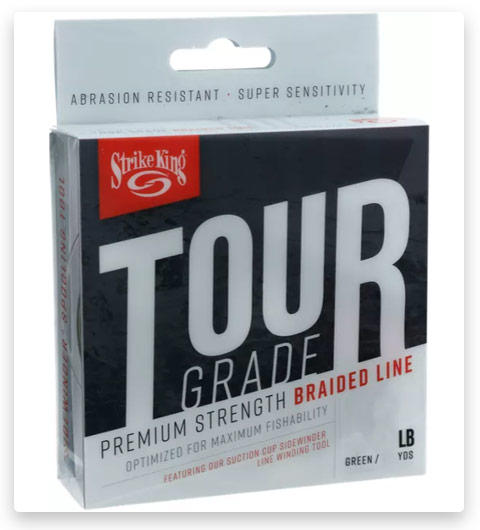 Looking for a top-quality braided fishing line that will make your next catch a breeze? Look no further than the Strike King Tour Grade Braided Fishing Line. This line is made with the highest-quality Japanese fibres, delivering easy line management and use. It's also super-strong and abrasion-resistant, making it perfect for any fishing situation. Plus, it includes a spooling tool to make installation a breeze and comes with a postage-paid envelope so you can recycle your old line. Don't miss out on this must-have fishing accessory – order your Strike King Tour Grade Braided Fishing Line today!
12# Bass Pro Shops Excel Braided Fishing Line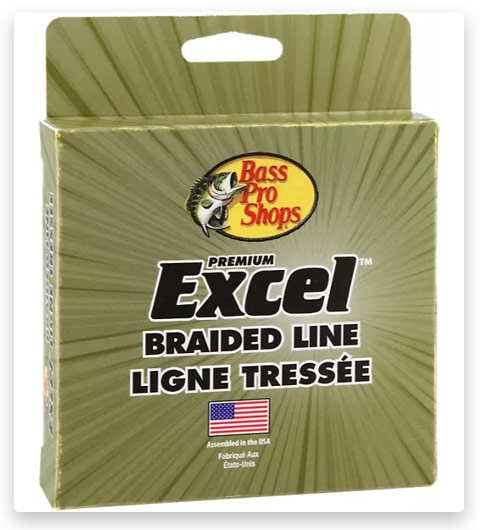 Bass Pro Shops Excel Braided Fishing Line is the new standard in an affordable, high-performance braid. This small-diameter, the ultra-strong line is supple and highly sensitive, guaranteeing a smooth round profile under extreme loads. Our specialized coating process delivers long-lasting colouration, while the best abrasion resistance available ensures years of reliable use. With minimal 3% stretch, you'll be able to set the hook with confidence, knowing that your line can handle whatever you throw at it.
13# Mason Meat Caster Braided Fishing Line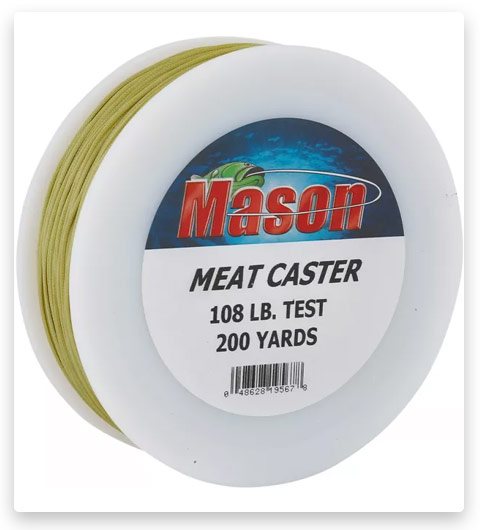 This specially designed line is perfect for trotline river fishing and snagging. Made from high-quality materials, Mason Meat Caster is built to last. So if you're serious about your fishing, make sure to give this line a try. You won't be disappointed!
14# Diamond Generation 3 Diamond Braid 8X Fishing Line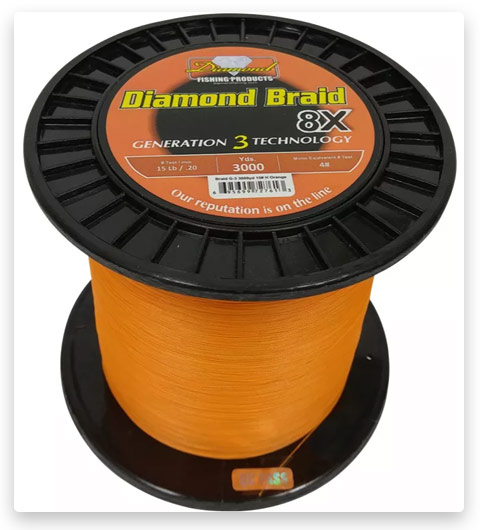 The Diamond Generation 3 Braid 8X Fishing Line is an affordable line, that offers incredible strength with virtually no stretch, making it ideal for big game fishing. Plus, its bonded colour-fastness ensures consistent fade resistance through the toughest conditions. And for added peace of mind, you'll appreciate the superior knot integrity. So don't wait any longer – gear up with the Diamond Generation 3 Diamond Braid 8X Fishing Line and enjoy a great day out on the water!
An Unbeatable Combo: The Magic of Braided Lines and Baitcasters 🎣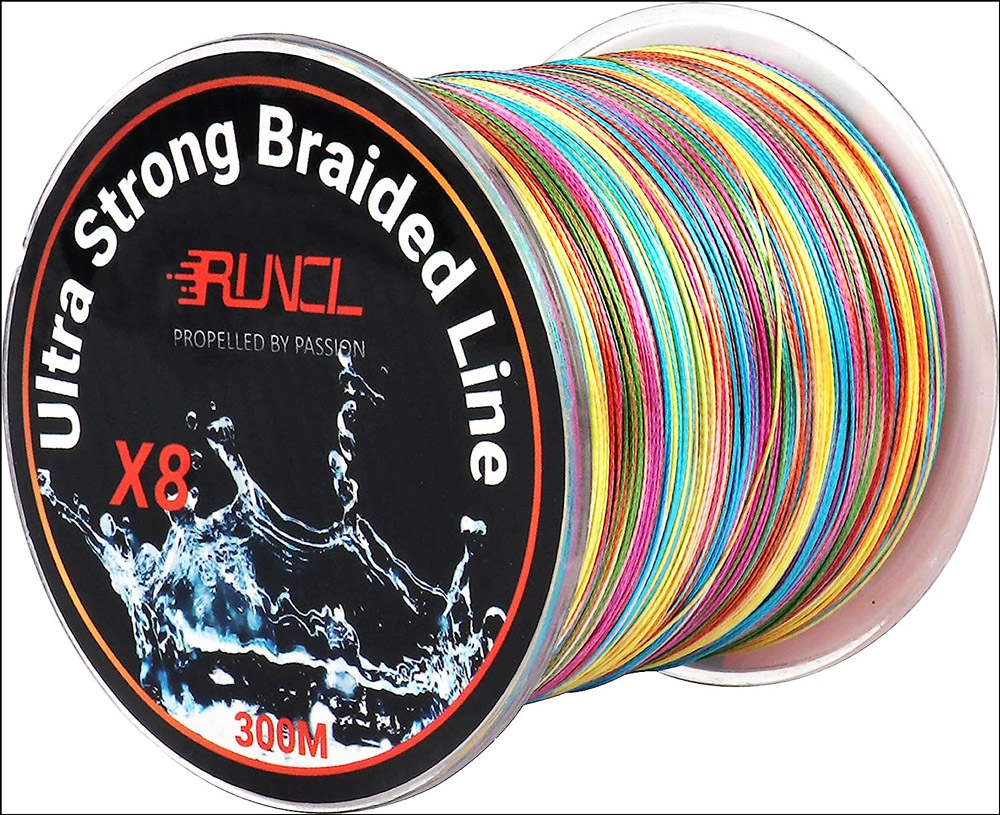 Just like a perfect dance duo, braided lines and baitcasters move seamlessly together, each enhancing the other's performance on the water. But what makes this combination so irresistible to seasoned anglers like myself? 🤔
More Line, Less Hassle: As we know, braided lines have a smaller diameter than mono or fluoro lines of the same strength. This characteristic allows more line to fit onto the spool of a baitcaster, increasing your casting distance and offering more line to play with when battling those stubborn catches. 🚀
Exceptional Sensitivity: Baitcasters are known for their precision and control, and when paired with a braided line's excellent sensitivity, you've got a combo that lets you detect even the slightest bite, improving your reaction time and success rate. 🎯
Heavy Cover Fishing: Baitcasters are great for targeting fish that hide in heavy cover. Paired with the high strength and durability of a braided line, you've got the ideal setup to confidently pull your catch out of the densest cover. 🌿
Reflecting on my own angling journey, there was a distinct shift in my fishing experience when I paired my baitcaster with a braided line. I remember fishing in a lake known for its tricky, hard-to-reach spots. The match of my baitcaster and braided line was like a dream come true.
I could cast my lure with accuracy into the tight spots, and the sensitivity of the braided line allowed me to feel a light tap, indicating a bite. Swiftly, I set the hook and reeled in a beautiful largemouth bass. Without the enhanced feel of the braided line and the control of the baitcaster, I might have missed that subtle bite. 🐟
🔶In essence, the marriage of braided lines with baitcasters brings the best out of both, providing an unparalleled fishing experience. It's like unlocking a new level in the game of fishing. So, let's gear up and explore this dynamic duo further! 🌊🚀
Choose Wisely, Fish Happily: Your Guide to the Perfect Braided Line 🧵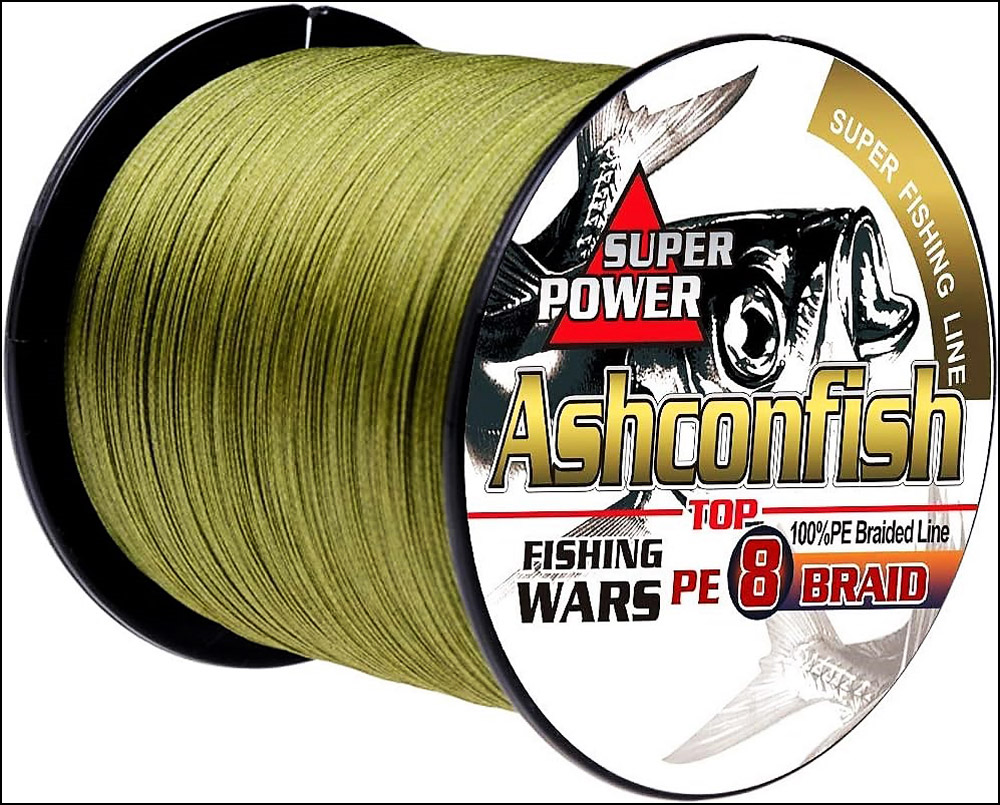 Selecting the perfect braided line for your baitcaster may seem like a daunting task given the plethora of choices available. However, a few key factors can guide your decision:
Test Strength: Your choice should largely depend on the type of fish you aim to catch. For larger, stronger species, you'd want a higher test strength. 🏋️‍♂️
Color: The water conditions and targeted fish species can influence your color choice. Some species are more line-shy, so a color that blends with the water might be more effective. 🎨
Brand: Opt for reputable brands known for their quality and durability. A good line can make a significant difference in your fishing experience. 👍
Diameter: While braided lines are generally thinner than other types, variations exist among brands. A thinner line could allow for longer casts and more line on your reel. 📏
Based on these factors and combined with personal experiences and feedback from the angling community, here are some top-rated braided lines for baitcasters:
PowerPro Spectra Fiber Braided Fishing Line: Known for its round, smooth, and sensitive braided line, PowerPro offers a versatile line that performs exceptionally in various fishing conditions. 🌟
SpiderWire Stealth Superline: With its uniquely colored, highly durable, and ultra-thin line, SpiderWire Stealth Superline is a favorite among many anglers for its excellent castability and strength. 🕷️
Sufix 832 Advanced Superline: Combining high strength, excellent durability, and great sensitivity, the Sufix 832 stands out for its R8 Precision Braiding and fiber technology. 🔬
🔶While these are my top picks, remember that the best line ultimately depends on your specific fishing style and needs. The right line for you is the one that enhances your fishing experience and brings you closer to that dream catch. 🎣🏆
Harness the Power: A Step-by-Step Guide to Using Braided Line with Baitcasters 📚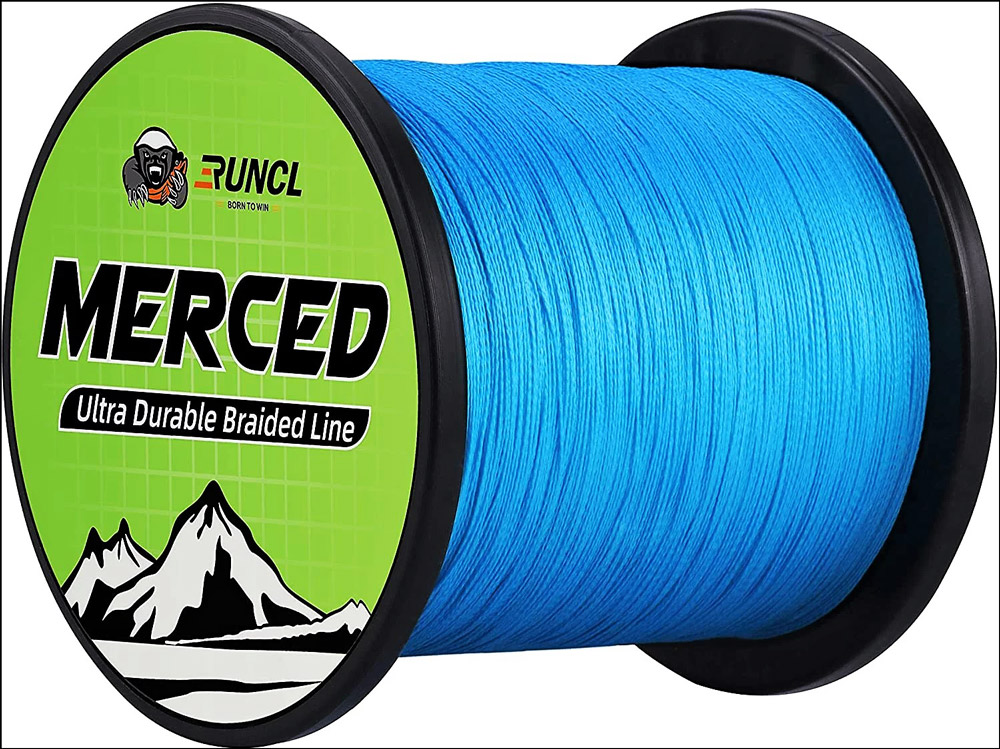 Unleashing the full potential of braided lines with baitcasters involves understanding their unique properties and mastering certain techniques. Here's your step-by-step guide:
Spooling: Start by threading the line through the rod guides down to the reel. Secure the line to the spool with a robust knot, like the Arbor Knot. Because braided lines are slippery, you might want to add a mono or fluoro backing to the spool to prevent slippage. 🎣
Casting: With the thinner diameter of the braided line, you'll notice a significant increase in casting distance. Practice casting in a safe, open area before hitting the water. 🏞️
Setting the Drag: Braided lines have almost no stretch, meaning the drag on your reel will work harder when a fish pulls. Make sure to set your drag correctly, allowing the fish to pull line without breaking it. 🐟
Knot Tying: Secure your lure or hook using a strong knot. The Palomar and Improved Clinch knots are popular choices. Knots can be a weak point with braided lines, so ensure they are tied correctly. 🧶
With the basics in hand, here are a few tips to maximize your experience:
Use a Leader: Attaching a mono or fluoro leader to your braided line can make your setup more inconspicuous to the fish and provide a bit of stretch that can be useful when setting the hook or reeling in. 🎭
Maintain Your Line: Over time, your braided line may fade or become dirty. Simply reversing the line on the spool can give it a new lease of life. 🔁
Practice Your Knots: Knot strength can be a weak point with braided lines. Practice tying your knots until you can do it flawlessly. 💪
🔶Remember, patience and practice are essential in mastering the use of braided line with baitcasters. With time, you'll harness the full potential of this powerhouse combination. Happy casting! 🚀
Our Duty to the Blue: Responsible Fishing with Braided Lines 🌍
As passionate anglers, we love and respect the waters we fish in. However, our hobby has an impact, and it's our responsibility to minimize it. Fishing lines, if not properly used and disposed of, can cause harm to marine life and the environment. 🌊
Braided lines, due to their longevity and strength, can cause significant harm if lost or discarded improperly. They can entangle and harm marine creatures or become a form of pollution in our beautiful water bodies. 😔
So, how can we enjoy our beloved hobby and still be kind to Mother Nature? Here are some points to consider:
Mindful Disposal: Always carry a small bag with you for your fishing line remnants. Never leave them in the water or on the shore. Dispose of them properly at home or at recycling points, if available. 🚮
Responsible Retrieval: If you snag and break your line, make an effort to retrieve it. If it's not possible, remember the location and come back with proper tools to remove it. 🔍
Recycling: Some brands offer fishing line recycling programs. Try to use these programs or encourage your local tackle shops to start one. ♻️
Educate Others: Share the importance of these practices with fellow anglers. We can make a significant positive impact if we all work together. 🤝
🔶Embracing ethical angling practices doesn't detract from our love for the sport; instead, it deepens our connection to the waters we cherish. When we fish responsibly, we ensure future generations can share our passion. Let's pledge to keep our waters clean and full of life. After all, a good angler respects the waters as much as they enjoy the thrill of the catch. Happy and responsible fishing! 🎣💙
❓ FAQs: Tackling Your Questions About Braided Fishing Line for Baitcasters 🎣❓
🔶Remember, knowledge is power, and understanding your gear is the first step to becoming a successful angler. So don't hesitate to ask if you have more questions about braided lines and baitcasters. Tight lines, everyone! 🎣👍
Reeling It In: The Joy of Braided Lines and Baitcasters 🎣🏁
When it comes to fishing, there are a lot of different things you need to take into account in order to be successful. One of the most important decisions you'll make is what type of line to use. In this article, we've reviewed some of the best-braided fishing lines for baitcaster on the market today. We hope our findings will help you choose the right line for your needs and give you a better chance at catching fish!
As we've navigated the waters of braided lines and baitcasters, we've taken a deep dive into their synergy, celebrated their strengths, and explored the joy they bring to every fishing expedition. 🚀
We've learned about the types of fishing lines, with a special focus on braided lines, their strengths, and their unique properties. We've discovered why braided lines are a match made in heaven for baitcasters, allowing for greater sensitivity, longer casts, and better control. 🎣💪
Choosing the right braided line can feel like finding a needle in a haystack, but armed with the knowledge of key selection criteria, you're equipped to make an informed choice that caters to your specific needs. And once you've made that choice, mastering the use of your braided line with your baitcaster can turn every fishing trip into an adventure. 🧭
Beyond the thrill of the catch, we've also touched upon the important aspect of ethical angling. Our passion for fishing comes with a responsibility towards our environment, ensuring we leave only footprints (or ripples!) behind. 🌍💚
The joy and satisfaction that come from using braided lines with baitcasters are palpable. There's an excitement in the cast, a thrill in the bite, and a joy in the catch that's hard to put into words but easy to feel when you're out on the water. 🐟🏆
🔶So, I invite you to join in the fun, explore the powerful duo of braided lines and baitcasters, and share in the exhilarating experience that it offers. May your lines always be tight, your casts always be long, and your fishing adventures be full of exciting stories. Tight lines, fellow anglers! 🚀🎣
Join the Conversation: Share Your Fishing Tales 🗣️🎣
Now that we've traversed the exciting world of braided lines and baitcasters, it's time to hear from you. Fishing isn't just a solitary hobby; it's a shared passion, a community where stories are as plentiful as the fish in the sea. 🌊🐟
I invite you to dive into the conversation. Share your tales, your personal experiences with braided fishing lines, and your favorite tips and tricks. Did you reel in a trophy catch using a braided line on your trusty baitcaster? Or did you face a fishing challenge you're eager to conquer? We're all ears. 🎤
Each story is a knot in the vast net of our angling community. By sharing our experiences, we learn from each other, and our shared love for this timeless pastime grows stronger. 💬💙
🔶So drop a line in the comments section below! Whether you're a seasoned angler or a newbie to the fishing world, your story matters. Let's continue to spread the love for this fantastic hobby. Happy fishing and happy sharing! 🤗🎣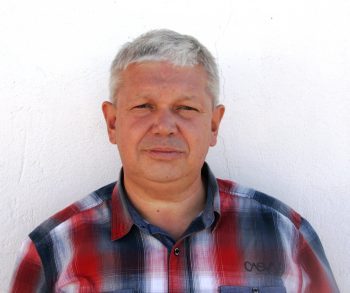 Sergio Smirnoff
Professional fisherman with 40+ years of experience.
Fishing and the ocean is a passion of my life. I am passionate about all kinds of sea fishing: fishing from the shore (spinning, float, baitcasting), from a boat, and spearfishing day and night.
I live in Tenerife (Canary Islands) for the last 10+ years and share my daily fishing experiences on my website. Many years of personal experience as a fisherman and the vast experience of my friends allow me to write professionally on any fishing topics (from choosing a flashlight and equipment to deep-sea fishing).
All of my advice is based on practical real-world experience and will be useful to both novice anglers and professionals.
Read more
about the author.
Affiliate Disclosure: FishReeler.com sometimes gets paid for listings, through sponsors or affiliate programs like Amazon, Ebay, Cabelas, Bass Pro Shop, Shimano, Daiwa, Rapala, Renn, Okuma, KastKing, etс. Clicking a link helps keep FishReeler.com free, at no extra cost to you!
About the author: Each article is verified by the fishing expert Sergio Smirnoff. The articles are written by professional and amateur fishermen with 20+ years of fishing experience.
Note: The views and opinions expressed in this article are those of the authors and do not necessarily reflect the official policy or position of any agency. The articles are for informational purposes only, share your opinions in the comments and join the fishing discussions, let's share our fishing experiences together!