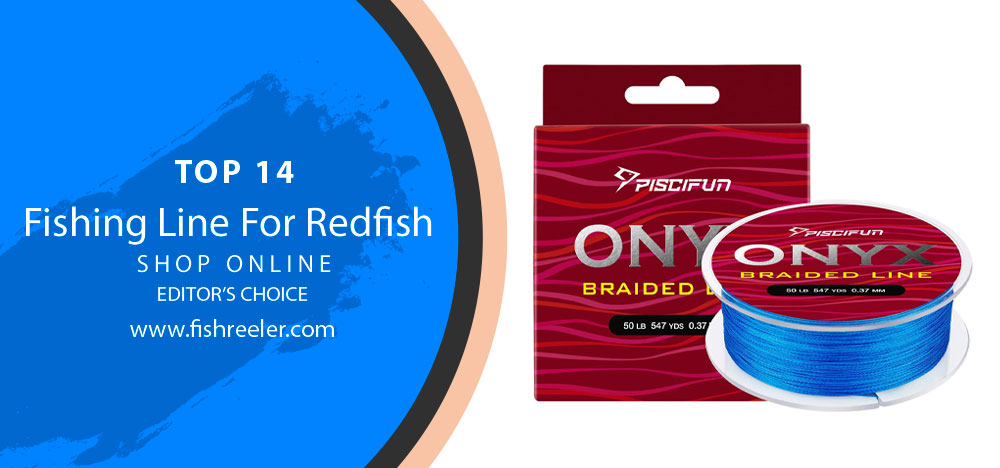 Unraveling the Secret to Redfish Mastery! 🎣
Ever wondered what sets apart a successful day of redfish angling from a fruitless one? Hint: it's not just about the bait or technique—it's the fishing line.🔍
Quick Summary
When it comes to redfish fishing, not just any line will do. Here's why you should invest in a specialized fishing line for redfish:
🥇 Top-tier Performance: This isn't just another fishing line—it's designed to withstand the pull, twists, and turns of a robust redfish, ensuring your prized catch doesn't escape.
🌊 Battle-Ready Against Elements: Face saltwater conditions head-on! These lines resist corrosion, ensuring longevity and a great return on investment.
🌟 Sensitivity and Strength Combined: Detect even the subtlest bites, while having the backbone to haul in trophy-sized fish.
🔗 Minimal Stretch: Achieve better hook sets and feel what's happening underwater like never before.
Advantages At A Glance:
📈 Enhanced Durability
🎯 Precision in Casting
🐟 Maximizes Catch Rate
💡 Clear Visibility – Less Spooking!
Don't just fish; fish smart. With the right line tailored for redfish, you're not just casting a line—you're securing a success story. Dive into our article and discover why this line is a game-changer in the world of redfish angling! 🚀
The Redfish Realm: Angling's Revered Pursuit 🎣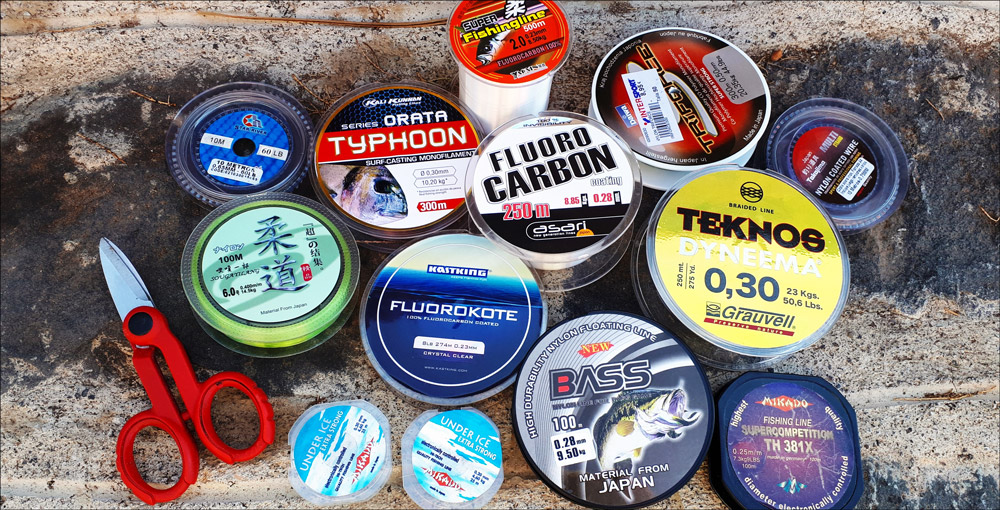 Redfish, also commonly known as red drum, have long held a prestigious spot in the world of angling. With their copper-hued scales glinting beneath the sun and their propensity for a good fight, it's easy to understand why they've become such a favorite for countless fishing enthusiasts. From the serene marshes of the Gulf Coast to the brackish waters of the Eastern Seaboard, redfish command attention and respect.
But as any seasoned angler will tell you, the thrill of the chase is just as much about strategy as it is about luck. The majestic redfish, with its powerful runs and stealthy approach, demands more than just any standard equipment. While the right rod, reel, and lure are crucial, there's another key element that often doesn't get its fair share of limelight but is arguably just as vital: the fishing line. 🧵
Why such emphasis on the fishing line, you ask? Think of it as the unsung hero, the bridge between you and your prized catch. A mismatched or subpar line can mean the difference between a triumphant day and a story of "the one that got away." As we delve deeper, we'll explore the intricate relationship between redfish and the lines that catch them, ensuring that your next fishing adventure is not just memorable, but legendary. So gear up, and let's embark on this journey to mastering the art of redfish angling! 🚀
Understanding Redfish: The Battle Begins Beneath 🌊
A Glimpse into the World of the Red Drum
Known scientifically as Sciaenops ocellatus, the redfish or red drum is a marvel in the marine world. Characterized by its distinct reddish-bronze hue and an often prominent eyespot near the tail, this fish has a captivating presence.
Size & Stature 📏
The redfish's size can vary greatly based on its age and environment. While juveniles typically measure around 20 inches, mature redfish, often termed 'bull reds', can easily surpass 40 inches and weigh over 40 pounds! These giants are not just formidable in size but in strength, offering anglers an adrenaline-packed experience.
Habitat: Where They Call Home 🏞️
Redfish thrive in a diverse range of environments. From the marshy inlets and estuaries of the Gulf Coast to the lagoons and bays of the Atlantic seaboard, these fish have adapted to both freshwater and saltwater conditions. This adaptability means anglers can encounter redfish in various water clarity levels and depths.
Behavioral Traits 🐟
At their core, redfish are opportunistic feeders, preying on a mix of crustaceans, mollusks, and smaller fish. Their feeding habits often bring them to shallow waters, especially during warmer months. Here, they can be seen tailing as they forage, a sight that sends a thrill down any angler's spine.
Why Their Traits Matter for Your Fishing Line
Given their robust size, powerful runs, and varied habitats, the redfish presents a unique challenge for anglers. Their strength means you need a line that can withstand sudden pulls and runs. The diverse environments they inhabit necessitate a line versatile enough to perform in both clear and murky waters. And their cunning, learned from countless encounters with predators and fishermen alike, means your line should be discreet enough not to spook them. 🎯
Fishing Line for Redfish Fishing: An Expert's Guide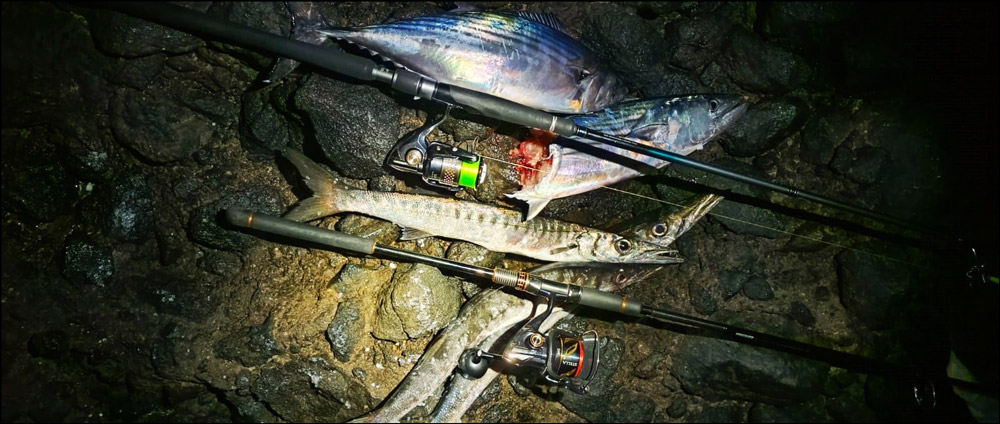 Are you tired of constantly losing redfish because your fishing line can't handle the weight? It's frustrating to feel that tug on your line, only to have it break and watch the fish swim away. That's where having the right fishing rod and line combination comes in.
When it comes to fishing for redfish, the weight of your line is crucial. These fish are known for their strength and can easily break a weak line. Choosing the right rod for your fishing line weight is essential to ensure that you can handle the fight when a redfish takes the bait. In this blog post, we'll explore the best fishing line weights for redfish and the rods that are best suited for each weight. So, let's get started and make sure you're ready for your next redfish fishing adventure.
1# Rio Summer Redfish Fly Line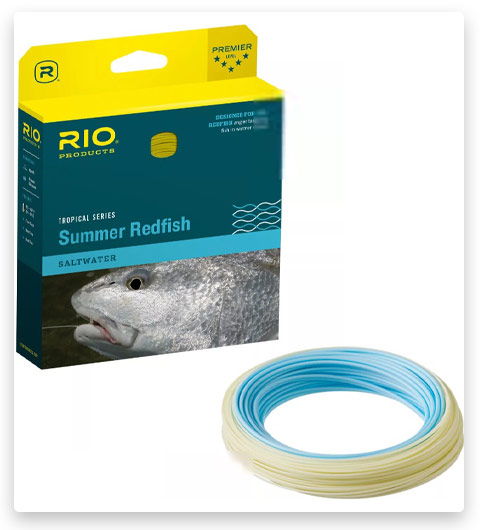 The Rio Summer Redfish Fly Line is a specialized fly line designed for targeting redfish in saltwater environments. This line is specifically designed to be highly visible in the water, making it easy for anglers to track their fly and detect subtle strikes.
One of the key features of the Rio Summer Redfish Fly Line is its taper design, which helps to deliver accurate casts and optimal fly presentation. The line has a weight-forward design, which means that the majority of the line's weight is concentrated towards the front, allowing for long casts with minimal effort.
The Rio Summer Redfish Fly Line is also built with a hard saltwater coating, which provides excellent durability and resistance to abrasion. This coating is designed to withstand harsh saltwater conditions and protect the line from damage, ensuring that it lasts for many fishing trips to come.
Another important feature of the Rio Summer Redfish Fly Line is its high-floating design, which allows the line to stay on the surface of the water, reducing drag and making it easier to pick up and cast. This design also helps to keep the line visible in choppy water conditions, allowing anglers to track their fly and detect strikes with ease.
Overall, the Rio Summer Redfish Fly Line is a high-performance fly line that is designed specifically for targeting redfish in saltwater environments. With its weight-forward design, hard saltwater coating, and high floating design, this line delivers accurate casts, optimal fly presentation, and excellent durability, making it a great choice for serious saltwater anglers.
Warmer weather is the perfect time to target redfish, and you'll need a fly line that can handle the heat. Rio® Summer Redfish Fly Line is specifically designed for these conditions, with a medium-stiff core and tropical coating to ensure the line retains its performance. Its mid-length taper is ideal for casting a wide range of summer redfish patterns, with enough power for distance casting and an easy-loading head for smooth close-in casting as well.
2# Scientific Anglers Amplitude Smooth Redfish Warm Fly Line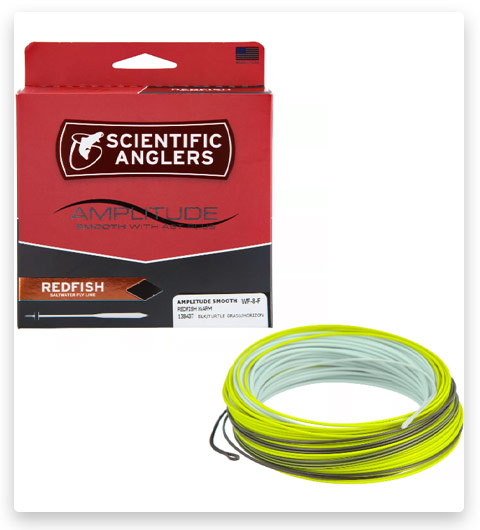 Looking for a high-quality fly line that can take your fishing to the next level? Then check out the Scientific Anglers Amplitude Smooth Redfish Warm Fly Line. This top-of-the-line fly line is built a half-size heavy for exceptional accuracy and features Tropi-Core technology that is ideal for warm waters. Dual welded loops allow for easy rigging changes, while AST Plus enhances slickness for shootability and durability. The short head design lets you make quick, powerful casts, and the built-in Scientific Anglers Line Identification makes it easy to keep track of your line. So whether you're an experienced angler or just starting out, the Amplitude Smooth Redfish Warm Fly Line is sure for you!
3# Rio Winter Redfish Fly Line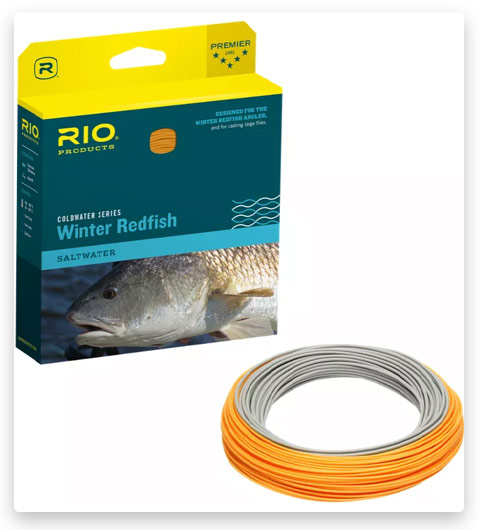 Check out the Rio Winter Redfish Fly Line. This tough, easy-fishing line is built with a short, powerful front taper to ensure reliable turnover, yet it has a supple core and coating that resists tangling. Its short, easy-loading head accommodates close-range casting, making it perfect for those times when you need to make a quick, accurate cast. So don't let the cold weather stop you from getting out on the water – pick up a Rio Winter Redfish Fly Line today and enjoy worry-free fishing all season long.
4# Scientific Anglers Absolute Redfish Leader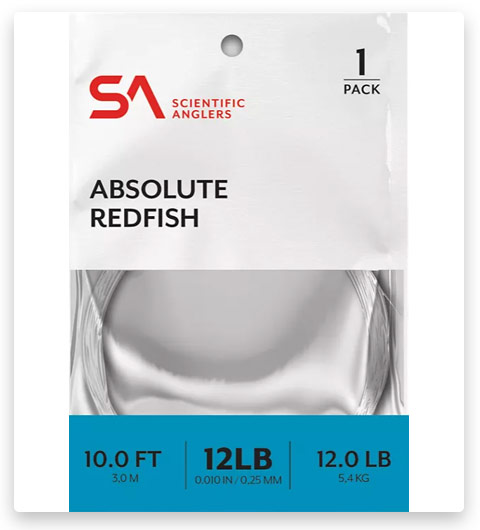 Scientific Anglers has you covered with their Absolute Redfish Leader. This leader is made from a proprietary copolymer blend that delivers exceptional knot strength, and it's been specifically tapered to handle heavy flies. The medium-stiff design provides abrasion resistance, while the paper-based packaging is 100% recyclable. So not only will you be landing the big ones, you'll also be doing your part for the environment.
5# Power Pro Spectra Fiber Braided Fishing Line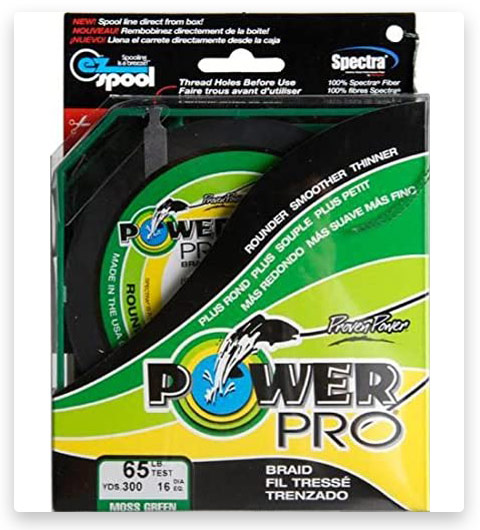 If you're looking for an incredibly strong and smooth braided fishing line, then you need Power Pro Spectra Fiber Braided Fishing Line. This top-of-the-line fishing line is made with spectra fibre, which makes it extremely resistant to abrasion. It also has a high strength-to-diameter ratio, meaning that it can handle a lot of weight without breaking. Plus, the Enhanced Body Technology (BET) boosts handling performance, so you can be sure that your line will stay exactly where you need it.
6# Acejoz 656FT Fishing Line Clear Invisible Hanging Wire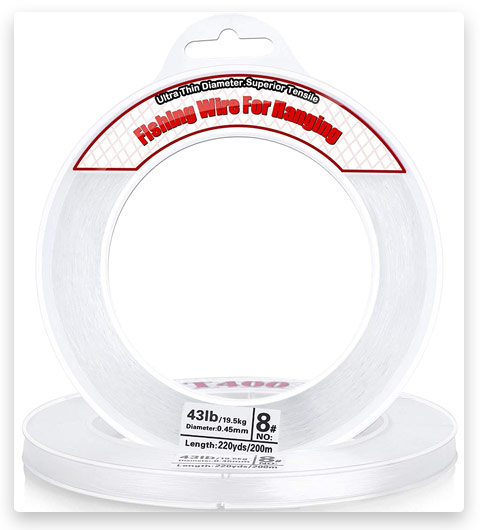 Introducing the Acejoz Clear Fishing Wire. This high-quality nylon fishing wire is perfect for hanging balloons, garlands, party decorations, and more. The clear design makes it virtually invisible against a white background or in direct light, giving your decorations a neat and professional look. With a supporting weight of up to 40 pounds, this fishing wire is sure to meet all your needs. Best of all, the Acejoz Clear Fishing Wire comes in a value pack with one roll of 0.45mm 220yds/200m fishing line, making it perfect for party supplies and decoration hangings.
7# KastKing SuperPower Braided Fishing Line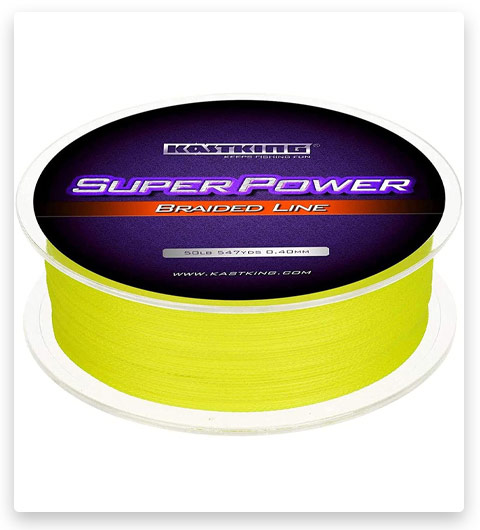 The KastKing's SuperPower Braided Fishing Line is a perfect choice. This high-performance line is made with dynamically incorporated strands that allow for easy tying of solid knots. It also has low memory for easier casting and improved knot strength. Plus, the greater abrasion resistance decreases the likelihood of losing your fish. And because it has zero stretches, you'll enjoy a superior hook setting and an increased catch ratio. So whether you're an experienced angler or just starting out, KastKing's SuperPower Braided Fishing Line is sure to give you the advantage on your next fishing expedition.
8# Berkley Vanish Fluorocarbon Fishing Line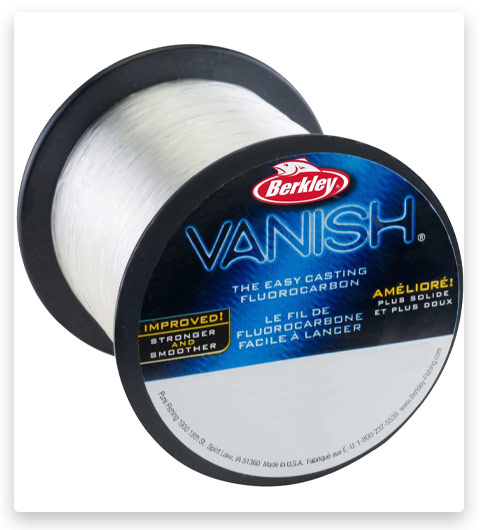 The Berkley Vanish Fluorocarbon is a fluorocarbon fishing line that remains clear underwater. This 100% fluorocarbon line refracts light similarly to water, making it virtually invisible to fish. In addition to its superior camouflage properties, Vanish Fluorocarbon also boasts superior wet strength and flexibility. So whether you're targeting fish in clear water conditions or dealing with tough underwater obstacles, Vanish Fluorocarbon has the strength and flexibility to get the job done.
9# Reaction Tackle Braided Fishing Line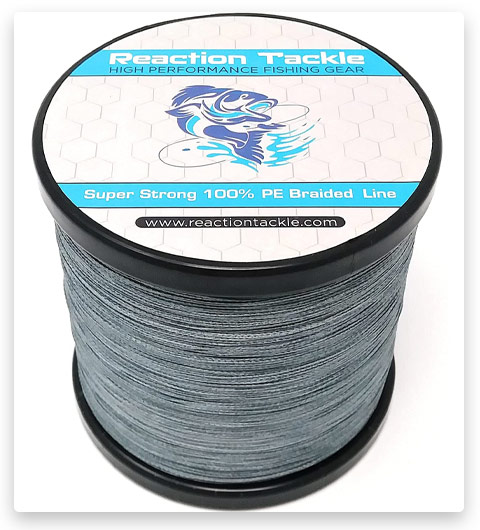 Reaction Tackle Braided Fishing Line is designed for anglers who demand the very best. This line is engineered from ultra-high molecular weight polyethene, one of the strongest woven fibres on earth. This braided line is designed to be super tough and withstand the most demanding conditions. The Reaction Tackle Braided Fishing Line offers incredible abrasion resistance, and zero stretches, and is colour safe with UV-resistant pigments that won't easily fade when exposed to the elements. This versatile braided fishing line is one of the best on the market and perfect for use in both freshwater and saltwater fishing applications.
10# Seaguar Blue Label Fluorocarbon Fishing Line Leader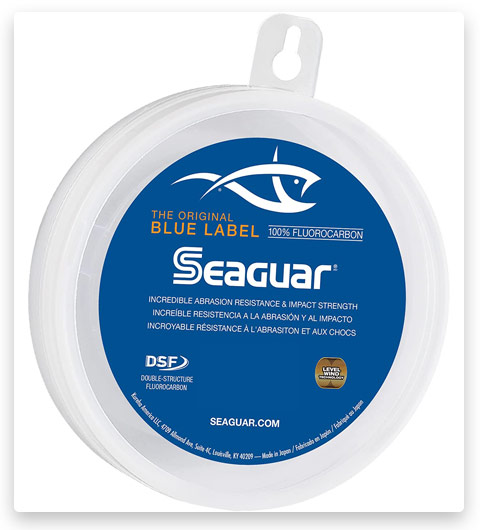 The Seaguar Blue Label Fluorocarbon Fishing Line Leader is a fishing line leader that won't let you down. Made from durable polyvinylidene fluoride, this clear leader is built to withstand whatever you throw at it. Plus, with a double structure fluorocarbon design, it has amazing tensile strength and virtually no stretch. That means you can fish with confidence knowing your line won't snap under pressure. And because it's America's #1 leader, you can rest assured you're getting the best of the best. So don't take chances with your fishing line – go with Seaguar Blue Label Fluorocarbon Fishing Line Leader and enjoy a great day out!
11# Piscifun Onyx Braided Fishing Line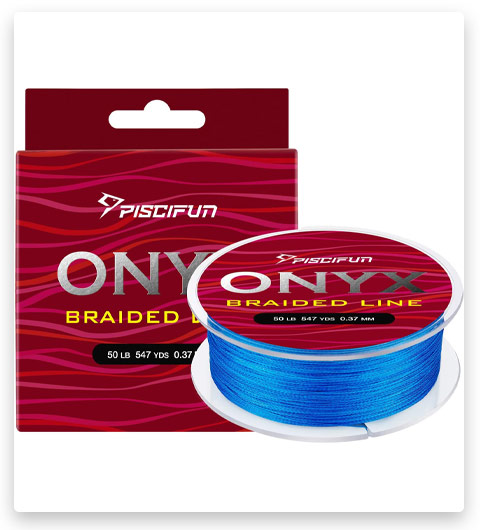 The Piscifun Onyx Braided Fishing Line is a great choice for every fisherman. With superior abrasion resistance, this fishing line can take a beating and keep on going. And thanks to the new epoxy coatings technology, it's also more resistant to damage. Plus, with its strong knot strength, you can be sure your bait will stay put. And because it cuts through the water faster, you'll be able to reach fish in even the deepest depths. So don't waste any more time with inferior fishing lines – try Piscifun Onyx Braided Fishing Line and see the difference for yourself!
12# Piscifun Lunker Braided Fishing Line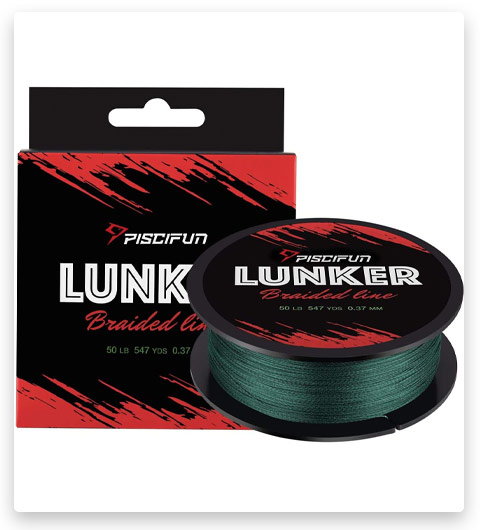 Introduce a top-of-the-line braided fishing line Piscifun Lunker. This braided line is made from Netherlands material and is crafted with precision for maximum strength and durability. The nano-coating treatment makes the line smoother and more wear-resistant, while the zero stretches ensure better transmission of information from your lure to the fish. With a thinner diameter and stronger construction, Piscifun Lunker is the perfect choice for anglers who demand the best in terms of performance and quality.
13# HERCULES Cost-Effective Super Strong Braided Fishing Line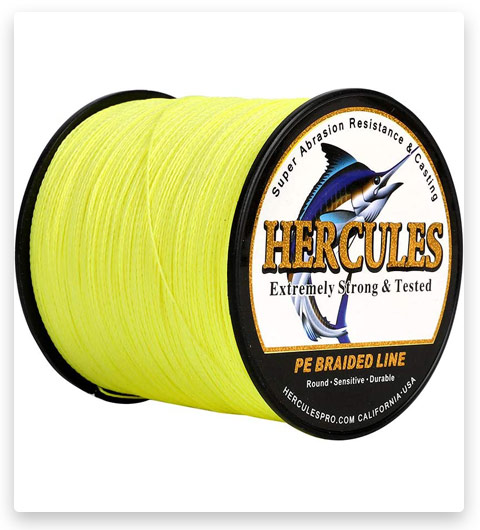 If you're looking for a quality braided fishing line that won't break the bank, HERCULES is a perfect choice. Made from UHMWPE, the world's strongest PE fibre, it's built to last and can stand up to even the most aggressive fish. With its superior thin and small diameter, it casts like a dream and is incredibly sensitive, so you'll be able to feel even the slightest bit. Plus, its abrasion resistance means you won't have to worry about losing your catch. HERCULES is the ideal choice for any angler looking for quality at a great price.
14# Sufix 832 Braid Line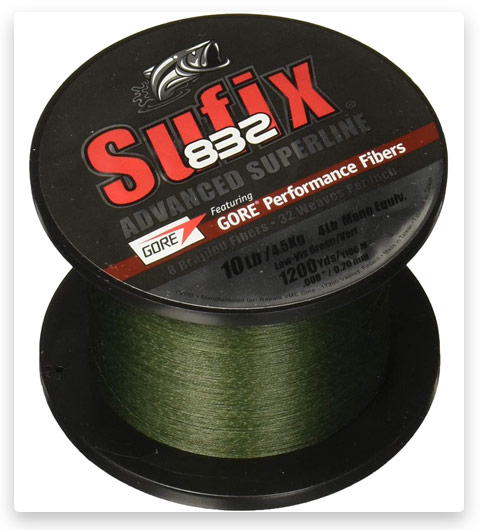 Looking for a fishing line that provides the ultimate abrasion resistance and unbeatable strength? Look no further than Sufix 832 Braid Line. This patent-pending construction features GORE Performance Fiber and R8 Precision Braiding Technology, making it the ideal choice for anglers who demand the best. TGPTechnology enhances colour retention, while the Dyneema fibres provide outstanding castability and fishability. So whether you're hitting the lakes for some bass fishing or plying the waters for trophy trout, Sufix 832 Braid Line is up to the task. Give it a try today and see what you've been missing!
Key Features of an Ideal Redfish Fishing Line ⚙️
Fishing for redfish is as much an art as it is a science. The line you choose plays a pivotal role in your success. Let's delve deep into the key features that make a fishing line truly adept for redfish.
Strength & Durability 💪
When a redfish takes your bait, what ensues is nothing short of a dramatic underwater ballet. They're known for:
Bursts of Speed

: Redfish can accelerate rapidly, putting immediate strain on your line.
Head Shakes: These sudden movements are a redfish's attempt to throw the hook.
Powerful Pulls: Especially with bull reds, expect some challenging tug-of-war sessions.
To withstand these antics, your line needs:
High Tensile Strength: Ensuring it can bear the weight and power of the fish without snapping.
Quality Material: Premium lines made of reliable materials ensure minimal wear over time.
Abrasion Resistance: Given that redfish often reside around structures like rocks and pilings, your line should resist getting cut or worn out easily.
Sensitivity 🤏
While redfish can be aggressive, there are moments of subtlety, especially when they're skeptical of a bait or lure:
Detecting Bites: Sometimes, a redfish might just nibble or inspect the bait. A sensitive line ensures you feel these minute interactions.
Materials & Design: Braided lines, known for their slim diameters and lack of stretch, are excellent for heightened sensitivity.
Resistance to Elements ☀️🌊
The marine environment is unforgiving. Here's what your line will contend with:
Saltwater: It's corrosive and can degrade inferior lines over time.
UV Rays: Prolonged exposure to sunlight can weaken some lines.
Temperature Fluctuations: Both hot and cold temperatures can impact line performance.
How to combat these challenges:
Specialized Coatings: Some modern lines come with protective coatings that shield against UV and saltwater damage.
Material Choice: Fluorocarbon, for instance, is known for its resistance to UV rays and durability in saltwater.
Visibility and Stealth 🌊👀
Depending on where you fish, water clarity can vary drastically:
Clear Waters: In such conditions, the line's visibility can deter redfish. Opt for lines that blend seamlessly, like clear fluorocarbon.
Murky Conditions: Here, visibility is less of an issue. However, a low-diameter line that's discreet can still offer advantages.
Color Options: Depending on the backdrop (sand, grass, mud), choose a line color that is least conspicuous to the redfish.
When it comes to redfish, it's clear: the line is not just a mere connection but a bridge to success. The right blend of strength, sensitivity, resistance, and stealth paves the way for memorable catches. Choose wisely, and may your fishing tales be legendary! 🌟
Materials Breakdown: Crafting the Perfect Connection 🎣🔍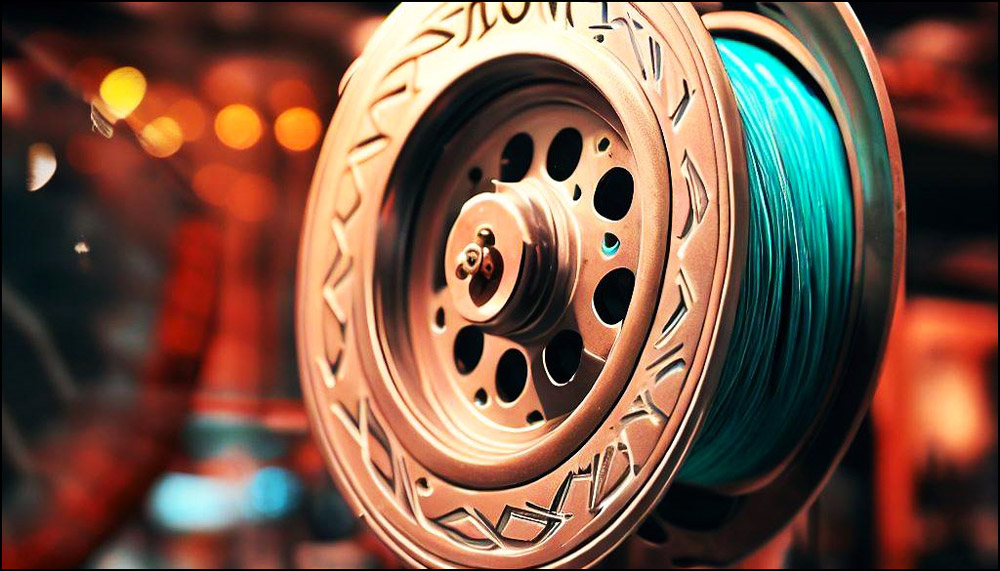 Every fishing line, like a finely tuned musical instrument, has its unique composition, performance traits, and optimal settings. Here, we dissect the three main types of fishing line materials to understand their prowess in the redfish domain.
Monofilament: The Classic Choice 🌀
Monofilament, often termed 'mono', is crafted from a single strand of material, usually nylon. Its presence in the angling world has been longstanding, and for good reason.
Ideal Conditions: Mono shines in clear water due to its low visibility, especially when paired with topwater presentations or when a little stretch can act as a buffer against an aggressive redfish.
Fluorocarbon: The Invisible Warrior 🌊💎
Fluorocarbon is revered for its near invisibility underwater. This is due to its refractive index being close to that of water.
Advantages:
Clarity and Refraction: Its 'disappearing act' in water gives anglers an edge, especially in clear conditions.
Sensitivity: Less stretch than mono means heightened sensitivity to bites.
Durability: Resistant to UV rays and abrasive elements, making it a lasting choice.
Where Fluorocarbon Shines: Best employed in clear water environments or when fishing in pressured areas where fish are wary of any unnatural elements. It's also an excellent choice for leader material when using braided mainline.
Braided Lines: Power Packed Performance 💪🌐
Constructed by weaving together multiple strands, braided lines offer a blend of strength and finesse.
Strength-to-Diameter Ratio:
Lean yet Powerful: Braids offer incredible strength for their diameter. This means you can have a thinner line with the same, if not better, strength than thicker mono or fluorocarbon lines.
Best Scenarios for Redfish:
Heavy Vegetation: The 'slicing' nature of braided lines allows you to cut through weeds and lily pads, ideal for marshy redfish habitats.
Long Casts: The thin diameter means less resistance against the wind, allowing for longer casts.
Deep Waters: When you need to get your lure down fast without the line floating or stretching.
Each material offers a suite of benefits tailored to specific scenarios. The key is to assess your fishing environment, the behavior of the redfish in that habitat, and select the line that aligns best with those conditions. Happy angling, and may every cast bring you closer to your prize catch! 🏆🐟
Line Diameter and Its Impact 📏🎣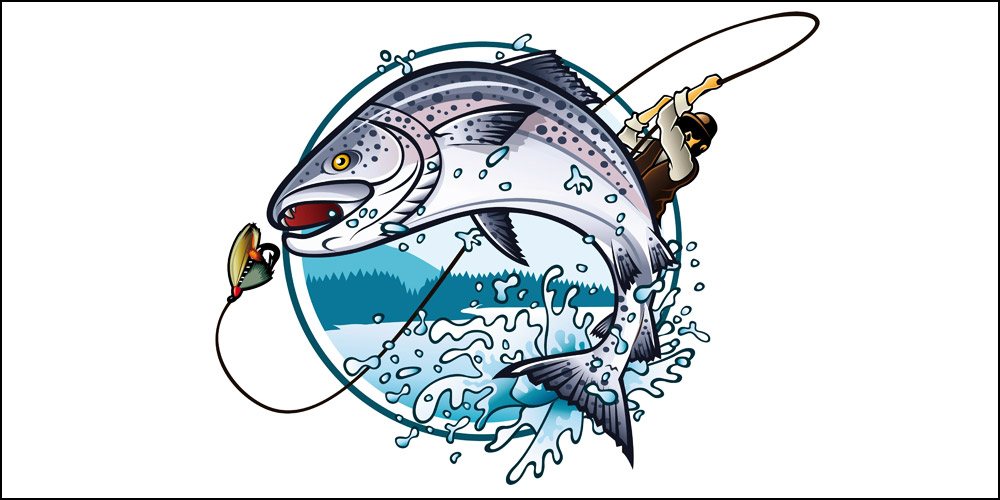 When it comes to fishing, every aspect of your gear counts, right down to the millimeter. One such critical facet is the diameter of your fishing line. It may seem minute (pun intended!), but its impact on your fishing experience, especially when targeting redfish, is significant. Let's delve deeper.
Casting Distance: Reach Out and Touch the Water 🚀
The line diameter plays a pivotal role in how far you can cast your bait or lure:
Thin Lines: Offer less resistance against the wind, making them aerodynamic. The result? You can cast further, reaching those distant spots where redfish might be lurking.
Thick Lines: Can slow down your casting speed due to the increased drag in the air. They might limit your reach, potentially making you miss out on promising areas.
Takeaway: When trying to achieve maximum casting distance, especially in windy conditions or when pinpoint accuracy is required, a thinner line can be your best ally.
Lure Depth Control: Dive Right In 🌊⬇️
Line diameter also influences how your lure behaves underwater:
Thin Lines: They sink faster due to less buoyancy and drag. If you're aiming to get your lure deep quickly, especially in strong currents or deeper waters, a thin line helps in achieving that depth effectively.
Thick Lines: Tend to have more buoyancy and can create more water resistance. This can prevent your lure from descending quickly or maintaining its desired depth. However, this can be an advantage when using topwater lures or when you want to keep your bait suspended in the middle of the water column.
Takeaway: Assess the water's depth and the preferred feeding zone of the redfish on any given day. Choose your line diameter accordingly to place your lure right where it needs to be.
In the vast world of angling, it's these small details, like line diameter, that often make a world of difference. Whether it's reaching that far-off hotspot or ensuring your lure dances at the perfect depth, always remember: precision, in both technique and gear choice, leads to perfection in results. Tight lines and may the redfish always be in your favor! 🌟🐟
Setting Up: Knots & Rigging for Redfish – Precision Ties and Tactics 🎣⚙️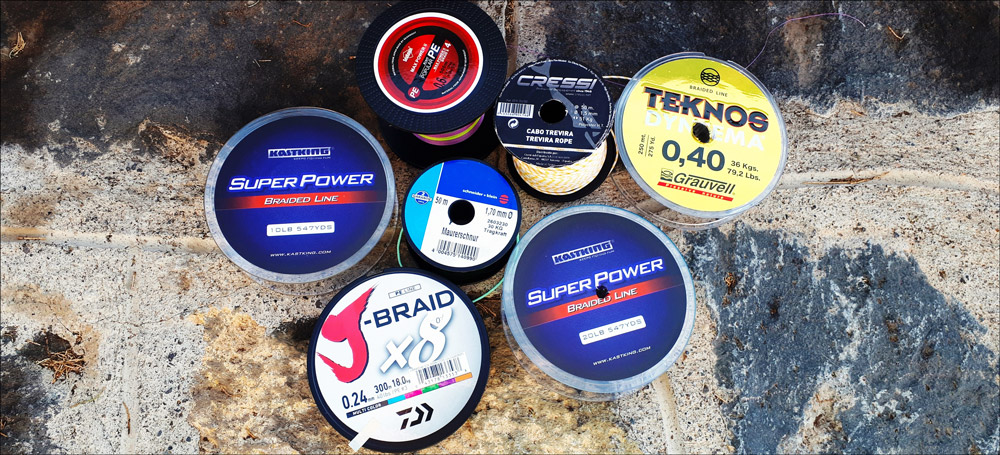 Redfish, with their hard-fighting nature and keen senses, demand not just the right line, but also the right rigging setup. Whether it's securing your lure with confidence or employing a leader to outsmart this wily species, your preparation can make or break your fishing outing. Here's your definitive guide.
The Perfect Knots: Secure, Strong, Stealthy 🌀
Knots are the lifeline between you and your catch. Here are some must-know knots for redfish fishing:
Improved Clinch Knot: A popular choice for its reliability and simplicity. Perfect for attaching hooks, swivels, and lures to your line.
Loop Knot: Offers your lure more freedom to move, mimicking natural movement in the water. Ideal for twitch baits or any lure you want to impart action to.
Palomar Knot: Known for its superior strength, this knot is especially beneficial when using braided lines which can be slippery.
Tip: Always moisten your knots before tightening to reduce friction and maintain the line's strength.
Leaders: The Unsung Heroes 🛡️
In the world of redfish angling, a leader can often be your secret weapon.
Role of a Leader:
Abrasion Resistance: Redfish habitats often have structures, oyster beds, or vegetation. A leader, especially one made of fluorocarbon, can withstand these abrasive elements better than standard lines.
Stealth: In clear waters, a thin leader provides the invisibility needed to fool a wary redfish, ensuring they see the lure, not the line.
Choosing the Right Leader:
Length: Typically, 12 to 24 inches is ideal. However, in super clear waters or when the fish are extra spooky, consider extending to 2-3 feet.
Material: Fluorocarbon is the top choice due to its clarity and resistance. However, in murkier waters or heavy vegetation, a braided leader might be suitable for its strength.
Strength: This depends on the size of the redfish you're targeting. For slot reds, 20-30 lb test is often sufficient. For bull reds or in areas with a lot of structure, you might need to bump it up to 40-50 lb test.
Your knots and rigging setup are as essential as any other part of your fishing arsenal. It's like the foundation of a house; the sturdier it is, the more resilient the structure. Ensure every knot is tied with care, every leader chosen with thought, and let these small yet crucial elements elevate your redfish game. 🐟🏆
Real-World Testimonials: Lessons from the Lagoon 🌊🗣️
Every angler has a tale to tell – stories of monumental catches, near-misses, and valuable lessons from days spent chasing the elusive redfish. Delve into these firsthand accounts to get a unique perspective on what it takes to master the game.
🎣 Alex from Texas: The Day of the Giants
"I've been fishing the Texas coast for over 15 years. One day, using a braided line, I hooked what felt like a submarine! The fight was intense. What I learned? Never underestimate the power of a redfish, especially the bulls. My drag was set too tight, and I almost lost the fish. Now, I always ensure my drag is appropriately set, giving the fish some 'room' to run, saving my line (and my pride) from snapping."
Top Recommendation: Regularly check and adjust your drag, especially when targeting big fish in deeper waters.
🎣 Maya from Louisiana: Clear Waters, Clear Lessons
"Fishing the marshes here is an experience. The water can be crystal clear. I remember losing so many redfish because they'd get spooked seeing my line. It was frustrating. Then I shifted to a fluorocarbon leader. The difference was night and day! I was finally invisible to those sharp-eyed reds."
Wish I Knew Before: The importance of adapting to water clarity. Always have different line and leader options ready.
🎣 Mike from Florida: The Knot That Slipped
"The thrill of hooking a redfish is unparalleled. But one time, in my excitement, I tied a hasty knot. Big mistake! Just as I was about to land a beautiful slot red, the knot slipped, and away it went, with my favorite lure in tow. It taught me the value of taking a few extra seconds to tie a secure knot."
Top Recommendation: Learn and perfect a few reliable knots. And always double-check them before casting. 🐟🌟
Common Mistakes to Avoid 🚫🎣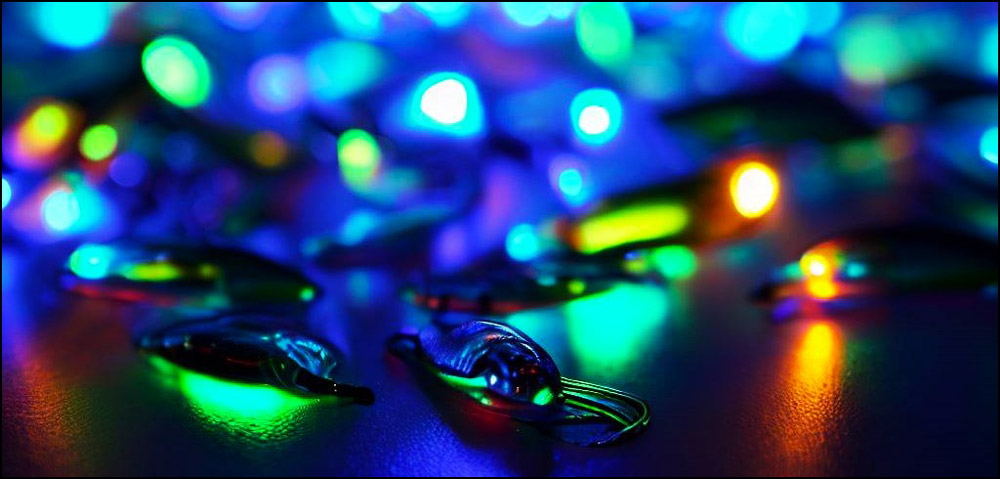 Whether you're a seasoned angler or just dipping your toes into the world of redfish, everyone's bound to make a few missteps. However, by understanding the common pitfalls in selecting fishing lines for redfish, you can ensure smoother sailing and a more rewarding angling experience. Let's uncover these common mistakes and learn how to sidestep them.
Overlooking Line Stretch 📏
The Pitfall: Many anglers often overlook the stretch factor of a line. While a bit of stretch can be good for absorbing shocks, too much can compromise your hook set and decrease sensitivity.
The Fix: Opt for lines with minimal stretch, like braided lines, especially when fishing in deeper waters or when precise lure action is needed.
Neglecting Abrasion Resistance 🌾🪡
The Pitfall: Redfish habitats can be filled with abrasive elements like oyster beds, rocks, and thick vegetation. Using a line without adequate abrasion resistance can lead to unexpected breaks.
The Fix: Always assess the fishing environment. If it's a rough terrain, opt for a tougher line or use a leader to add that extra layer of protection.
Falling for Gimmicks and Hype 🚁
The Pitfall: With so many products on the market, it's easy to get swayed by fancy packaging and exaggerated claims. However, not all "innovations" translate to real-world benefits.
The Fix: Stick to reputable brands and do your research. Reviews, recommendations, and real-world testimonials (like the ones you've read earlier) can be your guiding light.
Ignoring Line Visibility 👓🌊
The Pitfall: In the quest for strength and durability, anglers sometimes overlook visibility. In clear waters, a conspicuous line can spook redfish.
The Fix: In clear conditions, consider using a fluorocarbon leader for its near-invisibility. Alternatively, select line colors that blend well with the water conditions.
Overloading Your Reel 🎡
The Pitfall: It's tempting to load as much line as possible onto your reel. However, overloading can result in tangles, reduced casting distance, and other hassles.
The Fix: Adhere to the recommended line capacity of your reel. Remember, it's about quality and precision, not just quantity. 🌟🐟
FAQ: Cast Farther, Catch Bigger
Conclusion: Line Up Your Success on the Water 🎣🏆
As our deep dive into the world of redfish fishing lines wraps up, it's clear that choosing the right line isn't just a minor detail—it's a pivotal decision that can make or break your angling experience.
From understanding the unique nature of redfish 🐟 and their habitats to deciphering the nuances of different line materials and diameters, the journey has underscored a singular truth: Precision matters.
Remember:
Strength and Sensitivity are your guiding stars. You need a line that can withstand the furious tugs of a battling redfish while also letting you feel even the subtlest of bites.
Environment Adaptability 🌊🌿: Redfish waters are diverse. From clear lagoons to vegetation-rich marshes, your line must be ready to face them all.
Invest Wisely 💰🧠: It's easy to overlook the importance of your fishing line amidst the plethora of fishing gear available. But, as many seasoned anglers will attest, it's a cornerstone of successful redfish angling.
As you set forth, reel in hand and passion aflame, make an informed choice. Let your fishing line be not just a tool, but an extension of your angling prowess. Here's to many triumphant moments on the water, with the shimmering scales of a redfish gleaming at the end of your perfectly chosen line. Happy fishing, and may the tales of your angling adventures inspire many more! 🌊🎣🌟
Additional Resources & References: Equip, Educate, and Excel! 📚🔗
For those eager to dive deeper into the intricacies of redfish angling and to equip themselves with the best tools of the trade, we've curated a list of trusted resources and brands. Your journey doesn't stop here; let these references be the stepping stones to becoming a master angler!
🌐 Trusted Brands for Redfish Fishing Line
Berkley – Known for its innovation and quality, Berkley offers a variety of lines ideal for redfish.
PowerPro – Their braided lines are a favorite among many redfish anglers.
Seaguar – A leading name when it comes to fluorocarbon lines.
Note: Always compare products and read reviews to find the best fit for your needs.
📖 Further Reading Materials
"Redfish Revolution" by James F. Wilson – A comprehensive guide on redfish behaviors, habitats, and the best angling techniques.
"Line Matters: The Angler's Guide to Fishing Lines" by Lucy Hartman – Dive deeper into the world of fishing lines, their compositions, and their applications.
"Knots & Rigs for Anglers" by Martin A. Clark – Perfect your knot-tying game with this handy guide.
Online Forums & Communities
Redfish Anglers Forum – A vibrant community of passionate redfish enthusiasts sharing their experiences, tips, and tricks.
The Tackle Box Blog – Regular updates on gear reviews, fishing techniques, and more. 🎣📘🌟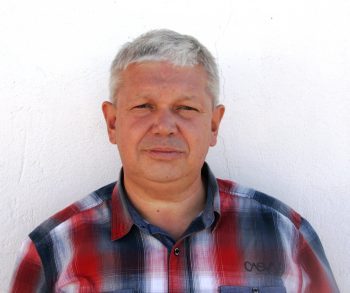 Sergio Smirnoff
Professional fisherman with 40+ years of experience.
Fishing and the ocean is a passion of my life. I am passionate about all kinds of sea fishing: fishing from the shore (spinning, float, baitcasting), from a boat, and spearfishing day and night.
I live in Tenerife (Canary Islands) for the last 10+ years and share my daily fishing experiences on my website. Many years of personal experience as a fisherman and the vast experience of my friends allow me to write professionally on any fishing topics (from choosing a flashlight and equipment to deep-sea fishing).
All of my advice is based on practical real-world experience and will be useful to both novice anglers and professionals.
Read more
about the author.
Affiliate Disclosure: FishReeler.com sometimes gets paid for listings, through sponsors or affiliate programs like Amazon, Ebay, Cabelas, Bass Pro Shop, Shimano, Daiwa, Rapala, Renn, Okuma, KastKing, etс. Clicking a link helps keep FishReeler.com free, at no extra cost to you!
About the author: Each article is verified by the fishing expert Sergio Smirnoff. The articles are written by professional and amateur fishermen with 20+ years of fishing experience.
Note: The views and opinions expressed in this article are those of the authors and do not necessarily reflect the official policy or position of any agency. The articles are for informational purposes only, share your opinions in the comments and join the fishing discussions, let's share our fishing experiences together!