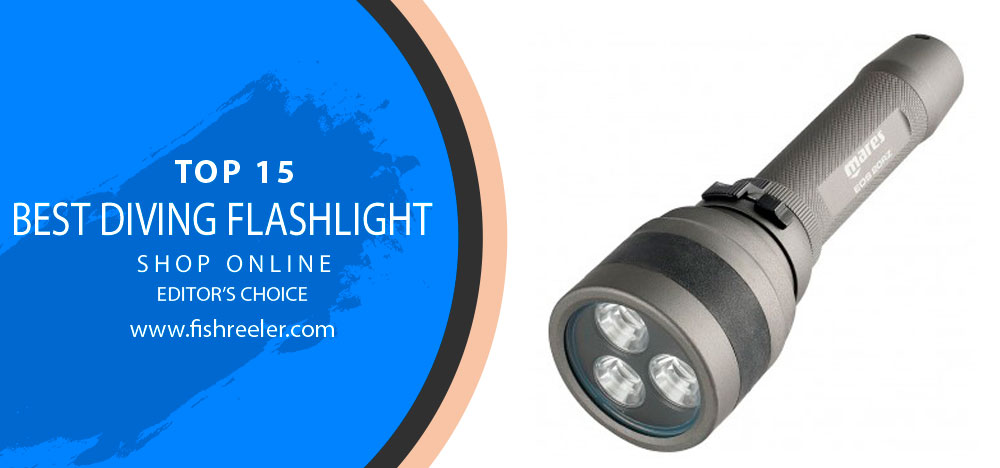 Exploring Underwater Wonders: A Fishing Professional's Guide to Diving Flashlights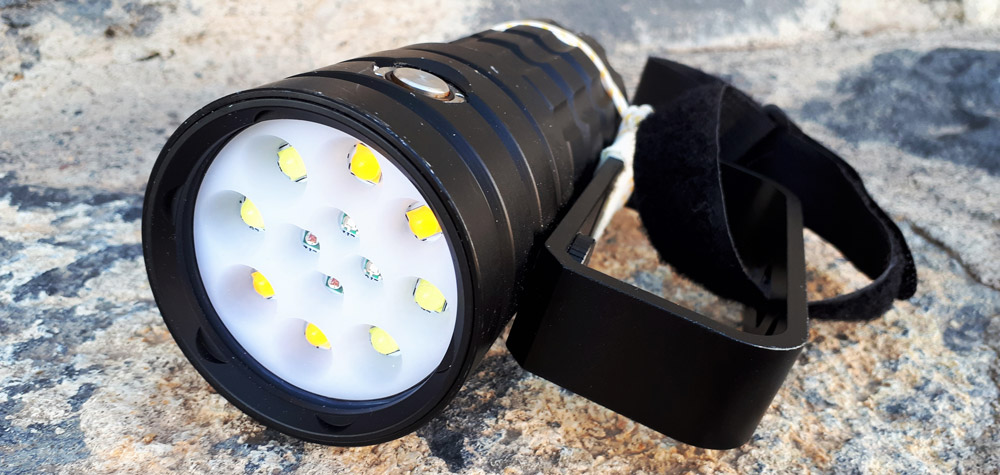 Diving into the serene blue waters on a clear day can be an ethereal experience. However, one chilly evening, I found myself venturing into the water under the cloak of twilight for an unexpected fishing expedition. The sun had just dipped below the horizon, and the underwater world began to wrap itself in an increasingly impenetrable darkness. It was here that I first discovered the crucial role that a reliable diving flashlight plays in the depths below.
We had dropped our lines to catch some nocturnal species, guided only by the boat's ambient lights and the faint glimmers of bioluminescent creatures below. Suddenly, the line twitched, and a vigorous tug pulled me under. What was meant to be a shallow dive quickly became a deeper venture. As the daylight receded, the water morphed into an alien landscape, and I found myself disoriented and struggling to negotiate my surroundings. Then, I remembered the diving flashlight strapped to my wrist.
Clicking it on, the high-intensity beam cut through the murk, transforming the vague shapes into clearly visible underwater structures. My relief was immediate and profound. This simple tool provided not just visibility but also a critical sense of orientation, safety, and the confidence to continue my underwater adventure. It also helped me locate the fish, which had darted under a rocky overhang. Without the flashlight, I might have lost both the catch and my way.
This transformative experience prompted me to delve deeper into the world of diving flashlights, exploring their significance in underwater fishing and exploration. The outcome of my research and experiences form the crux of this article. We will explore why diving flashlights are more than just a convenience—they're a necessary tool for any serious diver or fishing enthusiast.
Our journey through this article will take us through the important role of these flashlights in our underwater activities. We will investigate their key features and what to look for when selecting the perfect underwater flashlight. We'll review the top diving flashlights available based on their performance, durability, and value. Lastly, we'll discuss how to use and maintain your diving flashlight properly to ensure its longevity and reliability.
Understanding the Importance of Diving Flashlights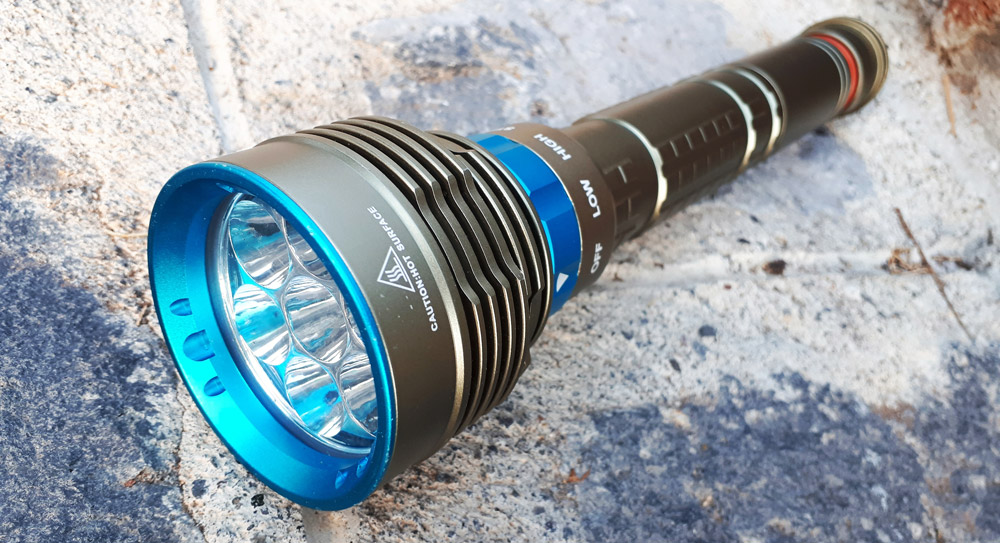 There's an entire world under the surface of our waters, a world that can quickly turn dark and enigmatic once the sun dips beneath the horizon or when diving beyond the reach of sunlight. In these conditions, light becomes an essential survival tool, playing a critical role in visibility, navigation, communication, and safety.
The Power of Light Underwater: A Survival Tool
As the very physics of light changes underwater, visibility is reduced drastically. The water absorbs the sunlight, and the deeper you dive, the darker it becomes. You may have noticed that colors begin to fade the deeper you go, starting with reds and oranges, followed by the rest of the spectrum. This lack of light can make it difficult to discern shapes and distances accurately, which is where a diving flashlight can be a game-changer.
The beam of a diving flashlight allows divers to navigate the underwater environment effectively, especially in low-light conditions or at night. It reveals the actual colors of the underwater fauna and flora, significantly enhancing your diving experience. Moreover, the flashlight can also act as a beacon, helping your diving buddy or surface team locate you in case of an emergency.
How Diving Flashlights Illuminate Fishing Adventures
For fishing enthusiasts, the diving flashlight is more than just a tool for visibility; it's an instrument that enhances the entire fishing experience. Many aquatic species are nocturnal and prefer the cover of darkness or murky environments. A diving flashlight can help locate these species, making your fishing trips more successful.
Apart from locating the fish, diving flashlights can illuminate underwater structures such as caves, overhangs, and the undersides of boats, where certain species are known to congregate. For spearfishers, a powerful flashlight can mean the difference between a missed catch or a successful outing.
When it comes to safety, a flashlight is a must. It allows you to spot potential hazards, such as sharp rocks, dangerous marine creatures, or fishing lines and nets that could cause entanglement.
My Unforgettable Encounters in the Murky Depths
Reflecting on my personal experiences, there was a night dive when I encountered a school of bioluminescent squid. Although their own glow was mesmerizing, my diving flashlight allowed me to appreciate the intricacies of their bodies and movements, which would otherwise have been lost in the darkness.
On another occasion, while fishing, I was able to locate a flounder hiding under the sandy sea bed thanks to the beam of my flashlight. Without it, the well-camouflaged fish would have been nearly impossible to spot.
Diving flashlights have illuminated my underwater journeys, enriching my experiences, and providing safety along the way. They are not just a device to light the path; they are a gateway to unlock the mysteries and marvels of the deep.
Video: Best Scuba Dive Lights Review
The 15 Best Led Dive Light for Spearfishing
Dealing with scuba diving in complete darkness is almost impossible. the best diving flashlight is required for exploring caves, and sunken ships. Waterproof underwater torches can be used not only for night diving but also for cave penetration, underwater filming, and spearfishing. In addition to a clean light source to help you navigate underwater, the best dive lights are also used as a dive signal transmitter. With a led dive light, you can give a friend signs to point out something particularly worthwhile.
In this article, you will learn all about underwater diving lights. But before that, I want to show you the best models on the market today. I will talk about their characteristics, pros, and cons. This information will help you choose the best diving flashlight underwater waterproof for you.
| Image | Product | Brand | Link |
| --- | --- | --- | --- |
| | Mares EOS 10RZ Dive Light | Mares | |
| | SEAC R40 2300 Lumens LED Underwater Micro-USB Rechargeable Black Scuba Diving Flashlight | SEAC | |
| | Scubapro Nova 850R Diving Light | Scubapro | |
| | | | |
| | Kraken Sports NR-2000 | Kraken Sports | |
| | Light & Motion GoBe S 500 Spot Berry Dive & Outdoor Flashlight, White/Berry, 1.5in by 1.5in by 6" | Light & Motion | |
| | | | |
| | Genwiss Dive Light, Diving Flashlight Underwater Lights Scuba Diving Flashlight, 1000 Lumens Underwater 80M Flashlight for Diving Activities, Torch Light with Rechargeable Battery and USB Charge | Siuyiu | |
| | sofirn Scuba Diving Flashlight, SD05 3000lm Powerful Waterproof Light, 100m Underwater, with Rechargeable Battery Inserted and USB Charger | sofirn | |
| | Aramox Diving Flashlight 18000 Lumen IPX8 Scuba Dive Lights 500M Underwater LED Flashlight Submersible Lights for Outdoor Under Water Sports | Aramox | |
| | ORCATORCH D550 Dive Light 1000 Lumens Scuba Diving Flashlight 3 Modes IP68 Waterproof Underwater Lights Night Dive Submarine Torch for Outdoor Exploration Under Water Sports | ORCATORCH | |
1# Mares EOS 10RZ Dive Light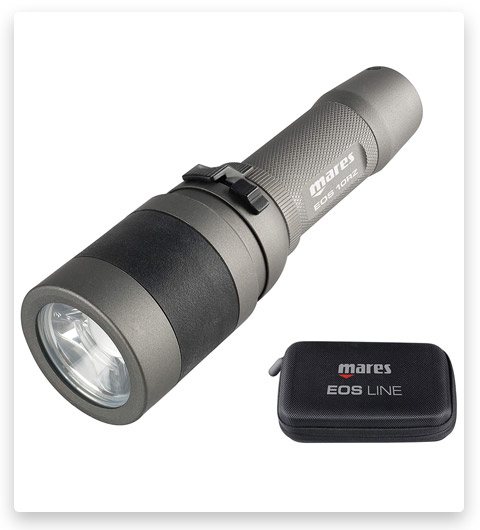 Compact and lightweight (weigh 18.8 oz. / 573 g) diving flashlight made of aluminum. The 400 lumens LED torch allows you to vary the angle of diffusion depending on the diving conditions. Thanks to the smooth adjustment of the angle, you can change the lighting angle more than 7 times (10 – 75 degrees). The flashlight is equipped with a CREE XP-G2 LED with a color temperature of 6200K, which, in combination with the Li-Ion ICR18650 battery, works 150 minutes at full power or 480 minutes at 30% power. The flashlight is equipped with a USB charging cable and LED indication of the charging process. The charging process is 4.5 hours when using a 5 V adapter from a 220 V network and 6 hours when charging from a computer. The maximum working depth of the flashlight is 100 meters. Magnetic switch: full power / reduced power / emergency beacon / off.
2# SEAC R40 Scuba Dive Flashlight
This model is waterproof to a depth of 100 meters and has a brightness of 2300 lumens. The Underwater Torch is very easy to handle due to its compact size. The cladding, seals and glazing are processed stably and leave no reason for complaint. The idea of a thumb turn to unlock and lock the flashlight is apt. However, when working with gloves, this additional protection against activation is difficult to use and therefore more likely to cause interference. You will be able to use the device for 2 hours at increased power and for 5 hours at reduced power.
3# Scubapro Nova 850R Diving Light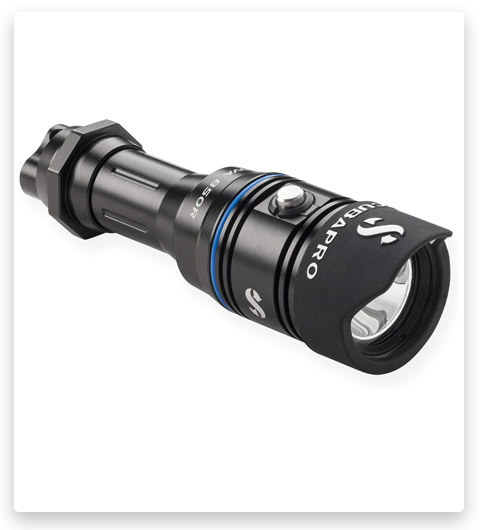 New flashlight from Scubapro. True 850 Lumens of brightness in a robust aluminum case. This version of the flashlight has a wide 80° beam, which allows it to be used as an illuminator for underwater photography and video shooting. The torch is tested to a depth of 150 meters and is a reliable diving light source. The flashlight is switched on using the magnetic switch button. Working time is 2 hours. A built-in overpressure valve is located at the rear (for battery operation). A soft, removable visor located on the light head prevents the blinding of other divers. Switching modes and turning on the flashlight occurs using a convenient button located at the top of the case.
4# Bigblue TL3500P-Supreme 3500 Lumen Narrow Beam Tech Light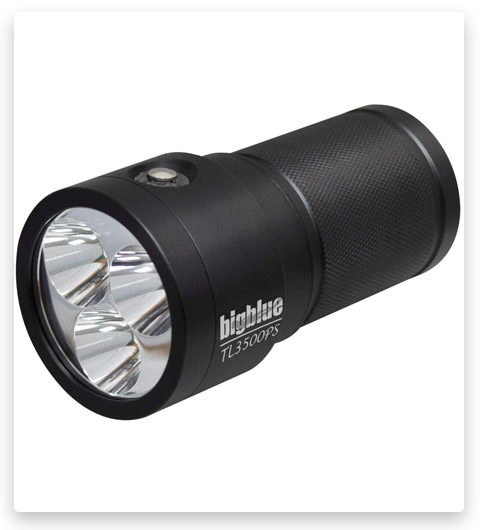 The TL3500P is a self-contained technical diving torch. This device has a compact body, a reliable push-button switching mechanism with a beam angle of 10 degrees, a battery indicator on the light itself, and the ability to choose between four power levels and SOS function. 3500 lumens at just 10° brightness. It uses an independent lithium-ion battery and comes with a charger. The TL3500P also comes with an aluminum handle and a slim Goodman handle, making this a versatile flashlight for any diver looking for the good light output needed in tough conditions.
5# Kraken Sports NR-2000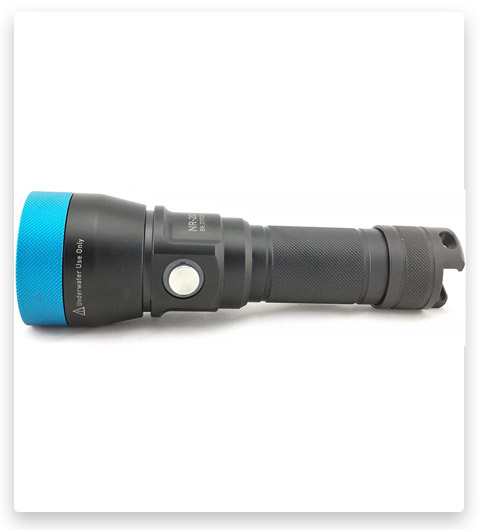 A special feature of the diving light is a light cone that glows evenly across its entire width. You can turn on the device with an intensity of 100, 75, 50, or 25% by briefly pressing the switch. It works at a depth of 100m. The LED flashlight is powered by an included battery. Compared to other similar devices, this flashlight for spearfishing is a bargain. Light output can easily compete with much more expensive branded products.
6# Light & Motion GoBe S 500 Spot Light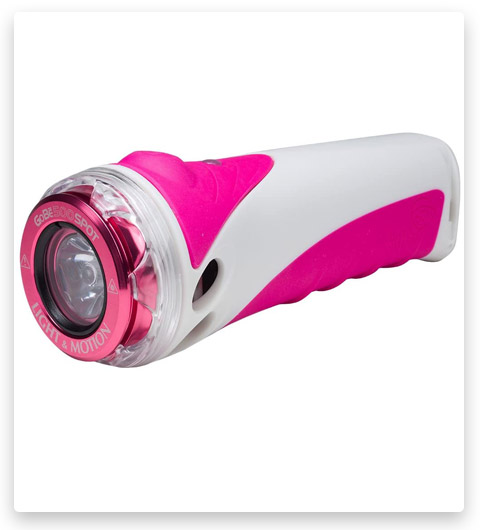 Compact underwater torch with 500 lumens brightness. The body length is only 125 mm. The diameter of the light head is 4.82 cm. The flashlight is very light, comfortable, and designed especially for deep diving. A special feature of the flashlight is the possibility of changing the light heads.
7# Dive Rite LX20+ Light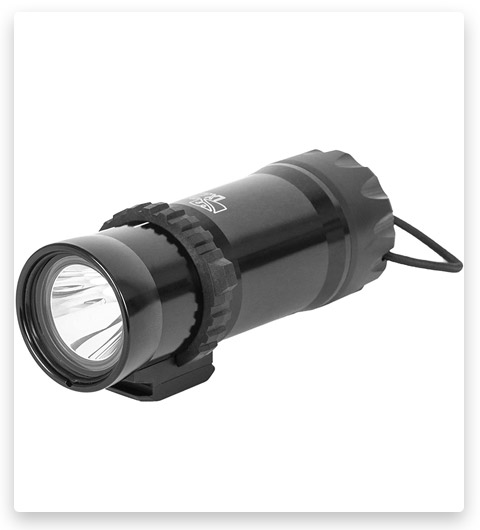 The Dive Rite LX20 rechargeable underwater flashlight is a paragon of reliability and durability. Powerful underwater light source with a brightness of at least 20,000 Lux (1900 Lumens), equipped with a modern processor. Moreover, the device is very compact and practically weightless. The LX20 is the flagship of a new generation of portable submersible torches that will take your dive experience to the next level when exploring caves, wrecks, or night reef dives. Operating time in modes: high power 4 hours at 1900 lumens, medium power: 6 hours at 1200 lumens, low power consumption: 12 hours at 650 lumens, strobe: 36 hours at 1900 lumens. Charging time takes up to 9 hours from full discharge to full charge.
8# Genwiss Dive Light – Amazon's Choice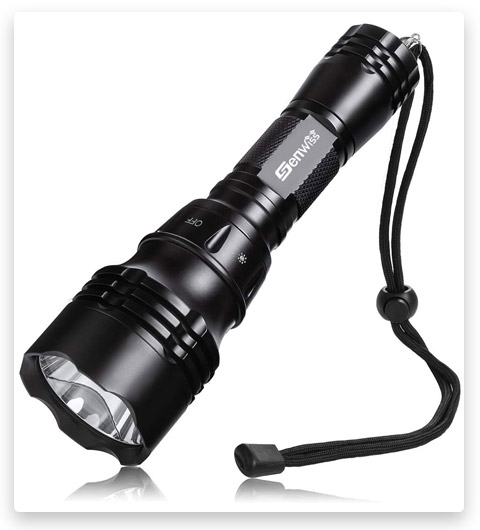 This is a high-quality waterproof diving flashlight. Due to its small beam angle, the device can be used as a spotlight. Choose a different diving lamp to illuminate other areas. This product is designed for use at depths of up to 80 meters and its maximum brightness reaches 1000 lumens. The device has 5 modes, and you can also adjust its brightness.
9# Sofirn Scuba Diving Flashlight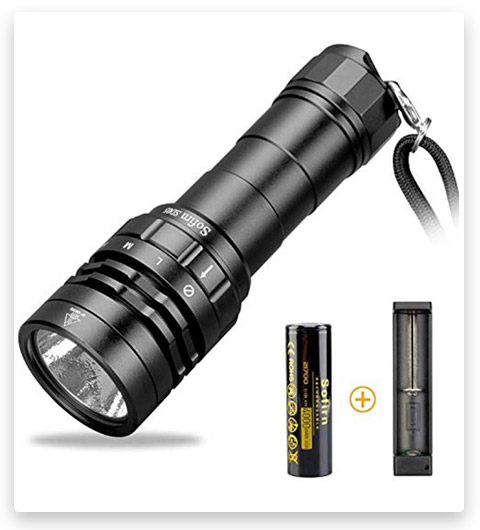 The Sofirn company specializes in the production of LED lights. Sofirn SD05 is a classic flashlight with pronounced cooling fins on the head, without knurling on the battery compartment tube. The grip is comfortable due to the increased diameter of the tail cover relative to the tube. The light source is the latest Cree XHP 50.2 6000K-6500K LED. As a result of this combination, a thin central ray of maximum brightness is pronounced in the light beam, around which there is a wide spot of light of much lower brightness. This device provides a maximum output brightness of 2,550 lumens. It is the ideal flashlight for diving up to 100 meters.
10# Aramox Diving Flashlight 18000 Lumen IPX8 Scuba Dive Lights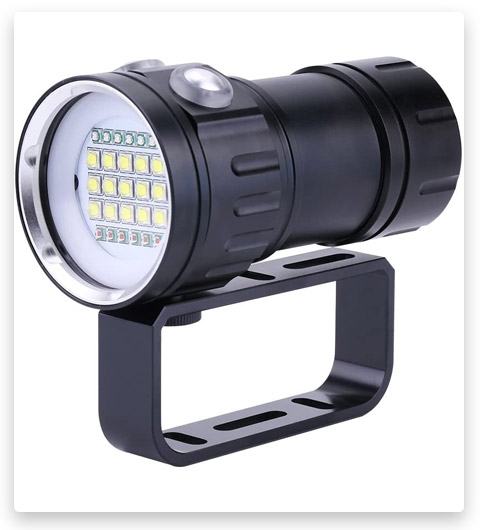 This product is what you need if you are looking for an option with which you can dive up to 500 meters! It is a high-quality device made of aluminum alloy. This material has high wear resistance and strength. You can adjust the brightness and lighting modes by double-clicking the switch. This device can be easily attached to your arm using the handle bracket.
11# ORCATORCH D550 Dive Light – Amazon's Choice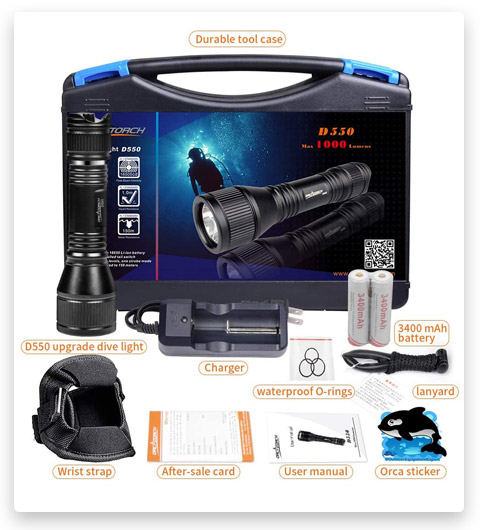 Complete set with charger and battery. Reliable flashlight with 1000 lumens beam brightness. In the maximum brightness mode, the flashlight can work for at least 2 hours on a single battery charge. Two brightness modes and strobe mode, complete set with arm holder, case and charger, magnetic switch. These and many other great features of the flashlight will allow its owner to feel at ease during any dive.
12# Acebeam D46 LED Dive Light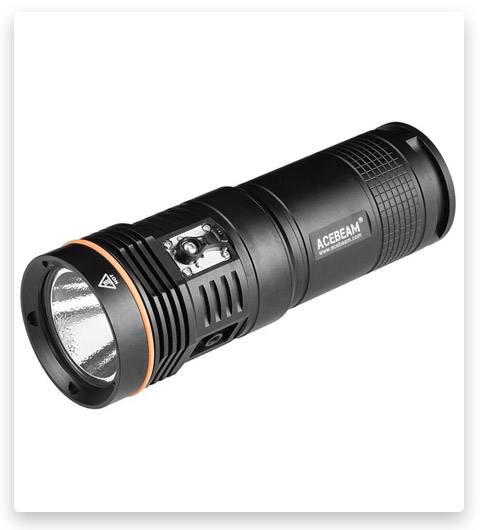 An updated model of a powerful underwater lamp AceBeam D46 from Acebeam on a second-generation LED Cree XH-P 70.2 Neutral white, emitting 5200 lumens, powered by four 18650 (li-ion) batteries, which are installed in a special cassette. The power of the luminous flux is regulated by a magnetic button with a flag located at the head of the flashlight. The product has a powerful, wide beam with a luminous flux range of 374 meters. The set comes with a convenient arm mount, which frees it and allows it to be used underwater. The D46 has a tripod mount for still photography or video shooting. A rubber gasket on the head of the flashlight will cushion the impact in case of an accidental fall.
13# Nitecore DL10 CREE XP-L HI V3 LED Dive Light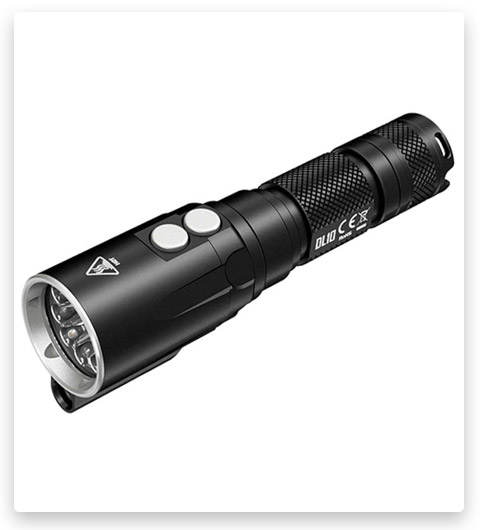 Nitecore has developed the DL10 specifically for diving and spearfishing enthusiasts. It is perfectly protected from water ingress inside the case (IP-68 standard) and can be used even at a depth of 30 meters. At the same time, the body of the flashlight is strong enough to guarantee its physical integrity and is not subject to rusting. It is made from anodized aluminium. The Nitecore DL10 flashlight shines very brightly due to the installed XP-L HI V3 white diode. This is a powerful diode from the Cree brand, rated for 50,000 hours of service. He is responsible for the operation of 3 modes of the flashlight. A significant advantage of the Nitecore DL10 is that the user can turn on the white and red LEDs at the same time. In this case, the light underwater becomes softer, and the color rendition becomes realistic. Such lighting is especially in demand among photographers who can get the most color-saturated picture. To control each color of illumination, the lamp has a separate button on the side surface of the head of the body.
14# Fenix SD20 Dive Light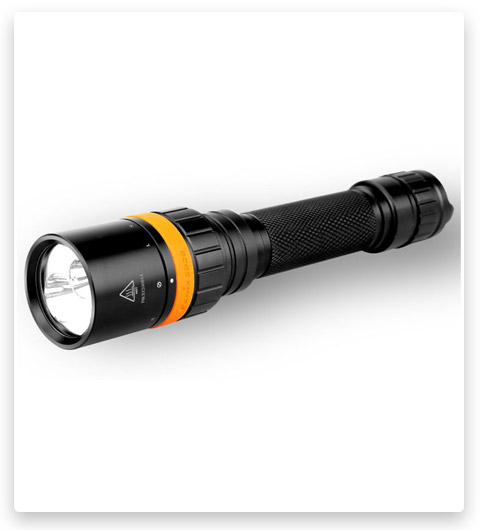 The Fenix SD20 is specially designed for diving. This explains many of its features in relation to control, a set of modes, and characteristics of the case. This model has two built-in LEDs: red and white. The main one gives 1000 lumens of white light brightness. A second model with lower brightness (400 lumens) is also available. An additional red diode provides illumination at 105 lumens. Unlike the previous diving model, the Fenix SD20 received a more convenient control system. Now the rotary ring is responsible for turning on the flashlight and selecting the desired mode. It, like the entire body, is well sealed with double rubber seals. The waterproof rating of the SD20 is IPX-8. The flashlight is able to work effectively at a depth of up to 100 meters. The body for it is made of aluminum. It's a light and durable metal that is not susceptible to rust formation.
15# Underwater Kinetics C4 eLED L2 Flashlight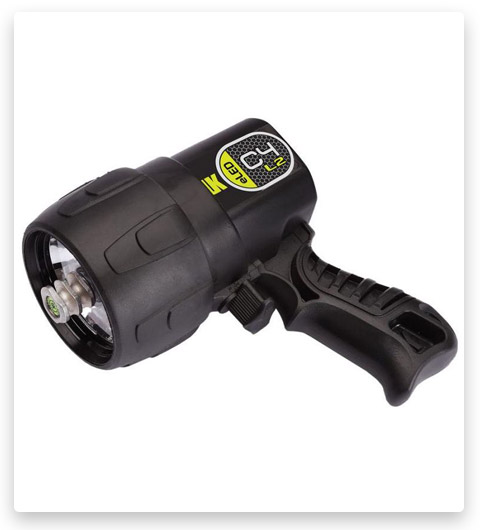 The Underwater kinetics C4 flashlight is powered by 4 C-type alkaline batteries. The body is made of impact-resistant ABC plastic, and the headband is additionally protected by a rubber casing. The reflective unit contains 2 lamps of the same power 6.6 W. The time of uninterrupted operation from one set of batteries is 5 hours. Switching between operating modes is carried out using a three-position switch with a latch.
Essential Features of Diving Flashlights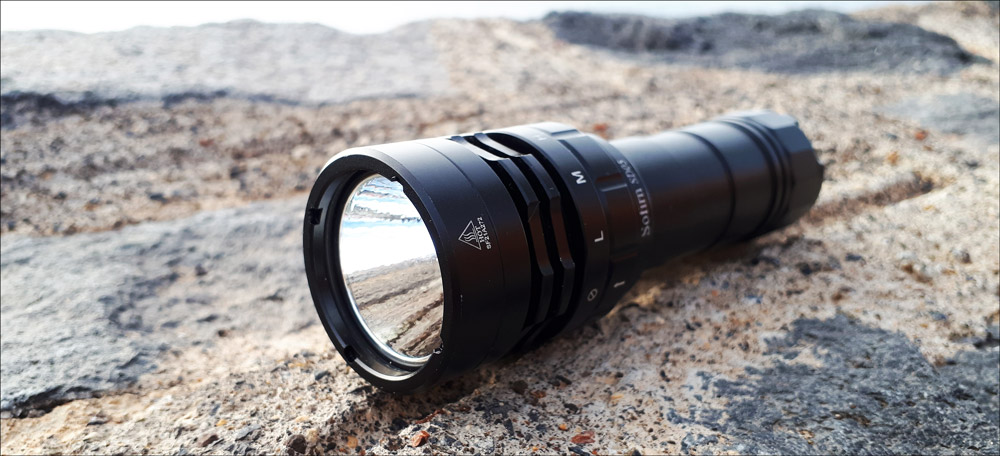 Lumens: Lighting Your Way to a Successful Catch
Lumens, in layman's terms, indicate the total amount of light emitted by a source – in our case, the diving flashlight. A higher lumen count equates to a brighter light. Choosing the right brightness for your diving flashlight depends largely on your specific needs and the conditions in which you'll be diving.
For instance, in clear waters during the daytime, a flashlight with around 500 lumens may suffice. However, if you're venturing into darker, murkier waters, or planning a night dive, you might need a flashlight boasting 1000 lumens or more. For fishing, a brighter light can be beneficial to spot fish hiding in crevices or under vegetation.
Beam Angle: From Spotting Prey to Avoiding Predators
The beam angle of a flashlight determines how wide the light spreads. Diving flashlights generally offer spot (narrow beam) or flood (wide beam) lighting. Spotlights are excellent for focusing on specific points, offering a longer beam distance. They're useful for looking into the distance or into crevices where fish might be hiding.
Floodlights, on the other hand, provide a large field of view, illuminating a wider area around you. They're ideal for taking in the larger underwater landscape and maintaining spatial awareness. Some diving flashlights come with adjustable beam angles, offering the best of both worlds.
Battery Life: Don't Let Your Light Fade Away
An intense light source isn't of much use if it can't sustain itself. Therefore, the battery life of your diving flashlight is a crucial factor to consider. Reliable power sources can mean the difference between a successful dive and an emergency situation.
Flashlights may use rechargeable or disposable batteries. While rechargeable batteries can be more cost-efficient in the long run, always ensure they're fully charged before a dive. Having spare disposable batteries during longer trips could also be a lifesaver.
Built to Last: Material, Durability, and You
The underwater environment can be harsh, with saltwater potentially causing corrosion, and pressure potentially damaging poorly constructed gear. Therefore, a diving flashlight must be built to last.
Materials like anodized aluminum, ABS plastic, and stainless steel are commonly used due to their corrosion resistance and durability. Furthermore, ensure that your flashlight has a robust sealing mechanism to prevent water ingress, as even the smallest leak can cause a catastrophic failure.
Pressure Resistance: Keeping the Light On, No Matter the Depth
The deeper you dive, the greater the pressure becomes. This increasing pressure can wreak havoc on equipment not rated for the appropriate depths. Diving flashlights come with a depth rating, which indicates how deep the flashlight can go while maintaining its integrity and functionality. Always make sure your diving flashlight's depth rating matches or exceeds your diving profile to avoid any unwelcome surprises during your underwater exploration.
What are the Best Scuba Dive Lights?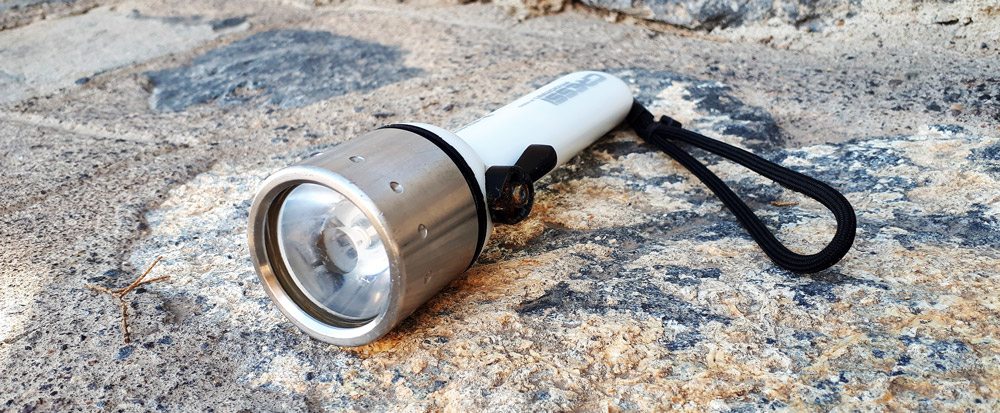 Diving flashlights are very powerful or durable, waterproof, and pressure-resistant flashlights that are used to illuminate the water at night, as well as to accurately illuminate the area during the day and to communicate with other divers. LED dive lights are also often used for underwater photography because the water absorbs the spectral components of daylight. Scuba dive lights provide a more beautiful and clearer picture. If you light the reef with a diving flashlight, you can capture all the subtle color differences with your underwater camera.
Why Do you Need a Scuba Dive Flashlight?
As you dive deeper, the water darkens as less sunlight reaches depth due to the reflection of light from particles. So it is a good idea for a diver or fisherman to have a suitable diving torch with you. Underwater diving lights should be used not only for deep diving but also for small crevices and caves that usually hide a lot of marine life.
What is the Lumen?
Lumen is the SI unit of light output. It shows how much light a flashlight emits per unit of time. Determining the required amount of lumens for diving lights is easy. The bigger, the better. The lumen information in the flashlight description is important, but manufacturers often use it as a marketing tool and exaggerate this figure. In my review, I only talked about the exact number of lumens for each model. Depending on what you want to use the underwater torch for, it is important to note the tide angle. For example, if you need a flashlight to illuminate a video, it needs a larger lighting angle than it does to illuminate cracks, holes, and caves, which in turn is better with a lower lighting angle. The average beam angle range is 12 to 75 degrees.
How to Choose the Best Dive Light
This section presents the key factors to look out for when choosing underwater diving lights:
Depth resistance. In my dive flashlight test, allowable depth is an important factor to consider when choosing a suitable dive light. Models worn beyond the specified maximum depth can no longer withstand the increased pressure. The risk of damage increases dramatically.
Design factors. Various designs are offered for different purposes. Heavier diving flashlights made from thicker material are generally better suited for deep diving, while lighter models are better suited for shallower waters.
Batteries. Make sure the flashlight can be powered by a rechargeable battery if you do not want to regularly use new batteries. Because diving flashlights are very bright, they consume a lot of power. Charge the battery before each dive. Alternatively, you can also store replacement batteries in a waterproof container in your diving bag.
Light. Diving lights must, first of all, provide sufficient target illumination. In addition, some devices also offer dimming or strobe mode that can be used underwater for safety. A regularly flashing light can be used to show your buddy your location, even in cloudy water with poor visibility.
Waterproof & Water Resistant Diving Lights
Lanterns that can be used in water for a long time are called waterproof lanterns. The body of such a lantern is impermeable, durable, and does not oxidize in seawater. A modern waterproof torch is a reliable light source. The water resistance of the lantern is assessed by its class of protection according to the international classification system Ingress Protection Rating (IPR). Each degree of protection corresponds to a special alphanumeric code of the type IPXX where XX is the number indicating the degree of security. The first number means protection against solid objects getting inside the device, the second number means the degree of protection against water.
Classification of lamps by degree of protection:
IP1 – protection against drops.
IP2 – protection against drops falling at an angle of 15 degrees.
IP3 – protection against rain.
IP4 – protection against splashes in any direction.
IP5 – protection against water jets in any direction.
IP6 – protection against sea waves or strong water jets. Water entering the inside of the device should not interfere with the operation of the device.
IP7 – protection against short-term immersion, up to 1 meter deep. Powerful rechargeable flashlights and LED searchlights usually have this standard.
IP8 – protection for prolonged immersion, the waterproof flashlight must work properly in submerged mode. Most tactical flashlights and some headlamps have this standard. Therefore, they can be used as flashlights for spearfishing, provided that you are going to dive to a depth of 10 meters.
IP9 – maximum protection of the flashlight, full protection of the flashlight under pressure. Waterproof lanterns with such a degree of protection can operate in conditions of strong water pressure and are used as underwater lanterns. The bodies of these flashlights are made from modern plastics or aircraft-grade aluminum. The electronics of the flashlight are controlled by modern drivers, designed not only to switch modes and stabilize the light but also to save energy. Waterproof LED lights can operate on various types of batteries.
Important. We do not recommend buying lights for diving and hunting with standards from IP1 to IP6. You need to buy a waterproof flashlight only starting from the IP7 standard. We offer the minimum required characteristics:
Waterproof: IPX8
Available water depth: up to 100 meters of water
Beam angle: 75 to 120 degrees.
Top Diving Flashlights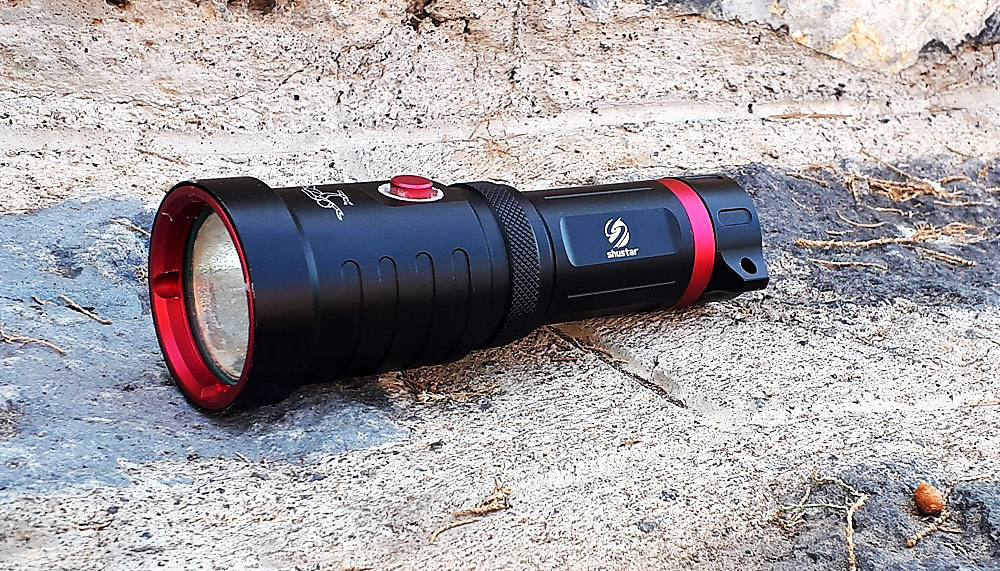 Navigating through the wide array of diving flashlights available can be overwhelming. Here, we'll shine a spotlight on the top five diving flashlights, highlighting their standout features, advantages, and potential drawbacks.
Please note that my reviews are based on personal experience and thorough analysis of industry reviews and user feedback.
DeepSea Beacon DSB-X1
The DeepSea Beacon DSB-X1 comes at the top of my list due to its impressive 2000 lumens output and robust construction. The beam is adjustable, providing both spot and floodlight options, which I found particularly useful during different types of dives. The rechargeable battery is reliable, giving you hours of continuous light. However, it's slightly heavier than some competitors, which could be a downside for some divers.
AquaLumina AL-500
For those who prefer compact and lightweight options without compromising on brightness, the AquaLumina AL-500 is a solid choice. Delivering 1000 lumens, it's more than enough for most diving scenarios. The flashlight boasts an excellent build quality with a comfortable grip, but its battery life is relatively shorter and might require frequent recharges or battery changes on longer dives.
OceanGlow OG-700
With an excellent depth rating and an impressive 700 lumens brightness, the OceanGlow OG-700 is a fantastic option for deeper dives. Its body is corrosion-resistant and sturdy, ensuring longevity. It uses disposable batteries, which may be a pro or a con depending on personal preference. It doesn't offer a beam adjustment, making it less versatile than some other models.
UnderSea Explorer UE-1500
The UnderSea Explorer UE-1500 offers a perfect balance between brightness, durability, and battery life. Its 1500 lumens output is housed in an impressively durable casing, capable of withstanding challenging conditions. However, it's worth noting that this model is on the pricier side, which may deter budget-conscious buyers.
Mariner's Light ML-400
The Mariner's Light ML-400 is a popular choice among casual divers and snorkelers. It is 400 lumens output and easy operation make it a convenient option. It's also budget-friendly and lightweight, making it a great entry-level flashlight. That said, professional divers or those venturing into darker, deeper waters might find it lacking in luminosity.
In the world of diving flashlights, there's no one-size-fits-all. The best flashlight for you will depend on your specific needs, preferences, and the conditions you'll be diving in. As we plunge deeper into the year, let's see how these models perform and if they continue to hold their positions in the top five.
Using and Maintaining Your Diving Flashlight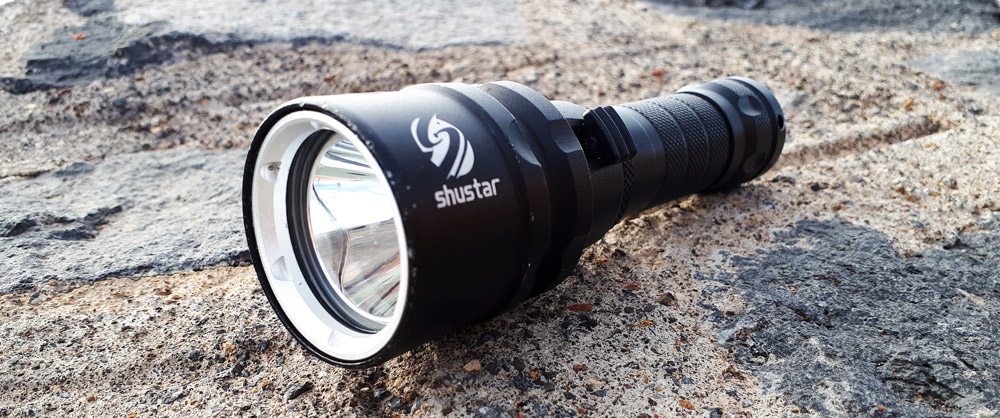 Diving flashlights are robust pieces of equipment designed to endure the harsh underwater environment. However, like any other gear, they require proper handling and maintenance to ensure they last. Let's delve into some essential care practices, safety measures, and tips to maximize your diving flashlight's utility.
Proper Handling and Maintenance Tips
Starting with the basics, always rinse your flashlight with fresh water after every dive. Saltwater can cause corrosion over time, and small particles can get lodged in crevices and compromise the sealing. A gentle rinse and thorough drying should be part of your post-dive routine.
Regularly check your flashlight's sealing mechanisms. Any wear or tear on the O-rings can lead to water leaks that can damage your flashlight. Lubricate these O-rings periodically with silicone grease to keep them supple and watertight.
Batteries are the lifeblood of your flashlight, so treat them well. If you're using rechargeable batteries, ensure they're fully charged before every dive but avoid overcharging them. For disposable batteries, always have a spare set. Never leave exhausted or old batteries inside the flashlight, as they can leak and cause damage.
Finally, store your flashlight in a cool, dry place away from direct sunlight. Ensure the switch is in the off position, and if you're not planning to use it for a while, remove the batteries.
Safety Measures
When it comes to safety, never dive without a backup light source. Flashlights can and do fail, even with all the precautions, so having a spare is a rule of thumb in diving safety.
Avoid looking directly into your flashlight's beam or shining it directly into another diver's eyes. The high-intensity light can cause temporary blindness, which can be dangerous underwater.
Maximizing Your Flashlight's Utility
To get the most out of your diving flashlight, learn to adjust its beam according to your needs. Use a narrow beam for exploring crevices and spotting distant objects or marine life, and a wide beam for general visibility and spatial awareness.
Learn to use your flashlight for non-verbal communication. Quick flickers or circles can be used to get attention, while steady on/off cycles can signal distress.
Remember to turn off your flashlight when not in use to conserve battery life. It's also good practice to turn off your light when close to creatures that are sensitive to light to avoid disturbing them.
By using your flashlight wisely and taking good care of it, you can ensure it serves you reliably on countless diving adventures to come.
FAQ: Dive Deeper into the Darkness
Conclusion: The Revolution of Diving Flashlights
Without the best diving flashlight, the bright light of the underwater world remains hidden, and light is essential for your safety in this wonderful hobby! If you want to dive at night or practice underwater hunting, you cannot do without this device. But even during the day, colors are better visible with the Waterproof Underwater Torch. So if you don't have the best-led dive light yet, it's time to fix it. I have told you about the 15 best models on the market, but I want to highlight the 3 models that I liked the most: 1# Mares EOS 10RZ Dive Light, 2# SEAC R40 Scuba Dive Flashlight, and 3# Scubapro Nova 850R Diving Light.
As we resurface from this deep dive into the world of diving flashlights, it's essential to reflect on what we've uncovered. We've explored the crucial role these tools play in underwater visibility, navigation, communication, and safety. Especially for fishing enthusiasts, diving flashlights are not merely sources of light; they're invaluable aids to a successful and enjoyable fishing adventure.
From understanding the basics, like the importance of lumens and beam angle, to appreciate the significance of a reliable power source and durable construction, it's clear that all these factors contribute to the effectiveness of a diving flashlight. We've also dissected the top five models, each bringing unique features and benefits to the table. However, regardless of the model, proper handling and maintenance, coupled with adhering to safety measures, are non-negotiables to get the best out of any diving flashlight.
As a seasoned fisherman and diving enthusiast, I encourage you to invest in a good-quality diving flashlight. It's an investment that goes beyond mere utility. It enhances the entire underwater experience, making your fishing trips more productive and rewarding. Reflecting on my own experiences, I can confidently say that a good diving flashlight has been an indispensable companion on my expeditions, lighting up the path to more exciting underwater adventures.
Remember, diving is an exploration, a journey into the unknown. Equip yourself with the right gear, stay safe, and savor every moment under the blue. Whether it's spotting that elusive fish or navigating through a majestic underwater cave, let your diving flashlight guide you toward experiences that will last a lifetime. As they say, light is the bridge between you and the underwater world. Let's cross that bridge and see what marvels lie beyond!
Share the Light: Your Experiences with Diving Flashlights
Now that we've shone a light on the importance and intricacies of diving flashlights, it's your turn to illuminate the path for others. I invite you, fellow divers and fishing enthusiasts, to share your experiences. Which diving flashlight is your trusted companion under the waves? What's your top tip for maximizing the utility of a diving flashlight? Your insights could guide someone toward making a decision that enhances their diving and fishing adventures.
And remember, your underwater exploration is a journey filled with wonder, discovery, and potential challenges. Each dive is an opportunity to learn and grow. Keep pushing the boundaries of your curiosity and courage, but always prioritize safety. Maintain your equipment, plan your dives carefully, and respect the beautiful yet formidable environment you're privileged to explore.
So, go ahead, grab your diving flashlight, and take the plunge. Keep exploring the mesmerizing depths, casting your light on the unseen, and savoring the thrill of fishing in the underwater wilderness. Let's continue to share, learn, and dive into the wonders that lie beneath the surface. Here's to lighting up your underwater journeys, safely and effectively!
Tags: #best flashlight for spearfishing / #best scuba dive lights / #princeton tec led dive light / #diving flashlight underwater waterproof / #waterproof underwater torch / #underwater diving lights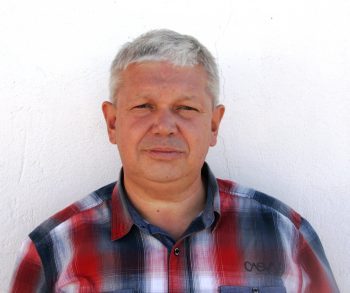 Sergio Smirnoff
Professional fisherman with 40+ years of experience.
Fishing and the ocean is a passion of my life. I am passionate about all kinds of sea fishing: fishing from the shore (spinning, float, baitcasting), from a boat, and spearfishing day and night.
I live in Tenerife (Canary Islands) for the last 10+ years and share my daily fishing experiences on my website. Many years of personal experience as a fisherman and the vast experience of my friends allow me to write professionally on any fishing topics (from choosing a flashlight and equipment to deep-sea fishing).
All of my advice is based on practical real-world experience and will be useful to both novice anglers and professionals.
Read more
about the author.
Affiliate Disclosure: FishReeler.com sometimes gets paid for listings, through sponsors or affiliate programs like Amazon, Ebay, Cabelas, Bass Pro Shop, Shimano, Daiwa, Rapala, Renn, Okuma, KastKing, etс. Clicking a link helps keep FishReeler.com free, at no extra cost to you!
About the author: Each article is verified by the fishing expert Sergio Smirnoff. The articles are written by professional and amateur fishermen with 20+ years of fishing experience.
Note: The views and opinions expressed in this article are those of the authors and do not necessarily reflect the official policy or position of any agency. The articles are for informational purposes only, share your opinions in the comments and join the fishing discussions, let's share our fishing experiences together!