How to String Fishing Spinning Reel
We present useful video material for you
Beginner's Essential Skill
Fishing is a favorite activity of many. This is a pleasant process that can be disrupted by various troubles if the equipment is poorly prepared in advance. This applies to fish lines. The main problem with lines is that they tend to get tangled and twisted. It needs to be changed periodically. If you figure out what kind of fishing line to use and how to wind it, this process will become simple for you.
You will need to select the fishing line, load the reel, and then wind the line on it. You will see that it is not as difficult as it seems, and you will be able to fish again in 10-15 minutes. In my article, I will tell you about this.

What Is the Best Fishing Line for Spinning Reels?
You should understand what types of lines there are. There are three main materials for making fishing lines and the first is suitable for spinning reels.
Monofilament
This material is the most inexpensive. And as a rule, it is used longer than others. Monofilament lines are most often made of nylon.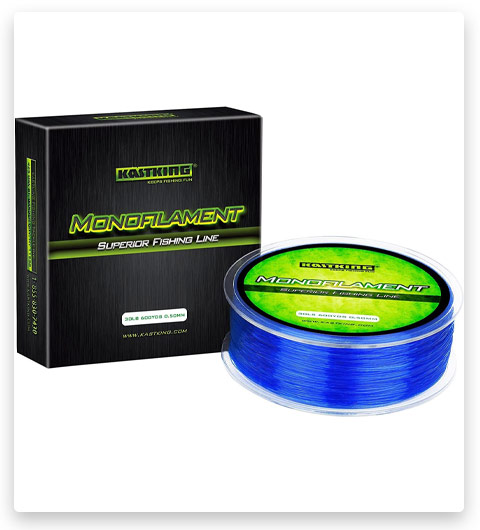 This line is stretched into one continuous thread. It is smooth and elastic. It floats, but it can be pros or cons. It depends on where you apply it.
When to Use Monofilament Fishing Line?
It is great for spinning and baitcasting reels. It shows itself well in fishing in freshwater, near the shore or from a pier, on the shore. It works well for catching fish such as trout, salmon, small tuna, and others.
Fluorocarbon Fishing Line
This line is the newest of the three. And it is already loved by anglers. They are also made of one line, but the fishing line is denser and heavier than monofilament.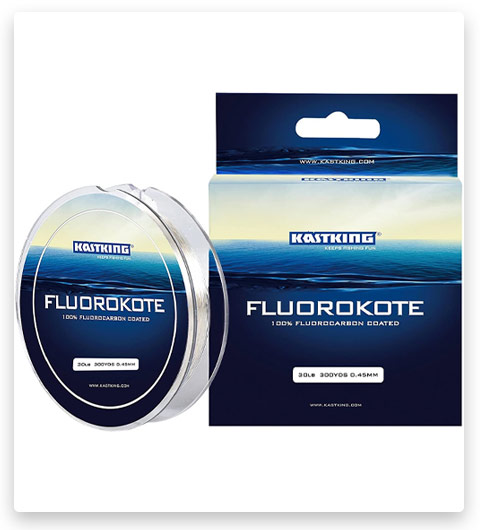 Fluorocarbon lines are not so stretched, resistant to abrasion and you need to try to see them underwater. Most often, anglers use such a fishing line as the last leashes and attach a hook to it, as it is durable and almost invisible in water.
When to Use Fluorocarbon Fishing Line?
This type of fishing line is what you need for bottom fishing such as bouncing or jigging as it easily sinks.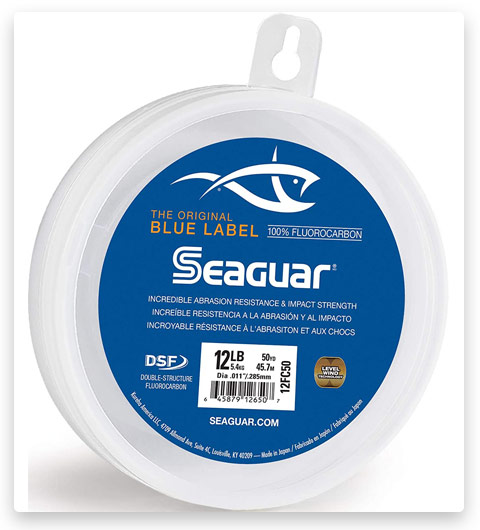 Also, it is suitable for trolling as it is slightly stretched. With this type of fishing line, you have a better chance of holding the fish.
Braided
This type of fishing line isn't longer a single solid line, but it consists of several parts of the material. Usually, this is a Dacron or spectra.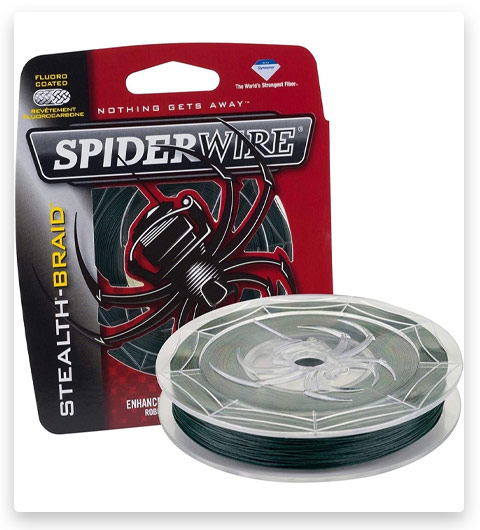 These are synthetic materials. This line is used more often for catching large fish than monofilament. Since a braided line is stronger. It doesn't have a stretch. So you will feel the movement of the fish at the end of the line.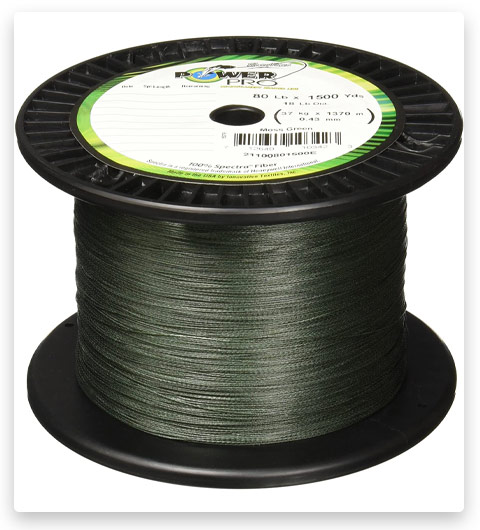 Also, the fishing line sinks more slowly. But with monofilament or fluorocarbon, it is easier to throw the bait further than with braided ones.
When to Use Braided Fishing Line?
You can use this line for sea trolling. This is what you need for catching sea fish.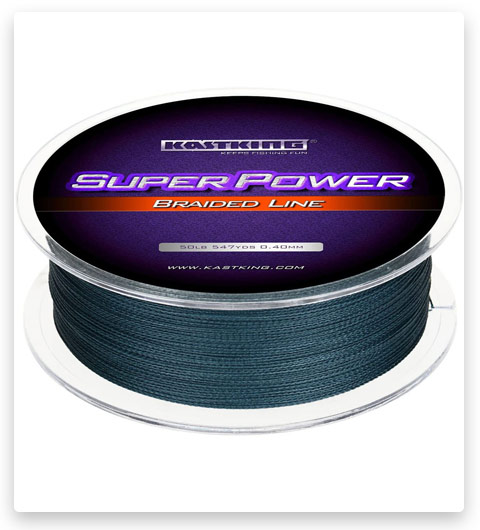 But I don't recommend using this type of fishing line for catching such fish as salmon. The fish has a soft mouth and needs the line to stretch just a little.

Which Is Better Braided Or Monofilament?
Each line has pros and cons. Why choose monofilament? First, it is affordable. And the second is that these lines are easy to link. If you are a beginner, then you should practice tying knots on this type of fishing line. When the fishing line is stretched, the knots don't break. It isn't visible in the water.
Why choose a braided fishing line? It has a thinner diameter, is stronger than monofilament, and is more sensitive. It will last you longer than monofilament. If you have just started fishing, then start using a less expensive version of monofilament. If you want something more high-quality and durable, then use a braided fishing line.
What Are the Advantages of a Braided Fishing Line?
The advantage of a braided fishing line is that it has a thin diameter. Thanks to this, it can sink deep into the water. If you want to catch a fish that lives very deep, then you need this fishing line. It gives you the opportunity to get the largest amount of fishing line on the reel. The fishing line is strong and therefore it fights against rocks, weeds while pulling out the fish. It doesn't stretch. Because of this, she has excellent sensitivity. You can make long-distance castings with this fishing line.
Do Fish See a Braided Line?
Despite a large number of advantages, visibility in the water is its main drawback. They are very clearly visible on the surface of the water. Especially in clear water and where there is shallow water. There is a chance that some cautious fish will see the line underwater.
How Do You Spool a Monofilament on a Spinning Reel?
There is nothing complicated in this process. I will explain everything in order. The first thing you need to do is tie the mono to the coil. This must be done using a single node.
How to tie a fishing line to a reel?
Use the simple Arbor Knot to attach your fishing line to the reel with any type of fishing reel – reel with a fly, spinning reel, or bait. Then you need to put the mono reel in the spooling tool. The next thing you need to do is put the reeling tools on the suction cup. Put them on a soft surface and adjust the tension. You must have a label on your reel. You must wind the monofilament until this mark is reached. If nothing is indicated on the spool, make sure that the line is 1/8 – 1/16 of an inch from the edge.
Lures
When choosing a fishing line you have to consider what other lures you will use. Choose a light fishing line up to about 10 pounds, if you will use such lures as jerky or small plastic lures. But braided fishing lines weighing about 65 pounds are used by anglers for heavy lures. But such lures as crankbaits or spinnerbaits are great for lines with an average diameter. And it is better to read the recommendations of the manufacturer of your reel and fishing rod. They usually have what you need to be written on them.

How Do You Spool a Reel Without Line Twist?
A lot of people have problems with tangles and twists when they go to put a new line on a spinning reel and I'm going to show you a method to help prevent getting those tangles and twists. And to get it right the first time.

The concept here that you need to realize is that the bail of each spinning reel spins in a certain direction. It could be counterclockwise or clockwise. It depends on the brand. The same is true with a spool of fishing line and what you are going to want to do is just to take your spool of fishing line and just set it down label up on the floor. Then take your spinning reel and put it directly over top of the new spool of line.
Now when you have this you have to spin the bale slowly on your reel and you will see that the bale spins in a certain direction. And in this instance, it is counterclockwise.
Now knowing that it spins counterclockwise you will want to have the line coming off the spool in a counterclockwise manner so let's go ahead and grab the line and see if that's true. With this line with the label up, you will see that it does indeed come off the spool in a counterclockwise manner.
That's exactly what we want the line coming off the spool to sync up with the reel. The bails rotation direction. And if it wasn't synced up all you'd need to do is simply turn the new spool over and that way the line will come off in the direction that you need it to. So that it does spin in the same direction as the bail. So that's it. It is as simple as that syncing up the direction of the rotation of your bail to the way the line is coming off the spool. That will prevent all the line twists and tangle problems when you go to the spool new line.
Does the Color of the Fishing Line Matter?
In fact, if you don't have a goal to catch trophy fish, but you just enjoy the process, then the color of the fishing line doesn't matter much. The main thing is to stick to a clear line. Well, if you want to return home with fish, it will be useful for you to understand the colors of the fishing line. This will increase your chances of catching a good catch.
Let's look at the transparent fishing line. This is a basic and simple color. It's universal.
The yellow color of the fishing line is not the best choice. It is clearly visible in the water. Usually, it is used to find out the movement on the fishing line. Especially when you use afloat. Fish can also notice this color. Therefore, if you are going to use this color, then only in muddy water.
But so that the fish does not notice your fishing line, then use the green color. In most cases, the water has a green tint. Therefore, the green line will merge with the color of the water and the fish will not notice it. But if you fish in clear water, then be prepared for the fact that the fish may notice it as well as the yellow line.
The blue fishing line is also a good choice. Since it also merges with the color of water, although green in this regard still works better. Although it seems to us that the water is blue, it is not so.
But there is no exact answer to the red color. There is a lot of controversy about this color. Someone claims that underwater, the red color takes on a shade of black and is thus clearly visible to marine life. Someone says that the red color resembles blood and therefore attracts. If I were you, I would avoid this color of a fishing line if you need a result. If you have time to experiment, try this color too.
FAQ
Conclusion
This article was supposed to help you understand the types of fishing lines and which one is better, how to reel it in and how to avoid twists. I hope this information will help you avoid trouble and your fishing will become even more productive and enjoyable!
Tags: #how to spool a spinning reel / #how to put line on a spinning reel / #how much braided line to put on a spinning reel / #how to spool a spinning reel with braid / #how to put fishing line on a spinning reel / #how to spool braided line on a spinning reel / #how to spool a spinning reel without line twist / #how to spool a spinning reel with braided line / #how to put braided line on a spinning reel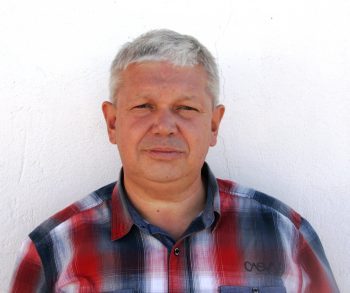 Sergio Smirnoff
Professional fisherman with 40+ years of experience.
Fishing and the ocean is a passion of my life. I am passionate about all kinds of sea fishing: fishing from the shore (spinning, float, baitcasting), from a boat, and spearfishing day and night.
I live in Tenerife (Canary Islands) for the last 10+ years and share my daily fishing experiences on my website. Many years of personal experience as a fisherman and the vast experience of my friends allow me to write professionally on any fishing topics (from choosing a flashlight and equipment to deep-sea fishing).
All of my advice is based on practical real-world experience and will be useful to both novice anglers and professionals.
Read more
about the author.
Affiliate Disclosure: FishReeler.com sometimes gets paid for listings, through sponsors or affiliate programs like Amazon, Ebay, Cabelas, Bass Pro Shop, Shimano, Daiwa, Rapala, Renn, Okuma, KastKing, etс. Clicking a link helps keep FishReeler.com free, at no extra cost to you!
About the author: Each article is verified by the fishing expert Sergio Smirnoff. The articles are written by professional and amateur fishermen with 20+ years of fishing experience.
Note: The views and opinions expressed in this article are those of the authors and do not necessarily reflect the official policy or position of any agency. The articles are for informational purposes only, share your opinions in the comments and join the fishing discussions, let's share our fishing experiences together!