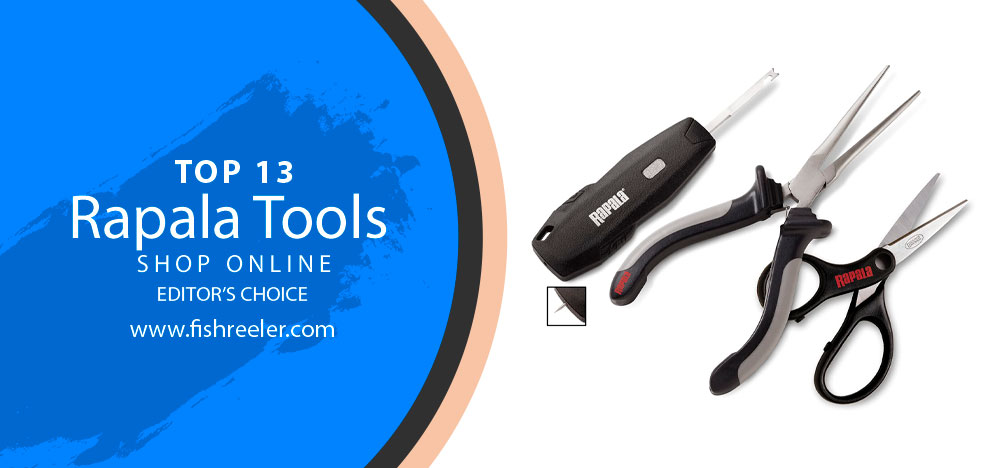 Unreeling Excellence: A Pro's Deep Dive into Rapala Fishing Tools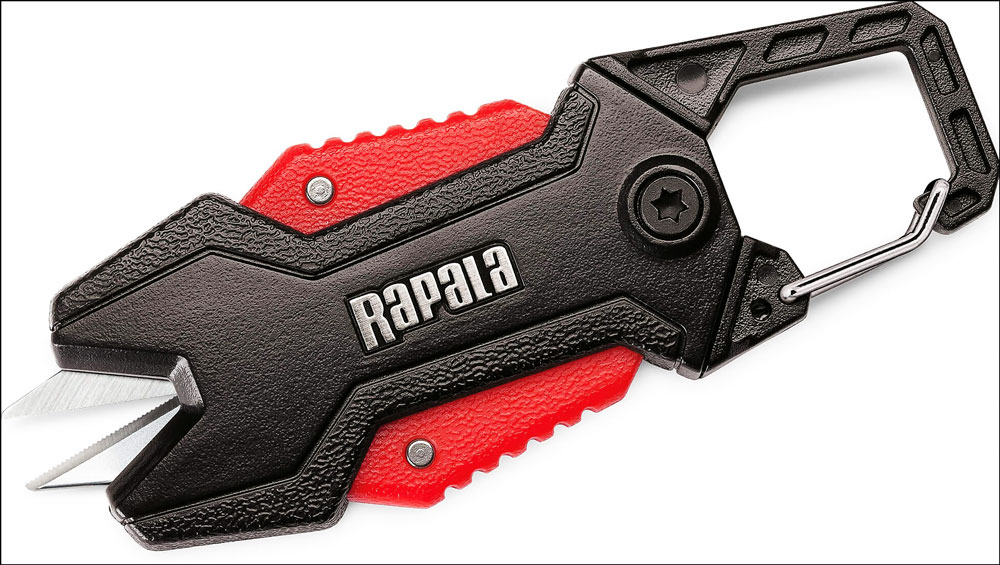 Rapala fishing tools offer unmatched quality and performance, which are vital for any angler aiming for successful fishing adventures. Here are the main reasons why every angler should consider them:
Quick Summary
Exceptional Durability: Built with high-grade materials, Rapala tools are designed to withstand harsh fishing environments and prolonged use, promising longevity.
Precision and Performance: Whether it's Rapala's lures, knives, or pliers, each tool is engineered with an emphasis on precision and top-tier performance to help you get the most out of your fishing experience.
Versatility: Rapala's wide range of tools caters to all types of fishing, from freshwater to saltwater, from casual weekend trips to professional tournaments.
Innovative Designs: Rapala is known for its innovative designs that mimic the behavior of fish prey, increasing your chances of a good catch.
Value for Money: Despite their premium quality, Rapala tools offer great value for money, making them a wise investment for every angler.
Reputation and Trust: With a strong legacy in the fishing industry, Rapala is a brand trusted by professionals worldwide. Their commitment to quality ensures you're getting a product that's tried, tested, and loved by experts.
Ease of Use: Rapala tools are not only effective but also user-friendly, making them suitable for both novice and experienced anglers.
Rapala vs. The World: Setting Benchmarks in the Fishing Industry 🏅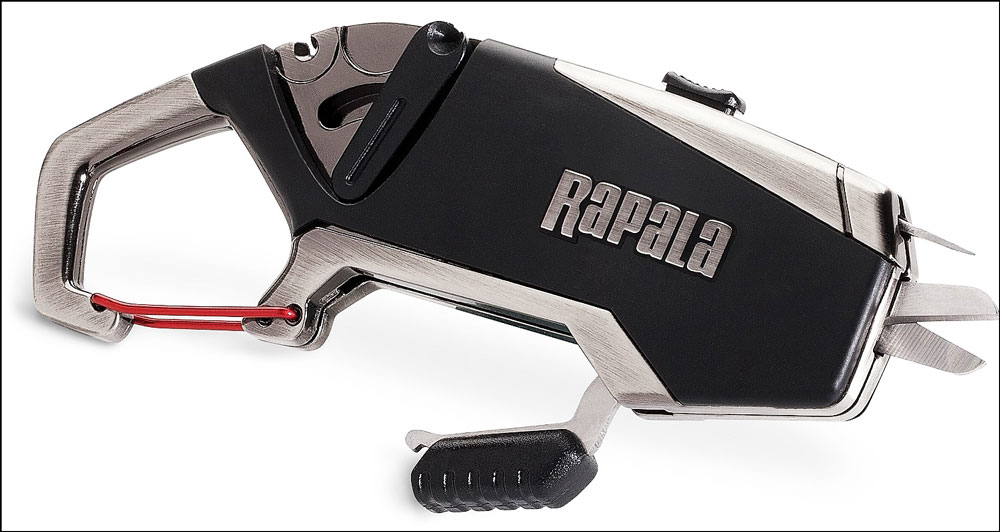 A Comparative Study: Rapala Tools Vs. Other Leading Brands 🥊
While there are several reputable brands in the fishing tools market, Rapala continues to stand out due to a number of key strengths:
Quality and Craftsmanship: Comparing Rapala lures, such as the Original Floating or the X-Rap, to similar products from other brands, the difference in the quality of craftsmanship is evident. Rapala's painstaking attention to detail results in lures with superior movement and finish.🎨
Innovation and Variety: Rapala's commitment to innovation is second to none. While many brands offer standard tools, Rapala continuously expands its product range, offering tools like the Mag Spring Pliers that feature unique, patented designs.🚀
Global Recognition: Rapala tools are sold in over 140 countries, a testament to their worldwide appeal. While other brands may have a strong regional presence, few can match Rapala's global reach and reputation.🌐
The Professional's Choice: Why Experts Choose Rapala 🎯
Professional anglers prefer Rapala for a host of reasons:
Reliability: When competing or fishing in demanding conditions, reliability is crucial. Professionals choose Rapala because they know the tools will perform consistently, regardless of the circumstances. 🔄
Performance: The effectiveness of Rapala's lures, the sharpness of their knives, and the versatility of their pliers all contribute to improved performance. Professionals understand that these tools can be the difference between a good day of fishing and a great one.🏆
Endurance: Professional fishing requires tools that can withstand heavy use. Rapala tools are built to last, resisting corrosion and maintaining their functionality even after extensive use. 🛠️
Legacy: Finally, Rapala's long-standing history and legacy in the fishing industry instill a sense of trust and respect among professionals. The brand's time-tested products have proven their worth in countless fishing scenarios. 🏁
🔶In a sea of fishing tools, Rapala stands out as an island of excellence. Its commitment to quality, innovation, and performance makes it the preferred choice of professionals and recreational anglers alike.👑
🎦Video YouTube official channel: Catch and Release Fishing Tools | Rapala Fishing Tips
Rapala Fishing Tools: The Secret Ingredient to Every Angler's Success 🎣
Every fishing trip is an adventure, a mystery, a thrilling pursuit, but a successful catch isn't just about patience and luck – it's largely about the tools you use. Among the myriad of brands in the fishing industry, one name invariably stands out: Rapala.🏆
Rapala – Pioneering Excellence in the Fishing Industry
Rapala has been a consistent frontrunner in the fishing industry since 1936, earning global recognition and respect among novice and seasoned anglers alike. Originating from Finland, this brand has charted an inspiring journey, continually innovating and refining their tools to aid fishing enthusiasts around the globe.🌍
Their robust catalog spans a multitude of high-quality fishing tools, each designed meticulously to cater to diverse fishing needs. From life-like lures that tease even the most cunning fish to precision-engineered knives for streamlined preparation, Rapala's repertoire is a testament to their commitment to quality and innovation.💡
Why Quality Tools Make the Difference in Fishing Success
The heart of a good fishing expedition lies not only in the thrill of the chase but in the triumph of the catch. And that's where Rapala's quality fishing tools make a significant difference.🎯
It's easy to underestimate the role of good fishing gear until you're out there on the water. The right tool can transform a frustrating waiting game into a moment of victory. Whether it's a lure that accurately mimics the fish's prey, a knife that makes preparing your catch a breeze, or pliers that effortlessly unhook your prize, every element adds to your fishing efficiency and success.💪
Moreover, using quality tools like those from Rapala means less equipment failure, less time fussing over damaged or subpar gear, and more time focusing on the activity you love.🥰
🔶Simply put, investing in Rapala fishing tools is investing in your fishing success. They're designed to enhance your experience, improve your efficiency, and ultimately, increase your catch rate. So, whether you're an occasional hobbyist or a seasoned angler, remember – the right tools can turn a good fishing trip into an unforgettable one. And with Rapala, you're always in good hands.👍
Unraveling the Rapala Saga: A Legacy Built on Quality and Innovation 📜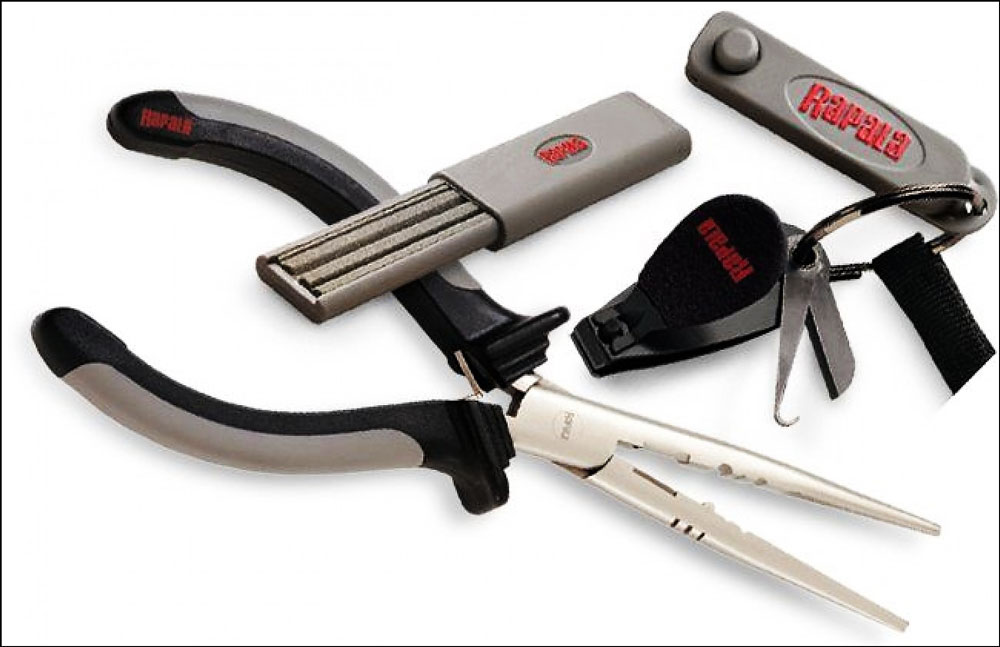 The Birth and Evolution of Rapala 🌱
Stepping back in time to 1936, a Finnish fisherman named Lauri Rapala began a journey that would ultimately redefine the world of fishing. 🇫🇮 His observation of the erratic swimming patterns of injured fish led to an invention that revolutionized the fishing lure industry: the Original Floating Rapala. Lauri Rapala meticulously handcrafted each lure, replicating this 'wounded fish' movement that proved irresistible to larger predator fish.🐟
As time passed, the Rapala brand expanded its offerings beyond lures. Today, Rapala's diverse portfolio includes a wide variety of fishing gear, such as knives, pliers, accessories, and clothing, all boasting the same level of commitment to quality and performance. 🎣
Rapala's evolution has been driven by its dedication to innovation and a deep understanding of an angler's needs. Its products are now sold in over 140 countries, a testament to the brand's global appeal.🌐
Significant Milestones in Rapala's History ⏳
Since its inception, Rapala has achieved numerous significant milestones, solidifying its reputation in the fishing community.
Introduction of the Original Floating Rapala (1936): This handcrafted lure, inspired by the swimming pattern of injured fish, put Rapala on the global fishing map. 🗺️
Expansion into the International Market (1950s): Following a glowing review in Life Magazine, Rapala gained international fame, bringing Finnish fishing expertise to anglers worldwide. 🌎
Launch of the Rapala Sportsman's Knife (1967): This marked Rapala's entry into the fishing knife market, offering a tool that matched the precision and quality of its lures. 🪓
Acquisition of VMC Hooks (2000): This strategic move extended Rapala's product range to include high-quality fishing hooks, further solidifying its standing in the industry. 🪝
Rapala Pro Fishing video game (2004): Bringing the excitement of fishing to the digital realm, Rapala bridged the gap between the real and virtual world, reaching new audiences. 🎮
🔶These significant milestones demonstrate Rapala's ongoing commitment to innovation, quality, and the needs of the angling community. Through every evolution and expansion, Rapala continues to uphold its legacy, securing its spot as a reliable companion for every angler's journey. 🏆
Conquer the Waters with Rapala: 13 Premium Fishing Tools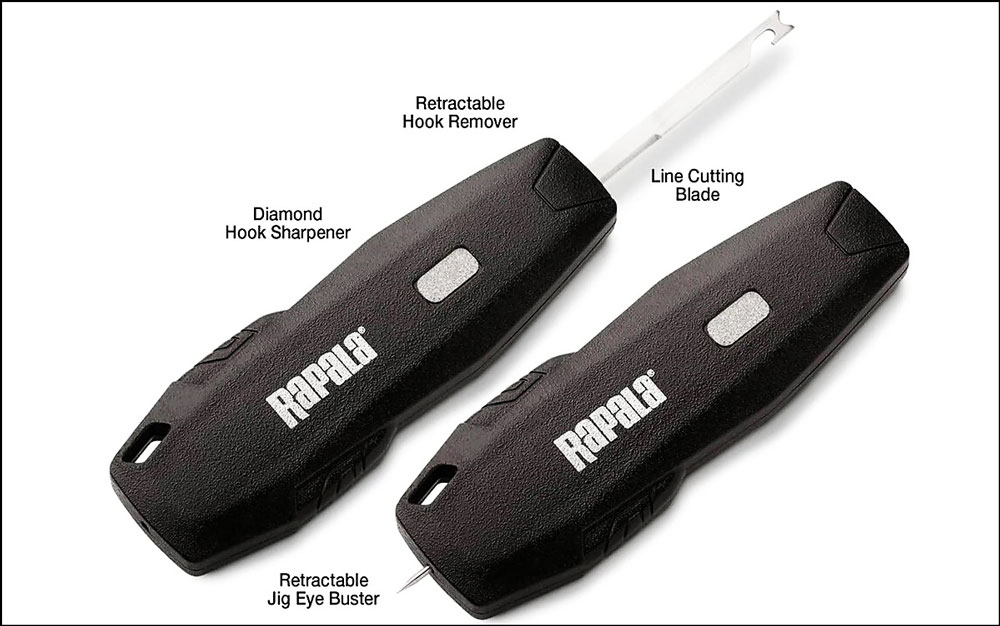 The current fishing market is filled with a large number of companies from all over the world. And not the last place in this list is occupied by the Rapala trademark. The founder of the company is the Finnish fisherman and lumberjack Lauri Rapala.
In the 50s of the last century, the company entered the American market, which gave a powerful impetus to its development. Since that time, Rapala has become such a popular manufacturer of fishing tackle and other fishing products that it has spawned many different rumors, including the one that its founder personally invented the first wobbler.
In this article, I would like to consider in more detail the tools for fishing from Rapala. Rapala tools are all sorts of little things that make an angler's life much easier. Rapala's tools include a variety of side cutters, wire cutters, pliers, extractors, scissors, retrievers, and more.
| Image | Product | Brand | Link |
| --- | --- | --- | --- |
| | Rapala Magnetic Tool Holder Combo 2 | Rapala | |
| | Rapala Fishermans Multi-Tool Black/Silver, One Size | Rapala | |
| | Rapala 9" Floating Fish Gripper 9", white/black | Rapala | |
| | Rapala Touch Screen Tourney Scale 15lb | Rapala | |
| | Rapala RRLS Retractable Line Scissor Multi, One Size | Rapala | |
| | Rapala Precision Line Scissors RPLS | Rapala | |
| | Rapala 6 1/2 Stainless Steel Pliers | Rapala | |
| | Rapala NK03039-BRK Fish N Fillet, 7" | Rapala | |
| | Rapala Panfish Tool Combo RPFTC: Panfish Tool Combo | Rapala | |
| | Rapala Fishing Forceps, 5 1/2-Inch | Rapala | |
| | Rapala Super Line Scissors | Rapala | |
| | Rapala Clipper Combo | Rapala | |
| | Rapala Magnetic Release RMRC: Magnetic Release, Multi, One Size | Rapala | |
#1 Rapala Magnetic Tool Holder Combo 2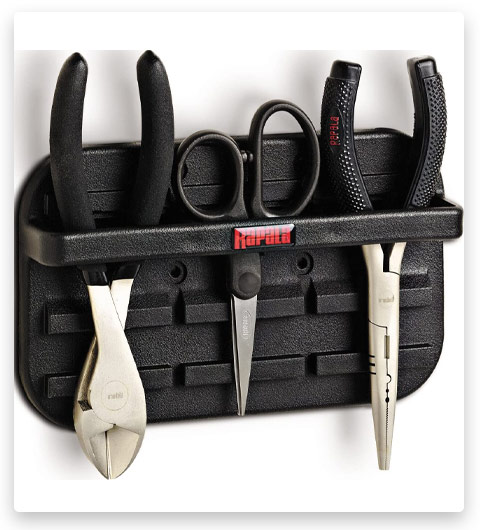 To keep your fishing tools from being scattered throughout your home or garage, you should keep them in one place. The Rapala tool holder is ideal for this. This is a magnetic holder that is designed to safely store three instruments. Attach the holder once to the boat and you don't have to look for your instrument, as it will be at hand all the time. You can also install it anywhere else in your home. Thanks to magnets, the instruments do not rattle during movement, as they are tightly fixed. Safe storage of tools will save them from premature wear.
#2 Rapala Fisherman's Multi-Tool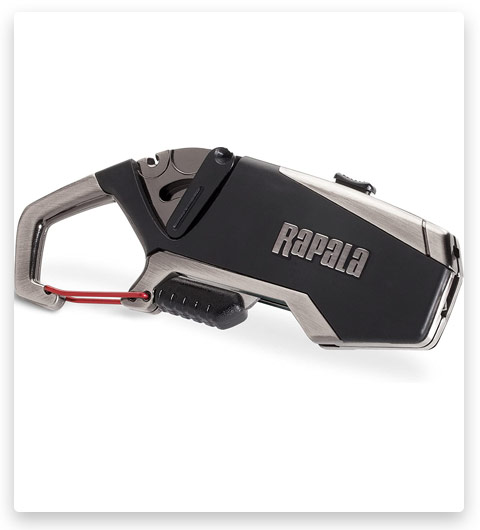 Rapala is a multi-tool that contains five of the most important functions that you may find useful during your fishing trip. The tool has a modest size and low level of weight, does not take up much space in your backpack, and a wide range of key functions will help you out in any difficult situation, and most importantly, you no longer need to carry a large number of tools with you. This Rapala Fisherman's Multi-Tool features scissors, jig eye punch, carabiner clip, beverage wrench, and multi-size line threader.
#3 Rapala 9″ Floating Fish Gripper 9″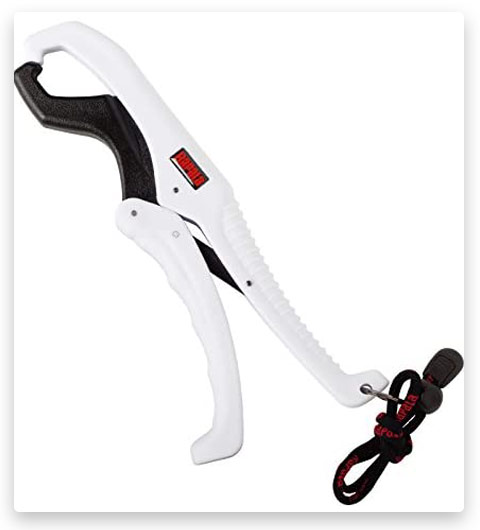 Fishing grip Rapala Floating Fish Grippers 9″- the floating grip for holding fish of the Finnish company "Rapala" was released in 2016. This helps to easily hold the fish without damaging it. Thanks to the materials used, this tool does not sink and is not afraid of corrosion, as well as resists rust. It's convenient to use and comes with a wrist strap. It is convenient and practical since you do not have to look for a tool all the time and you will not be able to lose it. Thanks to the quick-release mechanism it is able to hold the fish tightly and then release the fish quickly and easily when needed.
#4 Rapala Touch Screen Tourney Scale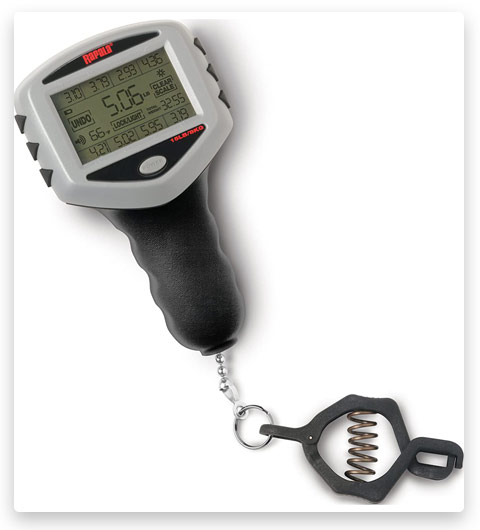 To know the weight of a fish is always interesting. It doesn't matter if you want to set your personal record or you don't want to have problems with the law. The touch screen makes the scale easy to use. It has a lot of functions, however, don't worry you will know how to use them right away. Weight is displayed in three options: lbs, ounces, and kg. The device has a function for storing weight. It runs on two batteries that can last up to 400 hours. It is a waterproof scale that is also backlit. The hook is made of stainless steel that resists corrosion and rust.
#5 Rapala RRLS Retractable Line Scissors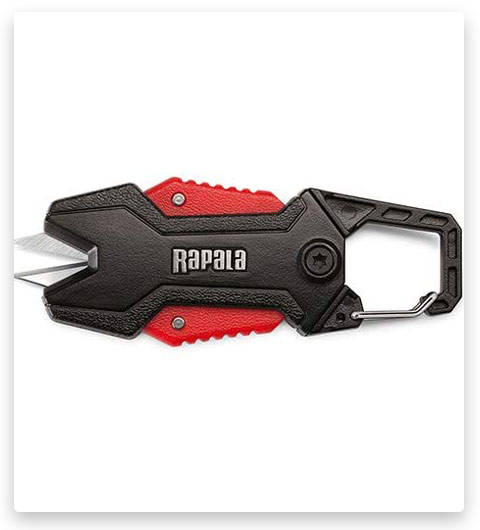 If you need to cut your fishing line, you will definitely need these Rapala Scissors. Regular scissors are not able to cope with this task. The scissors are ergonomic and easy to use. The blades are sharp and durable. They are compact and therefore will not take up much space in your fishing bag. And their price will pleasantly surprise you.
#6 Rapala Precision Line Scissors RPLS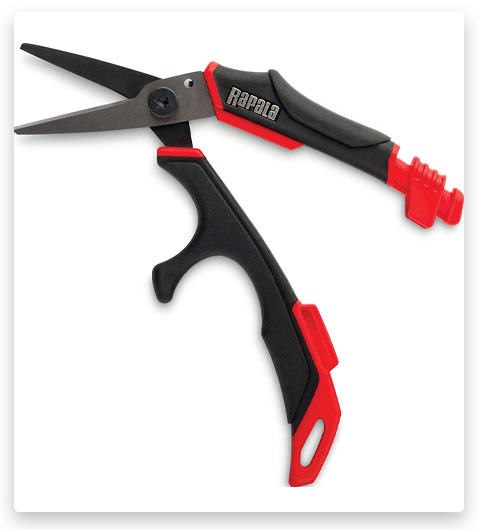 If you need to cut the line, forget about your kitchen scissors. They won't be able to do this, but the Rapala Precision Line Scissors RPLS can handle the task easily. They will be able to cut any fishing line. They have titanium-coated stainless steel blades. This suggests that they will serve you for many years. This material is not afraid of corrosion and rust, so it can be safely used in saltwater. You can use them with one hand thanks to spring-loaded.
#7 Rapala 6 1/2 Stainless Steel Pliers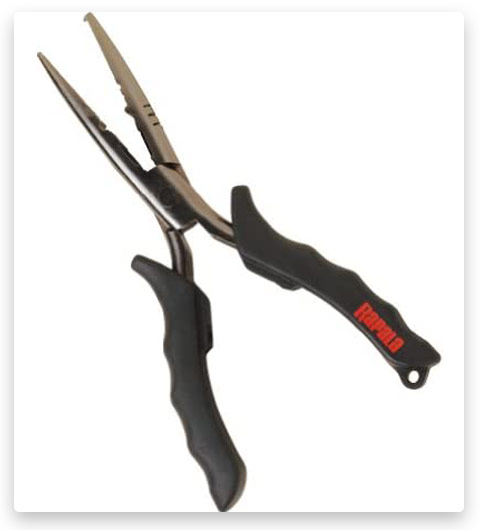 The multifunctional side cutter pliers can squeeze weights, adjust the lures, cut through braided and monofilament lines, wires, and leader material, and also have the function of spreading the winding rings. They have a soft grip cover. They have a wrist strap for easy wearing. Stainless steel construction for using for years.
#8 Rapala NK03039-BRK Fish N Fillet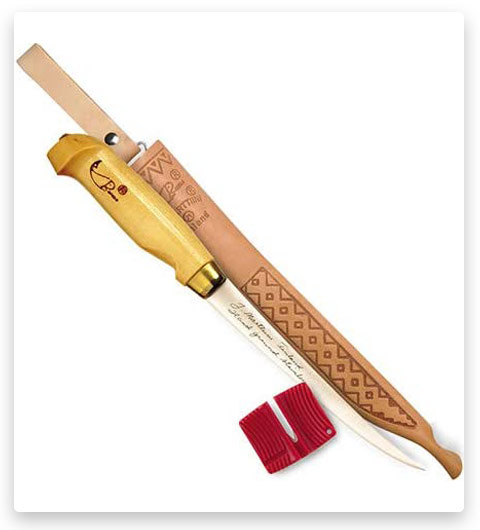 If you are looking for a fishing knife for cutting fish fillets, then this is what you need. This has an evenly tapering hand-sharpened Swedish stainless steel blade, with an ultra-sharp blade and a full-length shank. You will also find a case and a sharpener.
#9 Rapala Panfish Tool Combo RPFTC: Panfish Tool Combo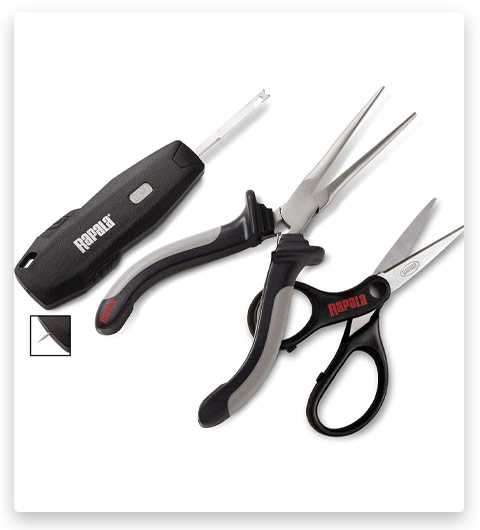 This Rapala fishing tools kit will help out the angler in any situation. The set includes scissors, pliers, and a mini hook remover with jig eye "punc". The pliers are small, 10 cm long and have comfortable handles. Thanks to careful diamond sharpening, the designers ensured the sharpness of the scissor blades, eliminating the need to re-cut the line. The intensity of their application has practically no effect on the quality of sharpening. With a comfortable size, the Rapala scissors can be placed in a small tackle box or simply in a pocket. With such a small and reliable device, the angler will be able to quickly and efficiently install the tackle.
#10 Rapala Fishing Forceps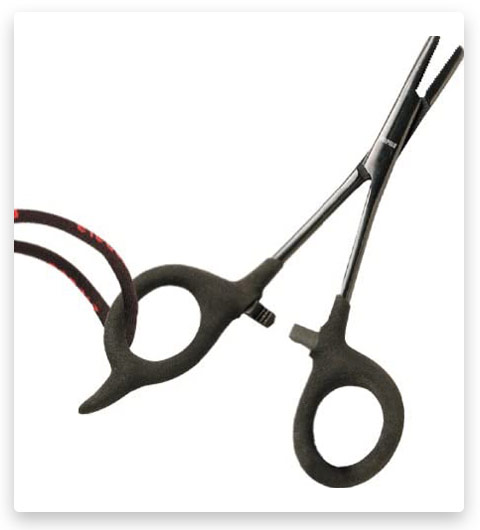 An experienced angler will not have a question on how to pull out a deep-seated hook from the fish's teeth-protected pharynx. The well-known Finnish company Rapala, once again demonstrates to everyone its awareness of the problems that anglers face in the process of fishing. In addition to extracting lures entrenched in the mouth of a fish, tongs may be necessary for an angler under the following circumstances: when making rigs on his own, for knots and fly flies, built-in scissors will help to cut the unnecessary tip of the fishing line. The handles of the pliers are comfortable for the fingers thanks to the special soft coating. The pliers have large, comfortable finger holes and a clip lock. There is a comfortable rope to hold the instrument comfortably in your hand. Made of the highest quality stainless steel tongs. An inexpensive, useful tool will serve the angler a long service, for which it is designed.
#11 Rapala Super Line Scissors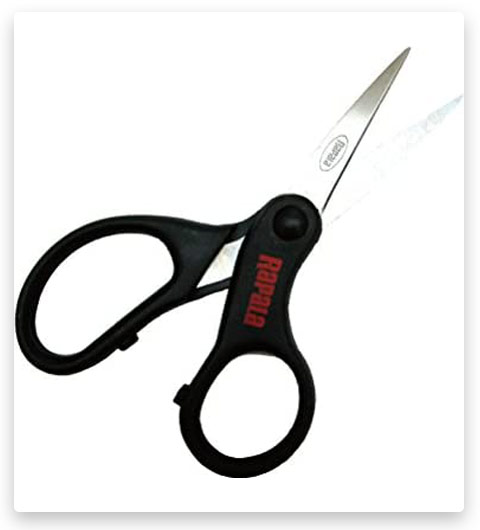 One of the most frequently repeated actions by an angler is tying knots on a fishing line. They perform their task no worse than the sharpest knife. And in terms of ease of use, they significantly surpass it. Cutting the cord, and scissors will perform fishing lines quickly and without the usual tousling of the ends for such an operation. This simple and reliable fishing tool is equally capable of cutting different line thicknesses. Like other fishing accessories of the Finnish manufacturer, Rapala RLS scissors are distinguished by their quality of manufacture, which means long-term operation. It is worth noting the quality of stainless steel, which will not become covered with corrosion spots even after prolonged exposure to water. The increased width of the finger rings makes the tool extremely comfortable to use. The product can be used equally conveniently with both right and left hands.
#12 Rapala Clipper Combo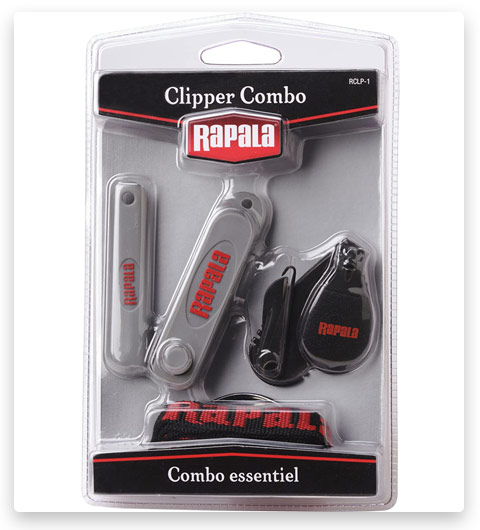 The Rapala Clipper Combo tool kit includes a durable line cutter, a piercing tool, and a retractable compact hook sharpener. An indispensable portable kit for the angler's daily needs. These are the essential tools for any fishing. The tools are collected on a ring and have a branded strap for fastening. Rapala fishing tools kit is made of durable materials so the tools do not wear out.
#13 Rapala Magnetic Release RMRC: Magnetic Release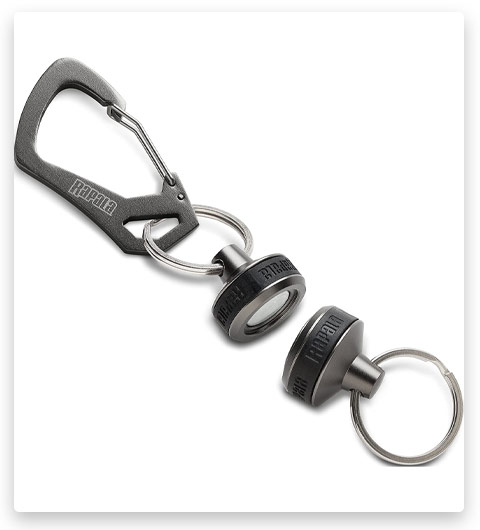 On a fishing trip, there are often situations when you need to have several necessary devices at hand. It is most convenient to attach them to your belt so that they can be easily removed. The easiest way to do this is with such a magnetic carabiner. On such an accessory, you can hang a tool weighing up to three kilograms. With such a carabiner, the required tool will be securely fastened, while detaching and attaching it easily with one hand. You can attach it to fishing jackets, vests, bags, etc.
Deep Dive into Rapala's Arsenal: Exploring the Key Tools for Every Angler 🧰

Rapala Fishing Lures: The Heart of a Successful Catch 🐠
Reviewing Rapala Lures – Masters of Mimicry 🎭
At the heart of Rapala's legacy are their fishing lures. Ingeniously designed, Rapala's lure range is expansive, catering to varying fishing conditions and species. Here's a brief overview of some of their standout lures:
Original Floating Rapala: The one that started it all, designed to mimic a wounded minnow's movement. Its balsa construction gives it a lifelike action, drawing predator fish in like a magnet. 🧲
Rapala X-Rap: A versatile lure with a detailed finish, the X-Rap can be fished with a "slash and stop" or a steady retrieve based on what the fish are biting. 🐟
Rapala Jigging Rap: Perfect for ice fishing or open water, the Jigging Rap has a unique circular swim action, making it irresistible to a wide variety of fish. ❄️
When and Why to Use Rapala Lures 🗺️
Each Rapala lure has a specific application based on the type of fish you're aiming for and the environment you're fishing in. For example, the Original Floating Rapala is great for surface fishing in warmer waters, while the Jigging Rap is ideal for colder, deeper waters. It's all about matching your lure to the conditions and the desired catch.
Rapala Fishing Knives: The Edge of Efficiency 🔪
Features and Importance of Rapala Knives 📌
Rapala fishing knives stand out due to their sharpness, durability, and ergonomic design. The stainless-steel blades resist corrosion, an essential feature when dealing with fish. Moreover, the comfortable handles ensure precision and control during preparation. Their standout knives include the Classic Fillet Knife and the Fish 'n Fillet Superflex, both of which make fish preparation efficient and hassle-free.
Maintenance and Safety Tips for Rapala Knives 🛠️
Ensuring your Rapala knife lasts long involves proper cleaning, drying, and storage after each use. Regular sharpening is also necessary to maintain the knife's cutting edge. Always handle the knives with care, using protective sheaths when storing or transporting them.
Rapala Fishing Pliers: The Grip of Success 🦾
Design and Efficiency of Rapala Pliers 📐
Rapala pliers are designed for strength, comfort, and utility. Made from durable materials like stainless steel, they resist corrosion and provide a firm grip on hooks. Features like a built-in cutter make them a versatile tool for every angler.
Role of Pliers in Successful Fishing 🎣
A good pair of pliers, like the Rapala Fisherman's Pliers or the Rapala Mag Spring Pliers, is an angler's ally for tasks like removing hooks, adjusting lures, and cutting lines. They enhance efficiency and safety, making your fishing trip smoother and more enjoyable.
🔶In conclusion, each Rapala tool brings something unique to the table, making them indispensable for an angler. Whether you're luring in a catch, preparing your fish, or managing your gear, Rapala has got you covered
The Essentiality of Specialized Fishing Tools: Functionality and Resilience 🐟🔧
The Critical Difference: Home Tools vs Fishing Tools ⚖️
A typical question that often bubbles up among fishing enthusiasts is – "Why buy specialized fishing tools when household ones like scissors and pliers are handy?" The distinction is hidden in the unique usage conditions and the materials used to make modern fishing gear.🪚
It is, therefore, crucial that fishing tools fulfill certain obligatory prerequisites, with the foremost being resistance to corrosion. Household scissors, for instance, would succumb to rust over time and deteriorate rapidly. On the other hand, specialized fishing tools, built to last, ensure regular and long-term service.🛡️
Designed for Precision and Care: The Fishing Tools Advantage 🎣
Fishing tools are meticulously crafted to handle fishing tackle without causing any damage, and also to minimize harm to the fish. This feature is especially relevant to modern sports and recreational fishing. Furthermore, certain tools are solely meant for fishing and have no substitute elsewhere.⛓️
Modern fishing tools often amalgamate multiple functionalities. For example, pliers might come equipped with cutting edges for the line and a special prong for easing the winding rings. Similarly, fishing scissors can feature a similar element for cutting lines. Given the properties of the materials, braided and several monofilament threads pose a challenge to cut, and these features are considered during the design stage of specialized nippers and scissors. Hence, using fishing tools will ensure smooth operations.✂️
Exploring the Arsenal: Clippers, Scissors, and Pliers 🔍
Clippers: Clippers are perhaps the most indispensable tool for an angler. They are designed primarily to cut lines. A well-crafted fishing clipper can handle braided and monofilament lines, as well as various leash materials. Clippers come in two key variants: classic and compact. Classic models, made of robust stainless steel with silicone or plastic handles, are multifunctional and durable. Compact clippers are favored for their minimalistic dimensions, making them ideal for carrying on fishing trips.🔪
Scissors: Fishing scissors are meant to cut lines and a range of other materials. Many models come equipped with a special spike for unclamping winding rings. They should ideally be stainless steel to combat corrosion effectively and remain sharp for a longer duration.✂️
Fishing Pliers: While they may resemble regular pliers, fishing pliers are crafted with a different set of functionalities. Their principal purposes include cutting fishing line, lead core or wire, unclamping winding rings, and occasionally extracting bait from the mouth of predominantly predatory fish. There are also multifunctional models available that can perform several, if not all, of these tasks.🛠️
By integrating specialized fishing tools into your kit, you are investing in equipment designed to understand and assist you on your angling adventures, ensuring a fruitful and enjoyable fishing experience.🎣🌅
The Indispensable Fishing Knife: Cutting through Necessity and Functionality 🔪🐟

Understanding the Multifaceted Role of a Fishing Knife 🎣
The utility of a proficient fishing knife extends beyond the confines of just processing the catch. It also steps into the role of a versatile tool adept at a multitude of essential tasks. Multifunctionality is an important attribute that allows anglers to maintain a compact and efficient kit. Considering the aquatic nature of fishing, the knife should meet certain criteria to ensure its durability and effective performance.
Essential Qualities of an Ideal Fishing Knife: Your Checklist 📝
Here are some significant attributes that a fishing knife should encompass:
Anti-Corrosion Blade: An indispensable feature of any fishing knife is its ability to resist rust, as the blade is frequently exposed to water and fish. A lack of anti-corrosion properties can result in rapid deterioration of the blade. ⚔️
Ergonomic Grip: The knife must offer a firm and comfortable hold, ensuring it does not slip during use. An uncomfortable grip can lead to inefficient tasks and possible mishaps. 👏
Water-Resistance: A fishing knife is expected to have enhanced resilience against water damage, a consequence of its constant exposure to wet environments. 💧
Versatile Blade Size: The blade should ideally have an average size to strike a balance between cleaning the fish (where a large blade can result in clumsy work) and chopping branches (a task that a small blade might struggle with). 🐟
Sharp and Durable Cutting Edge: The knife's edge should maintain its sharpness well, with a level of hardness that ensures it can withstand various tasks without easily dulling or chipping. 🔪
Sturdy Butt: The thicker the butt of the knife, the more it can handle robust work. A thin butt, while excellent for filleting fish, might not be ideal for heavier tasks. 🛠️
In the light of these parameters, it is evident that a fishing knife is not just a simple tool but a multifunctional companion that complements and enhances your fishing experience. Investing in a quality fishing knife that ticks all these boxes promises not only an efficient catch processing but also a reliable aid in various fishing tasks. 🎣👍
Rapala Tools in Action: A Personal Encounter with Performance and Reliability 🎣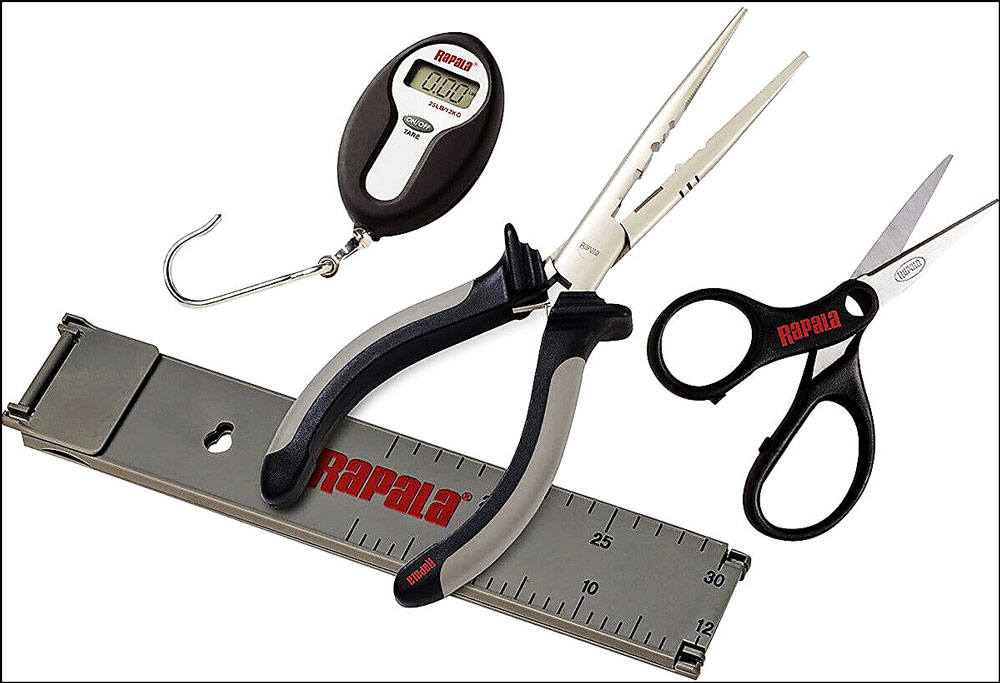 Reeling in Memories with Rapala Tools 🔄
From tranquil sunrises on the lake to the adrenaline rush of feeling the first nibble on the line, my fishing journey has been significantly enhanced by Rapala tools. Each tool, be it the lure, the knife, or the pliers, has proven its worth in countless situations. 🌅
One vivid memory is my trip to the northern lakes, home to the elusive walleye. Armed with my Rapala Original Floating lure, I embarked on the challenge. The lure's life-like movements in the water did the trick, attracting a hefty walleye that became the highlight of my trip.🎖️
On another occasion, the Rapala Fish 'n Fillet Superflex knife turned what could have been a messy process into a smooth experience. The knife effortlessly glided through my catch, resulting in neat, perfect fillets.🔪
And, let's not forget the Rapala Mag Spring Pliers, a trusty companion when unhooking my catch or making quick adjustments to my gear. Its grip and versatility were a blessing during my deep-sea fishing expedition. 🌊
A Testament to Performance and Reliability 🏆
Through calm waters and turbulent waves, hot summer days and freezing winter mornings, Rapala tools have been a constant in my fishing adventures. Their performance is undeterred by the varying conditions, making them truly reliable companions.☀️❄️
The lures never fail to attract the fish, their ingenious designs standing the test of both fresh and saltwater bodies. The knives retain their sharpness even after multiple uses, and the pliers don't falter even when dealing with the most stubborn hooks.⚓
What makes Rapala stand out is not just the quality of their tools but their consistency. Regardless of the location, the type of fish, or the weather conditions, I can count on my Rapala tools to deliver. That, for me, is the hallmark of a great brand.🌟
🔶In essence, my hands-on experience with Rapala has reinforced their claim of quality and performance. So, if you're looking for reliable fishing tools that enhance your fishing experience, I'd say Rapala is the way to go!👍
Maximizing Your Catch with Rapala: Tips & Tricks for Optimal Tool Use 🎣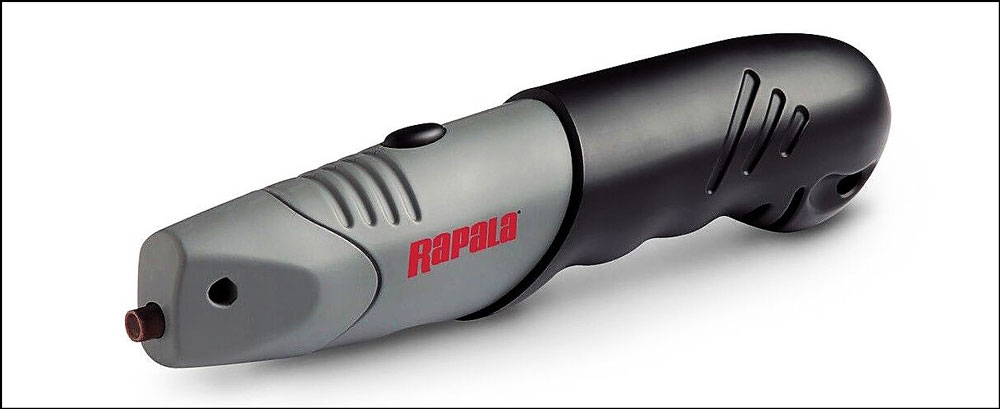 Unlocking the Full Potential of Rapala Tools 🗝️
Rapala Lures: The trick to getting the best out of Rapala lures is understanding the behavior of the fish you're aiming for. For example, if you're targeting fish that feed near the surface, try Rapala's Topwater lures. Adjust your retrieval speed and pattern to mimic the movement of the prey your target fish feeds on.🦐
Rapala Fishing Knives: Maintaining the sharpness of your knife is crucial. Regularly hone your Rapala fishing knife with a Rapala sharpener to keep it in peak condition. Remember to clean it thoroughly after each use to prevent corrosion.🔪
Rapala Fishing Pliers: Regular lubrication of the joint area can ensure smooth operation of your Rapala pliers. Also, consider using the built-in line cutters on Rapala pliers to quickly cut fishing line or trim lure skirts. 🧴
Thinking Outside the Tackle Box: Unconventional Uses of Rapala Tools 🎩
Here are a few creative ways to use Rapala tools:
Lure as a Decorative Item: Show off your passion for fishing by using Rapala lures as decorative items. Their realistic designs can make for great conversation starters.🖼️
Knife as a General-Purpose Tool: While designed for filleting, Rapala knives can also be used for other tasks around the campsite, like cutting ropes or preparing food.🍖
Pliers for Gear Maintenance: Beyond unhooking fish and cutting lines, Rapala fishing pliers can also be used to tighten screws on your reel or bend wires and hooks.🔧
🔶Remember, the effectiveness of any tool lies in the skill and knowledge of the one wielding it. So, explore, experiment, and master the use of your Rapala tools to enhance your fishing adventures!🚀
❓ FAQ: Rapala Fishing Tools 🎣
Wrapping Up the Catch: Why Rapala Reigns Supreme 🌊
As we can see, the usual household tools are of little use for fishing. In addition, they simply cannot perform a number of necessary functions. Therefore, every self-respecting fisherman should have at least a minimum set of tools. Due to the wide functionality of Rapala tools accessories, it will be enough for you to purchase several.
The Rapala Advantage: A Quick Recap 🔄
From their humble beginnings in Finland to their global reach today, Rapala's commitment to quality, innovation, and performance has set them apart in the fishing industry.🌐
Whether you're a professional angler or a weekend hobbyist, Rapala has something to offer. Their life-like lures designed for various fishing conditions, sharp and durable knives, and versatile fishing pliers contribute to an improved fishing experience. 🐠
But it's not just about the products; Rapala's enduring legacy in the fishing community and their stellar reputation worldwide make them a trusted choice for anglers everywhere.👏
The Final Cast: A Word to the Wise Angler 🎣
In conclusion, investing in quality fishing tools like those offered by Rapala can truly enhance your angling adventures. Sure, you might be able to land a fish with subpar tools, but to consistently succeed and truly enjoy the process, quality matters. And when it comes to quality, Rapala stands tall.⚓
🔶Remember, the joy of fishing isn't just about the catch; it's also about the thrill of the chase, the connection with nature, and the satisfaction of using a tool that does its job well. And with Rapala in your tackle box, you're well-equipped for a fantastic fishing journey! 🌅
So, gear up, cast your line, and reel in the joy of fishing with Rapala – the brand that understands and caters to your passion for angling! 🚣‍♂️🏆
Tags: #rapala tools / #rapala fishing tools / #rapala fishing combo pack compact tools / #how to install tools on a rapala ez retractable lanyard / #rapala stainless tools – stainless forceps / #rapala fishing / #rapala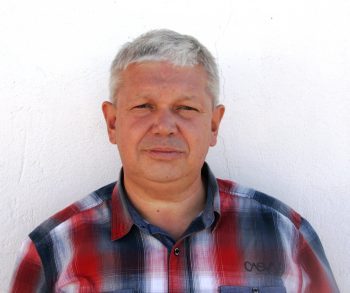 Sergio Smirnoff
Professional fisherman with 40+ years of experience.
Fishing and the ocean is a passion of my life. I am passionate about all kinds of sea fishing: fishing from the shore (spinning, float, baitcasting), from a boat, and spearfishing day and night.
I live in Tenerife (Canary Islands) for the last 10+ years and share my daily fishing experiences on my website. Many years of personal experience as a fisherman and the vast experience of my friends allow me to write professionally on any fishing topics (from choosing a flashlight and equipment to deep-sea fishing).
All of my advice is based on practical real-world experience and will be useful to both novice anglers and professionals.
Read more
about the author.
Affiliate Disclosure: FishReeler.com sometimes gets paid for listings, through sponsors or affiliate programs like Amazon, Ebay, Cabelas, Bass Pro Shop, Shimano, Daiwa, Rapala, Renn, Okuma, KastKing, etс. Clicking a link helps keep FishReeler.com free, at no extra cost to you!
About the author: Each article is verified by the fishing expert Sergio Smirnoff. The articles are written by professional and amateur fishermen with 20+ years of fishing experience.
Note: The views and opinions expressed in this article are those of the authors and do not necessarily reflect the official policy or position of any agency. The articles are for informational purposes only, share your opinions in the comments and join the fishing discussions, let's share our fishing experiences together!