The newest type of fishing is a drone! It is difficult to throw a bait (lure) from the shore at 200-700 meters. It is even more difficult to see a cluster of fish, and where to throw your fishing tackle. You need a reliable drone that will not fall into the sea and a device that will release the bait into the ocean. Read the article on how to do it without problems.
All You Need to Know Before Buying a Drone
A drone is not the cheapest investment for a fisherman. Therefore, before you start using it, you need to understand that you really need such a thing on the water as a drone and what it is for. In this article, we'll talk about how you can best use drones when fishing, what accessories you can use with them, and the pros and cons of drone fishing. After reading my article, you will have decent baggage of useful information and will most likely be able to decide if you need a drone or not.
What Is Drone Fishing?
Let's start with the basics. Drone fishing is a type of fishing where you use drones to scout water, cast line, or even fish with the drone itself. Drones can help you quickly explore a large surface of the water, find areas with large concentrations of fish, and cast much further than you can with your fishing rod.
Benefits of Using Drones for Fishing
Drones are very useful on the water and you can find thousands of uses for them. I have collected only the main advantages that a drone will give you after purchasing.
Fast and Broad Exploration
Drones are very handy and easy to use for reconnaissance. Almost every drone is equipped with an HD to 4K camera that you can use to scan the entire area below. As long as you follow the rules, you have no restrictions on exploring fishing spots throughout the water.
Fish often like to congregate near underwater structures. When fishing in shallow water, you can search such an area in minutes. This is very helpful when you are going to a new location for the first time. Alternatively, you can use the drone to detect currents or shoals of bait.
Unlimited Casting
In classic fishing with a rod and line, it is very difficult to cast more than 80 feet, even if you have a very good rod, reel, and a lot of experience behind you. With a drone, your casting will only be limited by the length of the line.
Whether you are surfing or trolling fishing, you will have many more options with a drone. The best part about using drones is that you lower the bait to exactly the point you want and which is rich in fish. Besides, many drones have a bait release mechanism that allows you to release the line exactly when you need it.
Drone Casting & Pulling
Drones are rarely used this way, but they are used nonetheless. Casting and pulling means your drone will not only drop the line but will also deliver the catch directly to your boat or shore. But this greatly reduces the number of fish that you can catch with your drone. Drones are not very lifting, so the fish that the drones can catch are also quite small. Applying this technique to a small lake can help you catch fish, but if you are going out into the ocean for a big catch, then a drone is unlikely to help you here.
Underwater Fishing
Only the latest drones designed specifically for diving can do this. These drones can submerge in any type of water, salty, fresh, very cold, or hot. They are often equipped with high-resolution underwater cameras, sonars, scanners, baits, and transducers of all types. But this is a slightly different type of drone that we will talk about another time.
Some Drone Limitations You May Encounter
As you can see, the benefits of drone fishing are enormous. But with the advent of new technologies, the government also keeps up with the issuance of new laws and restrictions. And while many states have already banned or restricted the use of drones for fishing, many states have yet to do so.
Many states and regions define the word "drone" differently. Most states recognize drones to be as flying as airplanes. So far, the adjustments do not apply to underwater drones, but it is only a matter of time.
Current federal regulations state that drones cannot fly over federal buildings and cannot fly over people. Also, drones must weigh less than 55 pounds and fly below 400 feet and have a line of sight. Of course, these restrictions can be tougher or softer. It all depends on your specific state or region where you live. So I recommend that you clarify this in the legislation of your region.
Do You Need A License After Purchasing A Drone?
According to federal law dated January 3, 2018, an amateur drone pilot must register the drone with the FAA, mark the hull with a registration number, and carry proof of registration when using the drone. On the FAA website, you can read a complete list of restrictions and recommendations for using drones.
Besides, the FAA has an online drone registration system for your convenience. You don't need to travel to the FAA office to register your drone, you can do it right at home from your computer or phone.
What You Need to Rig Your Drone for Fishing?
Before setting up your drone for fishing, I recommend you first decide what you will be using it for. If you are only going to scout with a drone and cast and pull yourself, then there is no need to buy or make a release mechanism for the drone, but it is better to think about a good camera and sensors.
But if like most anglers, you want to cast and scout with a drone, then you will need not only the drone itself but also various bait releases to help you drop the line. You can also make your own bait release. Here are some videos to help you understand how to rig your drone.
Drone Fishing Gone Wrong
Mavic Mini | How to Fly Mavic Mini
TOP 10 Best Fishing Drones
| Image | Product | Brand | Link |
| --- | --- | --- | --- |
| | DJI Mavic Air 2 - Drone Quadcopter UAV with 48MP Camera 4K Video 8K Hyperlapse 1/2" CMOS Sensor 3-Axis Gimbal 34min Flight Time ActiveTrack 3.0 Ocusync 2.0, Gray | DJI | |
| | DJI Mavic Mini Combo - Drone FlyCam Quadcopter UAV with 2.7K Camera 3-Axis Gimbal GPS 30min Flight Time, less than 0.55lbs, Gray | DJI | |
| | DJI Phantom 3 Professional Quadcopter 4K UHD Video Camera Drone (Renewed) | DJI | |
| | DJI Inspire 2 Drone | DJI | |
| | DJI FPV Combo - First-Person View Drone UAV Quadcopter with 4K Camera, S Flight Mode, Super-Wide 150° FOV, HD Low-Latency Transmission, Emergency Brake and Hover, Gray | DJI | |
Buying a Drone – Top 5 Best DJI Drones Review
Now I have prepared for you a review of the 5 best drones from DJI. It is one of the best and most trusted drone companies. They produce drones for all tastes: from compact Mavics to professional Inspire drones.
1# DJI Mavic Air 2 Fishing Drone – Editor's Choice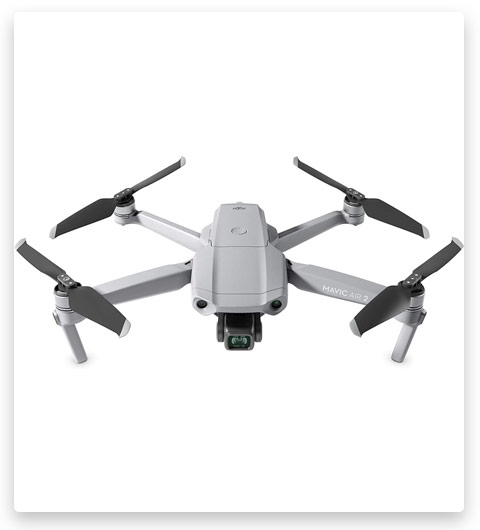 DJI Mavic Air 2 gives you a great view of the water with a 48MP camera and the ability to shoot at 60 frames per second. Besides, the drone is capable of flying a full 34 minutes on a single battery and has very quiet blades that will not scare the fish even if you fly very close to the water. This makes it one of the best fishing drones.
It has an excellent camera capable of shooting in 4K with a 0.5-inch sensor, 3-axis stabilizer, and a quality image sensor. You can not only take high-quality 48MP photos but also shoot video in 1080p or video in 8K with the hyper task.
The maximum flight speed of this drone is 42.5 mph and the video transmission distance is 10 km, which is a lot for such a small drone.
2# DJI Mavic Mini Combo – Drone With No Register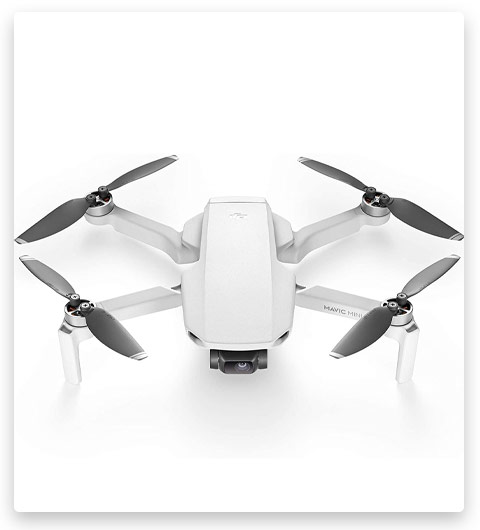 If you are looking for a more compact fishing drone that fits easily into your backpack, then the Mavic Mini kit is the answer. It's compact yet incredibly durable and handles lightweight well.
The nicest thing about it is that you don't need to register it as it weighs less than 0.5lb/250g and these drones don't need to register with the FAA.
It has some of the best features. Including a 4K camera, obstacle avoidance sensors, 30 minute flight time, return home function, and more.
3# DJI Phantom 3 Pro – Best For Beginners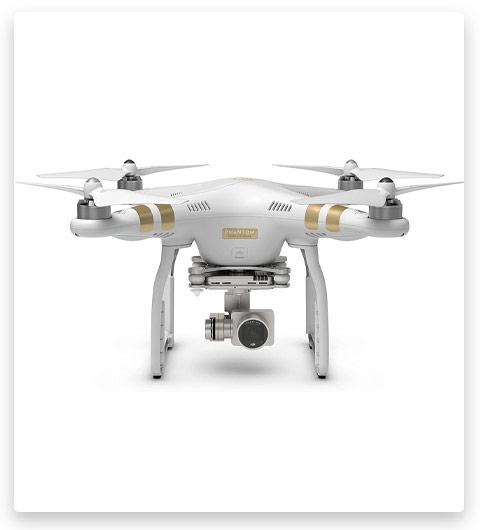 The DJI Phantom 3 Pro is well built, easy to set up, and easy to use. This is beauty combined with excellent performance. You can set it up and fly it very easily, even if this is your first drone. It even has a beginner mode that lets you learn to fly in a safe, restricted area.
4# DJI Inspire 2 – Best for Professionals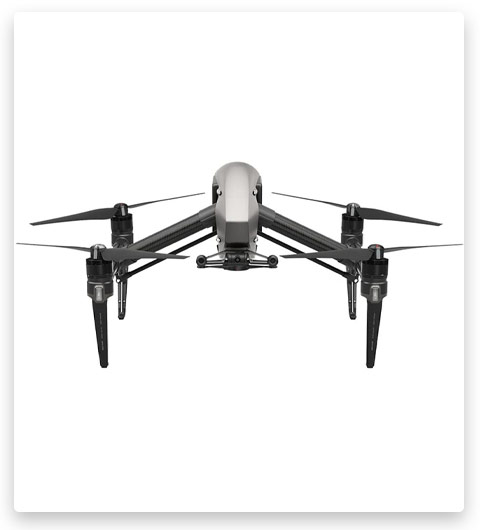 This is one of the best drones for professionals with a very wide range of features and quality designs. It accelerates to 80 km/h in just 5 seconds, has a top speed of 94 km/h and a sink rate of 9 m/s. These are incredibly high numbers for a drone of this size and build.
The two-battery system allows the DJI Inspire 2 to fly for up to 27 minutes, and the self-heating technology allows it to fly in even the coldest temperatures.
It has an obstacle avoidance system and several intelligent flight modes including Spotlight Pro. This mode is one of the most exciting and allows you to take very beautiful shots on your own.
The video transmission system is capable of transmitting video directly from the main and onboard cameras for better water control.
5# DJI FPV Combo – Best Value for Money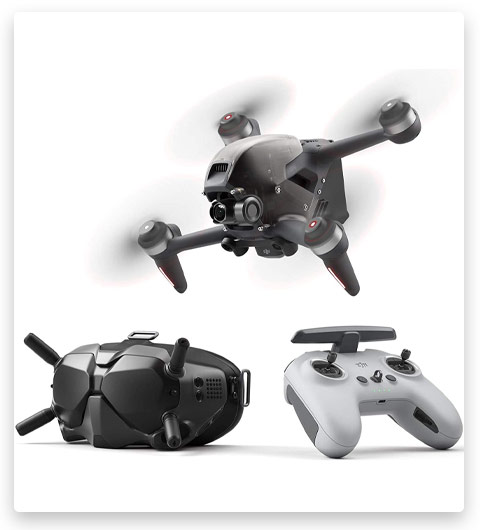 Extremely fast even in normal mode, excellent FPV drone with crystal clear image and video transmission straight to your goggles. In Sport mode, this drone accelerates to 62 mph. Only the flagship Inspire 2 can match it, and it's incredibly fast.
The flight time here is 12 minutes for each battery, for 3 batteries it's 36 minutes. But this is if you fly in sport mode and at full speed.
The glasses are also incredibly high quality. No interference occurs even 6,000 feet or more from your position. With this FPV set, you'll get very clear images and epic flying over water.
Top 4 Best Accessories for Drone for Successful Fishing
Some Tools You May Need With Your Drone
For drone fishing, you may need more than just drones. If you want to attach the line to your drone and do long and accurate casts, then you will need some more tools. Below I have provided a list of the top 4 tools that I think every drone fisherman needs.
6# Gannet X Sport Pressure Release System – Easiest To Use Pick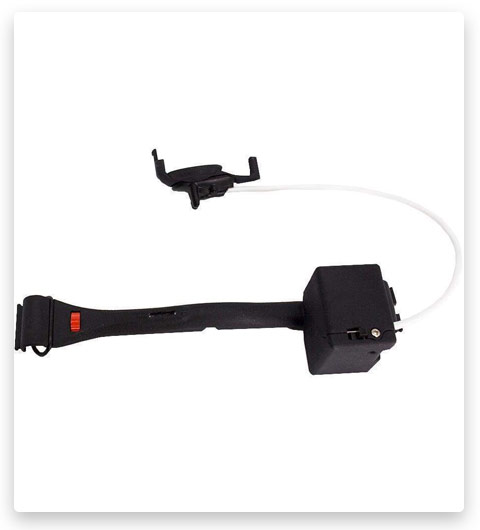 With this release device, you don't need any additional attachments or removal of the LED lens. You just install the mount in seconds and you can use it right away. Plus, it doesn't interfere with your drone's FPV sensors, so you can easily use your FPV system without interference.
You can choose electronic or mechanical release on this device. Electronic is much more convenient in my opinion, but it runs on a battery and requires periodic recharging via USB. Fortunately, the charge lasts for over 100 releases.
The release mechanism is designed for baits weighing about 800 grams. You can safely hang smaller weights, but heavier ones are not recommended.
7# Gannet X Drone Fishing Bait Release – Best Value for Money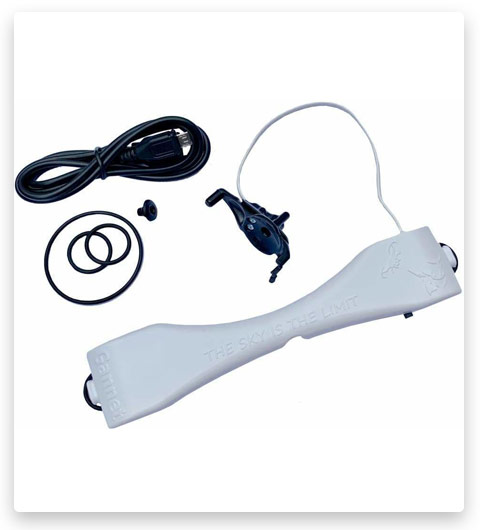 Another great release device for all Phantom 3 and 4 drones. It is very easy to install and use, there is a mechanical and electronic release.
8# Gannet Sport Fishing Mechanical Bait Release – Best Budget Pick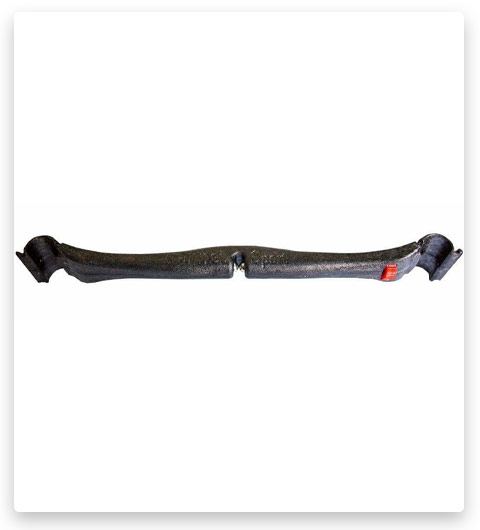 This is a relatively budget but at the same time, a very high-quality bait release for your Phantom 3, 4, and even the old Phantom 2 drones. It is completely mechanical, so you don't need any batteries, chargers, USB cables, etc. It is also the lightest model in the world. It weighs only 13 grams. The bait release is designed not to interfere with the cameras on your drone or the VPS sensors.
9# Gannet Sports Bait Release for Mavic 1 & 2 – Best Compact Pick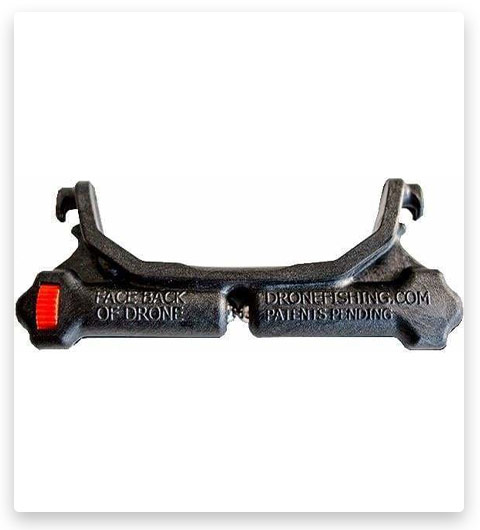 An excellent choice if you fly Mavic 1 and 2. This bait release from Gannet is very compact, cheap, and completely mechanical. It is made of a fairly durable material and does not require charging or batteries, while not interfering with your drone's cameras and sensors.
FAQs
While we have almost figured out what drone fishing is and how useful it is, there are still a few important points worth highlighting. I have compiled them into the most frequently asked questions section.
In Conclusion
Drone fishing is a decent and fun type of fishing that I recommend every angler to try. Be aware of your region's drone restrictions, make sure your drone meets all your needs, and feel free to head out onto the water after a couple of practice flights. Have a nice fishing!
Tags: #how to fish with drone / #how to catch more fish with drones / #drone fishing for beginners / #how to set up your drone fishing rig / #best drone for fishing / #fishing drone for sale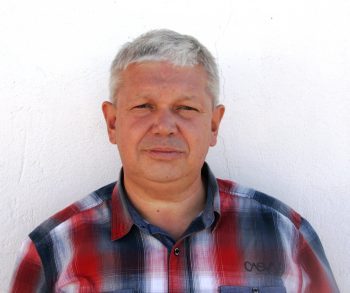 Sergio Smirnoff
Professional fisherman with 40+ years of experience.
Fishing and the ocean is a passion of my life. I am passionate about all kinds of sea fishing: fishing from the shore (spinning, float, baitcasting), from a boat, and spearfishing day and night.
I live in Tenerife (Canary Islands) for the last 10+ years and share my daily fishing experiences on my website. Many years of personal experience as a fisherman and the vast experience of my friends allow me to write professionally on any fishing topics (from choosing a flashlight and equipment to deep-sea fishing).
All of my advice is based on practical real-world experience and will be useful to both novice anglers and professionals.
Read more
about the author.
Affiliate Disclosure: FishReeler.com sometimes gets paid for listings, through sponsors or affiliate programs like Amazon, Ebay, Cabelas, Bass Pro Shop, Shimano, Daiwa, Rapala, Renn, Okuma, KastKing, etс. Clicking a link helps keep FishReeler.com free, at no extra cost to you!
About the author: Each article is verified by the fishing expert Sergio Smirnoff. The articles are written by professional and amateur fishermen with 20+ years of fishing experience.
Note: The views and opinions expressed in this article are those of the authors and do not necessarily reflect the official policy or position of any agency. The articles are for informational purposes only, share your opinions in the comments and join the fishing discussions, let's share our fishing experiences together!