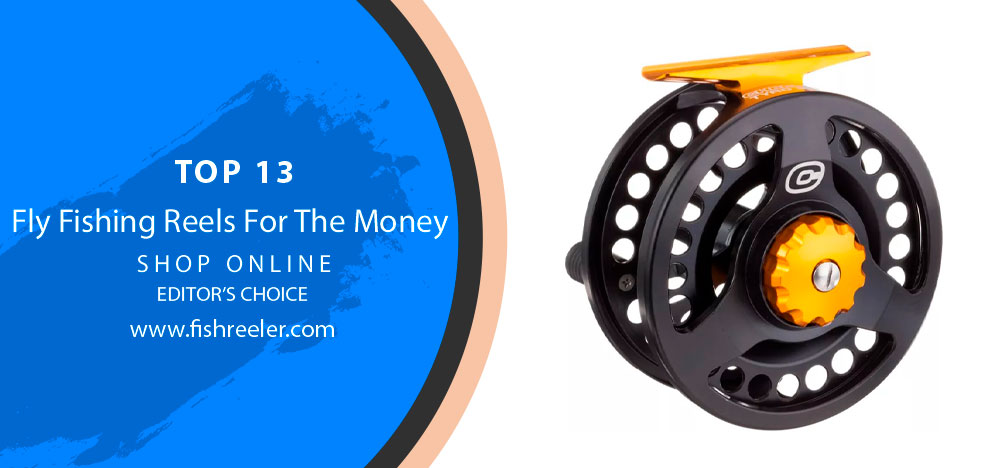 Reeling in the Best: A Comprehensive Guide to the Best Value Fly Fishing Reels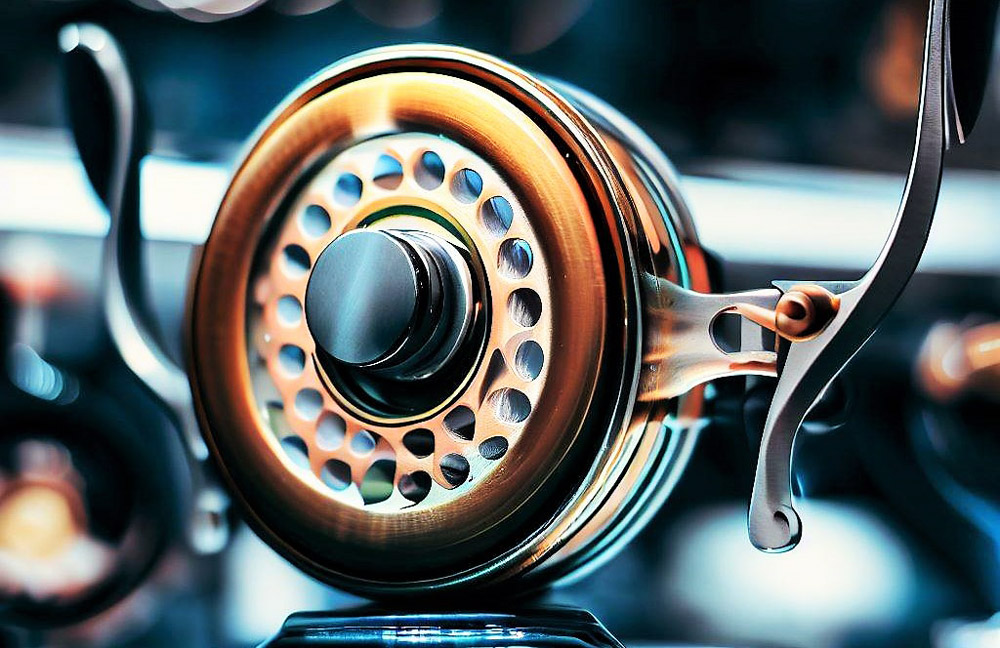 Fly fishing: a time-honored tradition, a sport, and for many, a deeply engaging hobby that connects us with nature's tranquility. There's nothing quite like standing on the banks of a gently burbling river, surrounded by verdant landscapes, as you cast your line and wait for that thrilling tug.
Central to this experience is the humble fly fishing reel. Though seemingly simple, the reel is a marvel of engineering, playing a crucial role in your fishing adventures. It helps control your line's distance and speed, manages your drag, and acts as a storage system for your excess line. But most importantly, it connects you, quite literally, to the fish you're angling to catch. A well-made reel ensures smooth casting and efficient retrieval, augmenting your fly fishing prowess.
As with any significant gear decision, the budget becomes an essential factor when selecting a fly fishing reel. It's a common misconception that the most expensive reel guarantees the best fishing experience. However, the reality is that there are myriad reels available on the market, many of which strike an optimal balance between cost and quality. Your focus should lean towards getting the most value for your money—a reel that suits your needs and doesn't lead to unnecessary expenses.
In this article, we'll guide you on a journey through the world of fly fishing reels. We aim to help you understand what a reel is, how it functions, and how to identify different types. We'll also delve into the key factors to consider when purchasing a reel, review some top-budget reels, and even offer some tips on maintaining your reel to ensure a long and useful life. By the end of this guide, we're confident you'll have the knowledge you need to make an informed decision and find a reel that offers the best bang for your buck. Let's dive in!
Understanding Fly Fishing Reels: Unspooling the Mystery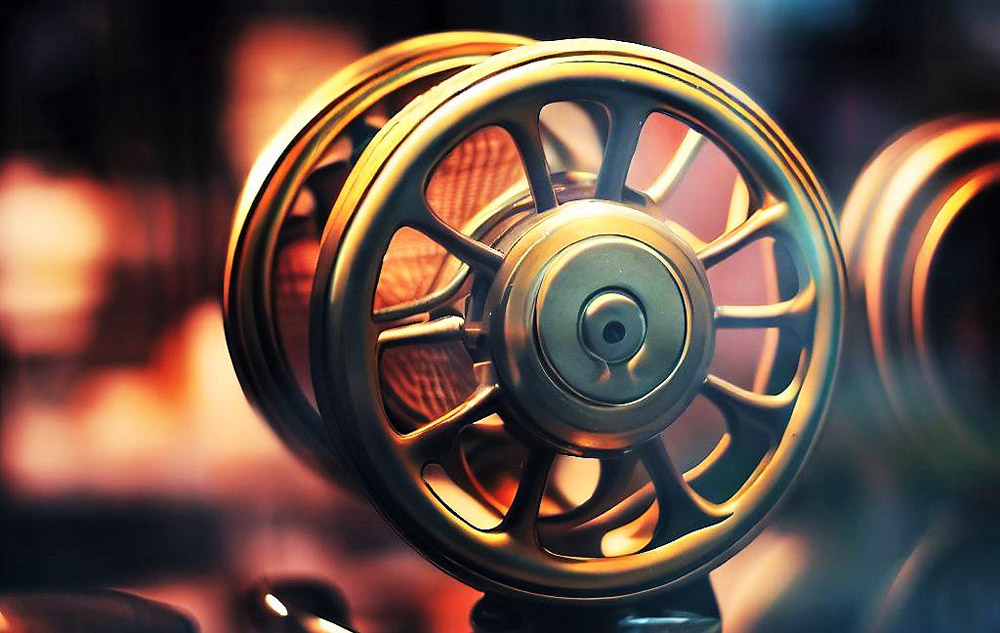 Fly fishing reels are much more than mere storage systems for your fishing line. They are intricate devices that play a vital role in controlling the length and speed of your cast, managing your drag, and, crucially, reeling in your catch. Understanding the basics of how a fly fishing reel functions can vastly improve your angling experience.
In essence, a fly fishing reel is made up of several key components: the spool (where your line is stored), the handle (which you turn to retrieve your line), the drag system (that adds resistance to the line being pulled out by a hooked fish), and the foot (which attaches the reel to your rod). When you cast your line, you manually strip the line off the reel. When a fish is hooked, you turn the handle to retrieve the line, with the drag system ensuring the fish can't pull out too much line and escape.
Fly fishing reels come in a variety of types, each designed to meet different fishing conditions and skill levels. Let's briefly explore the three main types: manual, automatic, and multiplier reels.
Manual reels, also known as single-action reels, are the most common type of fly reel. They are simple, reliable, and have a 1:1 retrieve ratio, meaning one turn of the handle equals one revolution of the spool. These reels are ideal for beginners due to their simplicity and affordability.
Automatic reels, on the other hand, are a bit more sophisticated. They rely on a spring-loaded mechanism to retrieve the line with the push of a lever, requiring less manual effort. While automatic reels can be convenient, they're often heavier and can be more prone to mechanical failure than manual reels.
Lastly, multiplier reels offer a faster retrieve ratio, usually 2:1 or more. This means one turn of the handle makes the spool revolve multiple times. They are particularly useful for large bodies of water where long casts are common and quick retrieval is necessary.
Choosing the right reel is paramount to your fly fishing experience. It's about more than just price—it's about understanding the conditions you'll be fishing in and recognizing your skill level. For instance, beginners might find a manual reel more straightforward and user-friendly, while seasoned anglers could benefit from the quick retrieval of a multiplier reel. In essence, the 'right reel' will vary from angler to angler. Your best catch begins with the right choice of reel, and making an informed decision will set you up for a rewarding fly fishing experience.
Experience True Value: Top 13 Fly Fishing Reels For Your Budget
When it comes to fly fishing, the most important piece of gear you can buy is your reel. Not only does a good reel make landing fish easier, but it also makes casting smoother and more accurate. So if you're in the market for a new reel, check out our list of the best fly fishing reels for money!
In this blog post, we'll take a look at some of the top-rated fly fishing reels on the market and what makes them so great. Whether you're looking for a high-end reel or something more budget-friendly, we've got you covered! So, without further ado, let's get started!
1# Redington Zero Fly Reel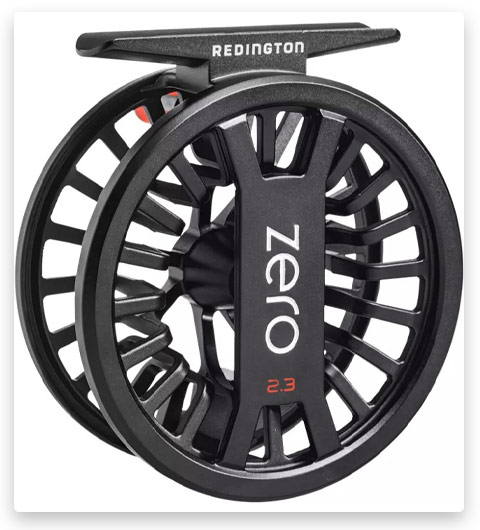 Redington's Zero Fly Reel is amazingly lightweight thanks to its diecast construction, and it comes in a protective reel pouch. This reel also features a large arbour for faster retrieves and less line memory. The advanced spring-loaded clicker drag system ensures smooth operation, while the soft-touch ergonomic handles provide hours of comfortable fishing.
2# Cabela's RLS II Fly Reel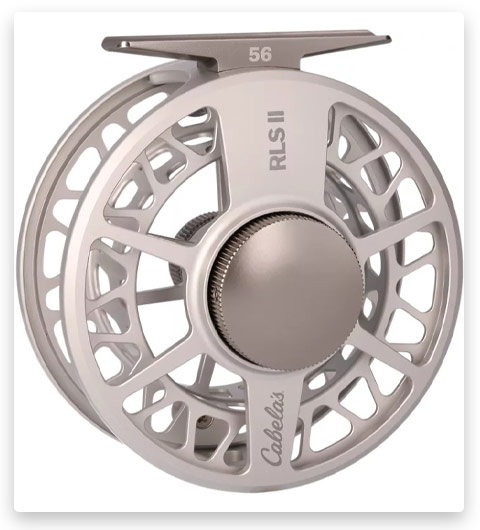 Looking for a top-quality fly reel that can stand up to any fishing conditions? Then check out Cabela's RLS II Fly Reel! This reel is constructed from cold-forged, machined T-6061 aluminium for unbeatable durability, and features a rugged hard-anodized finish for even more protection against the elements. The large-arbour design ensures quick line retrieval, while the overbuilt disk drag system provides smooth, consistent braking power. Best of all, the reel can be easily converted from right- to left-side cranking, so it's sure to meet the needs of any angler. Don't miss your chance to own this amazing reel!
3# Redington RUN Fly Reel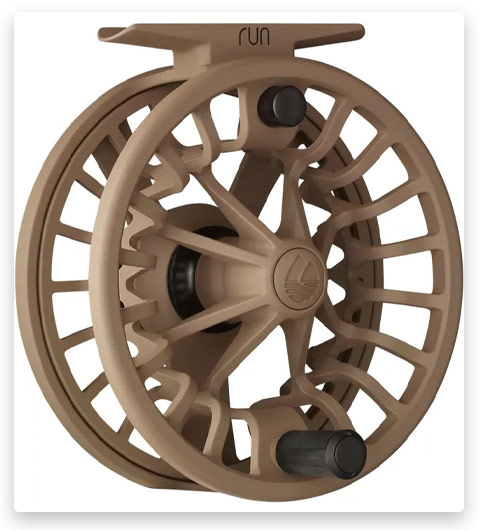 The Redington RUN Fly Reel is the perfect choice for anglers who demand the very best. This top-of-the-line reel features a ported large arbour design, which ensures smooth and efficient operation. The reel is constructed from unimaginable die-cast aluminium for maximum durability and strength, while the rounded reel foot provides added stability. The soft-touch ergonomic handle provides a comfortable grip, even when wet, and the recessed drag knob helps to prevent line snags. The smooth, compact carbon drag system provides reliable performance in all conditions, and the easy left-right conversion makes this reel a versatile choice for any fishing situation. Best of all, the manufacturer's lifetime warranty guarantees your satisfaction.
4# Greys GTS 600 Fly Reel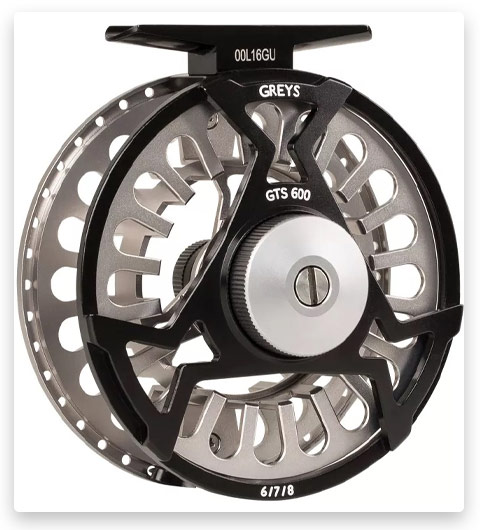 The Greys GTS 600 fly reel is a top-of-the-line choice for serious anglers. Its fully machined 6061 bar-stock aluminium construction ensures durability and precision, while the adjustable Rulon disc drag provides maximum line control during fish runs. The large-arbour design reduces line memory and promotes quick line uptake, while the quick spool release makes it easy to switch out spools. The reel also converts easily from left- to right-hand retrieval, and comes with a protective neoprene pouch. Whether you're an experienced angler or just starting out, the GTS 600 is a great choice for your fishing needs.
5# Orvis Clearwater Fly Reel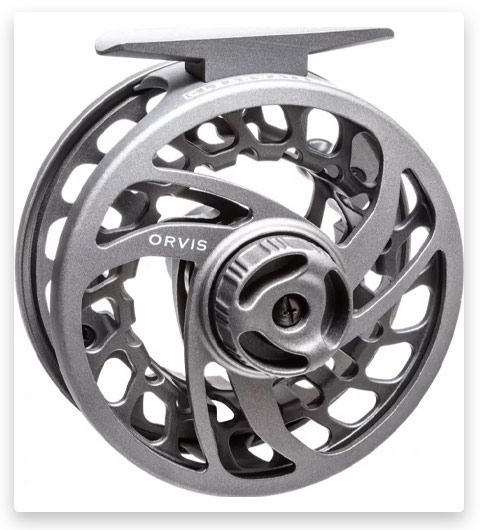 The Orvis Clearwater Fly Reel is a redesign of a classic reel built for modern performance. It has a diecast frame with a stealthy matte-grey finish and a large arbour design. The Rulon and stainless steel inline disc drag provide smooth, consistent performance, while the positive-click drag knob ensures precise adjustment, even in the heat of battle.
6# Redington Behemoth Fly Reel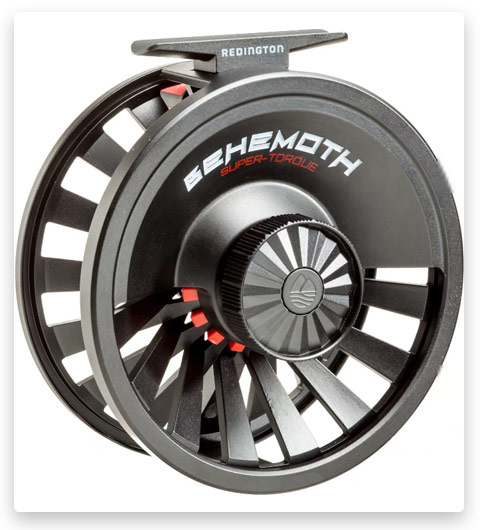 With the strongest carbon fibre drag in its class, this reel is built to tackle big fish. The unique, unimaginable diecast reel body and large arbour give you plenty of line capacity and fast retrieves. The deep V-spool reduces line memory, while the oversized drag knob and soft-touch ergonomic handles make for easy, comfortable use. The Behemoth is also reversible for left- or right-hand retrieve. Plus, it comes with a nylon reel case for easy storage and transport. So whether you're an experienced angler or just getting started, the Redington Behemoth is a great choice for fishermen!
7# Pflueger Automatic Fly Reel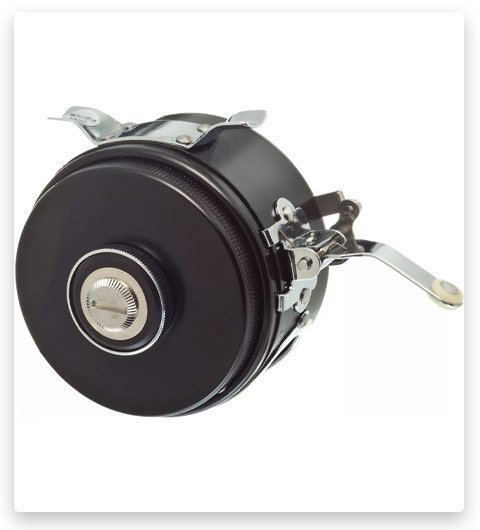 The Pflueger Automatic Fly Reel is a longtime favourite among farm pond and small stream enthusiasts. This very-quick 6-8 weight reel is equipped with an aluminium alloy frame and spool, stainless steel mainspring, reel foot, and line guard making it the most efficient auto-return fly fishing reel available today. With the mainspring release and fold down the trigger for easy storage, this reel is perfect for anglers on the go.
8# Cheeky Tyro Fly Reel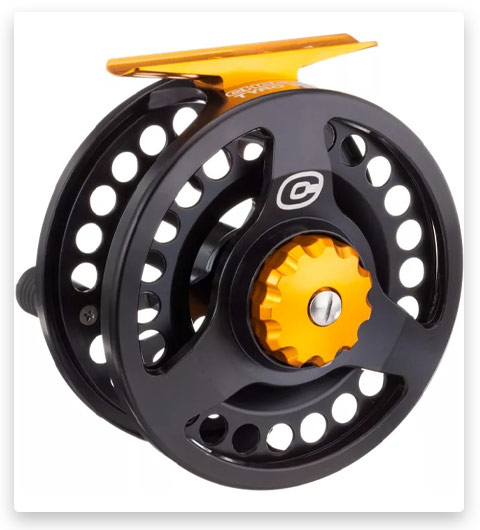 The Cheeky Tyro Fly Reel is the perfect choice for anglers who demand the very best in terms of performance and durability. The reel's diecast frame and spool are incredibly stable and robust, yet still lightweight enough to provide exceptional precision when casting. The CNC machined components ensure smooth operation, while the Quick-change spool with a B2 channel allows for easy line changes. The generous backing capacity means you can fish with confidence, and the advanced Rev Carbon drag system provides silent, smooth retrieves every time. The simple left/right conversion makes this reel extremely versatile, and it comes complete with a custom neoprene reel case for protection when not in use.
9# Cheeky Limitless Fly Reel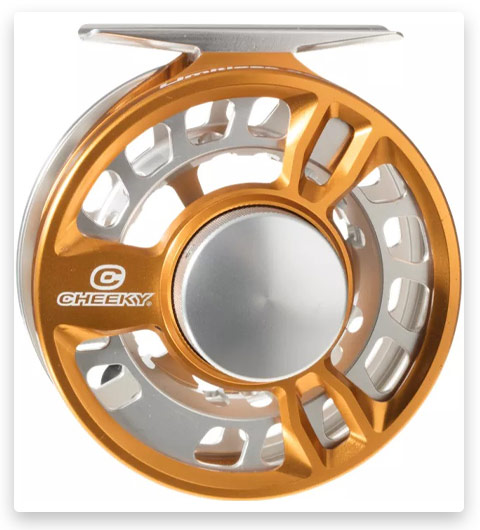 The Cheeky Limitless Fly Reel is good for anglers who demand the very best in terms of performance and durability. This reel is constructed from a lightweight yet extremely strong diecast frame and spool, with CNC-machined components that ensure precise operation. The Quick-Change spool with a B2 channel provides generous backing capacity, while the advanced Rev Carbon drag system ensures smooth, silent retrieves. This reel can be easily converted from left- to right-hand retrieve and comes complete with a custom neoprene reel case.
10# Orvis Battenkill Fly Reel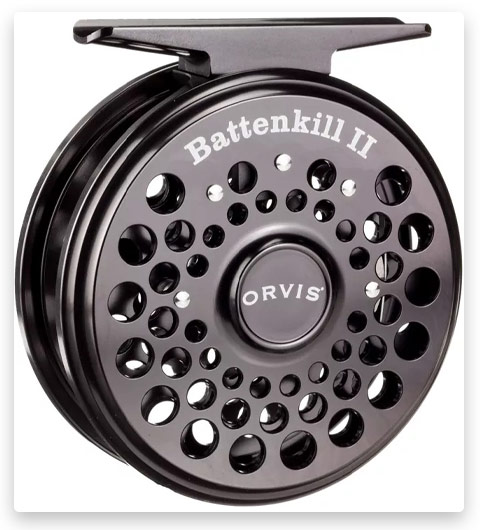 Looking for a classic yet technologically advanced fly reel? Look no further than the Orvis Battenkill. This reel features a 4-position click-and-pawl drag system and a narrower, wider spool for less line stacking and higher line retrieval rates. Made from heavy-duty bar-stock aluminium, it's ultra-lightweight yet durable and easily converts from left to right-hand retrieve. So whether you're a beginner or a seasoned pro, the Orvis Battenkill is the perfect reel for you.
11# Temple Fork Outfitters BVK SD Fly Reel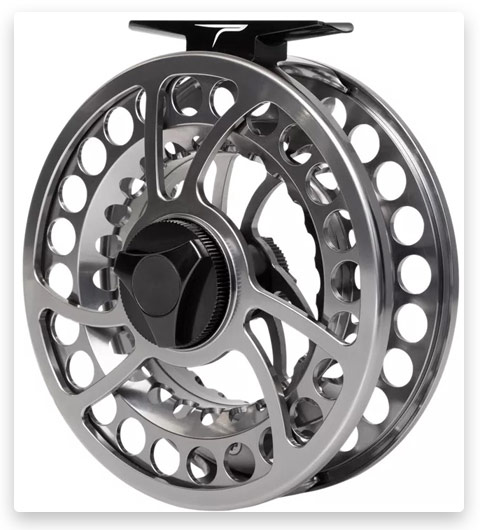 Do you like to fish in extreme conditions? Well, our BVK SD fly reel is perfect for you! Machined and anodized aluminium construction makes it tough enough to handle any situation, while the sealed, corrosion-resistant drag system ensures smooth performance. Plus, the super-large arbour design gives you plenty of retrieve speed, while reducing weight. And if you need to change from left-handed to right-handed retrieve quickly and easily, no problem – our BVK SD fly reel has got you covered!
12# Sage Spectrum LT Fly Reel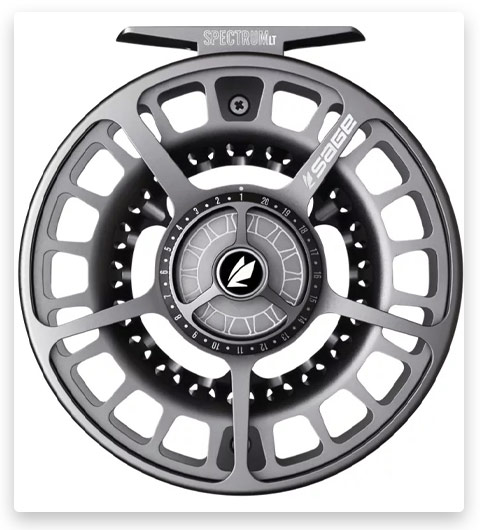 The Sage Spectrum LT Fly Reel is the perfect choice for anglers who demand quality and performance. This beautifully balanced reel is constructed of 6061-T6 aerospace-grade aluminium and features a large arbour with a concave channel that provides amazing drag power. With its sealed carbon system (SCS) drag, the Spectrum LT delivers smooth, consistent performances every time you hit the water. And thanks to its easy left/right conversion, it's always ready to fish how you want. Plus, it comes with a rugged reel case for added protection.
13# Cabela's Prestige II Fly Reel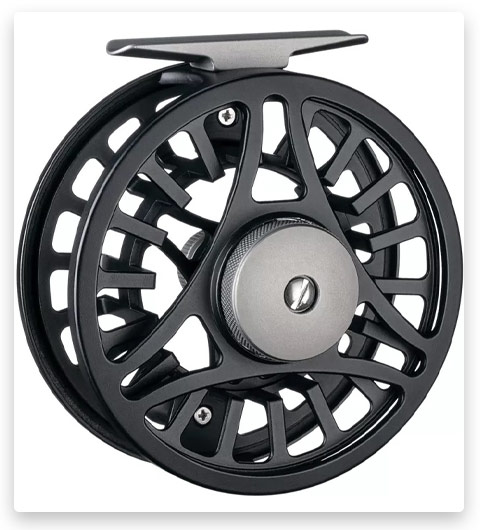 Whether you're a seasoned fly fisherman or just getting started, the Cabela's Prestige II Fly Reel is a great choice. It's constructed of all aluminium for durability and features a large arbour design for smooth casting and retrieval. The smooth, easy-to-adjust disk drag provides consistent pressure, while the simple right-left conversion makes it easy to use on either hand. So don't let a little water stop you from enjoying your time outdoors – pick up a Cabela's Prestige II Fly Reel today!
The Importance of Value in Fly Fishing Reels: More Bang for Your Buck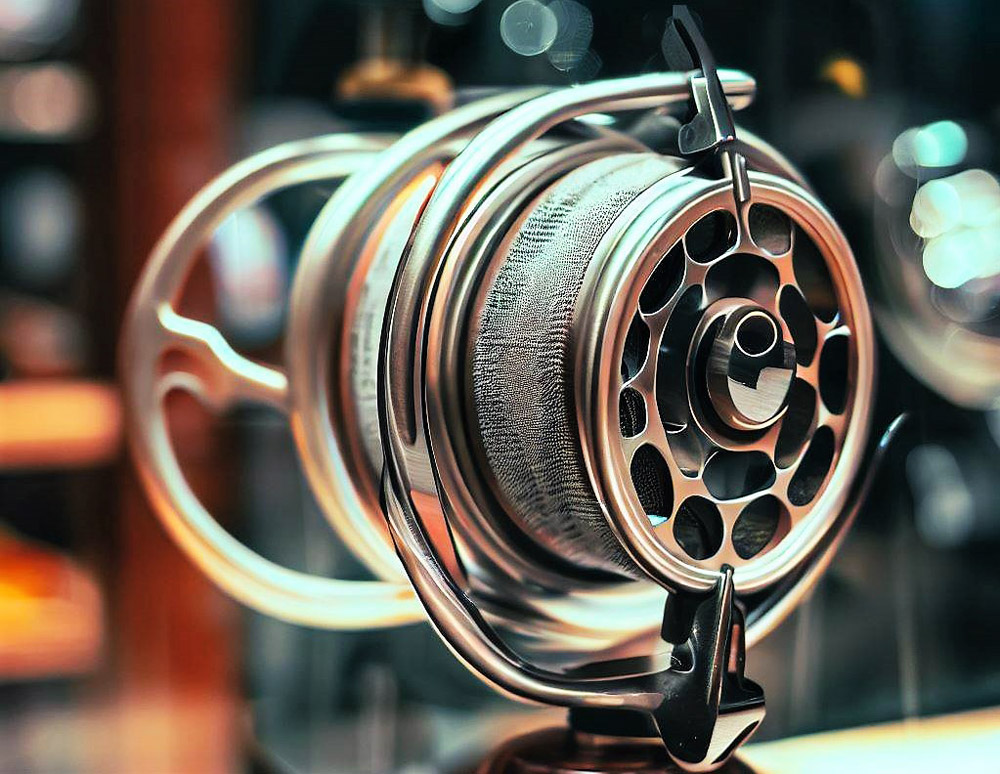 When it comes to fly fishing reels, the term 'value' encompasses much more than the initial purchase price. It's a complex equation balancing several key factors: durability, performance, cost, and user-friendliness. Understanding how these components intersect can guide you toward the best reel for your money.
Durability speaks to the lifespan of your reel. A durable, well-built reel, often crafted from materials like aluminum or stainless steel, can withstand the elements, resist corrosion, and serve you well over many fishing trips. A less durable reel, while potentially cheaper initially, could wear out quickly and require replacement sooner than expected.
Performance is another critical aspect of value. A high-performing reel operates smoothly, with a reliable drag system, a comfortable handle, and an efficient line retrieval mechanism. The performance also includes factors such as the reel's balance with your rod, its weight, and how it handles different line weights and types.
The cost of a reel is undoubtedly a significant consideration. However, it's essential to remember that a higher price tag doesn't always equate to a superior product. Some reels come with extravagant features that, while nice to have, may not significantly enhance your fishing experience, especially if you're a beginner.
Finally, user-friendliness refers to how easy and comfortable a reel is to use. A user-friendly reel will have an intuitive design, be easy to maintain, and be adaptable to different fishing conditions.
The phrase "you get what you pay for" doesn't always hold water when it comes to fly fishing reels. It's possible to find an expensive reel that underperforms, just as it's possible to find a budget-friendly reel that exceeds expectations. The secret lies in understanding your specific needs, what you value most in a reel, and how much you're willing to spend.
That's why it's essential to balance your budget with your quality and performance needs. You might not need the most expensive, feature-packed reel if you're a casual or beginner fly fisher. Alternatively, investing in a slightly higher-priced but significantly more durable and high-performing reel can pay dividends in the long run if you're an avid angler.
In the end, the true value of a fly fishing reel isn't merely in its price tag, but in the satisfaction and reliability, it offers every time you head out to the water.
Key Factors to Consider When Purchasing a Fly Fishing Reel: What Reels You In?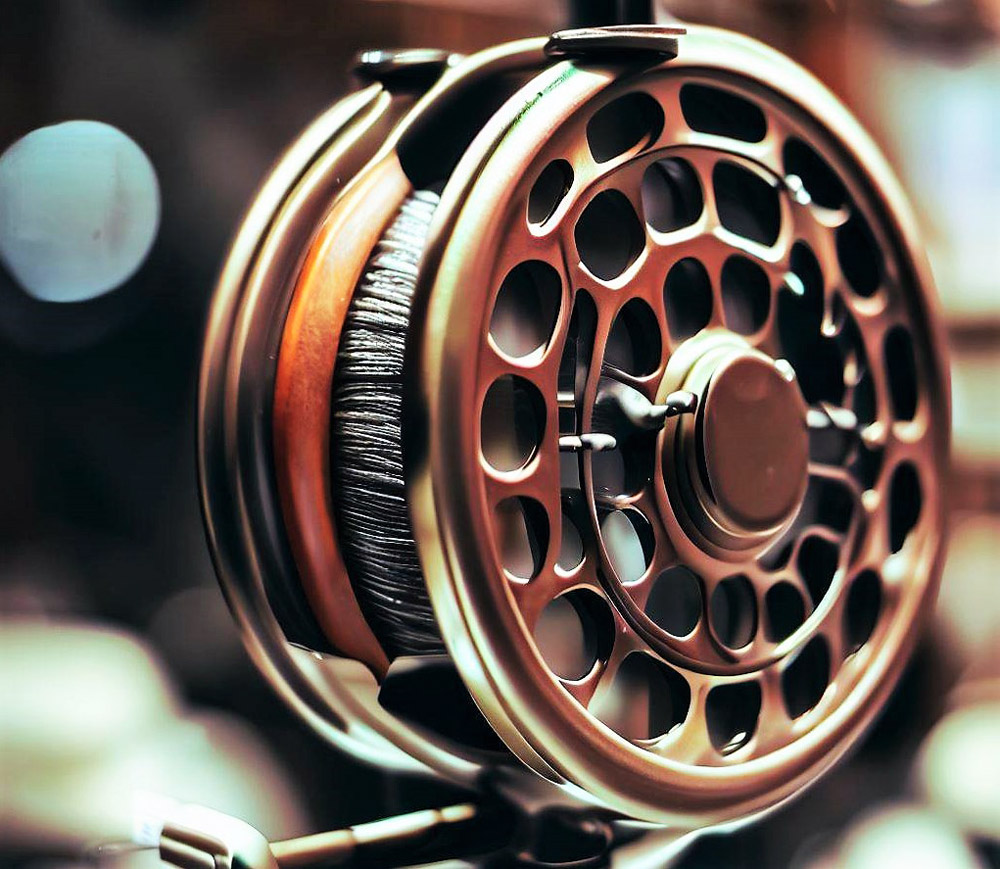 Choosing a fly fishing reel can seem overwhelming given the vast variety available. However, understanding the key features of a reel can significantly simplify this process and ensure that you make an informed choice. Let's delve into these crucial considerations, including the drag system, reel weight, reel size, and the materials used.
The drag system is one of the most critical components of any reel. The drag applies resistance to the line as a fish pulls on it, preventing the fish from running away with your line. A good drag system is smooth and easily adjustable, with enough range to handle different fish sizes. There are two primary drag types: click-and-pawl (older, simpler, and great for small to medium-sized fish) and disc drag (modern, more durable, and capable of handling larger fish).
Reel weight is another significant factor. A lightweight reel will be more comfortable to handle, particularly during long fishing sessions. However, it's essential to balance the reel's weight with your rod's weight. An evenly balanced rod and reel will provide a smoother casting experience.
When it comes to reel size, you need to consider the weight of the fishing line you'll be using and the type of fish you aim to catch. For instance, a 4wt (weight) reel is designed for a 4wt line, which is suitable for catching small fish. Conversely, if you're aiming for larger species, you'll need a reel and line of 8wt or more. Always match the reel size to your line and rod weight for optimal performance.
The material from which a reel is made greatly influences its durability and, by extension, its lifespan. Aluminum reels, especially those that are machined, offer excellent durability and resistance to the elements. Graphite reels are lighter and less expensive but may not offer the same level of durability as aluminum.
The above features all contribute to the performance and longevity of your reel. A reel with a solid drag system will perform well in high-tension situations, whereas a reel made from quality material will ensure a longer lifespan, providing value for money over time.
Review of Top Budget Fly Fishing Reels: Best Catches for Your Cash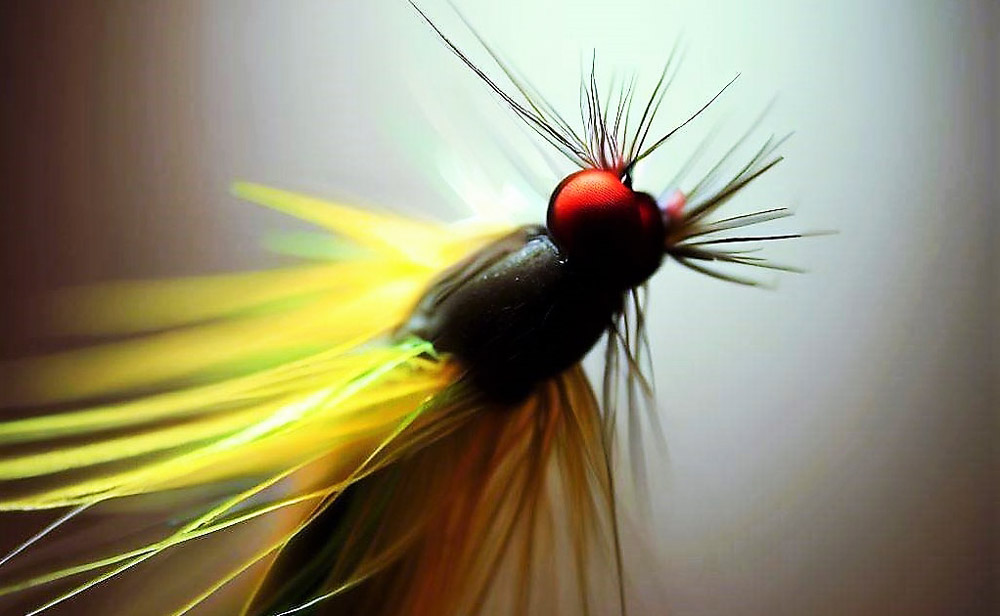 In the vast sea of fly fishing reels, identifying the ones that provide outstanding value can be a challenging task. Here, we will present five reels that excel in terms of affordability, performance, and quality. Please note that prices and availability may vary.
Orvis Clearwater Large Arbor Reels
Key Specifications: Large Arbor Design, Diecast Aluminum, Disc Drag System
💰Price: Around $100
🌐Where to buy: Orvis website and major fishing gear retailers
The Orvis Clearwater is a fantastic entry-level reel, offering a balance of cost and performance that few others can match. Despite its budget-friendly price, it doesn't skimp on essential features, such as a sturdy drag system and a large arbor for quick line retrieval.
Redington Crosswater Reel
Key Specifications: Composite construction, Disc Drag, Large Arbor
💰Price: Around $50
🌐Where to buy: Redington website and major fishing gear retailers
The Redington Crosswater is an impressively affordable reel that performs admirably for its price point. Its composite construction keeps it light, and the disc drag system is more than capable of most fishing situations.
Piscifun Sword Fly Fishing Reel
Key Specifications: CNC-machined Aluminum Alloy Body, Mid-Arbor Design, Multi-disc Cork, and Stainless Steel Drag System
💰Price: Around $60
🌐Where to buy: Piscifun website and major online retailers
The Piscifun Sword punches well above its weight class. Despite its budget-friendly price, it features a CNC-machined aluminum body typically found on more expensive models and a smooth, reliable drag system.
Okuma SLV Diecast Aluminum Fly Reel
Key Specifications: Diecast Aluminum Frame, Multi-Disc Cork Drag, Large Arbor
💰Price: Around $60
🌐Where to buy: Okuma website and major online retailers
The Okuma SLV offers exceptional value for money, with a sturdy diecast aluminum frame and a multi-disc drag system that performs well under tension. The large arbor design allows for rapid line retrieval, helping you land your catch efficiently.
Maxcatch ECO Fly Reel
Key Specifications: Reinforced Plastic Construction, Mid-Arbor Design, One-way Bearing System
💰Price: Around $25
🌐Where to buy: Maxcatch website and major online retailers
The Maxcatch ECO Fly Reel is a perfect option for those on a tight budget or newcomers to fly fishing. While it may not boast the robustness of its metal counterparts, it still provides a commendable performance for its extremely low price.
Each of these reels offers a blend of affordability, functionality, and quality that make.
How to Maintain Your Fly Fishing Reel to Maximize its Life: Keep Your Reel Real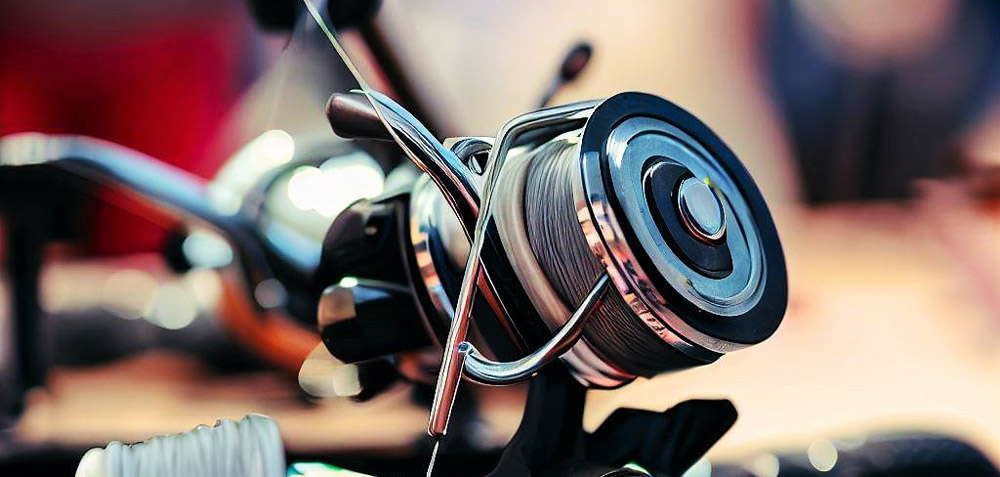 Whether you've invested in a high-end reel or a budget-friendly alternative, proper maintenance can significantly enhance your reel's performance and extend its lifespan, providing even more value for your money. Here are some essential tips to keep your fly fishing reel in prime condition:
| Maintenance Tip | Explanation |
| --- | --- |
| Clean Regularly | After each fishing trip, especially those in saltwater, clean your reel. Rinse it gently with fresh water and allow it to dry completely before storing it. This routine helps to remove any dirt, sand, or salt that could corrode the reel or impair its performance. |
| Lubricate as Necessary | Periodically apply a small amount of reel lubricant to the reel's moving parts, such as the spindle and handle. Lubrication ensures that these parts move smoothly and reduces wear and tear. |
| Inspect and Tighten Screws | Regularly check all the screws on your reel. Loose screws can lead to poor performance or parts becoming lost or damaged. |
| Store Correctly | When not in use, store your reel in a dry, cool place. To protect it further, consider using a reel bag or case. If possible, store the reel with the drag pressure completely released to reduce strain on the system. |
| Regular Line Maintenance | Apart from the reel itself, take care of the line. Clean it after every use and replace it when necessary. A well-maintained line can improve the overall performance of your reel. |
Remember, a well-maintained reel not only performs better but also lasts longer. This practice can save you money in the long run, as you won't need to replace worn-out reels frequently. Moreover, there's a certain satisfaction that comes from knowing your gear is in top condition, and ready for whatever the water brings. Proper reel maintenance is, therefore, an integral part of maximizing the value of your fly fishing investment.
FAQ: Exceptional Quality at Every Price Point
Conclusion: Casting Off – The Final Reel Deal
Fly fishing is as much about the journey as it is about the destination. From understanding the ins and outs of fly fishing reels to diving into the factors that contribute to their value, this guide has covered an array of topics aimed at helping you make an informed choice when selecting a budget-friendly yet high-performing reel. We've looked at some of the top reels on the market that offer excellent value for money and discussed essential maintenance tips to ensure your reel stands the test of time.
As we've seen, spending more doesn't necessarily guarantee a better reel. There are plenty of affordable options out there, such as the Orvis Clearwater, Redington Crosswater, Piscifun Sword, Okuma SLV, and the Maxcatch ECO, that offer fantastic performance and durability for their price. Therefore, if you're on a budget but still crave a reel that can handle the demands of fly fishing, these models are worth considering.
Fly fishing, like any other pursuit, has its joys and challenges. The thrill of casting a perfect line, the patience needed as you wait for a fish to bite, and the adrenaline rush when it finally does are all part of this unique experience. Having a reliable and efficient reel can make a significant difference, turning challenges into triumphs.
In the end, it's not about the price tag or the brand name. It's about finding a reel that matches your needs, skill level, and budget. After all, the best fly fishing reel is the one that allows you to enjoy every moment on the water. So, reel in the line and cast away.
Dive Deeper – Your Next Fly Fishing Adventure
To make your buying journey easier, below are the links to the recommended reels where you can make a purchase:
Orvis Clearwater Large Arbor Reels – https://www.orvis.com/
Redington Crosswater Reel – https://www.redington.com/
Piscifun Sword Fly Fishing Reel – https://www.piscifun.com/
Okuma SLV Diecast Aluminum Fly Reel – https://www.okumafishing.com/
Maxcatch ECO Fly Reel – https://www.maxcatchfishing.com/
For further reading and to deepen your understanding of fly fishing, check out these additional resources:
Fly Fishing Basics: A Beginner's Guide – https://www.flyfisherman.com/beginners-guide-to-fly-fishing/
Understanding Fly Line Weights – https://www.hatchmag.com/articles/understanding-fly-line-weights/7711764
The Essential Guide to Fly Fishing Gear – https://www.fieldandstream.com/how-to-fly-fishing-gear/
Fly Fishing Tips for Beginners – https://www.ginkandgasoline.com/fly-fishing-tips-technique/
Remember, fly fishing is a community endeavor. We learn from each other's experiences, from the successes and the challenges. To facilitate this, we encourage you to share your thoughts, experiences, and recommendations in the comments section below. Have you tried one of the reels we've mentioned? Do you have another reel to recommend? Your insights could be invaluable to someone else in our community.
The world of fly fishing is vast and varied, but it's also incredibly welcoming. We hope that these resources and this comment section can become a hub for conversation and learning. After all, we're all here because we love the water, the fish, and the journey.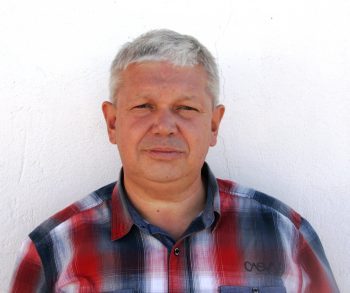 Sergio Smirnoff
Professional fisherman with 40+ years of experience.
Fishing and the ocean is a passion of my life. I am passionate about all kinds of sea fishing: fishing from the shore (spinning, float, baitcasting), from a boat, and spearfishing day and night.
I live in Tenerife (Canary Islands) for the last 10+ years and share my daily fishing experiences on my website. Many years of personal experience as a fisherman and the vast experience of my friends allow me to write professionally on any fishing topics (from choosing a flashlight and equipment to deep-sea fishing).
All of my advice is based on practical real-world experience and will be useful to both novice anglers and professionals.
Read more
about the author.
Affiliate Disclosure: FishReeler.com sometimes gets paid for listings, through sponsors or affiliate programs like Amazon, Ebay, Cabelas, Bass Pro Shop, Shimano, Daiwa, Rapala, Renn, Okuma, KastKing, etс. Clicking a link helps keep FishReeler.com free, at no extra cost to you!
About the author: Each article is verified by the fishing expert Sergio Smirnoff. The articles are written by professional and amateur fishermen with 20+ years of fishing experience.
Note: The views and opinions expressed in this article are those of the authors and do not necessarily reflect the official policy or position of any agency. The articles are for informational purposes only, share your opinions in the comments and join the fishing discussions, let's share our fishing experiences together!