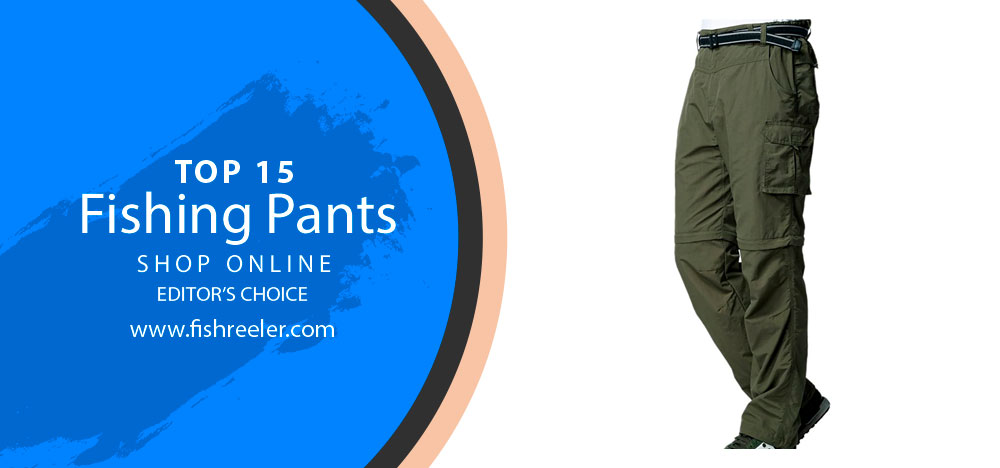 Fishing Pants: Your New Best Friend on the Water
Quick Summary
Why are fishing pants so critical, you may ask?
Well, imagine being in the middle of the water, the cold spray hitting your legs, or trekking through wet marshes to find the perfect fishing spot. Regular pants won't cut it. You need something designed to withstand the elements, keeping you warm, dry, and comfortable throughout your fishing adventure. And that's where fishing pants come into play.
Unlike regular pants, fishing pants are specifically engineered for anglers. They are waterproof to keep you dry, insulated to keep you warm, and have multiple pockets to hold your essentials. They are sturdy enough to withstand the tough outdoor conditions yet flexible enough to allow free movement.
But all fishing pants are not created equal. Some are designed for warm weather, while others are for cold weather. Some are built for shallow water fishing, while others are suitable for deep-sea fishing.

In the following sections, we will dive deep into the world of fishing pants, highlighting their key features, discussing top brands, reviewing some of the best options in the market, and providing tips on how to choose and care for your fishing pants.
🎣 Embracing the Angler's Wardrobe: The Importance of the Right Attire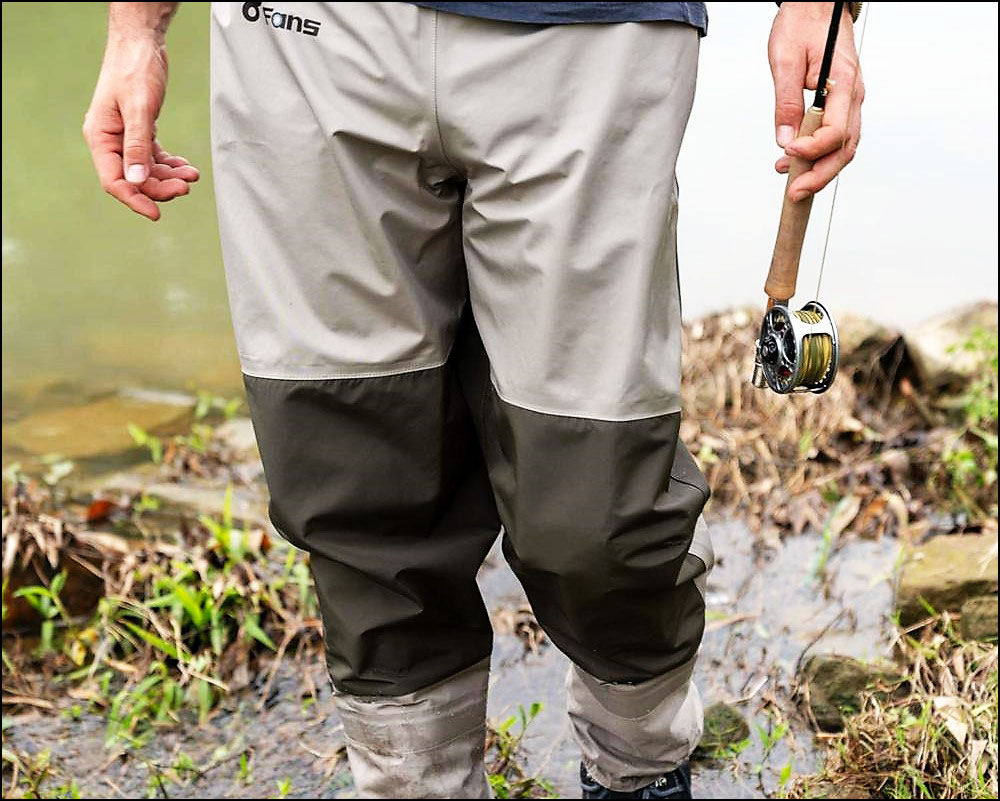 When it comes to fishing, the thrill of the chase and the joy of the catch are undeniably paramount. But there's more to a fulfilling fishing experience than just your rod and bait. Equally important is the gear you wear. Without appropriate attire, a day on the water can quickly turn from a joy to a chore.
Fishing is an activity that puts you at the mercy of the elements. From the heat of the summer sun to the chill of the winter wind, the potential weather conditions you'll face while fishing are as varied as the fish you're trying to catch. Consequently, choosing the right attire can enhance your comfort, safety, and overall experience on the water.
👖 Fishing Pants: Your Shield Against the Elements
Among the different pieces of fishing attire, one garment stands out for its indispensable role – fishing pants. These aren't your ordinary trousers. Designed specifically for anglers, fishing pants go beyond style and comfort. They are a testament to functionality, protection, and endurance.
So, why are fishing pants so vital? Picture this: You're knee-deep in a river, or perhaps you're fishing from a wet, slippery boat deck. Your regular pants quickly soak up water, becoming heavy and uncomfortable. They stick to your skin, restrict your movement, and can even lead to rashes.
On the other hand, fishing pants, with their waterproof or water-resistant features, keep you dry, comfortable, and agile, even in wet conditions. They're typically made from materials that are not only water-resistant but also quick-drying, making them perfect for those unexpected splashes or rain showers.
But protection from water isn't their only advantage. Fishing pants also shield you from the sun's harmful UV rays, resist the wear and tear of rough terrain, and in colder conditions, provide necessary insulation.
🔶In essence, fishing pants are an angler's reliable companion. They withstand what you withstand and protect where you need protection. In the following sections, we'll delve deeper into the world of fishing pants – exploring the features to look for, reviewing top brands, and guiding you on how to choose and maintain your fishing pants. So let's dive in and get our feet wet in this comprehensive guide to fishing pants. 🌊
🎯 Unraveling the Essentials: What are Fishing Pants?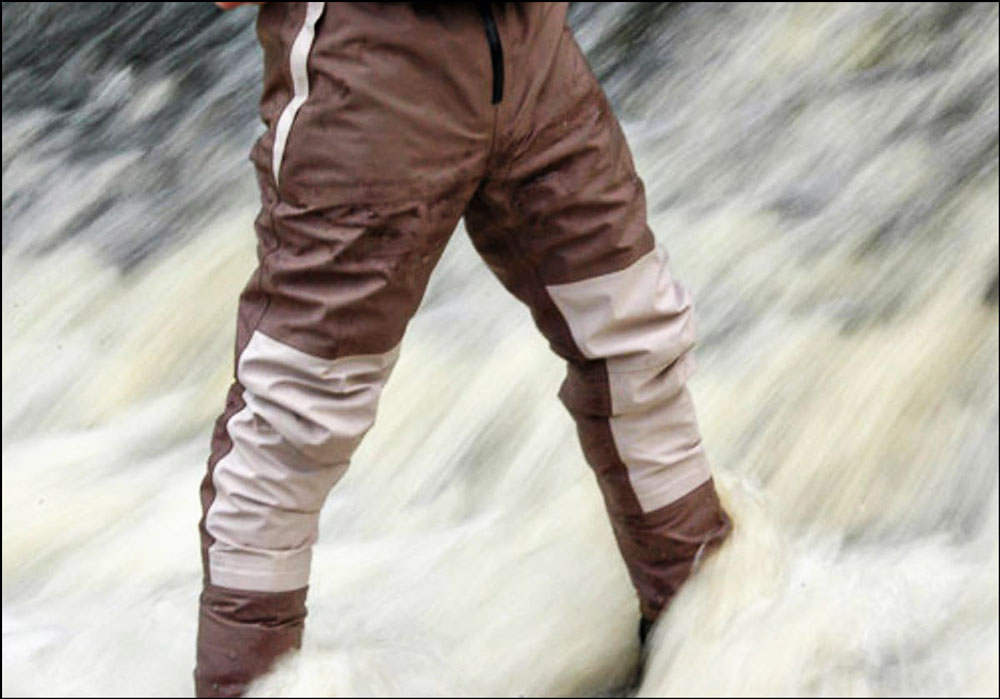 Fishing pants are no ordinary pair of trousers. Engineered specifically for the demands of fishing, they marry functionality and durability with comfort and style. But what makes fishing pants stand out in a sea of outdoor gear? Let's dive into the anatomy of fishing pants to understand their unique attributes.
✅ Distinctive Features of Fishing Pants
Primarily, fishing pants are designed to handle the rigors of the outdoors while ensuring the wearer's comfort. They're built to withstand rough use, resist the elements, and provide ease of movement. Most are quick-drying, meaning even if you do get wet, you won't stay that way for long.
Importantly, fishing pants also focus on utility. They often feature multiple pockets, perfect for keeping your fishing accessories within easy reach. Some even come with in-built knee pads for when you have to kneel or crouch.
🧵 Material Matters: Fabric that Fuels the Function
The magic behind the effectiveness of fishing pants lies in their fabric. Manufacturers use different materials to engineer fishing pants, each contributing its unique properties.
Nylon: Known for its strength and durability, nylon is resistant to tears and abrasions, making it an excellent choice for fishing in rugged conditions. It also dries quickly and provides UV protection.
Polyester: Like nylon, polyester is resilient and quick-drying. But it's even more effective in resisting UV rays, making it a top choice for sunny fishing expeditions.
Blend of Nylon and Spandex: When flexibility is a must, a blend of nylon and spandex delivers. This combination ensures the pants are not just tough but also stretchable, providing you with a full range of movement.
All these materials have inherent water-resistant properties, but some fishing pants take it a step further with waterproof coatings or treatments for enhanced protection against water.
The right material not only ensures longevity but also impacts comfort and breathability. Therefore, understanding what each fabric offers will help you make an informed choice.
🔶The subsequent sections will offer more insights into the must-have features in fishing pants, top brands in the market, and tips to choose the right pair for you. So, tighten your belt (on your soon-to-be new fishing pants) as we cast deeper into this discussion! 🎣
🎦Video YouTube: Aftco Pact Technical Fishing Pant
Best Fishing Pants: Review Staying Dry & Comfortable
Fishing pants provide improved protection against water, cold, and hypothermia and look good when paired with some ice fishing tackle or winter sports clothing. For successful summer fishing, the best choice is Fishing Shorts.
The main purpose of the special fishing pants is to provide maximum comfort and convenience for the wearer while relaxing on the water or near the water. Such an item of clothing always saves me from hypothermia and overheating accidental injuries, insect bites, and other troubles that can occur on fishing. I choose only high-quality pants and shorts, so I don't sweat in the heat and don't get cold in strong winds, and don't get wet in rainy weather.
| Image | Product | Brand | Link |
| --- | --- | --- | --- |
| | Columbia Men's Silver Ridge Convertible Pant, Breathable, UPF 50 Sun Protection, Gravel, 30x28 | Columbia | |
| | 8 Fans Men's Cargo Fishing Pants Outdoor Quick-Dry Lightweight Breathable Waterproof Hiking Pants with Pockets for Men Women | 8 Fans | |
| | Gash Hao Mens Snow Ski Waterproof Softshell Snowboard Pants Outdoor Hiking Fleece Lined Zipper Bottom Leg (180Grey, 32W x 32L) | Gash Hao | |
| | Simms Men's Bugstopper Outdoor Fishing Pants with Insect Shield, UPF 50 Sun Protection, Steel, Waist 32 | Simms | |
| | Grundens Men's Weather Watch Fishing Pants | Waterproof, Breathable | Black, X-Small (2021) | Grundéns | |
| | Huk Men's Standard Next Level Quick-Drying Performance Fishing Shorts, Dark Blue-10.5", X-Large | HUK | |
| | Gill Men's Expedition Shorts - 50+ UV Protection and Water Repellent - Graphite Black | Gill | |
| | Little Donkey Andy Men's Stretch Quick Dry Cargo Shorts Grey Size L | Little Donkey Andy | |
| | Little Donkey Andy Men's Lightweight Quick-Dry Hiking Shorts Stretch Breathable Sun Protection Outdoor Cargo Shorts Gray XL | Little Donkey Andy | |
| | AFTCO Tactical Fishing Shorts - Blue Camo - Size 40" | AFTCO | |
| | Mossy Oak Men's Fishing Shorts, Swim Trunks, Light Khaki, Medium | Mossy Oak | |
| | AFTCO Stealth Fishing Shorts - True Black - Size 34 | AFTCO | |
I don't want to keep you waiting any longer, so I'm going to tell you about the best 15 Men's Fishing Pants & Shorts. Let's find out why you should choose them!
TOP 5 Fishing Pants
1# Columbia Men's Silver Ridge Convertible Pants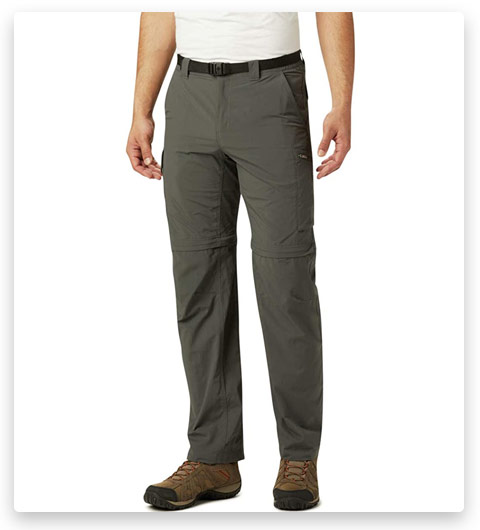 Columbia men's trousers are crafted from a high-tech UV-resistant material, and Omni-Shade technology with a UPF 50 filter blocks harmful sunlight. Omni-Wick fabric wicks moisture away from the skin. The elasticated waistband ensures maximum comfort during wear. The trousers are fastened with a zipper and a button. 6 functional pockets are perfect for small items.
2# 8 Fans Fishing Pant
If you are looking for reliable and high-quality pants, then pay attention to this model. They will prevent your feet from getting wet, freezing, or sweating. The manufacturer uses Breathable 8Fans Dry technology, which allows a small flow of air to penetrate inside and thereby dry the pants quickly. They have a waterproof cover with sealed seams. They are equipped with side zippers for quick removal of clothes. You don't have to take off your shoes. You will be able to attach keys or fishing tackle to the D-ring.
3# Gash Hao Men's Waterproof Pants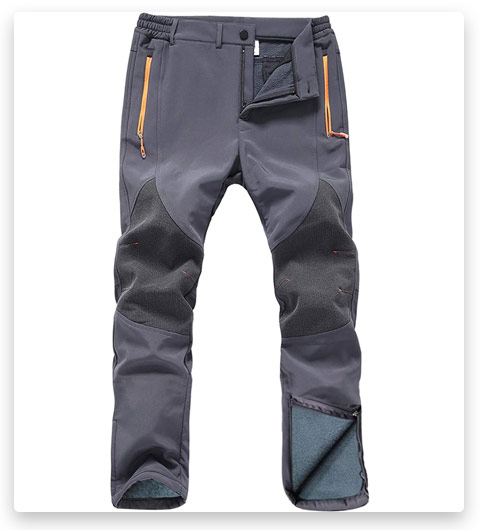 What I love most about these pants is that they keep you warm. This means it is ideal for fishing in cold weather. In addition, I found the zippered back pocket very handy for storing personal items. They trap and retain heat thanks to the granule fleece layer. Thanks to the film on the knees, the model has excellent wind resistance. If you are looking for an option for winter fishing, then this is what you need!
4# Simms BugStopper Fishing Pants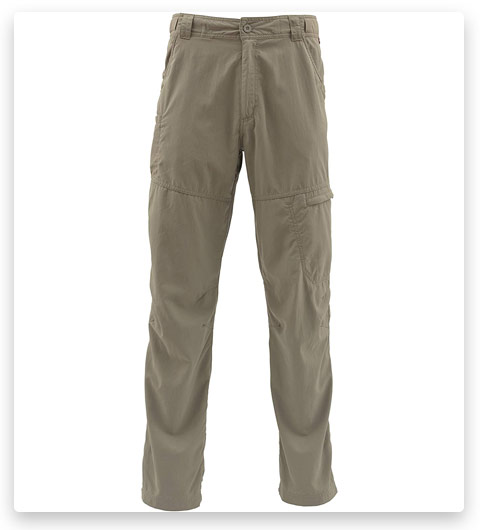 The Bugstopper trousers are very comfortable for the spring/summer period as they offer maximum protection from the sun and insects. The UV protection factor UPF 50 blocks out most rays, protecting the skin from burns. Insect Shield special impregnation provides long-lasting and reliable protection against any mosquitoes that can annoy fishing. The trousers dry very quickly, are elastic, and specially reinforced in the areas that are most susceptible to wear and tear. In addition to the two side pockets, there is also a zippered pocket for small items. The belt is adjustable at the waist.
5# Grunden Men's Cargo Fishing Pants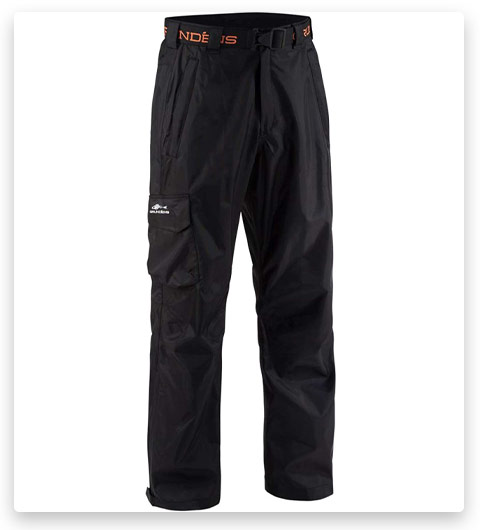 These clothes are specially designed to be your favorite active fishing pants! The design incorporates design features that make them comfortable to use in a wide variety of situations where complete freedom of movement and low-profile design must be combined. The styling uses a unique seamless cut on the back of the pants. The knee area has an anatomical structure, which creates additional comfort during active movements and during prolonged sitting. The elastic waist zone allows you to wear trousers without a belt.
TOP 7 Fishing Shorts
6# Huk NXTLVL Men's Short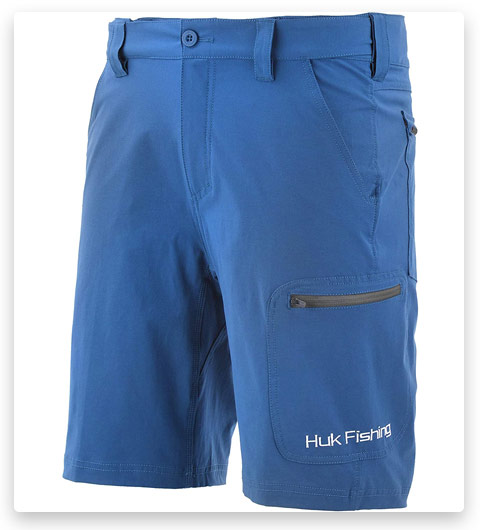 If you are an avid fisherman, then you know how important it is to choose the most comfortable shorts for summer fishing. In my opinion, this model deserves special attention. I appreciate the fact that they are made of lightweight fabric and therefore I feel comfortable. The elastic fabric dries quickly and does not restrict movement. Don't worry about the safety of your skin. This accessory protects the skin from UV rays. Sunscreens with UPF +30 block out the sun's rays. The shorts are specially treated to prevent stains from leaving on clothes. I am very clumsy and therefore often smear my clothes, especially for fishing. However, I only washed these shorts a couple of times in several years of use. Also, the model has a water-repellent coating that keeps you dry.
7# Gill Men's Protected Fishing Shorts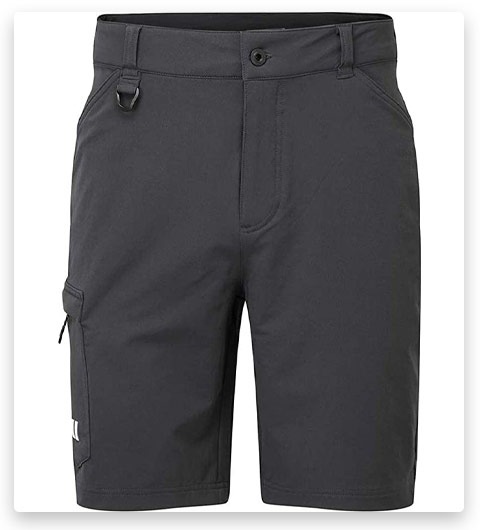 These are shorts personally tested by me and made from durable fabric. They are specially designed for the harsh conditions of the marine environment. Durable and stylish, these slim-fit men's sports shorts have a spacious pocket on the right leg for added practicality. High performance and durable, this model features reinforced knees and a back to prevent wear. The fabric itself is elastic, dries quickly, and has a water-repellent effect. I feel as comfortable as possible in them. They fit perfectly around the waist and hips. They provide freedom of movement. I do not have the feeling that they are too small for me, although this is my frequent problem when choosing such an item of clothing.
8# Little Donkey Andy Men's Shorts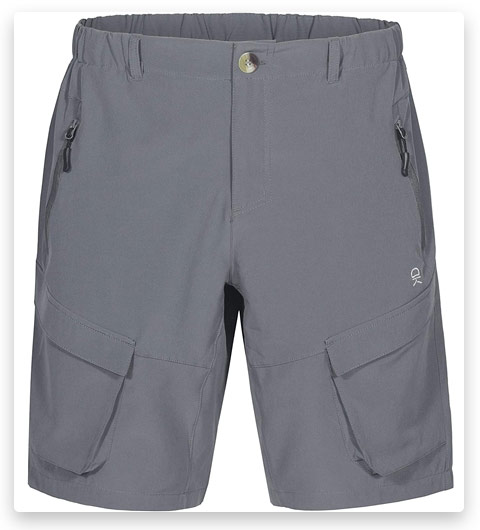 This is a classic model that provides more comfort during training. They feature superior skin-contact fabric that is comfortable and pleasant to avoid irritation. They have a ventilated structure that allows you to avoid excessive perspiration during the heat. Another advantage is the elastic band, which is very easy to adjust and prevents discomfort while fishing. They are made of polyester and spandex. The shorts are equipped with a water-repellent Quick Dry coating.
9# Little Donkey Andy Men's Shorts Lightweight Quick-Dry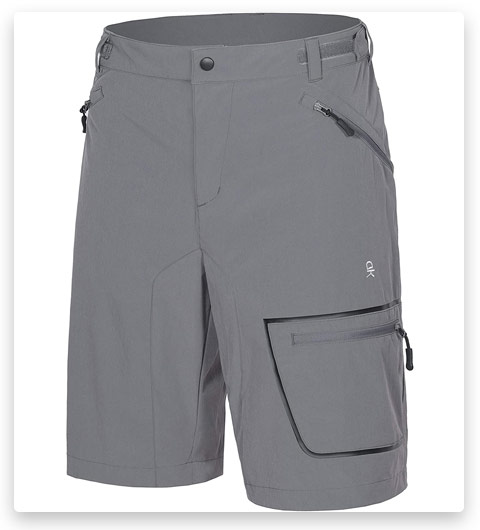 This model is made of nylon and spandex. They fit snugly around the legs and provide maximum freedom of movement. They are versatile with a belt with an elastic band, which allows you to fit the shorts at your convenience. The accessory is equipped with several pockets allowing you to carry various valuable items such as your phone and keys. Simple and practical, these shorts are suitable for both beginners and professional anglers.
10# AFTCO Tactical Fishing Shorts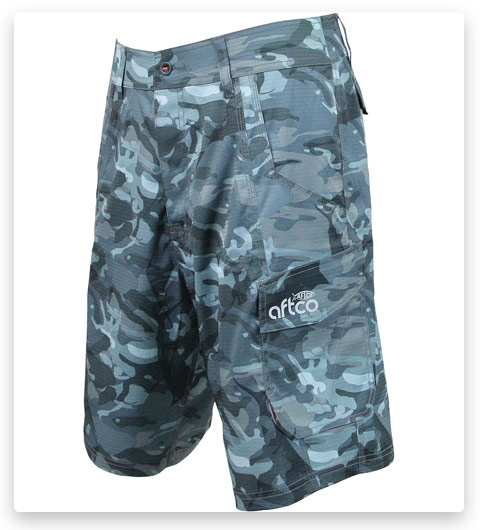 I am glad to tell you about this accessory, which has an attractive design. It also has a structure made of poly and elastane, which prevents sweat, moisture and does not irritate the skin. These garments feature UV protection materials that provide the highest degree of practicality and safety, especially at high temperatures. They are equipped with an elastic band that is easily adjustable and prevents unexpected movements of the shorts.
11# Mossy Oak Men's Fishing Shorts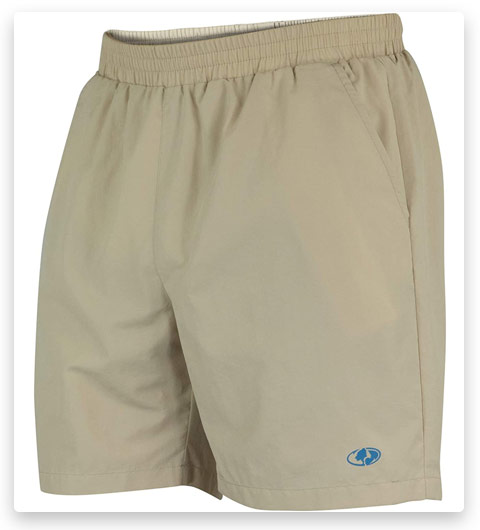 These are my friend's favorite shorts. He has been wearing them for years and is not going to buy others. He appreciates them for their lightness and strength. They are made of 100% nylon so they are practically not felt on the legs. In addition, this material is highly breathable and prevents you from sweating. And that's not all the advantages of this material. You don't have to worry about your skin as the nylon provides UPF sun protection. My friend spends all day fishing in the summer and has never gotten a sunburn.
12# AFTCO Stealth Fishing Shorts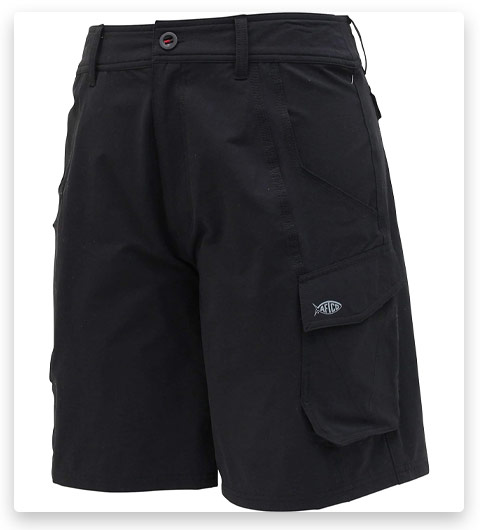 The new model of fishing shorts is made from 100% cotton fabric. They provide unsurpassed comfort of use all day long. A pocket for a mobile phone is located on the left hip. The main front and back pockets have reinforcements at the neckline, as well as reinforced stitching and cruciform reinforcement in problem areas.
📝 Essential Features: What Makes a Stellar Pair of Fishing Pants?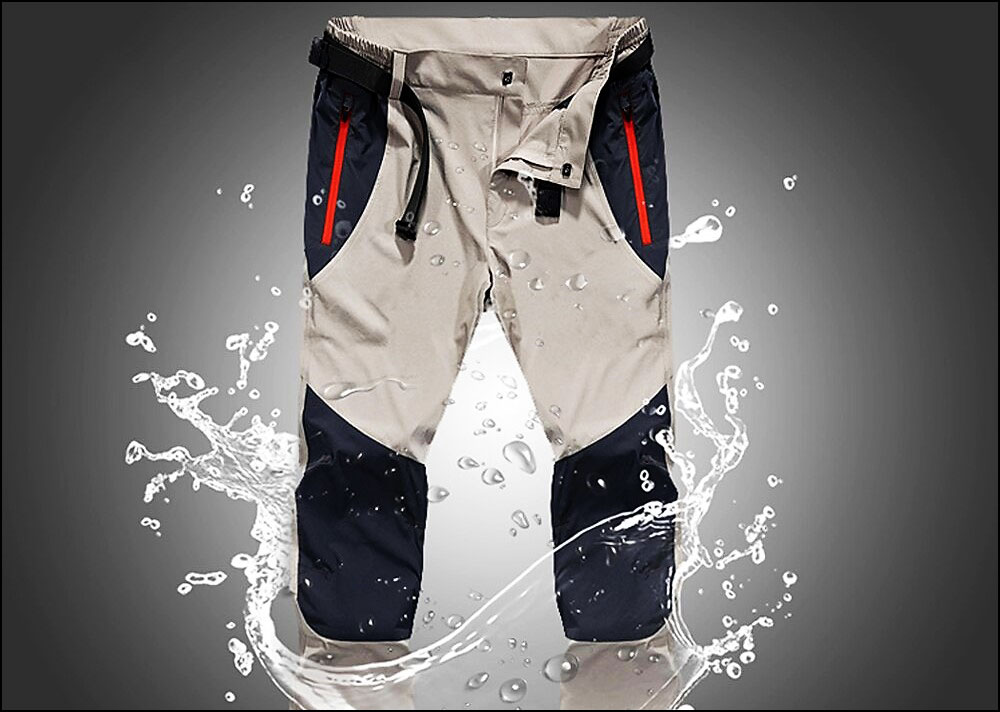 When choosing your perfect pair of fishing pants, it's crucial to consider several key features that boost both comfort and functionality. Let's embark on a feature expedition to understand what aspects should top your checklist.
🥼 Pockets Galore: Store with Ease
Pockets may seem trivial, but their importance in fishing pants is paramount. These handy compartments allow you to keep essential items within arm's reach. Look for pants with deep and secure pockets, ideally with zippers or Velcro closures. Some designs even feature specialized pockets for specific gear, enhancing organization and accessibility.
🛠 Belt Loops: Secure and Stable
The last thing you want during a fishing expedition is to constantly readjust your pants. This is where belt loops come in. They allow you to secure your pants at a comfortable position, ensuring they stay put regardless of how much you move. Moreover, the belt itself can serve as a place to attach light gear and tools.
🛡 Knee Pads: Comfort in Kneeling
Fishing often involves kneeling or crouching near the water. Built-in knee pads in fishing pants offer an extra layer of cushioning, preventing discomfort and potential injuries. Some models even feature reinforced knee areas for enhanced durability.
👖 Adjustable Hems: Versatility Unleashed
An often-overlooked feature, adjustable hems can greatly enhance your fishing experience. With this feature, you can modify the length of your pants according to your needs, weather conditions, or personal preference. Want to wade in a bit without getting your pants wet? Just roll them up and secure them in place!
Each of these features contributes to making fishing pants an indispensable part of your angling gear. They're not merely clothing items, but smart tools designed to enhance your comfort, efficiency, and overall fishing experience.
🔶So, as we venture further into the world of fishing pants, remember these key features. They will guide you in finding the right pair that offers both the comfort and utility you seek. 🎣
🎖 The Pinnacle of Performance: Leading Brands in Fishing Pants
In the world of angling apparel, some brands consistently reel in top ratings for their superior fishing pants. They set the bar high with their unwavering commitment to quality, cutting-edge innovation, and unmatchable customer satisfaction. Let's delve into the crests of this wave!
🔝 Columbia: High-tech Comfort
When it comes to outdoor gear, Columbia is a name that's often on every angler's lips. Their fishing pants are engineered to provide a blend of comfort and durability, thanks to their patented Omni-Shield and Omni-Shade technologies. These ensure you stay dry and safe from harmful UV rays, no matter how long you're out on the water.
🏞 Huk: Born from the Water
Huk is a brand that is born from the water. Specializing in performance fishing gear, their fishing pants are praised for their excellent fit, rugged durability, and high breathability. These pants are designed to withstand the harsh conditions anglers often face, offering the ultimate protection against the elements.
🎣 Grundéns: Trusted by Professionals
Known for outfitting commercial fishermen, Grundéns is a brand synonymous with professional-grade quality. Their fishing pants are revered for their robust construction, waterproofing capabilities, and great comfort, making them a favorite among serious anglers.
🦆 Duck & Fish: Affordable Quality
Duck & Fish offers reliable fishing gear without breaking the bank. Their fishing pants boast durable materials, functional designs, and great fit. Customers rave about their excellent customer service and the incredible value for money their products provide.
🔶Each of these brands shines in their commitment to creating fishing pants that stand up to the test of the elements, time, and, of course, avid fishermen. Their relentless pursuit of quality, innovative design solutions, and emphasis on customer satisfaction sets them apart in the marketplace. Whether you're a novice angler or a seasoned pro, these brands are worth checking out in your quest for the perfect fishing pants. 🎣
🎯 Spot-On Reviews: Select Fishing Pants under the Microscope
Delve into the intricate details of some selected fishing pants as we dissect their key features, assess comfort, gauge durability, and evaluate cost. Here are our top picks:
🥇 Columbia PFG Offshore II Board Short
These Columbia shorts, made from high-quality, durable material, score top marks in comfort. The Omni-Shield technology offers top-tier water and stain repellency, while the Omni-Shade provides UPF 50 sun protection. They're lightweight, quick-drying, and offer a comfortable fit with a partial elastic waist. They are pricier than some options, but their excellent features and Columbia's reputation for quality justify the cost.
🥈 Huk Men's NXTLVL 10.5″ Short
Huk's NXTLVL shorts provide excellent performance in a comfortable and durable design. They feature Huk's famous quick-drying stretch fabric and laser perforations for superior breathability. The adjustable waistband ensures a secure and comfortable fit. While these shorts are a bit pricey, their top-notch performance and durability make them worth the investment.
🥉 Grundéns Weather Watch Trouser
Grundéns Weather Watch Trousers are renowned for their durability and waterproof qualities. They are designed with a lightweight, breathable material and fully taped seams to keep you dry in even the wettest conditions. They feature adjustable leg cuffs and a comfortable elastic belt. These trousers offer fantastic value for the price, given their robust construction and professional-grade quality.
🏅 Duck & Fish Men's Fishing Waist Pant
These Duck & Fish pants offer excellent quality at an affordable price. They feature a durable PVC and polyester construction that provides excellent waterproofing. The pants are comfortable, with an adjustable waist and leg openings for a perfect fit. Despite their lower price, they don't compromise on quality, making them a popular choice for budget-conscious anglers.
🔶Dive into the world of fishing pants with these detailed reviews, and find the perfect pair to enhance your angling experience. Regardless of the brand, the key is to find a balance between cost and quality, ensuring you get top performance without emptying your wallet. 🎣💰
🎣 Hooking the Right Pair: Tips for Choosing the Best Fishing Pants
Selecting the ideal fishing pants can sometimes feel like trying to catch a trophy fish. But with the right guidance and a keen understanding of your personal needs, the process can become easier. Here are some useful tips:
☀️ Weather Considerations
The type of weather you'll be fishing in is a significant factor. If you'll be out in the sun all day, opt for pants with UPF protection. For rainy conditions, waterproof pants are a must. Cold weather calls for insulated pants, while breathable ones are perfect for hot climates.
🐠 Type of Fishing
The type of fishing you're planning to do also plays a role. Deep-sea fishing might require pants with added durability and water resistance, while stream fishing could need lighter, more breathable options. For versatile anglers who enjoy a variety of fishing styles, a pair that balances these features would be ideal.
😌 Personal Comfort
Comfort should never be compromised. Look for pants with adjustable waistbands and cuffs, ample pocket space, and a fit that allows free movement. The material should feel good against your skin, and the weight should be suitable for the weather.
💡 Special Features
Finally, consider any special features you may want, like quick-drying materials, reinforced knee patches for extra durability, or pants that convert into shorts for versatility.
🔶Remember, the best fishing pants for you should strike a balance between function and comfort. After all, a great day of fishing is one where you're well-equipped and comfortable. 🌊👖🎣
🧺 Preserving the Catch: Care and Maintenance of Your Fishing Pants
Maintaining your fishing pants is just as important as the careful choice you made when purchasing them. With proper care, they can serve you for many seasons. Here are some tips on how to keep your fishing pants in prime condition:
1️⃣ Cleaning 101
Most fishing pants are machine washable, but always check the care label first.
Use a mild detergent and avoid bleach to protect the fabric and colors.
For waterproof pants, consider using a tech wash specially designed to clean and restore waterproof gear.
2️⃣ Drying and Storage
Air-dry your pants to maintain their shape and fabric integrity. Avoid direct sunlight if possible.
Store them in a cool, dry place. Keep them away from sharp objects that could cause damage.
If the pants are convertible, store the detached parts in the designated pockets or a secure place to avoid losing them.
3️⃣ Minor Repairs
For small tears or holes, a fabric repair tape can be a quick fix. Make sure the area is clean before applying.
Loose buttons or faulty zippers can be replaced or repaired at home with a basic sewing kit.
For significant damage, consider professional repair services.
🔶Caring for your fishing pants not only ensures their longevity but also maintains their performance and appearance. So when it comes to maintenance, don't let this be the one that got away! 🧺🧵👖
❓🎣👖 Fishing Pants: Frequently Asked Questions
🔶Remember, fishing pants are an investment in your comfort and safety while out on the water. It's essential to make an informed decision when choosing your pair. Happy fishing! 🎣👖
🎣 Reeling in the Essentials: Closing Thoughts on Fishing Pants
The comfort and quality of fishing depend not only on the right equipment but also on clothing. You should pay special attention to the selection of pants and shorts if you want to enjoy fishing, not bad emotions.
As we wrap up, let's cast back over the essential points we've discussed in this article. Selecting and caring for your fishing pants might seem like a trivial part of your fishing trip preparation, but in reality, it makes a huge difference in your overall experience.
Remember that fishing pants are not just another piece of clothing. They are specialized gear designed to keep you comfortable, dry, and protected during your angling adventures. The right pair will provide a perfect balance of functionality and comfort – from waterproof and breathable materials, to well-thought-out features like pockets, belt loops, knee pads, and adjustable hems. 🎣👖
The market offers a variety of brands, each with unique features and at different price points. It's up to you to assess your needs and preferences and choose accordingly. 🛍️
Once you've got your hands on the perfect pair, treat them well. Regular cleaning, proper storage, and timely repairs will ensure they serve you faithfully for many fishing trips to come. 💦🧺
🔶Your fishing gear is only as good as you maintain it. Make the right choice, give it the care it deserves, and it will significantly enhance your fishing experience. After all, a true angler knows the worth of their gear. 🐟💦👖
🎣👥 Your Cast: Join the Conversation!
We've covered a lot of ground about fishing pants, but now we're interested in hearing about your adventures! Have a favorite pair that's been by your side, rain or shine? Maybe you've found a brand that fits just right or a feature you can't live without? We want to know!
Share your stories in the comments below. Tell us about the best fishing pants you've ever owned and how they've enhanced your angling experiences. 👖🐟
Questions or concerns? Looking for more advice? Drop a line below and we'll do our best to help. After all, the world of fishing gear is vast and always changing. We're all here to learn from each other, share our love of fishing, and make our next trip to the water even better.
🔶We look forward to hearing your thoughts. Your feedback helps us make our content more relevant and beneficial to you. So reel in your experiences and cast them into the comments section! 🎣👥💭
Tags: #best fishing pants / #best fly fishing pants / #best ice fishing pants / #best rain pants for fishing / #best pants for fishing / #what is the best fabric for quick dry fishing pants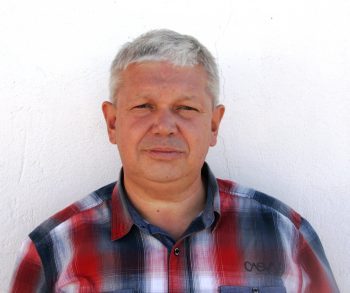 Sergio Smirnoff
Professional fisherman with 40+ years of experience.
Fishing and the ocean is a passion of my life. I am passionate about all kinds of sea fishing: fishing from the shore (spinning, float, baitcasting), from a boat, and spearfishing day and night.
I live in Tenerife (Canary Islands) for the last 10+ years and share my daily fishing experiences on my website. Many years of personal experience as a fisherman and the vast experience of my friends allow me to write professionally on any fishing topics (from choosing a flashlight and equipment to deep-sea fishing).
All of my advice is based on practical real-world experience and will be useful to both novice anglers and professionals.
Read more
about the author.
Affiliate Disclosure: FishReeler.com sometimes gets paid for listings, through sponsors or affiliate programs like Amazon, Ebay, Cabelas, Bass Pro Shop, Shimano, Daiwa, Rapala, Renn, Okuma, KastKing, etс. Clicking a link helps keep FishReeler.com free, at no extra cost to you!
About the author: Each article is verified by the fishing expert Sergio Smirnoff. The articles are written by professional and amateur fishermen with 20+ years of fishing experience.
Note: The views and opinions expressed in this article are those of the authors and do not necessarily reflect the official policy or position of any agency. The articles are for informational purposes only, share your opinions in the comments and join the fishing discussions, let's share our fishing experiences together!