What are bivalves?
The teeth of the sea bream are very powerful and its molars can crush any bait, no matter how hard it is, bivalves are one of them. I describe to you the most used for its fishing.
1-Mytilus galloprovincialis, mussel, clóchina, is an easy bait to obtain, it is sold in fishmongers, although I prefer to make it, that bait that they sell has passed at least two weeks in purifiers and that alters its properties. Of the four modalities that can be used, "plateret" in "baulet" in "ataud" and "criansó" (mussel breeding) requires a different hooking for each one of them and a specific tutorial that I will publish.
2- Abra tenuis, pechina, bonbon, it is a difficult bait to obtain, I order it from a professional tellinero on foot that is those that usually take them out, it does not have much commercial value and you can keep it, it is a very fragile and brittle beach clam, to hook it requires a special technique, in a bucket with seawater, when it opens a little the valves to breathe to insert the hook, she alone when noticing it closes them and presses holding the hook, the sea bream takes it with greediness, I have been able to verify as in an area in which there were many fishermen fishing to sliding buoy with criansó as another fisherman has arrived fished and baiting with that type of bait and all the sea bream of the area have been for him.
3- Ensis ensis, razorfish, is an easy bait to obtain, it is sold in fishmongers, but it has the same problem, it has spent a lot of time in purifiers and that alters its properties, I harvest them in summer in a beach of calm and clear waters I get into the water with water by the waist and a plastic bag with salt, you see the hole where it is lodged, you introduce your hand with a pinch of that salt and you throw it in that hole, they emerge immediately and you can catch them, to hook them open a little introduce in the slot the two-hook rig and then liquefy their whole body.
4- Anatifa anatifera, goat's foot, false barnacle, you can get them when there is a storm and they come to the beach attached to all kinds of objects, the hooking is easy, insert the hook through the opening they have and then liquefy.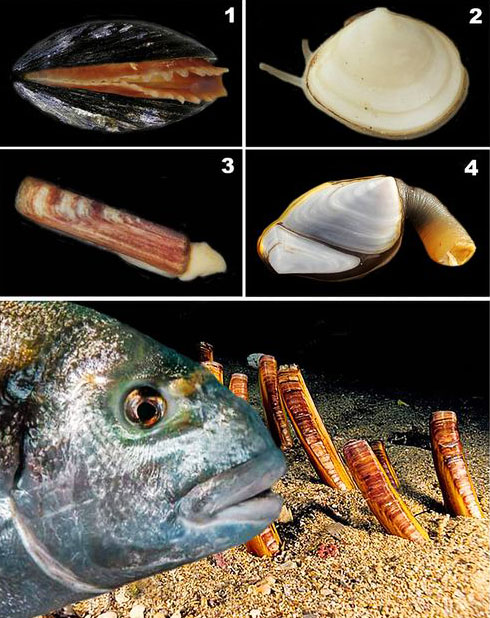 10 Answers
Please login or Register to submit your answer